Wholesome Gestures: These Students Will Remember These Kind Actions Forever
Athletes are often admired for what they do on the field. Sometimes, however, what they do off the field is worthy of equal admiration. Below we have two stories of football stars who have gone the extra yard to make the world a better place. The first story involves quarterback Max Akin, team manager K.L. Norwood, and a thoughtful surprise that changed both of their lives forever.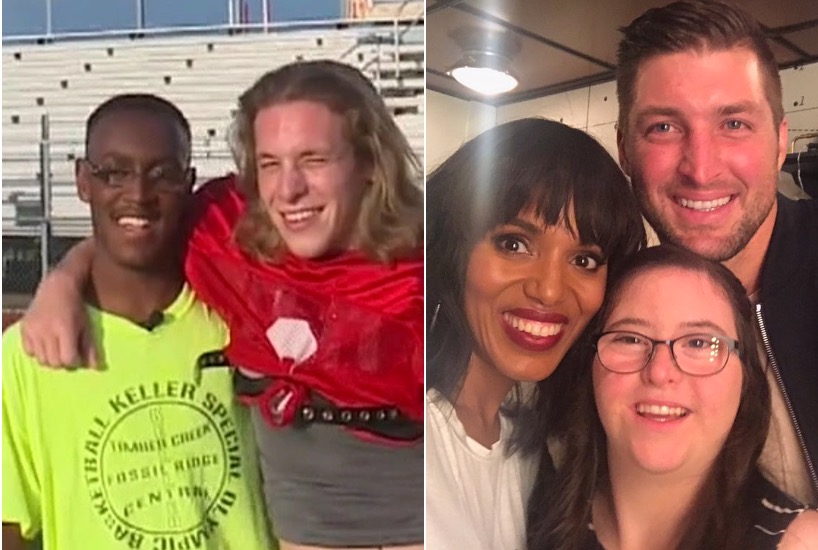 The second story focuses on the charity work of professional athlete Tim Tebow. What drives him to spend so much time and attention on raising money and awareness for important causes all around the world? Like Akin and Norwood, it seems that Tebow wants to make the world a better place. Let's learn more.
Max Akin's Stellar Game
Friday night football is a big deal at Fossil Ridge High School in Fort Worth, Texas. On one particular Friday night, star quarterback Max Akin was playing a tremendous game. When halftime came around, Akin had successfully thrown 200 yards, ran 60 yards, and given four touchdowns!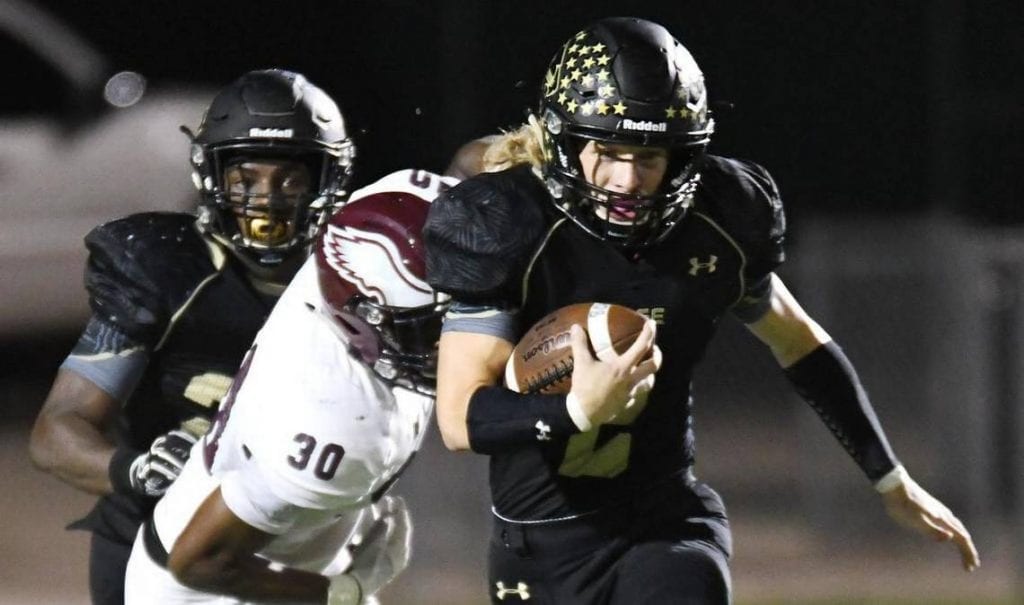 Those stats are impressive for an entire game, never mind half of one! Everyone in the crowd erupted in a flood of cheers and claps – including one of Akin's best friends, K.L. Norwood.
Max Was Popular
When he started high school football, Max Akin played wide receiver. However, it quickly became apparent that his arm strength made him a great pick for quarterback. Over the next four years, Akin went from being another wide receiver to being the star quarterback.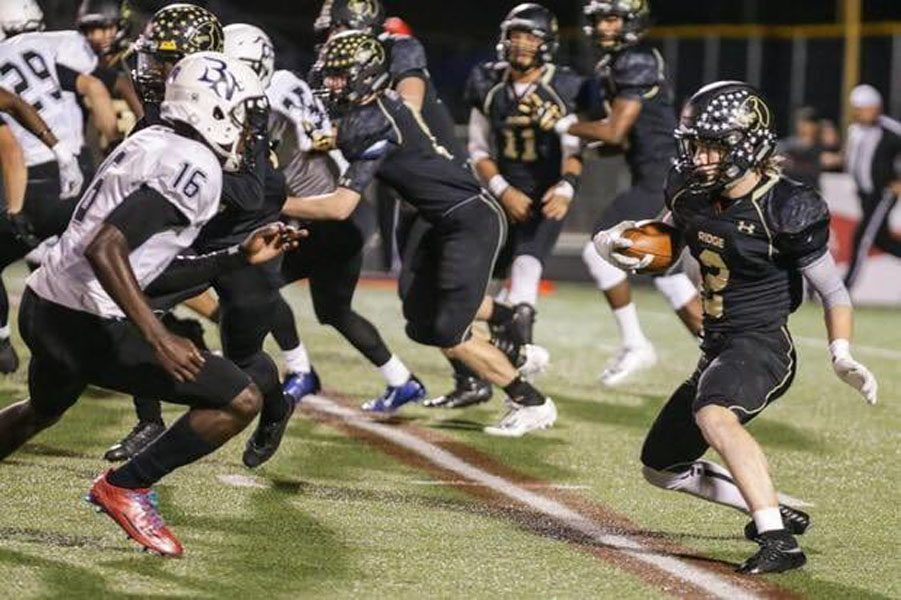 Alongside that, he was also one of the most popular kids in school. His athletic ability, positive personality, and generous smile made him one of the top five picks for Homecoming King. Everyone thought he would win, including K.L.
The Homecoming Night
This particular Friday night game was the homecoming game. For players and students alike, this was one of the biggest nights of the year. In more than one way, all lights were pointed on quarterback Max Akin.
Akin's best friend K.L. Norwood was on the sidelines with all the other students watching as Max and the team played their way to victory. As a team manager and football lover, K.L. was excited just to be at the game – however, a greater surprise was awaiting him.
K.L. Norwood
Kemper Louis (K.L.) Norwood was born three months premature and only weighed one pound 13 ounces at birth. Such a harrowing entry into the world led doctors to make dire predictions about his future.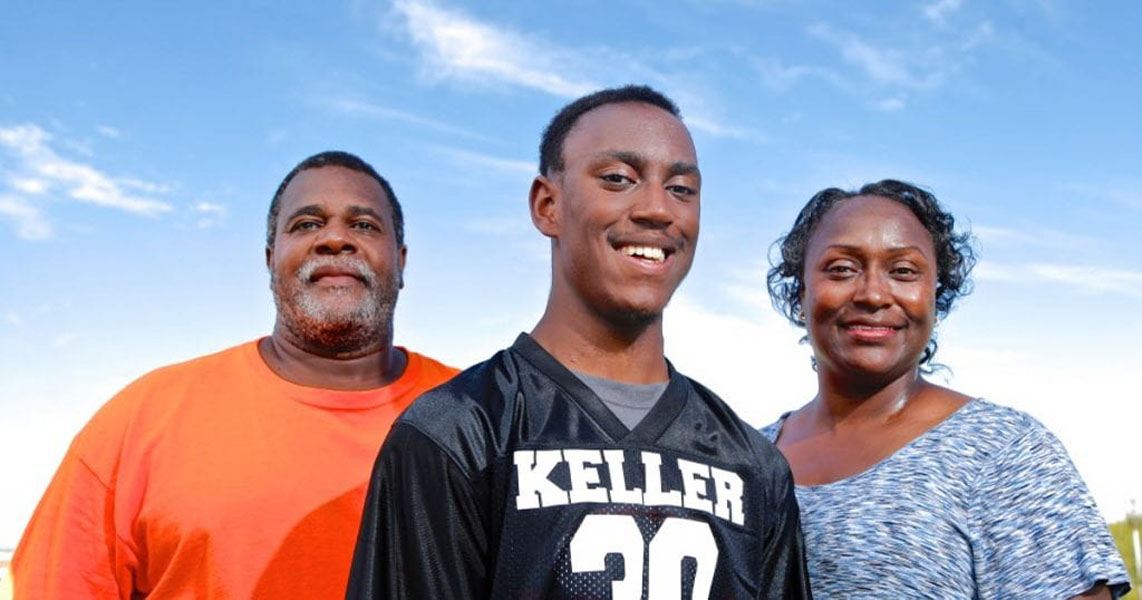 They said that K.L. would probably be unable to walk, talk, see, and hear. Norwood was on life support at the time, and doctors discussed the option of taking him off it. K.L.'s parents declined. Instead, they gave him a chance to live – and he has done it to the fullest ever since.
K.L.'s Diagnosis and Love of Football
Shortly after K.L.'s premature birth, the doctors diagnosed him with cerebral palsy. This medical condition affects physical development and makes movement, balance, and posture difficult. Oftentimes, people with cerebral palsy develop speech impediments and show a lack of fluidity in their walk.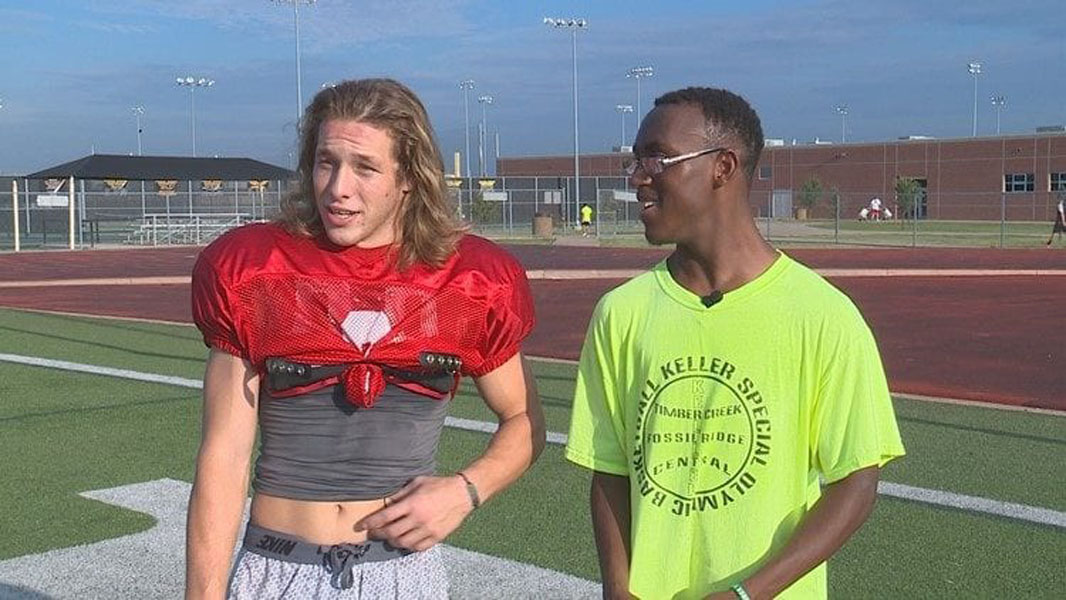 This kind of medical diagnosis made it difficult if not impossible for K.L. to play football. Even though K.L. couldn't play on the team, that didn't stop him from participating in the sport itself. 
K.L.'s Senior Year
Despite the doctor's predictions, K.L. Norwood managed to walk, talk, see, and hear. In high school, Norwood was admired and respected by classmates and teachers alike. Staci Murto, a Fossil Ridge teacher, told the Dallas Morning News, "You can tell everyone just loves him."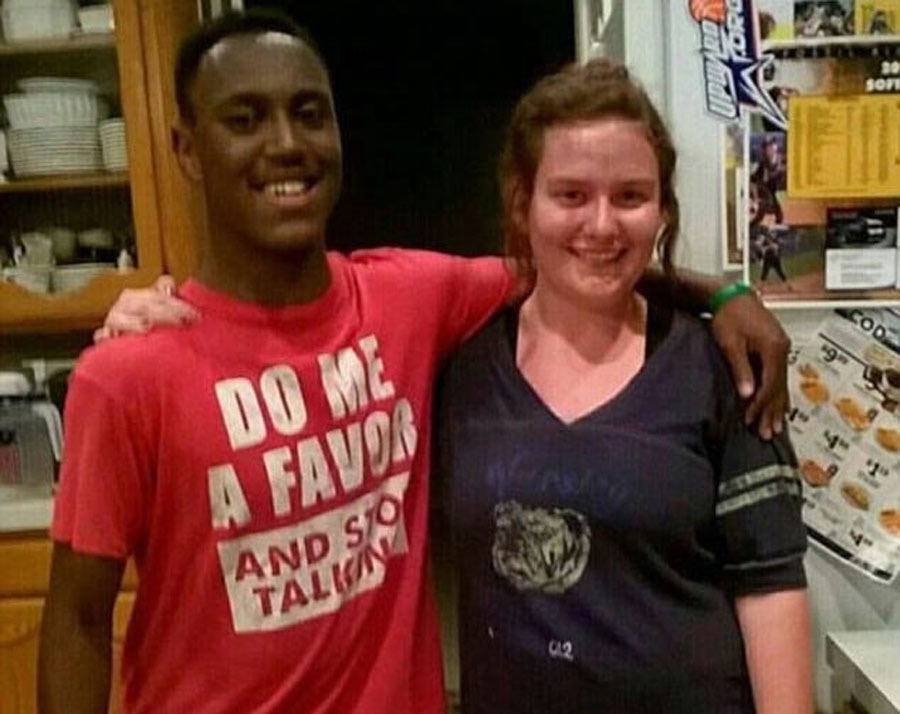 K.L. made school a better place, and this won the admiration of nearly everyone. As Max Akin said of his friend K.L., "You see him walking down the hallway and he's shaking at least 12 hands at a time." 
K.L.'s Contribution to Football 
Football was K.L.'s favorite sport, so during his senior year at Fossil Ridge High School, K.L. became the student equipment manager of the football team.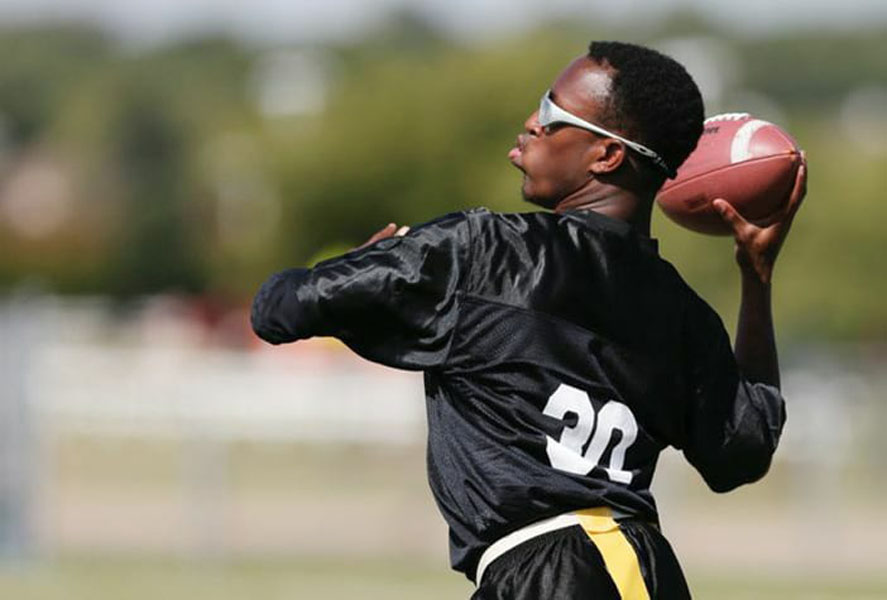 Long before the football players made their way to the field, K.L. was there preparing all the essentials – filling up the water bottles, getting the uniforms ready, and generally making sure everything was up to snuff for the game. These contributions played a big role in getting K.L. nominated as Homecoming King.
The Big Night
Homecoming night is a big deal for the students at Fossil Ridge – it's up there with senior prom and the state championship game in football. Alongside all the ceremonies and dressing up is the signature football game.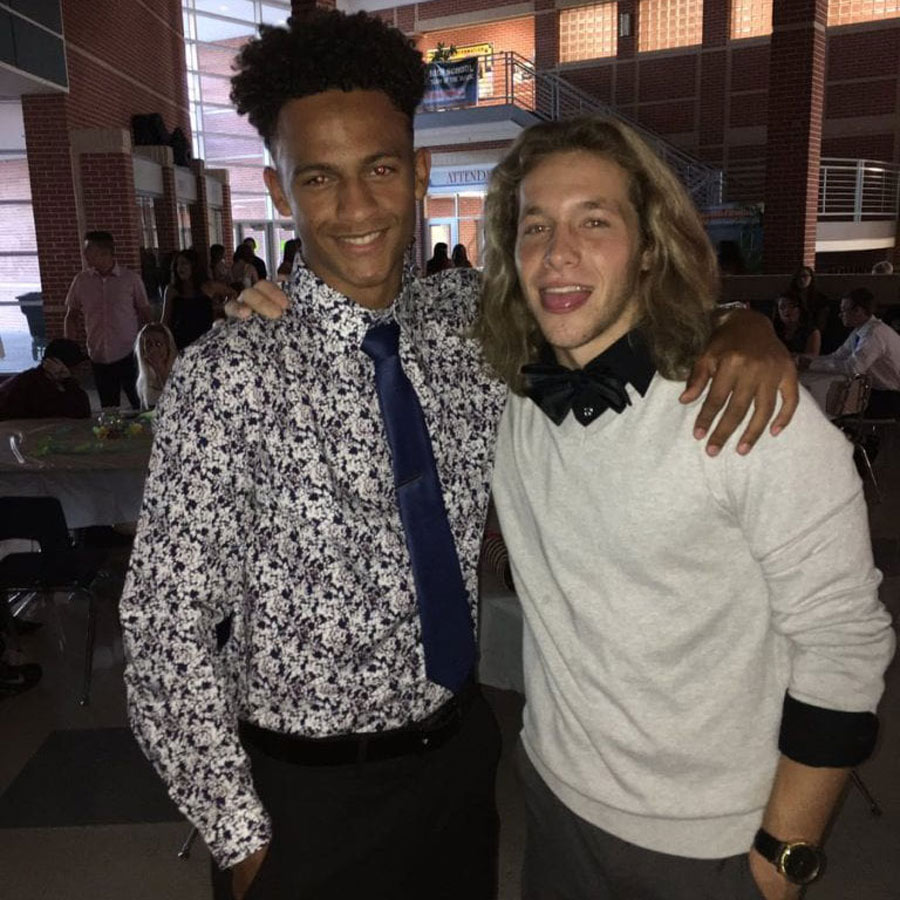 The way that homecoming works at this school is that five students get shortlisted. Each of them has to make a video explaining why they're worthy of the Homecoming King title. Although Max Akin could have given plenty of reasons in his video, he ended up doing something different.
Max Shows Support for K.L.
Instead of talking about why he should win the crown, Max Akin chose to humble himself a bit and talk about another student, one who "positively uplifts this school the most."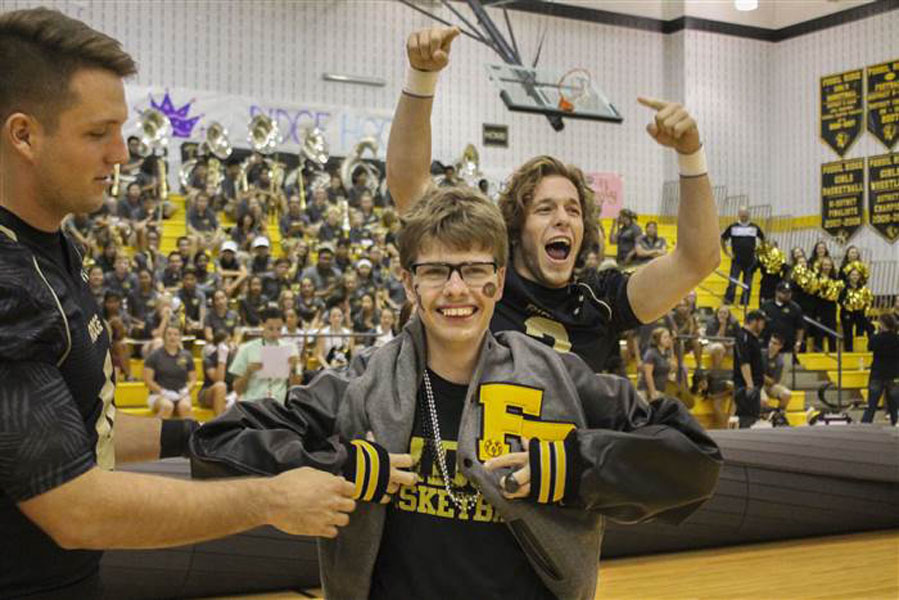 That student, as you might have guessed, was K.L. Norwood. Akin went on to say, "K.L. is honestly the most positive guy I've ever met in my life." Akin kept pouring out support for K.L. by adding that he always laughed at Max's bad jokes. 
The Ultimate Kind of Support 
The Homecoming King was announced during halftime at the football game. No one was surprised that Akin, the star quarterback, won. Even though K.L. was hoping that he would have won himself, he was nonetheless excited for his buddy Max.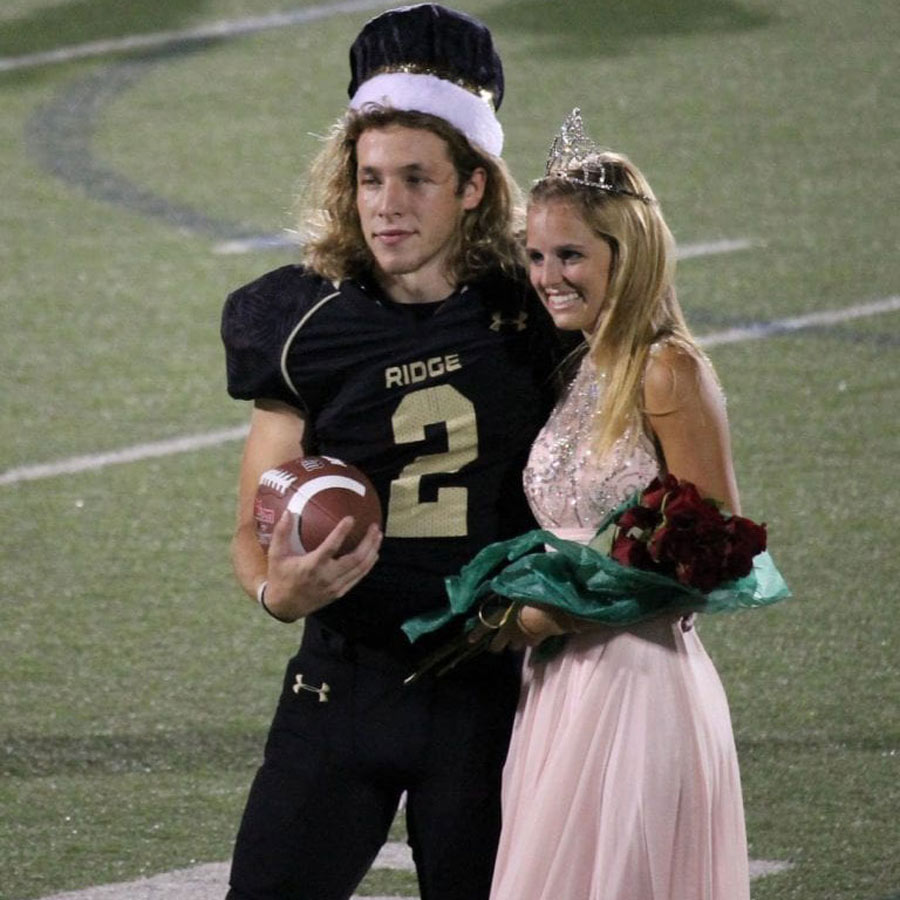 "It was really exciting," K.L. said. "I knew he was going to win from the get-go, so I clapped for him." K.L. watched as the Homecoming Queen went on the field to take pictures with the Homecoming King.
A Homecoming Surprise
After snapping some photos with the Homecoming Queen, Max Akin moved away and gestured toward K.L. Come over, he seemed to be saying, so K.L. decided to walk over. Suddenly, to the surprise of everyone, Max dropped to one knee and bowed his head.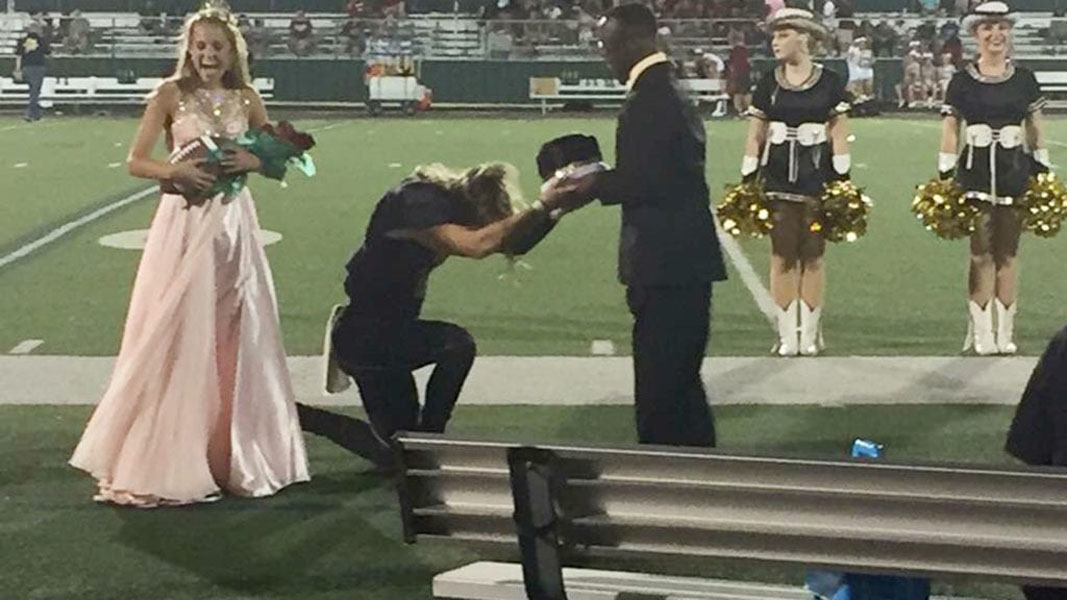 Then, Akin passed on the crown to K.L. who, he thought, deserved the honor more. Fellow classmates and fans erupted in a wave of admiration. It was, by far, the signature play of the night.
The King Of The Night
Adoring fans chanted "K.L.! K.L.!" as he became the new Homecoming King of Fossil Ridge High School. K.L.'s temporary sadness turned into bliss as a smile grew on his face. That smile quickly spread to the Homecoming Queen as well, who couldn't contain her joy.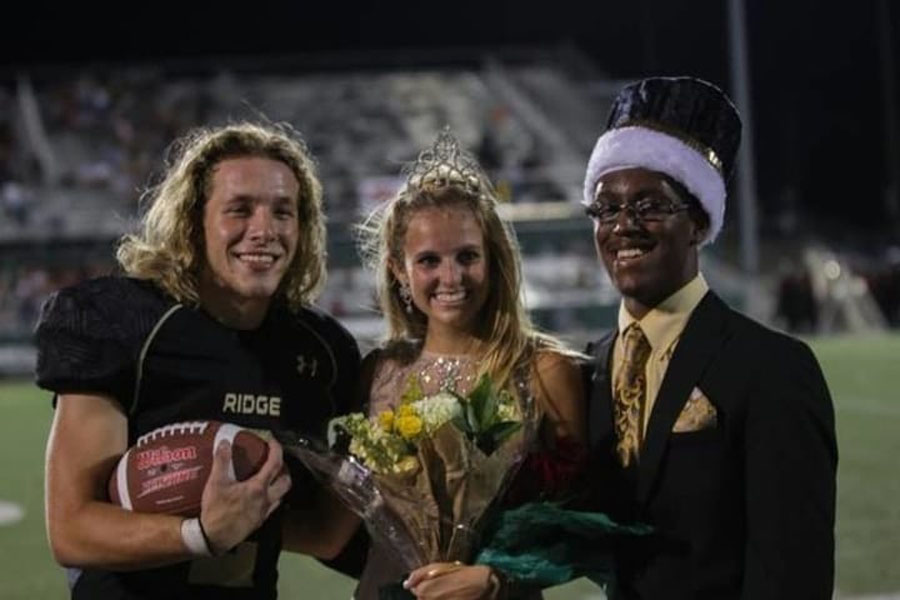 Later on, when interviewed by a local TV station, Akin said that it was fantastic to hear everyone chanting K.L.'s name. "And I know he liked that too," Akin said.
Appreciating K.L.
K.L. was taken aback by all the chants and applause – he definitely wasn't expecting it. He stood there and smiled while soaking in an incredible moment in his high school career. "It was really nice of him to do that," K.L. said. "It made me really, really happy."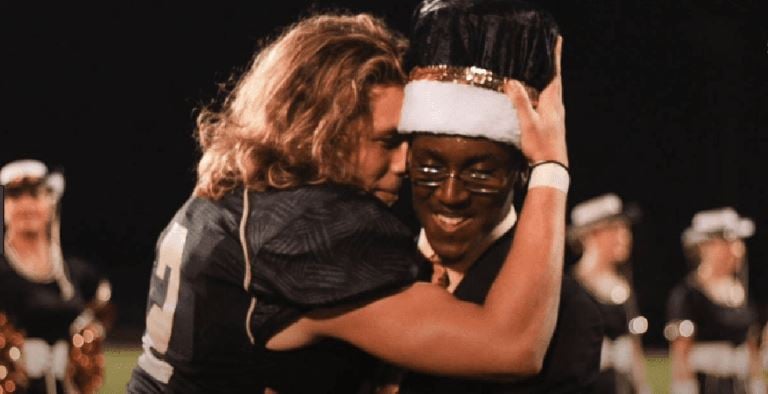 After kneeling down to present the Homecoming King crown to K.L. Norwood, star quarterback Akin gave him a big hug and told him how much he loved and appreciated him.
Max Akin's Message
If it weren't for social media, this heartfelt homecoming from Fossil Ridge would have stayed at Fossil Ridge. However, all the posts and pictures that people shared online caught the attention of local media who decided to give it coverage.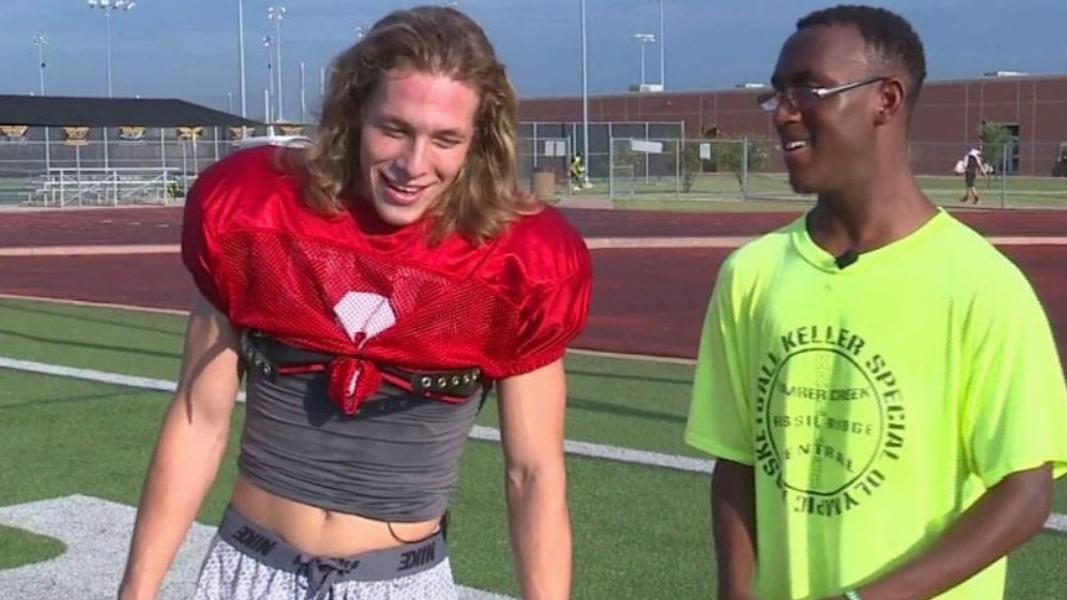 From there, the story caught the attention of national media. Eventually, the popular TV host Ellen DeGeneres caught wind of it and decided to give the two boys a phone call. Max said the compassionate event represented "something lacking in today's world."
TV Time with Ellen
The Ellen DeGeneres Show is one of the most popular daytime TV shows in the US. Ellen amuses and uplifts her guests and audience members by sharing inspiring and surprising stories. As a viewer or guest, it's hard to know what she will say next.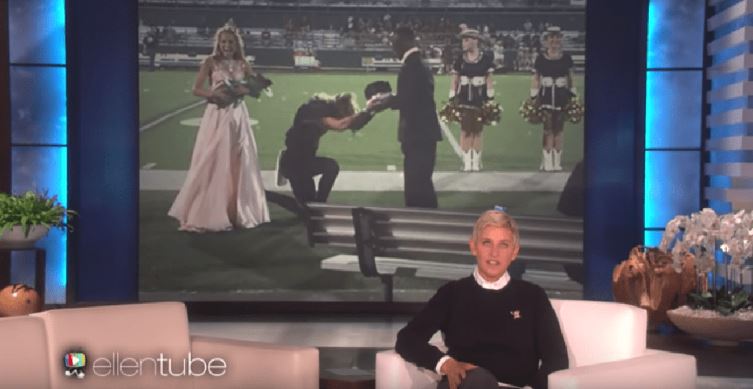 An audience favorite on Ellen's show is the segments she does that highlight the extraordinary things that ordinary people do. As you can no doubt guess, that's why K.L. and Max's story made a perfect fit.
Flying to California
K.L. and Akin left Forth Worth, Texas to appear on The Ellen DeGeneres Show. Ellen's show paid the way for these two high school students to board a plane and come to California. It was a no-brainer for the producers because their story was so touching.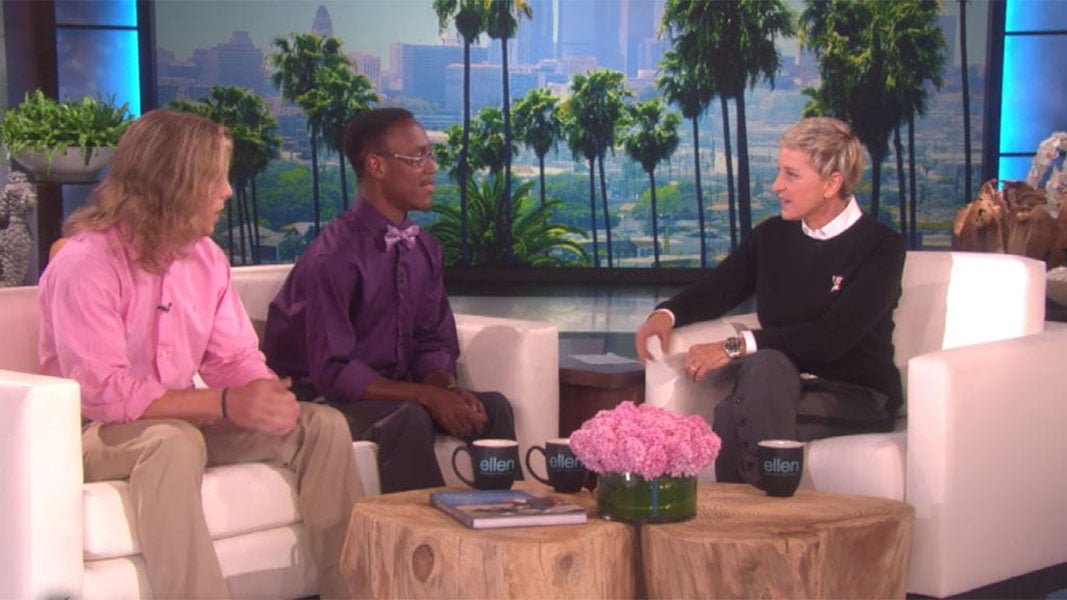 It was only three weeks after the homecoming night and news of Akin and K.L.'s friendship spread through social media and local media. Ellen brought them on set to both celebrate the kind act and to interview them live.
Spreading the Message
Ellen was taken aback by Max's decision to pass the crown to his friend K.L. Despite outward appearances, Akin said the fact that K.L. had cerebral palsy wasn't the reason he did what he did.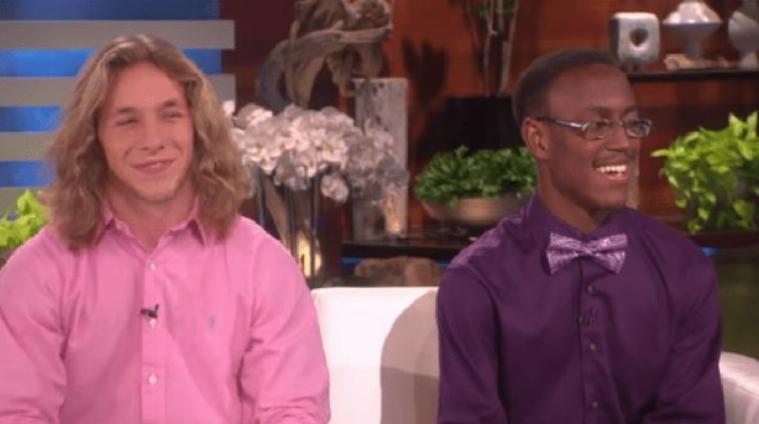 "I don't see K.L. as a disabled person," Akin said. "I see him as a great human being." This positive outlook was spot on as Max continued to explain how K.L. lit up rooms with his good vibes. Isn't that what being a Homecoming King is all about?
Do Unto Others
Max and K.L. used the national prominence of Ellen's show to spread a message of basic humanity and hope. As Akin said, "as corny as it may sound, you've got to treat everyone the way you want to be treated."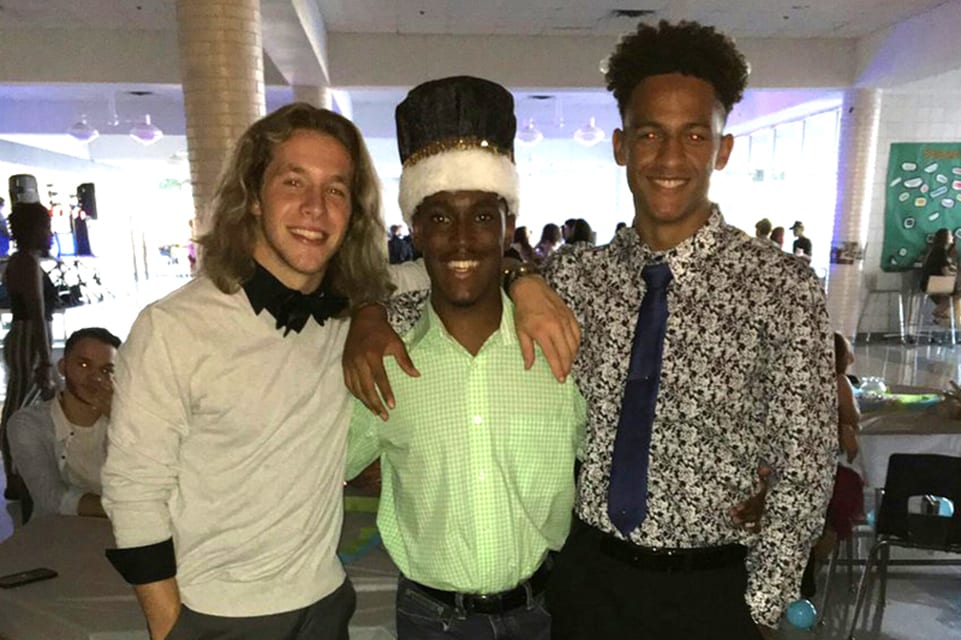 Akin went on to explain that people who're given the chance to make others happy should do so. Don't hesitate. The audience wholeheartedly agreed and cheered along – just like the students did at the homecoming game. 
Ellen Rewards Them
As the interview continued, Ellen asked K.L. and Max about their future plans. Both had the same answer – they were attending college in the fall. This was the cue for Ellen's big surprise.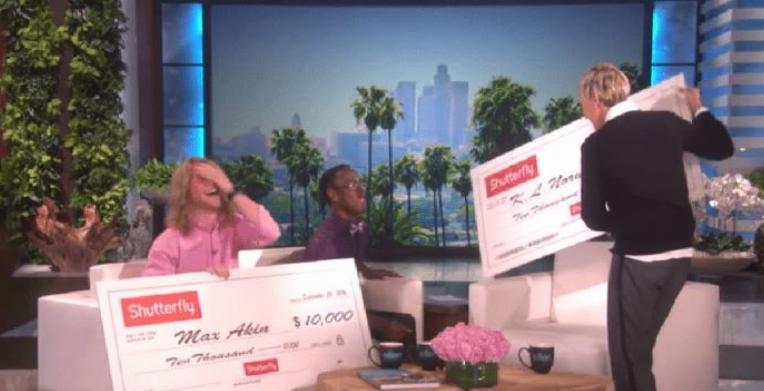 A production manager ran on set to hand Ellen something. That something ended up being two massive checks for $10,000 each! "We need more people like you in the world," Ellen said to Max and K.L. as she handed them the generous gifts.
The Benefits of Positivity
When talking about the other candidates for Homecoming King, Max Akin said they were all great, "but I knew exactly who deserved the crown. As soon as I heard the nominees, I knew K.L. was the one who should get it."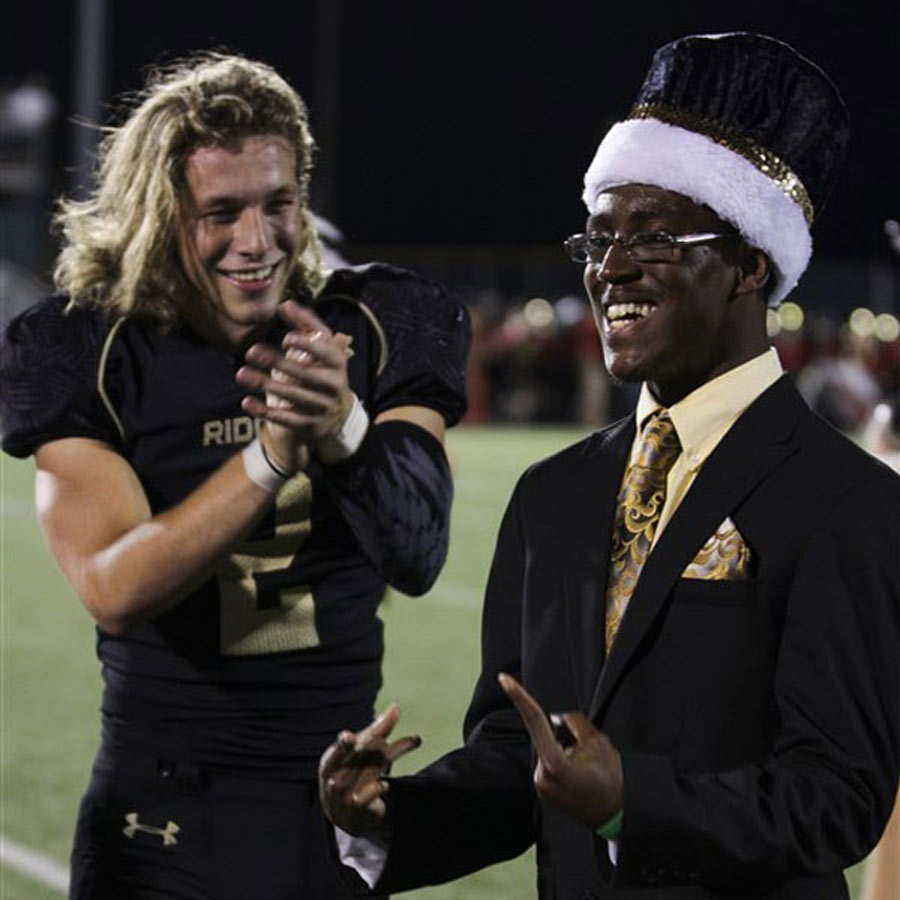 Although K.L. didn't officially win the Homecoming King crown, his positive attitude ended up winning over the hearts and minds of those at Fossil Ridge High School and beyond. It's a great example of how anyone can make the world a better place.
For more wholesome, uplifting content, you'll want to hear all about Tim Tebow's story too!
The Story of Tim Tebow
Our next story has the same message of positivity and compassion, but it's centered on a more famous figure – Tim Tebow. Although his legacy on the NFL field is up for debate, his charitable actions outside the field are not. It's generally agreed that he's a good person.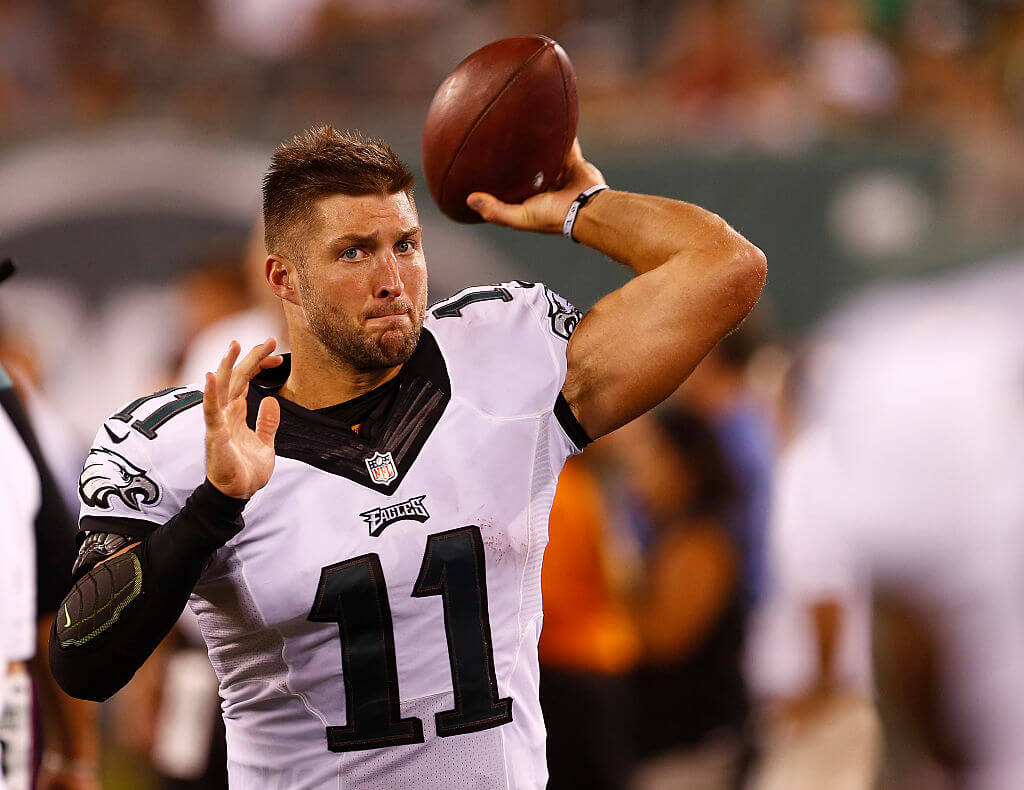 Many parents see Tebow as a great role model for their kids. This is because he has allowed his religious faith to guide him toward being a kinder and more charitable person.
Playing with the Gators
At the University of Florida, Tebow became one of the greatest college quarterbacks of all time. It was no surprise when he won the prestigious Heisman Trophy. During his time there, he was also unapologetically religious – often wearing Biblical messages and praying on the field.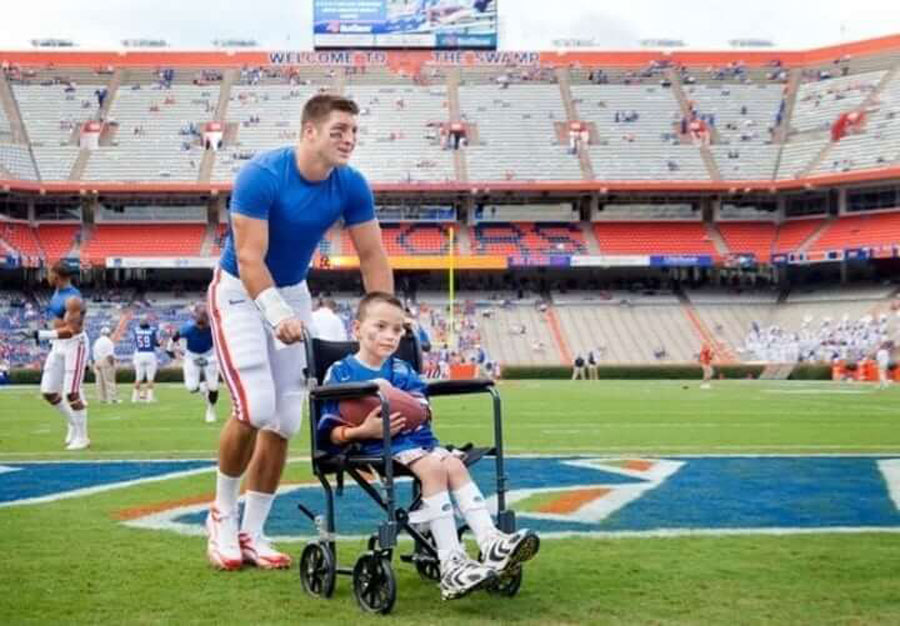 Although some found it divisive, others found it reassuring. For the latter group of fans, Tebow showed that he stood for much more than good looks and athleticism. This belief was backed up by his work off the field.
Winning the Heisman
During college football at the University of Florida, Tebow integrated his faith into the game. Although a lot of athletes say they're religious, most of them keep their private beliefs and practices off the field. Tebow, however, was different. He made his private beliefs public by displaying them proudly.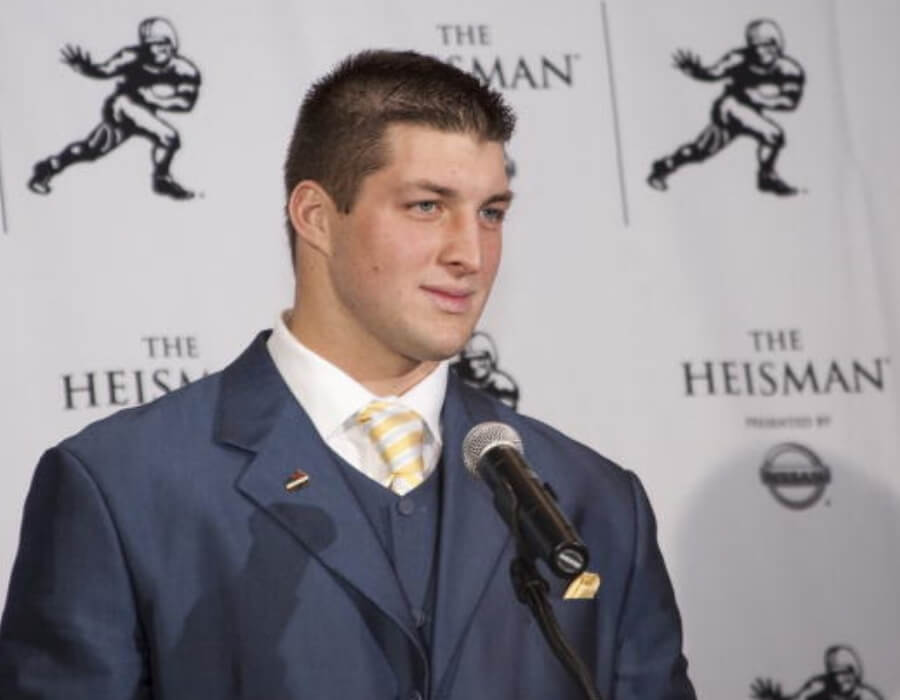 This led some fans to view him as a kind of hero, rather than just an athlete. That was reinforced when he led the Florida Gators to beat the Oklahoma Sooners in the 2009 BCS National Championship Game.
Making It to the NFL
After an incredible college career with the Florida Gators, Tebow was drafted to the Denver Broncos. A lot of fans and commentators were expecting him to have a spectacular professional career. However, that never happened quite as planned.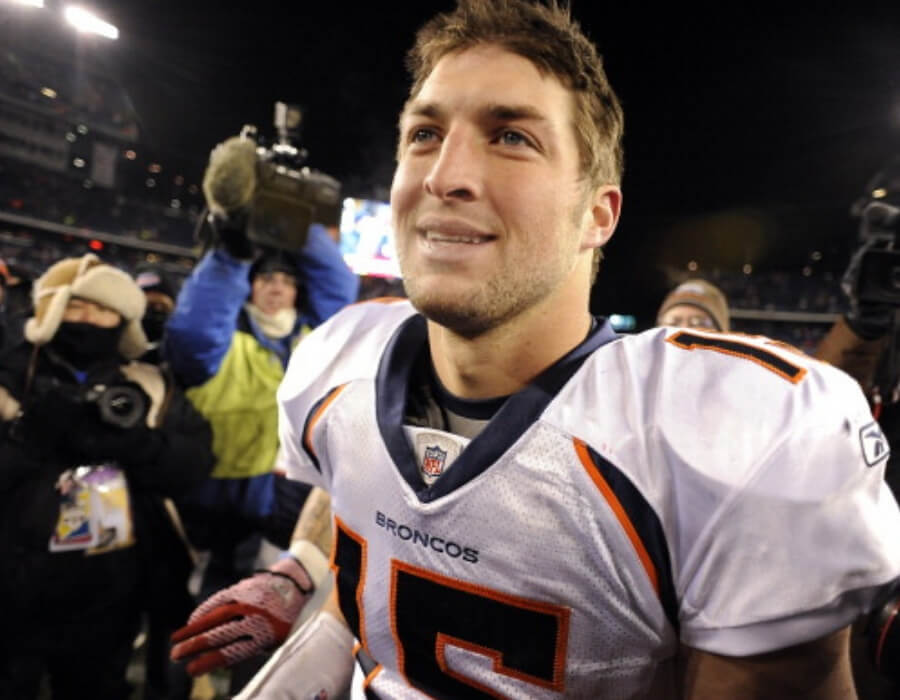 Tebow ended up moving around a lot during his NFL career. After two seasons for the Broncos, Tebow was traded to the New York Jets. After one season there, he was traded to the New England Patriots, then the Philadelphia Eagles, and finally the Jacksonville Jaguars.
A Role Model for Others
Although he might have been somewhat inconsistent on the field, he was entirely consistent off the field! He cared for the larger community and always saw the bigger picture. Despite his NFL career not being what he hoped for, he didn't let that get in the way of modeling good behavior for others.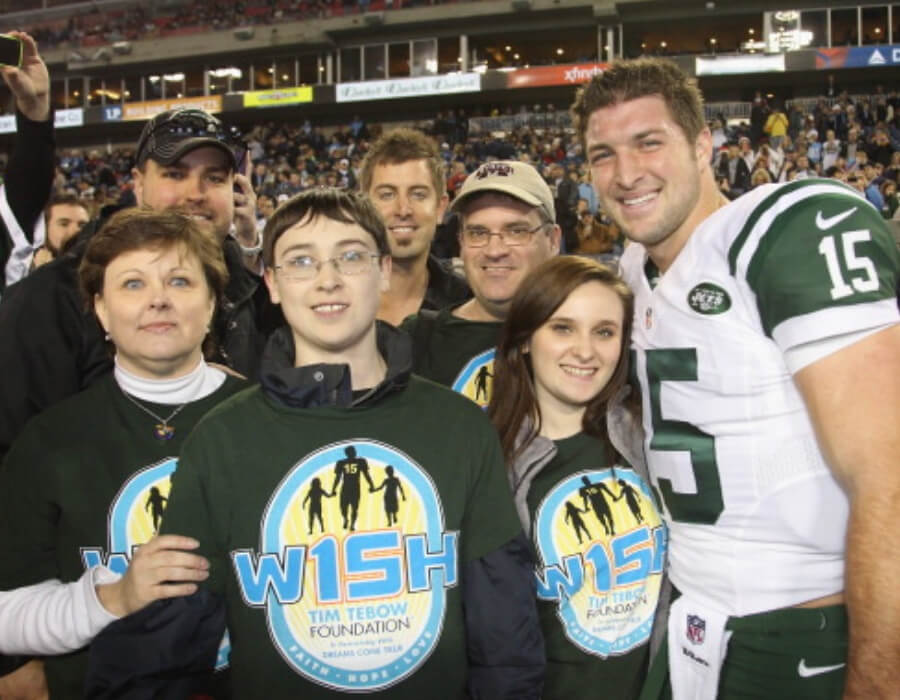 Shortly after graduating from college, he started the Tim Tebow Foundation to help families in need. His charitable work through this foundation became a continuous source of inspiration for Tim.
Tim's Many Foundations
Tim shows a great deal of enthusiasm and satisfaction when speaking about the wide range of charitable work his foundation does. Under the larger Tim Tebow Foundation is a host of smaller organizations that work toward their own specific goals.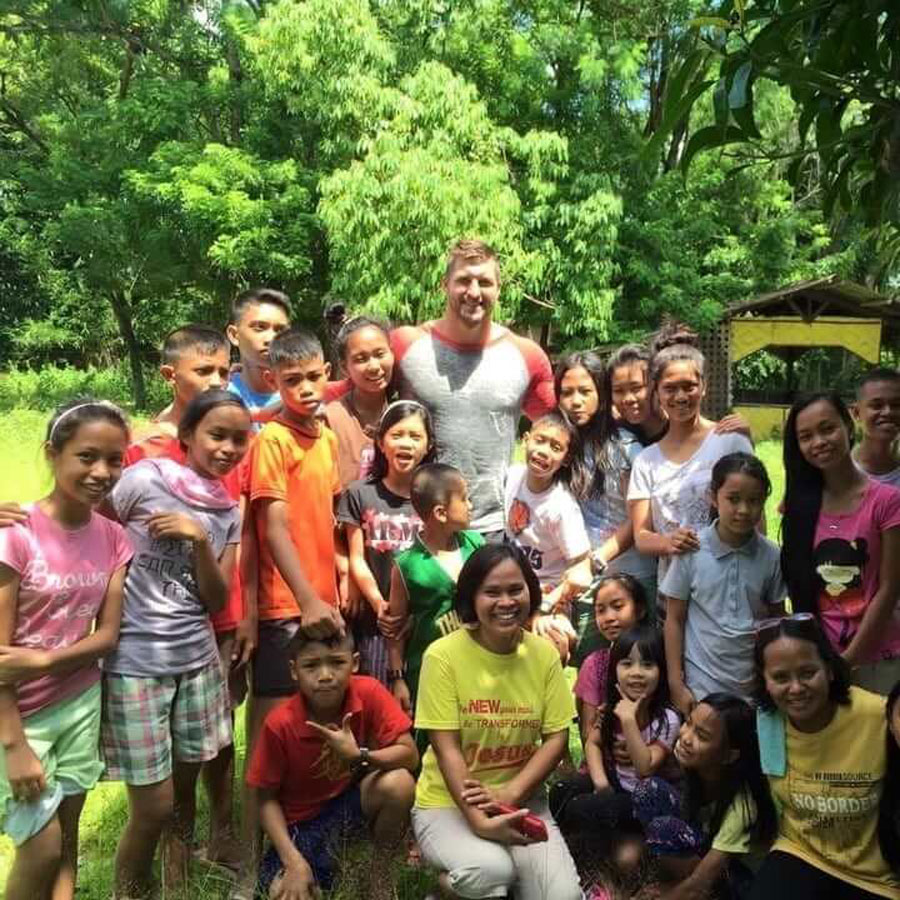 For example, the Tebow CURE Hospital foundation helped to build a hospital in the Philippines. Another foundation, called Timmy's Playroom, builds children's playrooms in hospitals around the globe. Although it's hard to choose a favorite foundation, it seems that Tebow has one.
A Night to Shine
Of all the charities and initiatives that Tim participates in, his favorite is the Night to Shine program. This is dedicated to giving kids with special needs the ability to have a unique prom-style night. It's the largest event that the Tim Tebow Foundation currently has.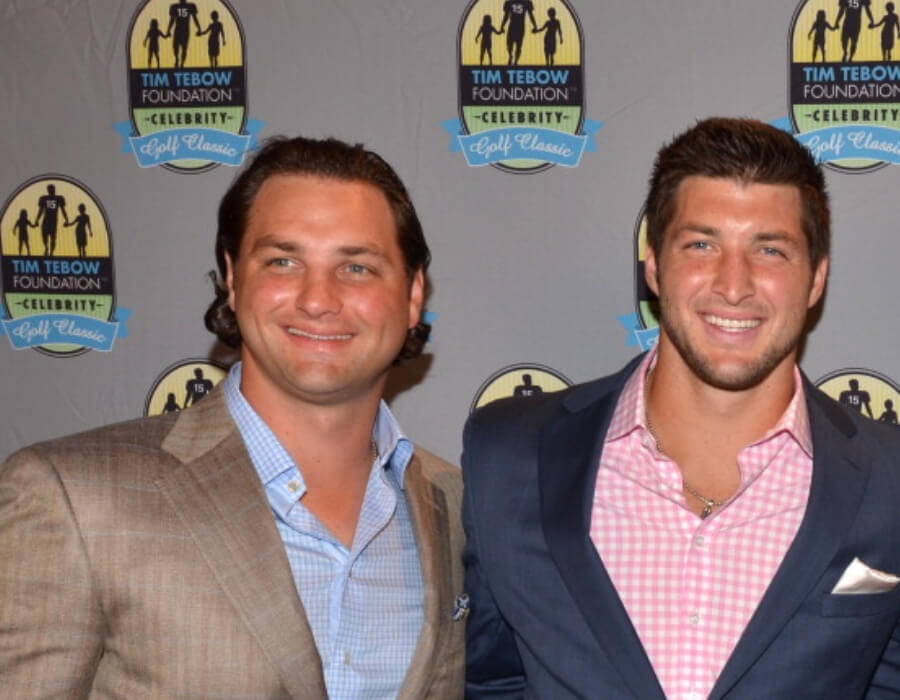 This special night captures the attention of fans and celebrities all over the world. It's a huge event that shines a light on the issues that Tebow is trying to bring out into the open.
A Global Impact
The celebration is a massive global event. It started in 2015 with 15,000 volunteers spanning three countries, but by 2020, it had grown to 215,000 volunteers spread over 34 countries. The prom-night experience is complete with red carpets, fancy clothes, and plenty of dancing.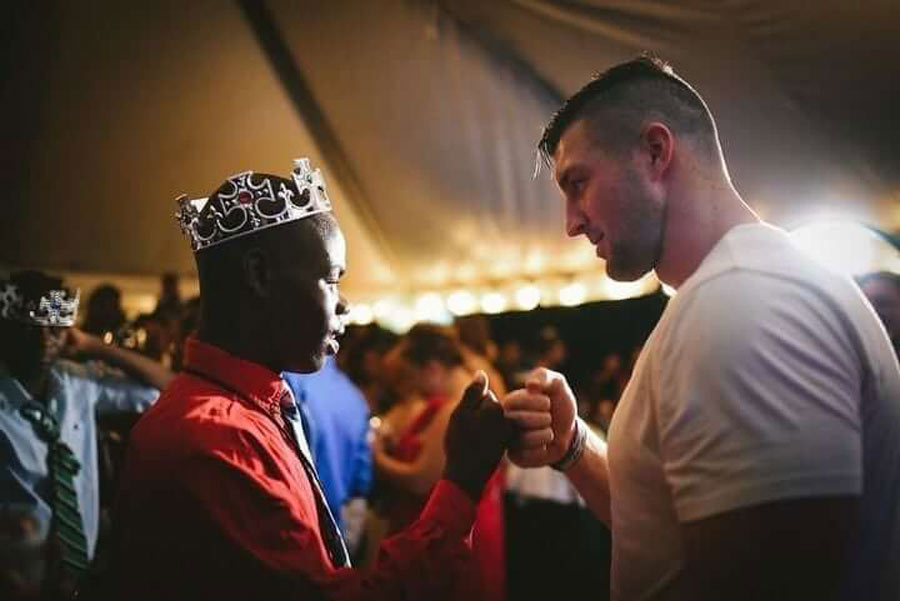 Alongside being a lot of fun, the Night to Shine program helps boost the confidence of many kids – not only for that night but for many nights thereafter. It's an event that helps those who might feel sad or depressed feel a bit happier.
From Being Excluded to Being Included 
Although some might say that the prom isn't that important, we disagree. Many of the teens who participate in the Night to Shine event have positive and even transformative experiences – alongside all the fun.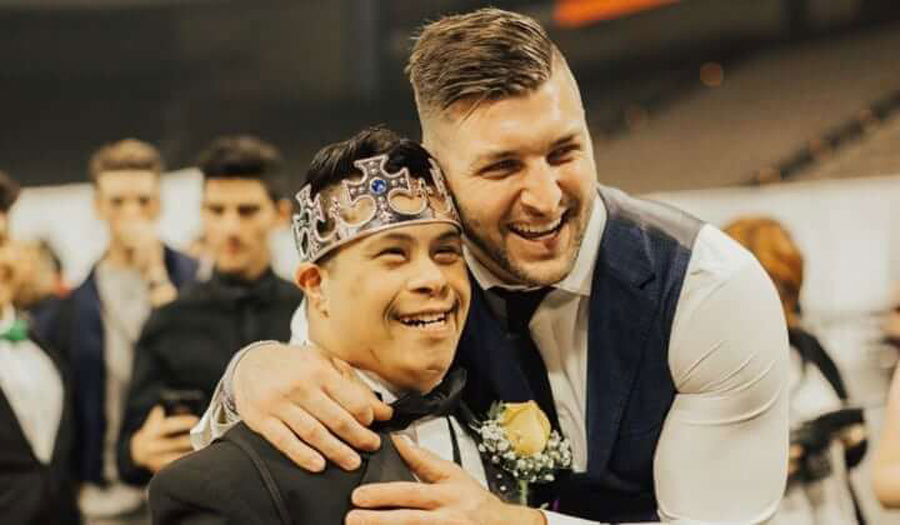 Too often teenagers with special needs don't participate in the prom, which can make them feel excluded. This special night seeks to fix that problem by bringing many of these teens into an inclusive circle all their own. A girl named Judy Adams, a huge Tebow fan, knows that first hand. 
Judy Adams and Her Mom
Like Tim Tebow, Judy Adams is passionate about helping others. As a person with Down Syndrome, Judy loves to do all she can to make life better for those who're in the same boat as her.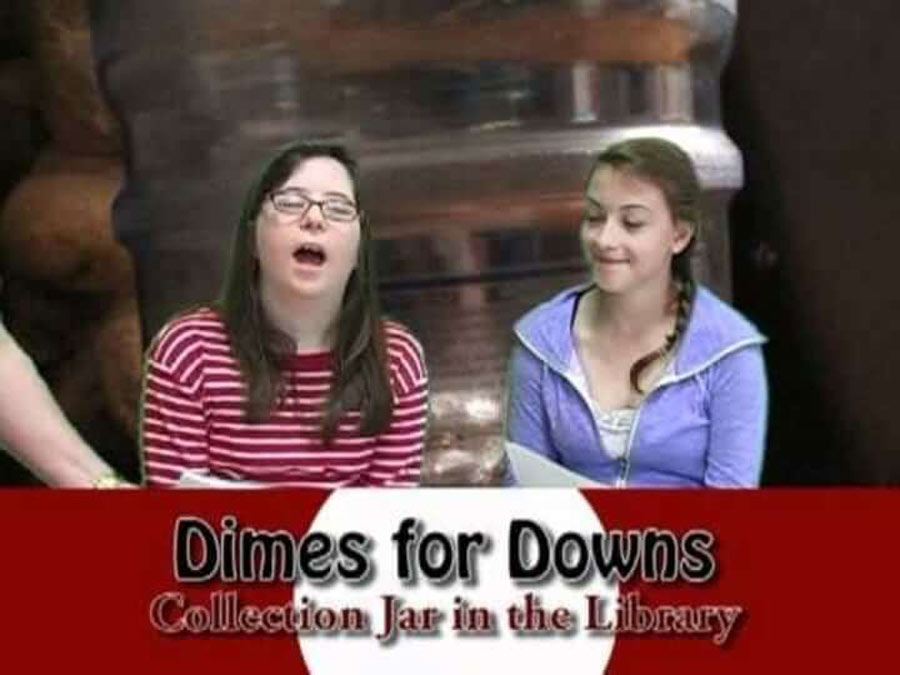 To do this, Adams started Dimes for Downs, an organization that eventually grew into a legitimate charity. Perhaps she picked up some of that loving spirit from her mom who runs Gifts From the Heart for Downs – an organization that fulfills wishes for people with Down Syndrome.
Judy Adams' Charity Work
Judy Adams' charity work grew out of a desire to help out with her mom's charity. To do that, Judy decided to start collecting dimes from local people. Pretty soon, however, that local effort turned into a nationwide movement.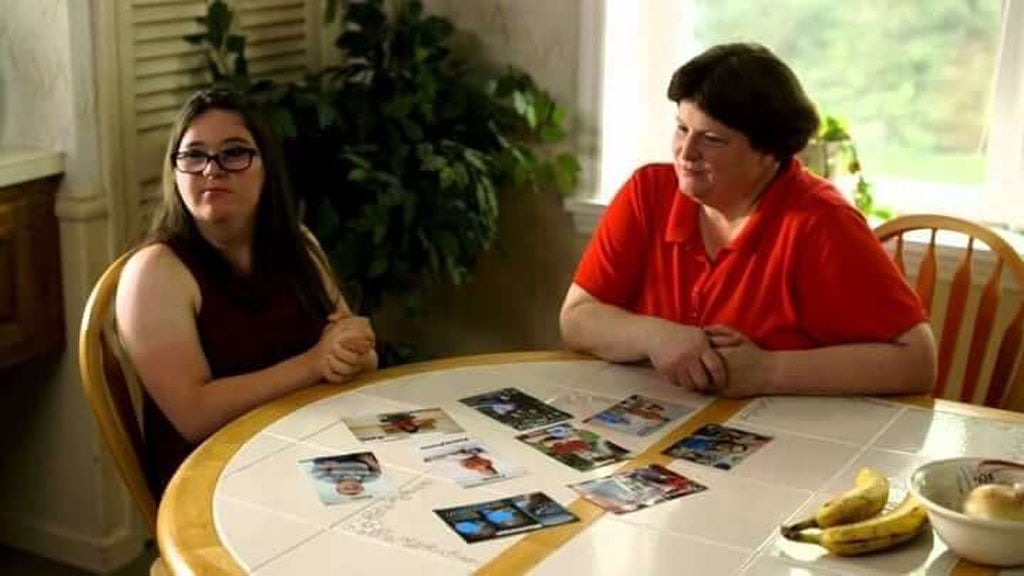 From that humble beginning grew Dimes for Downs – an organization that is now over ten years old! Judy's original goal was to gather 500,000 dimes. Although she reached that goal a few years back, she continues to work tirelessly to do more.
Raising Money, Raising Dreams
Judy Adams, as we've said before, was (and is) a huge Tim Tebow fan. Although she appreciates his athletic abilities and his warm personality, she's mostly inspired by all the work he's done for those with Down Syndrome.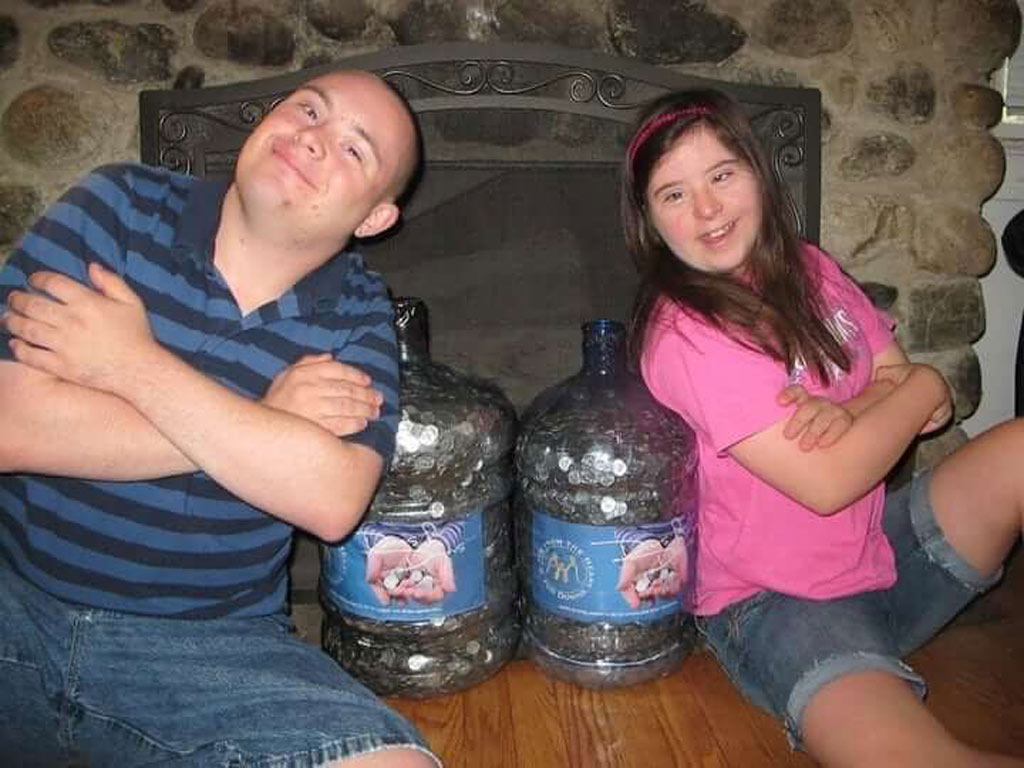 Adams participated in Tim Tebow's famous Night to Shine. She not only participated, but she personally reached out to Tim Tebow to ask if he wanted to be her date. Unfortunately, Tebow was busy at the time – but the request stuck with him.
Judy's Prom
Tim was bummed out that he couldn't be Judy's date for the prom. It would have been one of the highlights of her life. Although Tim couldn't make it, he also couldn't get the request out of his mind – so he concocted a way to surprise her.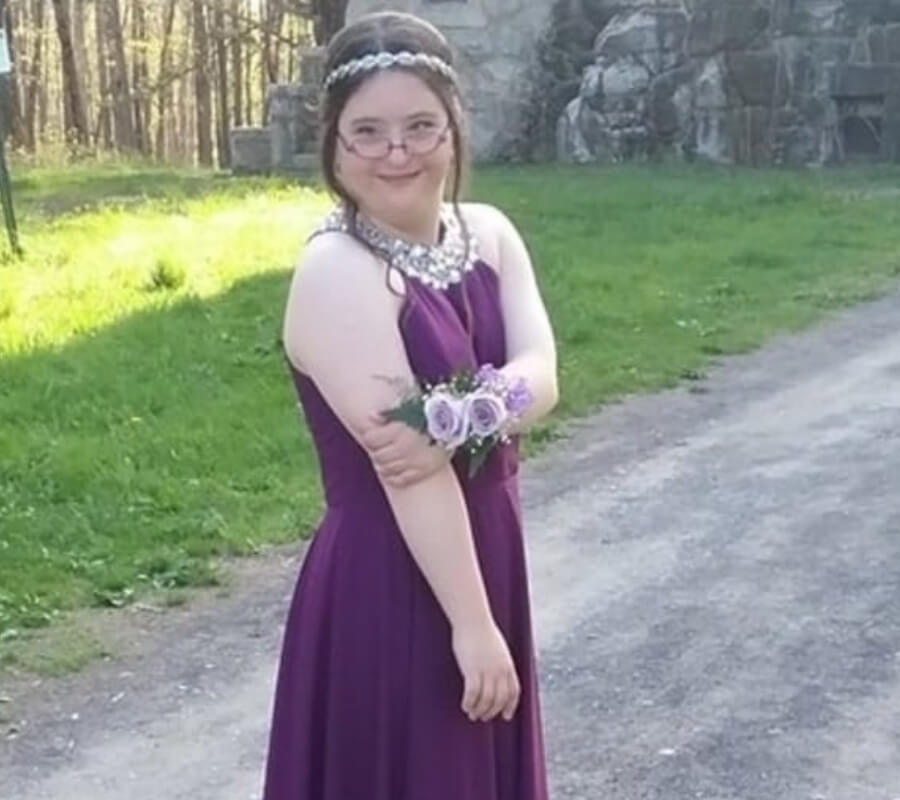 After the Night to Shine prom, Tebow gave a call to Judy's mom. He offered her tickets to The Tonight Show With Jimmy Fallon. Mom accepted, but she had to swear to follow some very specific rules.
Time for a Surprise
The first rule was that mom had to keep it a secret – she couldn't tell Judy that she got the tickets from Tim Tebow. Instead, she told Judy that the tickets were won in a raffle.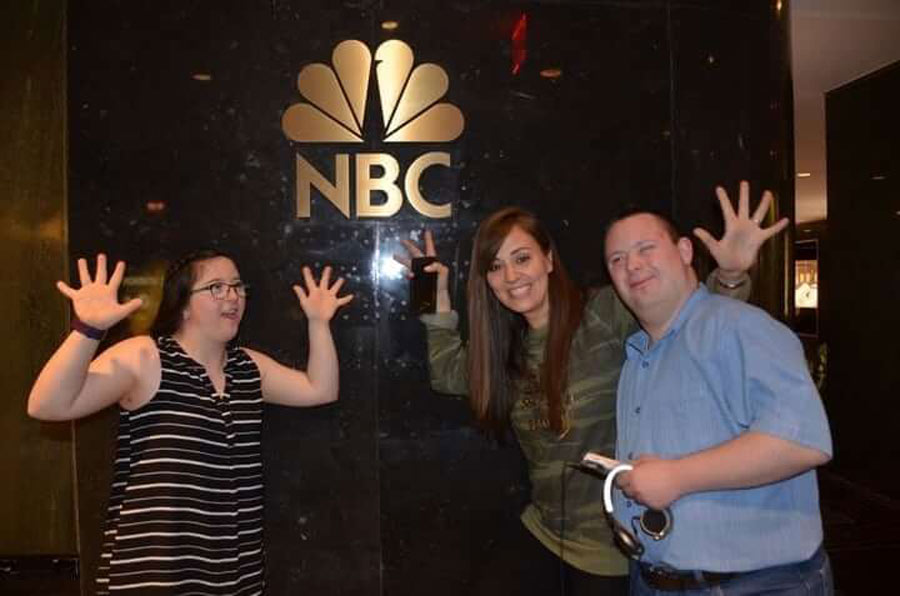 Rule number two was that Judy couldn't know that Tim Tebow would be on the show. That was a far more difficult secret for mom to keep. Although Judy was super excited to go to the show, she was always asking what celebrity would be there.
Tim Missed His Prom Night
While on the Tonight Show With Jimmy Fallon, Jimmy was chatting with Tim about the Tim Tebow Foundation and the Night to Shine program. When the conversation turned to prom experiences, Tim said something that astounded the audience.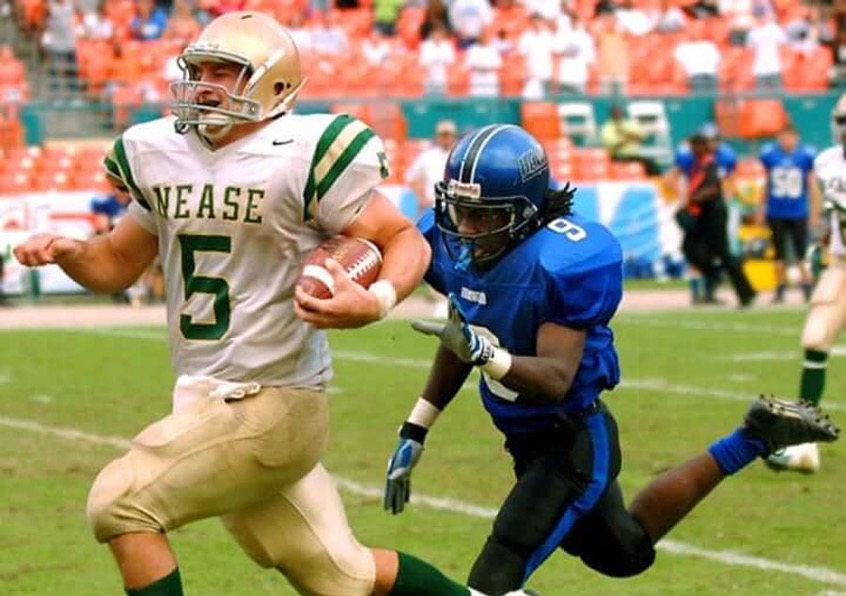 Tebow revealed that he didn't go to prom. Between all the sports he was playing, he just never had the time. It was crushing for him, and he said he wanted to make up for the missed opportunity. Luckily, someone in the audience could help.
Tim Tebow and Judy Adams Meet
After Tebow revealed that he never went to prom, Fallon pulled out a corsage of flowers for him. It was a bit of a joke, though, and part of a larger plan. After that, Tebow turned to the audience and began describing how one girl asked him to be her date at Night to Shine.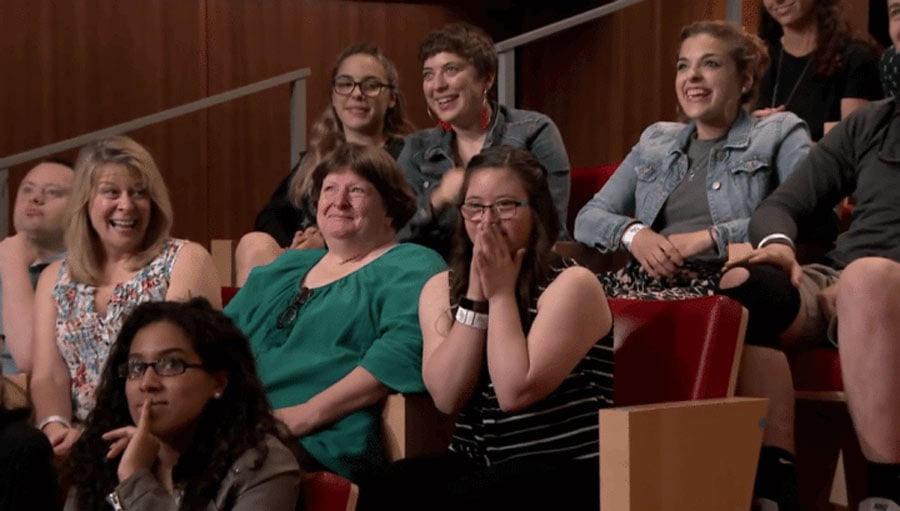 That girl, of course, was Judy Adams. As Tebow continued telling his story, her enthusiasm grew and grew. As Tebow called out her name, the camera panned to Judy.
The Dance of a Lifetime
Judy was in complete shock – overjoyed with emotion. Soon after, Tebow asked Judy if she wanted to have a dance with him. Of course! She screamed out "Yes!" and marched toward the stage as the audience erupted in applause.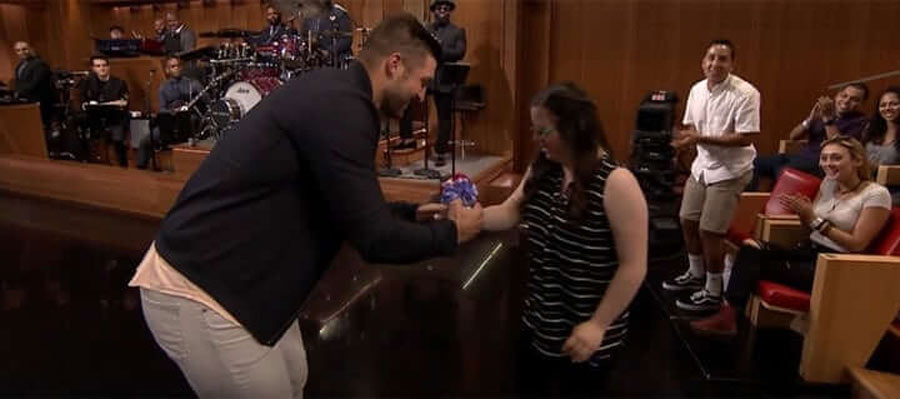 Tebow placed the flowers on her wrist and gave Judy a big hug. Then, in a moment Judy will never forget, they slowly danced on live TV in front of a live studio audience. There wasn't a dry eye in the studio that night.
A Very Proud Mother
It was an incredibly powerful moment to capture on live television. As the house band played slow music, they danced back and forth. Tebow let her know how beautiful she looked and then asked if she was surprised. "Yes!" she screamed.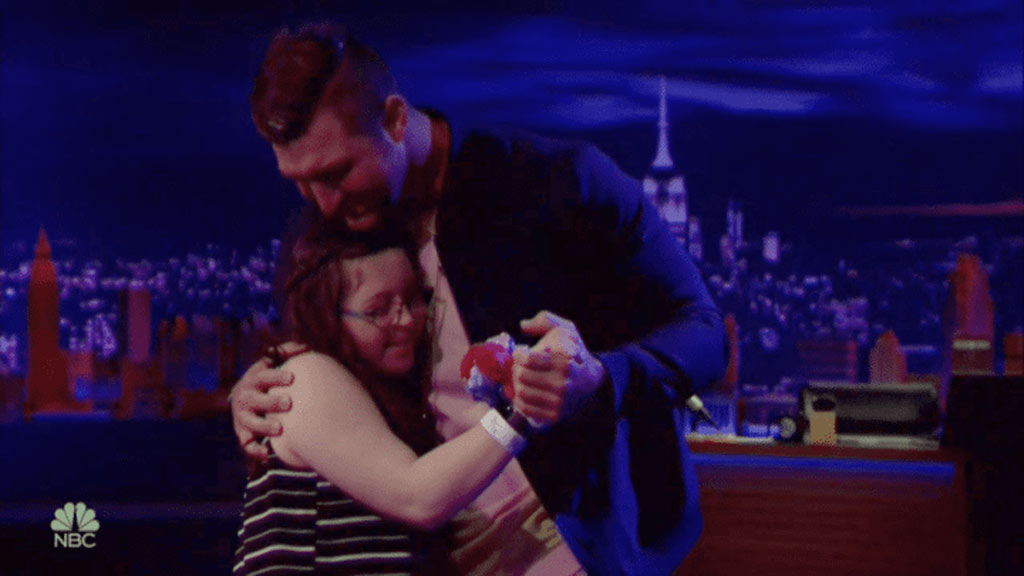 As the dancing was happening, the camera panned over to her mom who was crying tears of joy. Remarkably, mom managed to keep it all a secret before the big reveal – which made it even more special and authentic.
Backstage Selfies
After her big moment dancing with Tim Tebow on national TV, Judy and her family were able to head behind the scenes for a private tour. Backstage at The Tonight Show With Jimmy Fallon, they were able to meet crew members and other celebrities.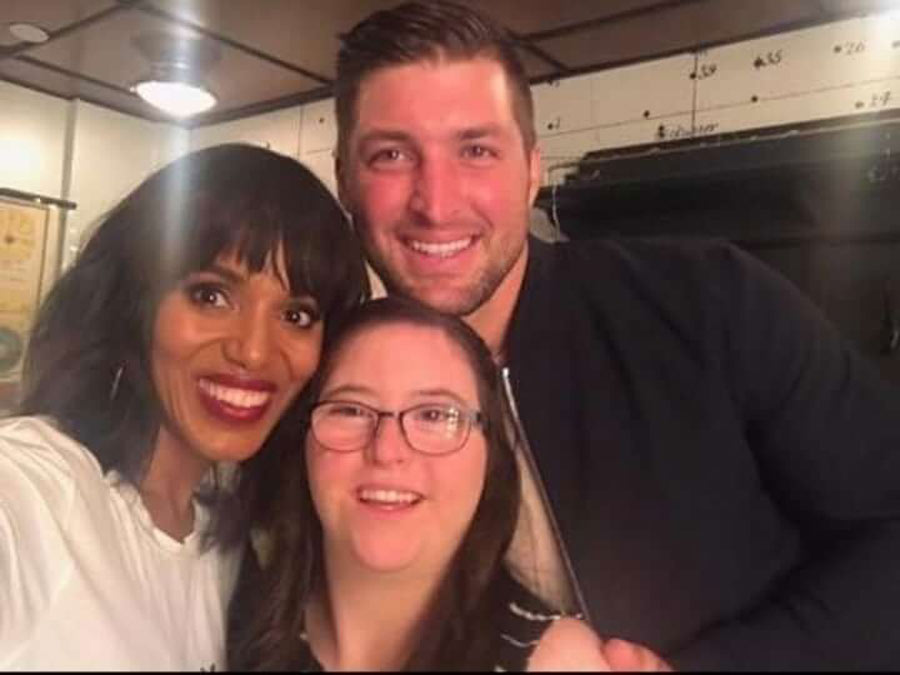 Also on the show that night was Kerry Washington, famous for her role as Olivia Pope on the TV show Scandal. Judy, Tebow, and Washington snagged a few unforgettable selfies. It was hard for Judy to contain her excitement.
Chatting with Tim 
After the TV dance and backstage tour, it was time for a private chat with Tim. Judy and her family felt immensely lucky. Tebow is such an affable and caring guy that he often puts all his attention on the person he's talking to – which made Judy feel extra special.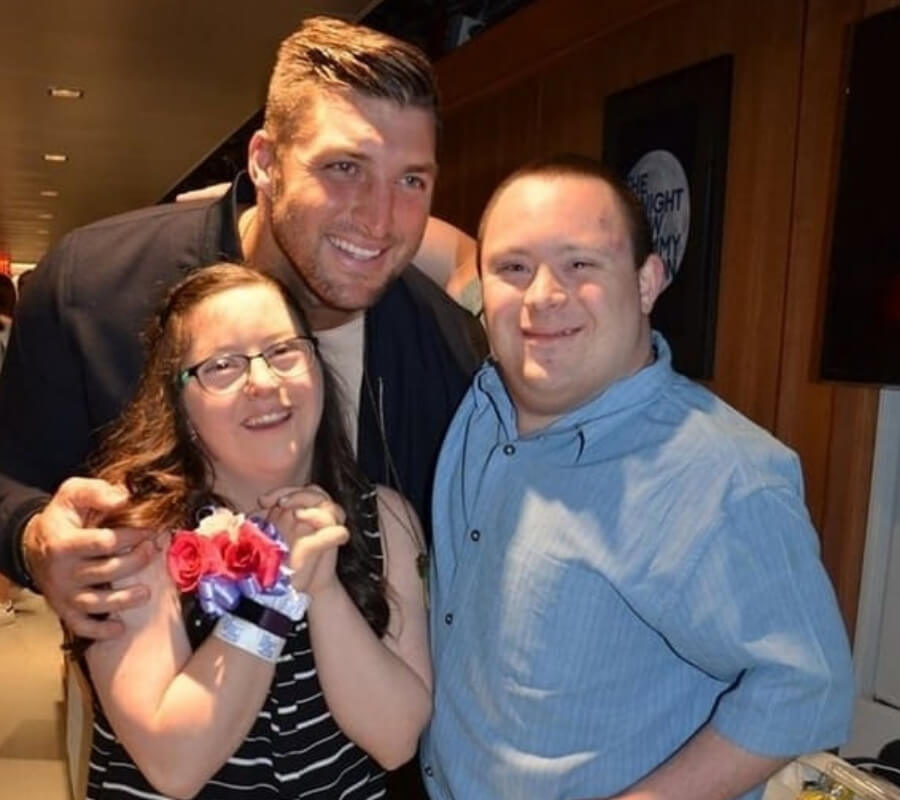 As you can see from above, it's clear that Tim Tebow is a positive force in the world. The Tim Tebow Foundation and Night to Shine have touched the hearts and minds of many people across the globe.