These Comical Camping Photos Are A Sight To See
If you want to get away from it all, grab a tent and head for the woods (or, if you prefer, a nicely maintained campground with showers, wifi, and electricity hookups). Either way, spending a few hours or days hearing bird chirps and rustling leaves is a great way to unwind. For some people, however, "unwinding" goes a bit too far – or a bit too silly.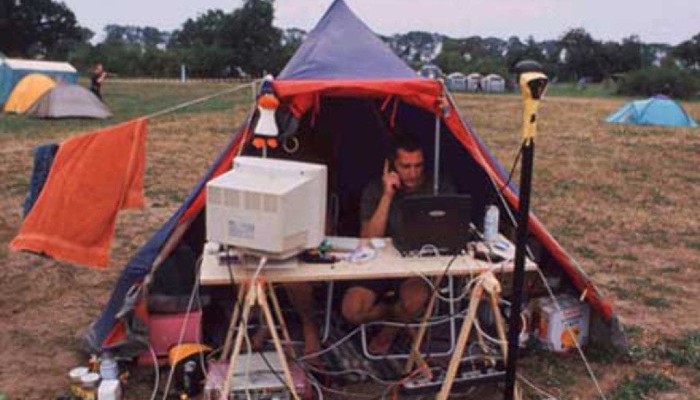 Once they're out of the world of civilization, people can get pretty wild. They can also get fairly inventive. Whether it's floating picnic tables or floating mattresses, people let their inventive spirit carry them along when they go camping. Let's take a look at some hilarious camping photos.
After the Rain 
People go camping to get in tune with nature. However, sometimes nature's tune is pretty intense – wind, snow, and, of course, rain can do some serious damage. During the storm, most people hunker down in their tents to wait it out.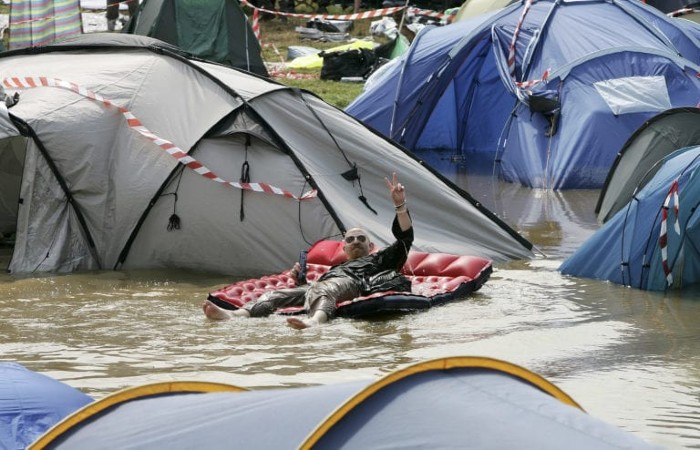 Once it's over, they tend to survey the damage and tidy everything up. Well, the guy above isn't "most people." Instead of drying out his clothes or air mattress, he decided to grab a beer, get on his mattress, and enjoy the temporary pond. Cheers!
A Morning Float 
Although we aren't entirely sure what the backstory is behind this next photo, we are sure that it's hilarious. In every friend group, there's always that "one friend" who does things a little differently and takes life (or in this case, camping) a little less seriously.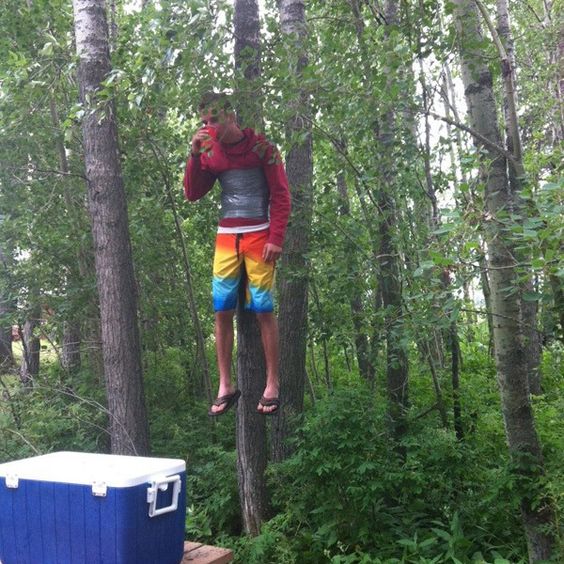 They are the comic relief. Imagine waking up to a friend mysteriously floating in the air. Rather than being creepy about it, however, the friend keeps his sandals on, sips his drink, and pretends like it's a normal morning. 
An Odd Family 
The human animal often forgets the second word in that phrase – animal. We like to think of ourselves as entirely different from dogs, cats, sheep, and donkeys. Sure, we are smarter in many ways, but we still share a lot in common.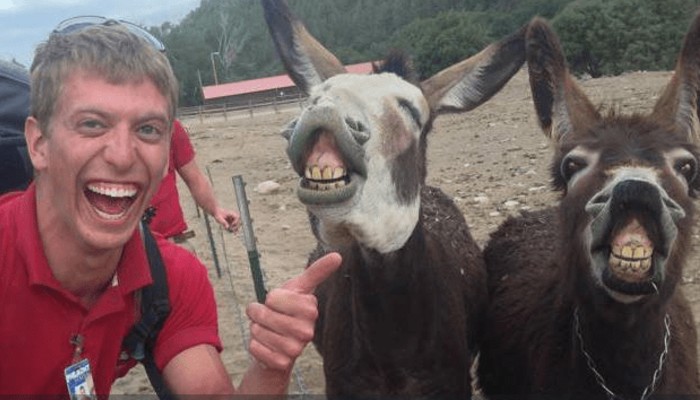 Such as smiles! It looks like the happy camper to the left found his fellow brother and sister way out on a farm somewhere. Luckily, they snapped a family reunion picture that perfectly captured the charismatic smile of each of them. 
Moveable Picnic Feast 
Boats come in all shapes and sizes – from small canoes to massive mega-yachts. Despite their differences, we all know they are "boats." However, this next picture brings up a good question: can picnic tables also be boats?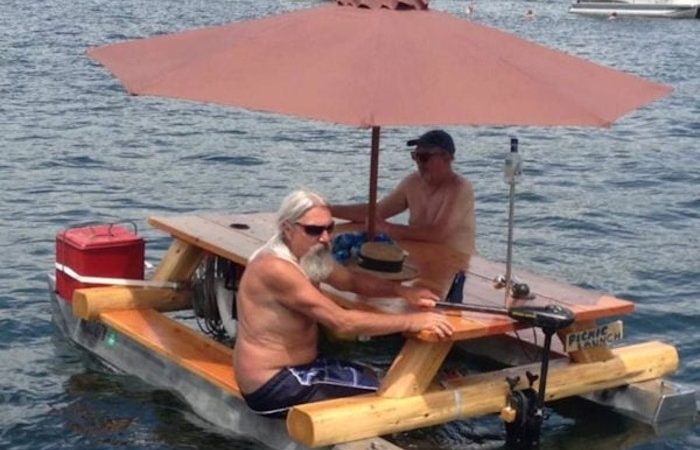 For the two intrepid sailors above, that's a clear and definite "yes." They attached a new table on top of two floaty devices, and then added a motor for good measure. Now, they can cruise around the lake while on a picnic table rather than staying stuck in one spot at a park. 
A New Kind of Kite 
Kites – like the boats above – come in all different shapes and sizes. Most, however, are fairly small and easily controlled by a long line of string. The "kite" above is much different. It's far from small, unattached to a line of string, and clearly meant to be on the ground.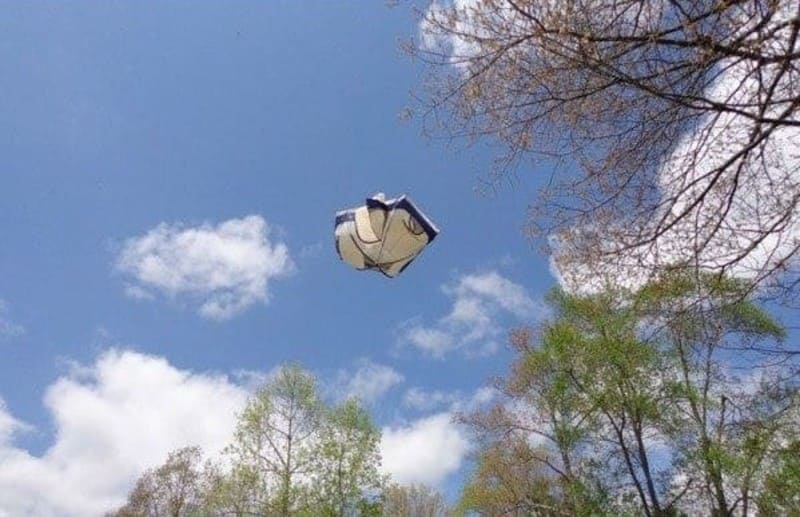 In other words, it's a tent. How a tent took to the skies is beyond us (perhaps a heavy gust of wind?). We just hope it doesn't land down on anyone as they're roasting marshmallows or taking a nap. 
All New DisposableCamera Pro 
GoPro cameras have allowed some amazing footage to be captured. Everything from extreme mountain biking to a space jump has been filmed with a GoPro attached to the person, bike, or spacesuit. That being said, GoPros aren't exactly cheap.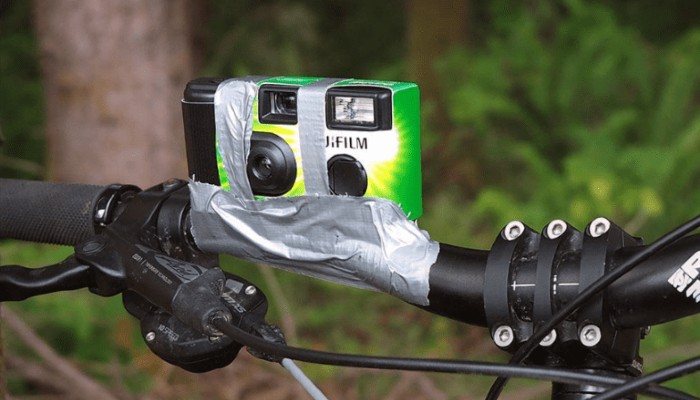 So, if you want to save a few bucks and still capture that up close and personal photo that GoPros are famous for, consider doing the above. Grab a disposable camera and a bunch of duct tape, then wrap it around your bike handle. 
A Rocky Stool 
When it's time for a number 2, some rugged campers dig a hole, grasp a tree branch, do their business, and get on with their day. Others, however, like to bring a bit of luxury from home.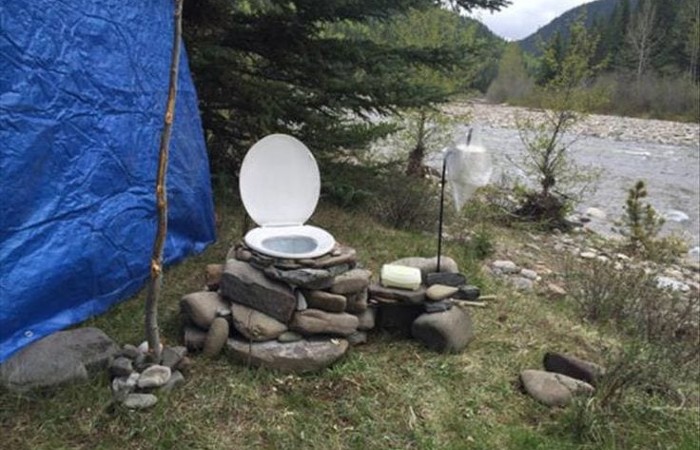 Taking an entire toilet with an attached septic system is far too impractical. After building up a rock stool to hold the, well, stool, this crafty camper added a toilet seat to the top. Now when nature calls you have a bit of comfort – but very little privacy. 
Camping by the Ocean
Pictures, as they say, are worth a thousand words. For some pictures, that means a bunch of different words thrown together. For the picture below, however, it's just one word repeated a thousand times. That word is "how."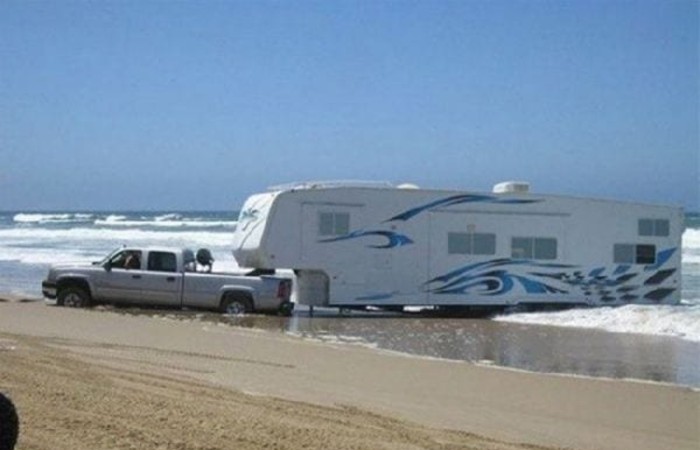 How did a massive (and very expensive) camper get stuck in the water on the beach? How did the driver think to not get it out before? How long will it be before the driver gives up and calls in a crane to move the camper to safety? Good luck! 
Shopping Cart Omelets
Camping can involve a lot of gear. On top of the tent and sleeping bags, there are clothes, food, mosquito repellant, and more. It's no wonder that people forget an item every once in a while. This can often lead to great feats of "do what you can with what you got."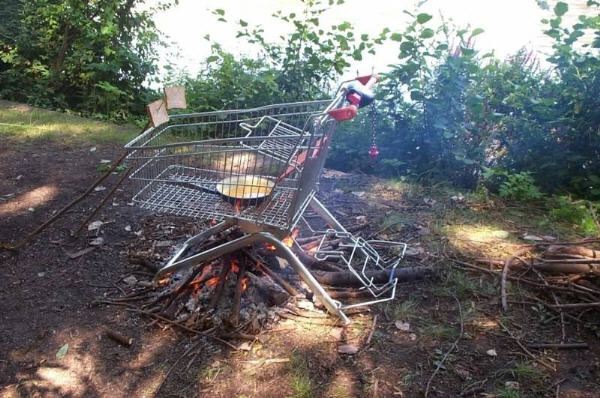 For example, the above "grill." Rather than sulking at the fact that they forgot a portable grill, these creative campers repurposed an old shopping cart into a makeshift grill. Anyone up for shopping cart omelets? 
This Giant Puddle Is Reserved
When people pull up to a campsite, they tend to scope it out for a dry place to set their tent. Waking up in a puddle of mud isn't anyone's idea of a fun camping trip. Well, it might be for some people – in particular, the camper below.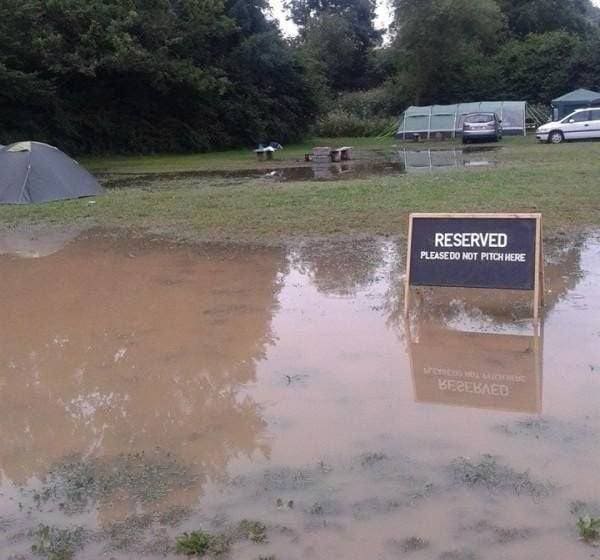 They brought along a big sign warding off any passerby who might want to set up camp in the middle of a giant mud puddle. We're going to take a wild guess and assume they're safe – no one will steal their spot.