The Most Epic And Hilarious Sports Bloopers
Playing sports or merely watching people play sports gives us excitement that lifts our souls. It's a great escape from a stressful workday. Many people experience a feeling of connection to others while watching or participating in sporting games or activities.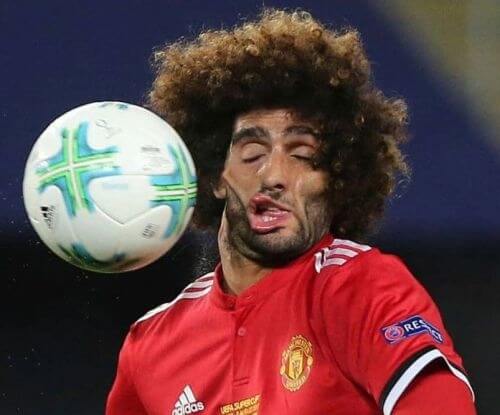 Most athletes are known for giving their all every time they play. We watch them playing ferociously to win—who wants to end up the loser? But even if they've been thoroughly trained, they're still human and they will always make mistakes. In reality, these mess-ups add to a game's excitement. We've unearthed some of the funniest sports bloopers ever captured on film for your enjoyment.
Is This a New Trend? A Swan Pose
The round red item in the center of this dancer's arms was one of the first things we noticed when we glanced at the photo. We initially assumed this gymnast had been struck in the face by a ball, but upon closer inspection, we realized she was most likely performing a stunt with her chin.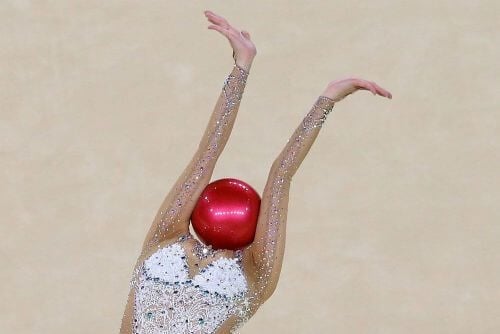 We hope she pulled off whatever incredible feat of human movement she was going for, but we can't help wondering what it was. Is it a swan pose? Or is it merely a transitional position? It looks painful. Where did her head go?
The Taste Of Regret
This player is surely regretting how the decision to stick his tongue out when he did. To be honest, it is a bit curious that he stuck his tongue out at all, but what can we say, we weren't there.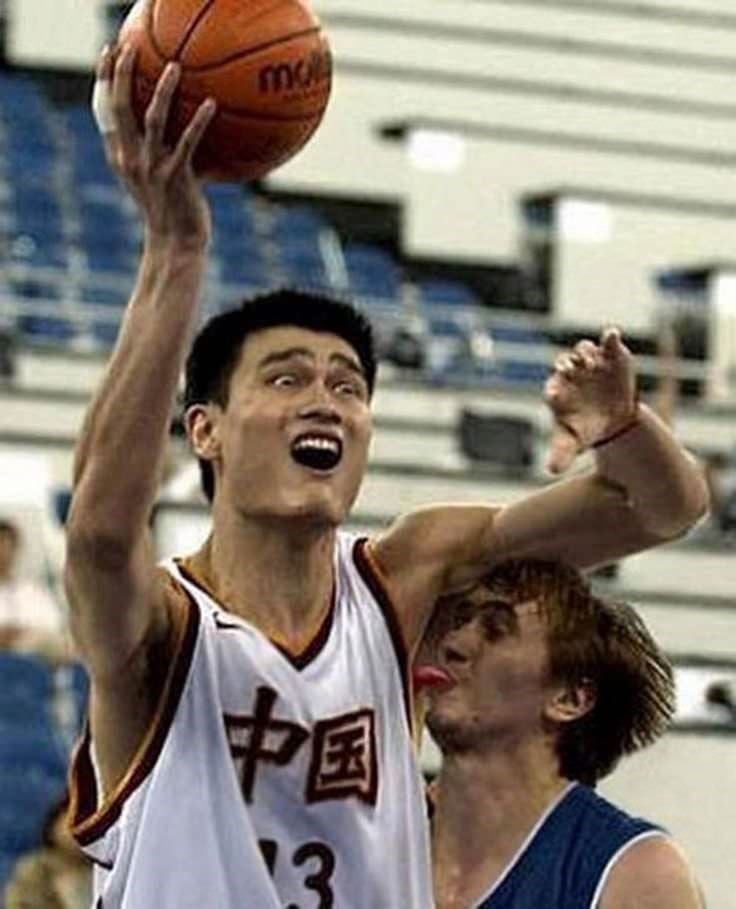 Both of their facial expression alludes to the fact that neither of them truly enjoy what is happening. Breath Mint, anyone?
Spoiler...He Was Not Saved
Unlike the little boy who was saved thanks to the man sitting next to him, this poor man was not, and his face took the brunt of it.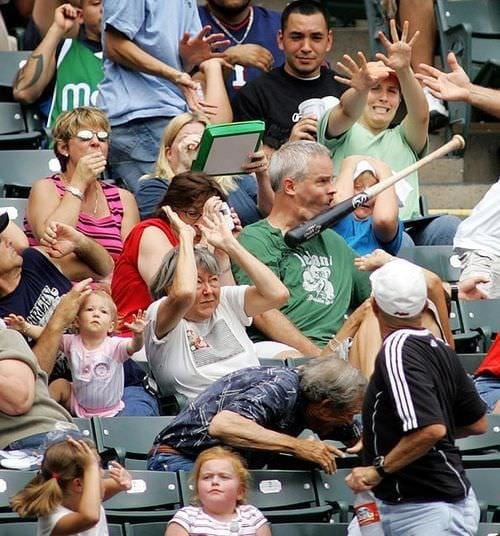 This photo seems to capture not only the moment it hit him, but the moment right before he realized what had happened. There is no doubt after the click of the camera that the man was in some serious pain. 
A Mere Reflection
This man had some time to reflect on himself and the world around him, if even for a moment. He saw the man in the mirror, he faced himself.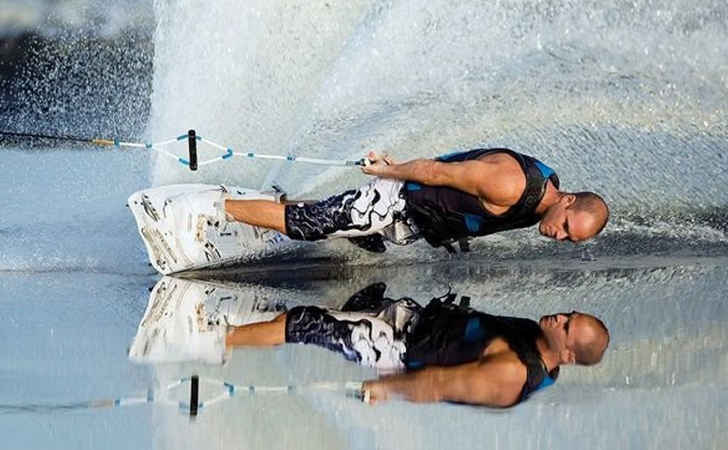 If this man did manage to pull through without going face-first into that body of water, we might have to question our belief in gravity. While he's getting great spray, there is little doubt he and his reflection became one moment after this photo was taken. 
A Man Becomes A Legend
Just as this man thought he was going to dunk the basketball into obscurity, the ball slips, and he merely becomes the game of basketball himself.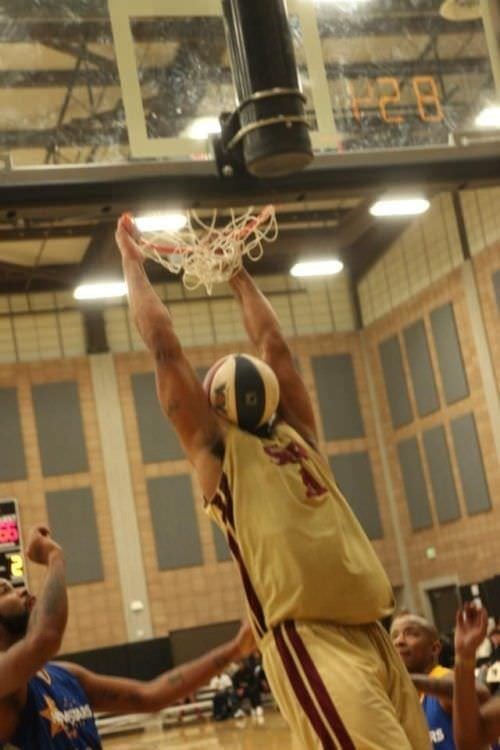 He looks as though he is going to haunt local courts as the Legend of Spooky Basketball, scaring away all those who may try to make a dunk. Be gone!
Welcome To His Shampoo Commercial
Have you ever wondered why athletes, such as this hockey player here, take their water bottles and pour water over themselves? It's not some kind of water ritual or anything. It's to keep cool. Who wouldn't feel overheated after playing or training so intensely?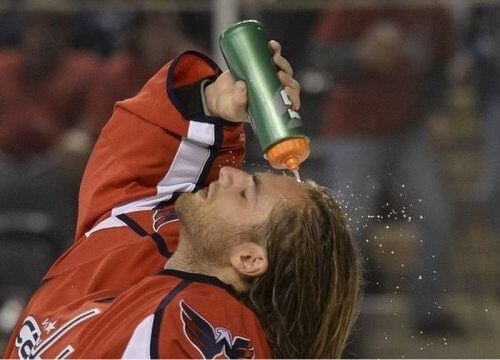 But every time these athletes are caught watering themselves like this, it becomes an instant shampoo advertisement. This one player nailed it as his long hair swishes back so beautifully. Even if he managed to cool off, we can imagine some in the audience getting quite heated themselves.
Gravity Always Wins
This photo was taken moments before this very unfortunate fellow likely hit the ground and got mowed down by an angry bull.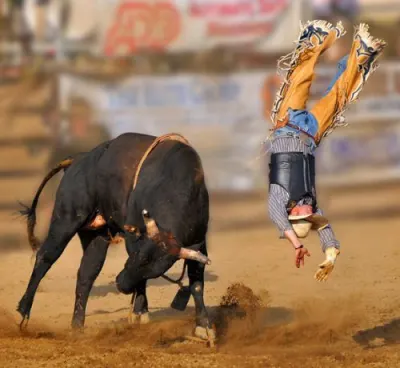 This is no doubt the opposite of what this man wanted to happen, and he was likely in a great deal of pain after the fact. Here is to a speedy recovery for him and his bull. 
What Did You Say?
Synchronized swimmers have spectacular moves and poses that delight onlookers and make them cheer with glee. These swimmers look as amazed by their skill as we are, but they're probably just out of breath.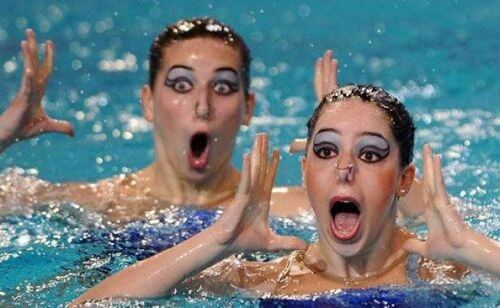 At first sight, you may think that synchronized swimming is purely an acrobatic sport, but it is more than that; their performances are physical and mental. Each team member has to work together to get the timing of the stunts exactly right. They practice their routines repeatedly so that they can accomplish their performance flawlessly.
Bad Decisions
No one in their right mind would make that face, especially if they were aware of the hundreds of cameras ready to snap their unfortunate expression. He probably didn't intend to make this bizarre expression at the zenith of his jump, but it happened nonetheless. That's life.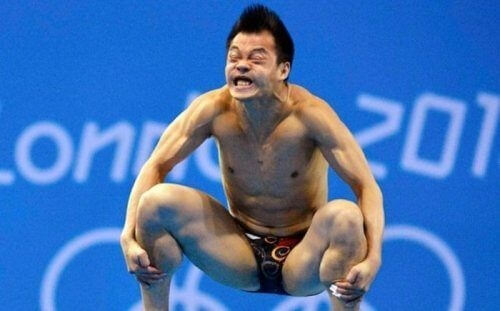 Divers have to have the guts to jump from pretty high up, as well as the confidence and charisma to make it look graceful. You must have confidence and bravery to do it, but if you make one wrong move, one miscalculation, everything you've worked for will be sidelined for a silly picture on a list on the internet. 
Breaking The (Surface) Tension
If you capture the moment a swimmer comes up at just the right moment, you're in for a hilarious surprise. There is almost something inhuman about this picture.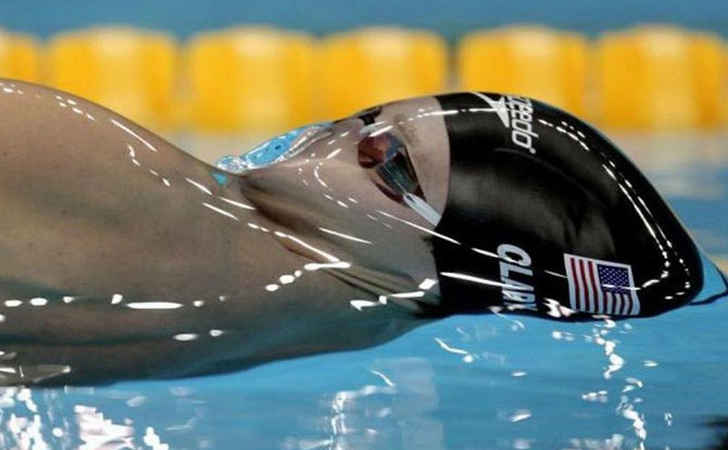 The swimmer looks almost like a child in the womb or an alien emerging from its chrysalis. Either way, it is a funny-looking picture that belongs on this list.
Lift Me Higher
Synchronized swimming is a combination of dance and gymnastics but in the water. Consider how difficult that is to deal with. Swimming is difficult enough if you have to do it for several hours, but it's twice as hard when you have to pull off a complicated dance move on top of that.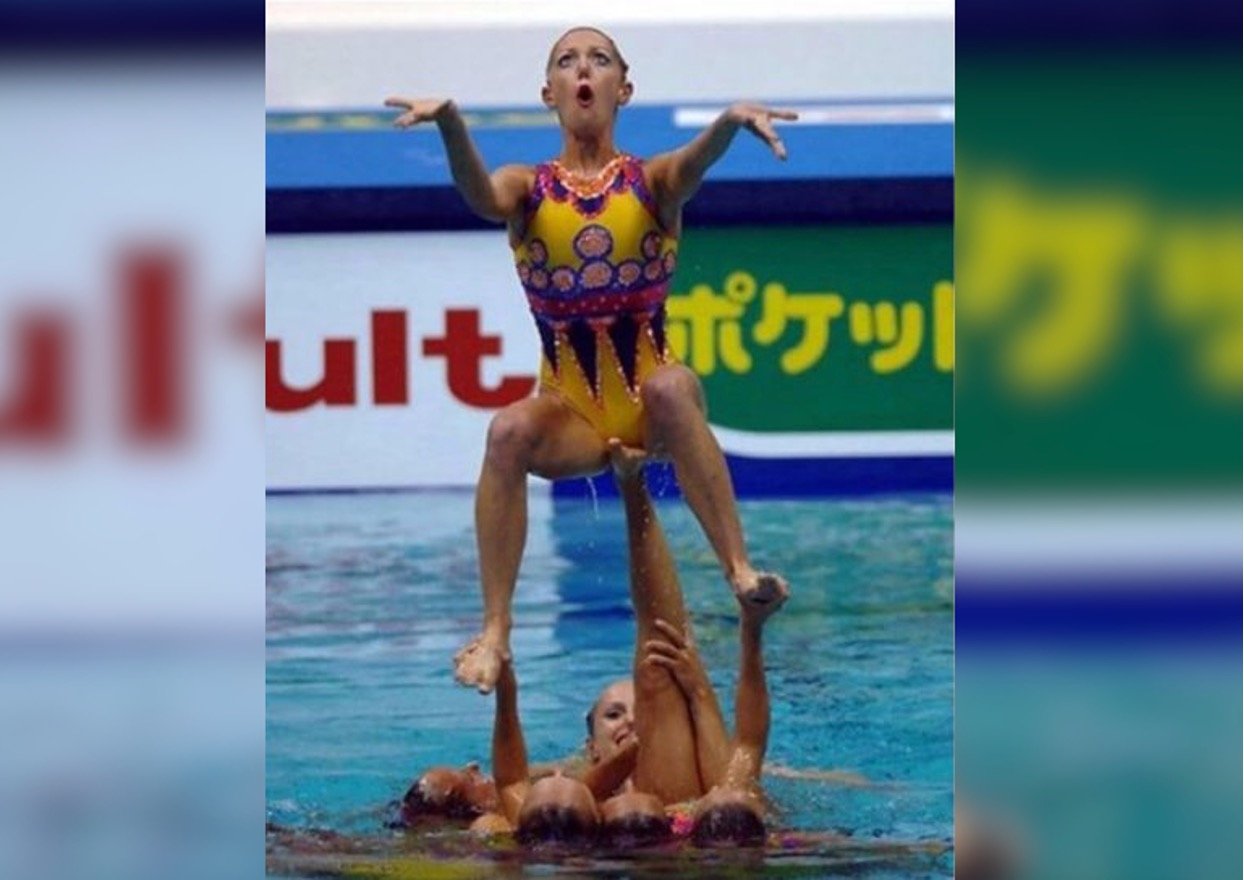 These ladies deserve all the credit they get. Synchronized swimming requires a great level of passion and coordination. They give a great show with their intense performance. It might have been something to do with the way she was being lifted, but her facial expression and pose were captured at just the right time.
Wrestling on Ice
At first glance, you might think this is wrestling. It turns out that it's ice skating. We've seen pictures of thousands of professional ice skaters dancing on the ice gracefully. However, we haven't seen as many pictures of them messing up, nor have we seen as many as funny as this one.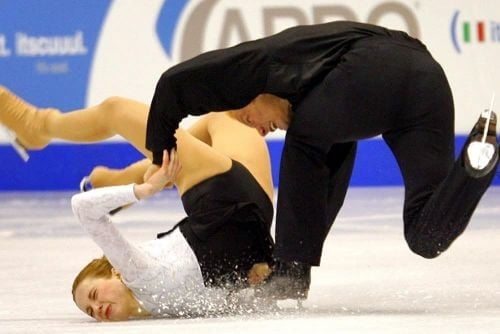 As funny as it looks, it looks painful, going off her expression and his look of terror. We just hope they finished their performance on a good note regardless of that one little flub. Also, the athletes recovered from this without significant injuries.
A Moment Before Complete Diaster
This man, be it the boy's father, uncle, or some lone stranger in the stands, is likely the reason that boy has a functioning nose. Can you imagine how severe that would have been?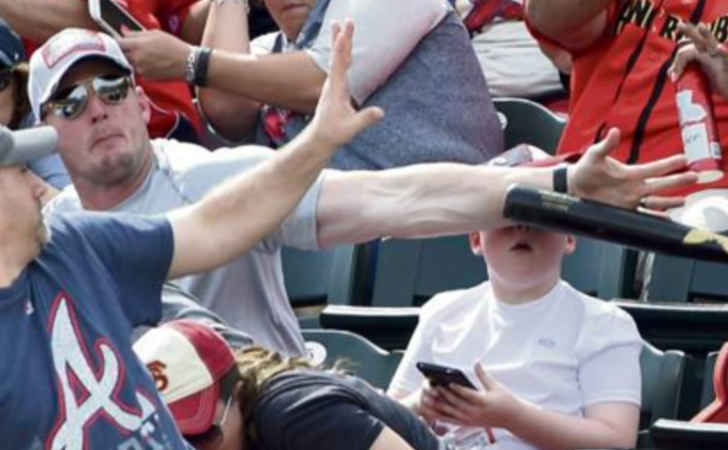 The kid was completely oblivious it seems as if he has something distracting him in his hands. What a relief and what an incredible moment caught on camera.
Eaton Some Air
Breathing is an essential activity. But in sports, it's a highly refined skill. Athletes, like track runners, need air to sustain their high speed, but their way of breathing ensures that their body gets the most efficient level of oxygen possible. It may not be pretty, but this is what perfect efficiency looks like.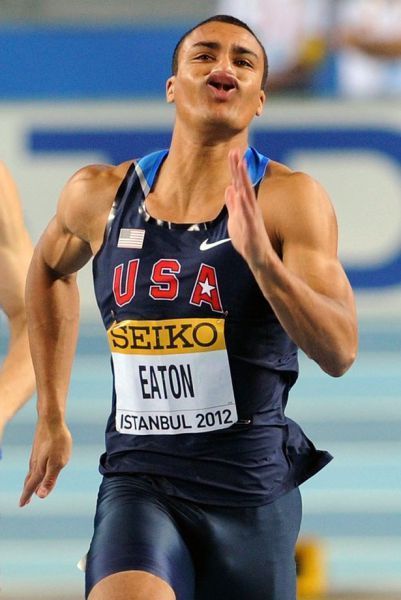 It's not a great look, but it's what it takes to get on top of your game. We think the photographer had no intention of taking an image like this, but it simply happened. In the end, the photographer captured a funny moment.
Ouch! What More Is There To Say?
This photo pretty much completely speaks for itself, an unfortunate moment caught on camera that had to hurt. Poor guy.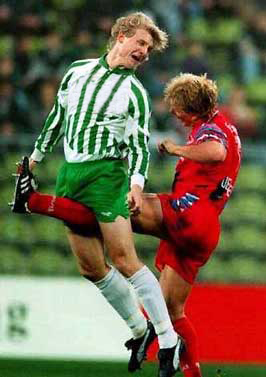 It looks like the kicker has put the full force of his weight behind the kick, but of course, it was not on purpose. Not only because it is illegal in the game, but because that would just be plain mean. 
Kick Like You Mean it
Sepak Takraw, or as it's sometimes otherwise known, kick volleyball, is a famous game in Southeast Asia. You'll see kids playing it everywhere. Unlike volleyball, you can't use your hands when passing the ball, and you need to defy gravity to win this game.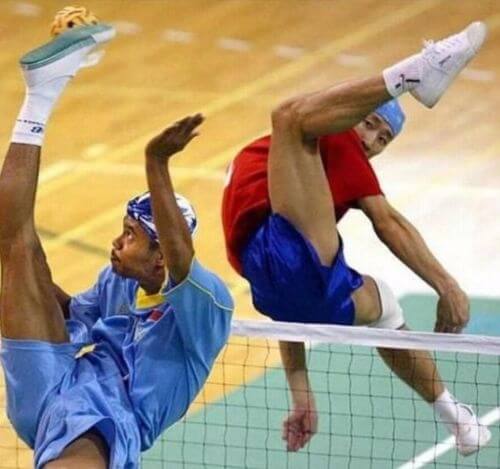 Professional takraw athletes need to do a lot of stretching to avoid injuries. You just need to look at the photo here to witness how bendy and flexible players need to be to play this game. They remind us of how octopuses move their tentacles in the ocean.
That Hurdle Came Out Of Nowhere!
This fellow certainly lost the race. But it does speak volumes how far ahead the other athletes are ahead of him within moments of his fall.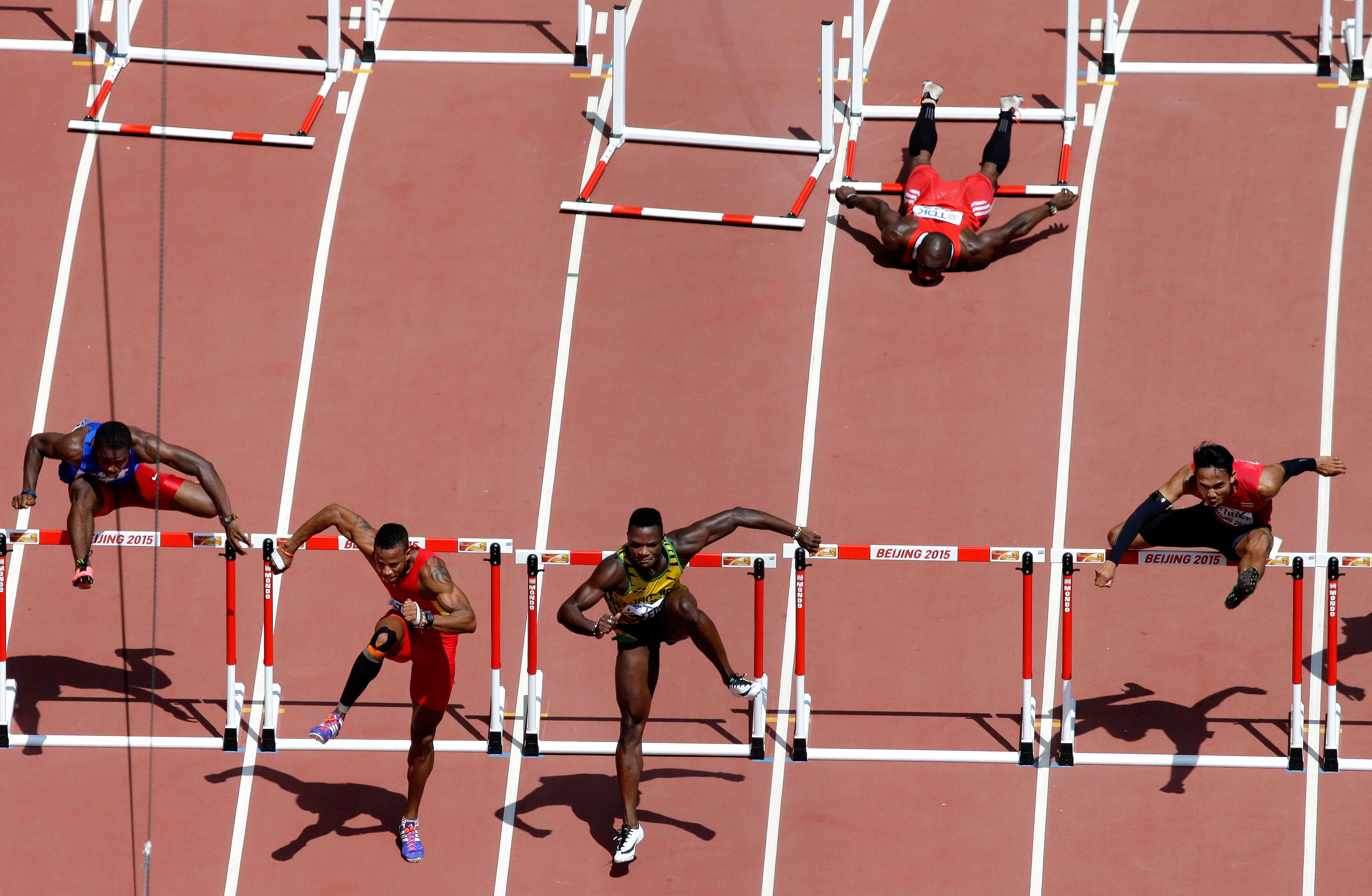 That had to hurt too. Not just the act of falling in the middle of an important race, but falling on the track! On his face no less. We hope he is okay.
Jazz Hands
This photo was captured at the best time. Who doesn't love jazz hands? They are so funny and flirty.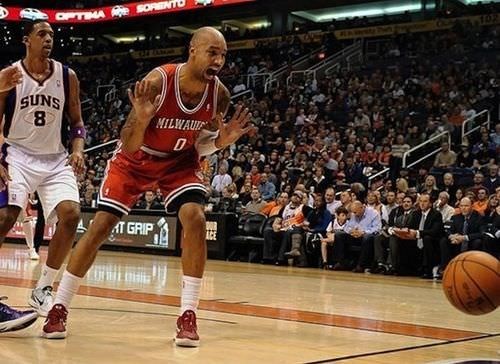 However, there is a time and place for a well-placed jazz hands ensemble, and during a basketball game–probably not. Plus, it looks like these were definitely on accident and due to shock.
Pinocchio, Is That You?
This rugby player looks like he was a wooden boy with a fibbing problem at the time this photo was taken. The rugby ball looks like it is coming out of his nose or that he is growing it like in our favorite cartoon movie, Pinocchio.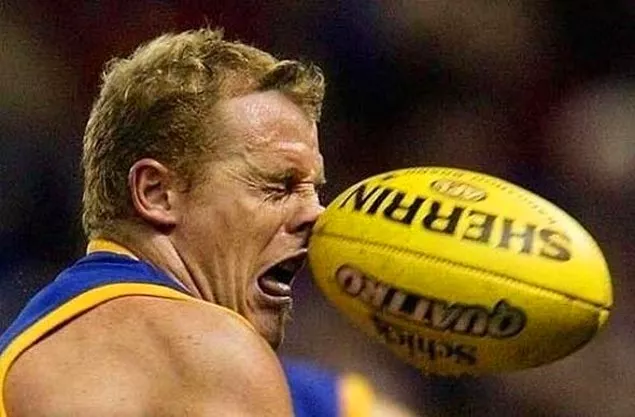 There is little doubt that the landing of the rugby ball on his nose hurt immensely. Hopefully no bloody noses for this wooden doll.
Watch Your Back
Baseball is a crazy game. Baseball fans will tell you that it's the greatest game in the world. We admire how its players can hit such a tiny ball, which often, you can't even see as it's flying toward you. You almost have to have a sixth sense to read where it's about to land.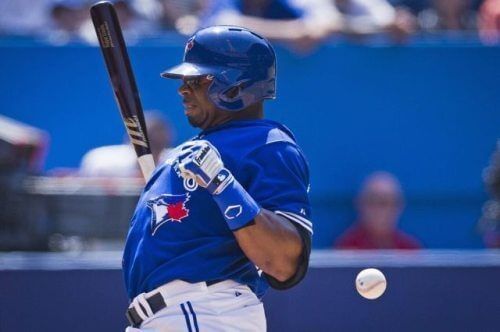 When playing baseball, it's generally known that you should avoid getting hit by a baseball when at bat. There's an 80% chance the ball will hit you anywhere else except your bat, just like what happened in this picture. It looks like he knows there's a ball coming for him—he doesn't even need to use his eyes.
No Surrender
You might not be able to see it here, but this man is a professional powerlifter. He's forcing a dizzyingly heavy object above him with a great effort of will. But out of context, all that effort makes him look like he's eagerly eying down the last slice of pizza.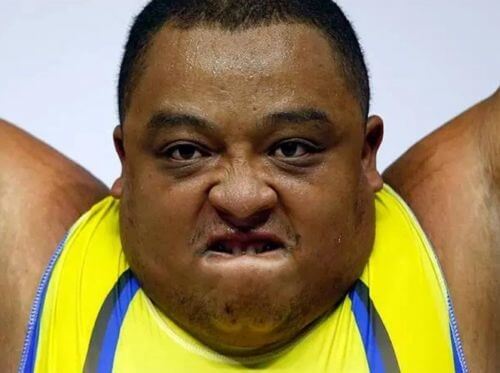 It's crazy thinking about how long these weightlifters train their muscles to carry such heavy loads. They have to train their body over the years to get to where they want to be, like a finely chiseled rock sculpture.
So Close!
This young girl and her father both had the right idea when they attempted to reach for the out ball headed there way. Unfortunately, it doesn't look like it went as planned.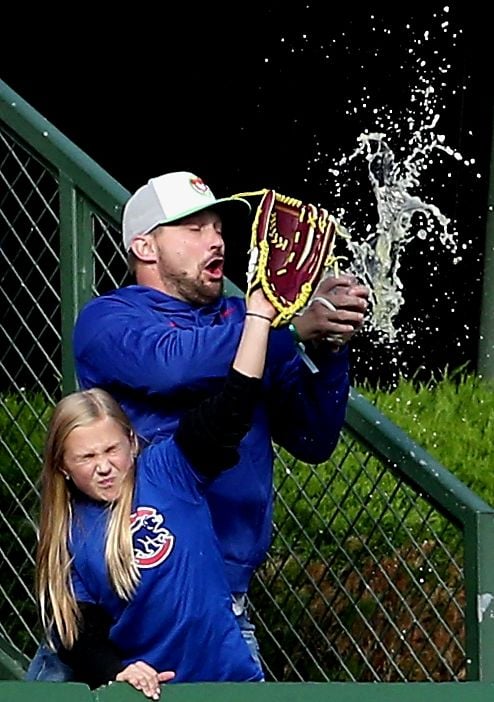 By the looks of it, the ball missed the girl's glove and exploded on the guy's drink, creating a huge explosion and forcing them to close their eyes. It is very hard to catch things with your eyes closed. 
Hold Up! Wait a Minute
We don't mean any offense, but we were crying our eyes out in laughter the first time we saw this picture. It looks like he's surrendering to a squad of police while trapped in a wind tunnel. Even his toes look like they want to give up.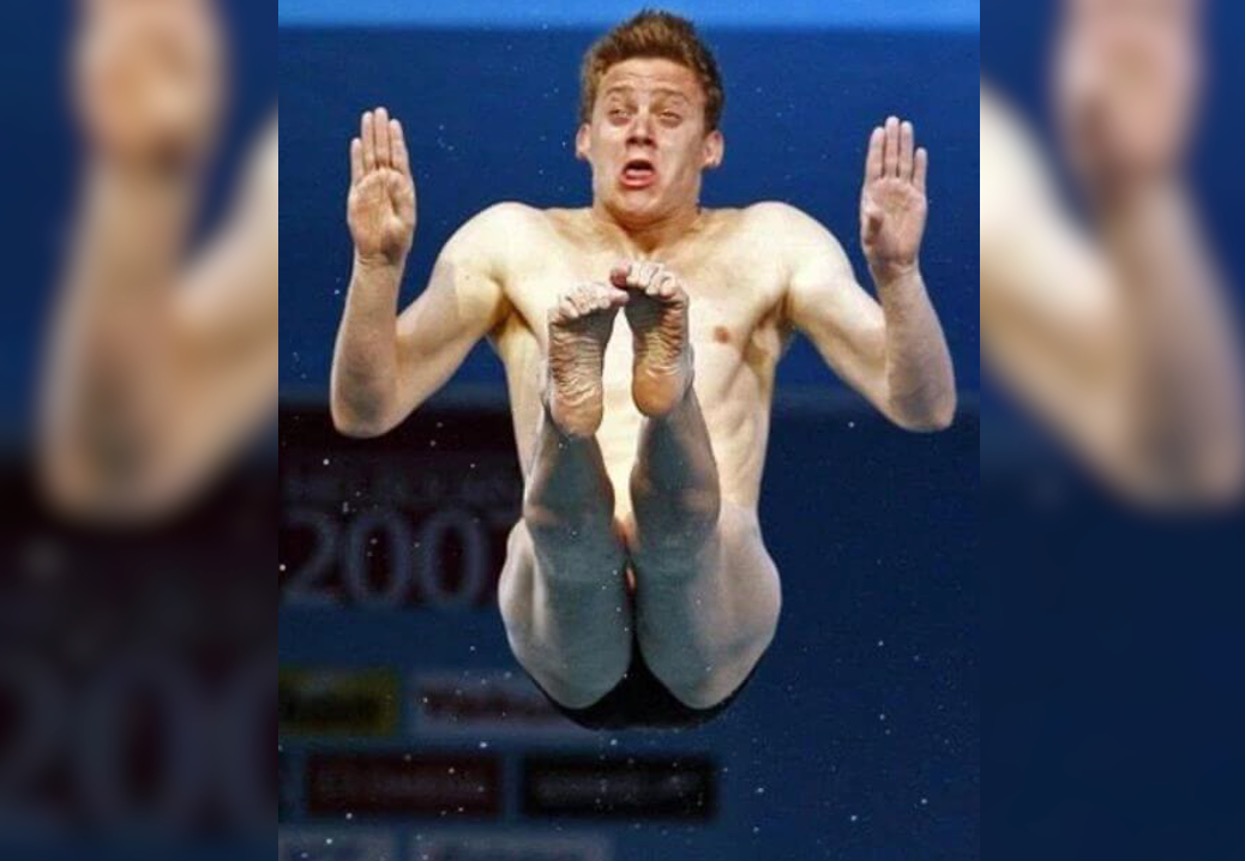 It's incredible to see all the flaps on the human body, even one as pristine as this one, fold in such a strange way. The way he's squinting is priceless! For this snapshot alone, we'd give him high marks for his dive.
Wrong Target
Whether it was done intentionally or not, this looks brutal. Soccer is a physical game, and players have to expect a level of physicality while they play. While this may be true, there are certain rules which forbid certain actions. We're not sure if this is covered, but it probably should be.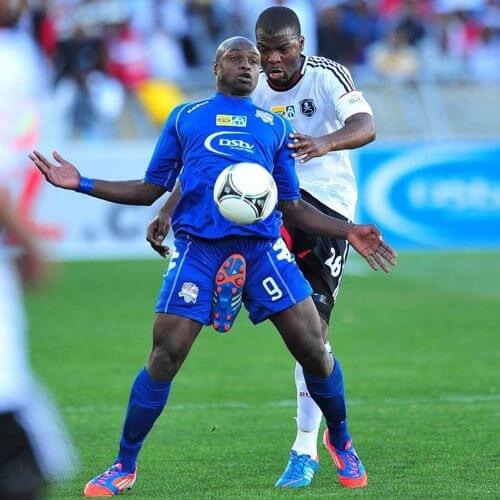 Would this technically count as being "offside"?  The kick's receiver looks as if he's holding out his hands with the look of a martyr. Whether you own a pair or not, anyone would be able to feel this poor guy's pain. Just look at his expression. Ouch! 
Strike a Pose
This picture was, like many other pictures on this list, taken out of context. The look on her face, half-submerged in water as it is, evokes a melted and haunted look. She's crossing her arms as if assaulted by a tidal wave of watery ghosts—but in likelihood, she was just coming up for air.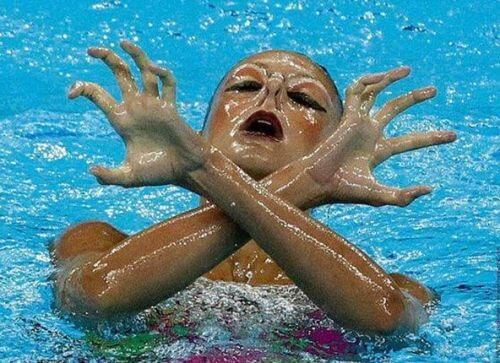 Her face looks like a mask somehow. Her nose pincher is making her nose look unnaturally long, and her fingers look like claws. But with so much detail in each performance, it's hard not to appreciate the effort these swimmers put into their work.
I Believe I Can Fly
Have you ever marveled at how smoothly divers leap off their diving boards? Countless attempts and mistakes underlie those flawless leaps. On this occasion, what could have been a great shot ended up giving us an insight into the kinds of strange faces divers can make attempting to perform their perfect drop.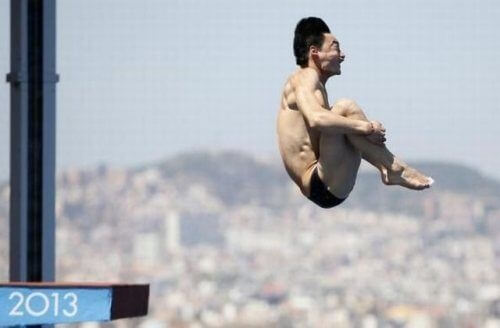 We don't know what transpired on this day, but this diver must have looked at this picture with an equally shocked expression. Despite the rough expression on his face, we hope he had a smooth and painless landing on the water when he landed.
Gravity Is For The Weak
This woman took a page out of Superman's book and decided to become a flying machine. The form of her body is completely aerodynamic. It is not hard to envision her truly flying.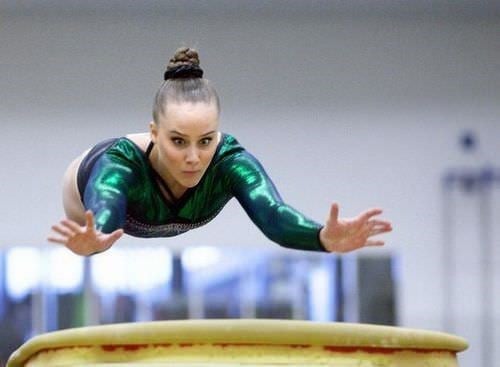 When or where she landed, no one can say. Legend has it, she's still off into the air, flying around in her leotard and showing us all how it's done. 
Caught In Slow Motion
If you capture movement in slow motion, you'll see a lot of things that you can't see at the average speed. That's what happened to this guy. When the video was played at normal speed, he cracked like a whip. He looked so cool throwing the ball, but then they found this frame.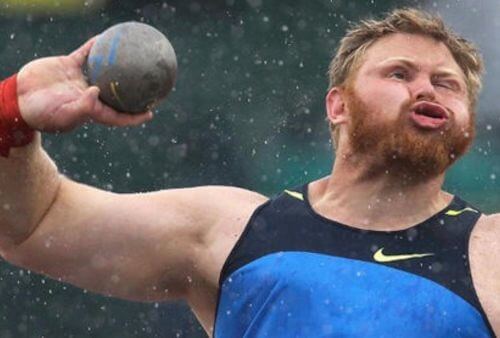 You can see the impact of whiplash rippling across his face—forming the kind of facial expression you wouldn't expect to see. Slow-motion got him big time! He's doing what it takes, but it doesn't mean the result will look so beautiful.
Please Don't Let Me Fall
Pair skating requires a ton of confidence in the other person. In addition to the fact that you have to be in a state of harmony with your skating partner, you likewise need to trust them to catch you every single time you're tossed in the air. The lady in this photograph doesn't appear to have that trust.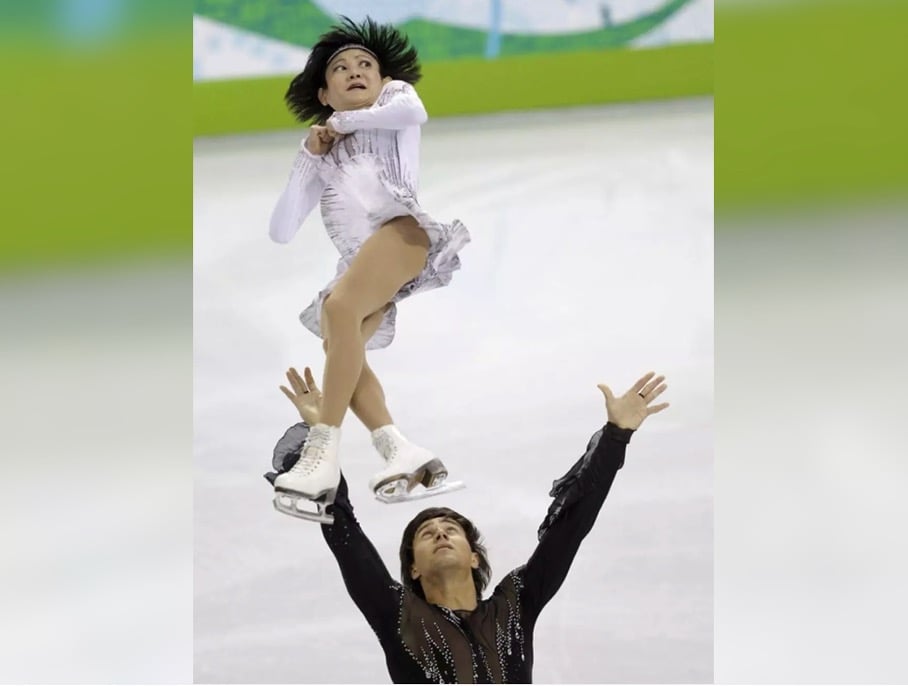 She looks totally scared that her partner might drop her on the ground. Given the ability it takes to contend in figure skating, we're certain her partner got her, yet you wouldn't have been assured just by looking at this photograph.
Forgot To Hit The Breaks
Cricket, a bat and ball game that originated in England to keep gentlemen occupied between their colonial conquests abroad, now attracts thousands of people to games worldwide. Many people love cricket for its ranking, culture, and shows of skills.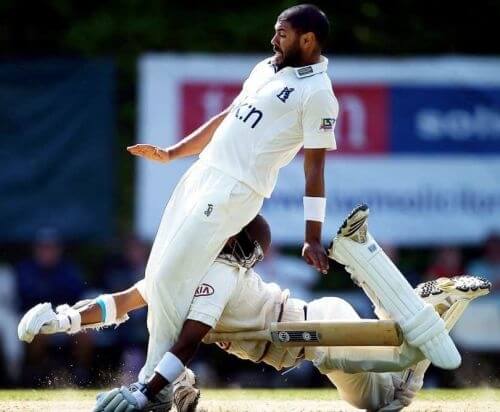 But just like in other sports, mistakes are bound to occur. Look at this man who seems to have forgotten to hit the brakes. It's painful to look at them. We hope they're both fine and that they were able to finish the game with no further injuries.
Til The Wheels Fall Off
Sure, motorcycle riders of freestyle motocross aim to wow the judges and the crowd with their incredible stunts but things can get terrible at times. This rider didn't have an easy time when he took his dirt bike out for an exhibition.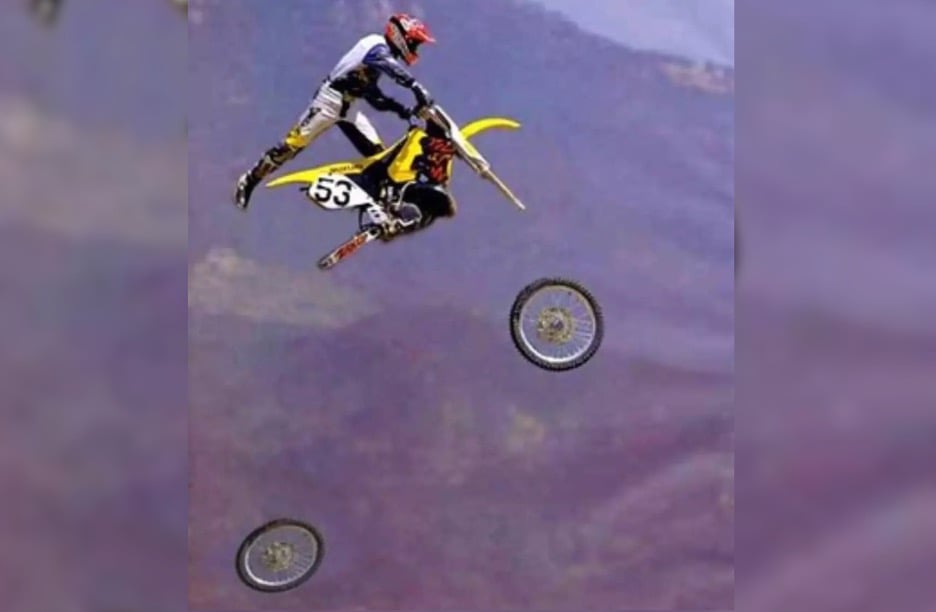 Instead of nailing a seamless landing, he lost both his wheels in mid-air. Ouch, that looks painful and scary! We hope he's taking a break with his dirt bike for now and didn't experience any damages or injuries too bad once he hit the ground.
A Real-Life Game Face
Most athletes have one thing in common—they're all competitive. If you're not, then why bother competing in the first place? But sometimes, their game faces are quite hilarious to look at. But, don't let a silly face fool you—they'll be able to beat you without breaking a sweat.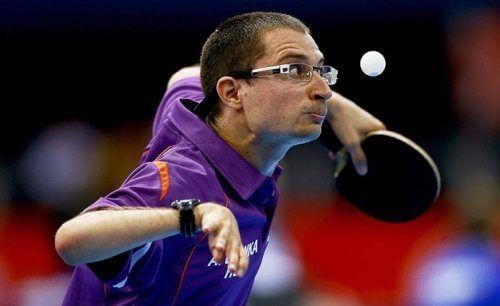 You may wonder what he's thinking here, but it's obvious if you think about it: "ball." Just look at where his eyes are and his clenched jaw, and you'll know what we're talking about. He looks a little bit like a t-rex trying to reach his shoelaces. No matter what happened a microsecond after this was taken, we hope he had a good game.
When The Adrenaline Hits
Powerlifting requires strength of muscle, power, and a lot of guts to lift a heavy weight. But some people will laugh because of the awkward facial expressions they pull. Sometimes, the weights they're lifting are heavier than their actual weight!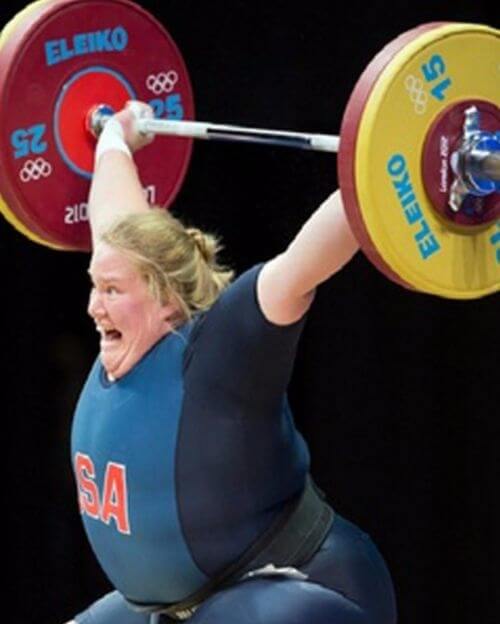 This woman's facial expression is quite funny, and she looks strangely terrified. She looks as surprised as we are, watching her put all that weight over her head like that. Look at what she's lifting! The capacity of the human body is amazing.
Where's Your Head At?
Ice skating has had its share of unexpected moments, and here's one of them. Can you see it? This couple is so skilled at skating that they've managed to warp space and time during one of their routines. One of them has completely disappeared! Well, almost.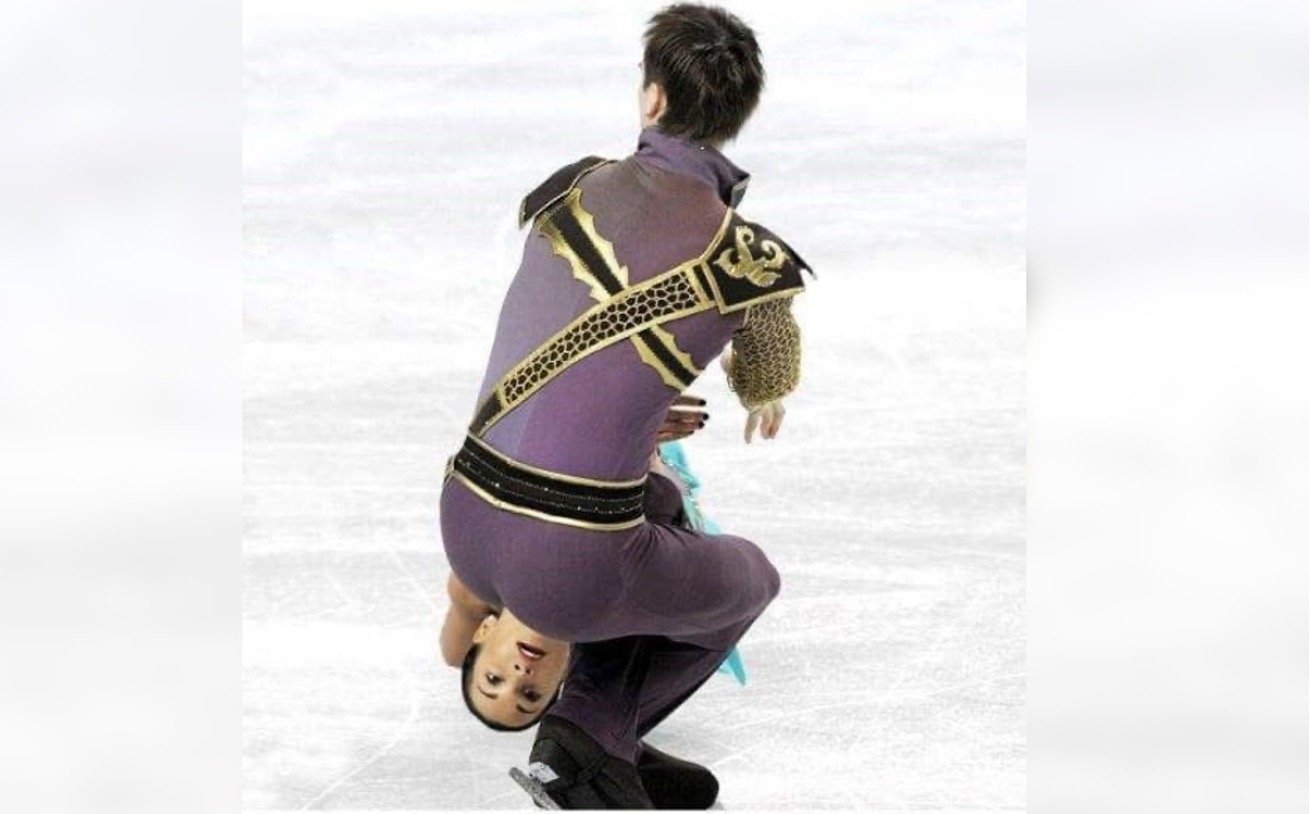 It looks like her head has reappeared in a most unexpected and unfortunate place. She looks pretty surprised by this, too. He looks bewildered—as if something in his hand just disappeared.  If you look closely, you can see her leg and her back somewhere behind her partner. 
Eyes On The Prize
This professional table tennis player right here is giving it his all to hit the tiny ball in front of him. His face is full of determination. If you've watched a game before, you'd know that this is not the only weird face players pull while playing. You should hear the noises they make, too.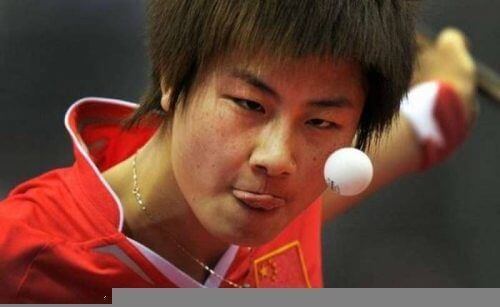 When professionals play, they have mastered the art of rapidly hitting the ball, making it look easy. If we were in their shoes, we'd be spending the majority of the time taking massive swings of the paddle with little success. What these players do is an art form, and it's an incredible sight to see.
Say Cheese!
Why is there always someone out there who manages to take a photo of you when you least expect it? Like this photo. This woman was putting her all into the competition, but then when she looked up, she saw a camera waiting to capture her expression.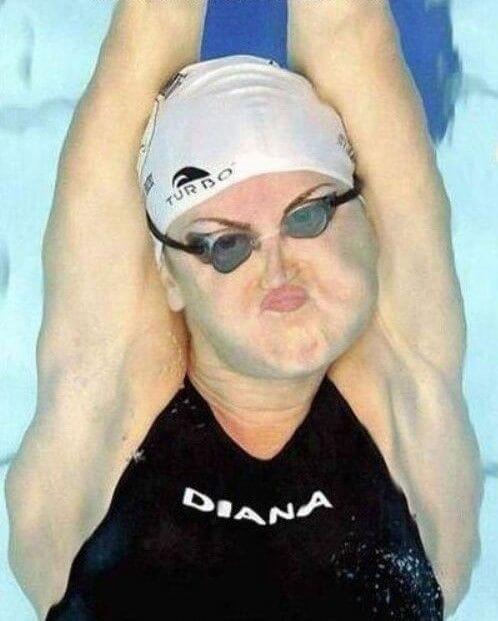 Water can distort an image. But by the looks of it, she wasn't amused at seeing a camera in her face. On second thought, she might have been posing. Either way, we hope she enjoyed participating in the competition.
Perfectly Hilarious Shot
We're trying our best to understand what happened in this photo but we're as confused as you are. So this football player walked into the TV shot with awkward timing – or at the perfect time, depending upon your perspective. Having recently taken off his helmet, this Carolina Panthers player looks unquestionably disoriented.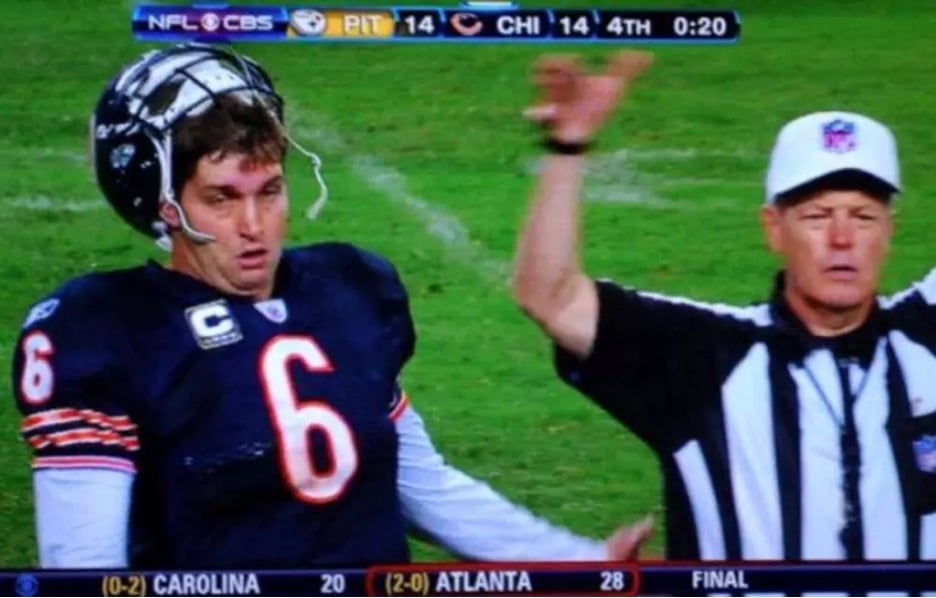 The referee who's likewise in the shot makes the photograph all the more entertaining. His ideal pose just makes the football player look significantly more ludicrous. Don't they look awesome together in one frame?
Sports Ball To The Face
When you play sports, especially those that include a ball, you run the risk of being stuck anywhere on your body—especially your face. Soccer is an intense game in which you are constantly being checked, knocked over, kicked, and hit by a high-velocity object.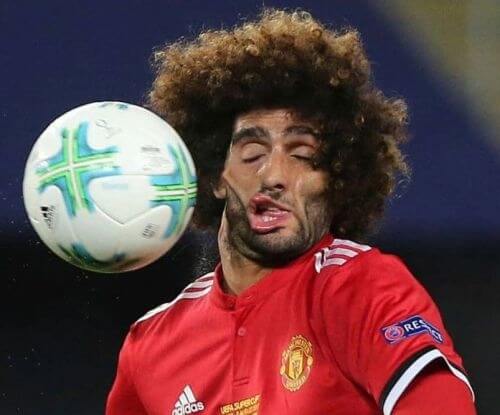 This Manchester United player was hit in the face by the ball, with painful results. We bet the crowd was emotional after seeing this, having felt his pain. We just hope he recovered soon after and didn't just lie on the grass in defeat.
Sharing Is Caring
Basketball requires deft footwork, crazy aim, and a tight grip. It's a sport bursting with action and energy. In the competition, your instincts get the better of you, and you turn into a dunking machine.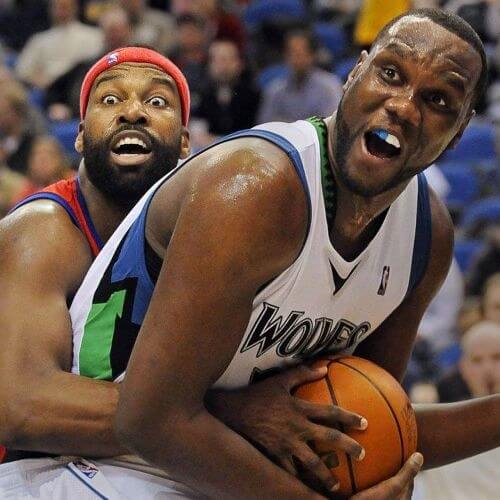 But occasionally, when the photo goes off at just the right moment, it can make you and another player look like two little boys fighting over a ball. What's most amusing about this photo is their expressions; it's as if they're pleading with their mom to settle the argument. Now, now boys!
A Slam Dunk Back Into The Face
Watching a ball hammer through the net is an exciting moment for any crowd. Some players are so skilled that they turn what would otherwise be a routine movement into a flash of divine creation. Most basketball fans look forward to seeing a slam dunk. But some players are so intent on delivering that they get a little too close to the action.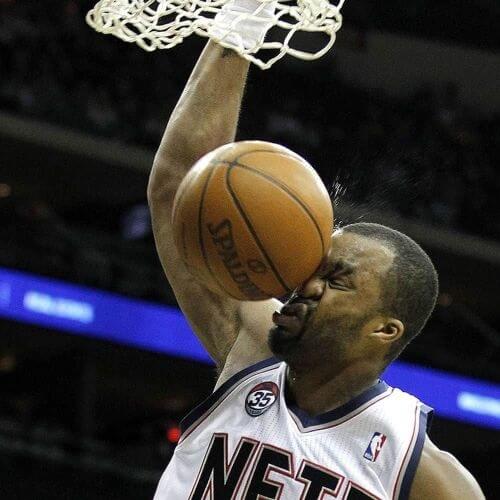 Imagine pulling off an incredible feat of athleticism, only to have your work smack you back, right in the face. Look at the impact of the ball here—his face got smashed so hard, the sweat is practically exploding off of his head.
Is it a Crab or a Frog?
One thing that we always love to see while watching sporting events is the intensity of the crowd and the passion of the athletes. We always admire the level of sportsmanship, and the dedication of each team member as the crowd goes wild to praise them.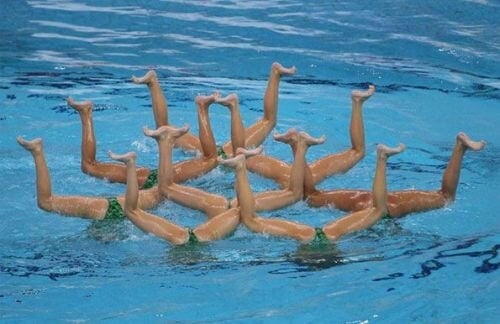 But that isn't the only thing that amazes us. Sometimes, we feel like our eyes are playing tricks on us, but it's only a testament to the skill of the sport's contestants. Take a look at these synchronized swimmers and tell us what you see. Do you see feet belonging to frogs or crabs? 
A New Dance Craze
These two soccer players look like they're auditioning to become cheerleaders. There's nothing wrong with that, except that they are in the middle of the game. Plus, this kind of "football" doesn't even use cheerleaders!  It seems like they were dancing mid-air, but in fact, they were just trying to take possession of the ball.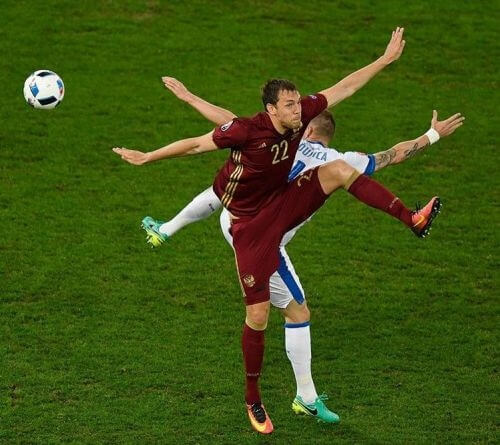 It also looks as if they're phasing through each other, somehow bringing a new meaning to the expression "can't touch this." We're not sure what happened, but it's a lot of fun to look at.
A Tender Moment
Contact in basketball cannot be avoided. There are times when the sport would require players to get up close and personal with their opponents.   It's just part of the game. But this ridiculous photo was captured at such a bright moment that it makes it appear like one basketball player is tenderly kissing the other player's cheek.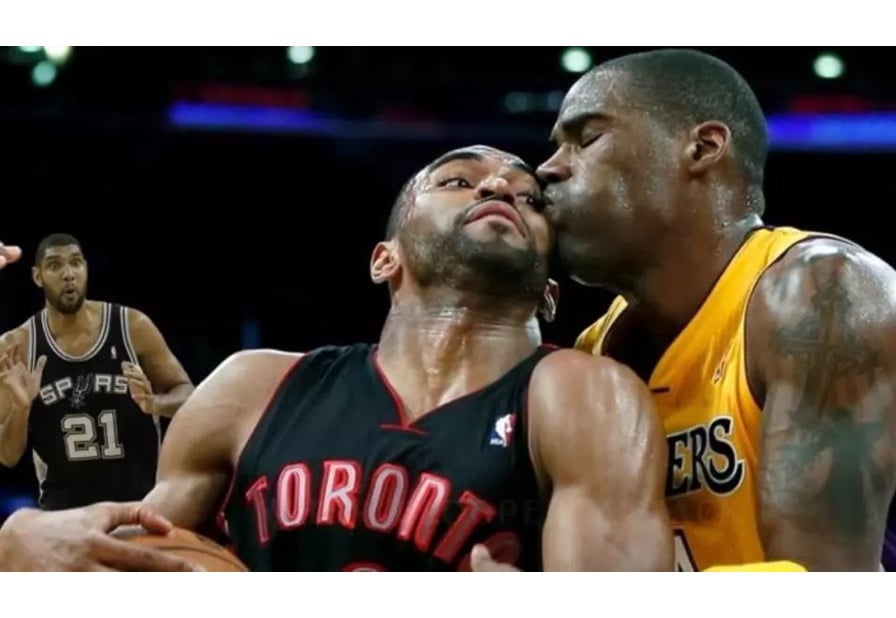 The reaction of the other player was priceless! We couldn't tell whether things got too unpleasant between these two players when the game was over. What do you think?
Head Slam
This skater looks like she's orchestrating a brutal final move in the final moments of a wrestling match. You can practically hear her partner's head crunch as it drops to the ice. Ouch! Accidents happen all the time. Even if you know what you're doing, you'll still make mistakes, just like this one.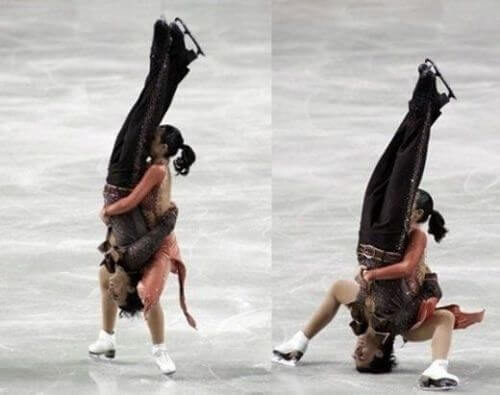 Ice skating seems easy when you're just watching from the benches, but when you're out there, you'll find that it's not as easy as it looks. Ice skaters have to memorize the steps, execute routines, and maintain their balance—which is not an easy thing to do—making them prone to accidents like this one.
Time For A Quick Ballet Stunt
Basketball, despite its complexity, is a lot of fun to play and watch. Although the game is physically demanding at times, it is a game that brings out the best in people. The sport promotes teamwork in its players and respect from its fans. Win or lose, any match is a thrill to see.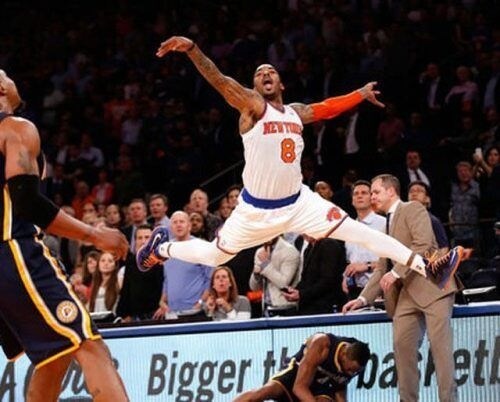 Amid a heated game, you may also witness some players performing some out-of-the-ordinary moves. For example, take a look at this photo: the player here appears to have forgotten where he is in mid-air as if suddenly transformed into a ballet dancer. If he ever gets tired of B-ball, we can at least say that he has a bright future in ballet.
Unmask Me
Needless to say, taking hold of your opponent while playing football is already challenging and exhausting. But did you know that things could only get worse when your helmet suddenly flies off?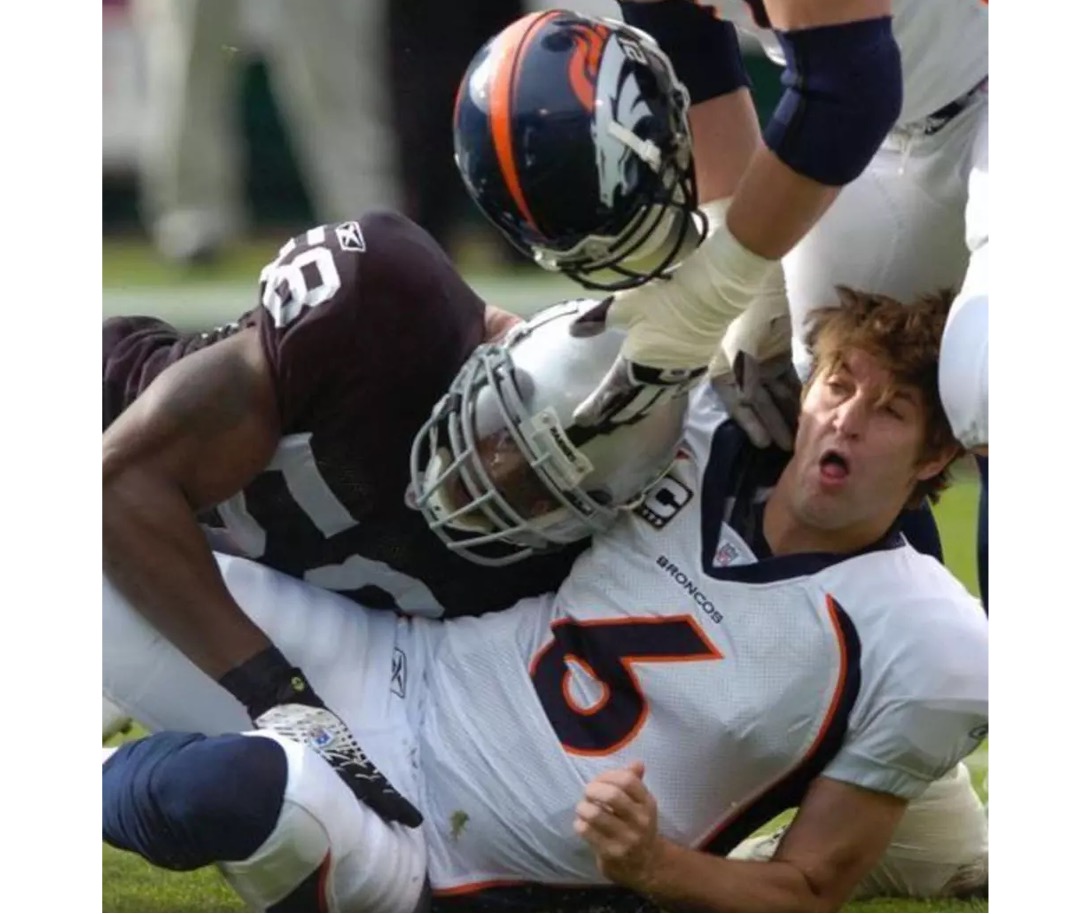 Indeed, football helmets make a reliable device to save players from injuries and mask their facial expressions. But not with this picture. Now we know what's going on underneath the protective equipment when they get pushed to the ground. Awkward, terrible things happen and it's normal.  Can you feel the pain and struggle? 
Near, Yet So Far
It's amazing to witness professional baseball players looking so confident when they step up to the plate. It must be scary to have a fastball flying at your head, don't you think? There are times when their gut feelings kick in and players avoid the ball, which is what appears to be what's going on to Chase Headley in this image.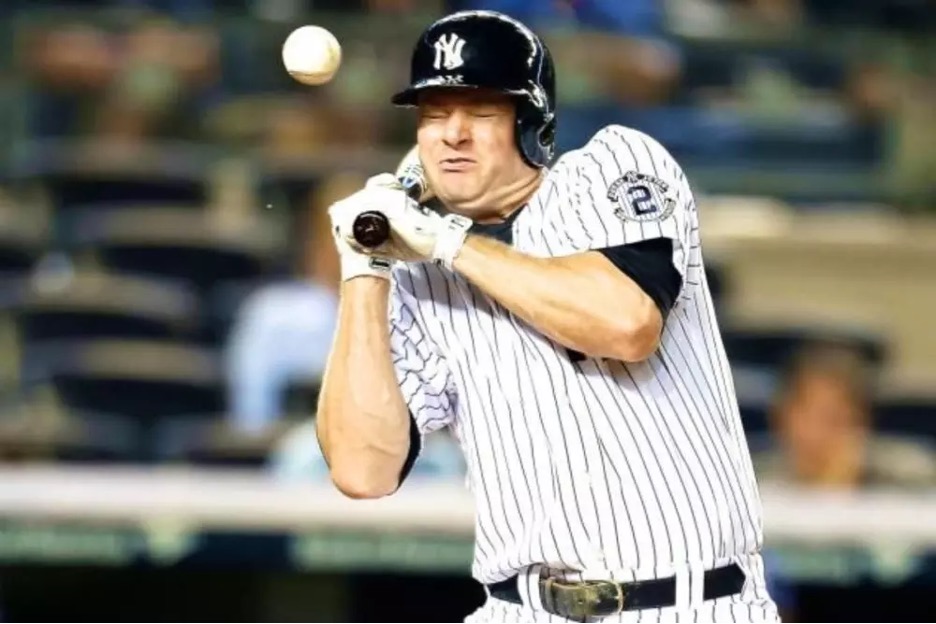 Truth be told, the ball looks to be at a great distance from hitting Headley. In any case, his moment of brief frenzy culminated in a hilarious image.
How (Not) To Drink From a Water Bottle
Being focused in the middle of a game is one of the core strengths of any professional athlete. However, let's not forget that keeping your concentration when you're in the middle of a game is no easy feat. That is indeed true for this hockey player, who couldn't give sufficient consideration to turning his water bottle the correct way.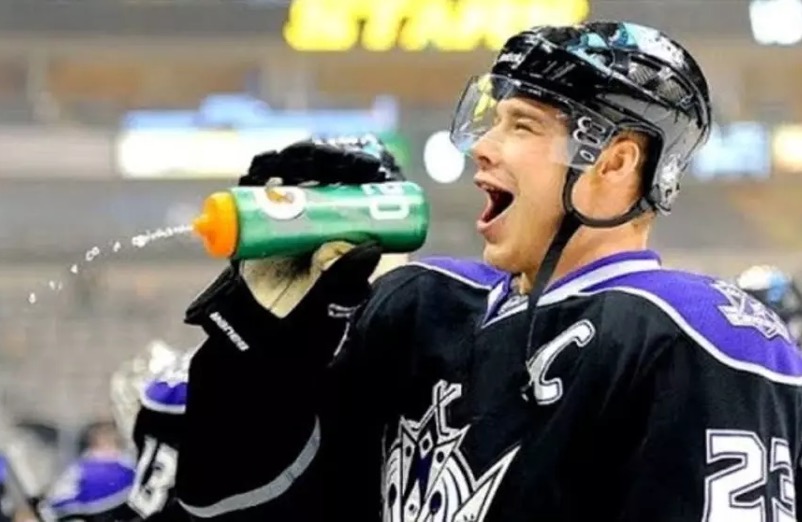 Before he learned of his humiliating mix-up, somebody quickly snapped this photograph. We're sure seeing this photo will remind him that it's okay to make hilarious mistakes at times. Just goes to show his intense concentration on the game.
The Other Side Of Ben
It cannot be denied that Ben Zobrist is an extraordinary baseball player. But this photo will show you his other side that you wished you knew sooner.  While playing for the Tampa Bay Rays, the second baseman/outfielder looks completely ill-equipped to catch the baseball that is flying right at his head.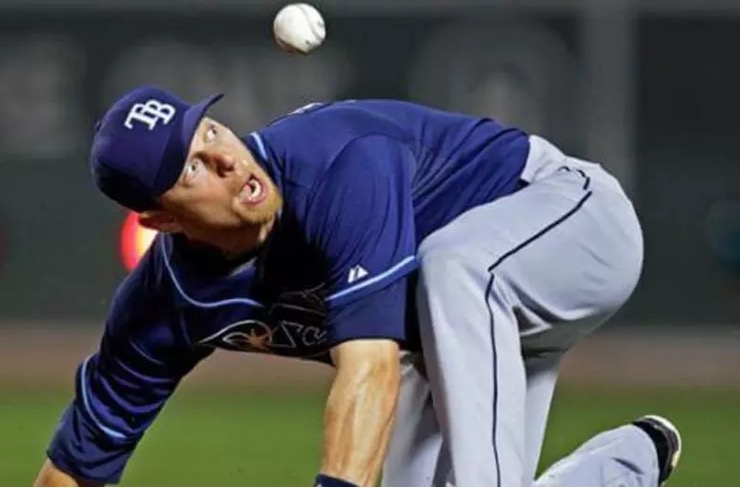 While he's watching out for the ball, we are fervently hoping he figured out how to respond quickly to the point of trying not to get smacked in the face.
The Over-Eager Fan
Did you know that spectators are allowed to catch balls that are hit out of the limits of the field? Yet, it appears one of these fans got excessively thrilled for the chance of taking a ball home. While outfielder Scott Podsednik was attempting to catch the ball for himself, he was smacked in the face by an over-enthusiastic fan.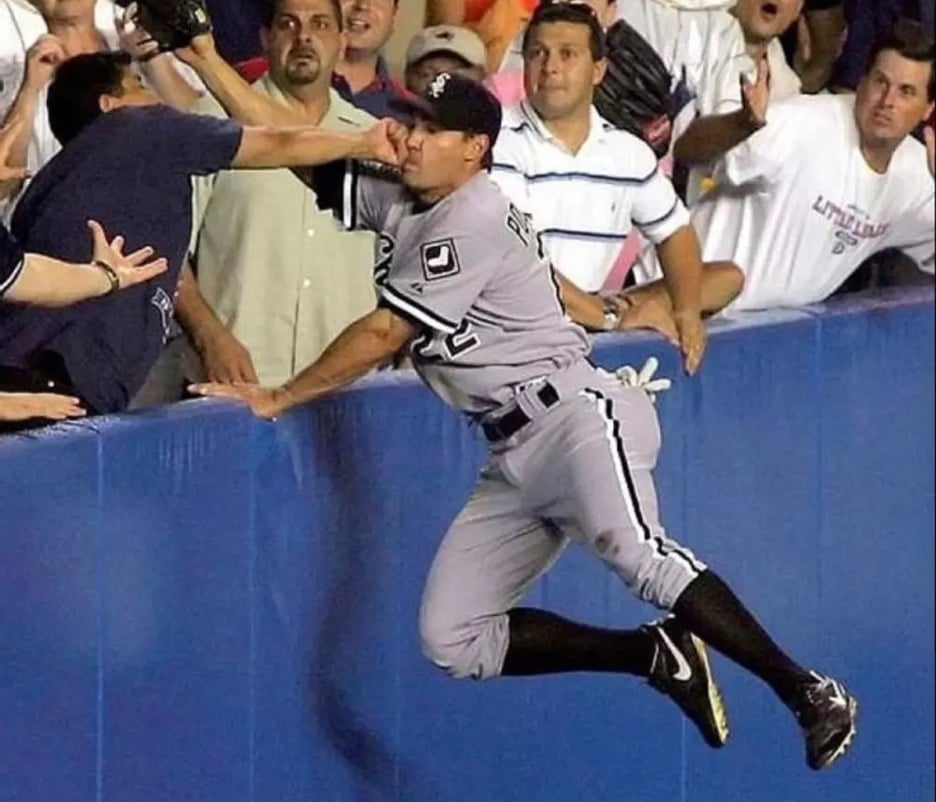 Hopefully, the fan didn't intend to punch him. Note to over-excited baseball fans: be more cautious about attempting to catch a ball that is still in play. You wouldn't want to ruin a pivotal play in the game.
Dancing To His Music
We appreciate that this professional figure skater was enjoying his music in his exhibition. While his dance moves were unquestionably deserving of a standing ovation, unfortunately, his look was not.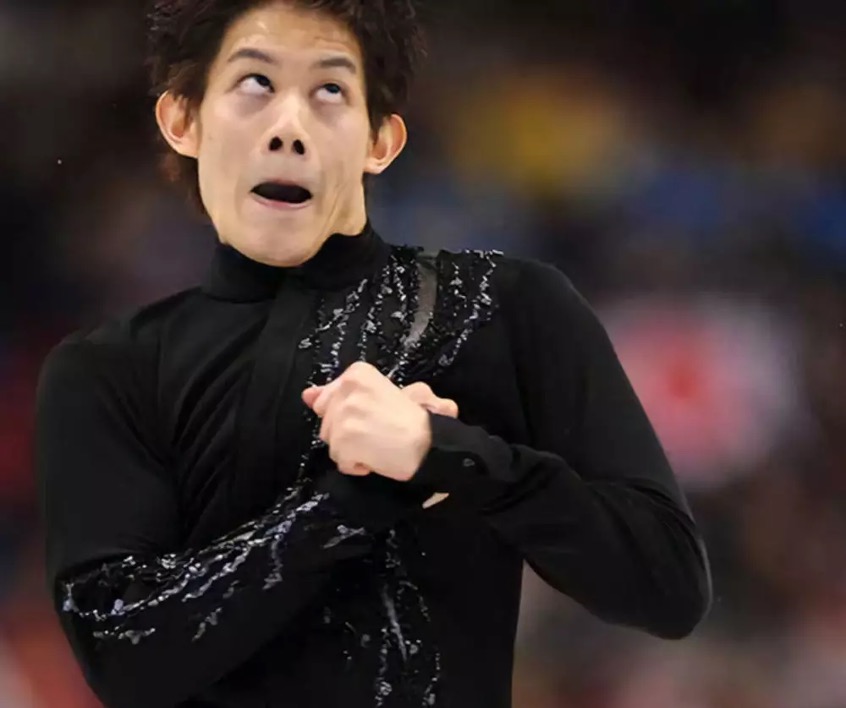 If the photograph had been snapped only a second after, this figure skater might have looked normal, right? Sadly, while keeping his concentration on his balancing act and ice skating moves, the skater unintentionally made this humorous face. We're not laughing, okay?
Look Who's Taller!
This photograph isn't for laughs actually, yet you can't resist the urge to giggle at the height distinction between these two basketball players. At 7 feet, 7 inches, Manute Bol was regarded as one of the tallest players to play in the NBA.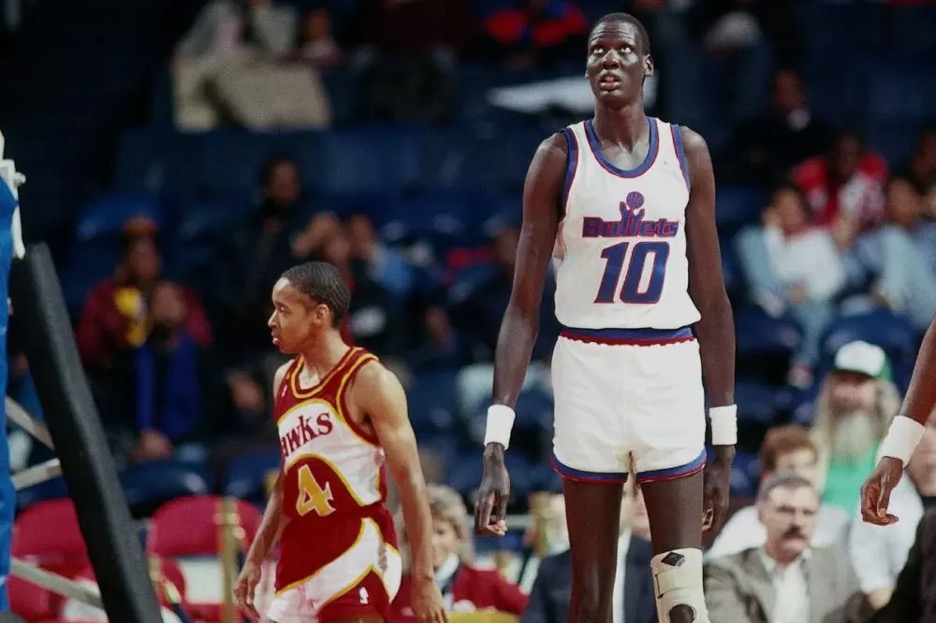 On the contrary, Spud Webb, is one of the smallest players in the NBA at only 5 feet, 6 inches. Seeing these two players stand together shows exactly how exceptional their height contrast truly was. All things considered, both were amazing athletes.
The Look Of Love
From the vibes of this photograph, it appears to be that the goalkeeper just halted the soccer ball from heading into the goal. Yet, the feeling of affection and profound respect in his eyes as he gazes at the ball is certainly deserving of a laugh.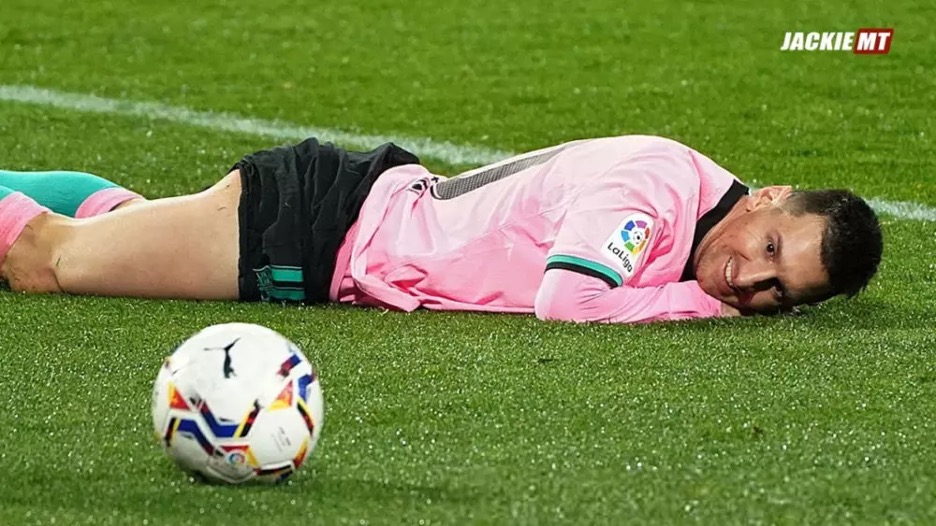 He looks genuinely fascinated by the soccer ball before him. Oh, the look of love and joy in his eyes cannot be denied! Perhaps that is the very reason he chose to be a goalie.
A Painful, Funny Collision
Baseball is considered one of the limited-contact sports which means rules are set to avoid intentional or unintentional contact between athletes.  Nonetheless, it cannot be avoided as players do encounter a couple of unpleasant bumps with one another. In this photograph, baserunner Jonathan Villar crashes into the second baseman, Brandon Phillips.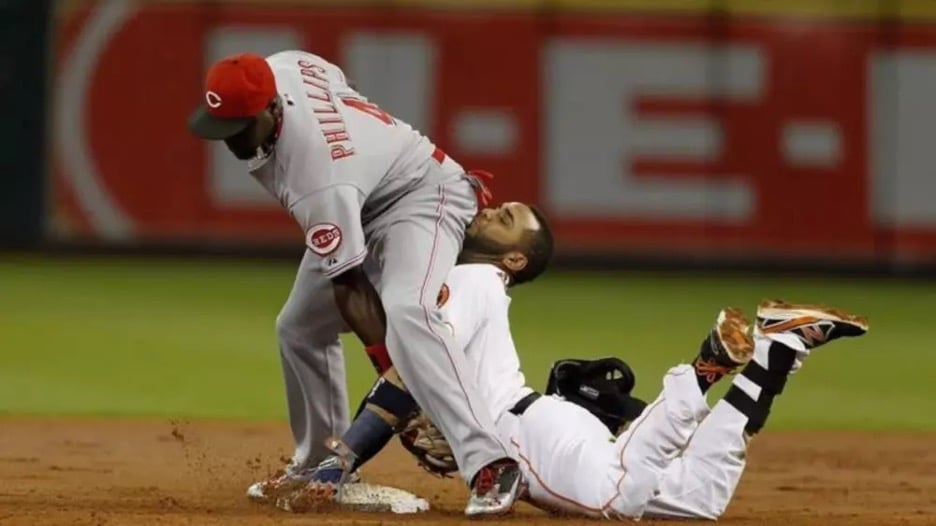 While the impact looks harrowing, it likewise brings about a seriously funny photograph as Villar frantically attempts to steal second base. It seems both players are unmindful of this awkward situation as they continue with the game.
The Unexpected Image
We're amazed that photographers have mastered the art of taking photos at the perfect moment. Take this image as an example. This basketball player tumbled to the ground and lifted his head not realizing the collision that was about to happen.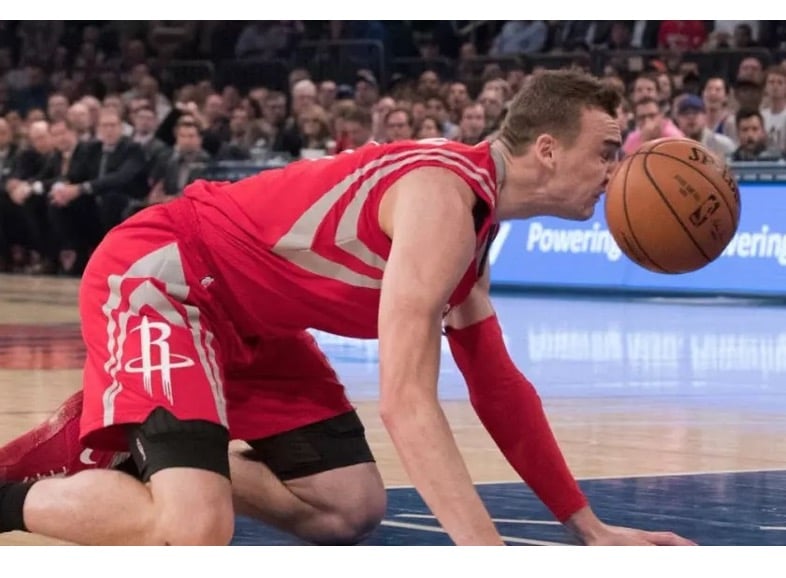 Unfortunately, it was the exact moment the basketball banged into his nose. This photograph reminds us a bit of a dog trying to play with a ball. However, we're certain the effect of the ball on this player's nose was staggeringly agonizing.
Meet Dingle Berry
Truth be told…countless things need to initially take place before this hilarious photo can be captured. Obviously, these football players with these last names play for the same team. In an unexpected yet hilarious moment, they ended up sitting close to one another on the bench.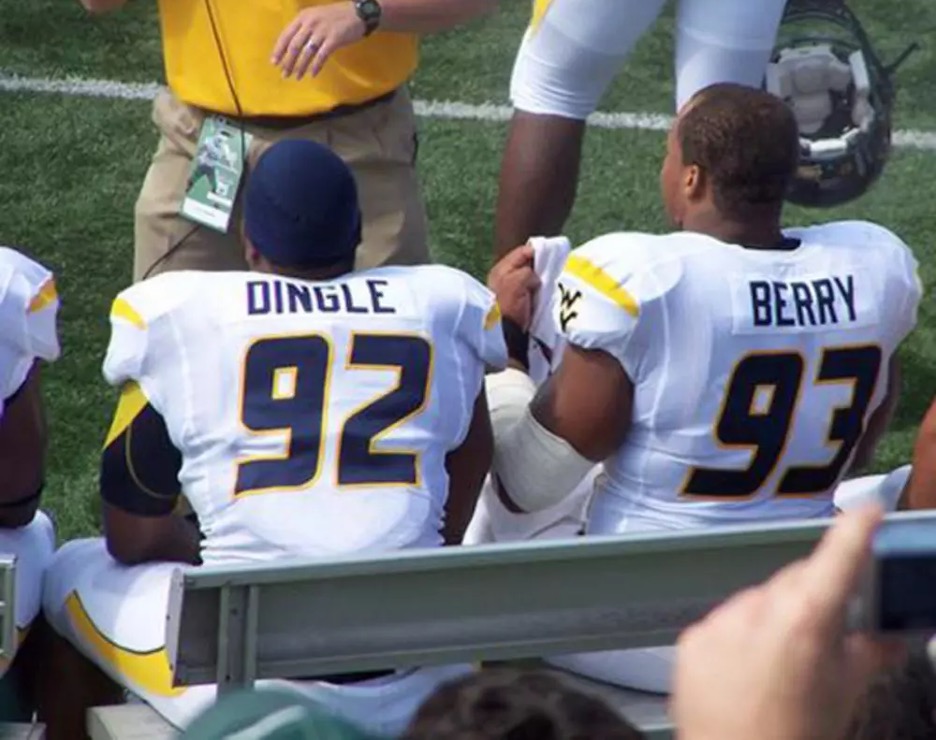 Hopefully, Dingle Berry isn't suggestive of the other players on their team. Because if it is, they most likely won't dominate a single match. On a serious note, this image is giving us serious belly laughs.
Piggyback Ride, Anyone?
Soccer games couldn't be more intense and this photo is clear proof that players can be a tad aggressive when trying to bring home the bacon. This soccer player was clearly attempting to hold his opponent back from getting the ball. In any case, his blocking strategy was too forceful.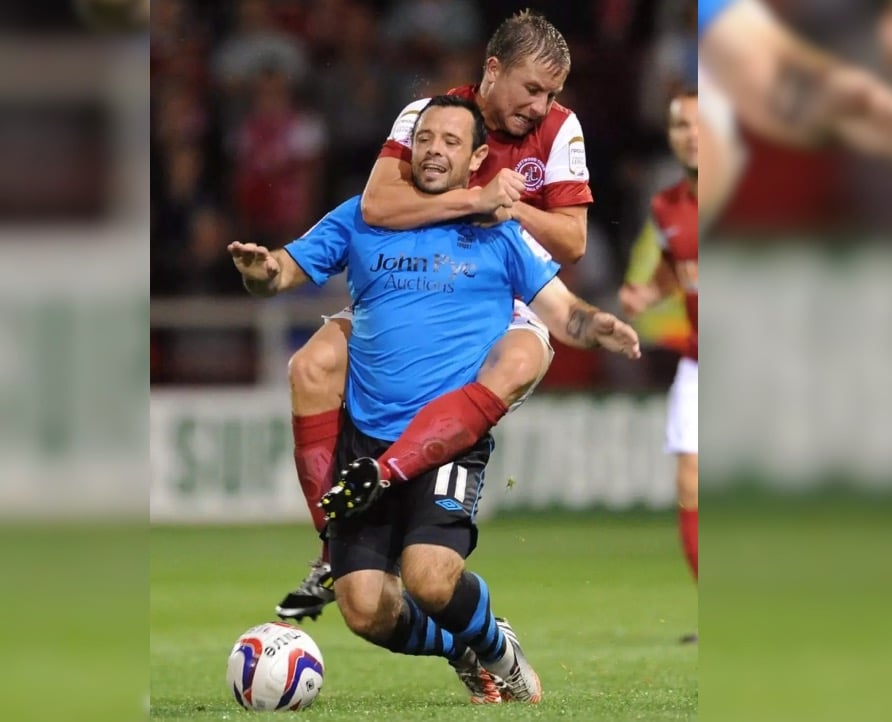 While he held the rival team from dealing with the ball, he likewise seemed as though he was participating in an extemporaneous piggyback ride during a soccer match. We're sure you already know what happened next to these players…
Hang In There, Buddy
We appreciate the fact that basketball players from different leagues manage to help each other especially when the going gets tough. After this player dunked the ball, his rival was clearly attempting to hold him back from descending from the hoop right on top of him.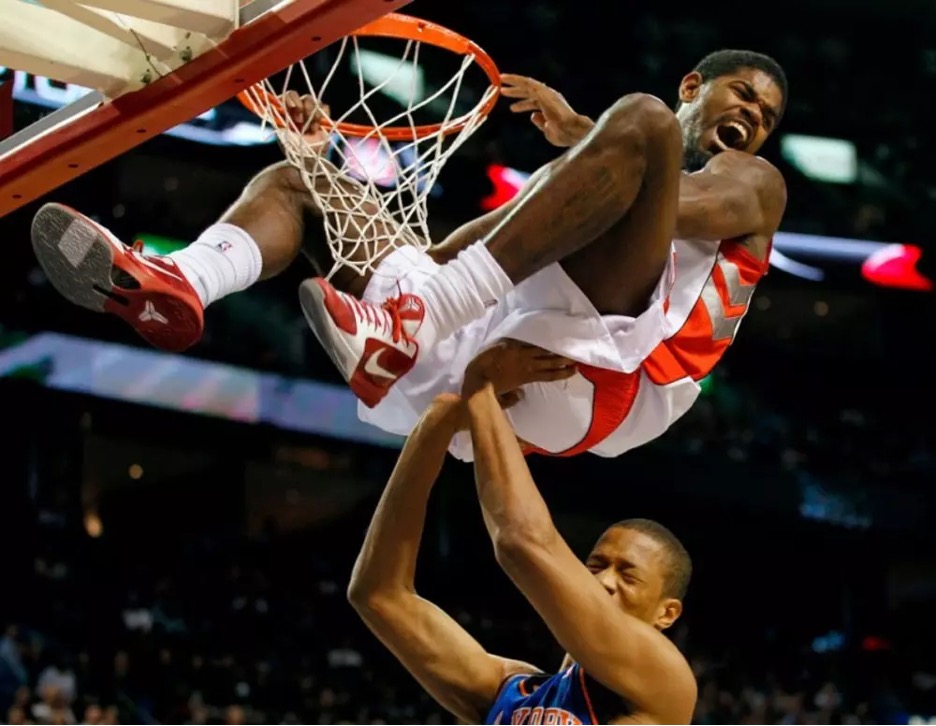 But if you look closely at the image, it appears that the rival player was giving his opponent a lift to dunk the ball. Regardless of the reason for this lift, it's not part of the basketball rules.
Nose Picking: Why They Do It
Are there exceptions to the saying "You can pick your friends, you can pick your nose, but you cannot pick your friend's nose"? The image below makes it appear that the basketball player was picking the nose of his opponent who was trying to shoot the ball.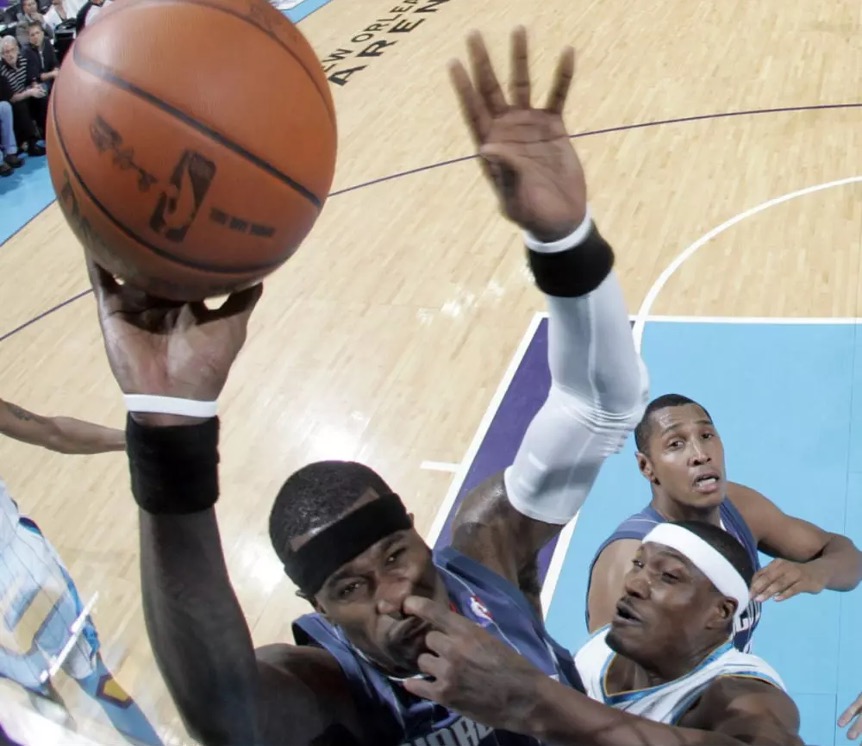 Come on, guys. Let's be fair, he was just attempting to block the shot. Unfortunately, the resulting photo was funny enough and pretty disgusting for both players.