These Drone Photos Show The World In A New Way That Is Unbelievable
The world's fascination with aerial photography has without a doubt increased over the past few years as drones have become more accessible to the public. These incredible mini helicopters are capable of taking us to new heights and introducing us to captivating new perspectives.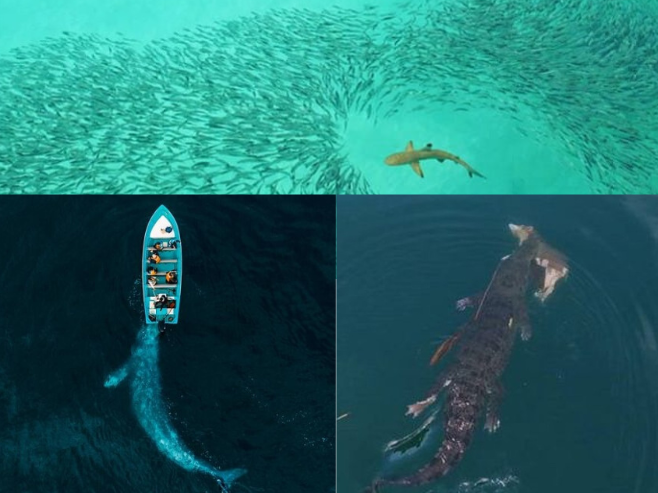 Let these magnificent drone photos transport you across all seven continents as we explore just how amazing (and sometimes terrifying) the world can look from the sky.
The Fiery Secrets of Iceland
Location: Fagradalsfjall Volcano, Iceland
Iceland is famous for being called the land of fire and ice because of its seamless volcanoes and glaciers. A photo like this makes it easy to understand why Iceland is one the most sparsely populated countries in Europe, with only 365,000 people in over 42,000 square miles of land.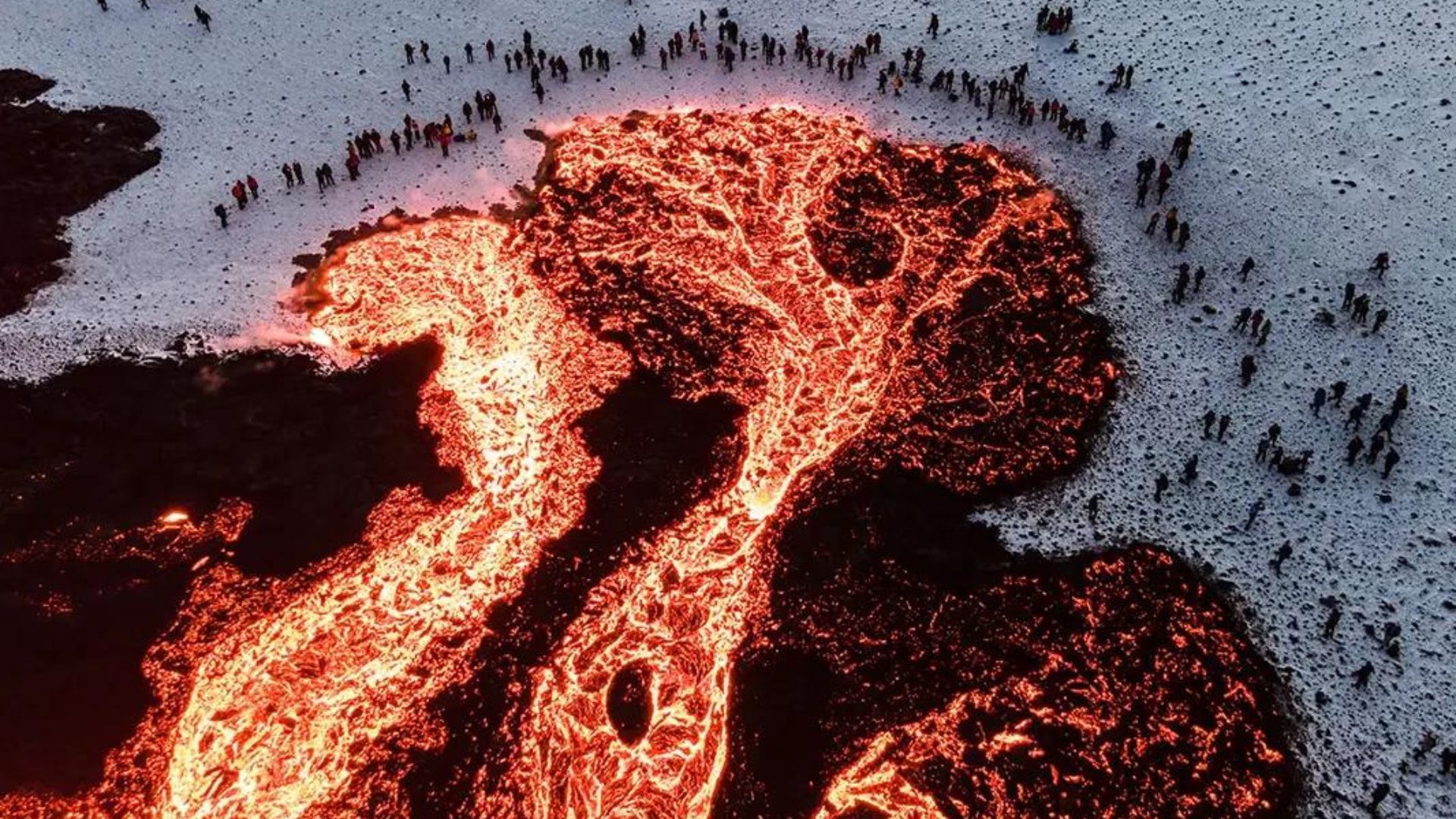 This land is volcanically active; its interior lands are scattered with lava fields, glaciers, mountains, and sand. Aside from its geological marvels, Iceland is also rich in cultural history, folklore, Norse mythology, and having zero official family names.
A Unique View of the Uninhabitable Continent
Location: Antarctica
The world's coldest, driest, and windiest continent may not be suitable for humans to inhabit, but can offer some incredible sights of wildlife amid the ice caps and Southern Ocean. In 2020, Florian Ledoux captured this amazing drone shot to win Nature TTL's photograph of the year contest.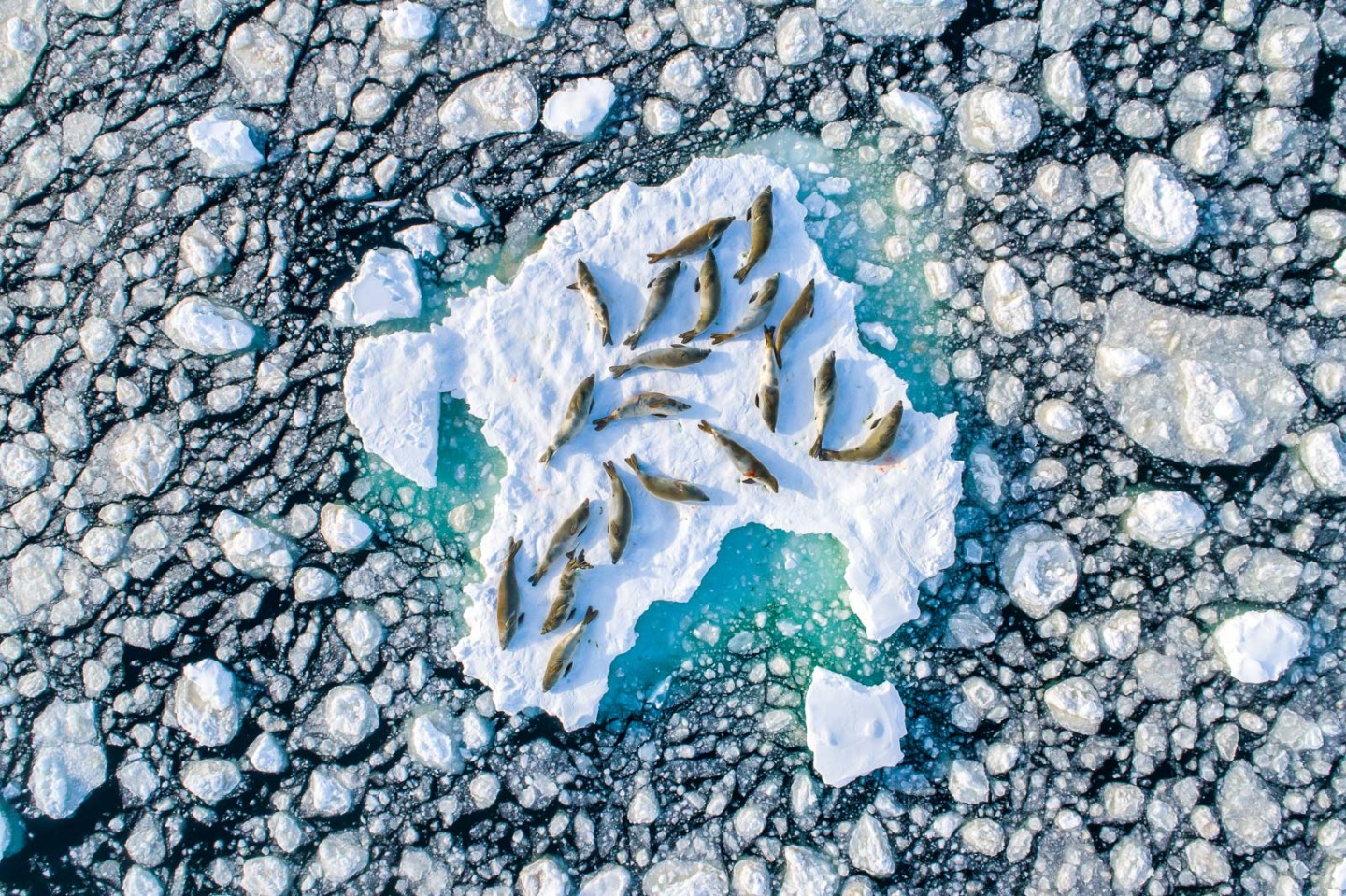 This icy shot features a family of crabeater seals relaxing upon a floating block of ice. While few people ever visit Antarctica, breathtaking photos like this one can help viewers imagine a bit of the Antarctic experience.
Above the Tamul Waterfall
Location: San Luis Potosi, Mexico
The Tamul Waterfall is the largest waterfall in San Luis Potosi, Mexico. This dazzling drone shot captures the magnificence of the waterfall with a delightful bonus of a rainbow at the bottom.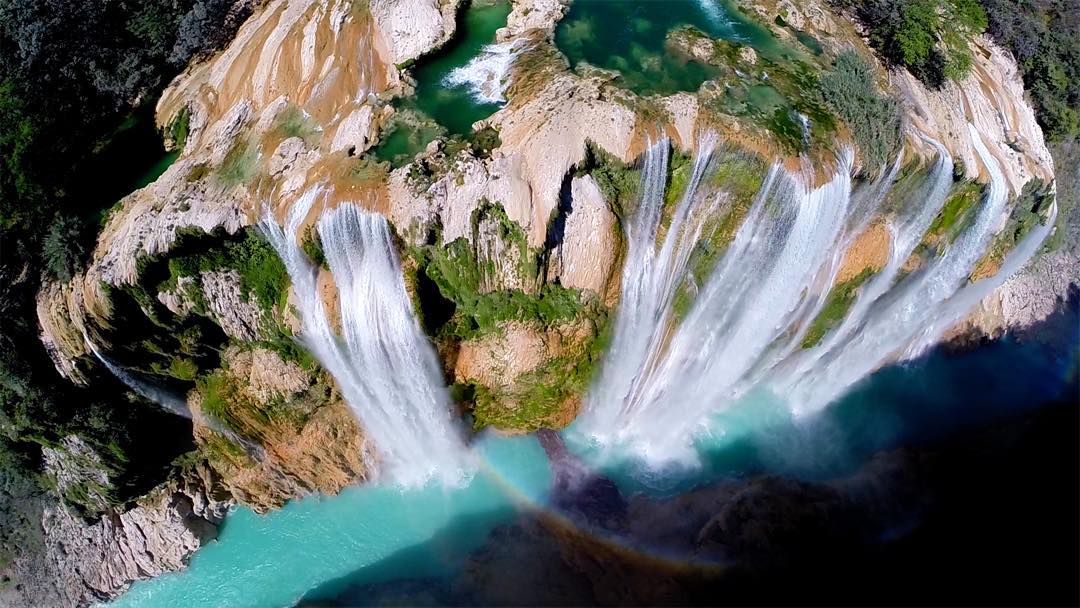 The waterfall is 340 feet high and drops over the mountainous ledge into a beautiful turquoise river. The iconic coloring of the water is the result of the Gallinas River and the Santa Maria River merging into one body of water, the Cascada de Tamul.
The Dazzling Illusion of a Fishing Net
Location: Vietnam
This captivating image may cause you to do a double-take. While the rippling effect and the stunning green coloring may remind you of the Northern Lights or an intergalactic image, this drone shot is actually that of a fishing net in the sea.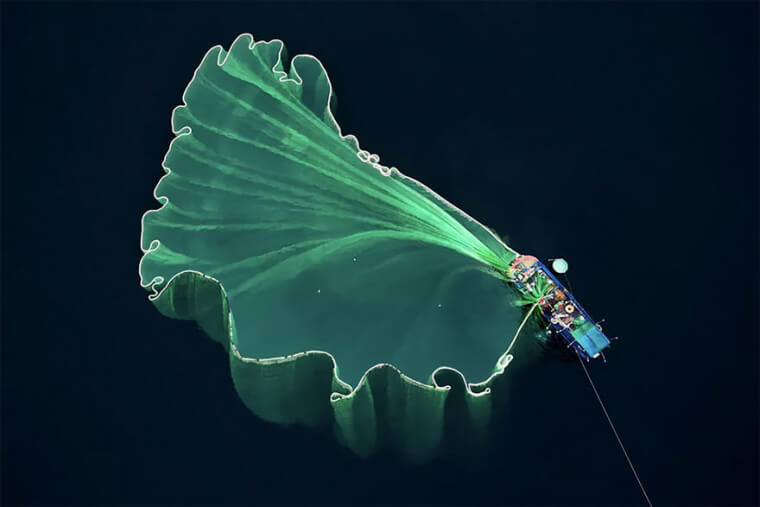 Captured by Trung Pham in Vietnam, this incredible photo provides a beautiful aerial view of a fishing boat in the South China Sea preparing to reel in a large amount of fish.
Natural Lava-Rock Swimming Pools
Location: Seixal, Madeira Island, Portugal
Amid the beauty of Portugal's Madeira Island, you'll find a series of natural pools that have formed over time from volcanic activity. The cooling of lava-rocks has created enclosed areas along the coastline that are often used as natural swimming pools.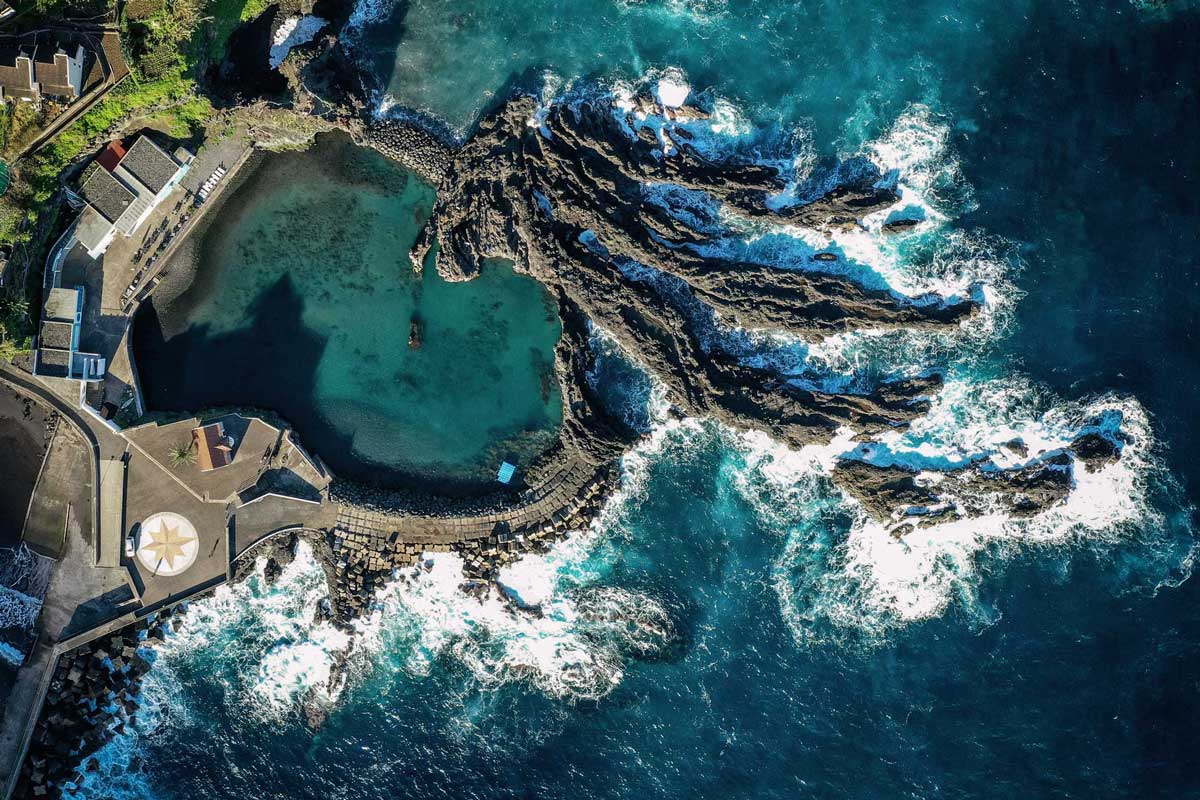 This unforgettable view is part of the emblematic geology found along the majestic Madeira coast.
Flamingos Flocking to the Shore
Location: Lake Logipi, Kenya
The heavy concentration of pink amid the beautiful blue ocean is actually an immense gathering of flamingos. This remarkable drone image was captured in the skies of Kenya above Lake Logipi.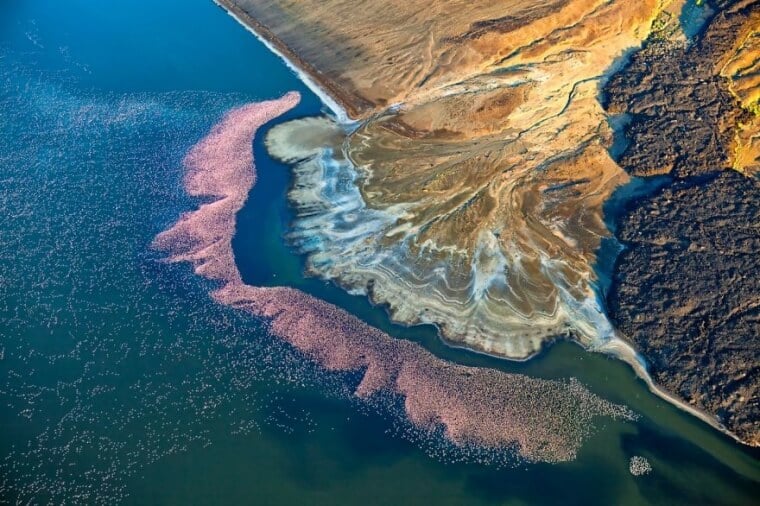 The saline, alkaline lake is often frequented by flamingos who come to the waters to feed on cyanobacteria and plankton. From the lens of the drone, the individuality of the flamingos and their shape fade away, creating a mesmerizing sea of pink.
Stunning Rocky Islands Seen from the Sky
Location: Faroe Islands, Denmark
The Faroe Islands are an archipelago found north of Scotland and considered part of the Kingdom of Denmark. The islands consist of 540 square miles of land and has a population of around 52,00 people.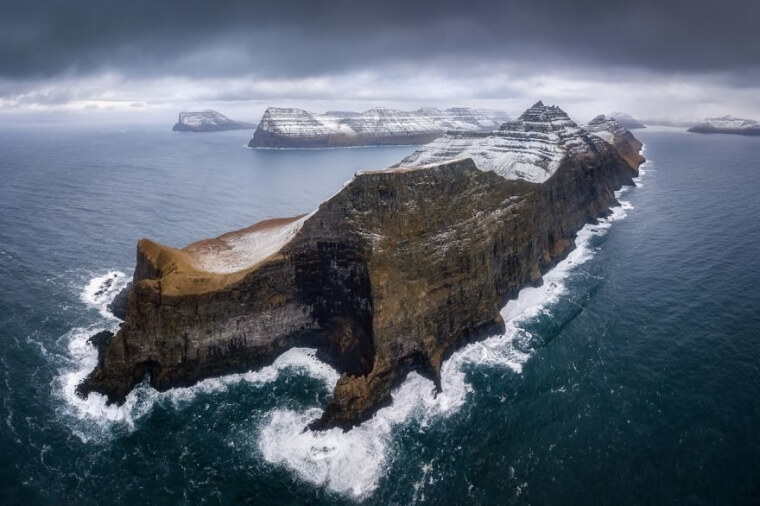 This remarkable drone shot captures a vast stretch of these islands amid the North Atlantic Ocean. The white sea foam outlining where the ocean meets the island brings perfect contrast to this mesmerizing image.
The Curious Lion Finds a Drone
Location: Maasai Mara, Kenya
It's almost impossible to find a photographer close to a lion-like this in its natural habitat. But with today's advanced technology, it not impossible to capture a photo like this since drones have made it all possible.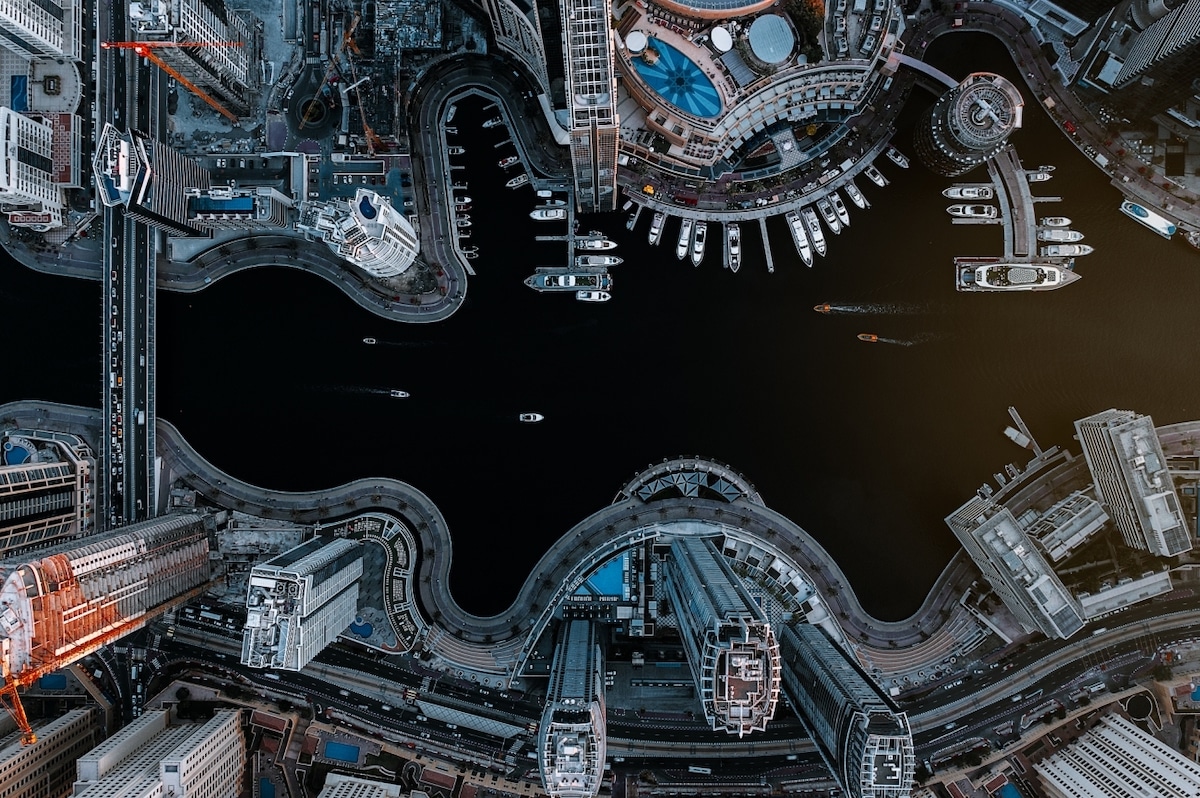 The individual who captured this photo was a little more curious about the life of a lion. He was willing to get an exclusive close and personal view for a perfect photo. Note that you are not allowed to fly a drone in the wild in some countries without permission.
Capturing the Curves of this Mesmerizing Marina
Location: Dubai Marina, Dubai, United Arab Emirates
View the wonder of the Dubai Marina from a brand new perspective. The Dubai Marina is an artificial canal city in the United Arab Emirates. This relatively new city, established in 2003, is located along a 2 mile portion of the Persian Gulf shore.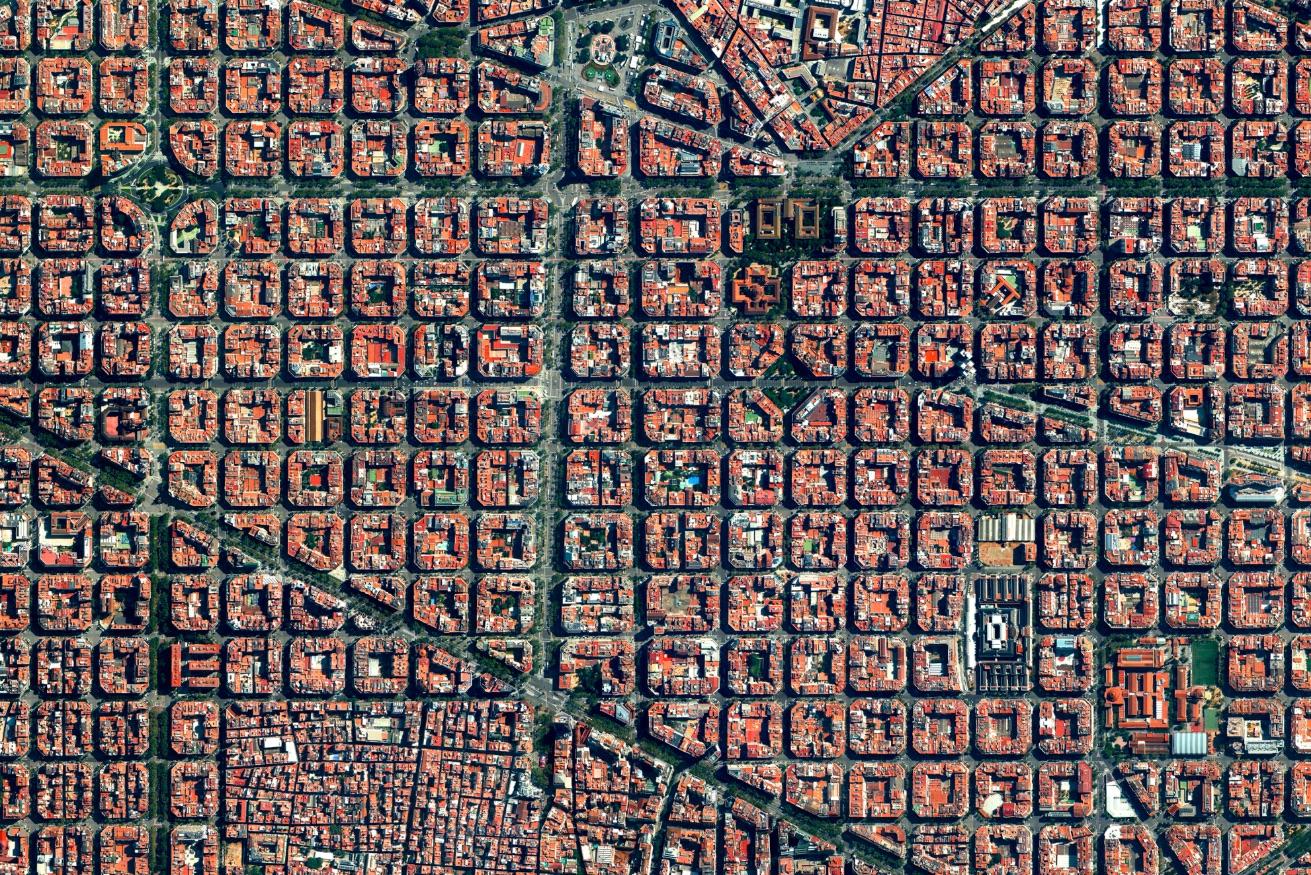 Photographer Carmine Chiriacò captured this incredibly captivating drone shot which was recognized as a winning photo in the Urban category at the 2020 Drone Photo Awards.
A Sky Full of Spain
Location: Barcelona, Spain
Barcelona is one of the most famous ancient cities in the world. The city is renowned for its brilliant architecture of Antonio Gaudi and its exceptional soccer team. In 2009 it was ranked as the most prosperous city brand across the globe due to its towering economic growth.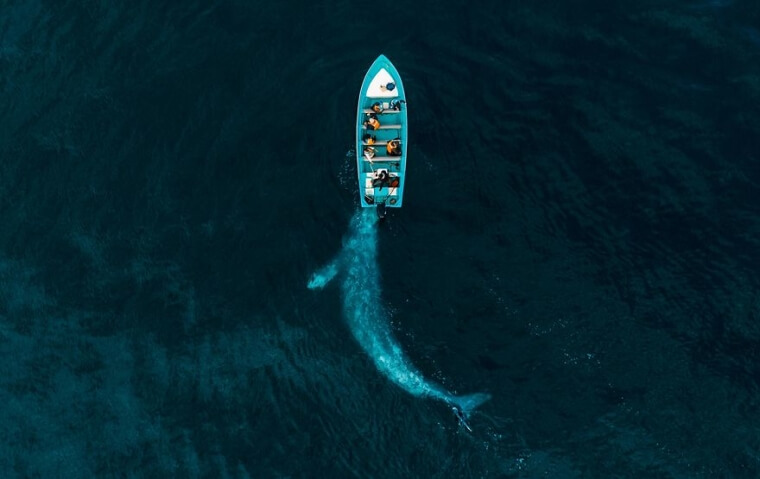 Today this Spanish city is famous for its serene parks, tasty taps, beautiful shoreline, magnificent modern art museums, and boundless culture. This drone shot captures the marvel of a neatly planned city with structured street blocks traveling as far as the eye can see.
A Whale of a Tour
Location: Baja California Sur, Mexico
These whale-watching tourists got a major surprise when a huge gray whale decided to greet their boat. This incredible image captures the delicate balance between the amazement and fear occurring in this picture.
Luckily, this whale was a playful one and simply made a pitstop to gently nudge the boat full of tourists who were exploring the waters around the Port of Adolfo Lopes Mateos in Mexico.
Drained Canal Reveals Interesting Finds
Location: Paris, France
This intriguing photo is just one of many interesting finds from the Canal Saint-Martin in Paris, France. After 200 years, authorities drained the canal and unearthed many hidden and rusty items within the murky waters. When the canal was first drained back in 2001, they discovered 40 tons worth of waste, many of which were historical relics left behind from World War I.
Since 2001, the draining and cleaning of the canal will be ordered every 15 years. In the photo above, we see a discovery from the 2016 procedure. An old, rusted vehicle lies at the bottom of the murky water with a seemingly much newer entry on top. We wonder how recently that poor leopard stuffed animal fell into the canal.
A Captivating Sky View of the Pyramids of Giza
Location: Cairo, Egypt
The Pyramids of Giza, also known as the royal tombs or Giza Necropolis, were built for three different pharaohs during the fourth dynasty.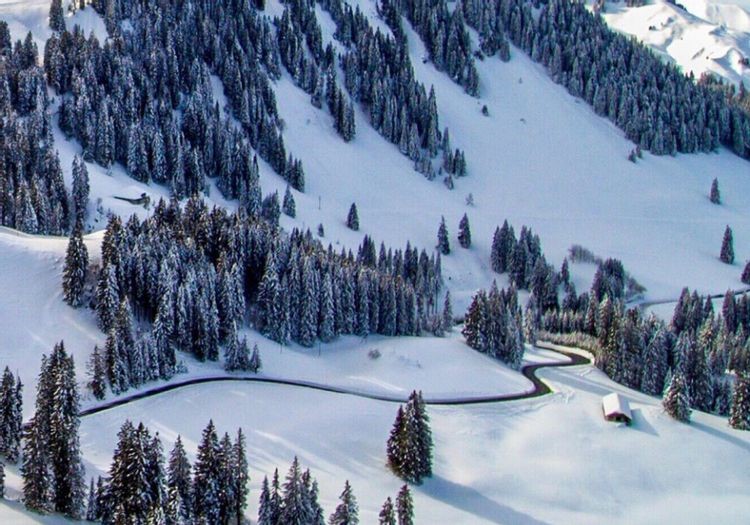 However, many myths surround these pyramids. Some believe that aliens built them, and others believe that they were used as electric power plants by Egyptians. This aerial shot captures the pyramids and all their glory as the sun sets on this ancient wonder of the world.
Bird's Eye View of A Lot Full of Burning Tires in Texas
Location: West Odessa, Texas
In April 2017, a massive tire fire erupted in West Odessa, Texas. Approximately 100,000 tires were burned and the fire wasn't put out until 8 p.m. the following day.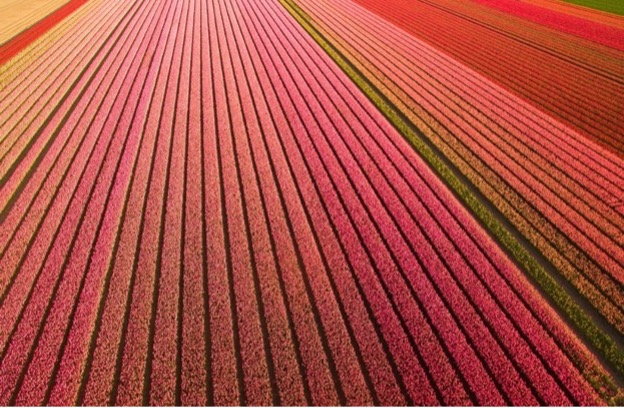 All the toxic pollutants emitted into the air prompted the Environmental Protection Agency (EPA) to step in, and the cause was never disclosed. This image is quite powerful.
Walking In A French Alps Wonderland
Location: Auvergne-Rhône-Alpes, France
This beautiful scene of a cold, pristine winter woodland was captured by a drone at the bottom of the Alps mountain range. The undisturbed fresh dusting of snow upon the evergreens capture the complete wintery scene. The snow is perfectly absent from the road bringing an unparalleled contrast to the image.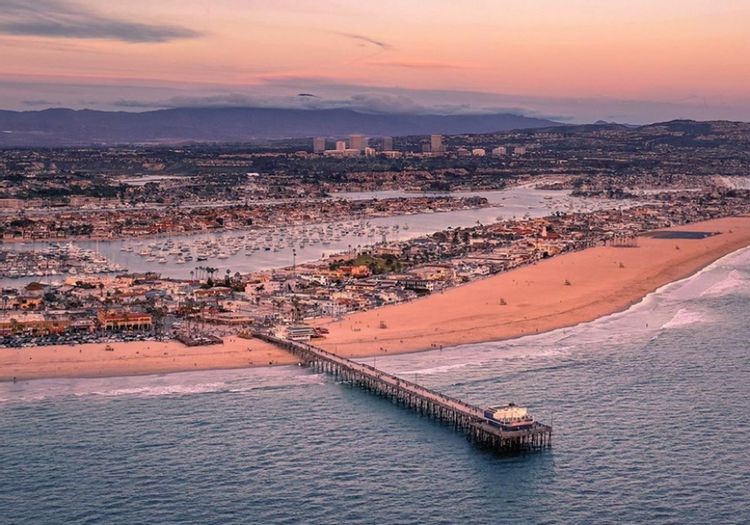 The power of this image is in its ability to transport the viewer into their past as it begs you to reminisce about your fondest snowy memories.
The Famous Dutch Tulip Fields
Location: Noordoostpolder, Netherlands
From March to mid May, much of Holland experiences the beautiful bloom of their flower fields scattered across the country's coast. This spring time festivity features daffodils and hyacinths as well, but the tulip fields which come alive mid April are the truly famous attraction.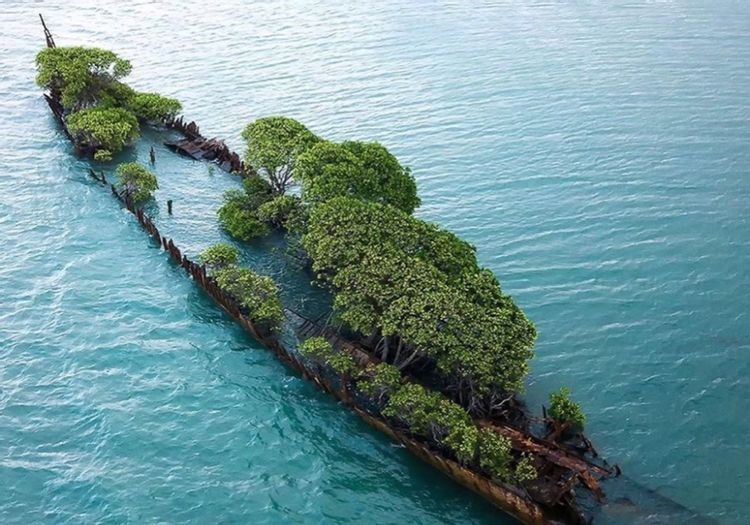 Noordoostpolder is located in the province of Flevoland which is home to over 12,000 acres of tulip fields. The ground in this area is quite fertile making it the perfect breeding ground for these beautiful flowers. The drone that captured this engaging photo was able to showcase the seemingly endless rows of beautiful blooms at the peak of the tulip festival.
A Perfect Sunset at Newport Beach
Location: Newport Beach, California, USA
Newport Beach is a coastal town in Orange County, California. Newport Beach is famous for its ideal conditions for surfing sports, cliffside views, sandy beaches, and the frozen banana made by the fictional Bluth family.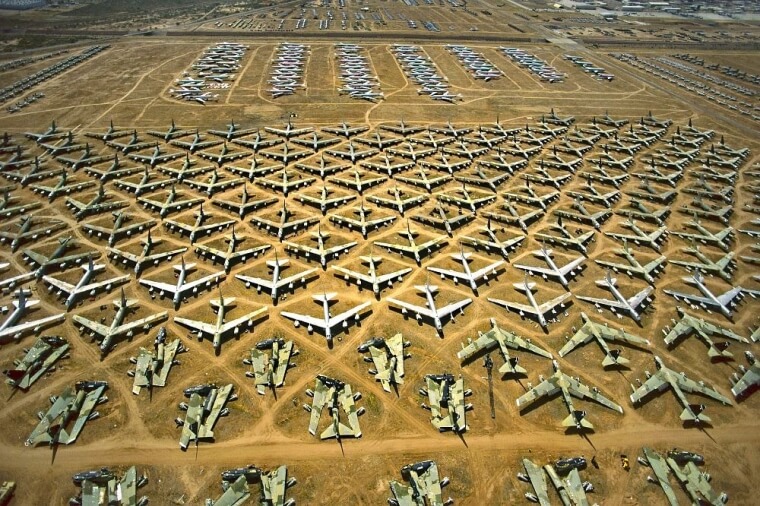 It is also famous for its vast marine harbor, which is visible beyond the back of the pier and coastline. This drone photo showcases the large marine harbor and the orange, sandy beaches along the coastline. Lifeguards use the bridge to watch over the new and professional surfers.
Nature Reclaiming its Property
Location: Australia
Mother Earth has always been generous with providing us with a place to stay, food to eat, and raw materials to build. Humans have long been known to take Earth's resources and mold machines to express their ideas. However, once these machines fail or become outdated, humans abandon them to rust and Mother Nature reclaims the property that once belonged to her.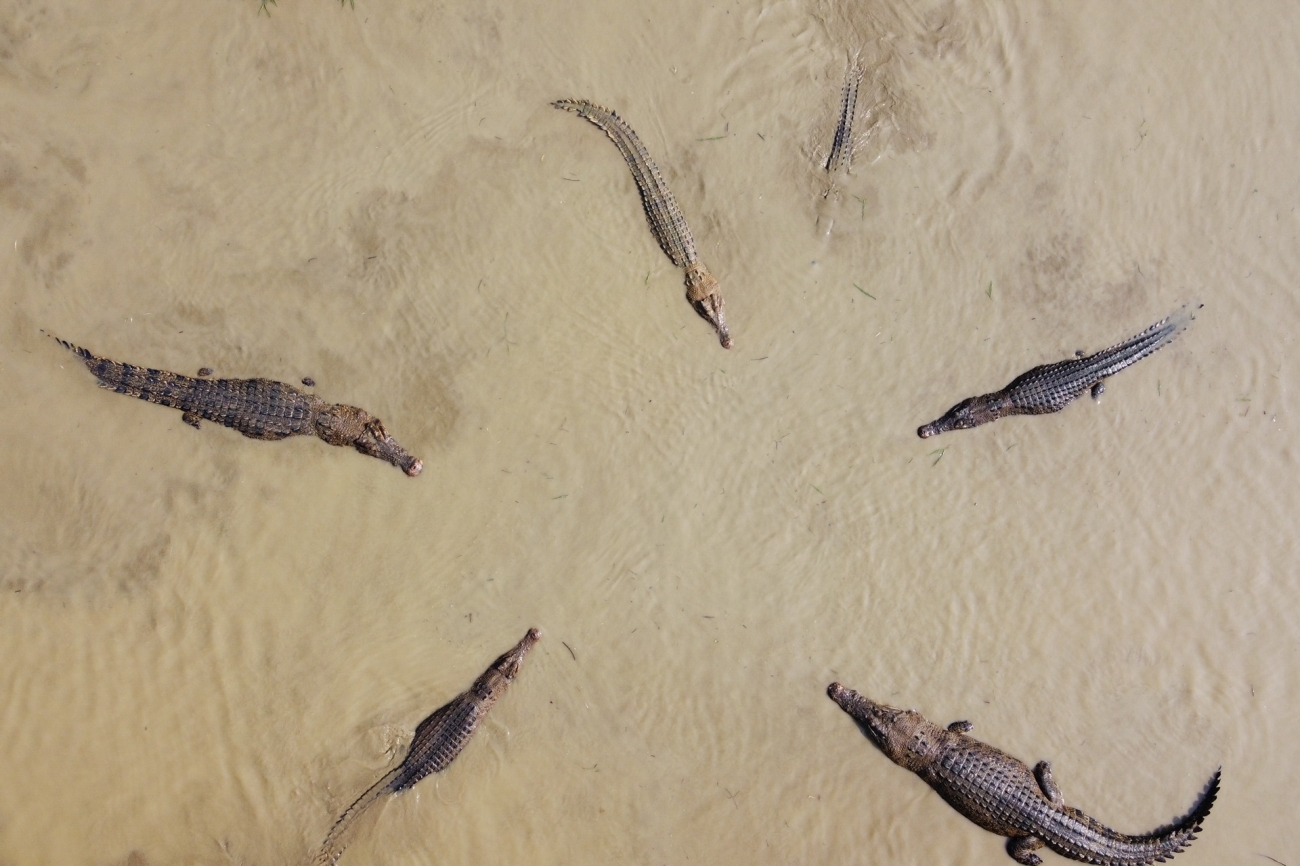 In this drone shot we see what was once a fancy ship now reclaimed by the mighty Earth and trees growing inside. Mother Nature always finds a way to reuse what we see as trash.
Military Planes Stored in the Desert
Location: Davis-Monthan Air Force Base, Arizona, USA
These military planes are stored ever so satisfyingly in a perfect grid at the Davis-Monthan Air Force Base in Arizona. This base serves as long-time storage for nearly 4,400 aircrafts scattered throughout 2,600 acres of desert.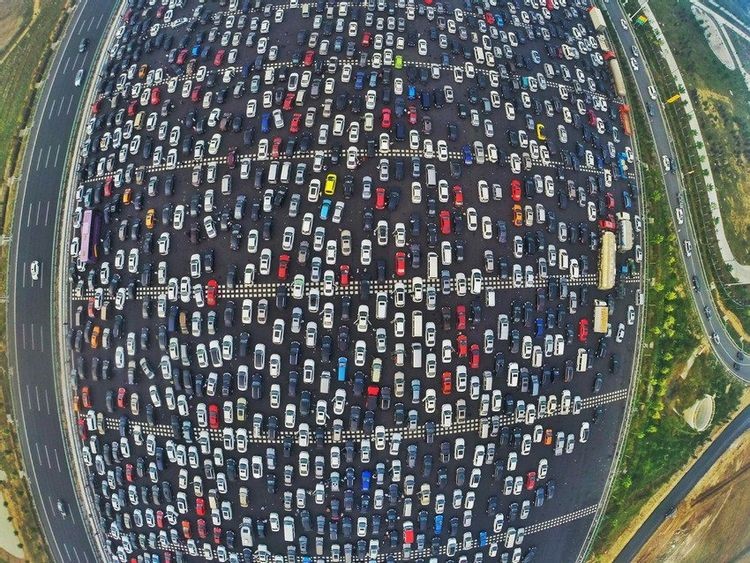 This base is known as "The Boneyard" as old aircrafts are left here in plain sight since the dry heat and sparse rain allows the planes to last longer without rusting. Aircrafts even dating back before the Vietnam War are still known to be stored here.
Watching How A Blue Whale Eats
Location: Newport, Oregon
Have you ever wondered how whales eat? Well, this incredible drone video footage in Newport, Oregon, shows it in real time.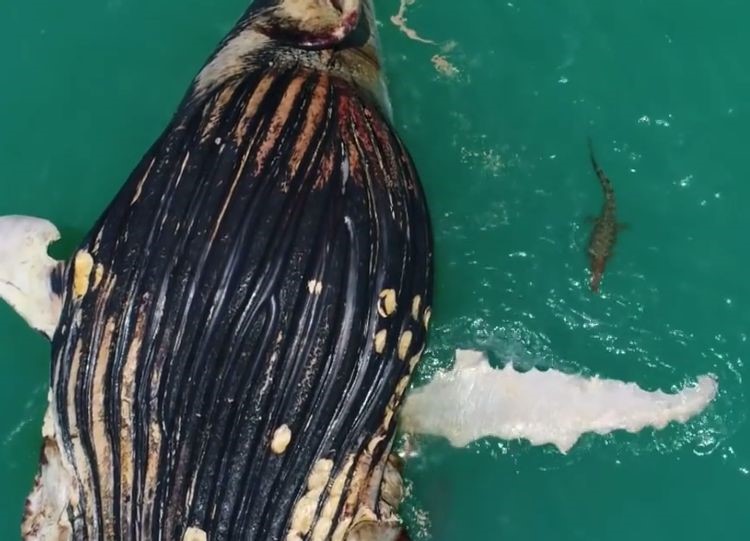 Captured by Oregon State University, the massive blue whale is seen turning on its side and consuming an entire mass of krill. This amazing sight could never have been captured without the help of a drone.
Perfect Shot Over a Group of Crocs
Location: Bangladesh
When taking wildlife photos, especially of crocodiles, it is vital to stay and remain at a safe distance. Crocodiles are one of the deadliest predators in the world as they are masters of stalking.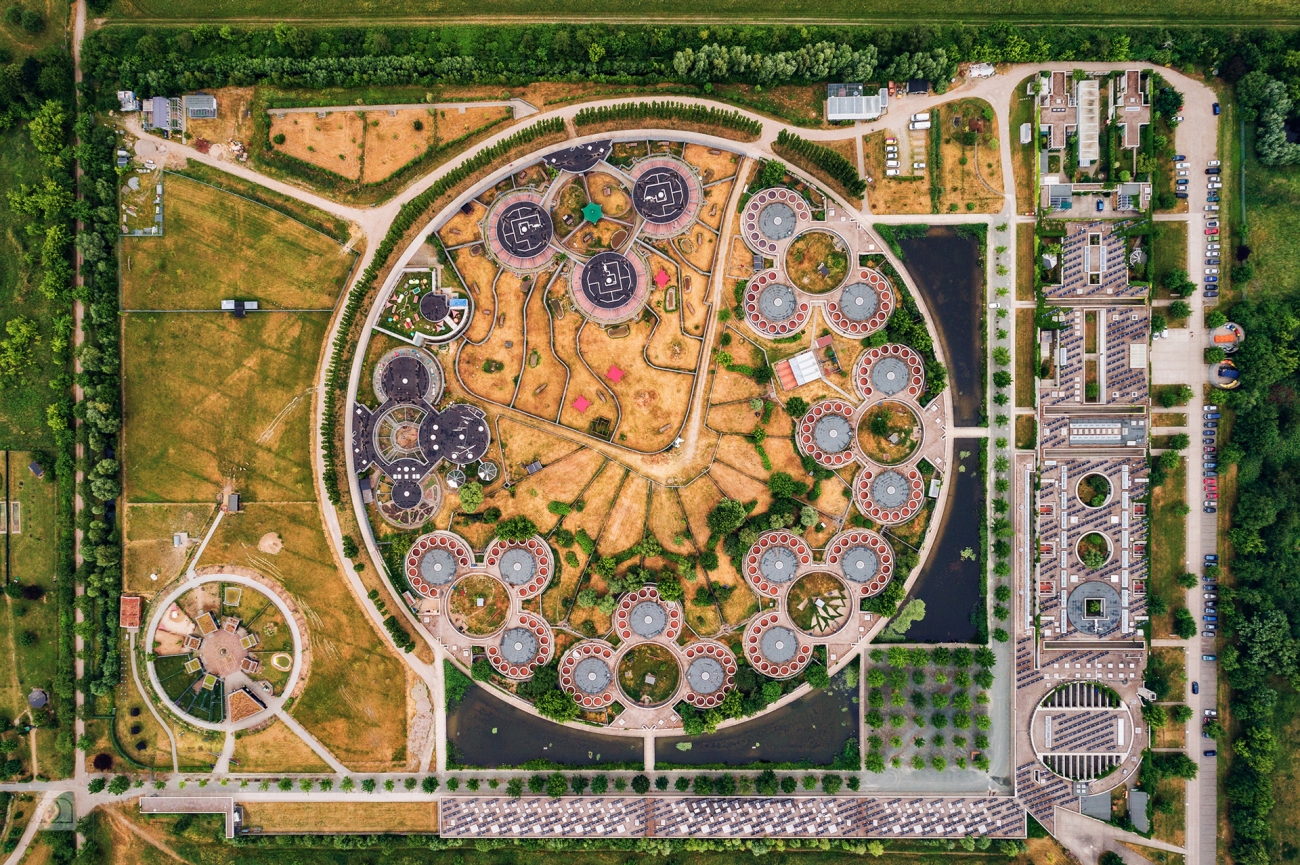 However, with a drone, you can take the most breathtaking photos or footage directly above a group of crocs, as seen by this shot. Six crocodiles form a peculiar circle, perhaps ready to find some afternoon grub.
Stranger Sneaks Onto A Boat
Location: Unknown
Imagine relaxing on a beautiful summer day with no cares in the world. What could go wrong? Well, this wild drone photo says it all.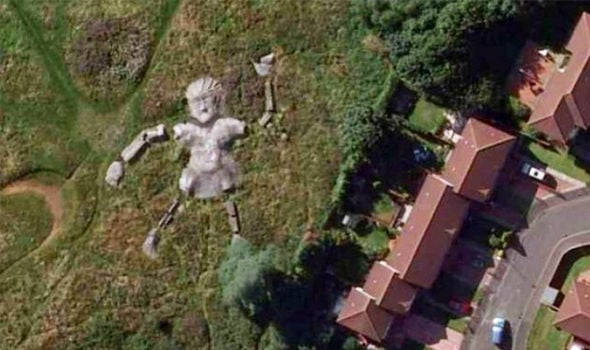 Some people were enjoying themselves as a random man climbs onto their boat. So, always keep one eye open because you never know who (or what) might be sneaking up on you.
The World's Most Frustrating Traffic Jam
Location: Beijing, China
China is considered as one of the most technologically advanced and prosperous countries, as well as one of most populated with close to 1.6 billion people. Therefore, it's no surprise that the roads and even the streets can get a little overcrowded.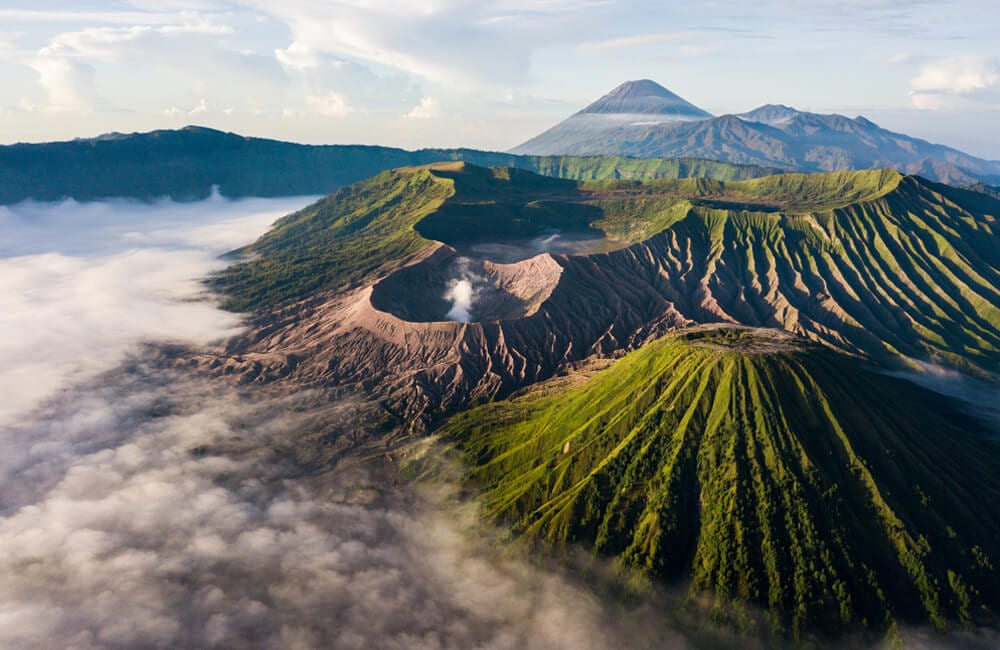 This drone captures an image of what 50 total lanes of rush hour traffic on the Beijing Hong Kong Macau expressway looks like every day. If you thought your commute was bad, you may want to think again. 
A Humpback Whale Compared to a Mature Crocodile
Location: Montgomery Reef, Kimberley, Western Australia
This drone image is one of the rarest images in the world. The lucky shot was taken near Montgomery Reef in the Kimberley region of Western Australia.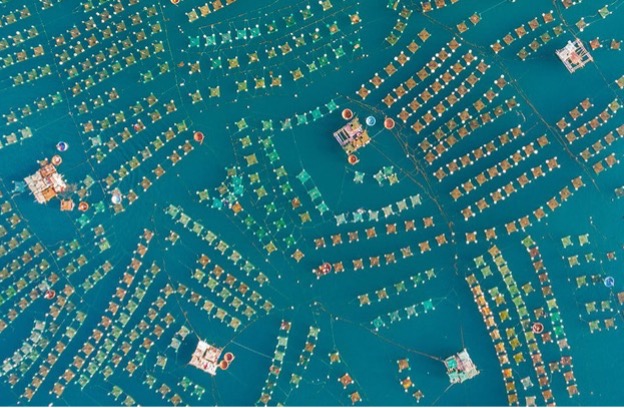 It seems like someone on a boat was filming a humpback whale floating on the ocean using their drone, and to their surprise, a crocodile was caught swimming alongside. This incredible shot captures the stark difference in the animals' sizes. Humpback whales are typically 50 feet long with a mass of 66,000 pounds while crocodiles are around 14 feet long with a mass of 1,500 pounds.
Circles in Germany
Location: Brandenburg, Germany
This visually appealing circular design is actually that of an animal shelter in Germany. Who would have thought that an animal shelter could ever take on such a well-structured appearance from a bird's eye view.
This awesome drone shot was captured by Phillip Gunkel for the 2020 Drone Awards and was commended within the urban category.
Great White Shark Gets Dangerously Close To Surfer
Location: Sharpes Beach, New South Wales, Australia 
The ocean can be a scary and uncertain place because you never know what is lurking underneath. In this incredible drone photo, a surfer had no clue just how close this shark was to them.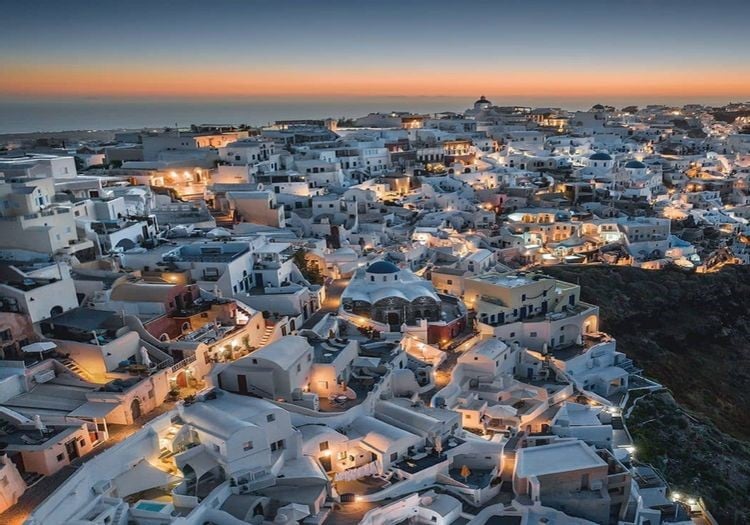 After the surfer saw the footage, he was shocked. It looks like the shark is about to go for his leg, but then it changes its mind and swims away. How incredibly frightening is that? Talk about a close call!
The Drone and the Giant Stone
Location: Edinburgh, Scotland
Nobody saw this unique pattern until a curious drone discovered this unusual sight behind an ordinary neighborhood in Edinburgh, Scotland. From ground level most people believed that those were scattered natural stones. After the discovery, the local people believe that Jimmy Boyle, a convicted murderer and felon, created the 100-foot long giant.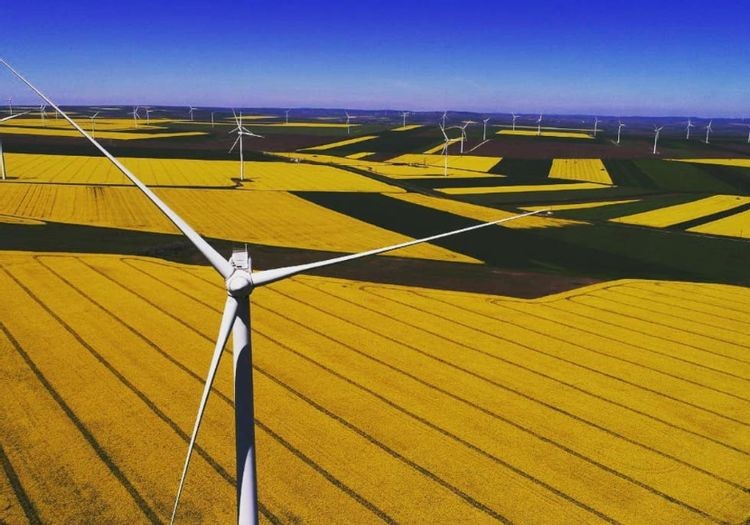 The giant looks real and perfectly curved like a fallen giant soldier. Years later, the real estate owners had to dislodge the statue due to new expansion plans. All that remains today is a big giant foot. 
Gorgeous Sunset at Cotton Candy Mountains
Location: Rocky Mountain National Park, CO, USA
These mountains seem to bound to a steep and treacherous drop off from an aerial view as seen by this unique drone image. These rocky cotton candy mountains blend well with the orange sunset and the innate sense of nature all around.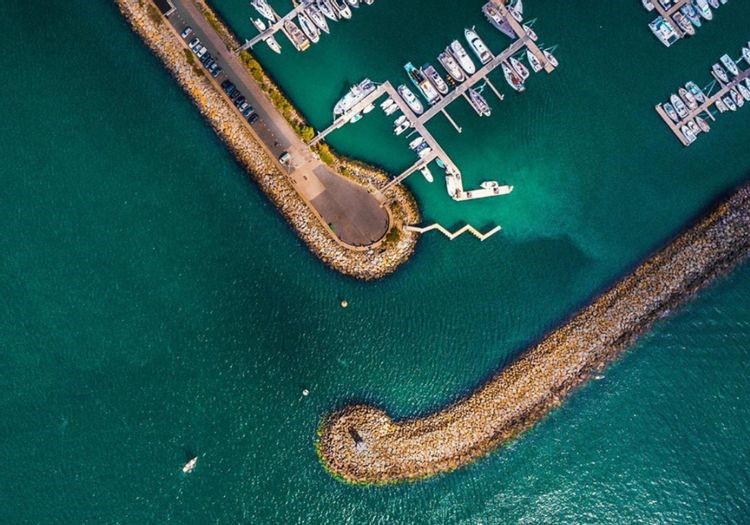 Climbing cotton candy mountain is the thing of your dreams, but if you are unable to climb this mountain, you can fly a drone and capture a magnificent sunset photo like this one.
Hungry Hungry Hippos
Location: Tanzania
The country of Tanzania is believed to be the home of around 30,000 hippos. Here we catch a short glimpse of a day in the life of a group of hippos, also known as a bloat. A bloat of hippos can have anywhere between 10 to 200 hippos.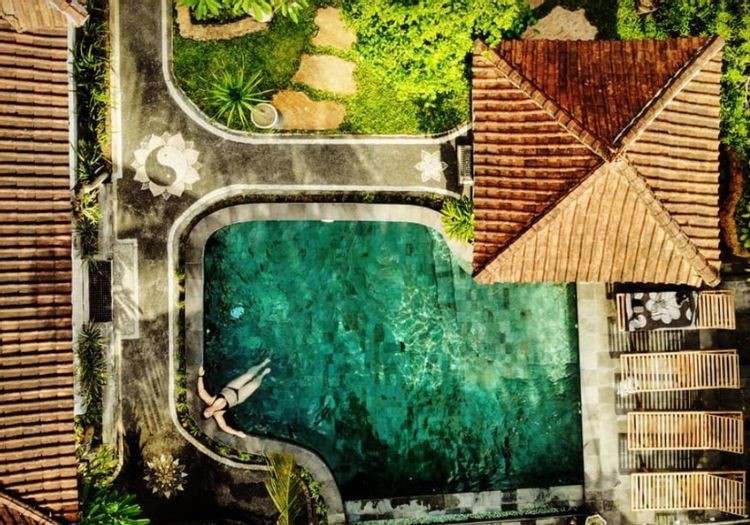 This interesting drone shot captures a bloat of hippos bathing in Tanzania. Over 20 of the mammals appear in this one frame alone and we can only imagine the true number of hippos resting beneath the drone at the time.
Not A Car In Sight
Location: Dubai, United Arab Emirates
This drone shot not only captures an intriguing aerial view, but also captures a historic moment in time. Taken by Bachir Moukarzel above one of Dubai's most busy highways, this photo is entitled "The Lockdown" and fittingly captures the realities of the COVID-19 pandemic in which everyone was instructed to stay home to stay safe.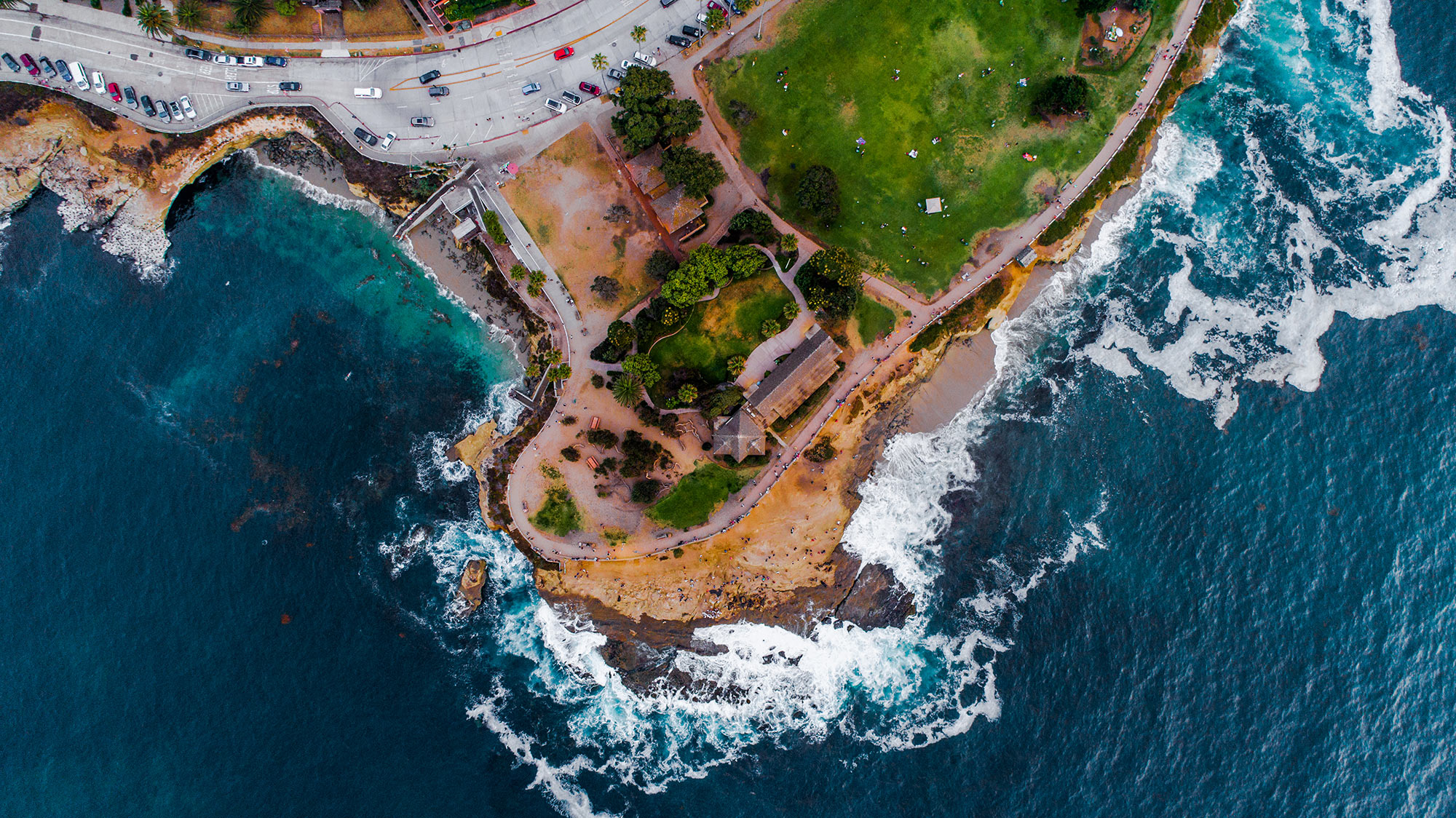 The layers of straight and swirling highway are captivating in their own right, but knowing this was taken at the height of lockdown brings about an eerie and empty feeling as we know under normal circumstances this area would be bursting with people, activity, and cars.
Abstract Dock Shot
Location: Zaragoza, Spain
This abstract shot was captured by an Instagram user with the aptly named username of Abstract Aerial Art. The drone photographer truly used shapes and structures to his advantage to create this well-framed image.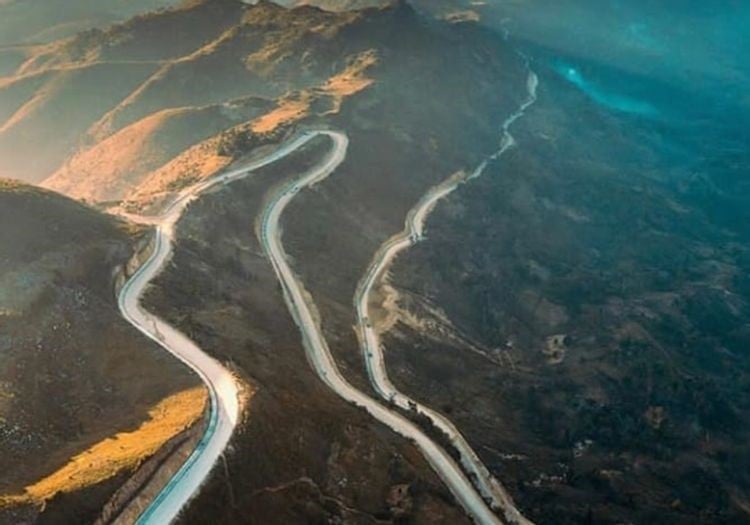 Not only does the way in which the boats are fanned out intrigue one's eye, but the bright coloring of the kayaks in contrast to the darkness of the water truly makes this drone image stand out.
Capturing Mount Bromo's Magnificence from a Safe Distance
Location: East Java, Indonesia
This gorgeous aerial photo of Mount Bromo shows the marvel of the active volcano. The volcano can be found within the Tengger mountains in East Java, Indonesia and is a very popular tourist attraction.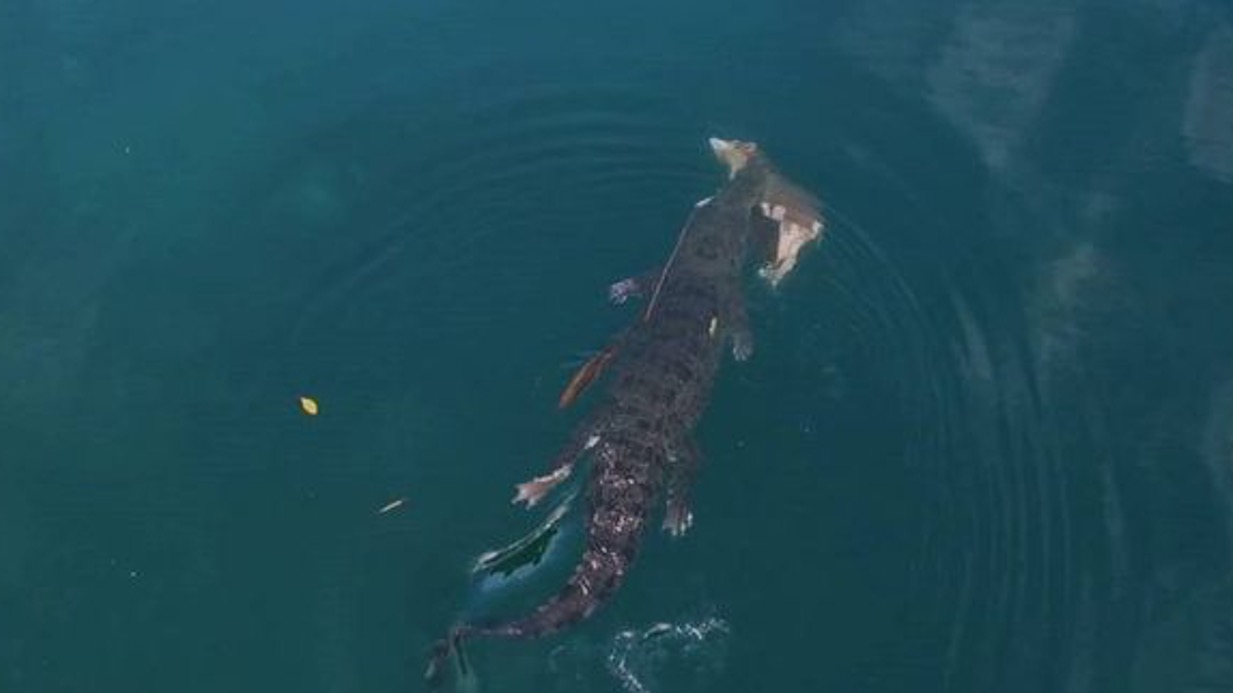 The volcano's latest eruptions include ones in 2004, 2010, 2011, and the most recent one being in 2015. When it's not busy erupting, the landscape is truly a sight to behold as evident by this beautiful drone photo.
Lobster Farming
Location: Phu Yen, Vietnam
This incredibly vibrant and captivating drone photo was taken by photographer Trung Pham Huy in Vietnam. The photo is entitled "Lobster Village" and was commended by the Drone Awards.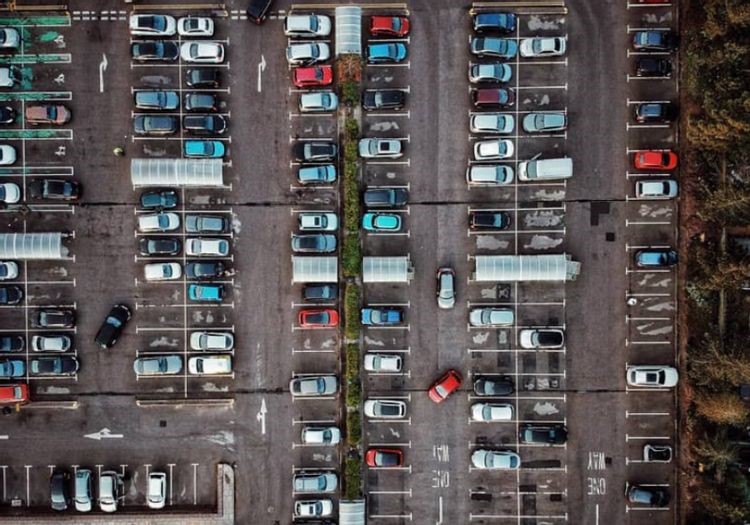 With this stunning aerial view we see a community of lobster farmers casting their net cages about the South China Sea to catch and breed lobsters. Spiny lobster farming is a large industry within Vietnam as the country produces around 1,600 tons of lobsters per year.
At the Top of the Mountain
Location: Himalayan Mountains, Asia
With charming cloudy skies, a vivid yellow background, the rocky Himalayas, and mountain climbers with their hiking gear, this image provides a stark balanced contrast to the gorgeous scenery around them. The photo captured by a drone has unmatched quality and almost looks too thrilling to be real.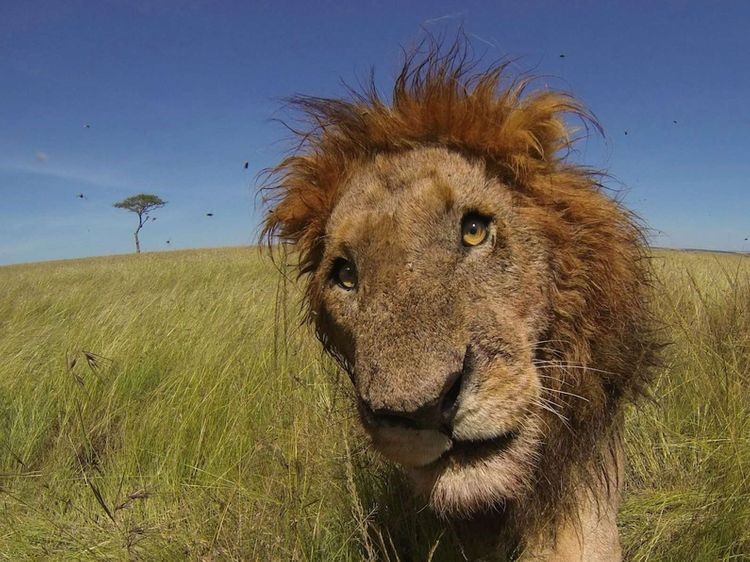 The unique features and beautiful contrast in this image make this location breathtaking as we see humans trying to conquer the peak. The color gives this scene an ancient, stunning look that truly captures the moment.
Gazing Down at Greece
Location: Santorini, Greece
Santorini is a volcanic island in the legendary groups of the Greek Islands. This unique island is situated between Los and Anafi Island. Santorini is the most famous summer destination on the globe. It is known for its dynamic views of jaw-dropping sunsets from Oia town.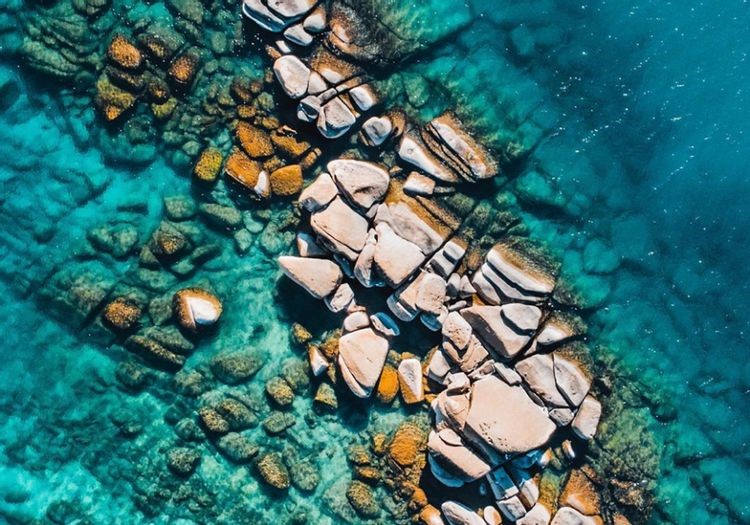 The island is also famous for the city of Thira, for its extremely active volcano, and for the growing of oddly white eggplants. The drone's image shows the iconic white Santorini homes paired with the iconic ocean sunset featuring a thick line of orange sky.
The Iconic View of Fântânele-Cogealac Wind Farm
Location: Fântânele/ Cogealac, Romania
Fântânele-Cogealac Wind Farm is the 7th largest wind farm in the world and the largest onshore wind farm in all of Romania and Europe. This farm is capable of producing 600MW from 240 available units. This captivating drone shot of Fântânele-Cogealac Wind Farm looks like artwork at its best. The parallel lines that form perfect partitions between the green, yellow, and brown patches on the ground paired with a clear, blue sky makes the picture look even more remarkable.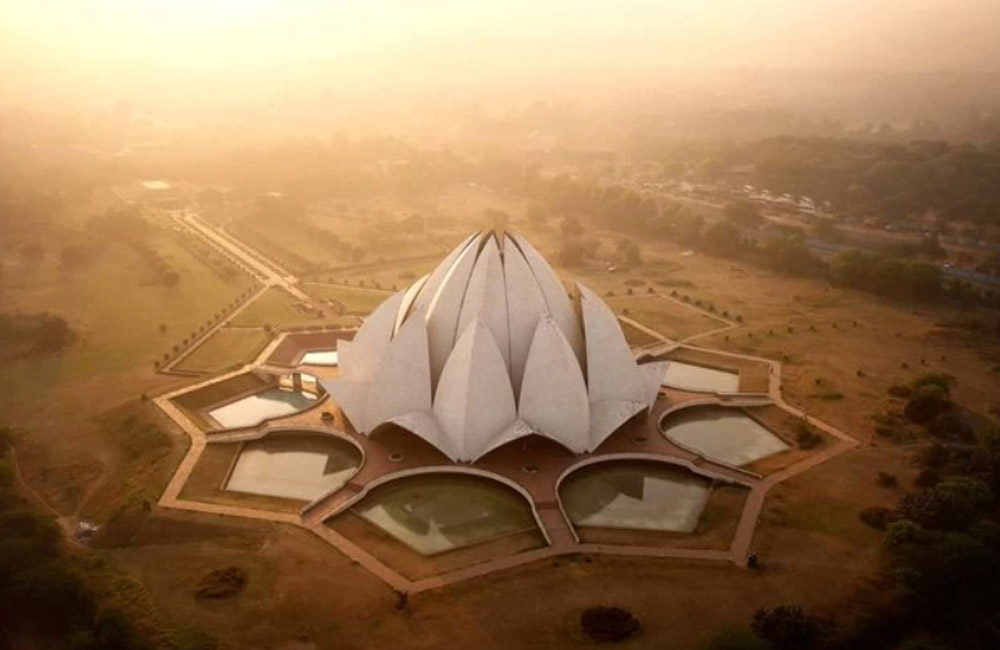 Scientists think wind farms and solar energy can help save the world. Green energy will help reduce the amount of carbon produced globally by 30%.
An Aerial View of a French Coast
Location: Pornichet, Pays De La Loire, Western France
Situated by the ocean, Pornichet, Pays De La Loire is within 3 km of Loire Valley, Pornichet- La Baule, and Labaule Beach. This area is rated 4.7 stars for having the most magnificent hotels and serene environment.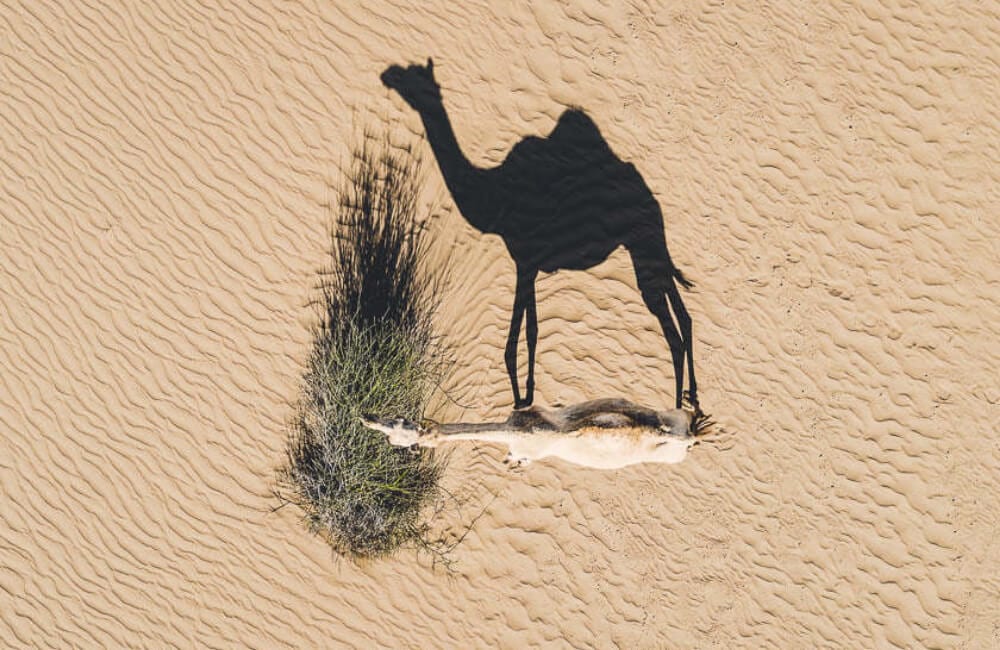 This coastal commune of Pays De La Loire in western France is not far from Saint Nazaire. Today, its seaside harbor is filled with the most luxurious yachts of those who come both near and far to enjoy the port.
Basking in the Sun in Bali
Location: Ubud, Bali, Indonesia
Ubud is a town on the island of Bali between the rice paddies and steep ravines in Indonesia. The city is famous for being Bali's cultural capital, having a high concentration of galleries, and for having a museum which was the brainchild idea of Rudolf Bonnet, Walter Spies, and local artist Gede Sukawati, the Prince and Ubud Royal Family member.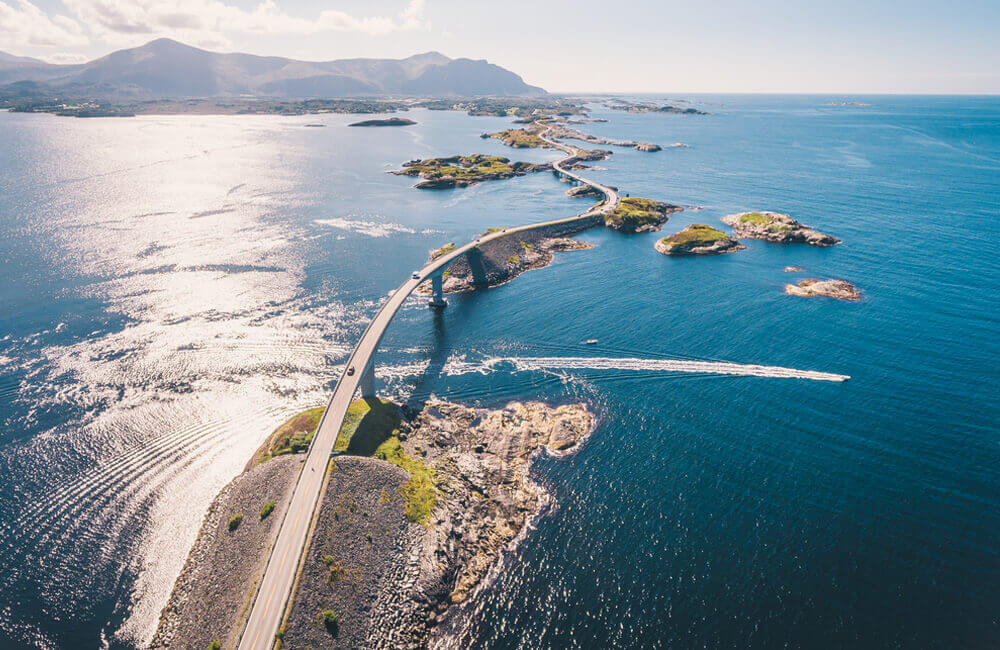 Indonesia is home to over 17 thousand islands, but it takes only one remarkable island with a private pool and private home to make the entire vacation worth remembering.
Pacific Ocean Views
Location: La Jolla, CA, USA
La Jolla, California is a hilly seaside within the county of San Diego. It occupies almost seven miles of the coastal line of the Pacific Ocean. The shores provide tourists with gorgeous views no matter where they travel along the coastline.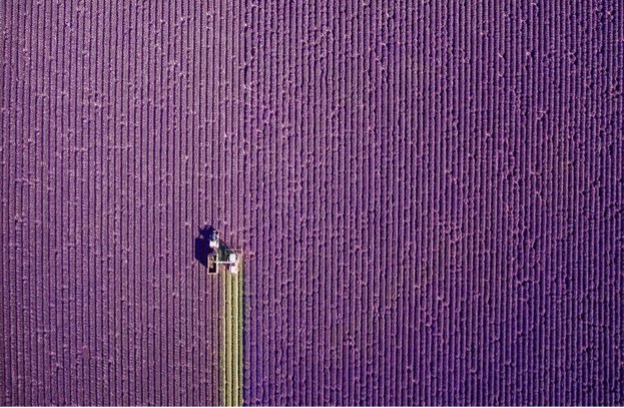 Activities here range from hiking the Torrey Pines and having dinner aside the ocean. This amazing drone image showcases this jewel city's stunning beauty and its generous beach fronts.
A Winding Road Amid the Mountains
Location: Morne Pilboro, Haiti
Situated east of Jamaica, south of Bahamas, and on the same island as the Dominican Republic, Haiti is home to over 10 million people. It is famous for being the most mountainous state in the Caribbean. The curious drone captures a stunning photo of Haiti's gorgeous mountain road curving through the seamless green landscapes.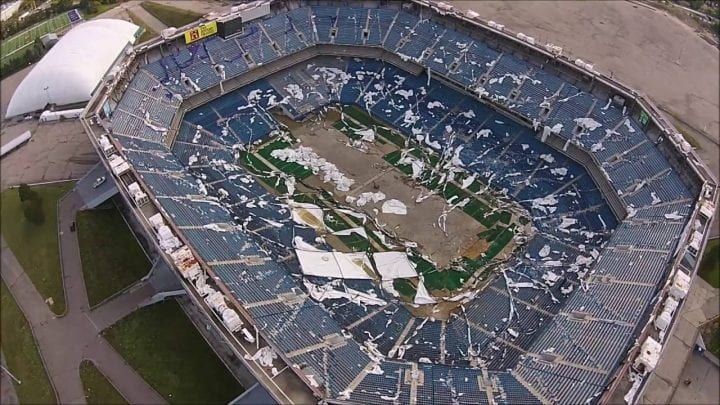 Today, Haiti is known for its popular tourism along the country's beautiful shores and its iconic, yet terrifying roads for all those afraid of heights.
Lunch Time
Location: Baia, Papua New Guinea
Here we have a picture taken by a drone of a crocodile spotted enjoying a snack. The unfortunate critter on the menu today happens to be a pig. Crocodiles are known to eat creatures from both the land and sea but will favor land creatures especially during the dry season.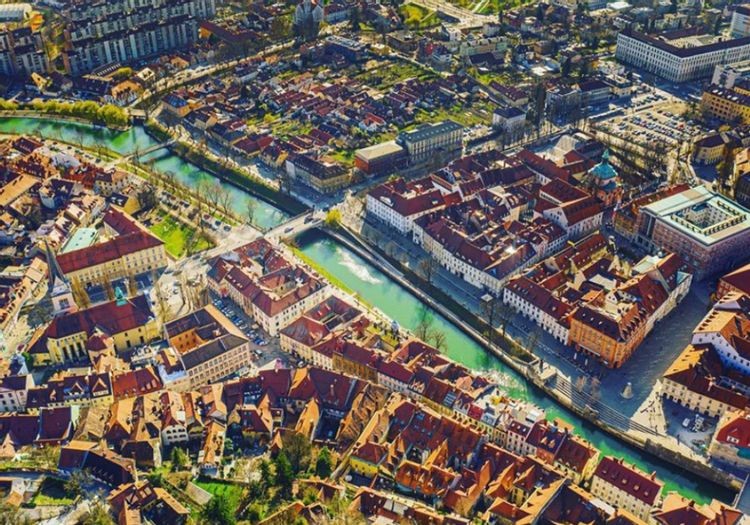 As for the pig, you may not know that Papua New Guinea is actually known for their pig population. In fact, they are the most important livestock to the area for cultural and economic reasons. Papua New Guinea is home to around 1.8 million pigs and this here croc managed to catch one of them.
The Beauty of British Parking
Location: The United Kingdom
How many times have you driven in a parking lot and end up being disappointed about how another driver parked? Too many to remember, right. That does not happen here with British parking. The British take joy in ensuring they park their car perfectly.
From this drone image, no cars appear out of line, not even a single inch. Shades of different colored vehicles make this photo lively, while the discipline of the neatly parked cars makes this photo satisfying.
An Impeccable Image of Lake Tahoe
Location: Lake Tahoe, NV, USA
Located in Nevada, Lake Tahoe is a freshwater lake, and due to its high altitude, it is the largest alpine lake in North America. This lake is famous for its beautiful drive-around. It's the perfect location for winter sports, summer outdoor activities, and iconic scenery to be enjoyed throughout the year.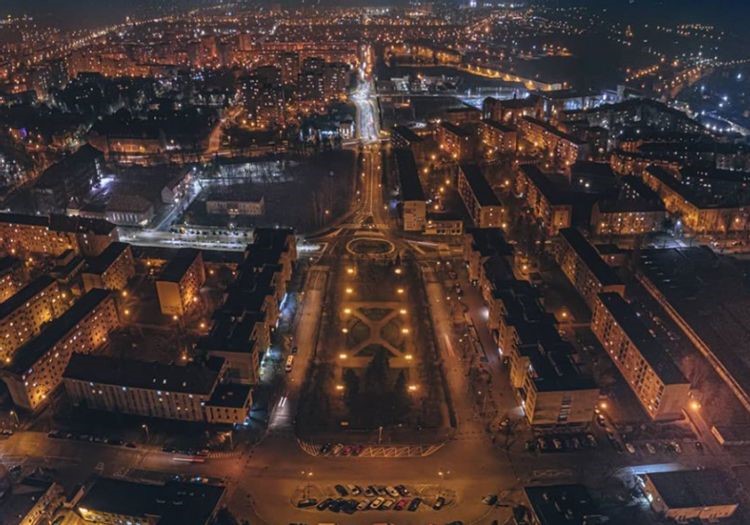 This aqua image taken above Lake Tahoe in Sierra is undoubtedly worth a thousand words. The image is detailed with different colors, shapes, and an air of mystery as to what lies within the lake below.
A Lovely View of The Lotus Temple
Location: Delhi, India
The Lotus Temple is not only stunning in appearance, but it also is an important House of Worship for those of the Bahá'í Faith. It is however open to all, regardless of one's religion and has become a prominent location for locals and tourists alike.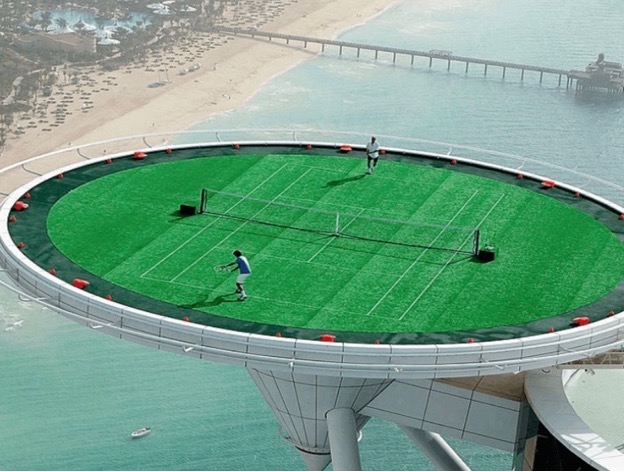 This drone shot captures the beautiful building's lotus flower shape which almost seems ready to bloom. The incredible structure is made up of pure white marble and features nine petal-like pools. This drone shot perfectly showcases the symmetry of the nine-sided structure amid a glorious glowing sunset, further adding to the picture's beauty.
The Shadow of a Camel
Location: Dubai, The United Arab Emirates
This drone shot captured in the desert landscape of Dubai was taken with impeccable timing. While the drone hovered directly above this roaming camel's head, the time of day and angle of the sun allowed for a perfect silhouette of the camel to be cast in the sand.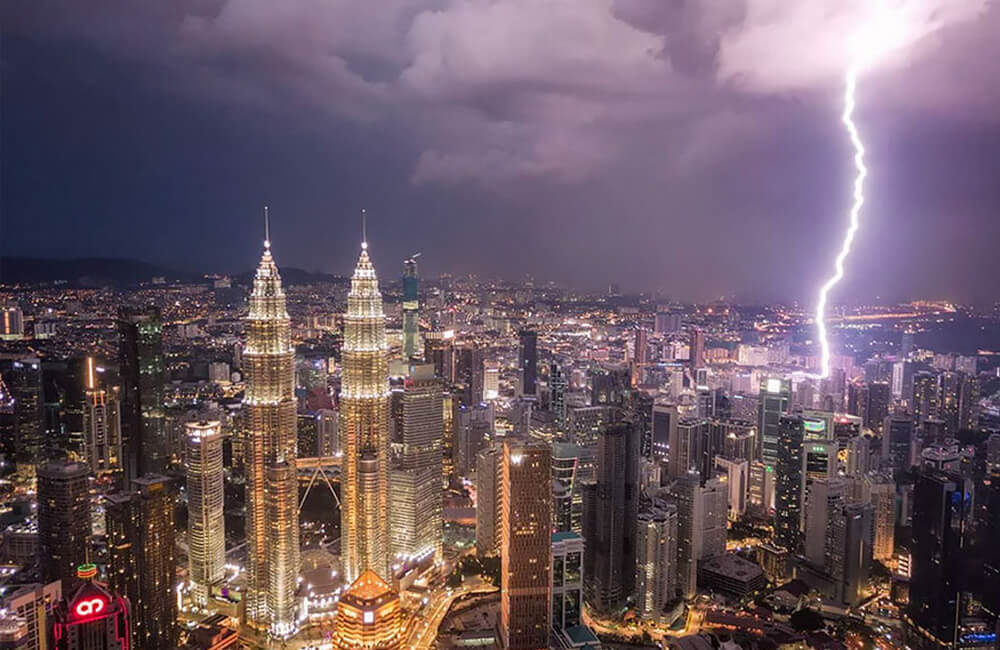 The perfectly posed shadow of the camel is definitely worth admiring. In the deserts of Dubai, you'll find many camels out and about and may even have the chance to ride one for yourself. They are indeed animals well-adapted to the sandy terrain and great options for getting around.
Admiring Atlantic Road
Location: Møre og Romsdal, Norway
The Atlantic Ocean Road is a 5.2 mile stretch of a highway in Norway connecting the archipelagos of Hustadvika and Averøy. The idea of the route was originally planned as a railroad but as of July 1989, opened as a highway.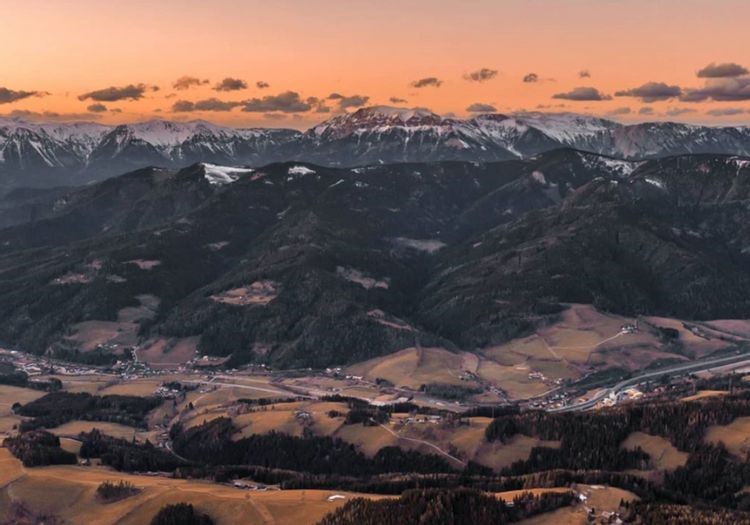 Not only is this drone shot dazzling in capturing the length and curves of the highway stretching from one piece of land to the next, but we're positive that the view from a driver's seat is equally as magnificent as you get the opportunity to travel across the Atlantic Ocean.
Lawn Work on Lavender Fields
Location: Provence, France
This captivating image highlights a beautifully structured lavender field in France getting trimmed as a tractor begins harvesting the crop. The stark contrast between the vivid lavender and the straight line of cut green and yellow grass makes this drone shot truly engaging.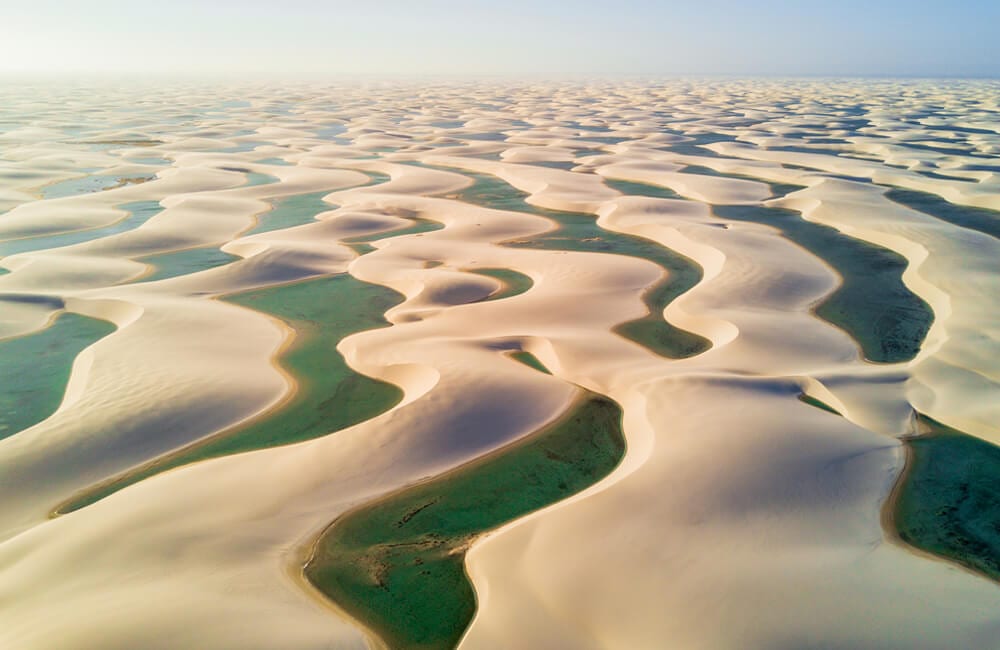 This magnificent photo, titled "Summer Trim," was captured by photographer Jerome Courtial and won first-place in the "Nature" category at the 4th Annual International Drone Photography Contest.
The Most Iconic Abandoned Stadium
Location: Pontiac, MI, USA
It is rare to find something iconic and modern, like a stadium abandoned like in ancient times. Unfortunately, the Silverdome, an iconic stadium that has hosted everything from a super bowl to an infinite number of national and international events, ended up being deconstructed and bulldozed.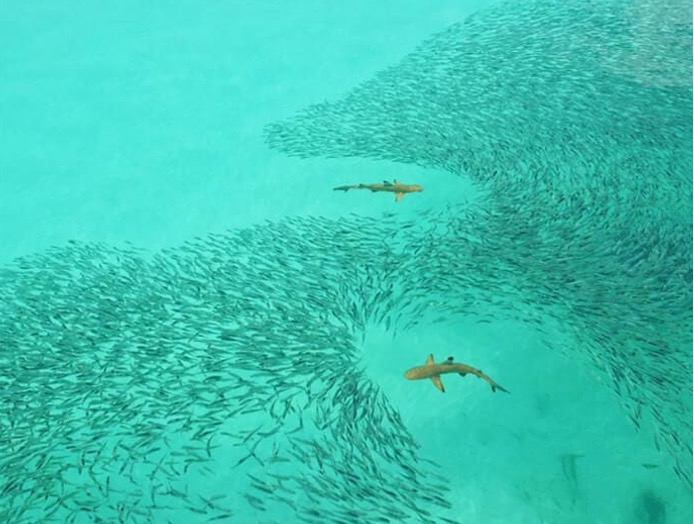 Once home to the NFL's Detroit Lions, it lied in ruins until it was ultimately taken down. The curious drone captured this image of the entire stadium at its worst moments.
The Beauty of Ljubljana, Slovenia
Location: Ljubljana, Slovenia
Ljubljana is the capital and the largest city of Slovenia; even so, it feels tiny. Today, Ljubljana is famous for having some of the world's best universities, population, and green spaces, including the famous Tivoli Park.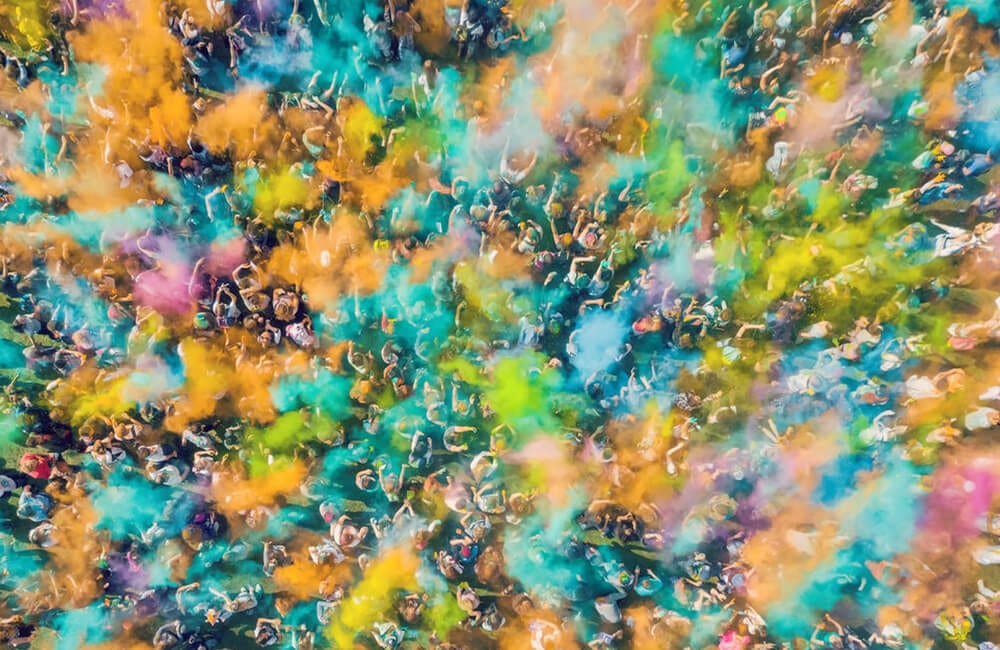 This drone photo shows the green city dispersed with stunning green water channels that separate the town into a geographically made district. Despite being Slovenia's capital city, the city does not have a towering building like most renowned cities in the world.
Walk the Sky, But Don't Look Down
Location: Hunan, China
Looking for the thrill of a lifetime? Try walking across this 100 meter long skywalk constructed 4,600 feet above the ground. The famous skywalk is known as "the Walk of Faith" and offers dazzling views within China's Tianmen Mountain National Park.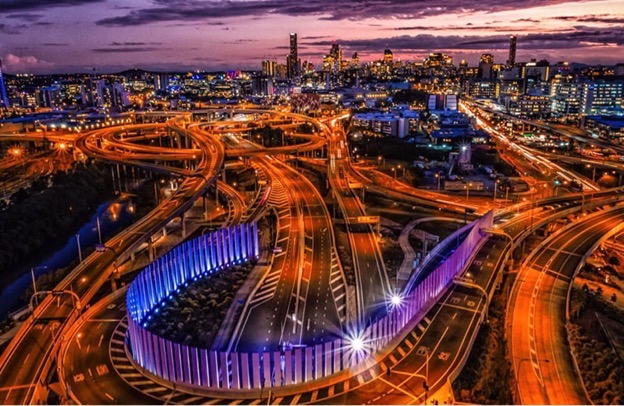 The skywalk originally was built with wooden planks, but has since gotten a glass floor refurbishment making this attraction even more thrilling. Do you dare look down?
Nightlife in an Old Town
Location: Glogow, Poland
Glogow is located in southwestern Poland on the Osobloga River. This pretty little town is among the oldest cities in Poland. It was founded in the 10th century by the French force after the Jena Battle in 1806.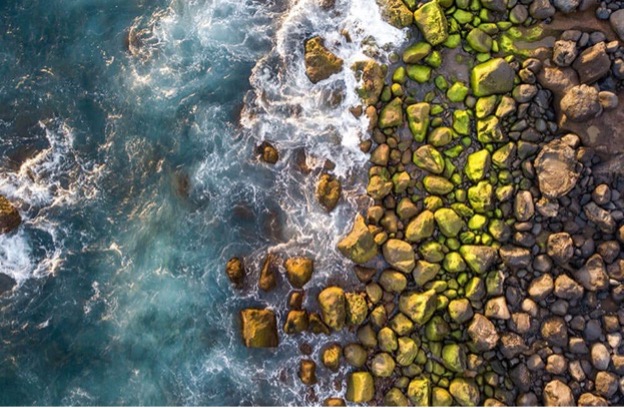 Glogow City is famous for its preserved medieval core, market square, and many other artifacts after the Silesian War in the mid-18th century. Despite the fact that the town does not have towering buildings like most renowned cities in the world, the lights shine brightly on the streets at night to illuminate the old town.
Tennis in the Sky
Location: Dubai, United Arab Emirates
The honor of the world's highest tennis court belongs to the one in this image. Located on top of the Burj al Arab, this court was created from an old helipad in 2005. Dubai's Burj al Arab is the fourth tallest hotel in the world with a height of 1,053 feet.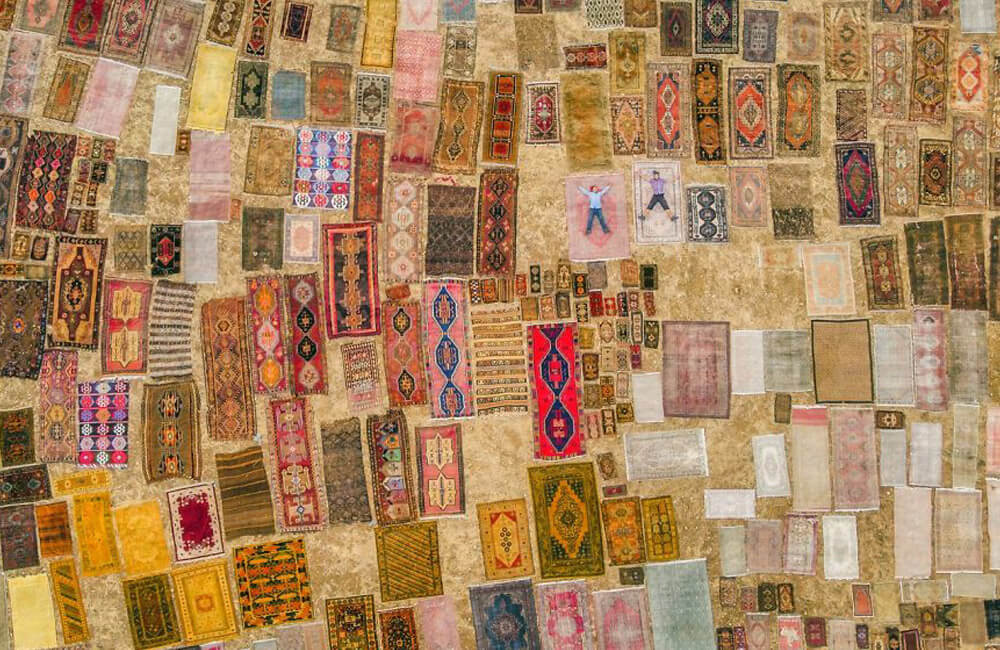 A match on this tennis court offers dazzling views over the beachfront of the Persian Gulf as the hotel itself actually sits on an artificially made island. Tennis at this height must be quite the thrill, but you'll probably lose a few tennis balls.
A Polar Bear Bites This Woman
Location: Berlin, Germany
For some reason, this lady just decided to jump into a polar bear's habitat at the Berlin Zoo. Clearly, the polar bear was not happy.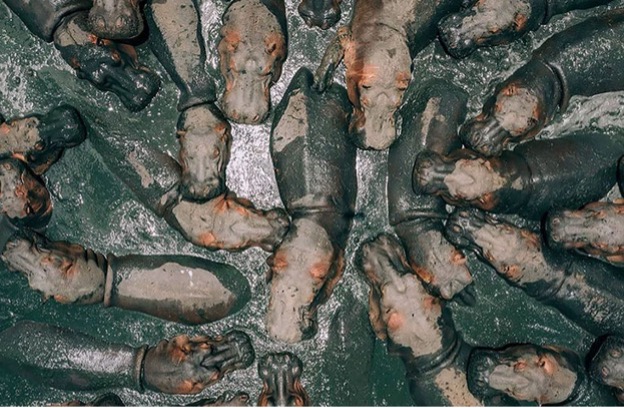 Apparently, a woman swam into the water right toward one of the polar bears. This wild photo captured her being met with a hostile reaction from the animal who simply wanted to be left alone.
When Lightning Strikes a City
Location: Kuala Lumpur, Malaysia
This captivating drone shot captures the clash between nature and civilization as lightning strikes the city of Kuala Lumpur. Finding such an image is actually rather rare as while drone technology is groundbreaking, the camera helicopters typically cannot fly in situations with high winds, rain, and other stormy conditions.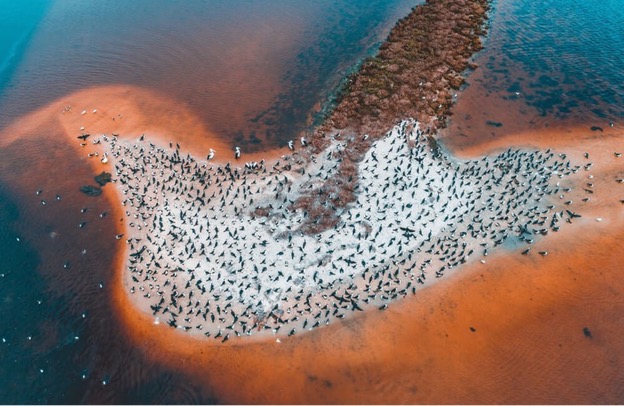 Here we see a late night thunderstorm further lighting up the capital city of Malaysia. Due to the city's increasing population and economy, Kuala Lumpur is one of the fastest growing metropolitan areas in Southeast Asia.
Dunes Via Drones
Location: Lençóis Maranhenses National Park, Brazil
Lençóis Maranhenses National Park is located along the northeast coast of Brazil and spans a total of 380,000 acres. The park's most prominent features include 42 miles of coastline and glorious rolling sand dunes in the interior of the park, as featured in this image.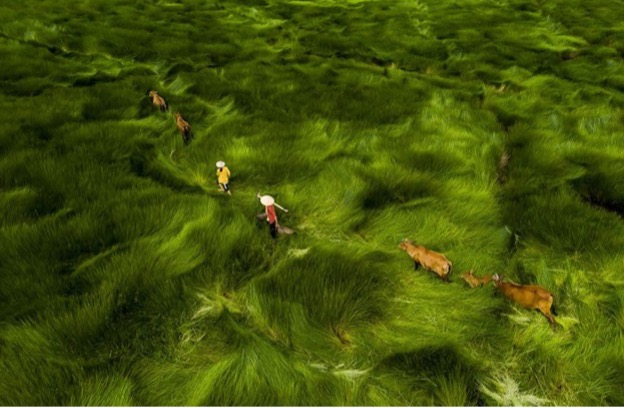 This incredible drone shot captures the natural phenomenon of the National Park's sand dunes which fill up to become a series of fresh water lagoons due to Brazil's prominent rainy season. When the dry season comes about, these lagoons will quickly evaporate.
Sharks Searching for Snacks
Location: Maldives, Indian Ocean
This incredible drone image captures an aerial view of two Blacktip Sharks swimming through the Indian Ocean, searching for lunch. What makes this photo most captivating is how hard the fish are trying to avoid the shark's path in the hope they'll remain off the menu.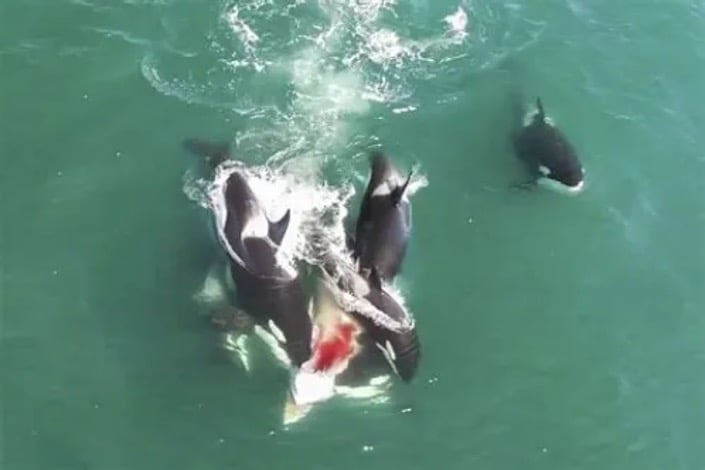 The Maldives consist of over one-thousand coral islands and 26 atolls which are ring-shaped coral reefs. Amid these tropical coral reefs, scenes like this are quite common as sharks search for food amid the fish in the reefs.
Festival of Colors
Location: India
Anton Watman captured this incredibly vibrant scene from above. This festival of colors is an important tradition for followers of Hinduism who celebrate Holi in March as a celebration of the arrival of spring.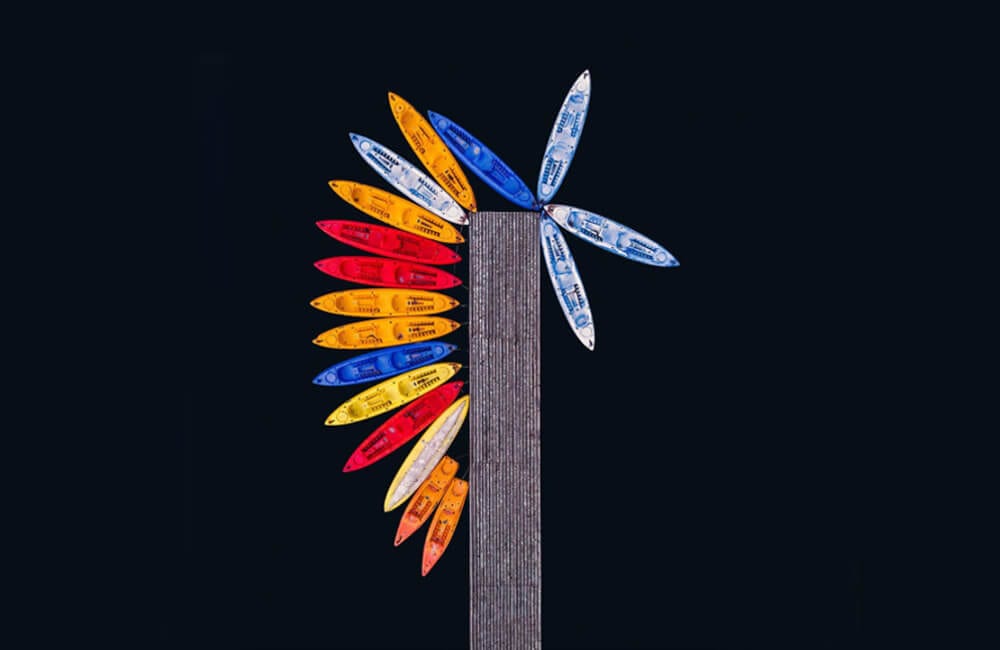 This joyful shot captures the festivities at the peak of celebration as powdered dye is thrown into the air, coloring everything in its path. It truly is a sight and celebration to be seen.
Life Is A Highway
Location: Australia
This beautiful drone shot entitled "Melting Pot" was captured by photographer Piotr Parzybok and received an "Honorable Mention" in the 2016 SkyPixel competition.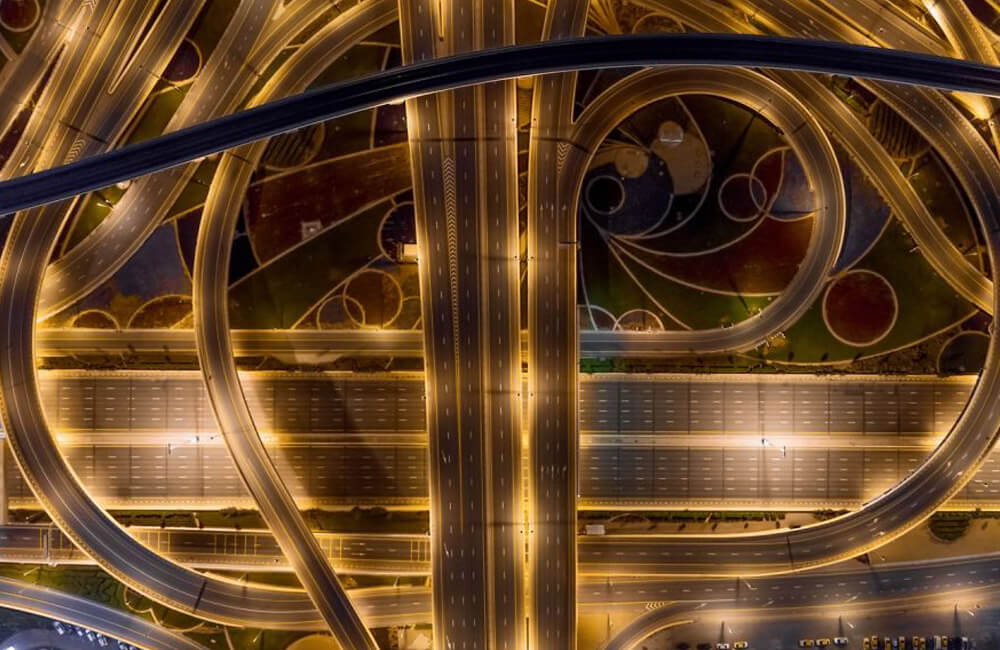 Not only does this captivating picture showcase the intricacies and curves of a sprawling highway system, but it also captures the incredible colors of the night time skyline with the sun setting and the road glowing.
The Green and Rocky Coast
Location: Saint-Philippe, France
This colorful aerial shot features a magnificent contrast between the foaming ocean and the rocks along the shore. What further makes this drone photo so engaging is the clear distinction between how algae has been affecting the different layers of rocks.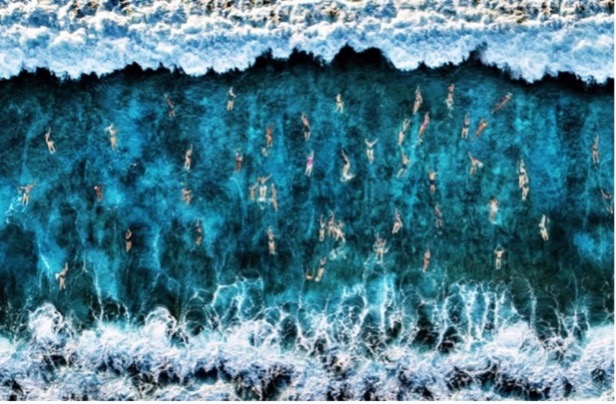 The rocks closer to the ocean are more affected by the ocean's tides and thus are more prone to getting covered in algae than the normal appearing rocks in the right side of the picture. The result is a striking oceanside drone shot full of rich blue and green colors.
Field Full of Carpets
Location: Turkey
This incredible field of carpets isn't an art installation. Laying out hand-woven carpets in a field is actually a purposeful practice in order to allow the sun's natural rays to burn, enhance, and draw out different colors on each carpet.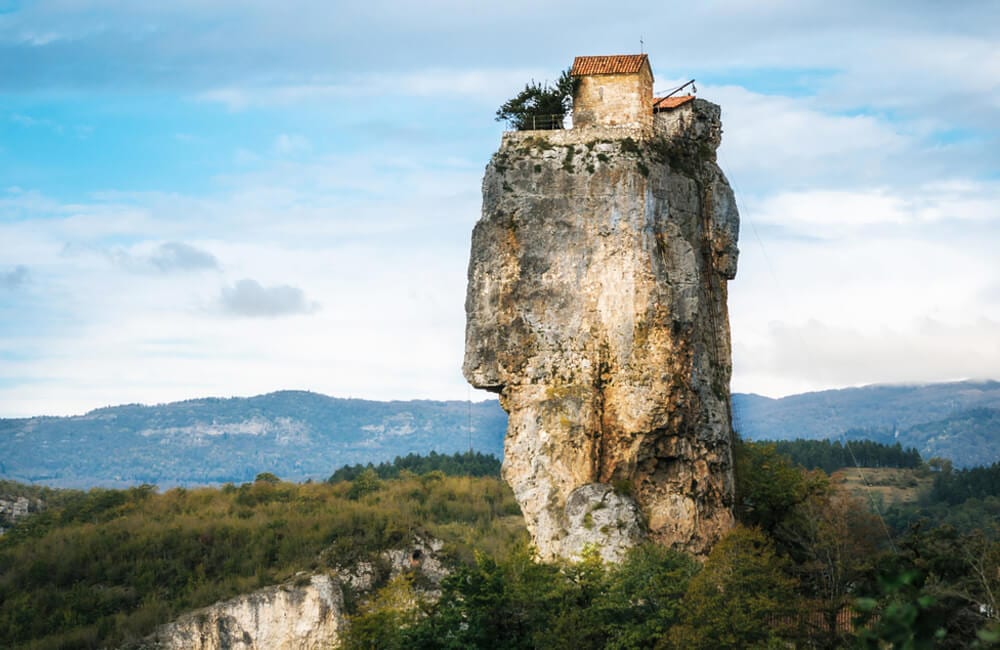 Mehmet Aslan captured this vibrant and playful image and was honored with the title of "Highly Commended" at the Drone Awards in the "People" category.
Bird Island Nature Reserve
Location: Bird Island, Australia
It's a bird. It's a plane. No, it's actually a remarkable drone shot of an island shaped exactly like a bird. Not only is this island shaped like a bird, but hundreds of birds seem to have overtaken Bird Island as well.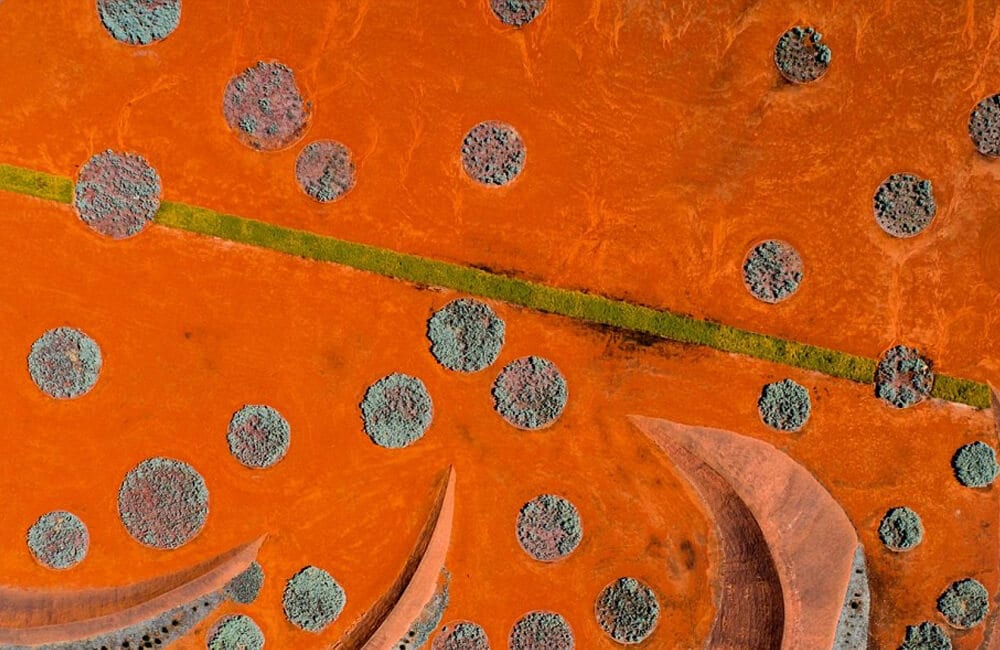 This geological marvel was created by rising sea levels that caused this small island to separate from the mainland of Western Australia. The resulting island later became a nature reserve for over 20 different bird species. There's no better view of Bird Island than from a bird's eye view or from the lens of a drone.
Walking Through A Lush Grass Field
Location: Vietnam
This beautiful drone shot very effectively captures the idea of motion from the sky. Not only are the people and the animals in motion as evident by the clear walking path, but the long lush grass is also clearly in motion on this windy day.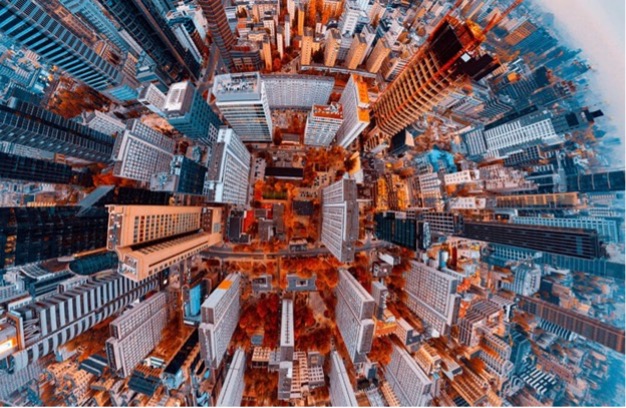 Taken by photographer, Khanh Phan, this captivating photo showcasing a sea of grass won the title "Highly Commended" at the Drone Awards in the "People" category.
A Pod of Orcas
Location: Russia
This natural scene was captured via drone off the coast of Kamchatka Peninsula in Russia. Team Trip, a tour boat full of scientists and tourists spotted this pod of orcas working together to take down a minke whale.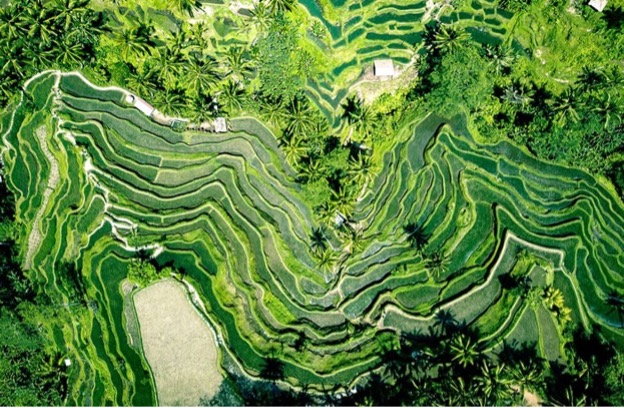 These five killer whales are certainly living up to their name. Orcas are known to hunt cooperatively in large pods like this in order to defeat large and strong prey. Their hunting behavior is similar to how wolves work together in a pack.
Catching A Wave
Location: Italy
You've been to the beach, you've caught a wave, but have you ever captured the beautiful view from above? This engaging drone shot was captured by Robert Corinaldesi who won first place in the "Sport" category of the Drone Awards.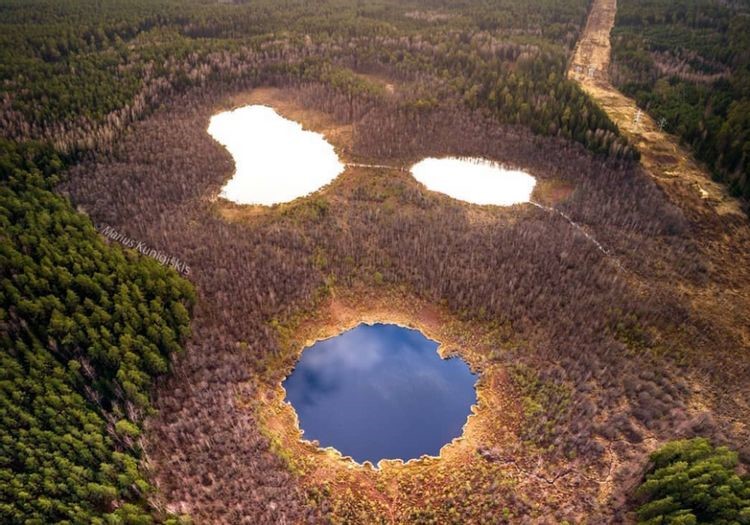 This photo grants us an interesting perspective of the ocean and an interesting contrast between the water, waves, white foam, and the literal sea of swimmers attempting to navigate through it all.
A Pillar In The Sky
Location: Katskhi Pillar, Georgia
Katskhi Pillar is a natural limestone marvel in the country of Georgia that reaches over 130 feet high. The structure at the top of the stone is a church where monks of the 10th and 11th centuries used to attempt to climb up to in order to be closer to their deity.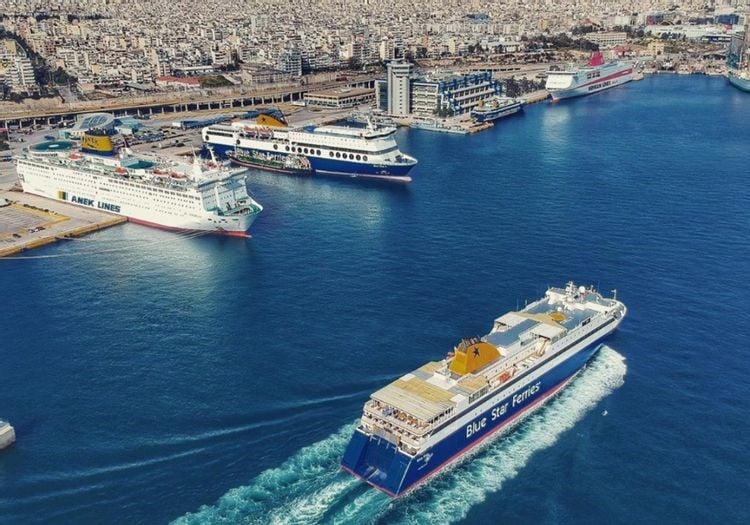 While it is now forbidden to climb to the top, a monastery and chapel still exist at the base of the pillar. This isolated pillar is truly a historic sight to behold and this drone shot does a fantastic job of capturing this marvel.
Red Sand Garden
Location: Cranbourne, Australia
In the Royal Botanic Gardens of Australia, there is a unique garden of red sand. Peter Virag captured this interesting shot with his drone flying around 394 feet off the ground.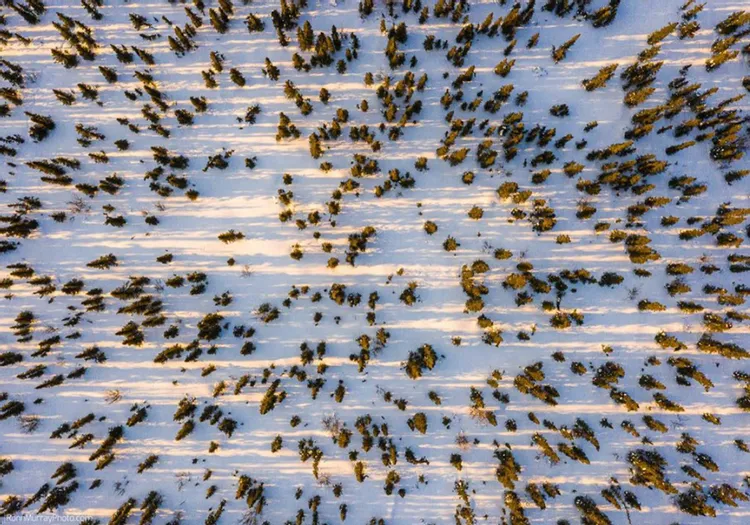 This unique perspective of the garden showcases the stunning contrast between the red sand, the gray saltbush planted in circular patterns, and the one streak of greenery.
Night In Warsaw
Location: Warsaw, Poland
This bird's eye view with a fisheye lens features the stunning look of Warsaw, Poland at dusk. The capital city of Poland is located right along the Vistula River and has a population of around 1.8 million people.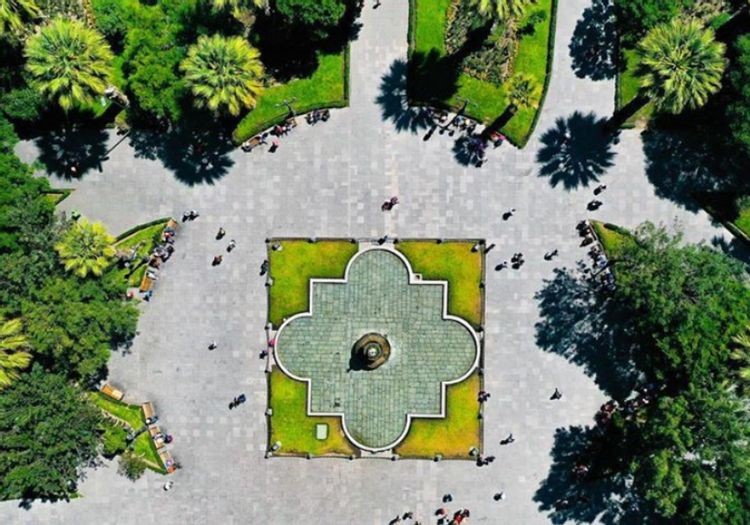 The towering buildings and the defined contrast between warm and cool colors highlights exactly where the sun was hitting at the instant the drone captured this shot and makes the image truly compelling.
Green Rice Terraces
Location: Ubud, Bali, Indonesia
The patterning you are seeing along this beautiful green land is actually that of a rice terrace. Rice paddies like this one are very important to the overall economy of Indonesia. Indonesia produces around 50 million tons of rice annually and is thus one of the world's largest rice producers.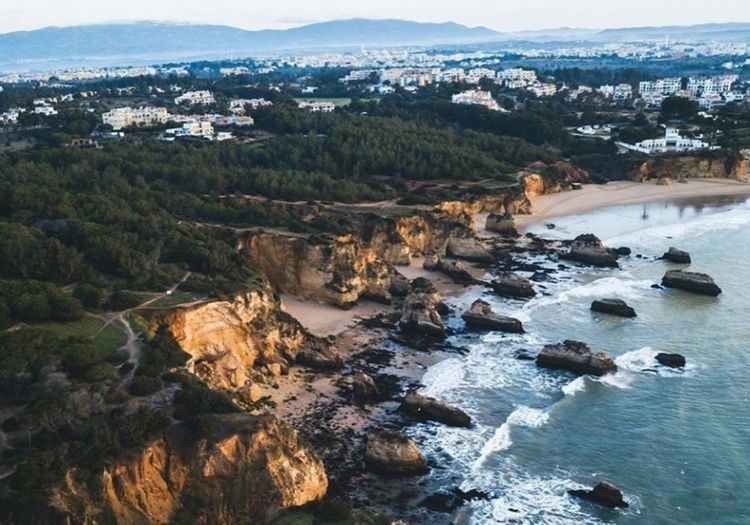 This drone was able to capture both the vast size and unique beauty of this green rice terrace in all its glory.
Sky on the Ground
Location: Prienai, Lithuania
Prienai is a region located at the Nemunas River bank and the border of two ethnographic areas in the south of Lithuania. The area is famous for its undisturbed natural environment. But this face captured by a curious drone imitates the faces of fear or confusion when viewed from the sky.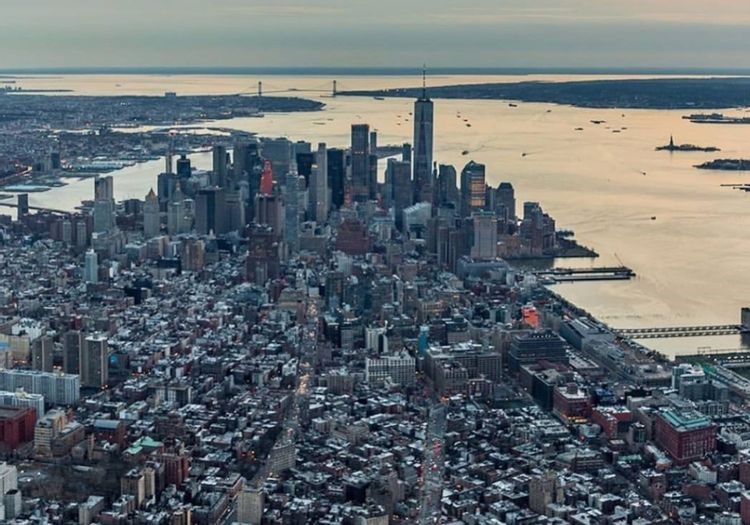 Unfortunately, when on the ground, you will not see anything unique. This interesting aerial view is  something you don't want to miss for a peal of laughter with your friends and family when you visit Lithuania.
Greece's Portlife
Location: Piraeus, Greece
Here we see a cruise liner giving its way to Piraeus's harbor, Greece port. Piraeus, Greece, is a port city on the east coast of Saronic Gulfport. It serves as the busiest passage port in Europe and around the world, serving over 25 million workers and tourists' travelers annually.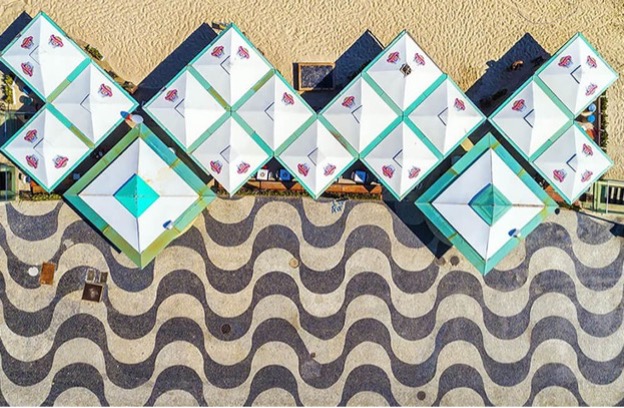 From this image, it looks like the city doesn't have more than luxurious yachts, buildings, and clear traffic ports, but there is a whole undiscovered side worth exploring.
A Thrilling Look at Fairbanks
Location: Fairbanks, Alaska, USA
Fairbanks is the largest city in the interior of Alaska. Fairbanks is known for its beautiful aurora borealis, diverse culture, rich history, and thrilling economy. The midnight sun, sunset, and sunrise last forever. Additionally, Fairbanks is home to over 99,000 hearty souls.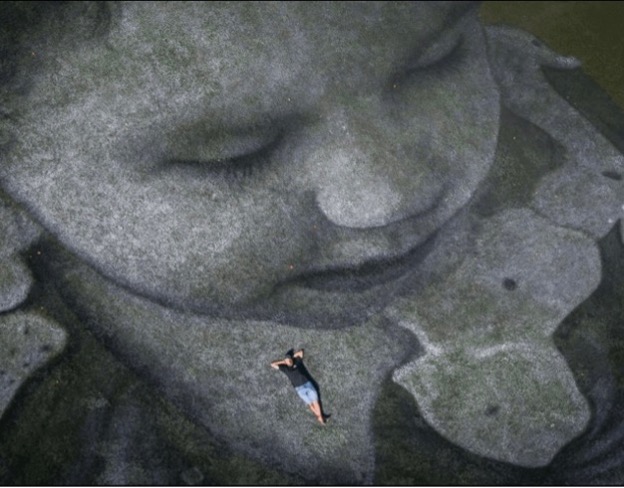 During the summer you can go and adventure in the midnight sun, and in winter you can take a breathtaking view of the Northern Lights dancing and stars sparkling at a distance in the night sky. This beautiful drone image shows how gorgeous Fairbanks Forest looks at sunrise.
A Historical View from the Sky
Location: Arequipa, Peru
Plaza de Armas de Arequipa is one of the most beautiful areas in Peru. Most social life for locals and tourists happens here. The drone's perfect shot acknowledges how man seeks to control and contour nature with ideal shapes and perfection; on the other hand, we lose the sense of care, and we infringe upon nature.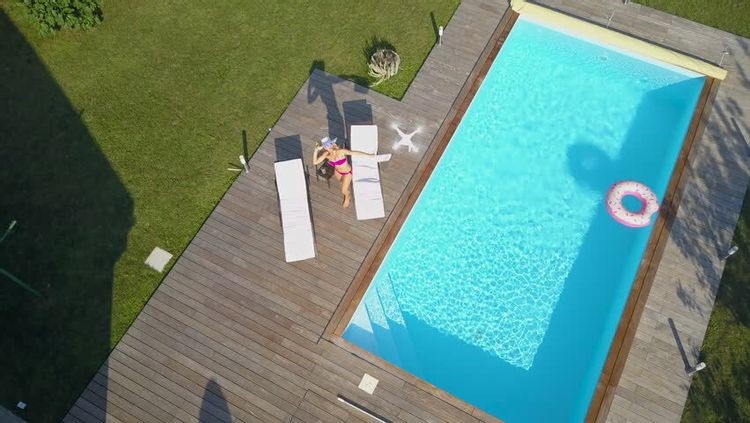 Recently cars were banned from driving around Arequipa to make the park safer and more enjoyable. Arequipa is known for its delightful cuisines and its famous spicy food restaurants called picanterias.
Touring the Coast of Portugal
Location: Alvor, Algarve, Portugal
Looking for the best place to tour this summer, with relaxing beach-based holidays? Then Alvor is your ideal destination. Historically this charming town was a fortified town and fishing port. Today the city has developed into a lovely, mature tourist destination.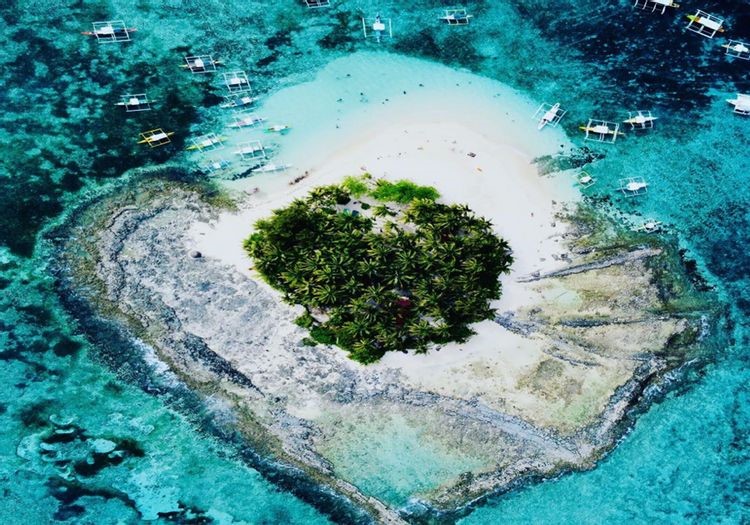 Additionally, the city conserves most of its Moorish historical roots. The Moorish occupied for unknown centuries. This drone image shows the unique mountainous height that runs along the coastal line as well as the beautiful white sandy beach.
The Beauty of New York City from the Sky
Location: New York, NY, USA
New York City (NYC) is one of the most populous cities in the United States, with over nine million people and a GDP of $890 billion. New York is known for being an economic powerhouse, for its natural beauty, for its defined nightlife cultural melting point, and for its excellent museums, galleries, restaurants, and theaters.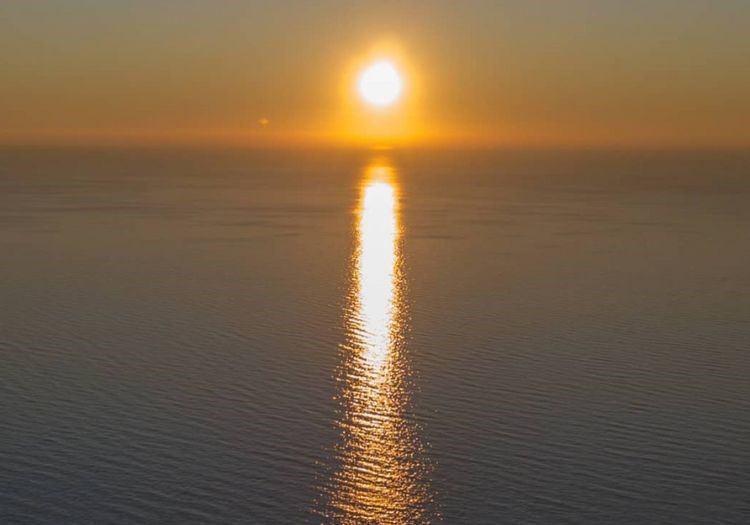 From the drone image, it not hard to understand why this city was nicknamed the Big Apple. For decades New York City was considered to be the epitome of city life.
Patterns At The Beach
Location: Leme Beach, Rio de Janeiro, Brazil
This photo may not be a natural marvel, but the patterns found at this beach as seen from the sky are truly interesting to enjoy. The intriguing view was discovered by a drone along Leme Beach in Rio de Janeiro, Brazil.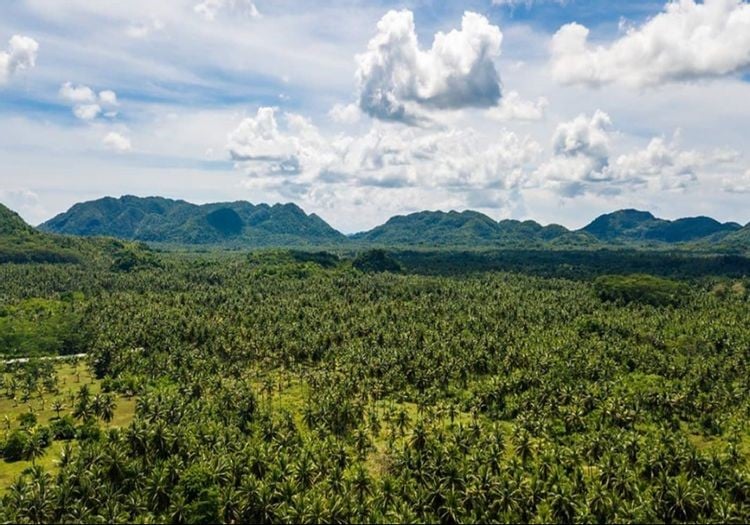 A stunning shot like this needs time to truly be appreciated. Not only are the patterns along this beachfront intriguing, but they had to be captured strategically. The pilot of the drone had to remain steady in order to achieve such a purposeful image as the different patterns found in this shot line up in a unique manner.
The Art and the Artist
Location: France
French artist, Saype, creates dazzling grass graffiti using biodegradable paints. This is not his first creation and probably won't be his last. Here you see the artist lying down within his masterpiece.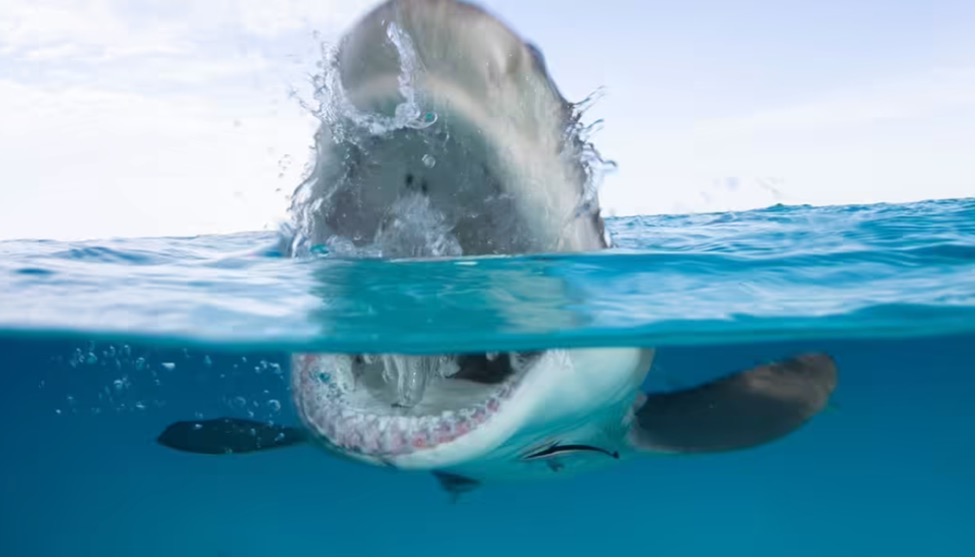 This captivating image would not be possible without a drone's perspective. The work of Saype is designed to be viewed and appreciated from the sky.
Real Estate Drone Footage Goes Wrong
Imagine doing your routine house chores in the kitchen; then you see a random drone spying on you through your kitchen window? Yes, this woman in the picture was catching some sun by her pool when she spotted a drone hovering in the air. She quickly grabs her pool skimmer to knock it down.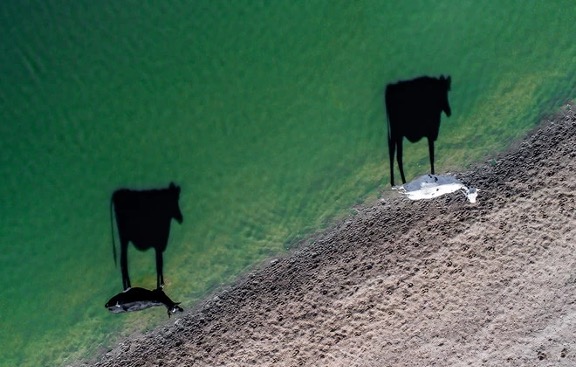 It is illegal and reasonably incorrect to spy on people using your drone. If someone catches you, you can be penalized or judged to serve a prison sentence.
This Miniature Tropical Paradise
Location: Guyam Island, Philippines
Situated nearly 800 km southeast of Manila in the Philippine Sea sits Guyam Island, a teardrop-shaped island that features powdery white sand and is dotted with coconut trees. In this drone image, we see the jaw-dropping beauty of Guyam Island ready to provide tourists with an unforgettable adventure.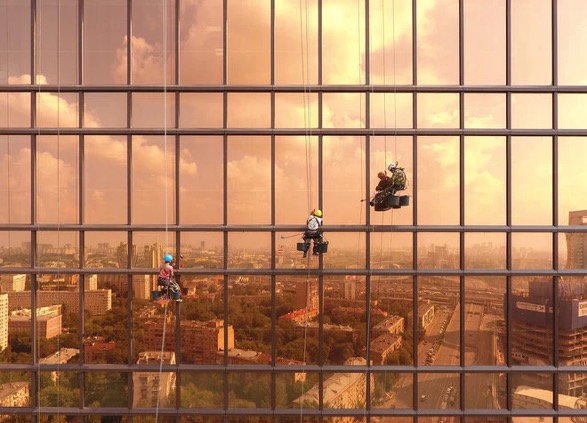 The clear blue waters blend perfectly with the white sandy beach and the green coconut tree forest. The white boats that are harboring Guyam Island alongside the natural characteristics of the island make the photo even more vivid and captivating.
Sunset at Sea
Location: Corniglia, Italy
Corniglia is a village located in Northern Italy, and it has a population of 200 people. To reach this village, you must climb 382 steps or take a vehicle. If you don't have time for that, you can always fly a drone and capture the beautiful sunset.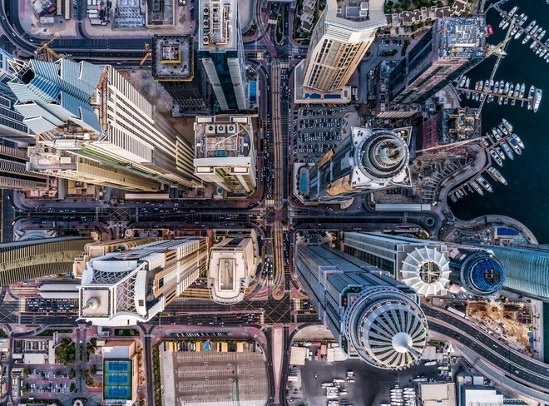 It's undoubtedly mesmerizing to watch the ocean waves blend perfectly with the stunning vivid evening while sipping a good cocktail at the peak of this village. This moment is the best way to end an intense day on your vacation spent discovering new experiences.
The Most Thrilling Paradise in the World
Location: Philippines
Situated 500 miles south of Asia's southern coast, the Philippines is an island country made up of an archipelago of partly submerged mountains consisting of more than 7,001 islands. This country has a population of over 108 million people. The Philippines is known for its exquisite landscapes, delicious fruits, chocolate hills in Bohol province, and abundance of alluring beaches.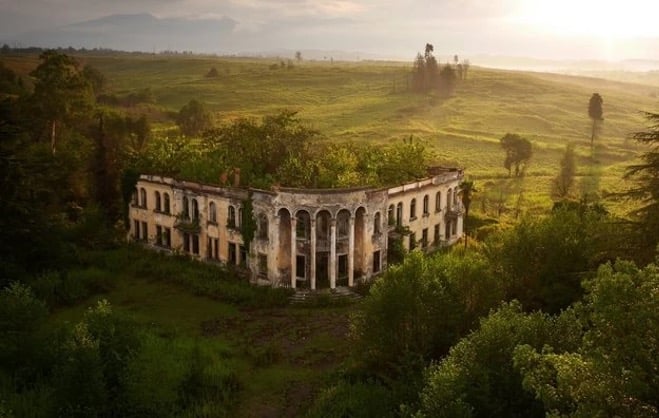 Additionally, this country is home to the second-largest gold deposits in the world. If you are looking for a beautiful place to relax, then the Philippines is an ideal location.
A Shark In Action
This incredibly provocative shark photo shows the delicate balance between fascination and danger. On one hand, this photo captures a rare moment on film of a shark coming up from the ocean to feast.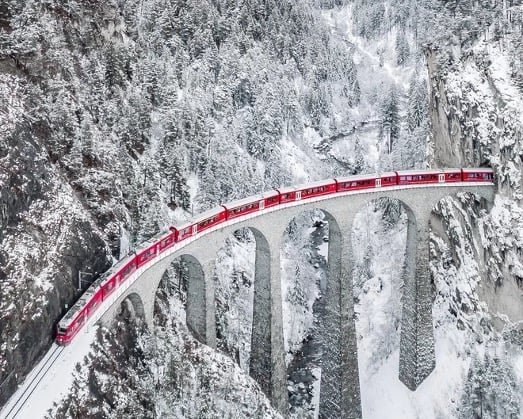 While this drone photo captures something incredible, it definitely isn't a scene you'd want to experience in real life. It's times like this when we should truly appreciate technology for allowing us to capture crazy moments at a safe distance.
Captivating View of Two Cows
Location: Stellenbosch, South Africa
Needless to say, nature offers unlimited beauty and charm. From landscapes to seascapes, there's plenty of stunning views. Cape Town-based photographer and videographer Luke Bell knows how to scrutinize and maximize the environment's magnificence. 
On a cold, early morning on a farm in South Africa, he was captivated by the long shadows of two cows drinking from a dam, hence this lovely photo. He immediately launched his drone in order to capture this image from a unique vantage point.
Daybreak on Mercury Tower
Location: Moscow, Russia
We don't know anyone who takes drone photos before going into work. But Alexey Goncharov knew he had to. The 36-year-old physicist said he sometimes captures drone photos prior to heading into work. When he saw the stunning reflection in the glass Windows of Mercury Tower, he knew he had to capture the beauty.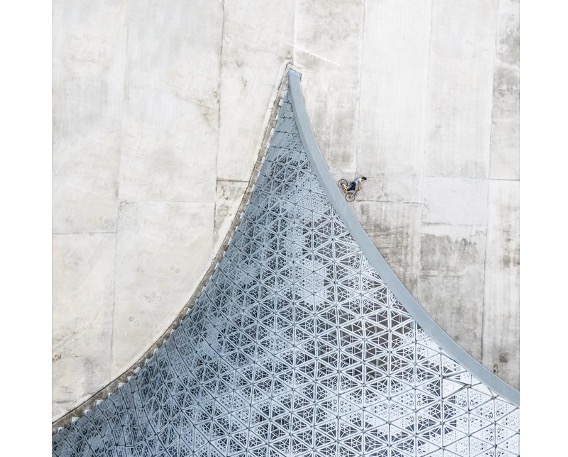 The moment he saw the industrial climbers, Goncharov did not hesitate for a second to take a drone photo of the guys in action. "I liked the way their work looked from that perspective. They seemed to wash the city itself, not just the building's windows."
Dubai's Concrete Jungle
Location: Dubai, The United Arab Emirates
Filled with skyscrapers, Dubai is a favorite of many professional and novice photographers. For Bachir Moukarzel, one of the perks of living in Dubai is the city's generous treat of skyscrapers.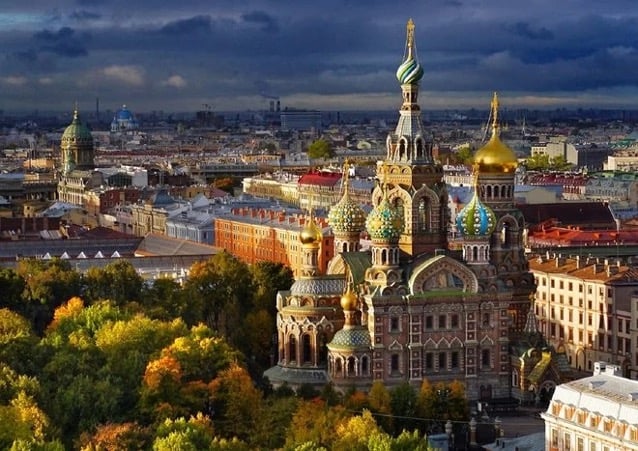 The 33-year-old Lebanese took this photo at sundown in Dubai at 6pm, while attempting to capture the progress of the place which was a desert a decade ago. Though Moukarzel has been flying for a very long time, he considers each flight as a new experience because it "has its own taste".
An Abandoned College
Location: Republic of Abkhazia
This picturesque view of the countryside of Abkhazia features a beautiful landscape with a harrowing history as this is part of the autonomous republic where ethnic cleansings happened during the '90s. Sadly, people were forcibly driven out from their homes and ruthlessly exploited.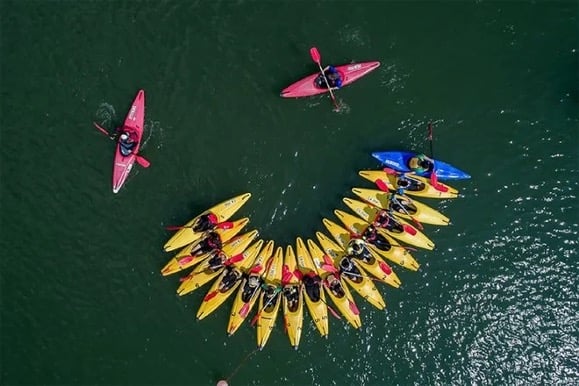 Despite the tragic period, an abandoned college now stands strong and charming as a tribute to the past horrors that occurred in the region. This drone photo captures the location's history in an interesting light.
The Red Train and Snow-coated Mountains
Location: Switzerland
We're sure the person who captured this gorgeous image is proud of the results.  Who wouldn't when your drone perfectly captivated a contrasting image from the sky? The timing and angle are just perfect. When this photo was shot, a lovely red train passed through the snow-blanketed mountains of Switzerland.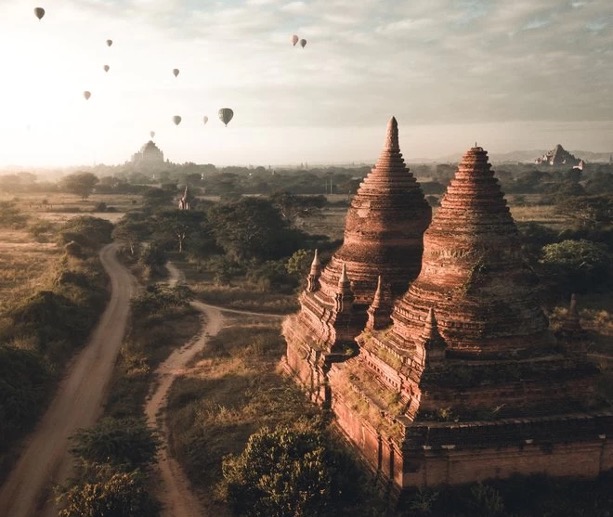 Did we mention this breathtaking shot was one of the winners of the SkyPixel competition? Indeed, it deserves the People's Choice Award. The famed glacier express seems like it would be a marvelous ride through the snowy mountains.
Stunning Elements of Nature
Location: Iceland
Did you know that this lovely image of the landscapes of Iceland is made up of 12 separate images? Photographer Olivier couldn't get enough of the  elements of the surroundings, hence the brilliant panoramic shot.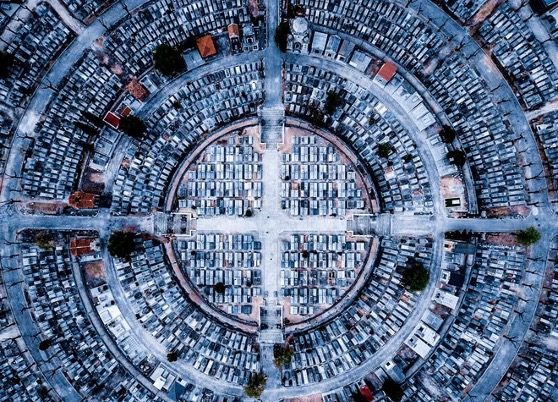 Olivier mentioned that during their travels, they had to keep stopping to capture a few more marvelous images as each new angle was more magnificent than the last. Indeed, Iceland is a charming place that will take your breath away!
The Art of Free Wheeling
Location: Singapore
Arguably, this is one of the best drone images on the list. Nigel Kwan skillfully captured the art of free wheeling using a Mavic Pro. The aerial image really plays tricks on the eye, leaving a perception of a cyclist going up the side of a skyscraper. Indeed, stunning drone images give us extraordinary views of different elements.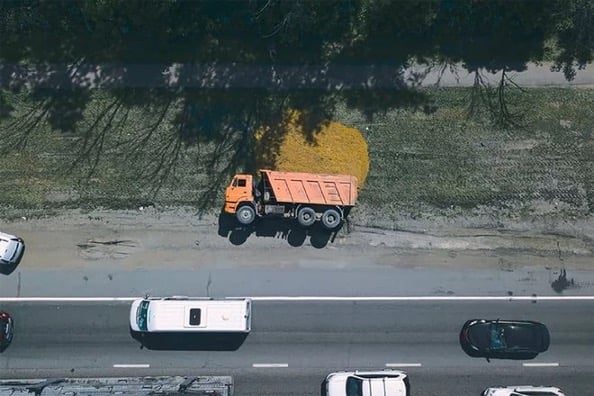 This photo goes to show that a simple view can be astoundingly beautiful when captivated by a drone. We have both technology and human skills to thank- a duo that constantly leaves us in awe.
A Breathtaking View of St. Petersburg
Location: St. Petersburg, Russia
Curious on what St. Petersburg looks like from above? The picture below will surely mesmerize you. When photographer Amos Chapple visited Saint Petersburg, he couldn't resist the charm of the cathedrals. This beautiful view puts the spotlight on the Church of the Savior on Spilled Blood in Saint Petersburg, Russia.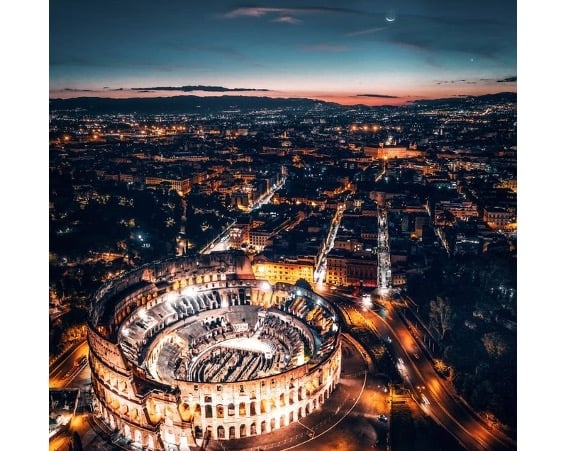 The construction of the historical church started in 1893, and symbolizes a romantic nationalism architectural style thanks to Alfred Alexandrovich Parland, the chief architect of this incredible building.