Perfectly Awkward Photos of Celebrities at Prom
High school is a strange and awkward time to navigate for everyone, celebrities included. Not all of us would like to remember what we wore or how we did our hair back in those days. It's hard to imagine the glamorous celebs we see on T.V. in their awkward stage at prom.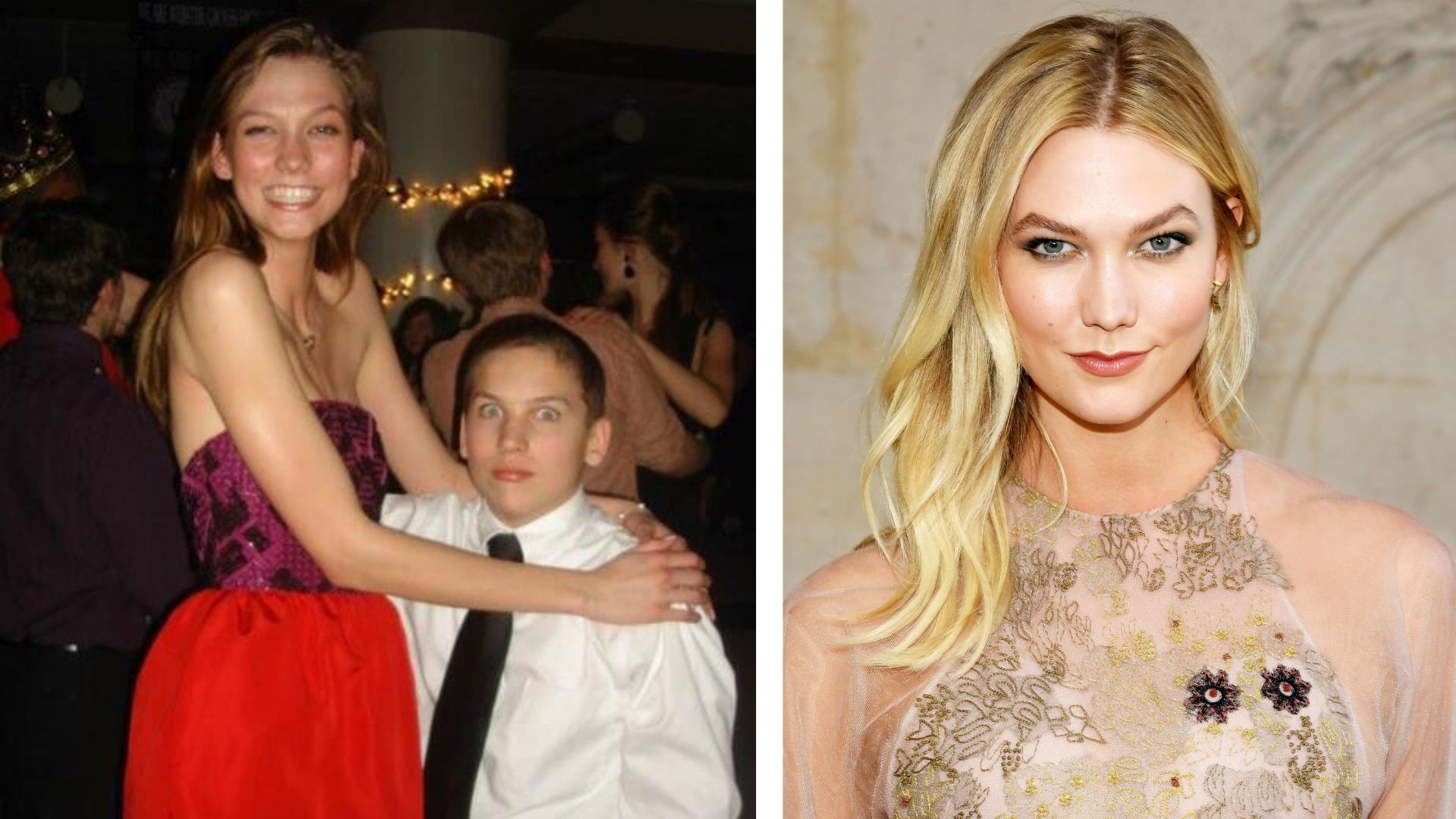 But many of our favorite people in the spotlight have graced us with their real life prom pictures and you have to take a look because they are too funny!
Will Ferrell
It's good to see that Will Ferrell was always the loveable jokester we know him as today. Here you can see him posed with his prom date with a tiara on his head. We expect nothing less from this class clown.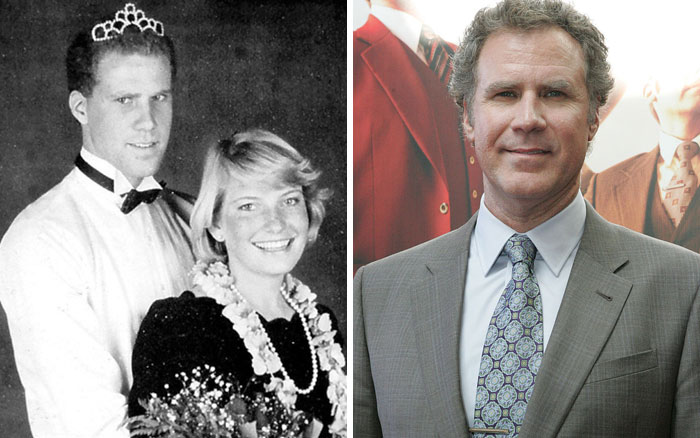 Unlike some other celebrity prom photos we can totally tell who this is. He doesn't look all that different! It's crazy to imagine the actor at prom. We're happy to know Will had a sense of humor since he was very young.
Ru Paul
This is one of our favorite throwback photos we have ever seen! In this photo we can see the ever fabulous Ru Paul at his high school prom sporting a unique look. We expect nothing less from the Queen of Drag.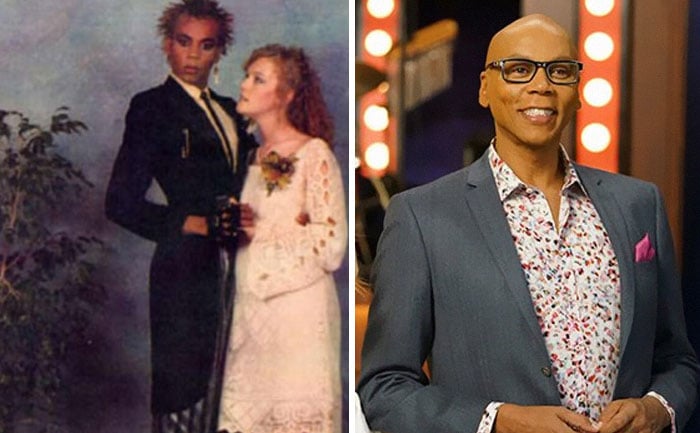 Even his date can't keep her eyes off of him. The spiked hair, long coat, black glove, and dangling earrings have nothing on the dark and daring makeup he has on. Ru has been fierce from the beginning! We wonder what the queen  would have to say about this look today.
Jeremy Renner
The famous Avengers actor sported a very different look on his prom night than he has today. His mullet is all business in the front and party in the back. Little did high school Jeremy know he would act in one of the most successful movie franchises of all time.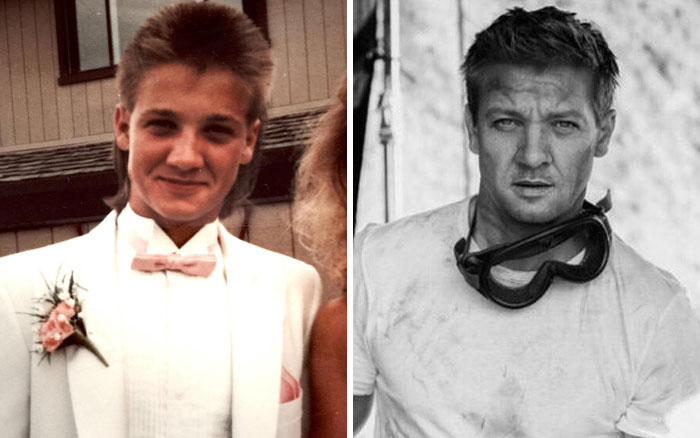 This young mullet-wearing man would play Hawkeye in all 4 Avengers films. We can almost guarantee that his castmates would never let him live down a hairstyle like this. The 80s were definitely a different time!
Jimmy Fallon
Jimmy Fallon has no problem poking fun at himself from time to time. So we think he'd agree that this photo of him from prom is pretty funny. His silly hairstyle and his date's poofy pink dress make this a perfect prom photo!
Little did this young man know that he would soon be the host of The Tonight Show, one of the most successful late night T.V. shows of all time. Nor did he know that he would be an SNL cast member bringing laughs to people everywhere! We're glad he shared this gem from the good ole days. 
Jennifer Aniston
Even the stunning Jennifer Aniston once went to prom. The young Jennifer can be seen sporting a short brunette hairstyle that is very different to the long blonde locks she has come to be known for.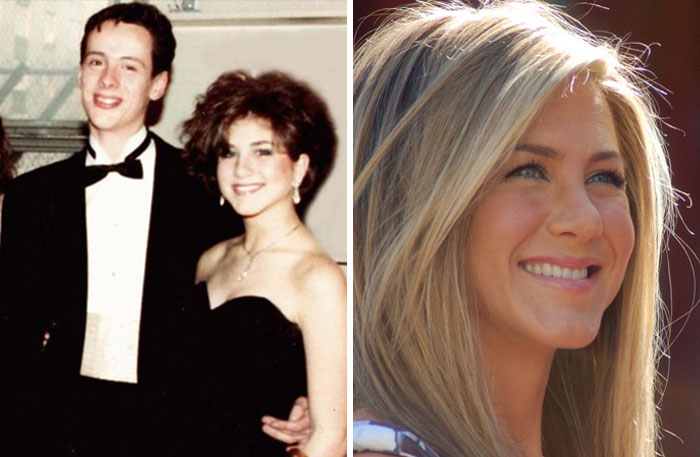 However, at this point Jennifer had already started acting. She started acting classes when she was only 11 but didn't land her first major role until she was 24. This 18 year old Jennifer had no way of knowing she'd be on the big screen in about 6 years. 
Matthew Mcconaughey
Matthew Mcconaughey has starred in many famous films from rom coms to dramas to action thrillers. He's made a name for himself as being a very adaptable actor and is an activist outside of the world of acting as well.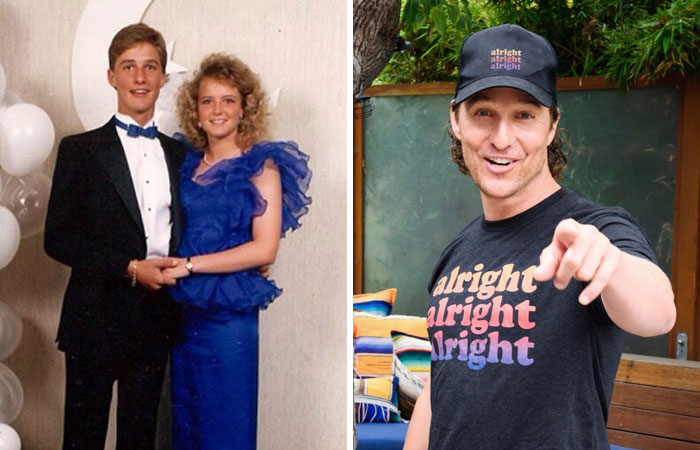 The heart throb looked quite dapper in his prom pictures. His bow tie matches his date's dress and everything. It's hard to believe this young surfer bro would grow up to be such an incredible talent and a household name.
Ashton Kutcher
Ashton Kutcher is most recognizable for his role as Michael Kelso in That 70s Show. Interestingly, while he was playing a high school student on screen he was actually a teenager in real life as well!
So, if this picture of Ashton looks familiar to you, it's probably because we've been watching him on screen since he was 18 years old! We love this prom picture because we can see Ashton was clearly the life of the party, tearing up the dance floor.
Blake Lively
The beautiful Blake Lively has been acting since she was young, so she looks recognizable in her high school prom photos. She looks pretty in pink with a tiara sitting on her head. What makes us laugh about this photo is her date.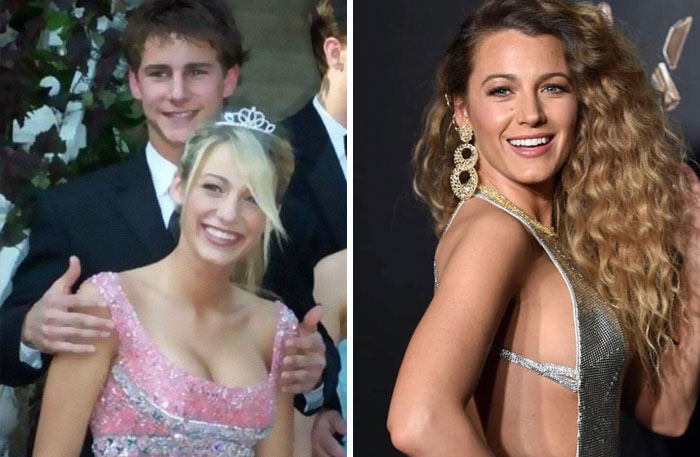 He looks unsure of where to put his hands. It's a classically awkward prom photo so we love it! Her dazzling smile steals the scene though. We're grateful she decided to share this perfect snippet from her prom night.
Bethenny Frankel
Bethenny Frankel is most recognizable for her rise to fame that came as a result of her role on The Real Housewives of New York. She's since written 2 New York Times bestsellers and launched her own liquor brand in addition to other businesses.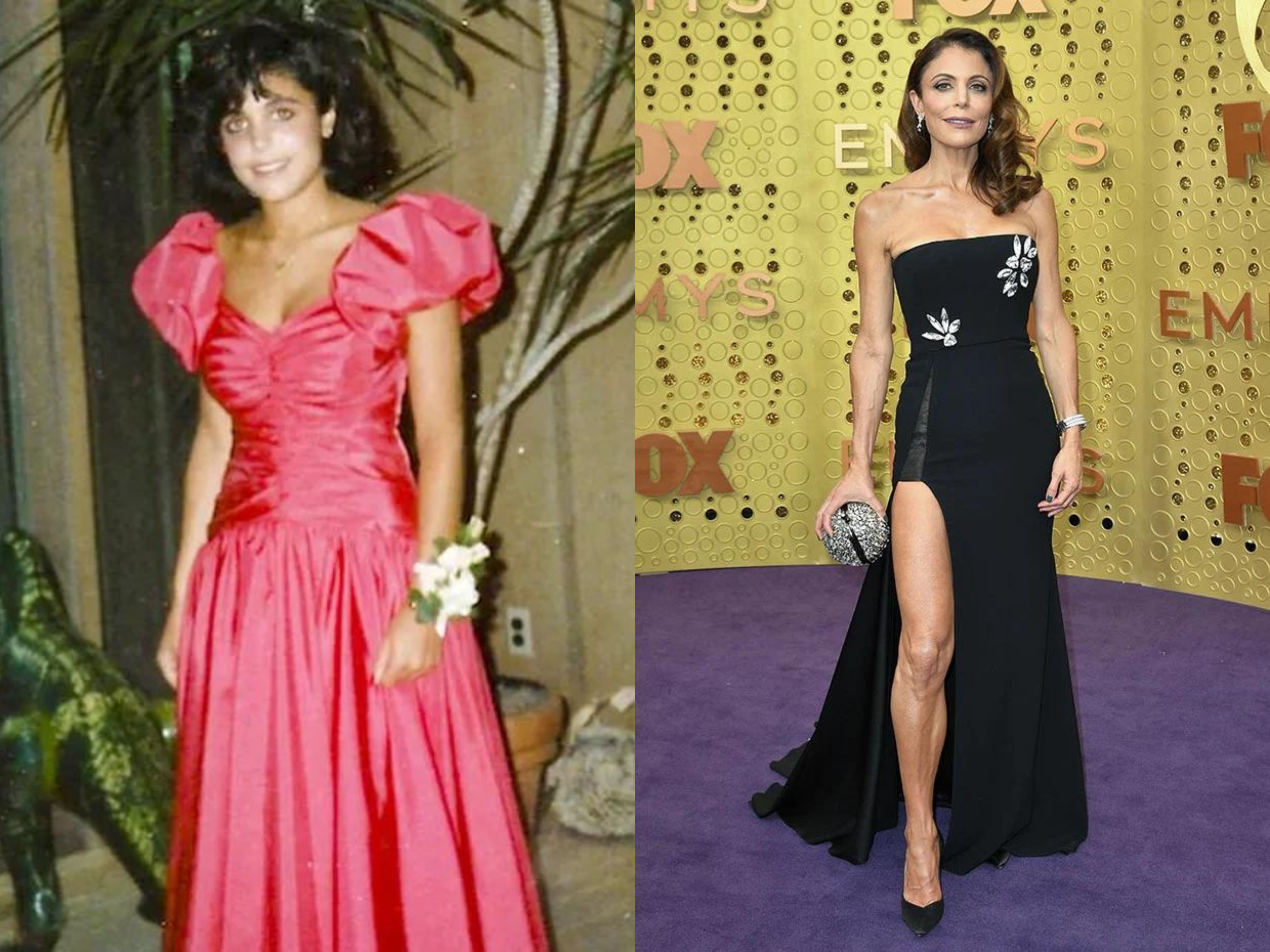 Young Bethenny had no idea of the success she would acquire later in her life. The poofy sleeves and hot pink dress are a sure sign of the times. Noto to mention the curly hairstyle. This is a classic prom photo that we hope she has framed somewhere. Never forget where you came from.
Gwen Stefani
Before she was the lead singer of the band No Doubt and became something of a fashion icon in the 90s and early 2000s, Gwen Stefani went to prom just like the rest of us. Before her pop punk/grunge days she wore a very classic look to her dance.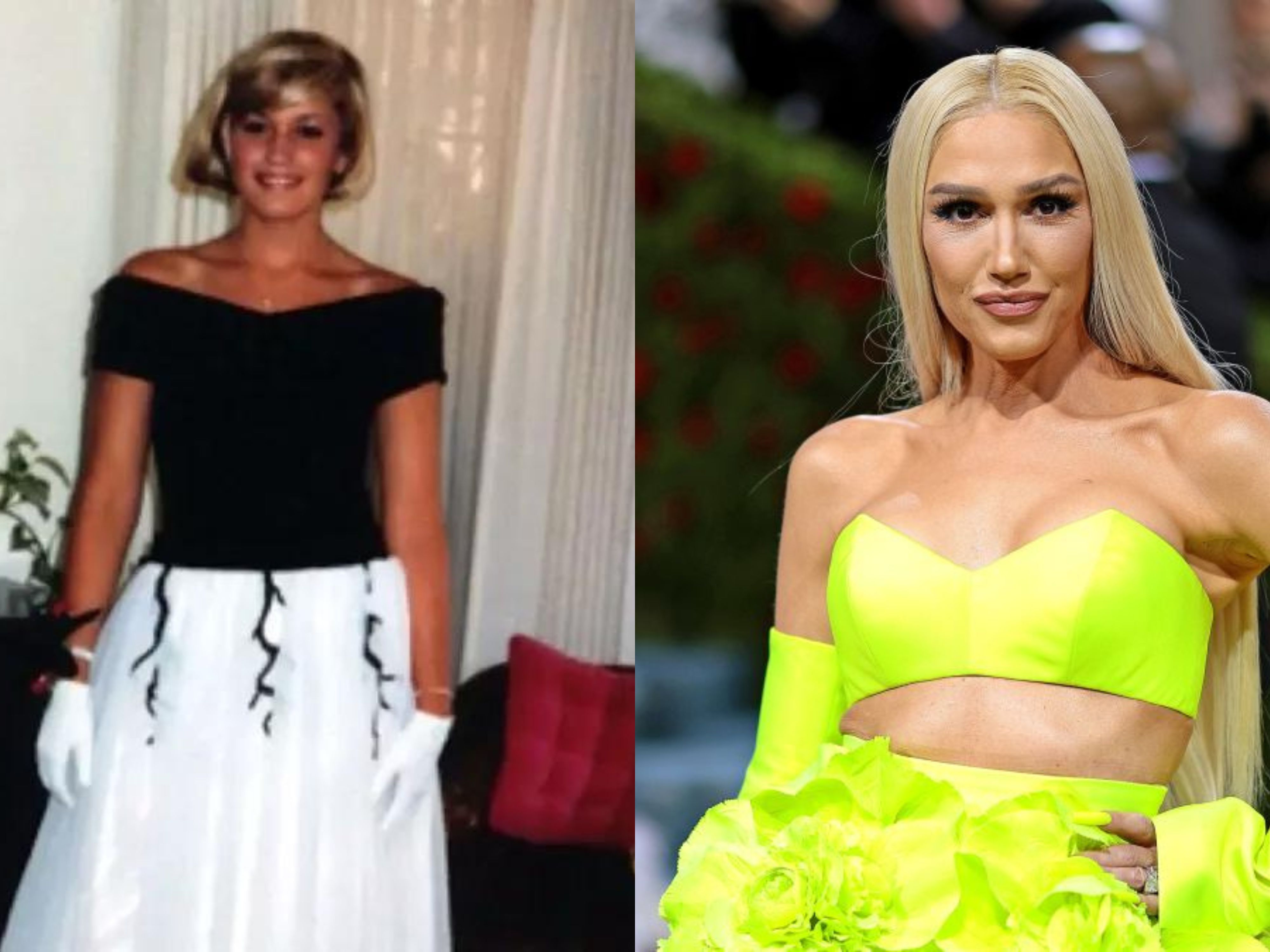 The black off-the-shoulder top matched with a white flowy skirt is a classic look from the time. The matching white gloves really top it all off. Today, she is known for wearing some much flashier clothes and brighter colors. Every fashion icon goes through phases.
John Stamos
John Stamos was a total heart throb that captured the hearts of many in his role as Uncle Jessy in the show Full House which ran from 1987 to 1995. But almost every heart throb has an awkward prom photo in their past.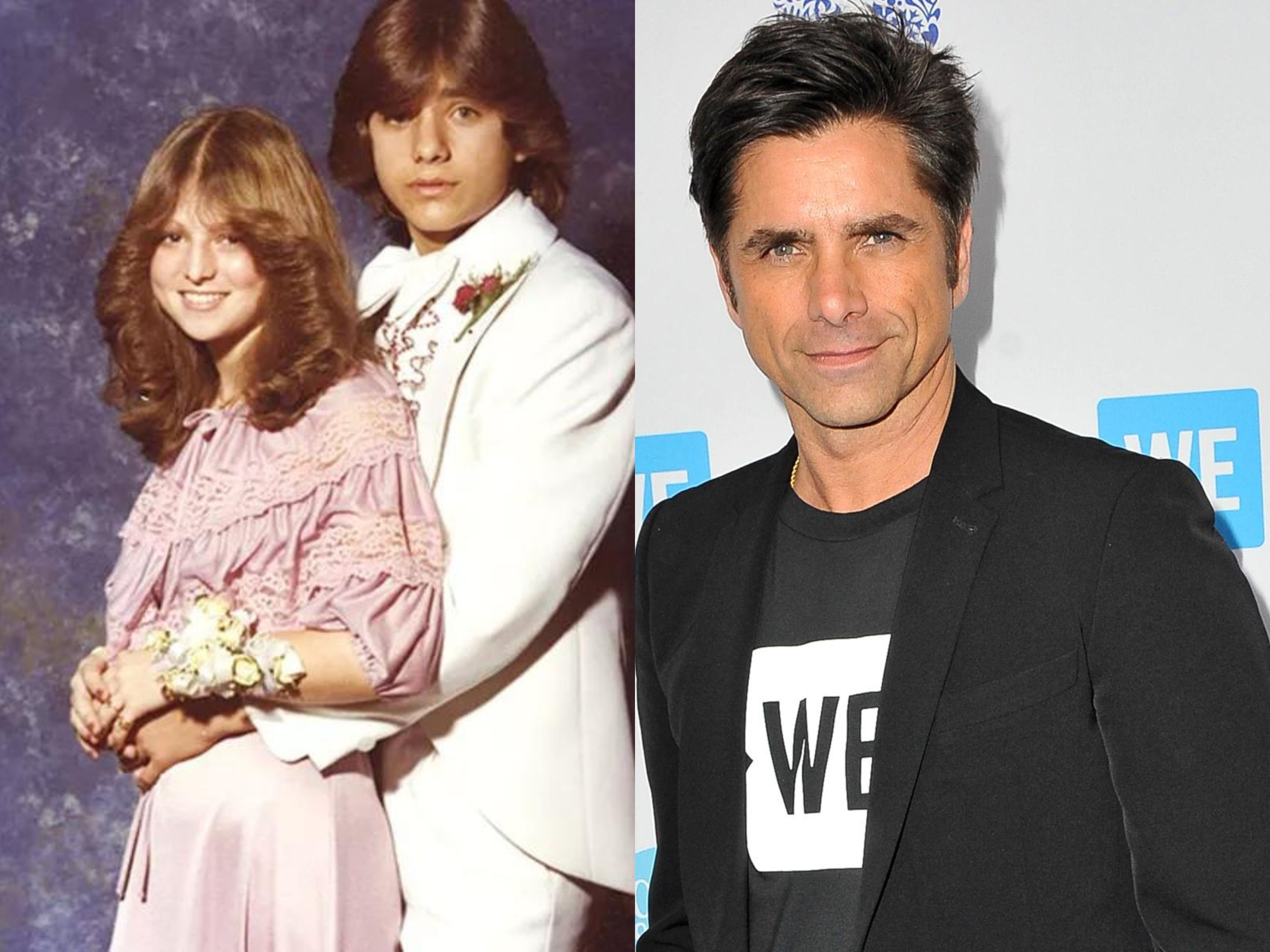 John Stamos is no exception. The ruffled suit is just perfect. And his hair almost matches his date's! Honestly the look of fear in his eyes is what we appreciate the most about this throwback pic. It's priceless! We just want to tell him, "It's all going to be okay, John".
Candace Cameron Bure
John Stamos isn't the only Full House cast member to share his prom photos. This one is a double whammy! Candace Cameron Bure played D.J. Tanner on the show and Scott Weinger played Steve Hale, D.J.'s boyfriend. The characters dated on and off for most of the show.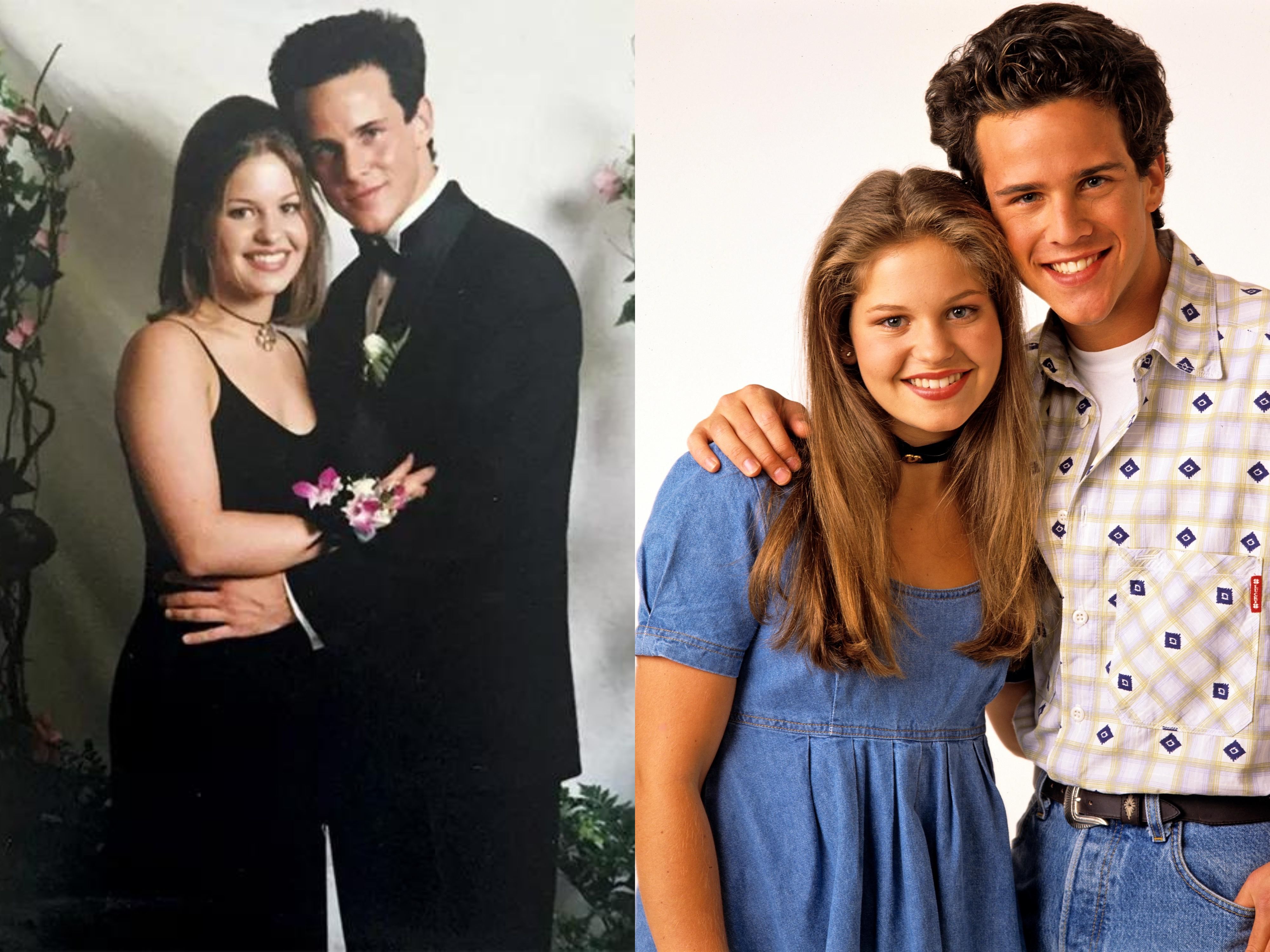 The actress and actor actually dated in real life as well as on the show so Candace brought Scott to her prom in real life. Too cute! We can't help but love when people fall in love on and off screen.
Brad Pitt
Brad Pitt is not safe from embarrassing prom photos either. The actor didn't begin his career until he was 24. This young man on the left had no idea that he would become one of the most famous actors of all time.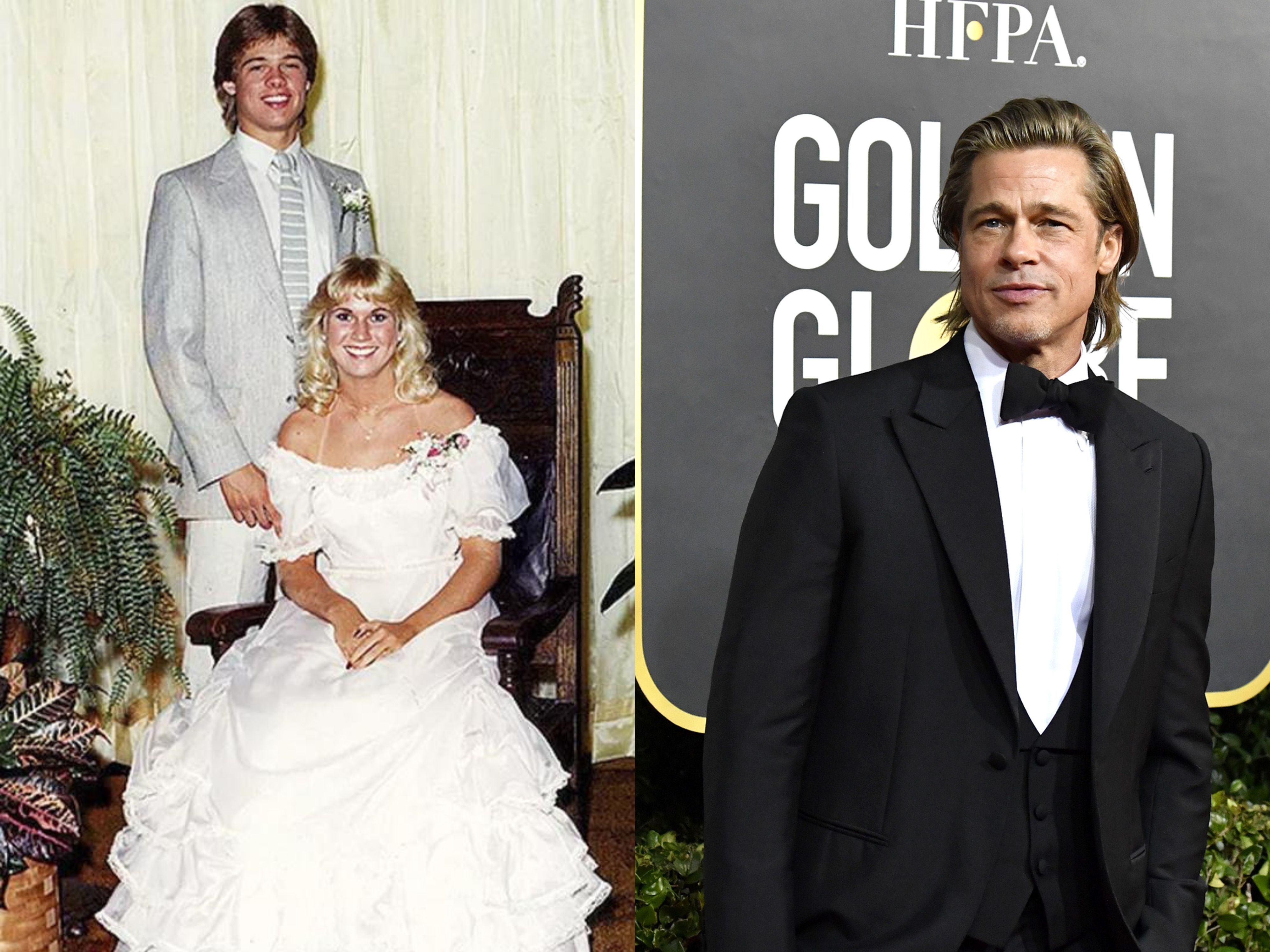 We don't know if we love the middle part, striped tie, or white pants the most. It's wild that this 18 year old could only dream of movie roles in Fight Club, World War Z, Once Upon a Time in Hollywood, or Inglorious Bastards. 
Nick Kroll
Nick Kroll has one of our favorite prom photos of all time. His goofy smile reminds us of what we love about the comedic actor. Nick is most well known for his talent for doing different voices and we have to assume he was doing voices and making people laugh in class.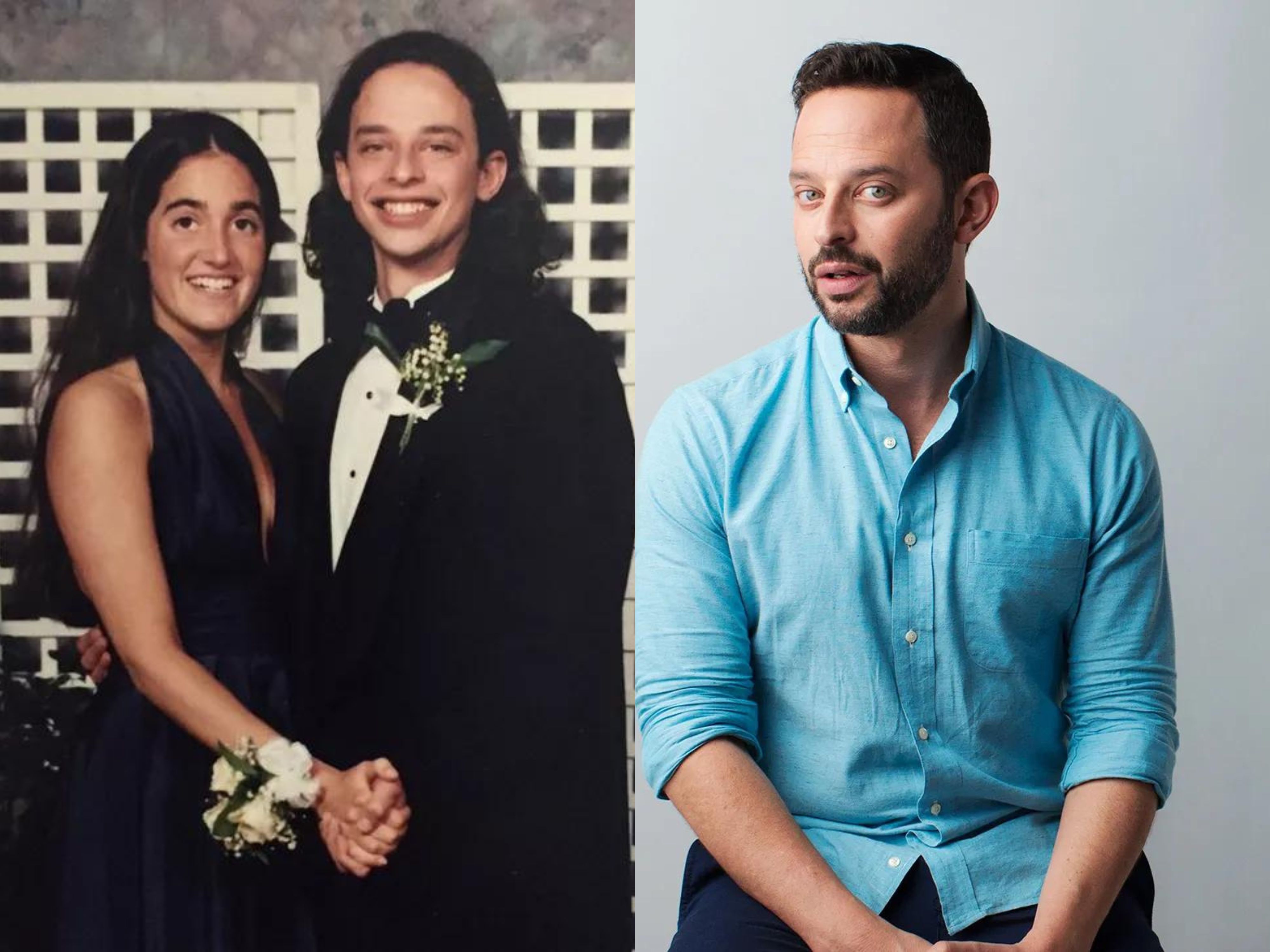 The long hair is definitely a different look that we haven't seen from Nick recently. We wonder what he would have to say about his old style today. We're sure he would share a laugh with us.
Amy Poehler
Amy steps out of her prom carriage in a style that just screams the 80s! The tightly curled hair and floofy dress are certainly a sign of the times. Her face seems to read that she's not all too excited to be going to the dance, though.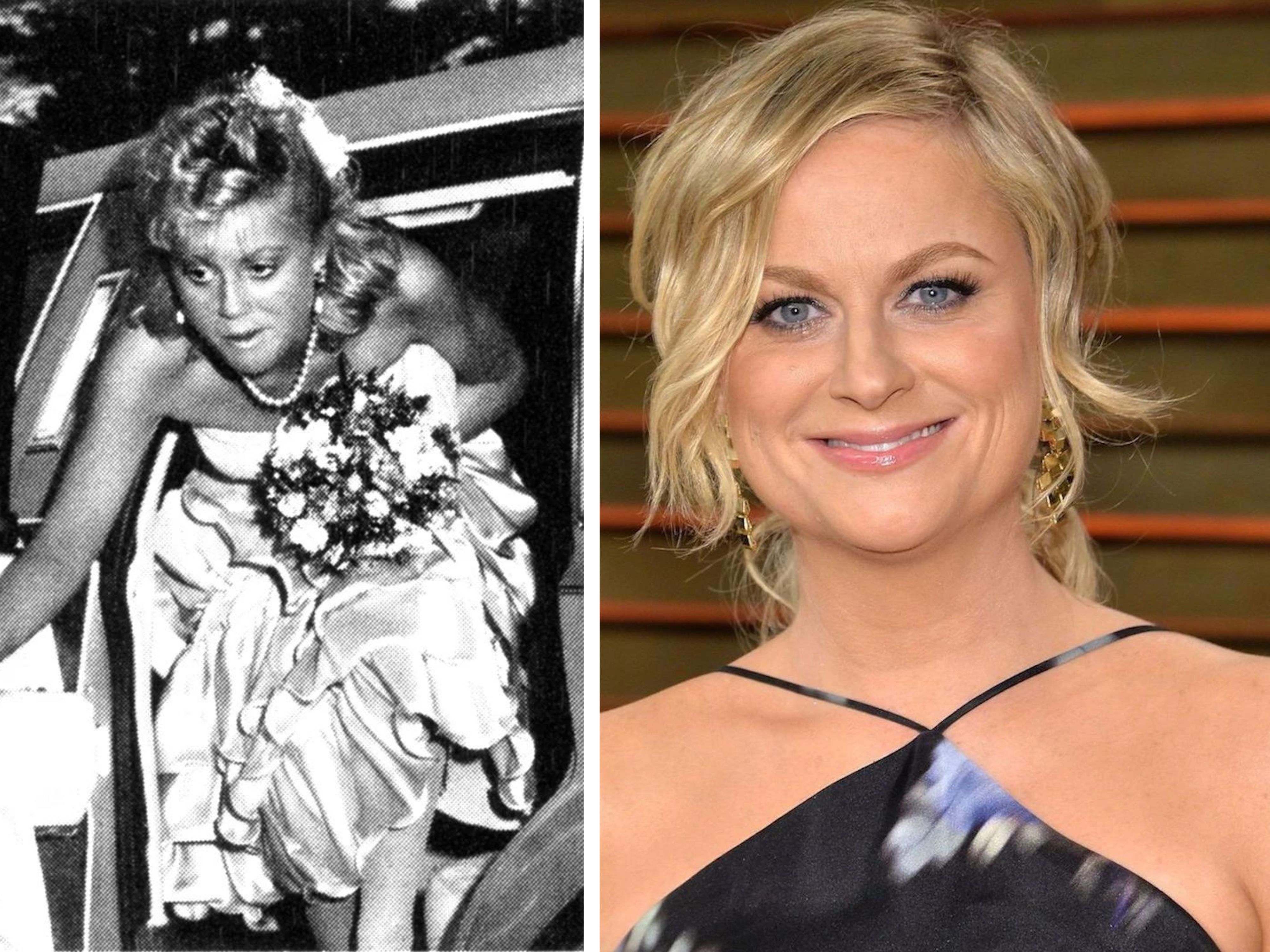 A few years after this photo was taken, Amy began her journey into the world of comedy. She started studying improv and started her first sketch comedy series in the 1990s. That took her to SNL and Parks and Recreation as well as a ton of other famous movies.
Barack Obama
The young man pictured on the left had no idea that he would become President of the United States. A young Obama is adorned in a traditional Hawaiian Lei with his date and friends. Imagine going to prom with the future President!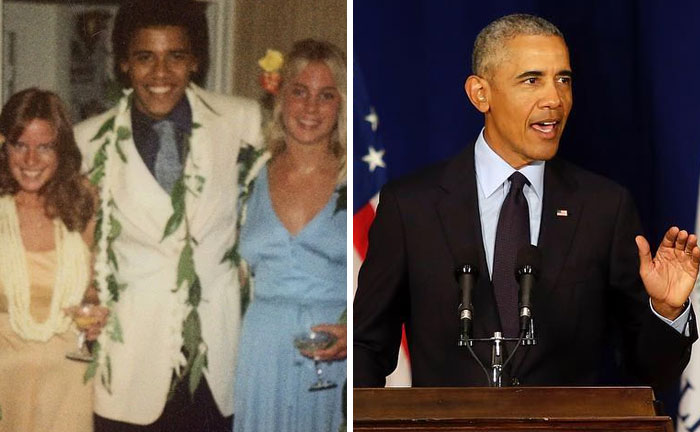 Cut to 2009 and this ambitious man assumes one of the most important jobs in the world! It's hard to believe that even our country's leaders have awkward prom photos to look back on.
Britney Spears
This dress is one of many that Britney Spears modeled for a prom dress shoot for Seventeen magazine. She actually ended up wearing this particular dress to her own homecoming as well! The heart shaped necklace around her neck was recreated to look like the Titanic necklace.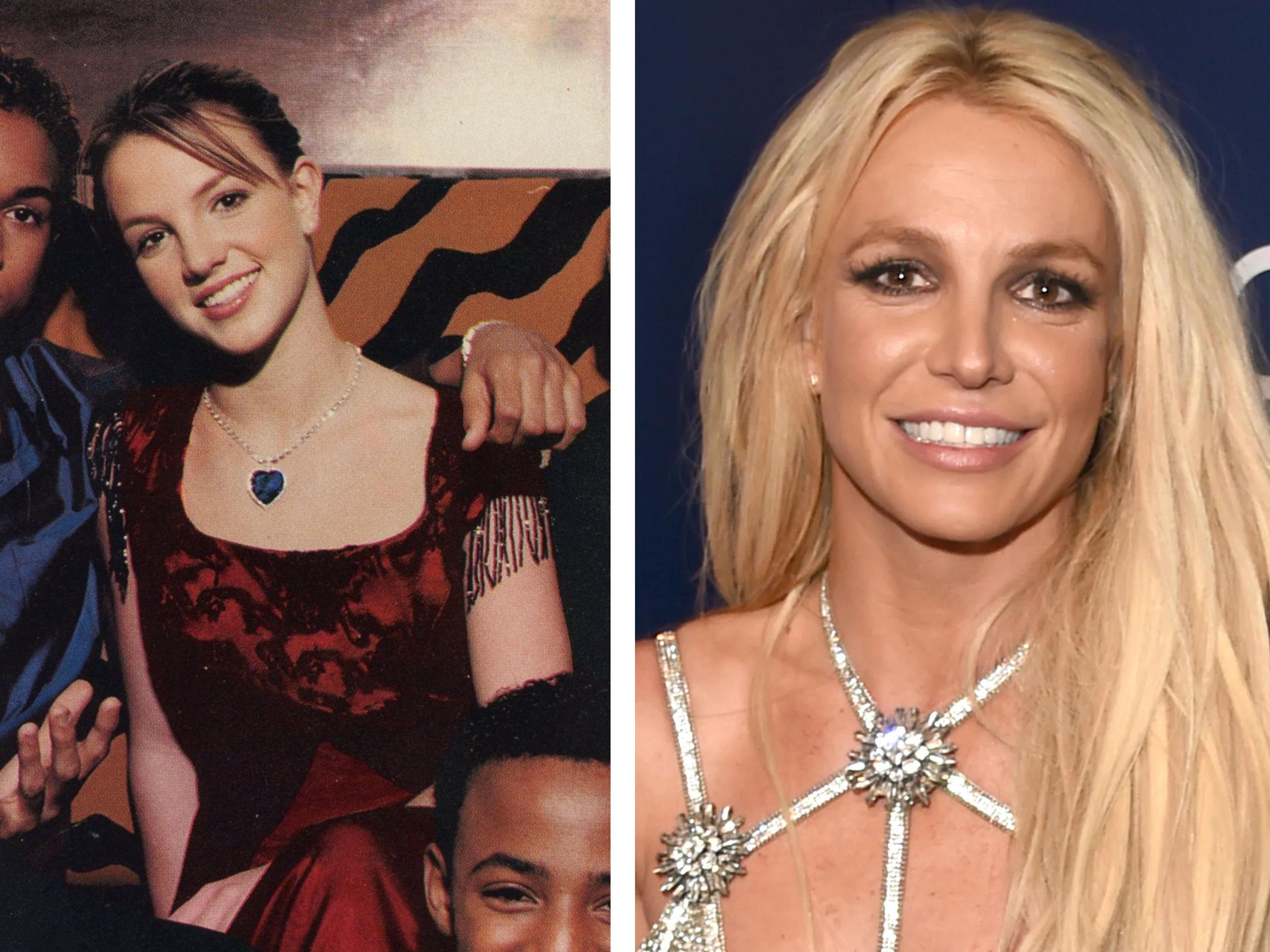 Before becoming one of the world's brightest popstars, Britney was just a regular teenage girl like the rest of us! Although, her rise to fame started early in life with her top hits …Baby One More Time and Oops!… I Did it Again.
Carrie Underwood
The country singing star attended prom in her home state of Oklahoma. This photo from her prom night perfectly encapsulates school dances of the time. How lucky her date, Jason Ramsey, was to accompany her to the dance.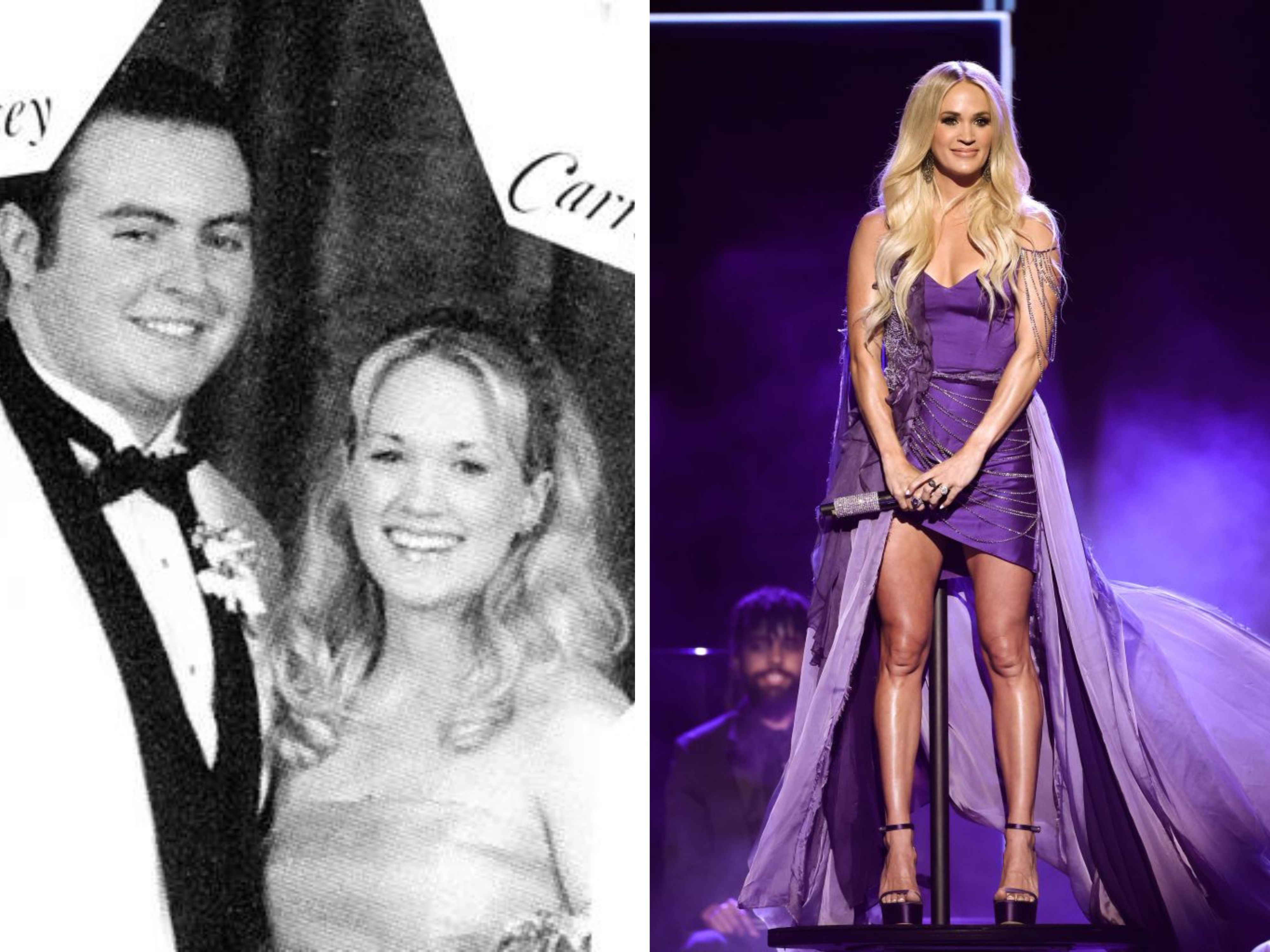 The young Carrie knew nothing of the fame and success that would come her way in life. A few years after this photo was taken, a 22-year-old Carrie Underwood won American Idol and went on to create many hit songs and albums.
George Clooney
George Clooney looks almost unrecognizable in this prom photo from his high school years. The Oscar winning actor actually has an endearing story about the prom date pictured in this photo.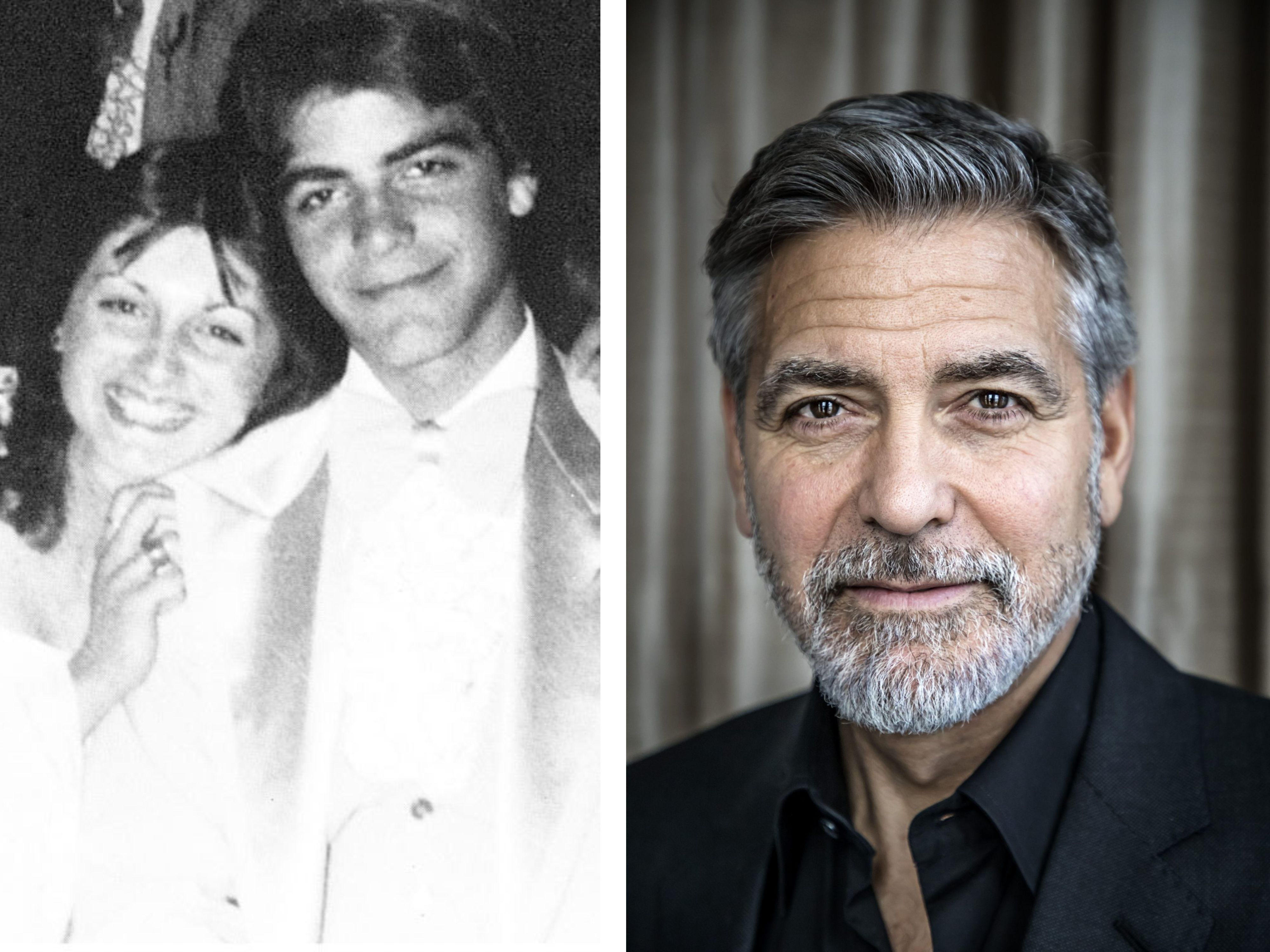 35 years after their prom, Clooney revisited his hometown in 2016 to surprise Laurie Bach, his prom date, and her son who plays basketball for his hometown school. He played some basketball with her son, took a photo with him, and gave him some life advice. As far as prom dates go, that's pretty impressive!
Demi Lovato
Demi Lovato's prom experience was not as typical as most of ours were. The starlet was actually dating Nick Jonas at the time of her senior prom, but as you can see, the Jonas Brother was not the one who accompanied her to the dance.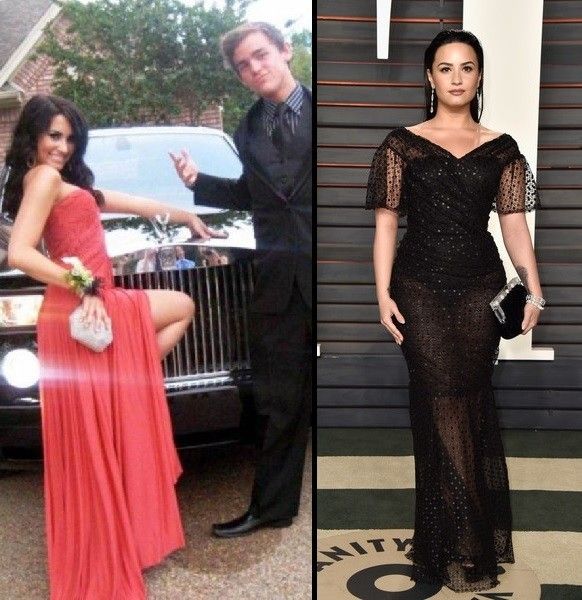 She instead brought Nolan, her best friend since kindergarten! Apparently the two had made a promise to each other that they would be each other's prom dates way back when. How cute that they fulfilled that promise!
Ellen Degeneres
The famous comedian and talk show host sported a collared plaid full length dress to her high school prom. Her date rocked a purple and red suit and the two made an awfully colorful pair.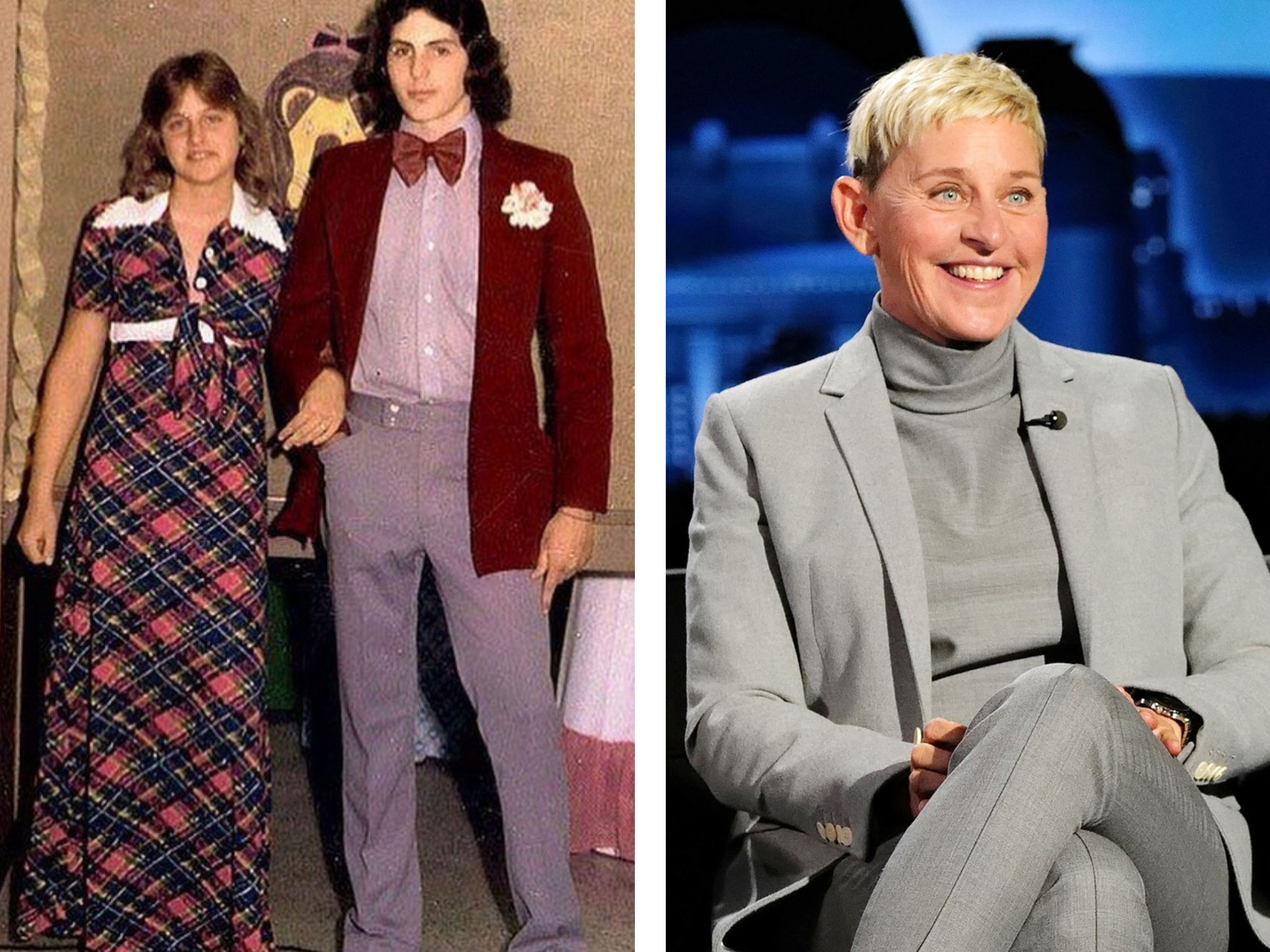 We wonder what the comedian would have to say about her style choices from back in the day! Ellen encouraged her fans to share their embarrassing prom photos by sharing this picture online.
Lady Gaga
Before she was Lady Gaga selling our arenas and wearing dresses made out of meat, she was Stefani Joanne Angelina Germanotta. Prior to hit songs and incredible movies, she attended prom just like the rest of us.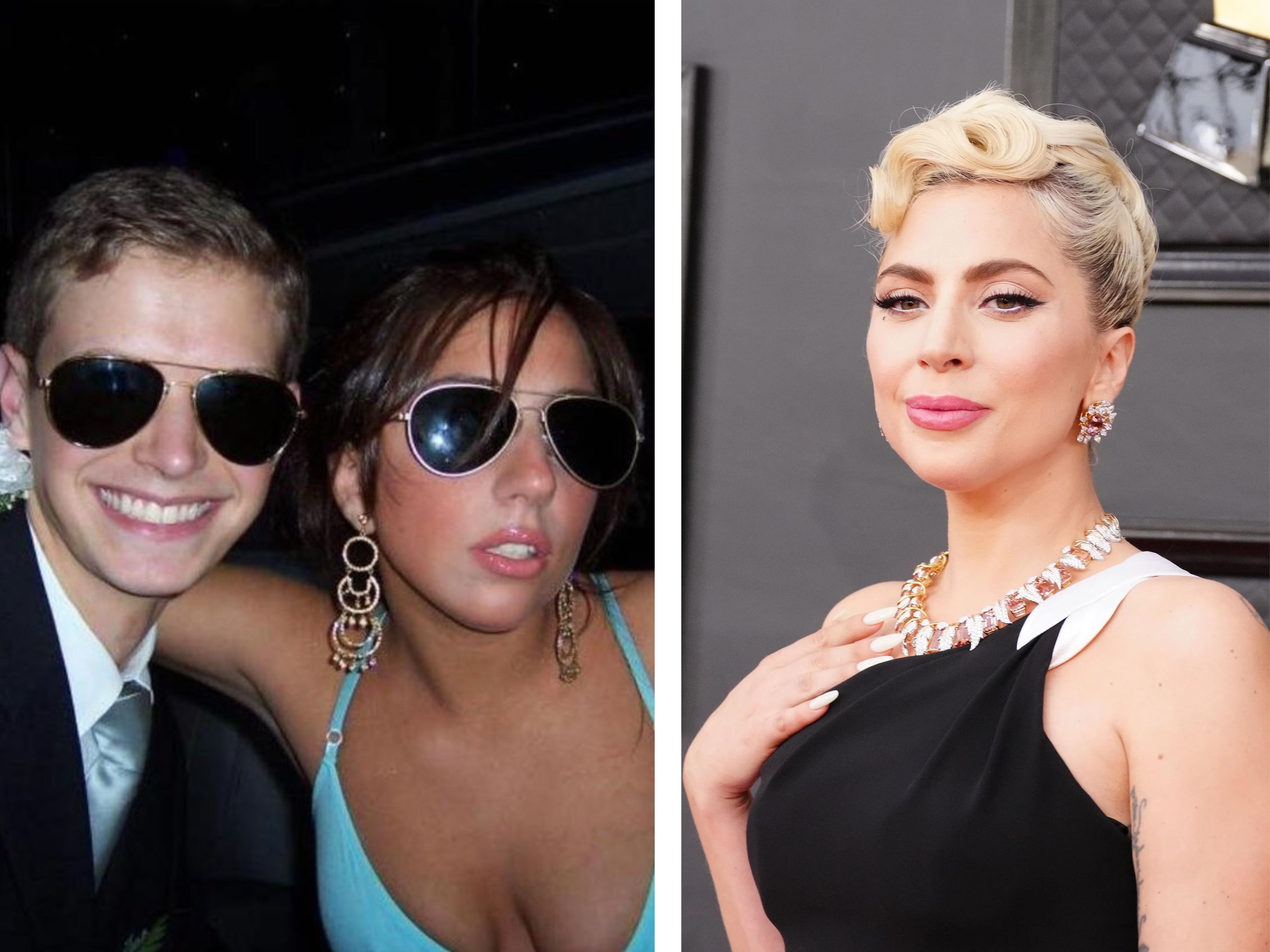 Here she is pictured with her prom date in her aquamarine colored dress. The sunglasses inside of the limo are very typical of senior prom and are too cool for school! She's almost unrecognizable in this photo.
Gaten Matarazzo
Gaten Matarazzo is one of the stars from the hit show Stranger Things. The young actor shared some wholesome photos from his junior prom. He attended with his girlfriend and a group of friends.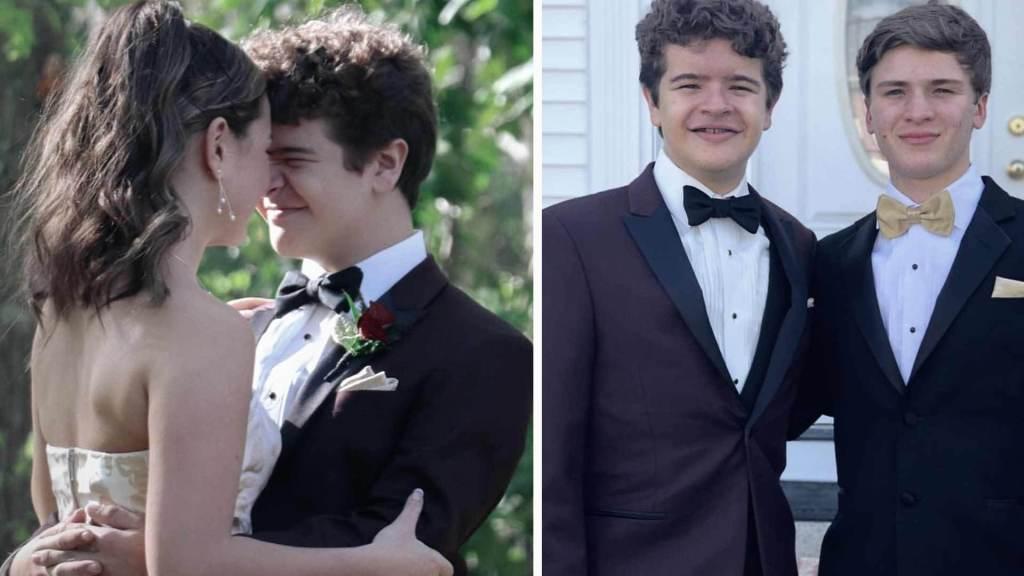 The 16 year old star gushes over his girlfriend and looks to have had an amazing time. We wonder if the future Stranger Things seasons will have some of the characters attending prom as well!
Harry Styles
This photo of the heartthrob at his school dance sent young girls all over the world into a tizzy! Now, Harry Styles is selling out arenas and acting in major films such as Dunkirk and Don't Worry Darling.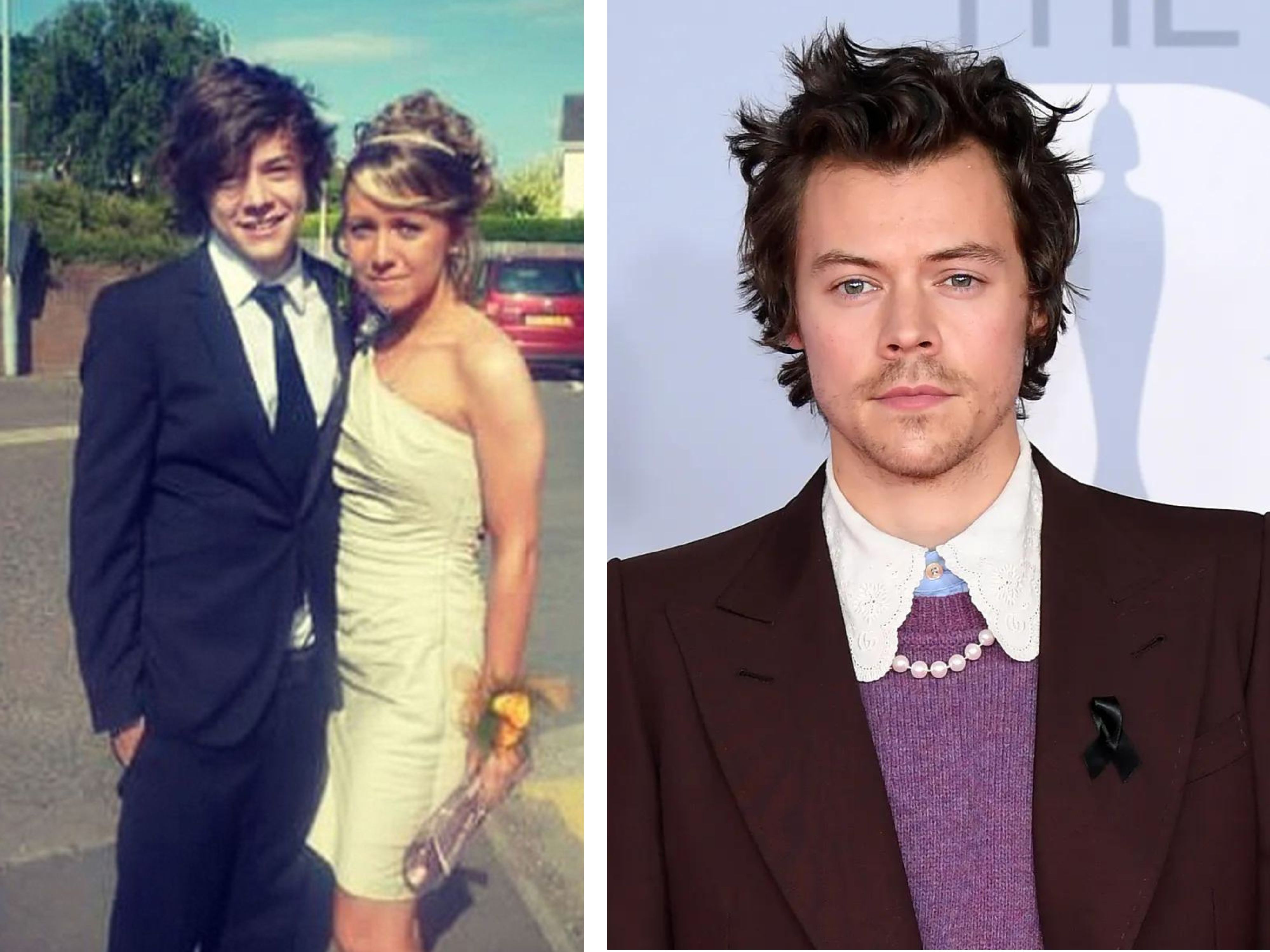 The former boyband member looks all too cute in his prom photo. That's one lucky date! He was only 16 when he auditioned for X Factor so the star pictured here was already on his way to international fame when this was taken.
Jon Hamm
Jon Hamm is not the only Hollywood actor in this prom photo. He took actress Sarah Clarke to his high school prom. The pair had no idea that they would both become movie stars in their futures! What a coincidence.
To add to the wild situation, Sarah Clarke had also dated Paul Rudd in her earlier years. The three were involved in a  love triangle before they ever made it to Hollywood. Wild coincidence! It looks like a lot of talent happened to come from Saint Louis, Missouri.
Kim Kardashian
The Kardashians are known for frequently changing their style. Some people think they look like different people each and every year. This almost unrecognizable prom photo of Kim certainly speaks to that idea!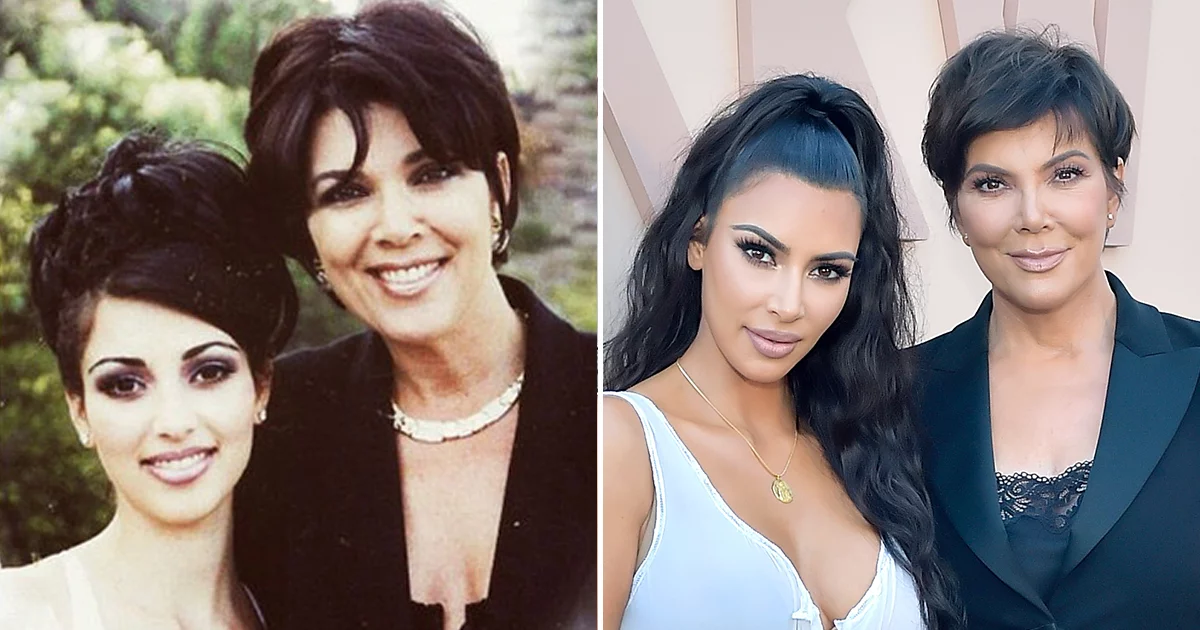 Kim shared this throwback photo of her and her mom on Instagram from her senior prom. The thin eyebrows and updo definitely scream 1990s fashion! The 18 year old Kim didn't have a clue that she would later become a billionaire.
Lebron James
This has to be one of our favorite prom photos because it features Lebron with the woman who later became his wife! The high school sweethearts attended their prom together and Savannah James was pregnant with their first son.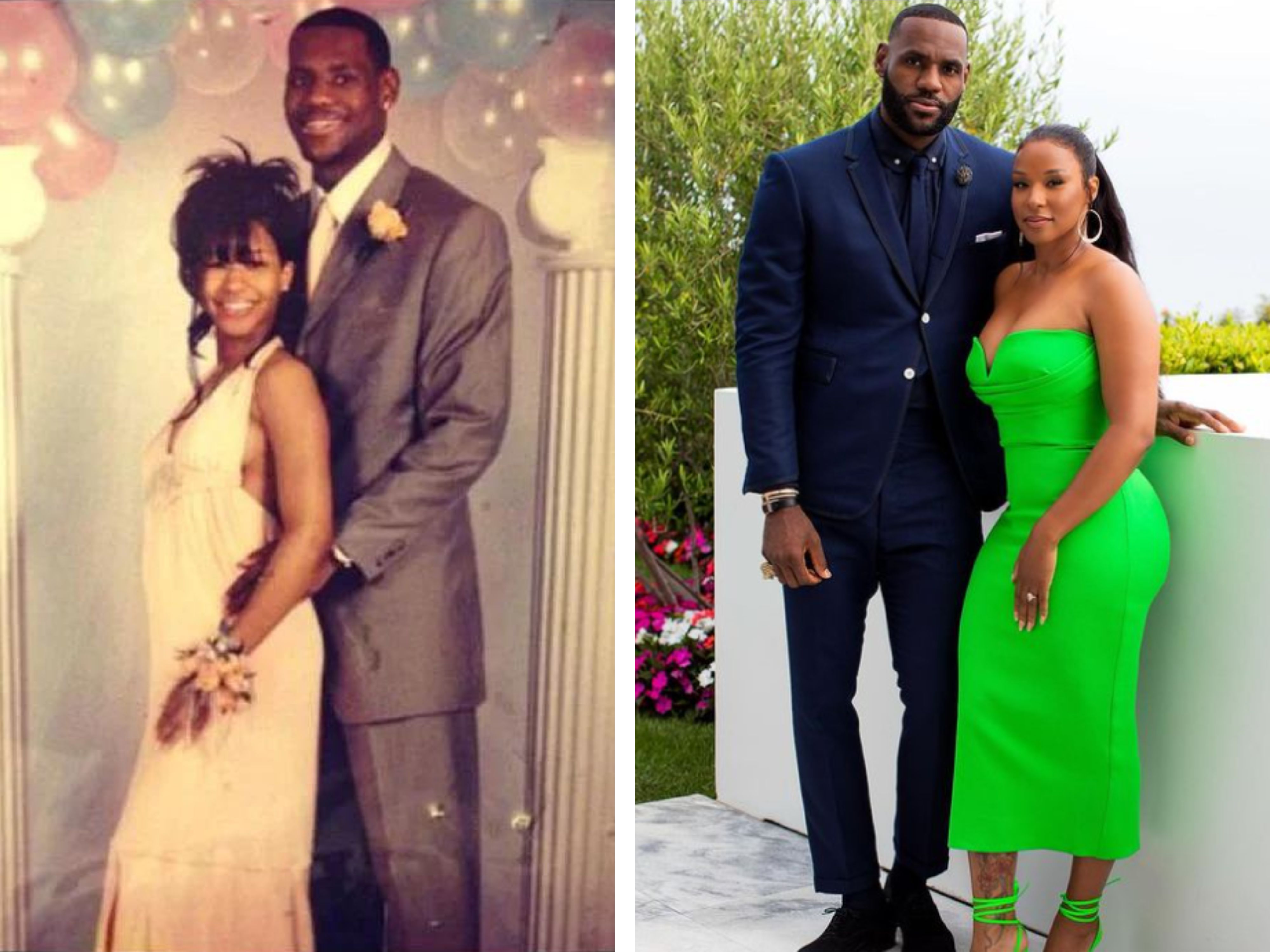 The pair met when Savannah was cheerleading for a rival high school and Lebron asked her to accompany him to a basketball game. They've been together ever since and have 3 children together!
Meryl Streep
Meryl Streep has come to be one of the most well respected actresses of all time. She's won more than 20 academy awards for Best Actress and Best Supporting Actress. Before she was the dancing queen in Mamma Mia, she was the dancing queen at her prom!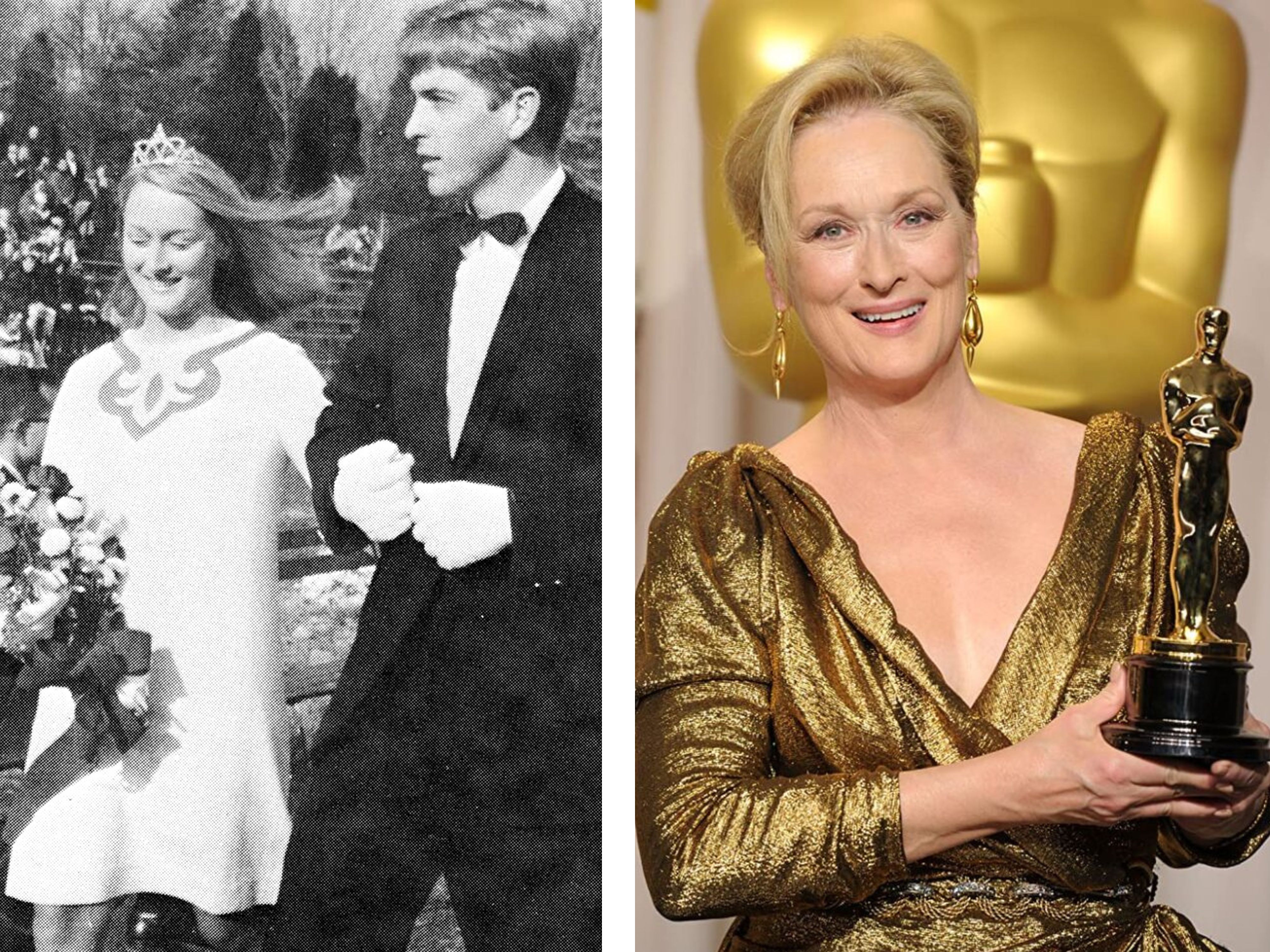 She is sporting a tiara and a bright smile as she walks into her school dance with her prom date. Interestingly, many years later, she would star in a movie called The Prom alongside James Cordon and Nicole Kidman.
Pauly D
The Jersey Shore remains one of the most popular reality T.V. shows on television. A bunch of young rough and rowdy Itlaians under one roof turned out to be some of the most incredible entertainment.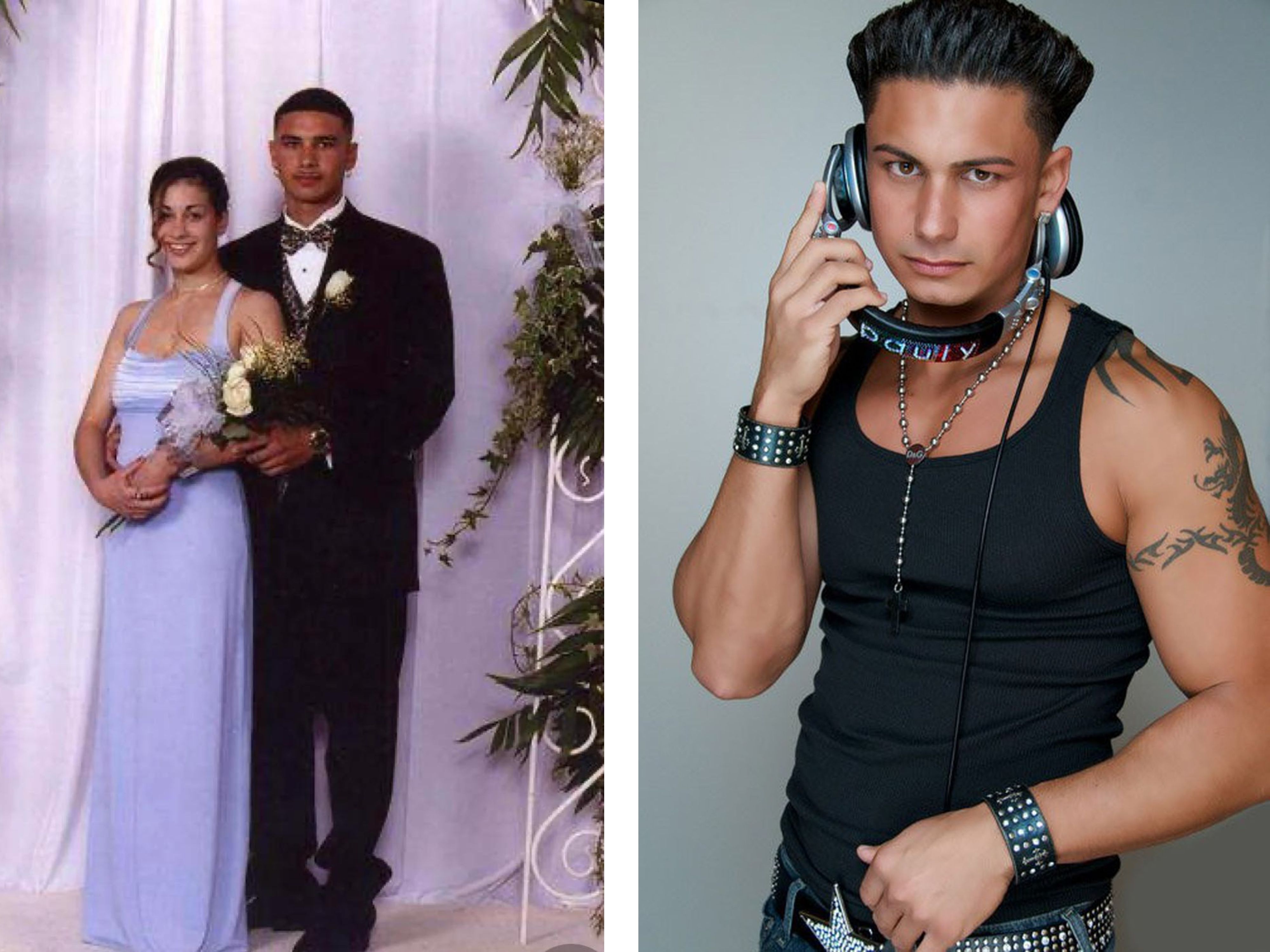 The Italian DJ and reality T.V. star attended prom just like the rest of us. He is almost unrecognizable without his iconic spiky hair! This is a perfect depiction of him when he was Paul Michael Delvecchio Jr., before he was Pauly D.
Rihanna
Robyn Rihanna Fenty, better known as Rihanna, has always been a Barbadian beauty. In high school when the rest of us were sporting horrible haircuts and terrible fashion, the stunning singer and businesswoman was still dressing to impress.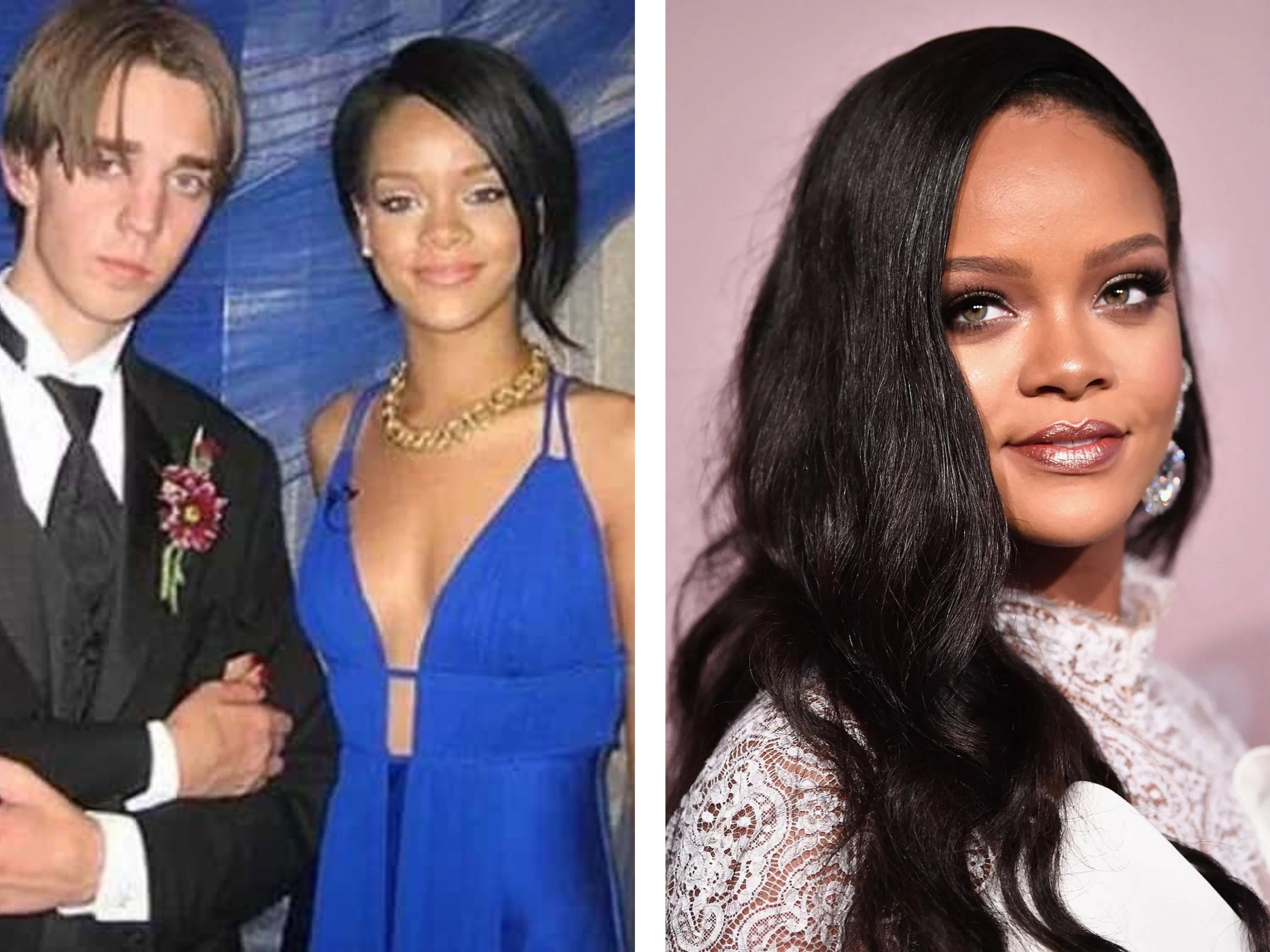 We have to assume that her date could not contain his excitement to be attending prom with this glowing goddess. Although, his face doesn't necessarily reflect this excitement. The young Rihanna had no way of knowing she'd become a billionaire business woman and performer!
Ryan Seacrest
Ryan Seacrest is almost completely unrecognizable in this prom photo. He and his date both sport dazzling smiles in this amazing picture. His date's layered pink dress and poofy hair were all the rage during this time!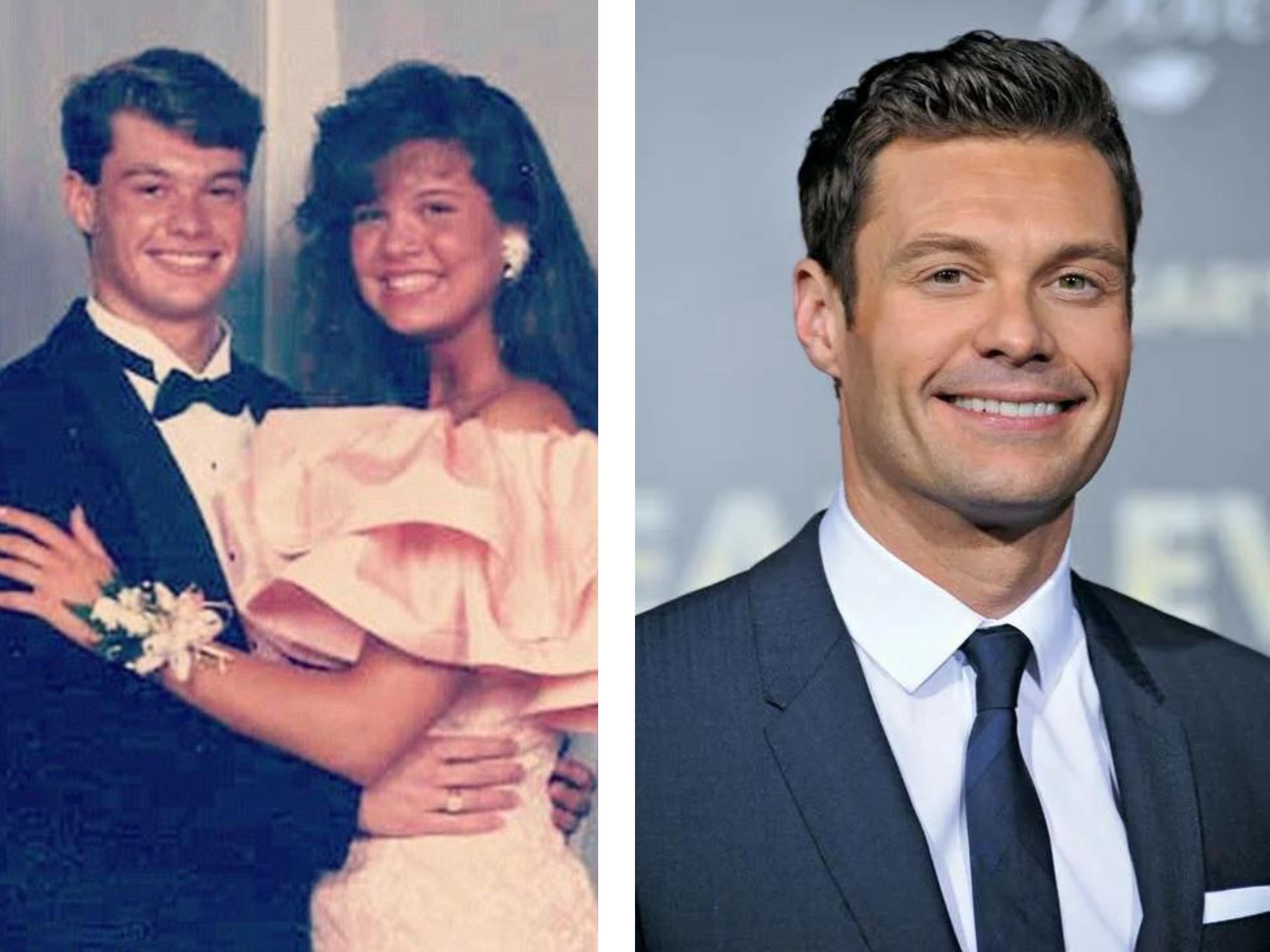 The television and radio personality is absolutely beaming in his senior prom photo. It wasn't until years later that he would start hosting American Idol, interviewing stars, producing television shows, and owning a radio talk show.
Snoop Dogg
Snoop Dogg shared an incredible prom photo of him and his high school sweetheart at their dance. The woman pictured with him, Shante Braudus, would later become Mrs. Snoop Dogg. He captioned the photo, "Happy Anniversary. Been a1 from day 1".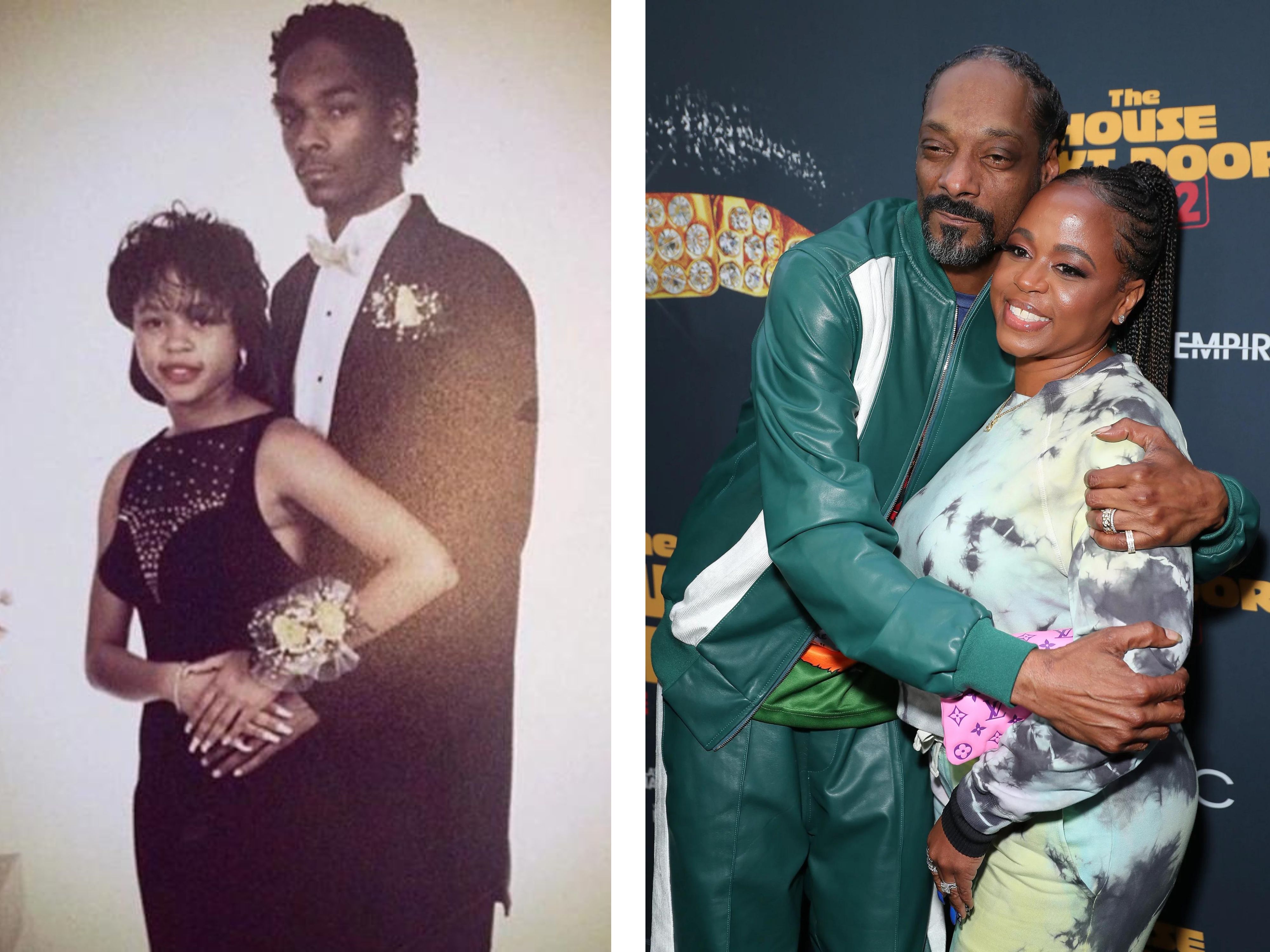 Snoop was known as Calvin Cordozar Broadus Jr. before he became one of the best-known rappers and songwriters of the west coast rap scene. The young man married his prom date in 1997 and they've been together ever since!
Taylor Swift
Taylor Swift and her prom date matched in all white outfits. She had already started her climb to fame by the time these photos were taken at her high school dance. She began her singing career when she was only 13.
The family moved to Tennessee so she could pursue her country music career during high school. This photo perfectly encapsulates what prom is. The awkward pose, matching outfits, and hand corsage are simply *chef's kiss*!
Taylor Lautner
The Twilight star attended his prom long before he played a werewolf on-screen. The young man sported an incredible spiky hairdo that is an absolutely perfect depiction of the early 2000s style.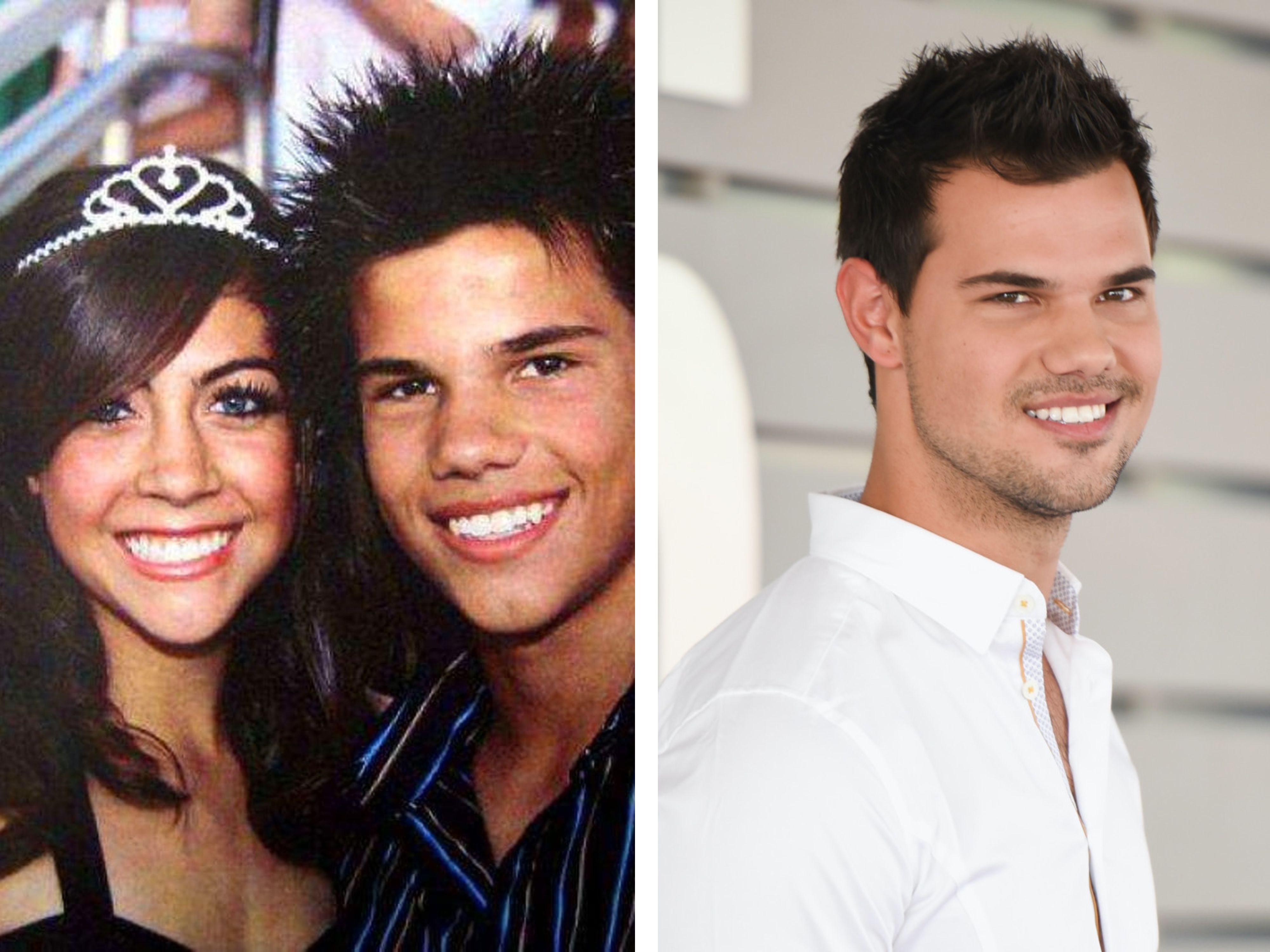 He and his date both displayed sparkling smiles and his date had a tiara adorning her head. Taylor would later go on to act in many films, but he is most famous for his role in the popular Twilight films as well as his role as Sharkboy in Sharkboy and Lavagirl.
Karlie Kloss
Karlie Kloss is an American fashion model who has walked in hundreds of fashion shows from Victoria's Secret to Vogue. The model is 6'2 as is apparent from this hilarious prom photo where she absolutely towers over her date!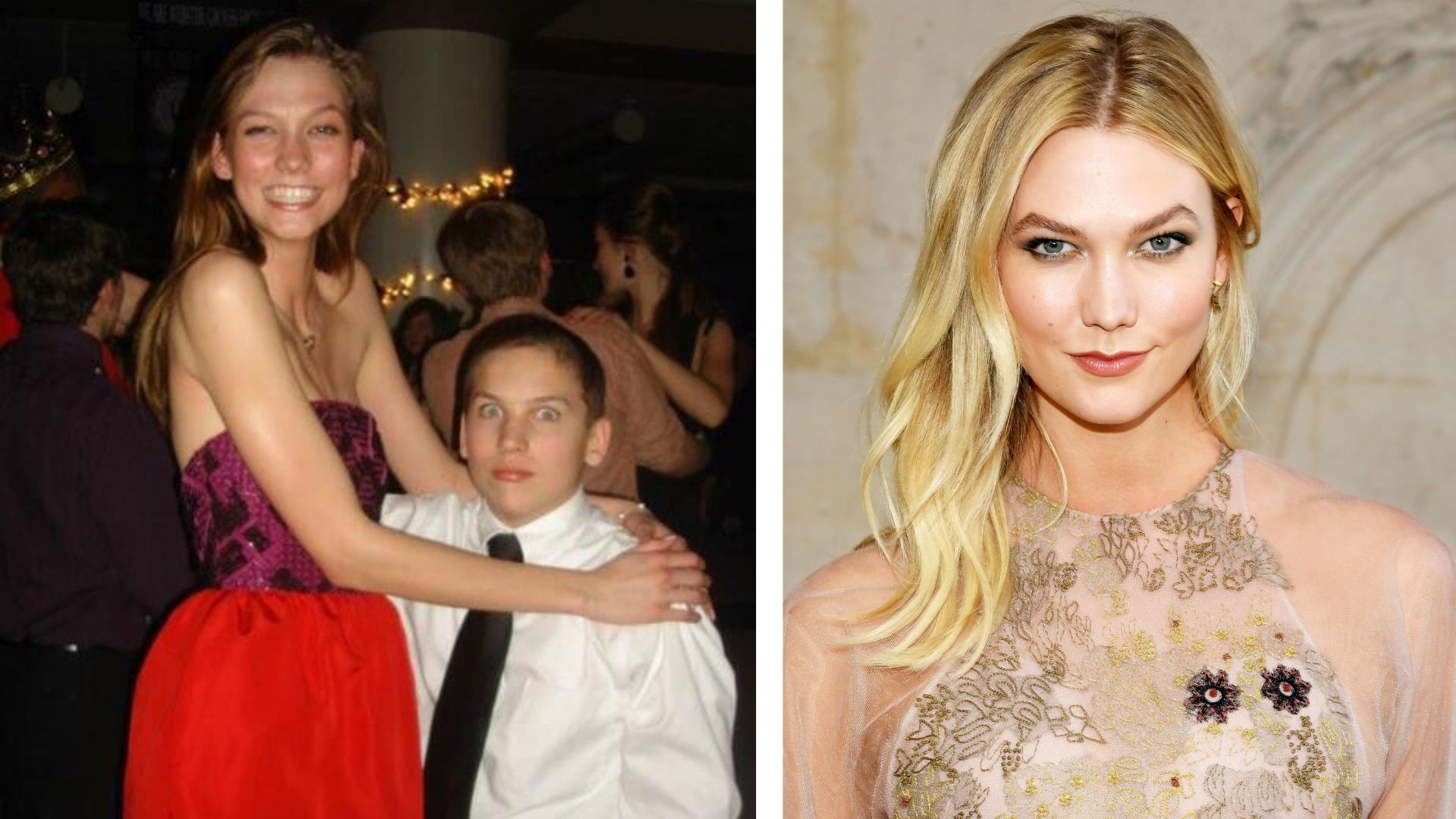 The young man looks just about as shocked as we were! It must be intimidating to look up to such a lengthy stunning model. We would have loved to see them slow dance! This has to be one of our favorite awkward celebrity prom photos.
Adam Levine
Adam Levine is famously the lead singer of the band Maroon 5. The band has had tons of hit songs and garnered fans all around the world. But before he was touring the world and singing to screaming fans he was going to prom like the rest of us.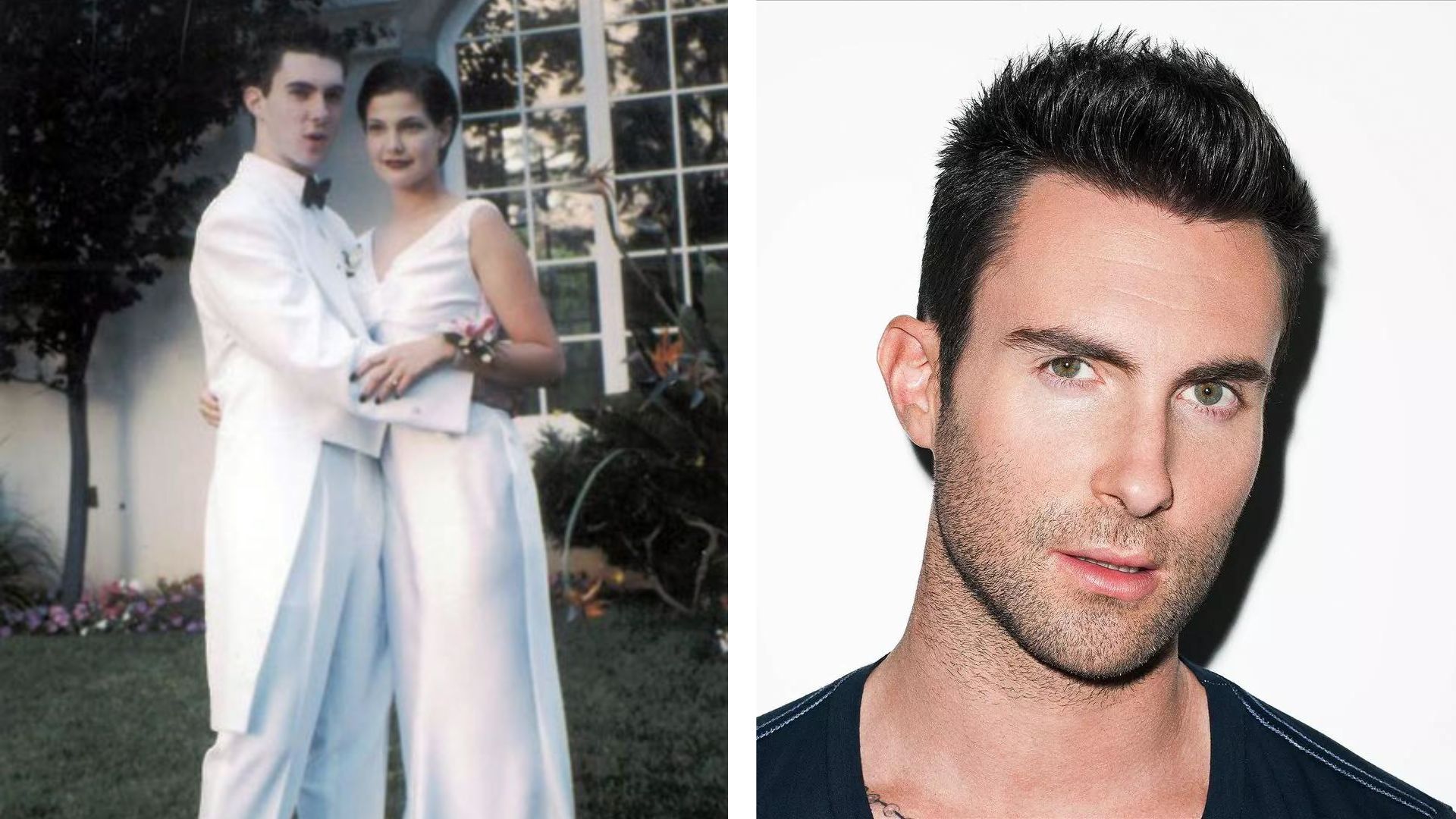 Adam and his date matched in all white outfits. And his skin is so pale in color that he almost matches his suit! He had already become the lead singer of his first band called Kara's Flowers when this photo was taken.
Jessica Alba
Jessica Alba looks almost the exact same as she does in this prom photo. She hasn't even aged a day! Since her high school days she has starred in many movies and T.V shows including Good Luck Chuck, Fantastic Four, and Valentine's Day.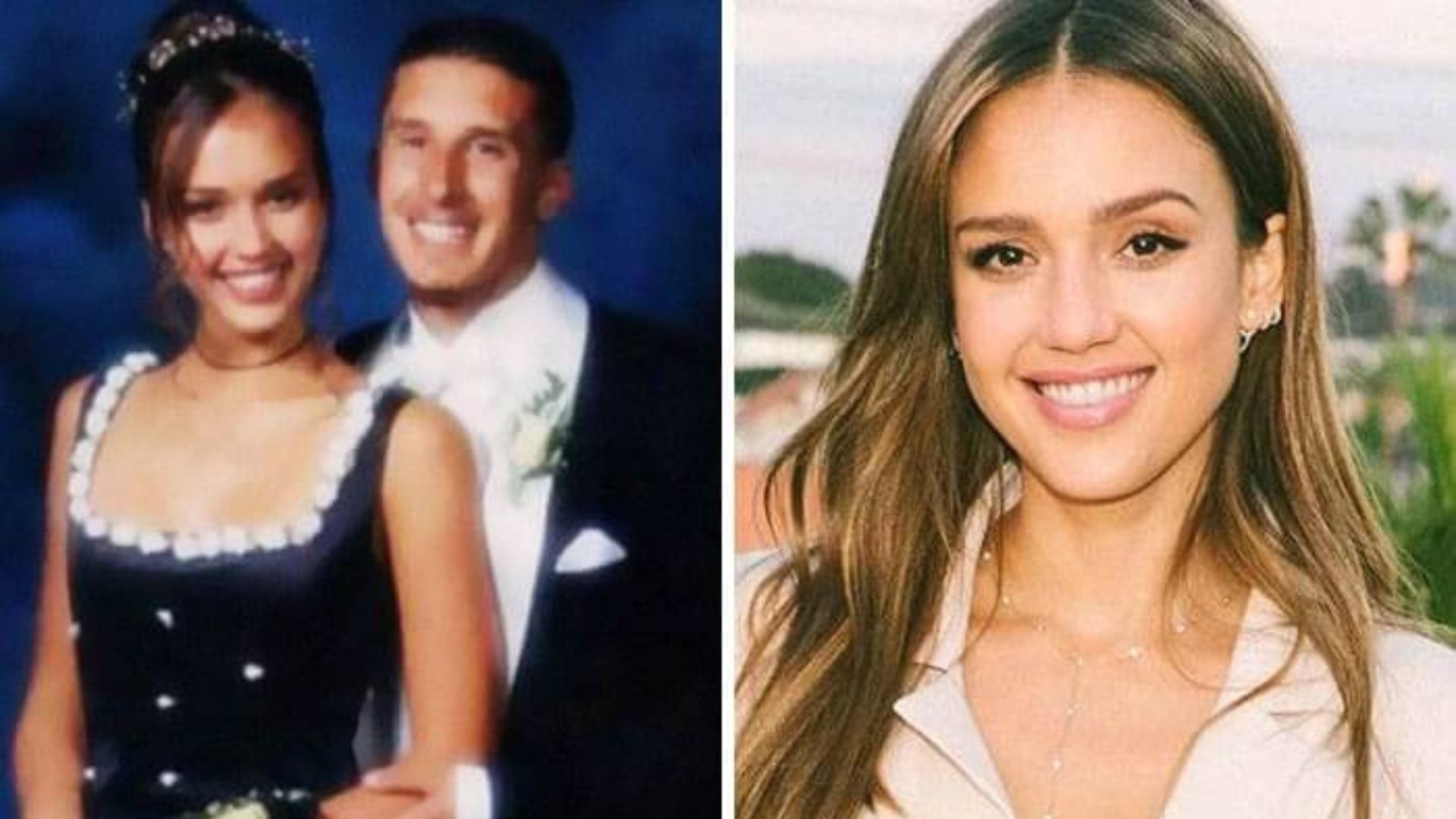 She began acting very young and the beginning of her rise to fame started when she was 19 and starred in a show called Dark Angel. We think Jessica looks stunning in this prom photo and there's actually nothing awkward about it.
Beyonce Knowles
A young Beyonce Knowles looks absolutely radiant in this prom photo next to her date. The singer was already a star by the time she attended her high school prom. She started the group Destiny's Child with some of her childhood friends in 1990.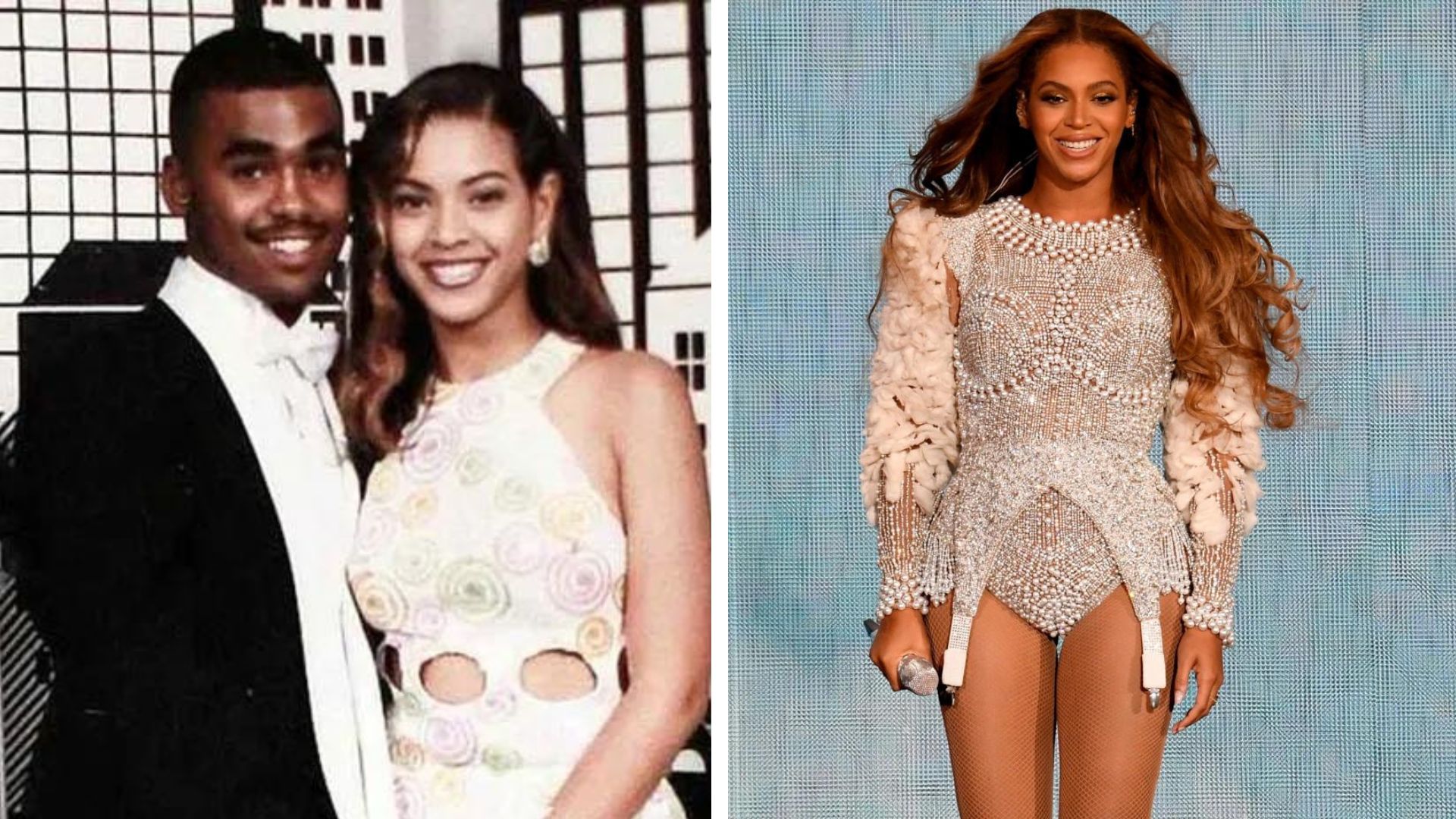 She was only 9 years old at the time! She did eventually leave the girl group and later found fame on her own. Now, she is one of the most iconic performers of all time.
Josh Hutcherson
The young actor has been on screen since he was very young. His first role was in the film House Blend in 2002 when he was only 10 years old. He gained most of his notoriety from the Hunger Game films starring alongside Jennifer Lawrence.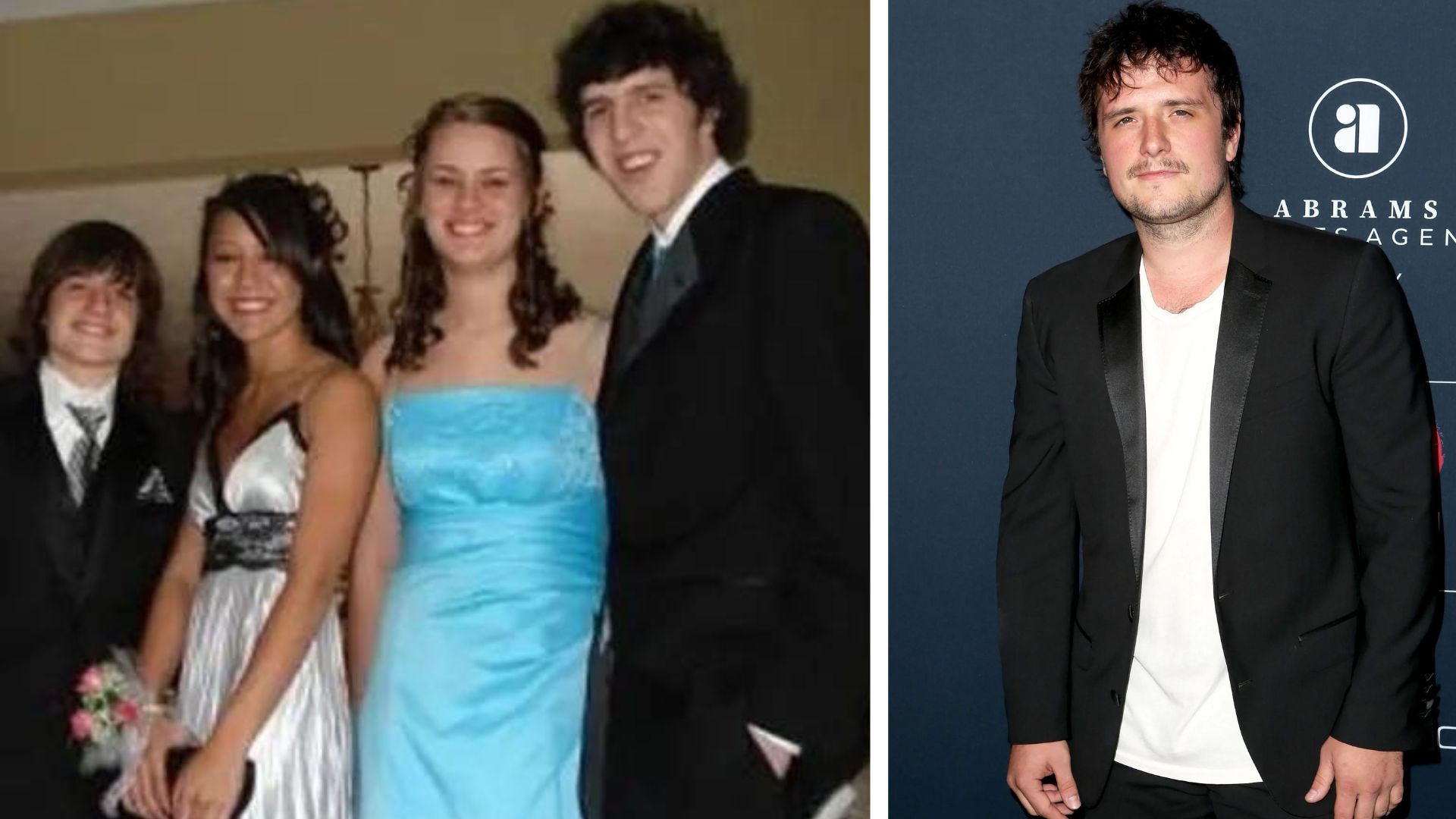 So, by the time this perfectly awkward prom photo was taken, the young man was already working as an actor. We have to appreciate this wholesome image of the young star next to his friends at prom.
Olivia Holt and Luke Benward
Olivia Holt and Luke Benward are Disney stars that have starred in a few movies together. At the time of their prom, the two were actually dating so they attended together. Too cute!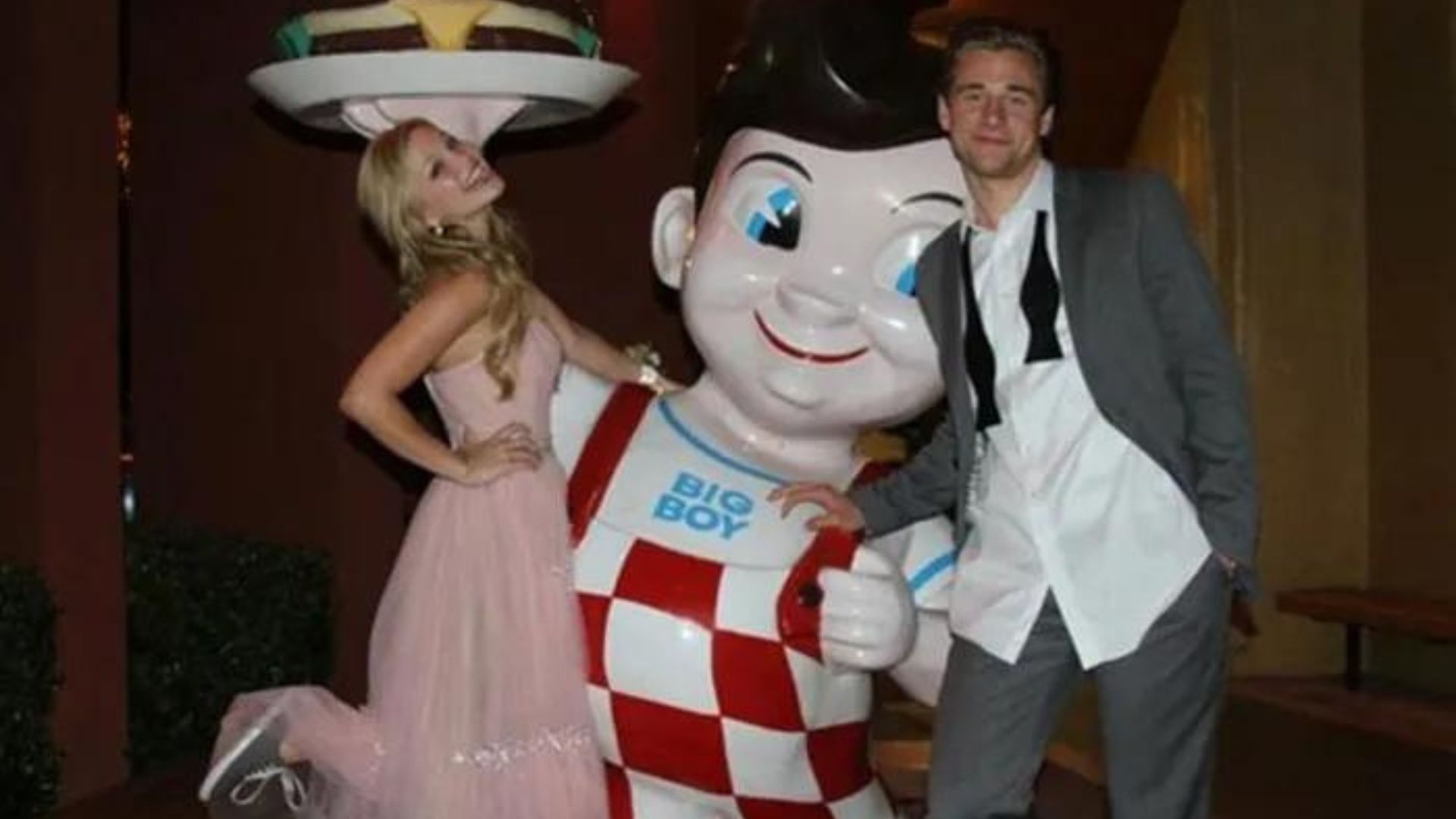 Posing with the Big Boy statue in all the prom attire is a perfect depiction of the after prom party. We notice that Olivia has opted for sneakers instead of heels as well. We're sure this was a fun memory for the actors to share together.
Shailene Woodley
Shailene Woodley's prom was in 2009 at the height of the side bang popularity. It was also the beginning of the "selfie". Shailene is rocking the classic side bang look alongside her prom date is this classic prom selfie.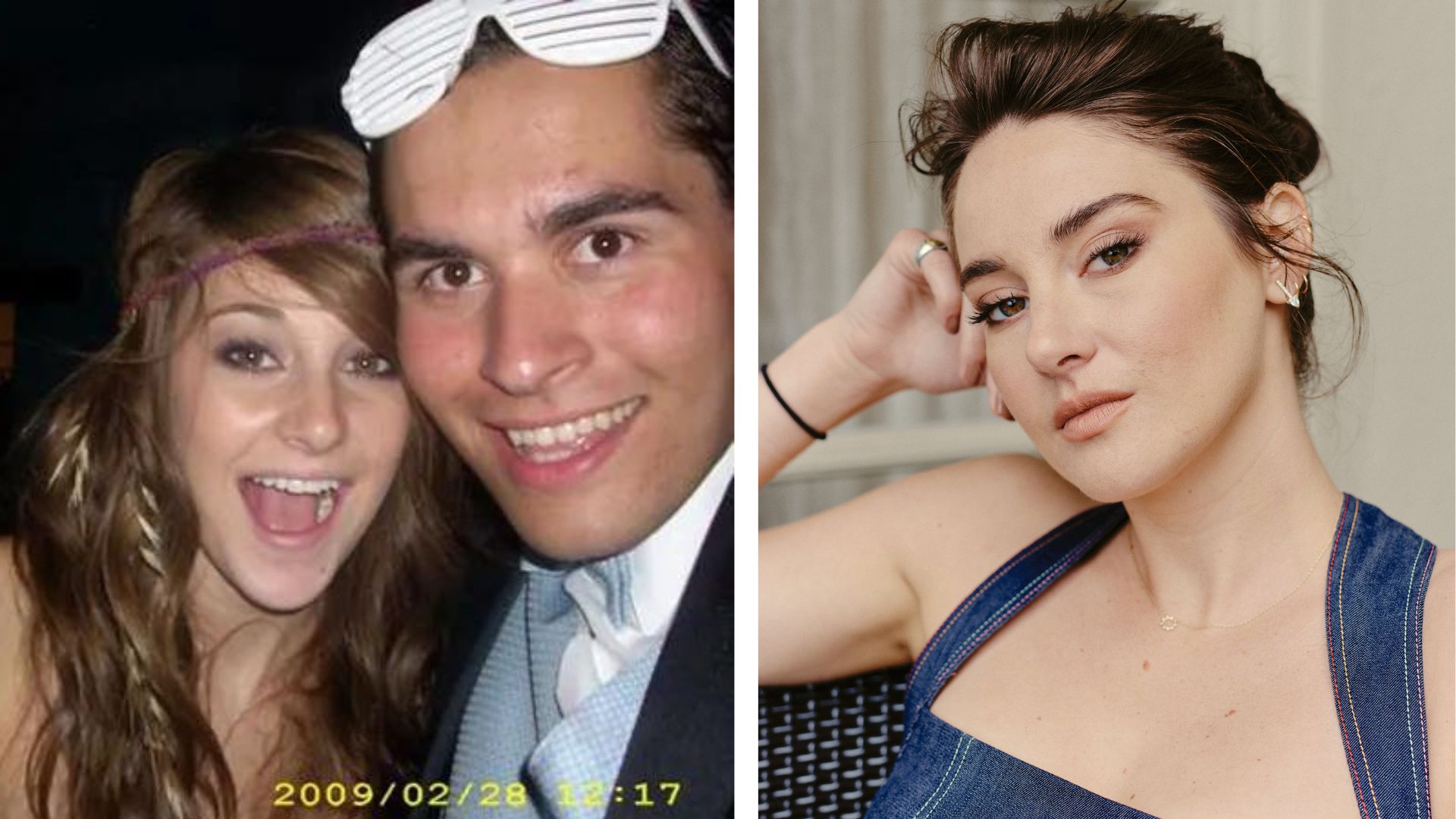 The young lady in this photo has gone on to play some amazing characters. She has starred in many films and shows from The Fault in Our Stars and The Divergent Series to Big Little Lies and Adrift.
Bruce Willis
Even the famous Bruce Willis has some awkward prom photos on display on the internet. The actor is basically unrecognizable in this image. This high schooler had no idea that he would become one of the most well-known actors of all time.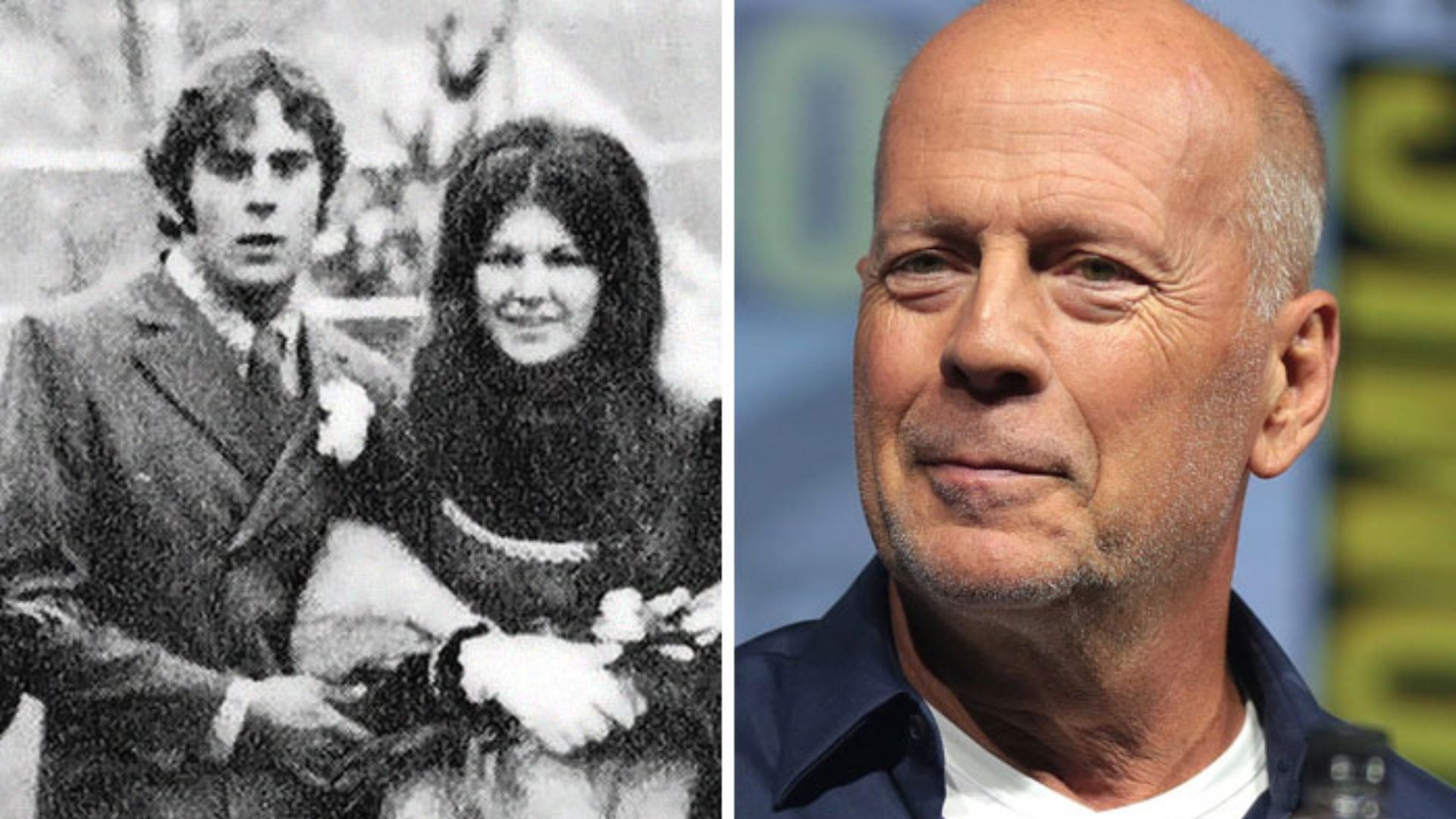 From Die Hard to The Sixth Sense he's played in many thriller and action films over the years. He's well known for his hard-edged characters, but the high scholar in this photo looks just as lost as the rest of us were at that age.
Natalie Portman
The beautiful Natalie Portamn looks slightly unsure of herself in this prom photo. But we have to appreciate this classic prom look. The sea-foam green sparkly dress paired with the shawl around the shoulders is perfect for the time.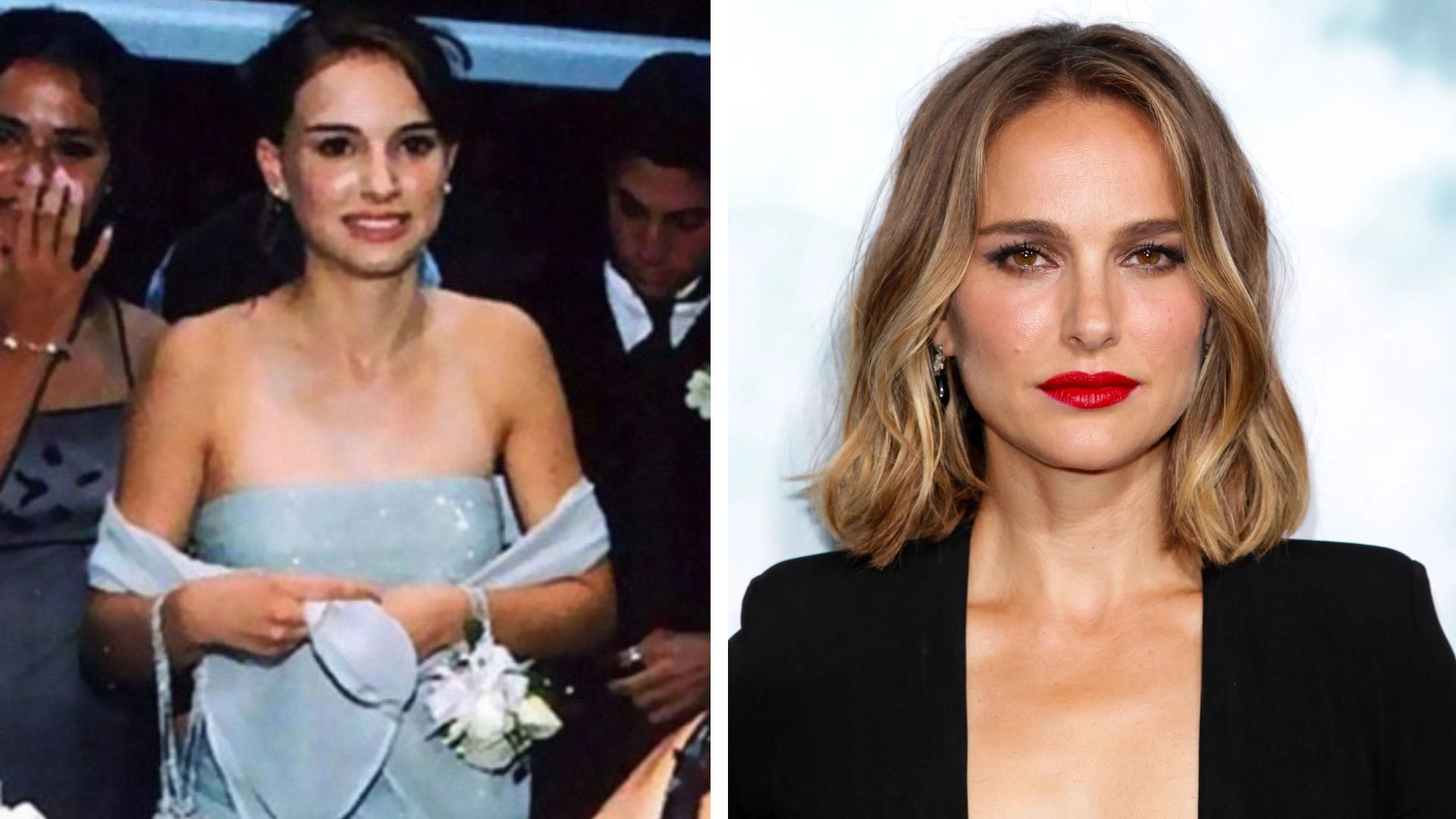 And the corsage to match is a sure sign of a well put together prom outfit. Now, Natalie spends her time acting in many different kinds of roles. Perhaps most famously, she starred in The Black Swan.
Justin Timberlake
Justin Timberlake is a man of all trades. He sings, dances, and acts! But before he was rocking the frosted tips in the boy band NSYNC, he was rocking this prom look. The nervous smile on his face says it all.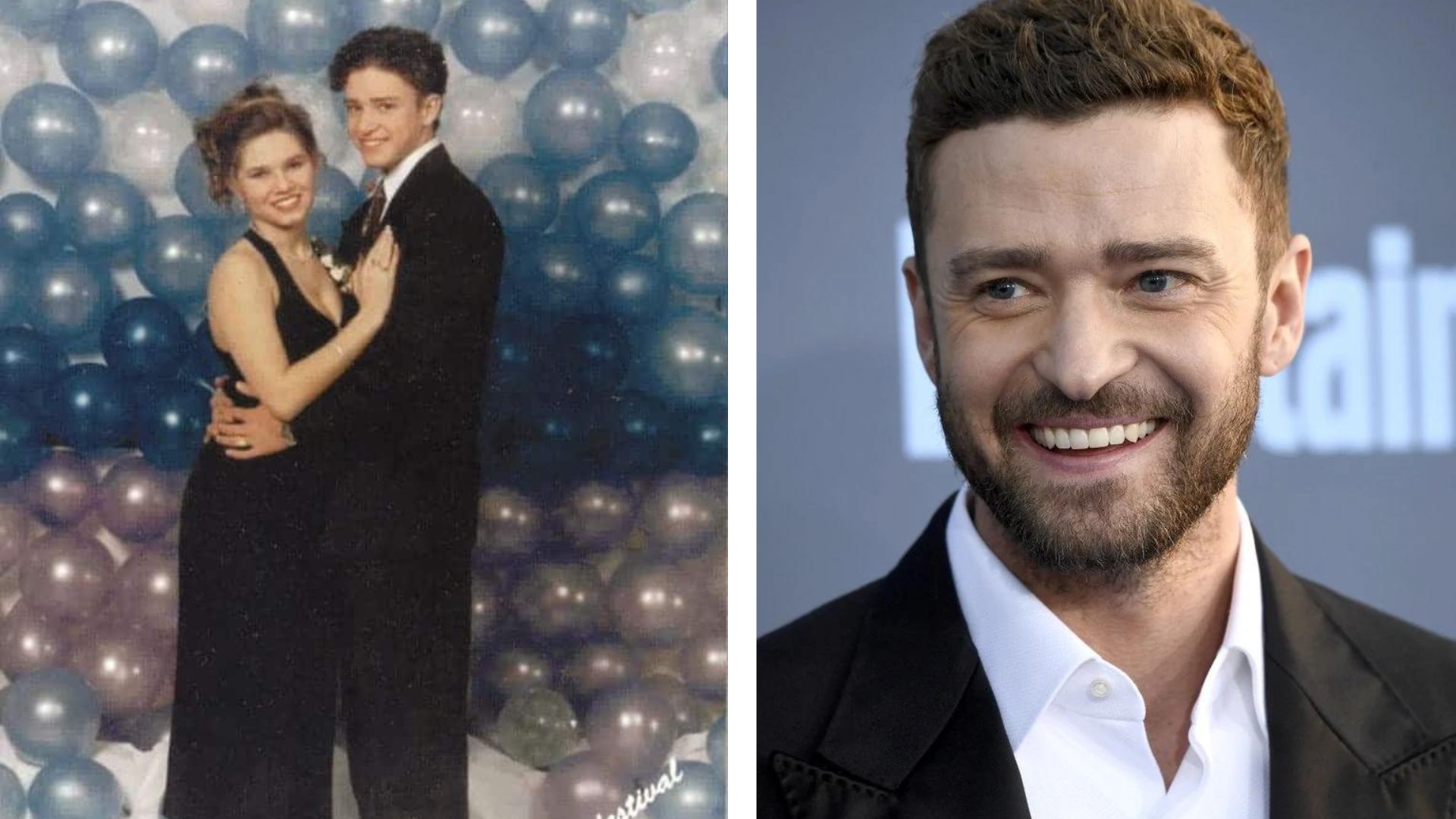 He's all nerves in this wholesome prom photo. Now the singer-songwriter and actor spends his time performing and selling millions of records all over the world.
Elizabeth Banks
I almost didn't recognize the stunning and talented Elizabeth Banks in this prom photo. She was fittingly crowned prom queen on her high school prom night. And she went on to grace the big screen with tons of infamous roles.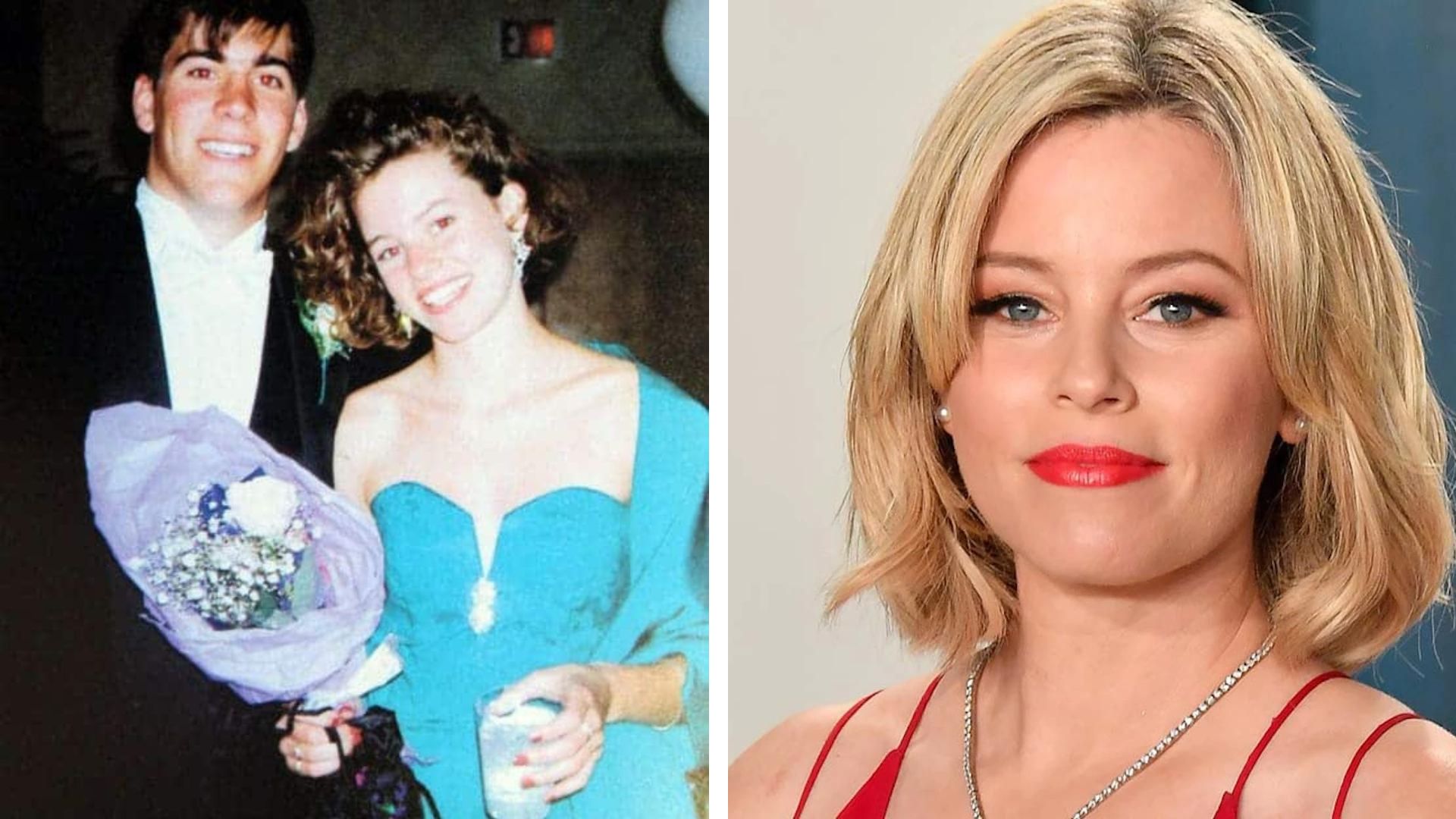 We must admit that Elizabeth is not at all awkward in this gorgeous prom photo. She and her date look happy and have a youthful exuberance that can only possibly emanate from a proud prom king and queen.
Meg Ryan
Before Harry met Sally, Meg Ryan attended her high school prom with a date she seemed to adore. This photo is super sweet. Meg is looking at her date the way everyone wants to be looked at.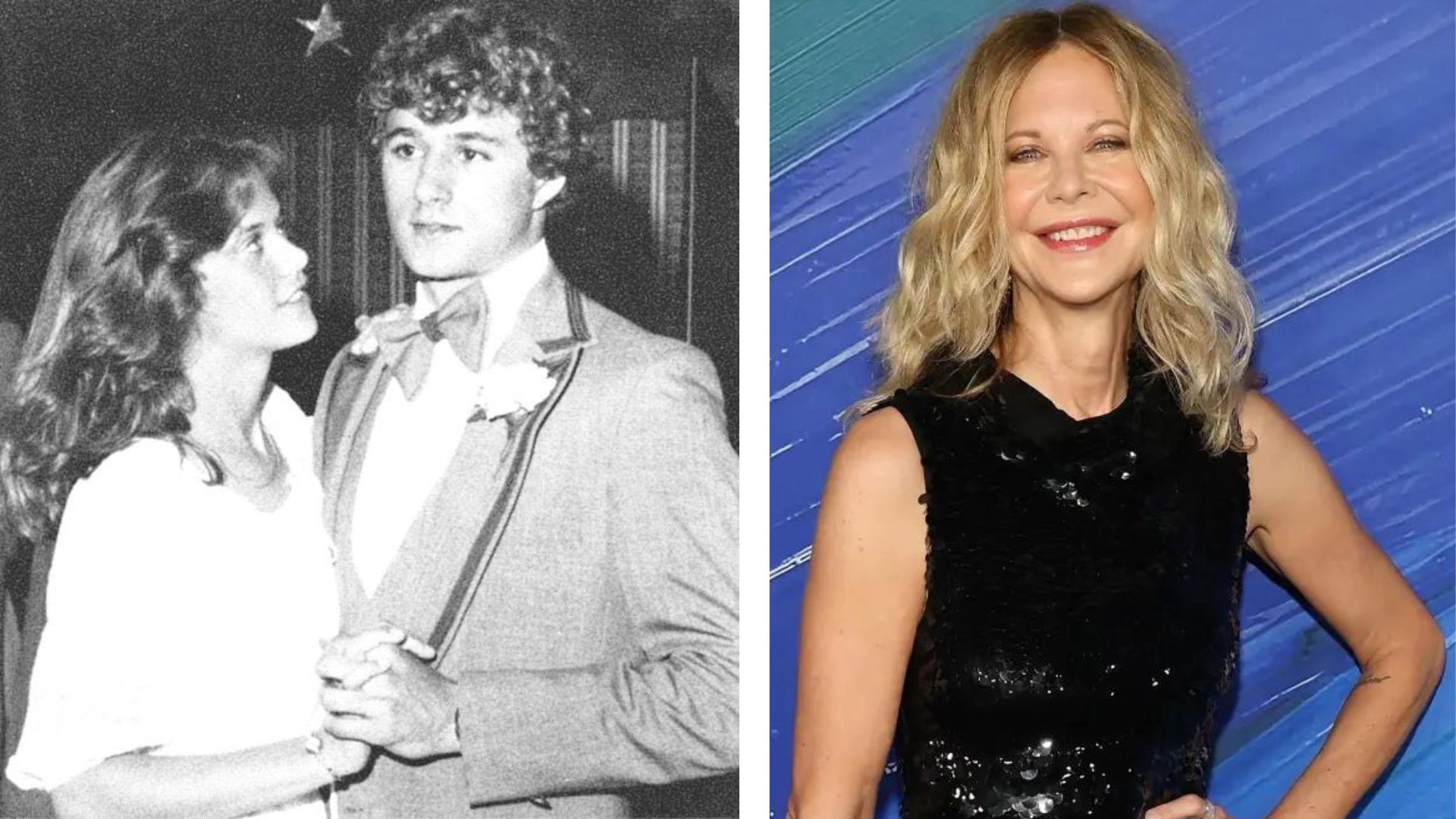 Pure adoration! Meg Ryan now rocks blonde hair and is famous for tons of films. Most notably, When Harry Met Sally, Sleepless in Seattle, You've Got Mail, and Top Gun. If this photo is any indication, Meg had the lustful romcom gaze down before her roles in these romance films!
Khloe Kardashian
The youngest of the three Kardashian sisters didn't get the chance to attend her own high school prom because she was home-schooled. However, she did get the opportunity to attend a prom in 2019 when she accompanied a fan to his senior prom.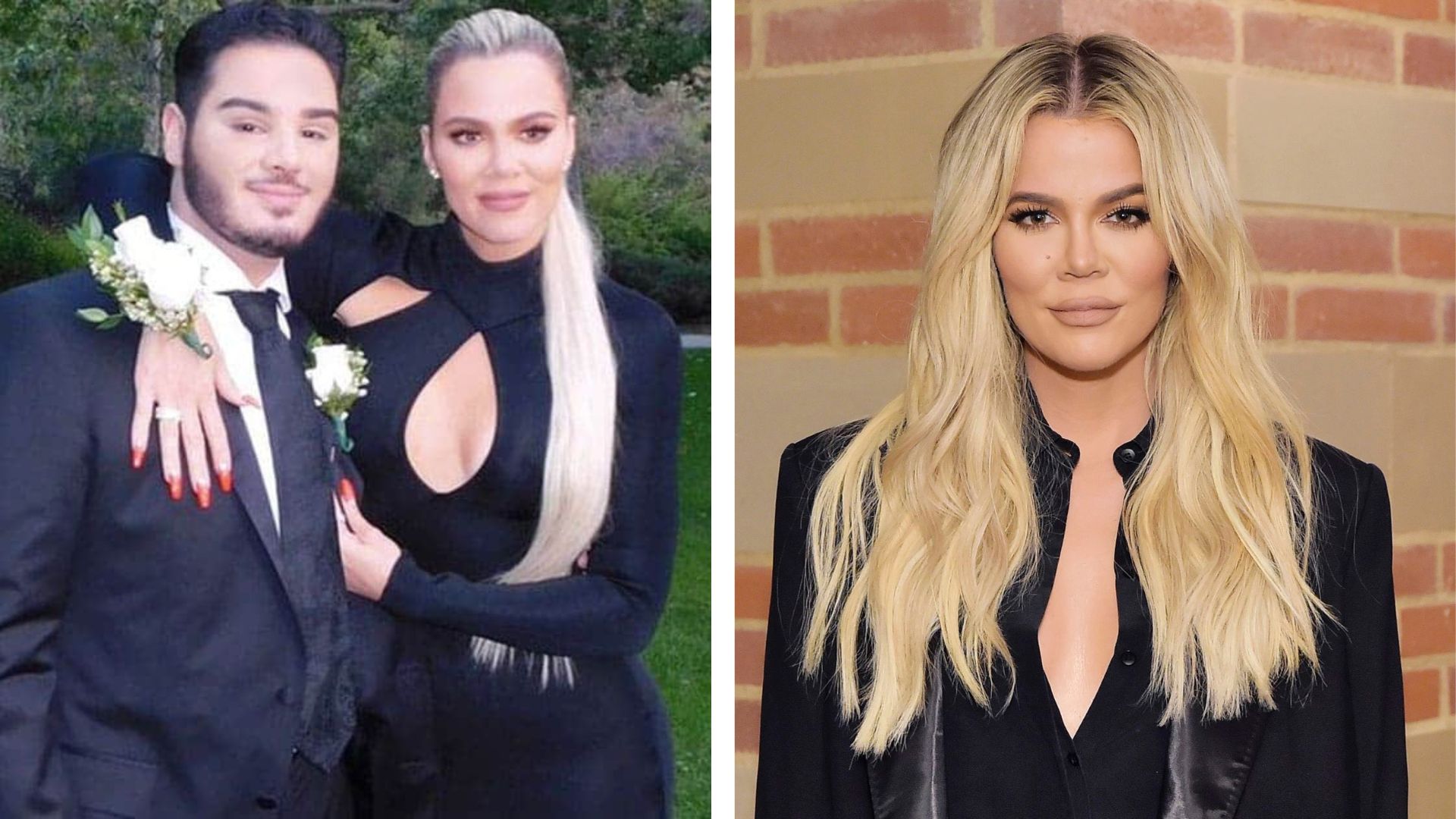 She made the young man's night who was a superfan of hers! When she left the dance she told cameras that she now has "a great memory of what prom is supposed to be" so both parties got a magical prom night!
Sandra Bullock
The stunning actress sports a sparkling smile as she dances with her prom date. The young Sandra has become one of the most famous and versatile American Actresses of her time and has starred in tons of different roles.
She's played in romance movies, comedies, action thrillers, and dramas. Her roles in The Blind Side, Bird Box, Crash, and more have earned her many acting awards. We're sure her prom date felt lucky to accompany her to the special dance.
Bindi Irwin
Bindi Irwin is the daughter of the beloved late Australian animal lover and zookeeper, Steve Irwin. The young lady has followed in her father's footsteps in becoming the owner of the Australia Zoo. She is only 24 years old so this prom photo is not all that old!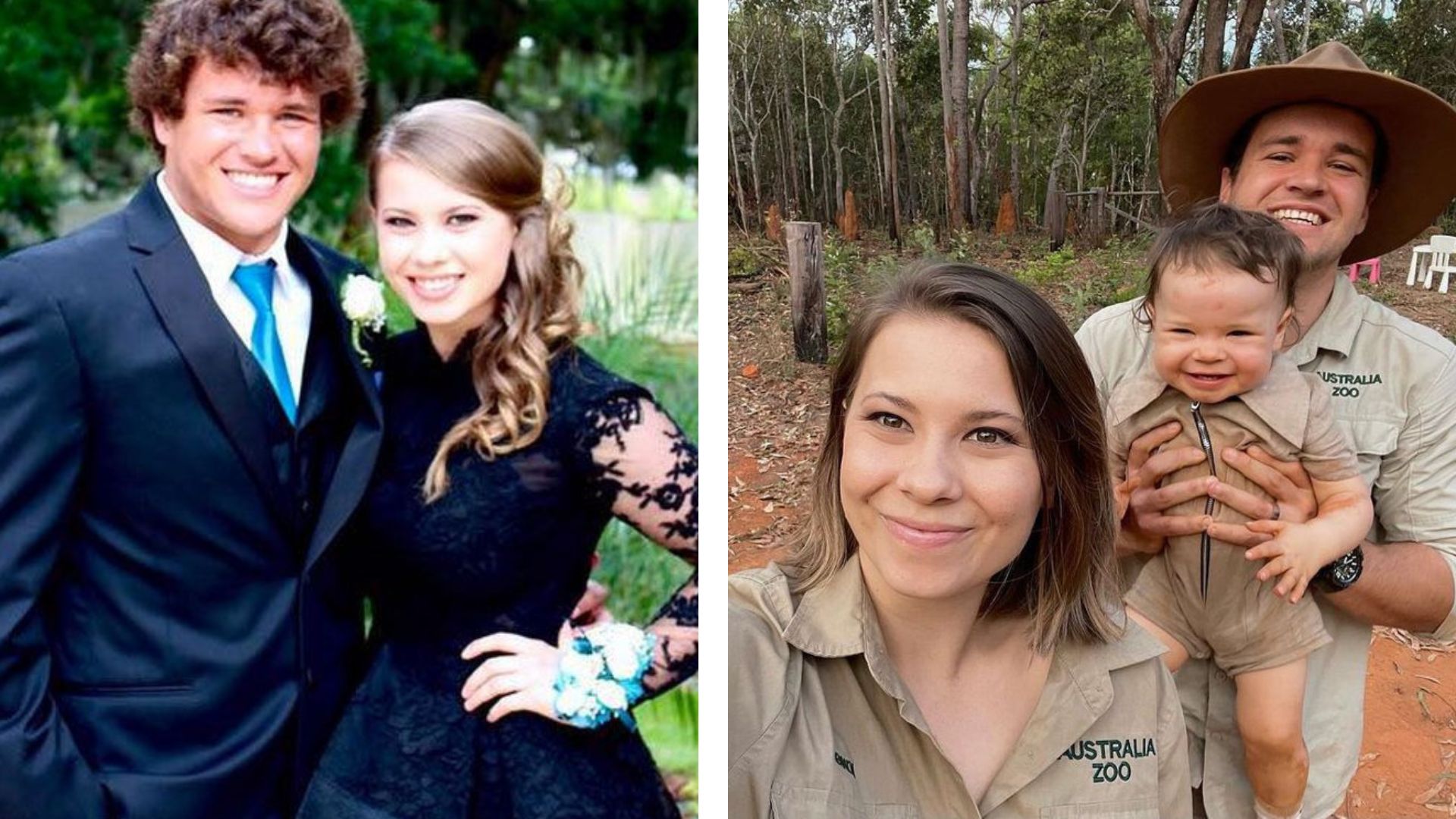 She stated that she felt like "a real life Disney princess" on her prom night. The man next to her is Chandler Powell who is now her husband and father to their daughter. This young lady got her perfect prom experience and we think her dad would be so proud!