Top Travel Spots in All 50 American States
Spring is here, making it a great time to go out and take a much-needed road trip. Every U.S. state is one of a kind and offers something to visitors of every stripe.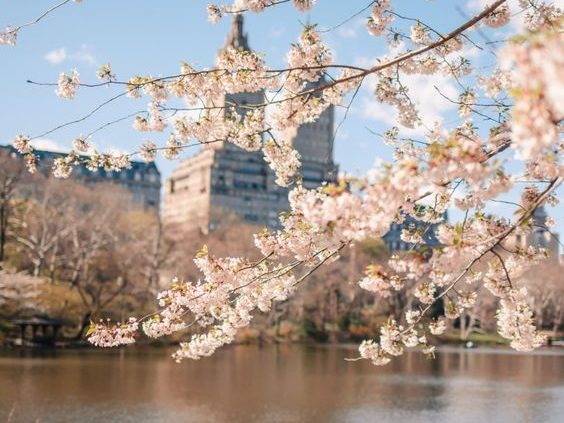 You'll find the top destinations for every state on this list. Read on, and feel free to include any of these places on your travel bucket list. 
The Gulf Coast of Alabama
Not many people imagine sandy white beaches when they think of Alabama. But silky white beaches are what you'll see on the Gulf Coast of this gorgeous state. Try driving along Routes 180 and 182 of Alabama State, and you'll see what we mean.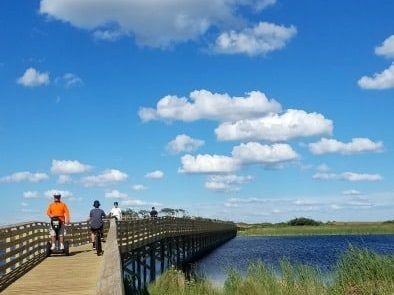 Besides beaches, there is also a slew of restaurants and hotels to visit and enjoy. We recommend paddle boarding, biking, and kayaking at the Gulf State Park. It's a great way to refresh yourself after the cold season.
The Denali Highway of Alaska
The Alaskan landscape boasts the Denali Highway—a gravel road stretching 135 miles. Don't let its desolation trick you into thinking it's not a tourist attraction. It is beautiful despite its seeming lack of people.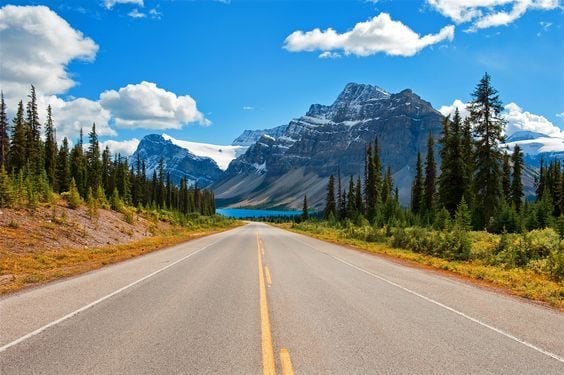 Exploring this road requires camping skills. However, you can also opt to check in any of the countryside roadhouses and lodges specially made for travelers. The serene landscape will give you a sense of peace and stay with you.
Hot Springs National Park of Arkansas
The Hot Springs National Park of Arkansas is a must-see due to its ancient and natural thermal springs. The hiking opportunities, mountain views, and breathtaking geology alone are worth the trip.
These attractions are located in the town center. Historic bathhouses that boast of a rich past are also featured. Expect a positively memorable road trip for you, your friends, and your family.
Venice Beach In California 
A bohemian beach town filled with high-end commercial and residential establishments is an apt description for Venice Beach. If you're a free spirit, this area is the perfect place for you. Enjoy its funky shops and street performers day and night.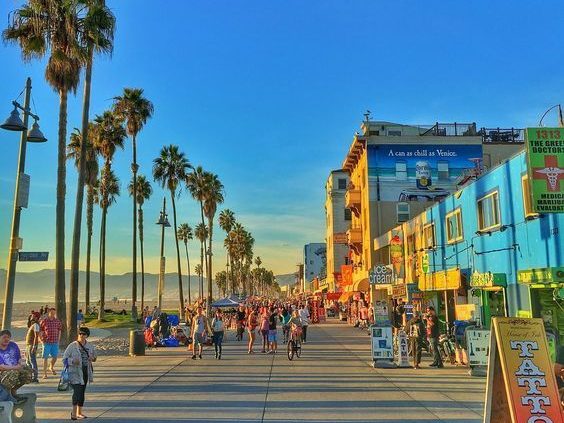 Venice Beach is also a haven for delectable food and cocktails. You can also catch a glimpse of Europe thanks to the Venice canals. 
The Million Dollar Highway of Colorado
Experience the majesty of Colorado's Rocky Mountains via this winding, gorgeous road drive. Expect to enter a time and nature portal while going through this rugged terrain. Explore the mountain town of Ouray and enjoy its ice-climbing park and historic streets.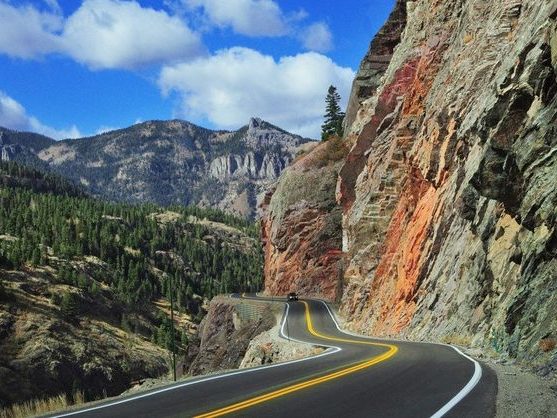 The Ouray Hot Springs, a geothermal mineral heated pool, is situated outside of Ouray—perfect for those who want to relax and soak. Silverton is also a charming little town that is a definite must-see.
The Mystic Town of Connecticut
Mystic is a seaport town that carries a storied history, as it hosted 600 ships dating back to 1784. Now, Mystic offers a slew of sights and attractions.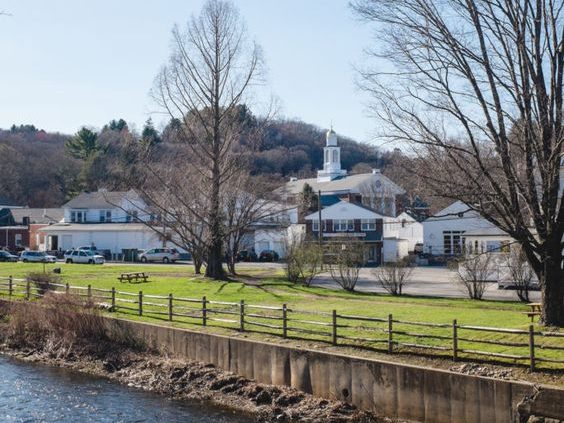 Explore the area's vineyards, cruises, museums, music, markets, and nightlife. As well as soaking up the beautiful atmosphere, you will definitely find something to do and enjoy.
Bethany Beach of Delaware 
If you savor small coastal towns, Delaware's Bethany Beach is a must-see. The area is also famous for its historical gems and boardwalk beach. Explore the Indian River Life Saving Station built back in 1877, as well as the Fenwick Island Lighthouse.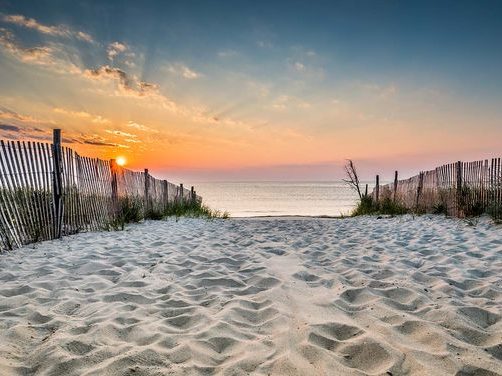 The waters of Bethany beach are perfect for swimming as well as catching some surf. If you're craving the idyllic seaside scene, this should be at the top of your list.
The Emerald Coast Drive of Florida
Florida's Emerald Coast is popular for its beach towns and turquoise waters. This stretch is a must-see if you are in Florida. Imagine running your toes along this shoreline while soaking in the sun's rays.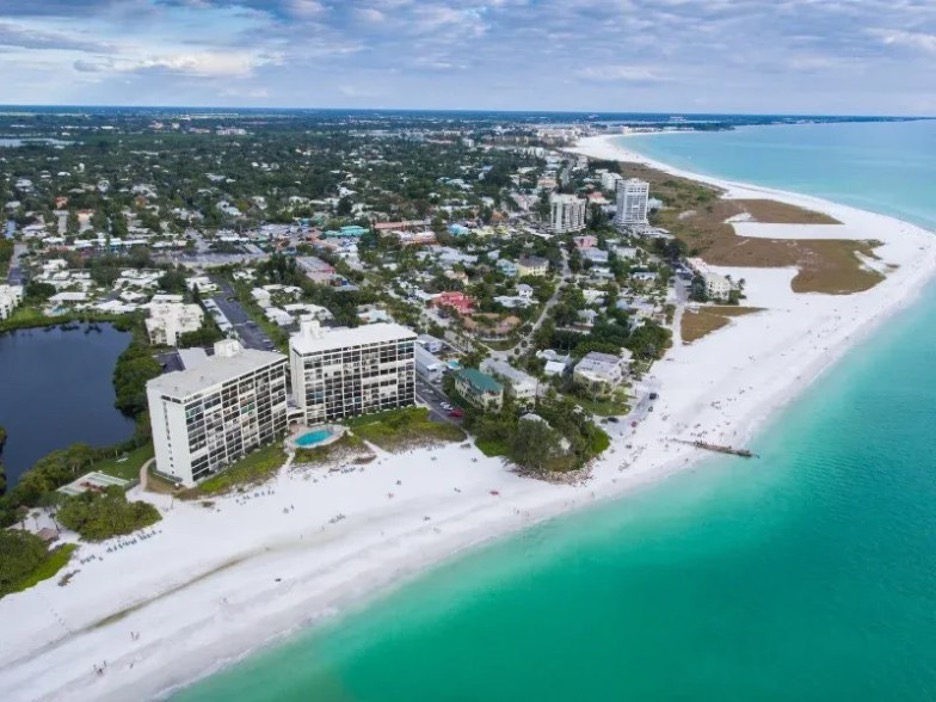 Expect to savor the beauty of Rosemary Beach and Alys Beach. These resort towns have delectable restaurants and beautiful homes. Rent a bike, park, and enjoy everything to your heart's desire.
Georgia: Rock City Gardens
Feast your eyes on the natural wonders of Rock City Gardens, only a few miles away from downtown Chattanooga. The gardens feature upwards 400 native plant species and have gorgeous panoramic views that features seven states.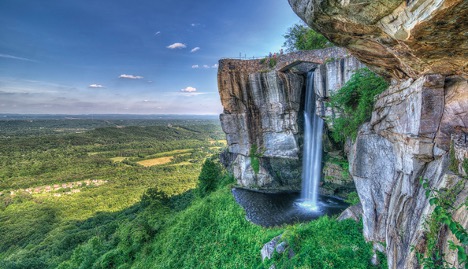 The lookout opened in May of 1932; however, evidence shows that Native Americans inhabited Lookout Mountain at some point.
Hawaii: Hanauma Bay
Of course, you would already have to be in Hawaii for this trip, but assuming you are and have a mode of transportation you would have to visit Hanauma Bay! This marine embayment formed within a tuff ring alongside the southeast coast of O'ahu.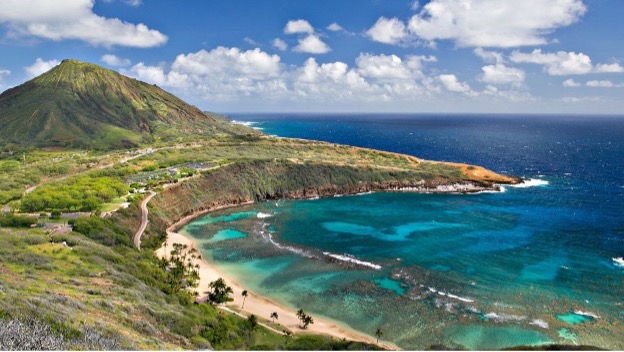 The jaw-dropping reefs beneath the clear blue water are encircled within the striking verdant mountains, and the white sand beach is peppered by tall palm trees. Heaven.
Idaho: Boise to Idaho Falls
Travel to the capital of Idaho for tree-dotted trails, green parks, art deco buildings, and wonderful museums and eateries. From there take the I-84 eat and head towards the Shoshone Falls Park near Twin Falls.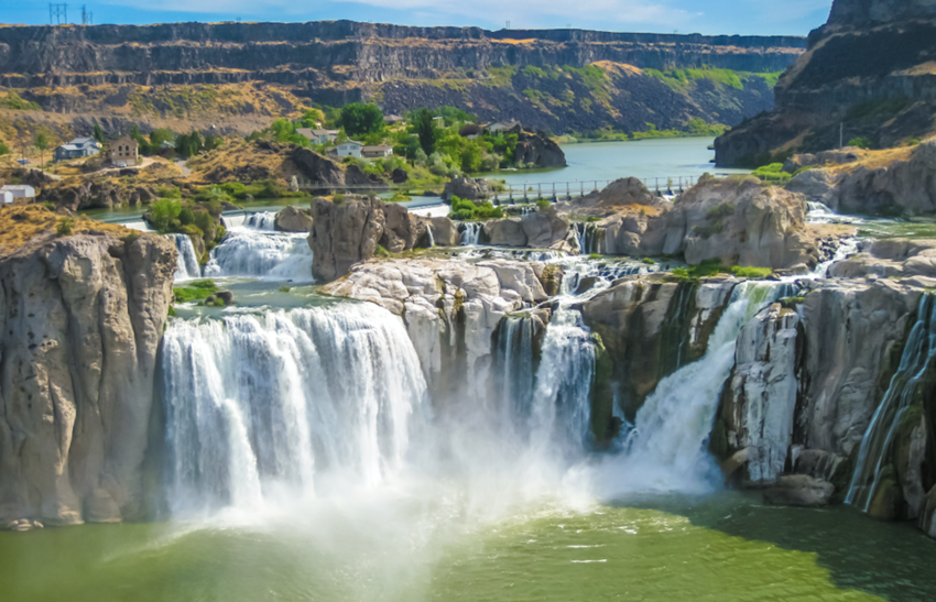 Twin Falls are known as the Niagara Falls of the west for their beautiful cascading waters over dramatic cut stone. End your Idaho trip in Idaho Falls located in Snake River.
Illinois: Starved Rock State Park
A natural wonder of the world, Starved Rock State Park is a sight to see. Located in Oglesby, Illinois, the sandstone canyons formed from glacial meltwater and forms 13 miles of trails.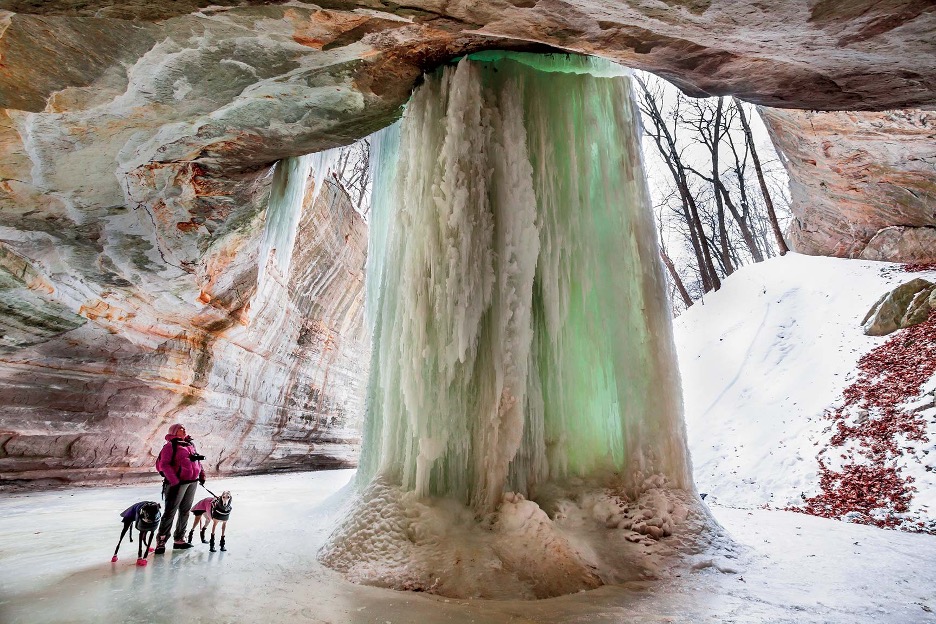 Depending on when you go, the waterfalls will either be cascading and ready for fishing and boating, or frozen in place which is also a sight to see!
Indiana: Dunes State Park
If you find yourself on a road trip through Indiana, immerse yourself in the expansive scenery and outdoor recreation of the Indiana Dunes State Park. One of the most distinctive features of the park is "The Challenge."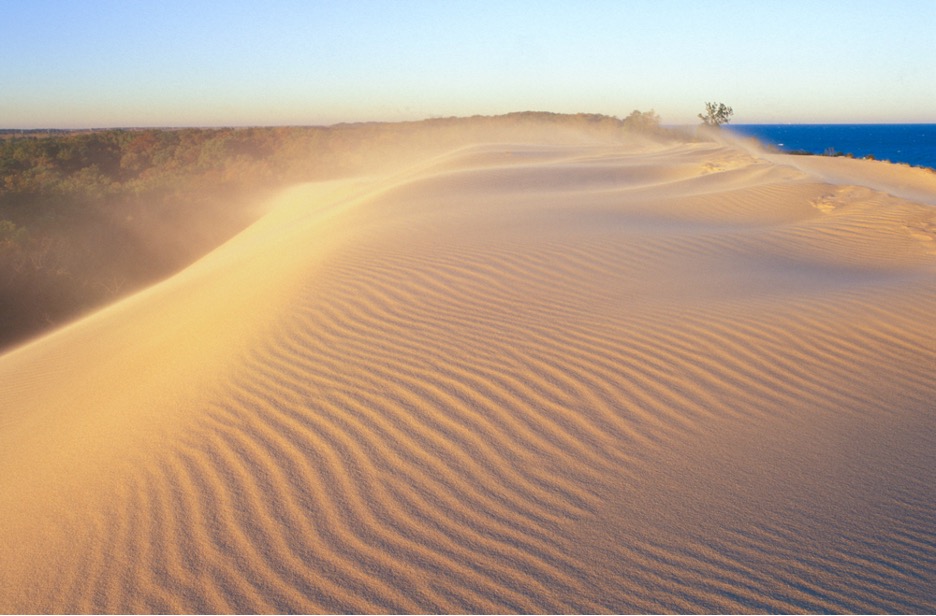 This hike up Mt. Holden is the largest sand dune on the southern shore of Lake Michigan and is classified as a challenge for a reason.
Iowa: Swinging Bridge
If you don't consider yourself afraid of heights, check out the Swinging Bridge in Columbus Junction, Iowa. Also known as "Lover's Leap," the 262 feet long bridge was originally built in 1886 and then rebuilt in 1922.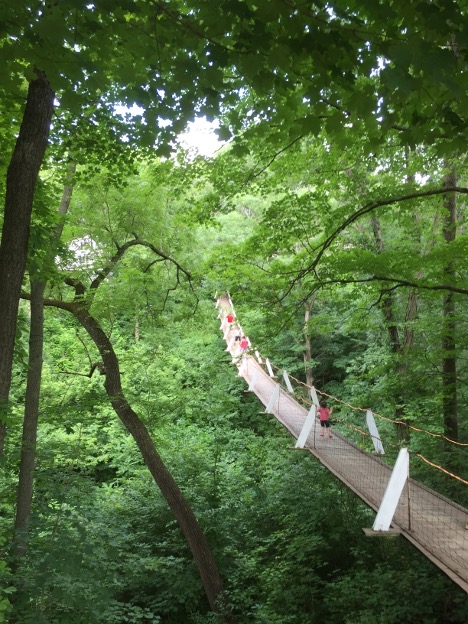 The hike is shorter (about an hour) and when you cross the bridge it really will swing side to side, so height-fearers be warned!
Kansas: Prairie Trail Scenic Byway
Cut through the state of Kansas on the Prairie Scenic Byway for the stunning views and landscape that Kansas has to offer. One of the first stops is the Monument Rocks National Natural Landmark where you'll find rare chalk formations where 80-million-year-old fossils have been discovered.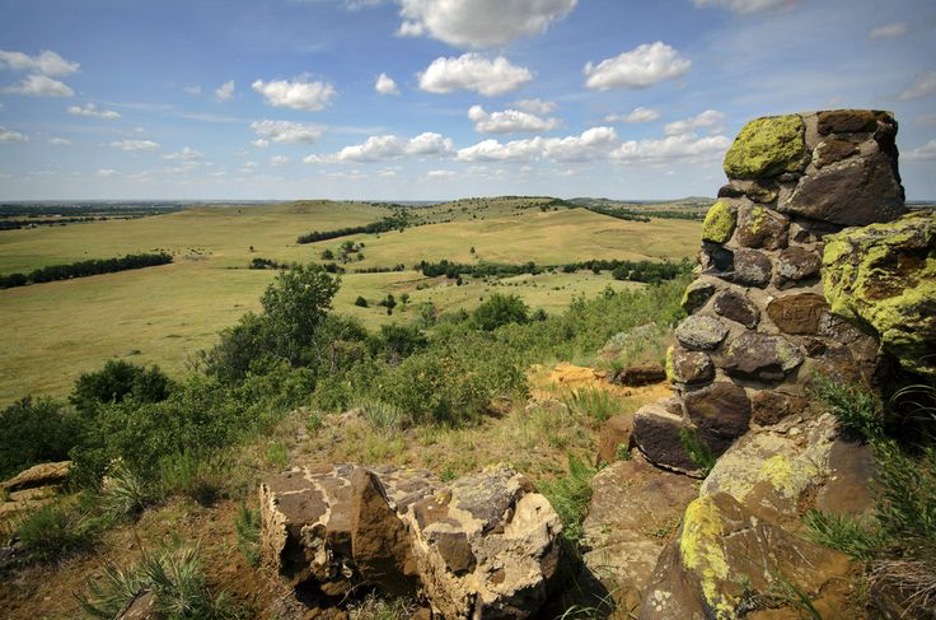 A bit east is the Mushroom Rock State Park, which is aptly named. Stop in Canon as well for a tour of the 2,800-acre Maxwell Wildlife Refuge.
Kentucky: Kentucky Bourbon Trail
The Kentucky Bourbon Trail isn't just for the whisky drinkers, this bluegrass region route has some of the best attractions that Kentucky has to offer. Begin in Louisville, Kentucky's major city and home of the Kentucky Derby.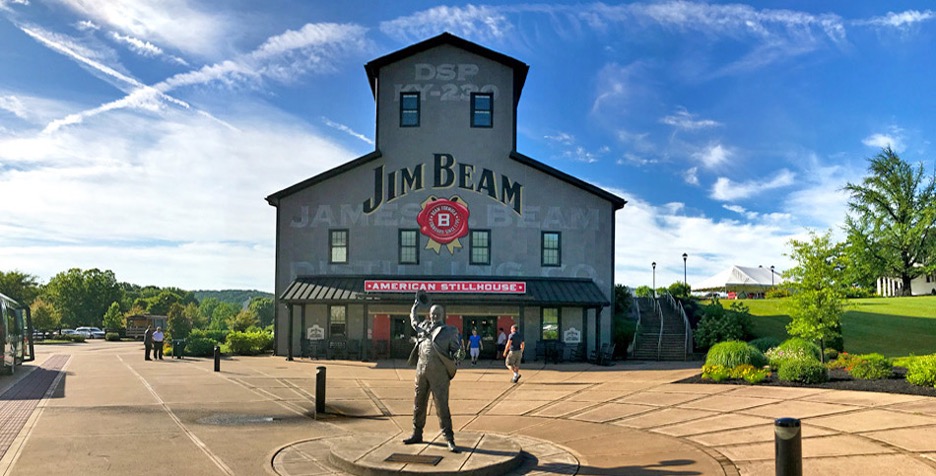 From there, head southwest towards Owensboro, a small city located on the Indiana state border and sample some amazing distilleries.
Louisiana: Frenchmen Street
If you want to still be near the heart of New Orleans but are looking for less of a raucous, try Frenchmen Street, which is walking distance away and contains something for everyone. With its authentic live music and art, it's a must see for New Orleans immersion.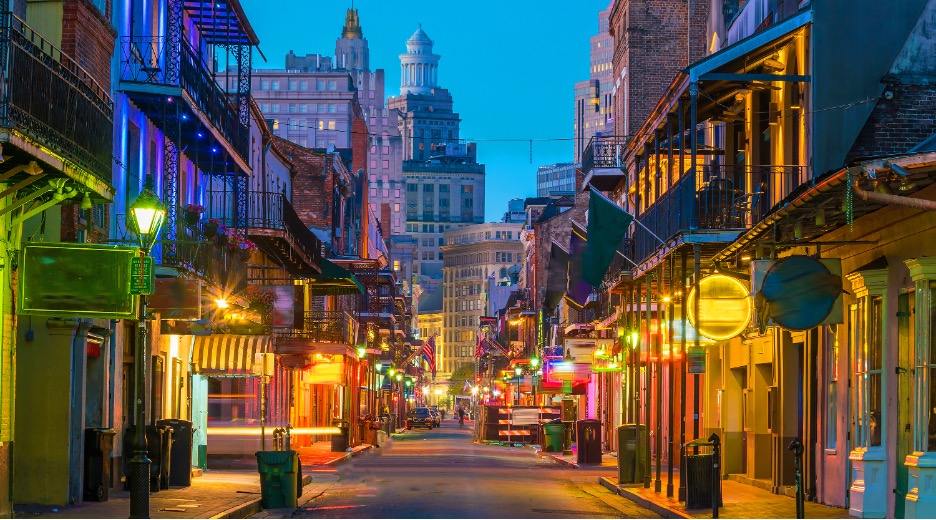 Frenchmen Street also has a rich history and a ton to uncover. For example, the way it got its name is from "six French men who were executed after leading an uprising after Louisiana was ceded to Spain.
Maine: Portland Head Lighthouse
This spot is perfect for history buffs! The historical Portland Head Lighthouse landmark dates all the way back to 1776 when the Town of Cape Elizabeth had eight soldiers posted at the lighthouse to warn their citizens of incoming attacks.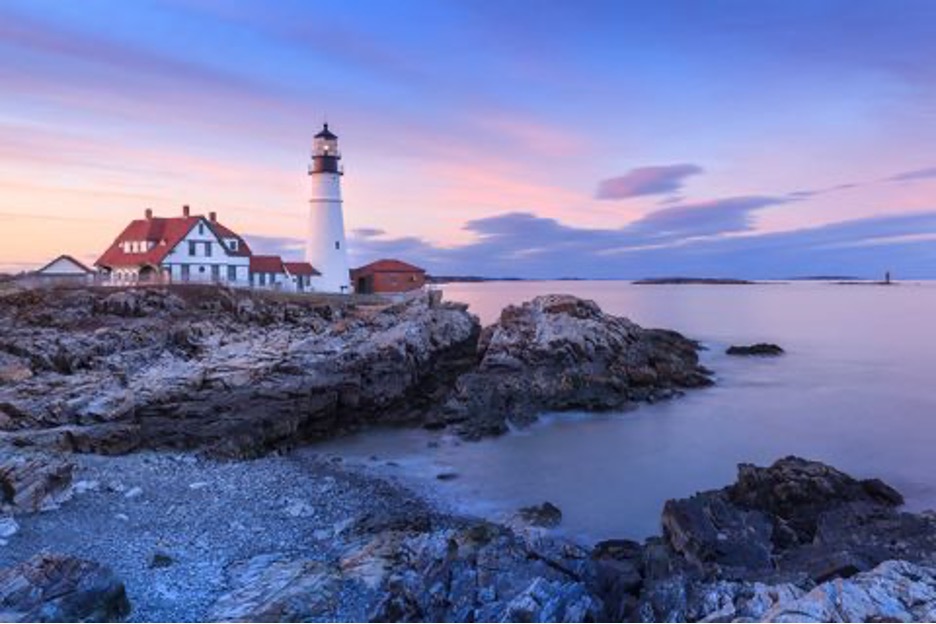 You can also enjoy the beautiful day along the water in Cape Elizabeth along the shores of Fort Williams Park.
Maryland: Assateague Island
For sightly views of beach landscape and wild horses, visit Assateague Island. The wild horses roam around the beach, and legend has it that the horses are survivors of a shipwreck off of the Virginia coastline.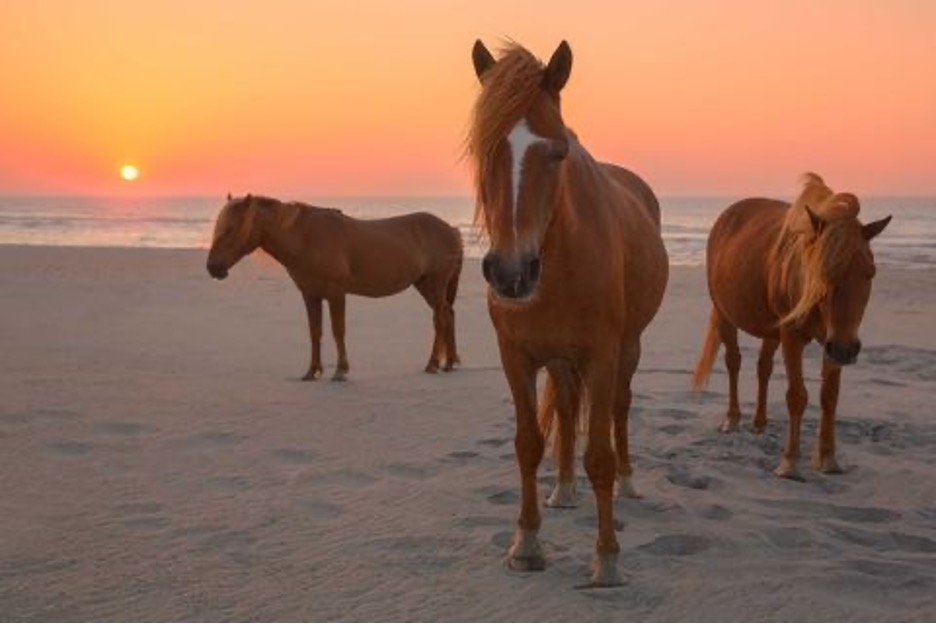 If you do visit, make sure to give the horses a lot of space, as they do not enjoy being approached and you don't want to scare them or take a hoof!
Massachusetts: The Freedom Trail
Boston is one of the most significant historical cities in the United States, so it makes sense that there is a three-mile self-guided tour trail to explore. The Freedom Trail has 16 monuments that includes graveyards that contains graves of notable signers of the Declaration of Independence.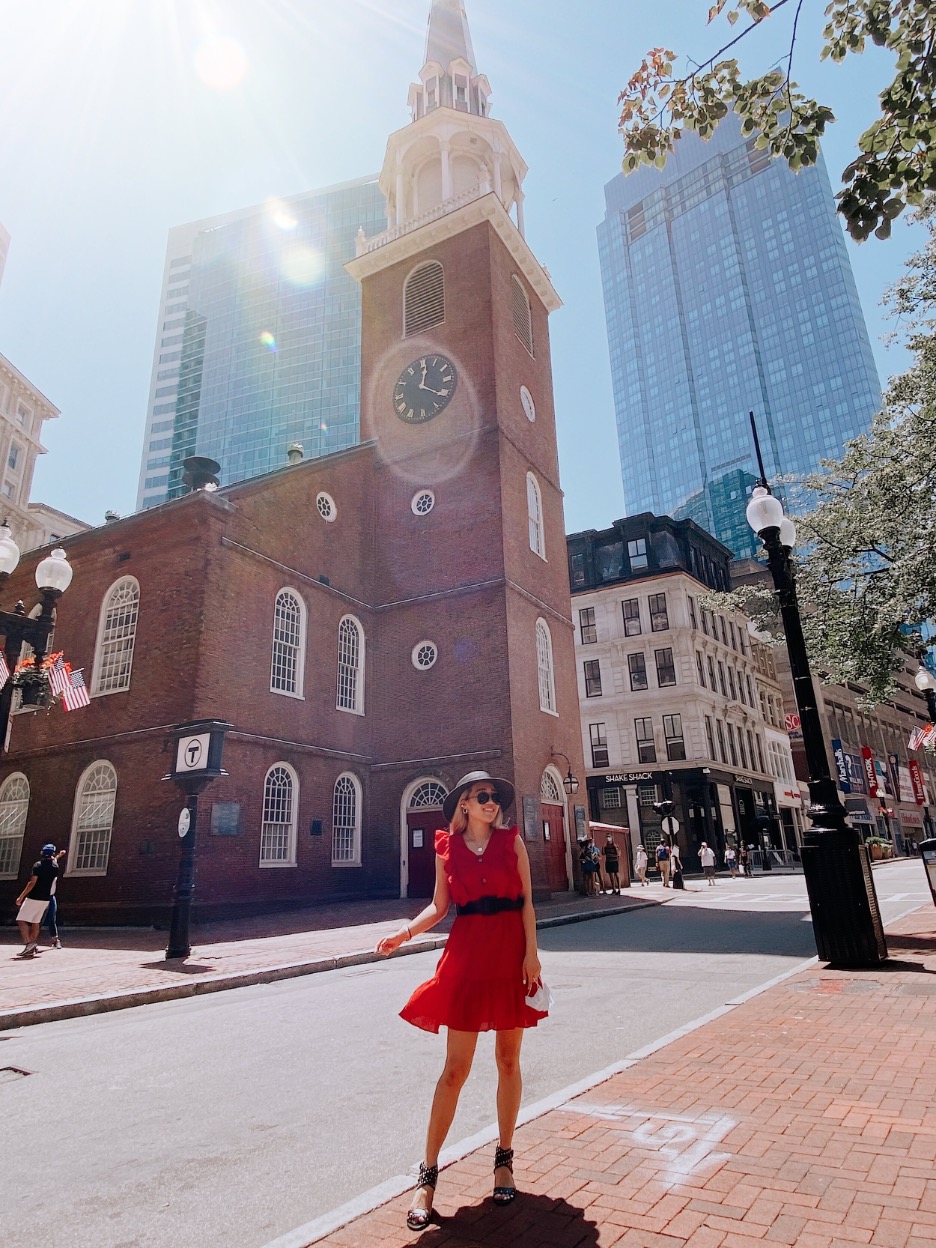 If you're a history buff and visiting the graves of John Hancock and Samuel Adams, get yourself on the Freedom Trail.
Michigan: Pictured Rocks National Lakeshore
Known for its picturesque and multi-colored rock cliffs, the Pictures Rocks National Lakeshore is a sight to behold! The extraordinary sandstone formations contrast beautifully against the multi-hued water and trees that line the cliffs.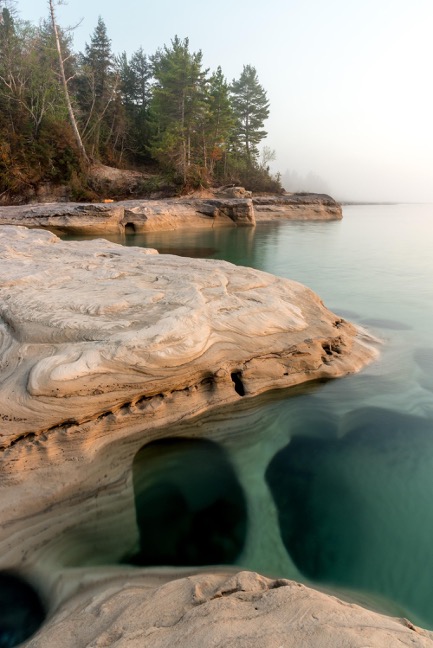 While there, don't forget to walk through the white birch forest in Twelvemile Beach for one of the more gorgeous hikes you'll take in your life.
Minnesota: Minneapolis Sculpture Garden
For the art fans, make sure you stop by the Minneapolis Sculpture Garden to see 40 permanent art installations along with several temporary installments. The sculpture garden spans across the 11-acre park and is one of the largest urban sculpture gardens in the entire country.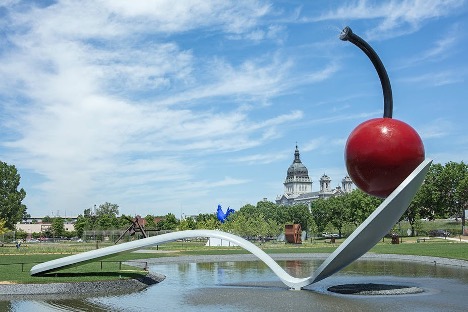 There is a lot to look at so wear your sneakers and bring your camera for an experience you won't soon forget.
Mississippi: Elvis Presley's Birthplace
Tupelo, Mississippi is the birthplace of one Elvis Presley, you may have heard of him…the King of Rock and Roll and all that. The small two-bedroom house was built by Elvis Presley's father, grandfather, and uncle.
The home is a part of the Mississippi Blues Trails stands as a museum and is preserved to honor the American musician and his impact on American culture.
Missouri: The Gateway Arch
This Giant Arch is quite literally record-breaking and stands at 630 feet. It is made entirely out of stainless steel and is in the shape of a catenary arch. It is the tallest arch in the world and is also the tallest man-made monument in the Western Hemisphere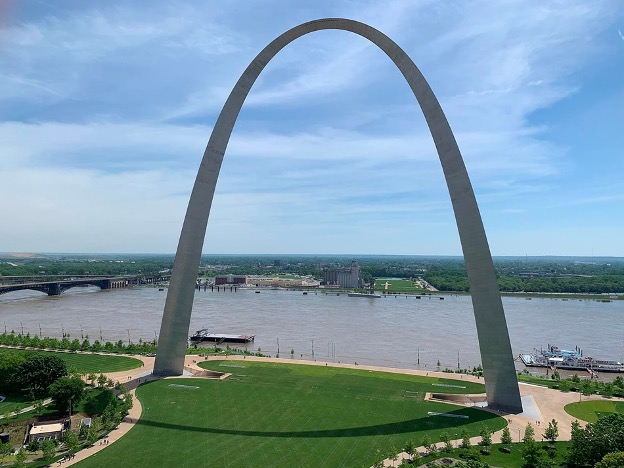 You can sit amongst the park by the water and enjoy the beautiful city of St. Louis while admiring an incredible work of architecture.
Montana: Lewis and Clark Caverns State Park
This stop is unlike any state park you've ever been to! The Lewis and Clark State Park is one of the largest (known) limestone caverns in the Northwest.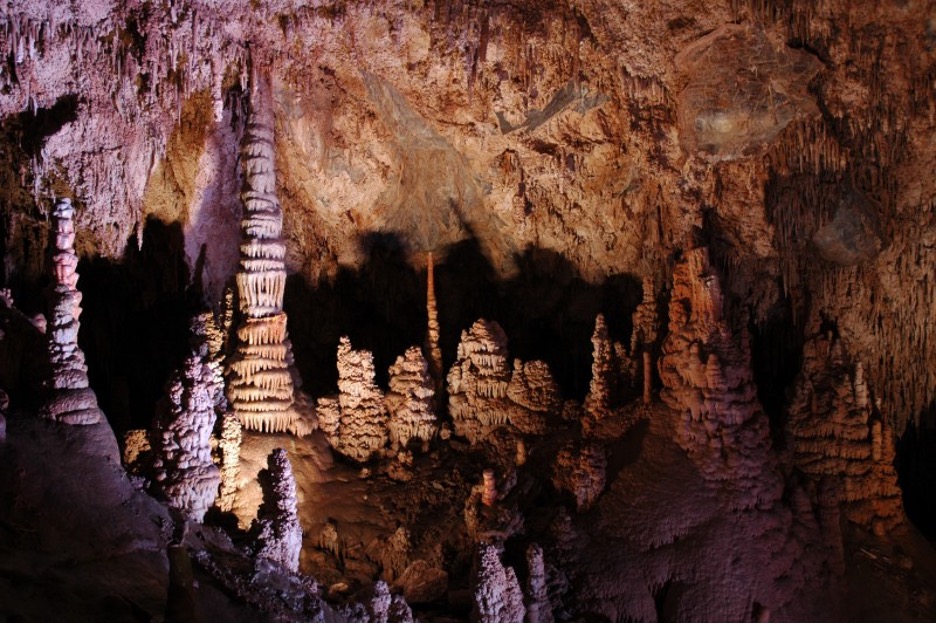 You can be given a guided tour by the staff and explore various hiking levels. This wonderful nature reserve spans across 3,000-acres and was established in 1935.
Nebraska: Oregon Trail Route
Enter a portal back in time and explore the Oregon National Historic Trail, which travels through six states. Recreate the traveler's journey as they passed by Courthouse and Jail Rocks, the iconic and massive clay and sandstone rock formations.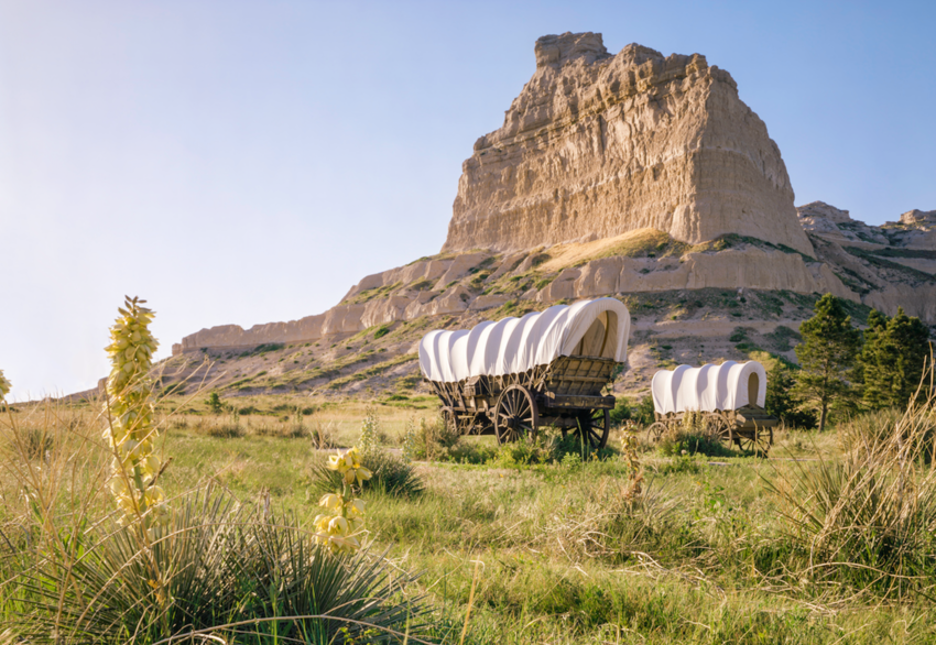 The Nebraska leg has one of the more iconic features, several of which are protected historic locations. These include the California Hill and Fort Kearny State Historical Park.
Nevada: Lake Tahoe
Sitting on the border of California, Nevada, lies the third deepest lake in North America, Lake Tahoe. Depending on when you decide to take your trip, you will either be met with snowy peaks and glistening snow for skiing or snowboarding, or with pretty weather fit for hiking, swimming, stand-up paddling.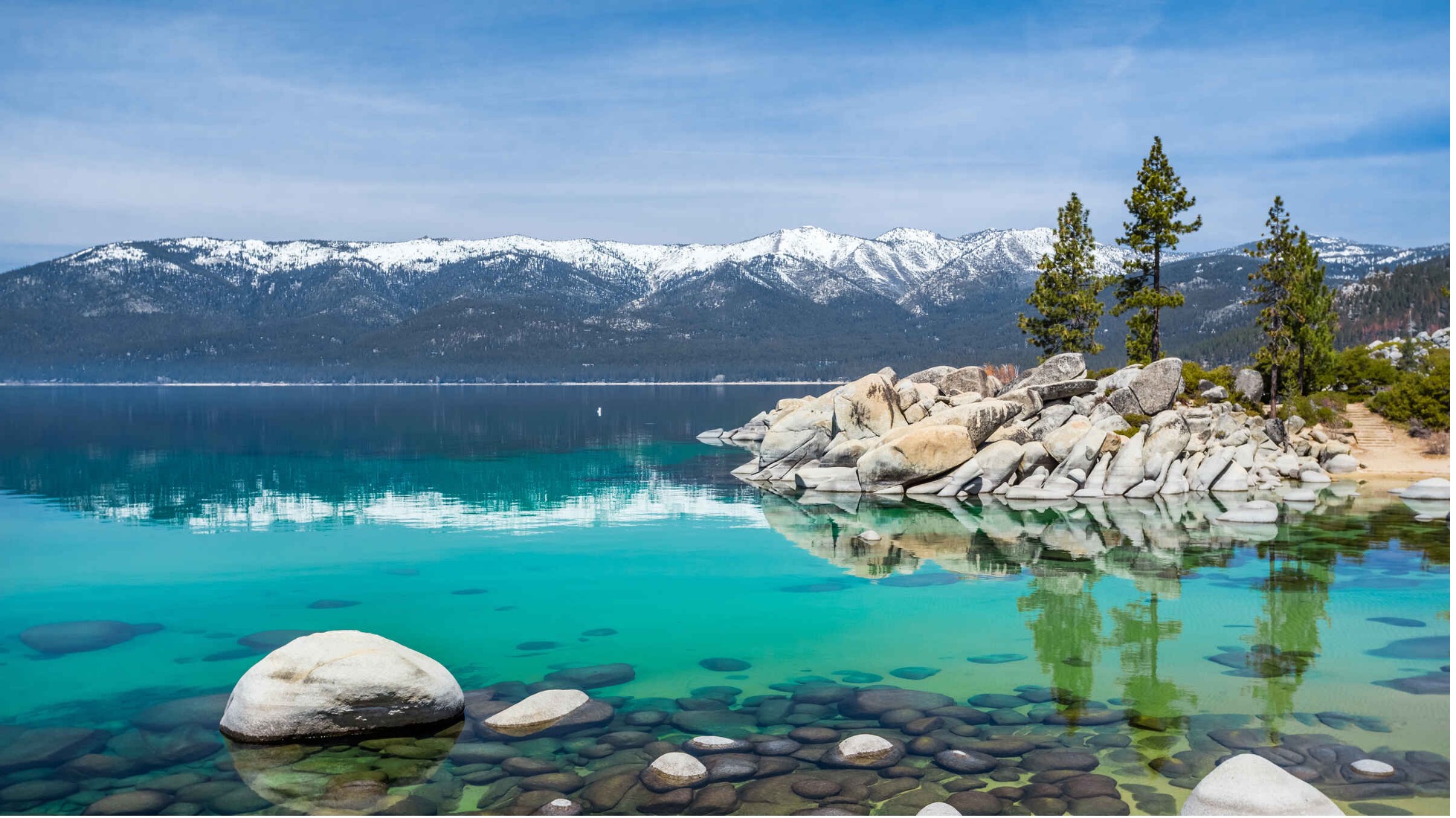 There are many campgrounds to choose from, if you decide to put down some stakes on your road trip, as well as resorts if you're feeling more bougie.
New Hampshire: Mount Washington
For dramatic views of incredibly high peaks and incredibly low valleys, make it a point to stop at Mount Washington for your road trip in New Hampshire. Mount Washington is the record highest peak in Northeastern United States.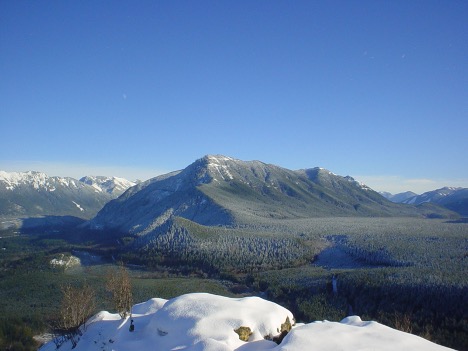 The 6,288.2 feet peak stands east of the Mississippi River and can offer erratic weather so prepare yourself with layers.
New Jersey: Cape May
This is a great place for this history enthusiasts while also balancing out summer fun in the sun. The entire city is a National Historic District and has nearly 600 Victorian buildings. So cool! Furthermore, the picturesque beach town always has a lot to do.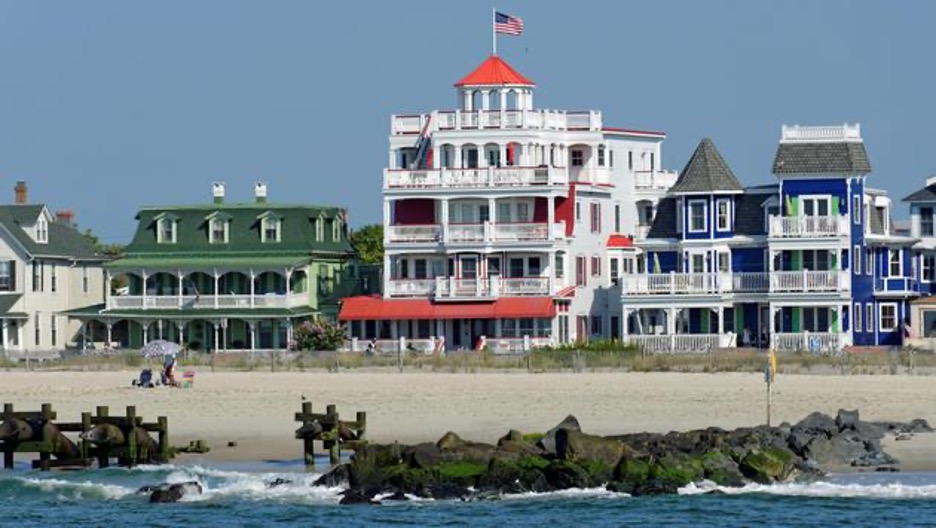 You can put your toes in the sand or find a host of special events throughout the year, including art and jazz festivals.
New Mexico: Bandelier National Monument
Bandelier National Monument is located in Los Alamos, New Mexico and is truly a treasure. The national site has over 3,000 dwelling sites of the ancestral Pueblo People who existed over 11,000 years ago.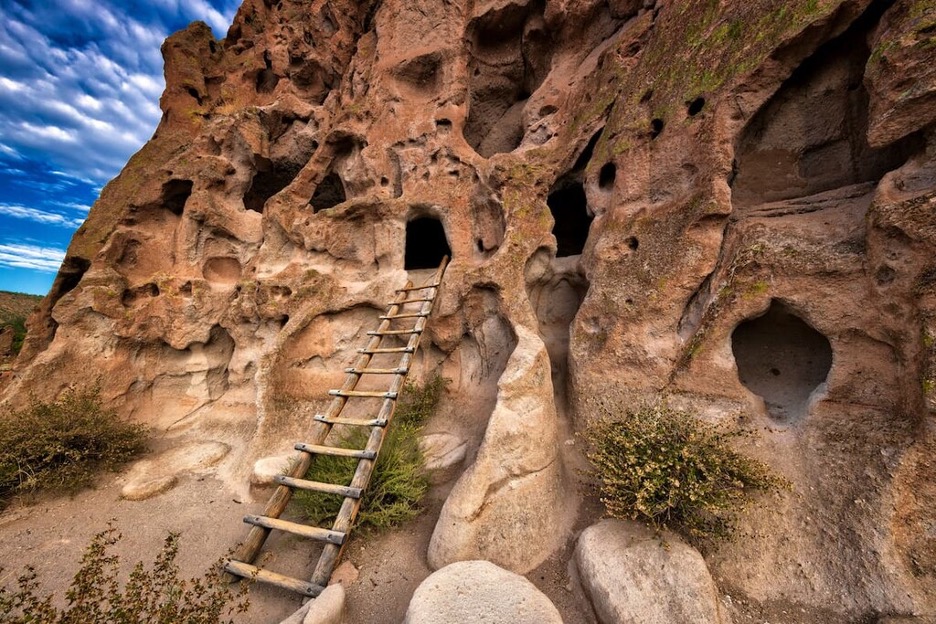 Hikers have access to these dwelling sites, which even have ladders propped up against them so you can go inside! A very unique and enriching experience.
New York: Finger Lakes Tour
This upstate New York destination is one of the more dazzling destinations that we're recommending that has something in it for everyone. This family-friendly spot has anything from amusement parks to winery tours.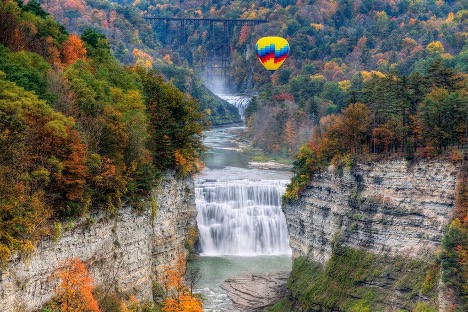 If you are feeling particularly adventurous check out Letchworth State Park and take a hot air balloon ride over the falls or a whitewater raft in the thick of it.
North Carolina: Grandfather Mountain
Located in Linville, North Carolina, Grandfather Mountain is the perfect destination for those seeking hiking adventures of all ages. The mountain offers supreme views along with varying hiking trail levels.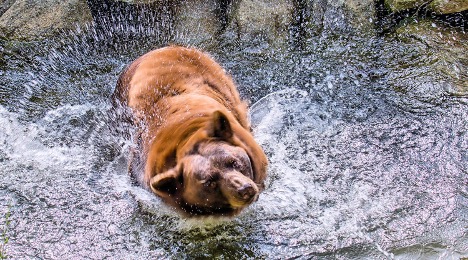 If you do find yourself at Grandfather Mountain, be sure to visit the Mile High Swinging Bridge, which is most definitely as exciting as it sounds! There is also an environmental habitat to explore that has black bears, bald eagles, otters, elk, and cougars.
North Dakota: Theodore Roosevelt National Park
The namesake of the United States' 26th president, the Theodore Roosevelt National Park is located in Western North Dakota. There is a plethora of activities to do while there and is definitely a great location for the outdoorsy road tripper.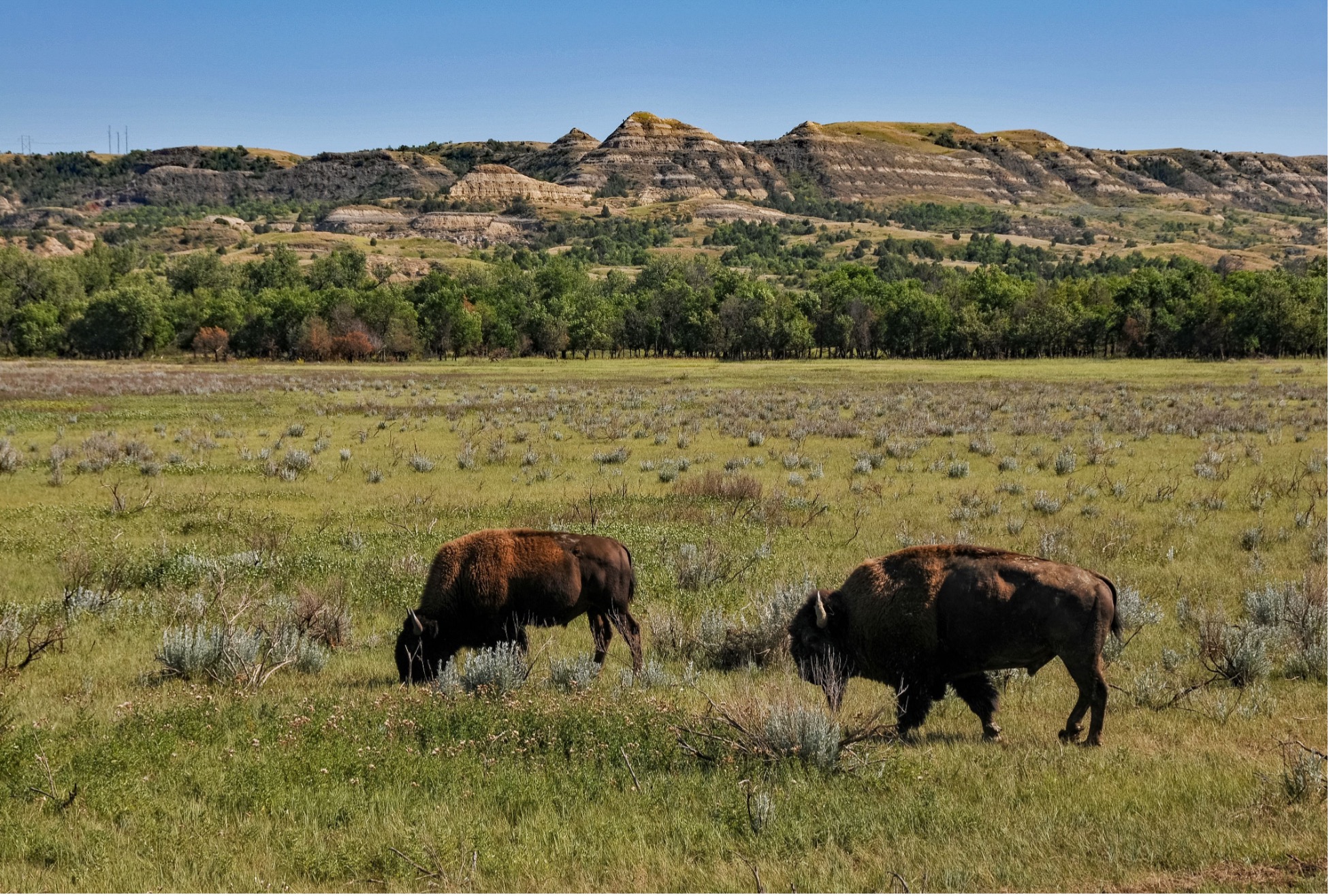 From hiking, camping, or just taking a leisurely drive through the glorious park, this bison-filled park is sure to add some excitement to your trip.
Ohio: Ohio Waterfalls Route
It was t TLC who said "don't go chasing waterfalls" but we may have to make the case to forgo this advice in lieu of chasing the waterfalls in Ohio! Ohio is packed with beautiful waterfalls across the state, and depending on what you're up for, are either incredibly accessible or more of a hike.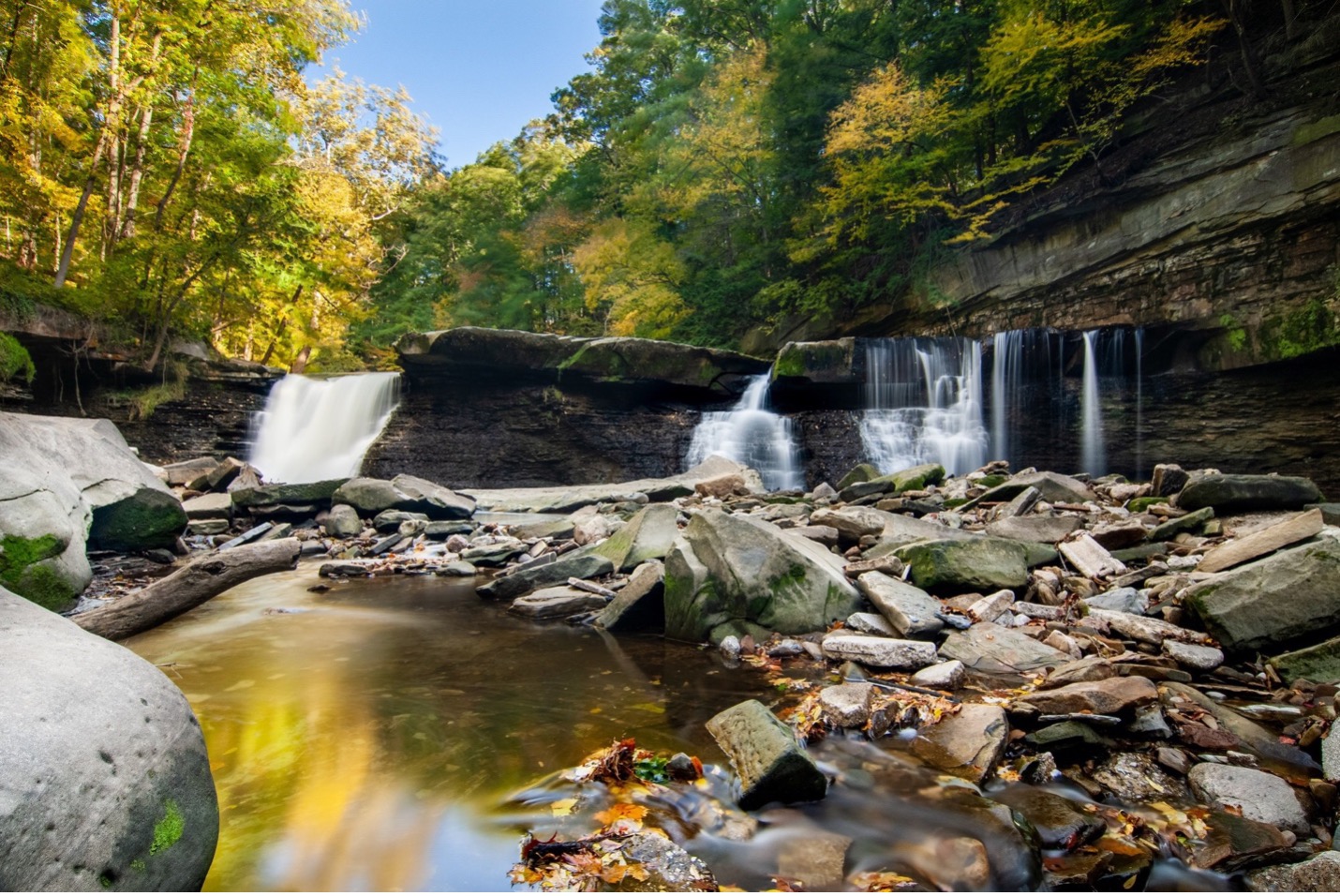 If you do choose to do this, there is a pre-mapped route available and takes approximately 10 hours to complete.
Oklahoma: Route 66
While this isn't a destination per say, it is a revered road and is a great route to take for the average road tripper. The reason is because Route 66 connects from Chicago, Illinois all the way to Santa Monica, California, passing through a total of eight states in between.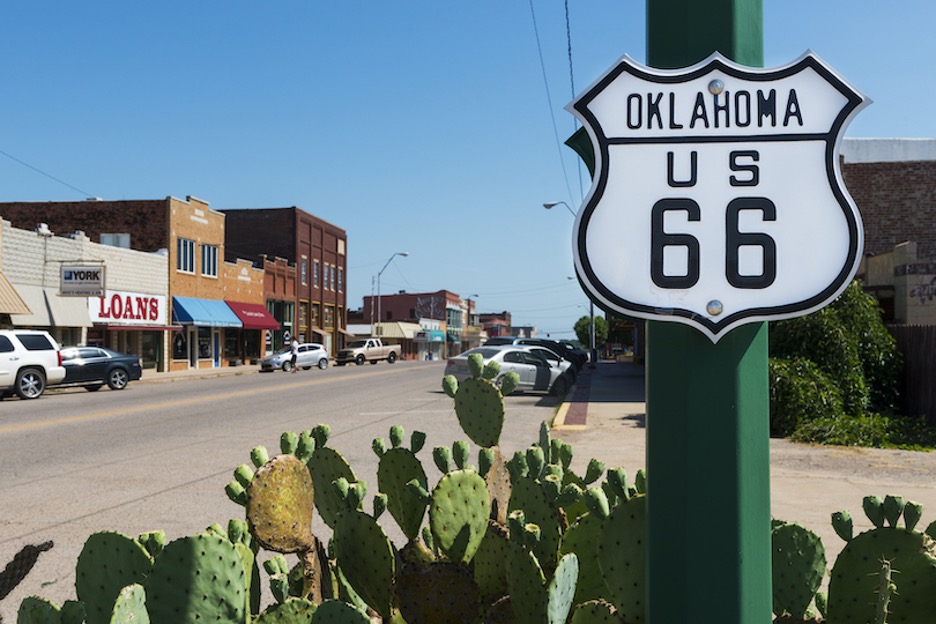 Stop off in Tulsa and Oklahoma City along the way to get a flavor of what Oklahoma is all about or stop off at Elk City to enjoy a museum dedicated to the National Route 66.
Oregon: Portland
This one may seem obvious, but Portland is truly a unique and amazing city that has so much to offer! From Powell books, Voodoo Donuts, the near constant live music, and wonderful Bagby Hot Springs, there is truly something in it for any personality type.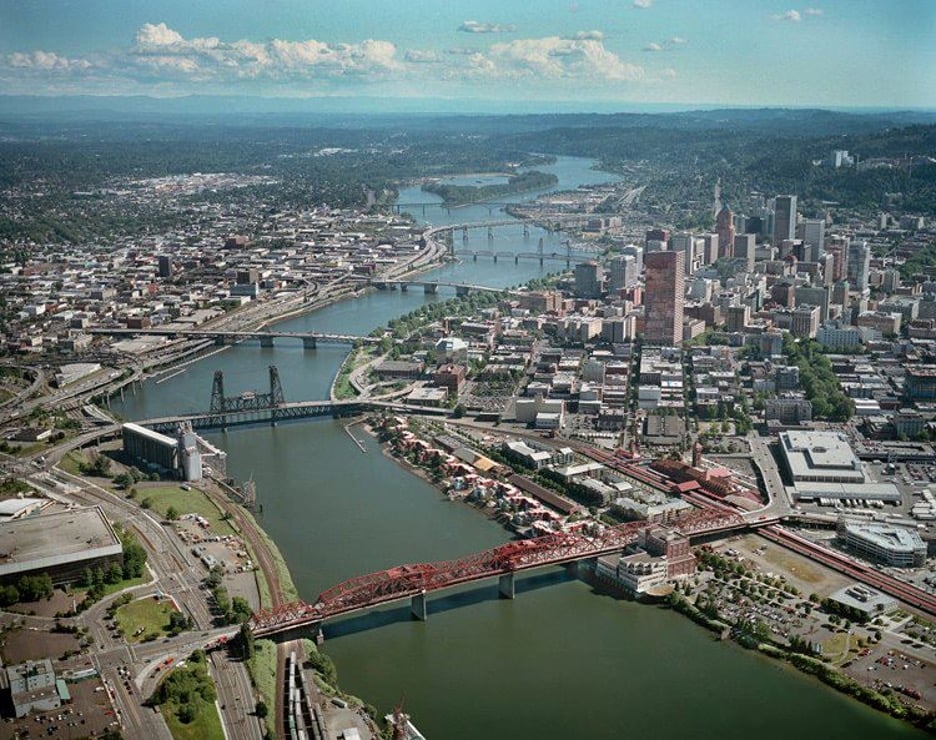 If you're looking for a lively destination that offers food, culture, music, and gorgeous trees scattered about, add Portland to your road trip.
Pennsylvania: Philadelphia
Yet another great place for the history fans, Philadelphia, Philly, the City of Brotherly Love—whatever you want to call it, offers handsome historic buildings that once homed Benjamin Franklin and the like, as well as where Thomas Jefferson drafted the Declaration of Independence.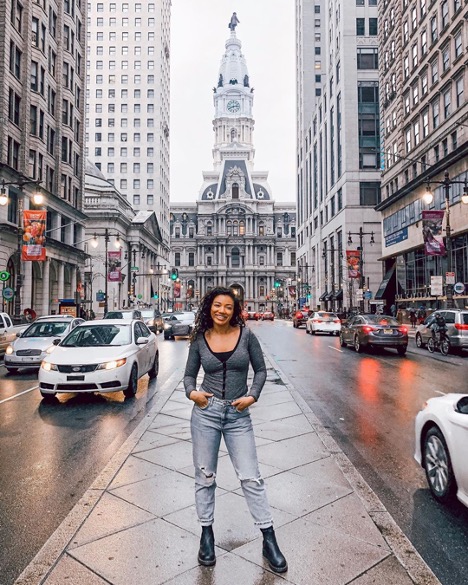 Stop by the Liberty Bell on your way to a jazz club, grab a cheesesteak and take in the iconic sights that the American forefathers helped to form.
Rhode Island: Newport Mansions Loop
Explore colonial-era towns and stunning Atlantic Ocean beaches on your seaside "Rhode-trip" (see what I did there?) Yet another historic place to explore is Providence for the history buffs, as well as a drive south towards the coastal communities for the beach-lovers.

Be sure to stop by Newport to observe the large mansions from the Gilded Age that give off serious Great Gatsby vibes and a true look into the old elite.
South Carolina: Hilton Head Island
Visit this oasis in South Carolina for 12 miles of pristine beaches and savory southern fine dining. Hit the beaches for some surf, swing a couple golf clubs, or discover the art and culture on the island. Or better yet, do it all!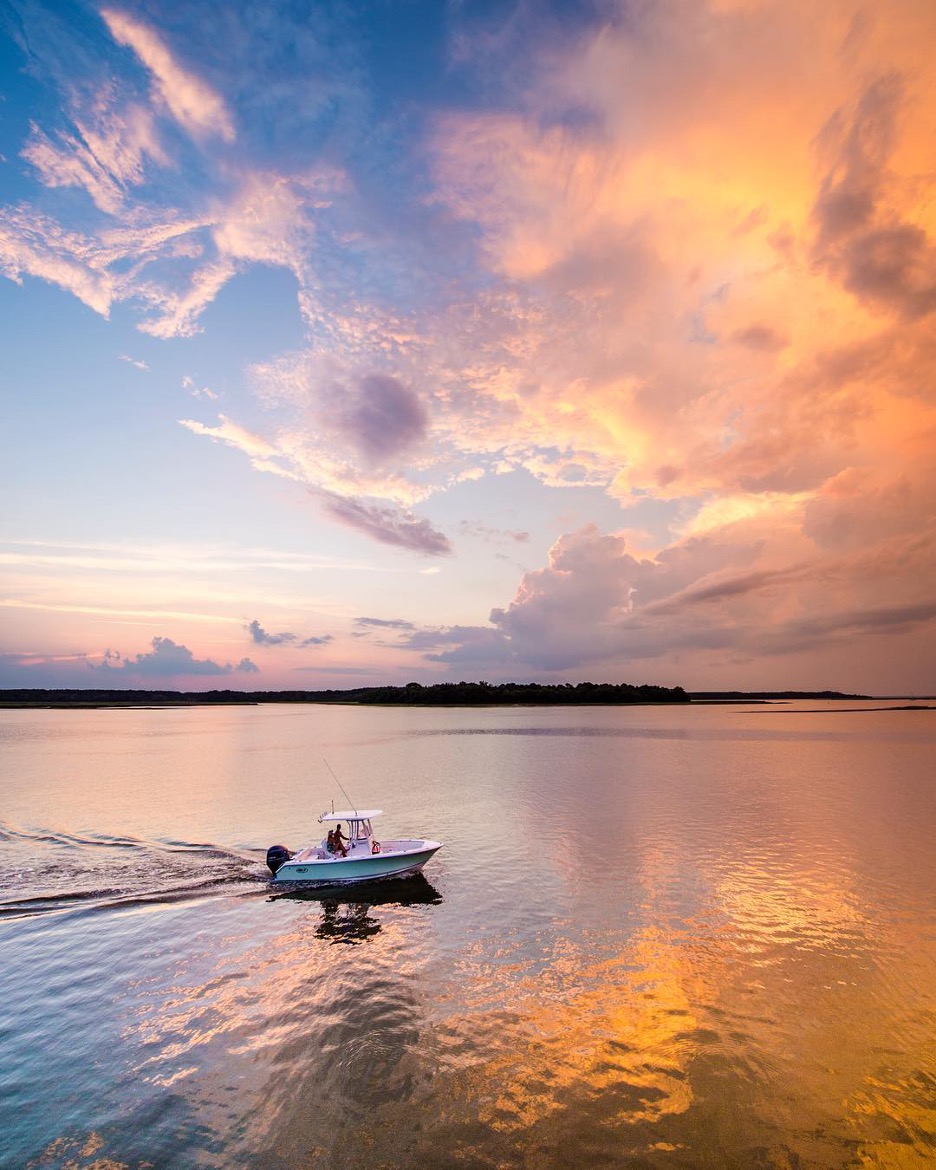 Depending on when you're there, every year between May and October offers an opportunity to see the sea turtles lay their eggs. In 2021, 283 nests were laid on the beaches.
South Dakota: Mount Rushmore National Memorial
Mount Rushmore National Memorial is located in Keystone, South Dakota, and is definitely a sight to see! Imagine, 60-foot-tall heads of former Presidents George Washington, Thomas Jefferson, Theodore Roosevelt, and Abraham Lincoln towering over you and the great state of South Dakota.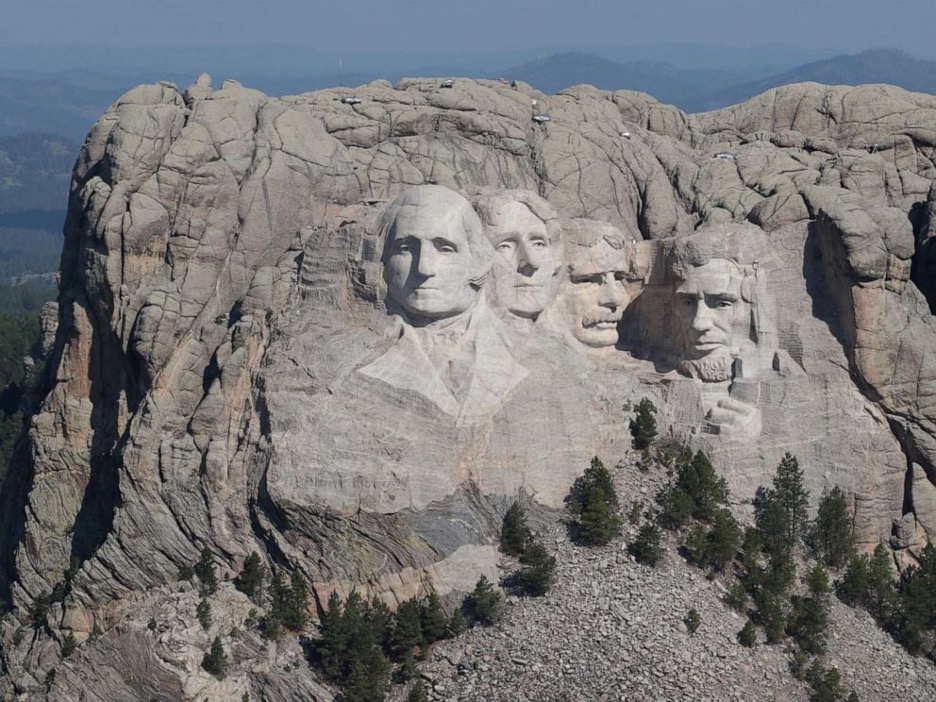 It is definitely a bucket list worthy location and one that we think everyone should see at least once in your lifetime.
Tennessee: Dollywood
Dollywood, created by the ever-iconic Dolly Parton, offers more than 40 rides, high-energy entertainment, delicious dining, and a friendly park atmosphere that is fun for everyone. Dollywood was even voted a Top 10 Outdoor Waterpark by USA Today Readers!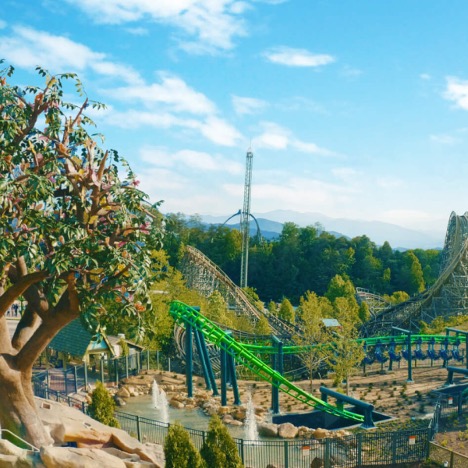 You're also welcome to stay on the premises and take a break from the road trip with their luxurious DreamMore Resort. It truly is a fun escape for you and yours!
Texas: Willow City Loop
If sprawling wildflowers and dreamy colored landscapes are your thing, visit Hill Country of Texas. The historic and scenic drive is a 13-mile stretch of bluebonnets, yellow and white daisies, sunflowers, Mexican poppies, and Indian paintbrushes.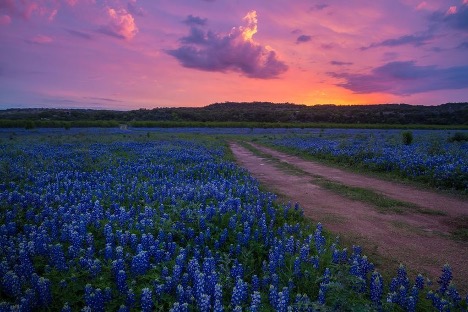 If you're looking for somewhere with some small-town charm, stop at the small German town of Fredericksburg for some cute wineries and tasting rooms, antique stores, and some adorable mom-and-pop restaurants.
Utah: Zion National Park
Follow the path of the native people and pioneers and gaze upon the massive sandstone cliffs against the backdrop of the sky at Utah's first national park, Zion. Explore The Narrows, hike on whatever type of level you're most comfortable with and reserve a campsite if you're so inclined.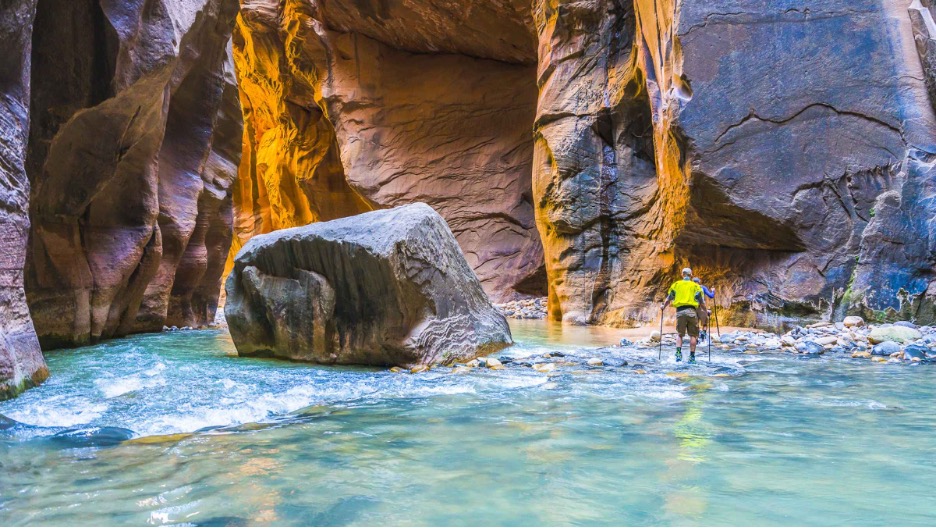 It is a truly beautiful park with expansive views, wildlife, and hiking for the whole family.
Vermont: Church Street Marketplace
Explore Vermont's marketplace area, Church Street for dining, shopping, and pretty parks. Before you go, check out their online calendar to see what live events they may be offering. There are also beautiful freshwater beaches that can be explored.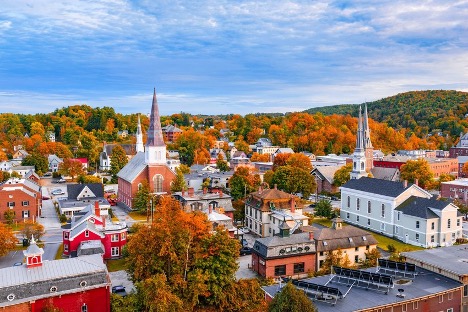 While you're driving through, stop in the town of Waterbury for a tour of Ben and Jerry's ice cream factory. Yes, really!
Virginia: Shenandoah Valley Wine Trail
Fun fact: Virginia clocks in at number five on the list of states with the most wineries. We say, when in Rome! Tour the scenic Shenandoah Valley on the western side of the state for a gorgeous road trip.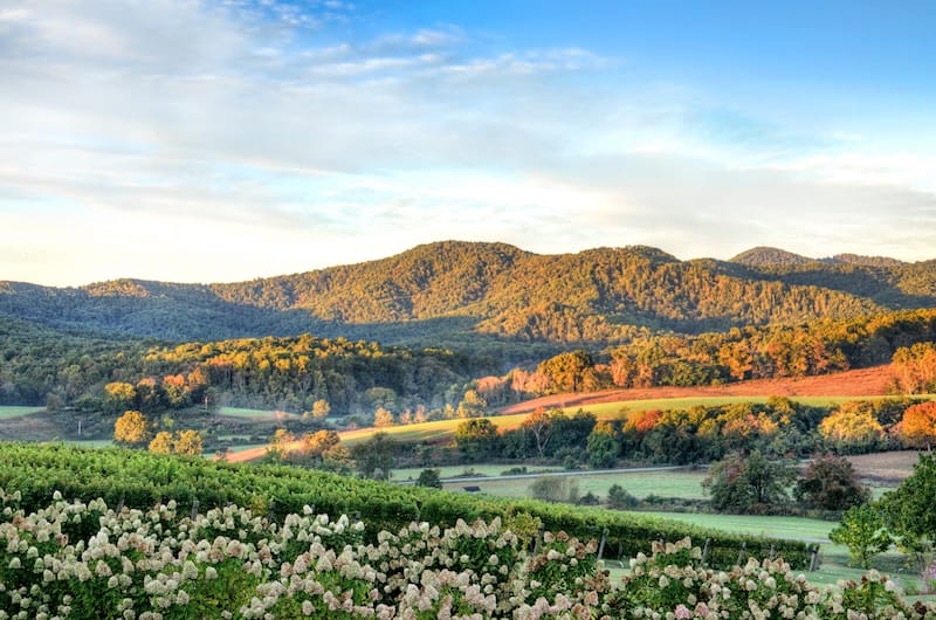 There is a plethora of wineries to stop by and enjoy. Relax with bright sunsets, rolling hills, and expansive vineyards with a glass of wine in hand.
Washington: Mount Baker Snoqualmie National Forest
Be it the summer season or time for skiing time in winter Mountain Baker Snoqualmie National Forest is a naturistic escape into scenic trails and wildlife.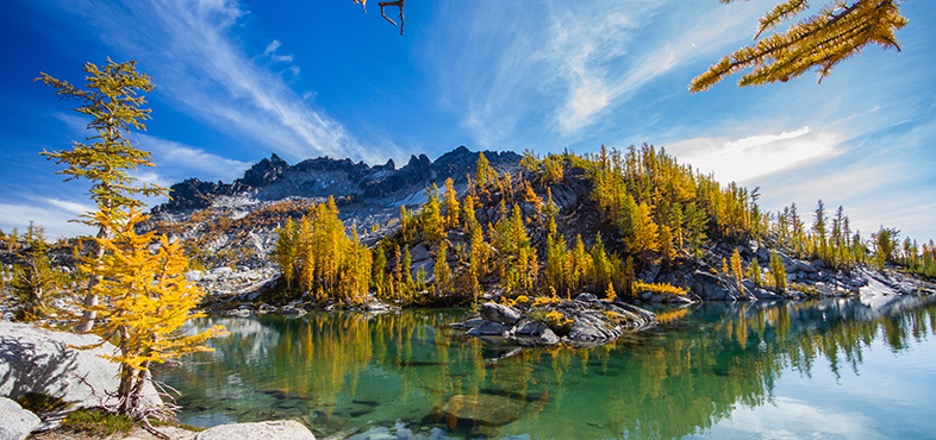 It is the perfect place to explore on your adventure! After you are done exploring the beauty that is this national forest, there is a collection of local restaurants and cabins to stay in over in the neighboring town of Glacier.
West Virginia: New River Gorge Bridge
The New River Gorge Bridge is a large steel arch bridge that spans 3,030 feet over the New River near Fayetteville, West Virginia. For nearly 30 years, it was the world's longest single-span arch at 1,700 feet long but has now been pushed down to number four.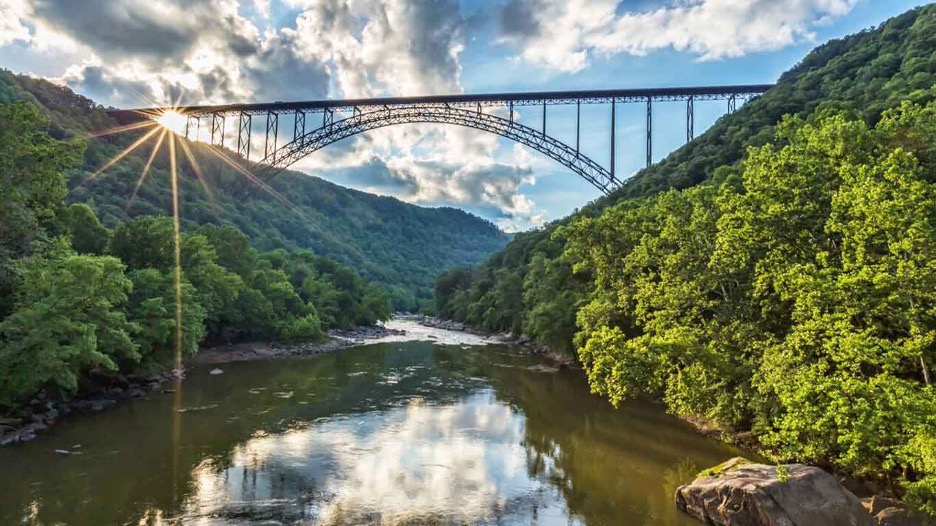 The bridge is located in the Appalachian Mountains and is the epitome of the scenic route!
Wisconsin: Devil's Lake State Park
The largest state park in Wisconsin is called Devil's Lake State Park and is located south of Baraboo. The park is well known for its 500-foot-high quartzite bluffs alongside the 360-acre Devil's Lake.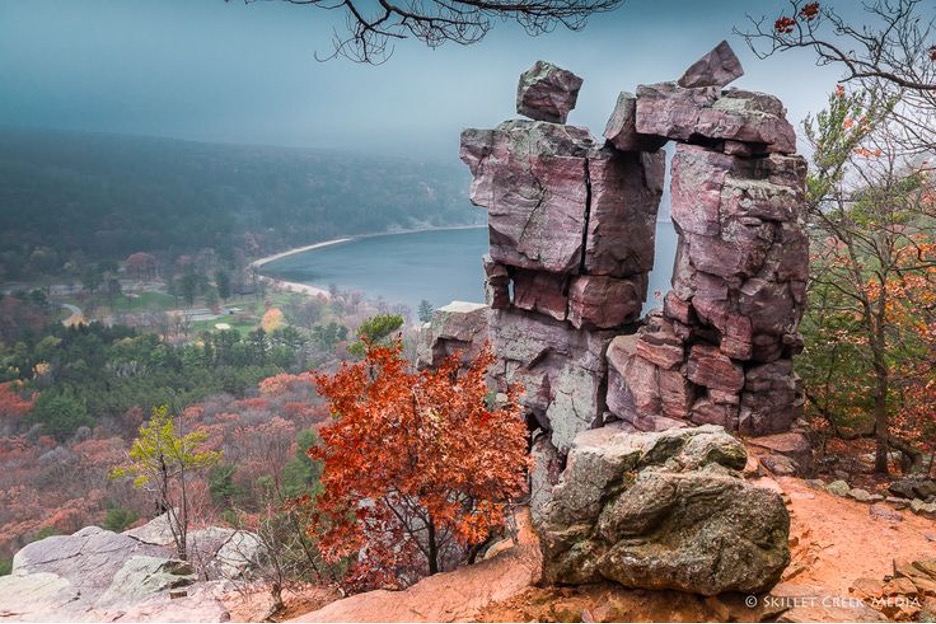 This was a result of a glacier depositing terminal debris that plugged the north and south ends of the opening in the bluffs during the last ice age, some 12,000 years ago. You're welcome to hike, camp overnight, and take in all of the scenery and worldly history around you.
Wyoming: Grand Teton National Park
Grand Teton National Park is located in Northwestern Wyoming and spans a total of 310,000 acres of country. It has dramatic mountain ranges and clear blue lakes.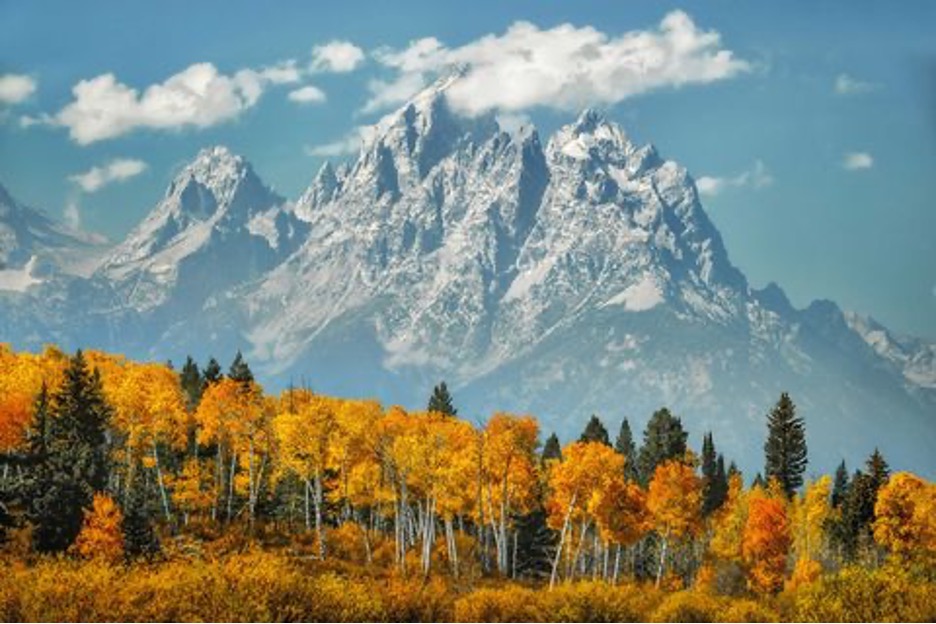 If you do decide to visit this park, you can also add Yellowstone to the list, as it is nearby. Yellowstone was the world's very first national park!