40 Life-Changing Ways to Use Curtain Rods Around The House
Tired of looking at a disorganized living room or kitchen? Home should be a place of comfort and relaxation, but the sight of a cluttered abode can be a common source of frustration for many of us. With a little tidying up and organizing, your living space can be turned back into the quiet, cherished retreat it was always meant to be.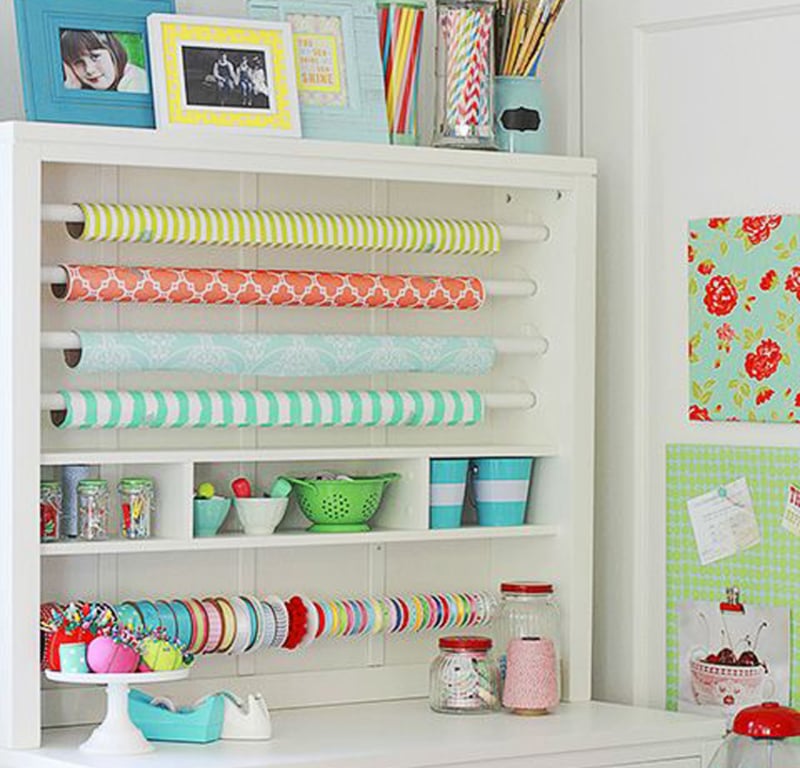 To help you get started, we've put together a helpful list of ways to make your home look and feel fresh, using an unlikely household object: the curtain rod. They have a multitude of creative uses, from outside wall decorations to handy bathroom shelves. Let's take a look, shall we?
1. Organizing Valuables
Organizing your jewelry is a must, especially if you have a large collection of pieces. Without good organization, there's a risk that they will get damaged or become lost.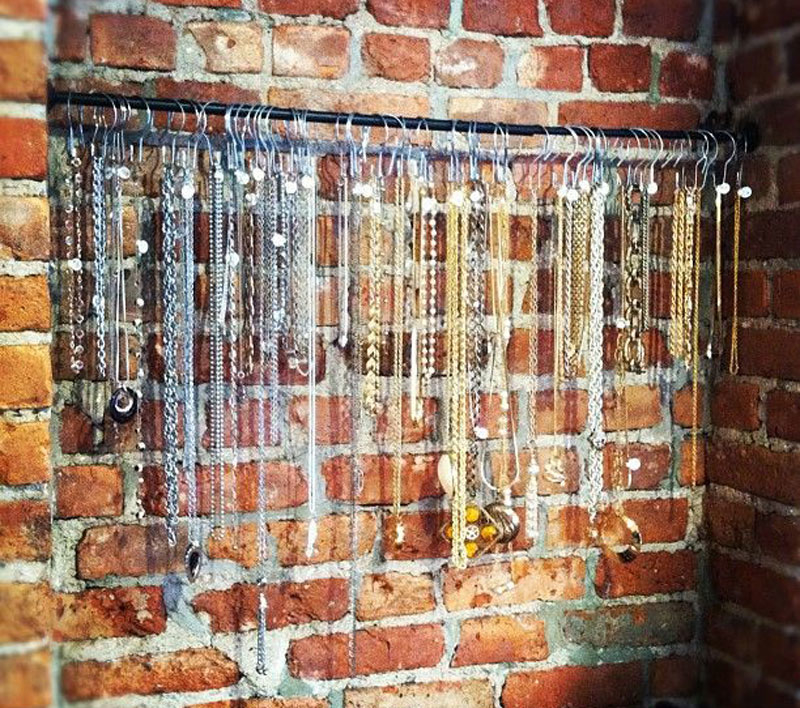 Try using curtain rod holders as a place to hang your earrings and necklaces. This way, you can see all of your favorites in one place without risking a single one. It's a satisfying way to make sure that your valuables are in their place and organized.
2. Hanging Plants
Inside plants are an excellent way to provide oxygen for your house, but sometimes they can be hard to manage, especially if they are hard to see. If you've been having difficulty organizing your plants, why not raise them up on curtain rod holders?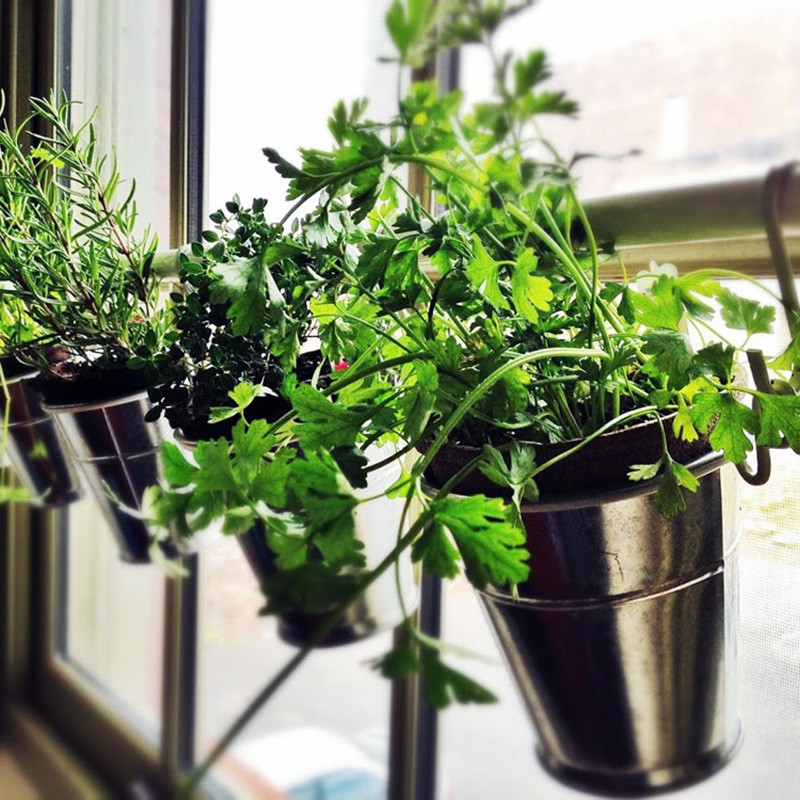 You can hang plastic planters from curtain rod holders, giving them access to more light and visibility in any room. No more bending over while watering your precious babies, or traipsing a leaky watering can around the room. Now you can easily keep track of your plants' health and water them all in one go.
3. A Means of Protection
You don't know chaos until you have children or fur babies of your own running around the place. Both need a lot of cleaning up after, kids most of all. To help minimize the chaos, you can pen them safely inside an area of your choice with the help of curtain tension rods.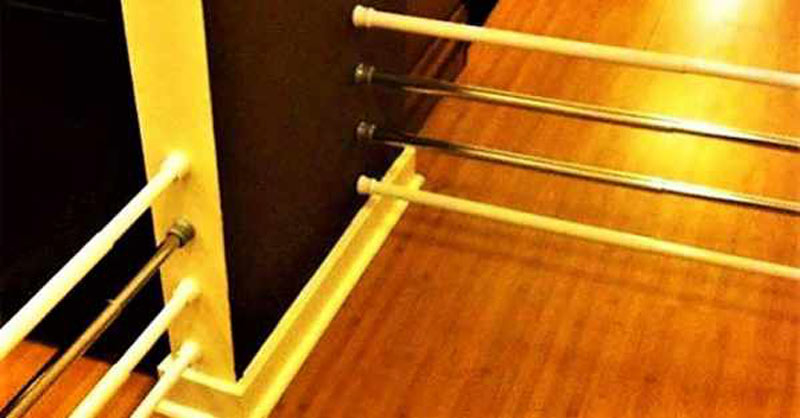 You can use spare curtain rod holders to separate your fur babies from your actual baby while you're occupied with other things. It's safe and affordable. If they do happen to get loose, you can easily get an idea of where they went by looking at which rods were displaced. 
4. Paper Towel Rack Organizer
If you're constantly losing your paper towels, try using curtain rods as a tissue rack. All you have to do is load your paper towels and screw the holder back into the wall. It's an elegant, simple solution for those who don't have very much storage space.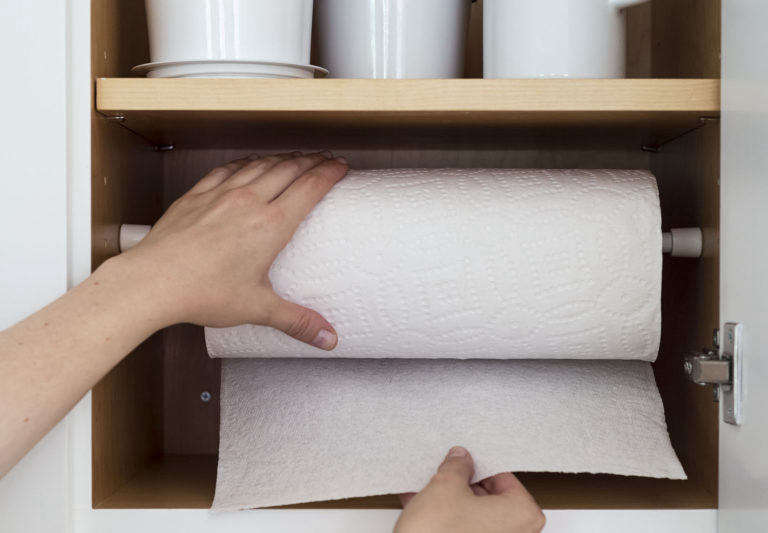 They are easy to install. You don't need any special tools or skills, just two hands. You can buy different types of holders in different sizes to match the size of your papers. A great example is the one pictured above.
5. Freezer Organizer
It's a blessing to have so much food in your freezer, but having too much can also be an inconvenience. You might not be able to see what you have inside, and thus you'll find yourself endlessly digging through an ice-cold trove to get what you need.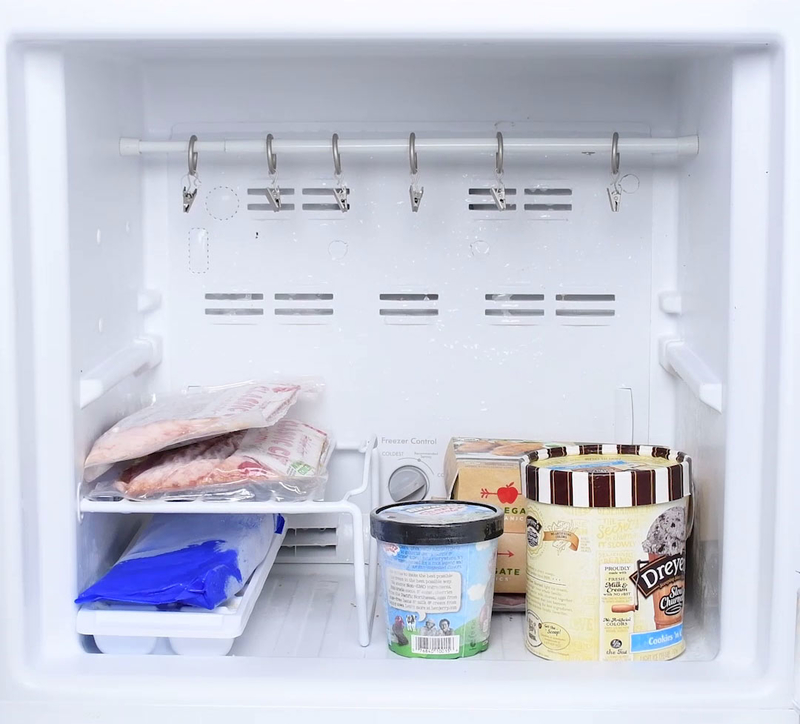 Try using a curtain rod as a freezer organizer to save time. You can hang food from the rod using a hook or clip. It will keep your frozen goods organized, plus you'll be able to see all of your food at once.
6. File Organizer
Let's be honest, we all let clutter build up at home from time to time. Even if you have files or folders, there's always a chance that one of them will get lost at the bottom of the stack. However, you can use curtain rod holders as a smart file organizer to ensure that those important documents never slip under the rest.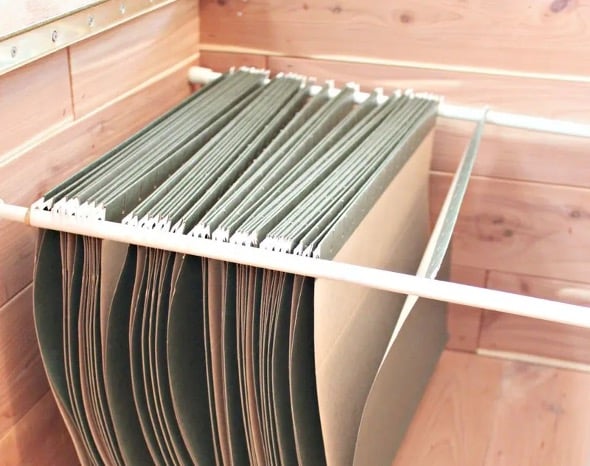 The rod will keep them upright and straight. You could even hang them horizontally on your curtain rod holder to find what you need at a glance if you have the space for it. You'll never misplace a file again.
7. A Shoe Rack
Having a lot of shoes is great as long as you have a place to store them. If you don't have that much space available, try using a shoe organizer made from curtain rod holders.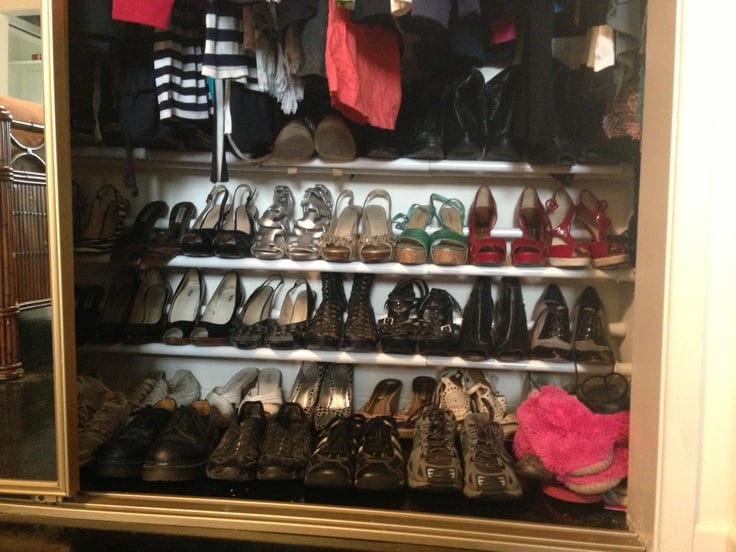 The rods keep your shoes visible and organized. With its low cost and great design, we think it's beautiful to look at. You can customize it by adding curtain rod holders of various sizes and colors. It's perfect for a house with nooks and crannies but not a lot of space.
8. Indoor Camping
Sure, most kids love making noise: singing, running around, or playing on the computer. But if you have children, you'll probably appreciate those special moments when they've found a little corner to play or read in.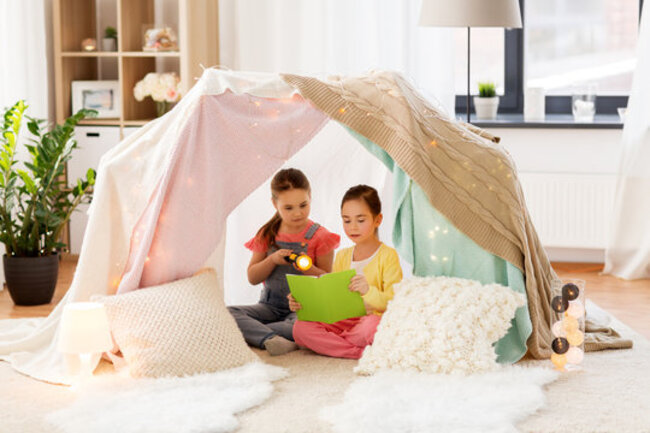 You can use your curtain rod holders to create a tent fort for your children. Your kids will love it. They'll finally have their own secret space to play in without getting in mom or dad's way.
9. No Space For Drying Clothes?
Tired of throwing towels or wet clothes on the back of chairs, on top of other wet items? Did you know that you can use your curtain rod holders to dry your stuff? You don't need to buy an expensive drying rack—just use your curtain rod. It's perfect if you're living in a small apartment with limited space.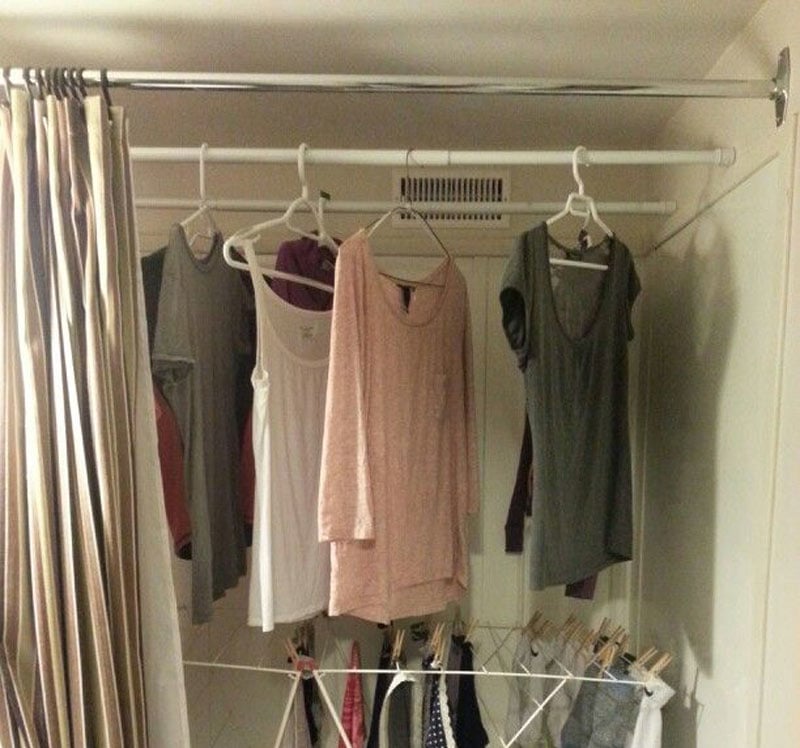 All you have to do is hang them on the rods in a ventilated space so they can air out. It's a great way to save money because it won't cost much to make. They also look pretty, especially if you choose rods that are colorful or have different designs.
10. Neatly Placed Chopping Boards
It's pretty annoying when you have too many utensils in your kitchen. It can feel like there's no way to properly store them because there's never any space. Try using tension rods to make your own chopping board organizer.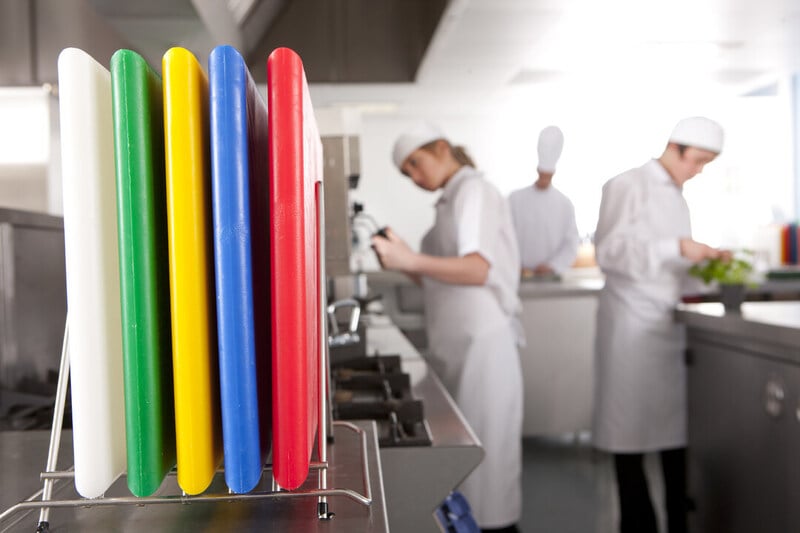 If you store your chopping board like the one seen above, you can save space. Now you can use a drawer or cabinet to store something else. You can place it on your kitchen counter or table. That's one less thing to worry about on your quest to become clutter-free.
11. Say Goodbye to Tangled Scarves
Scarves make great accessories and cold-weather clothes, but it's easy to get them tangled. You never know when you are going to need one, but one always ends up lost. If you don't have enough space in your wardrobe, try using curtain rod holders as scarf organizers.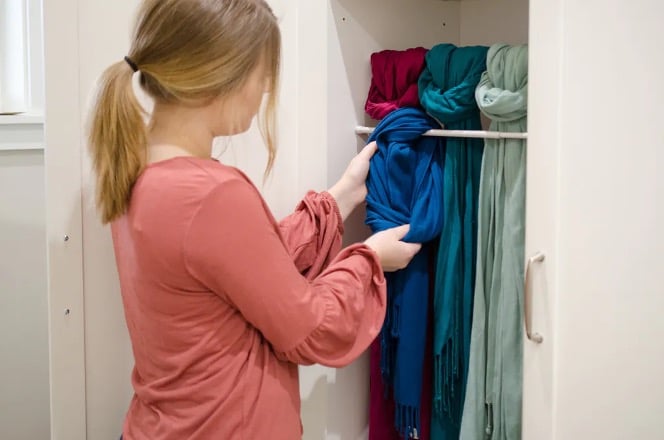 You can hang your scarves on the holders and let them hang out for easy selection. You will no longer have to worry about losing one at the end of the day since they're so well organized. It's a great way to keep everything tidy if you live in a small apartment without much room.
12. Giving Your Cat Some Privacy
Just like human beings, our pets also need privacy when they do their business. If you don't have a pet door, try using tension rods to help your furry friend out. It's easy to install. You can choose from many differently-sized rods to fit the area. 
You can add some curtains to separate their litter box from the outside. If you don't have a pet door yet, the tension rod is your best solution. You don't have to buy anything and can use what you already own if you have a spare sheet hanging around.
13. Proper Partition for Pots and Pans
Everyone who owns a kitchen will know the feeling of having to dig through an unorganized pile of pots and pans. Knowing you'll have to reorganize the mess before you even turn on the gas can spoil the excitement of cooking. But there's a better way.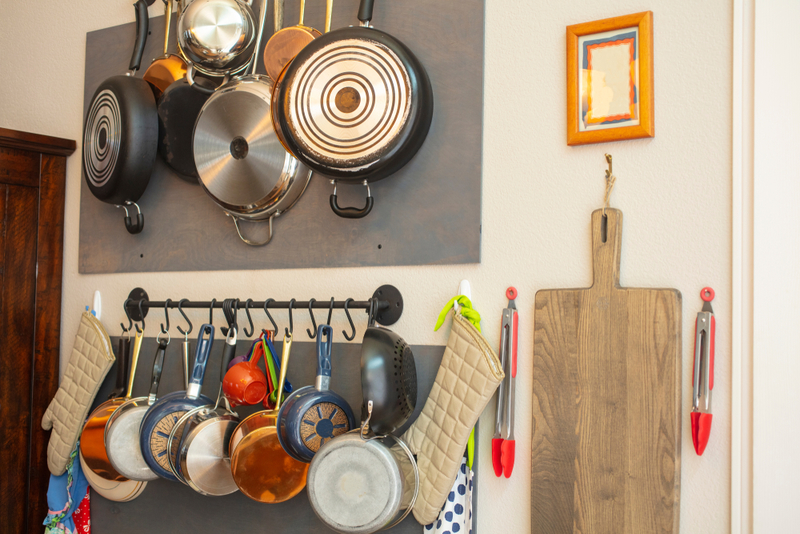 By using a tension rod and S-shaped hooks, you can hang your pots and pans. You'll be able to enjoy cooking again knowing that all your skillets are neat and organized. You can use it for pots and pans of any size.
14. Be Artsy With Your Kitchen Windows
After organizing your pots and pans, why not jump to the next level and redecorate your kitchen windows? Whether it's to give your kitchen some privacy or to add decoration, a curtain rod is a perfect way to give your window a little flare.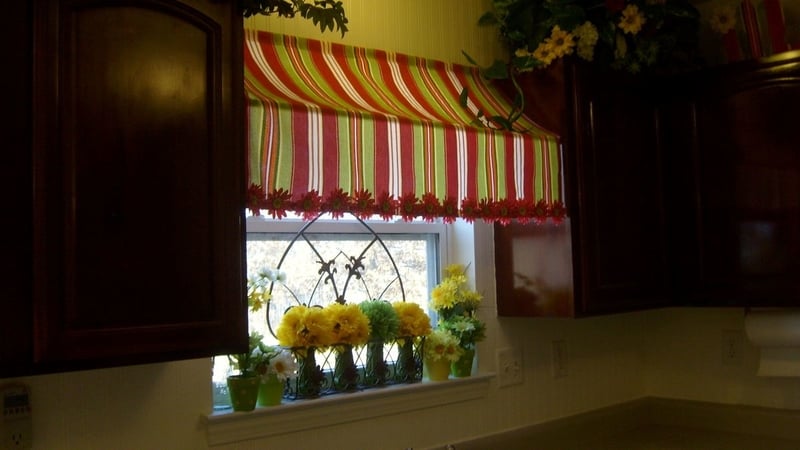 Bring out your inner Michelangelo and create hanging art using a curtain rod. You can use two rods and fabric to dress your window up as a French coffee shop. You can use intuition and creativity to make your guests feel like they're standing in a beautiful European kitchen.
15. A Cost-Saving Room Divider
Want to split up a room but don't have enough money to pay for a wall or even a divider? Then you'll be excited about this one. This technique is aesthetically pleasing and it can save you a fortune.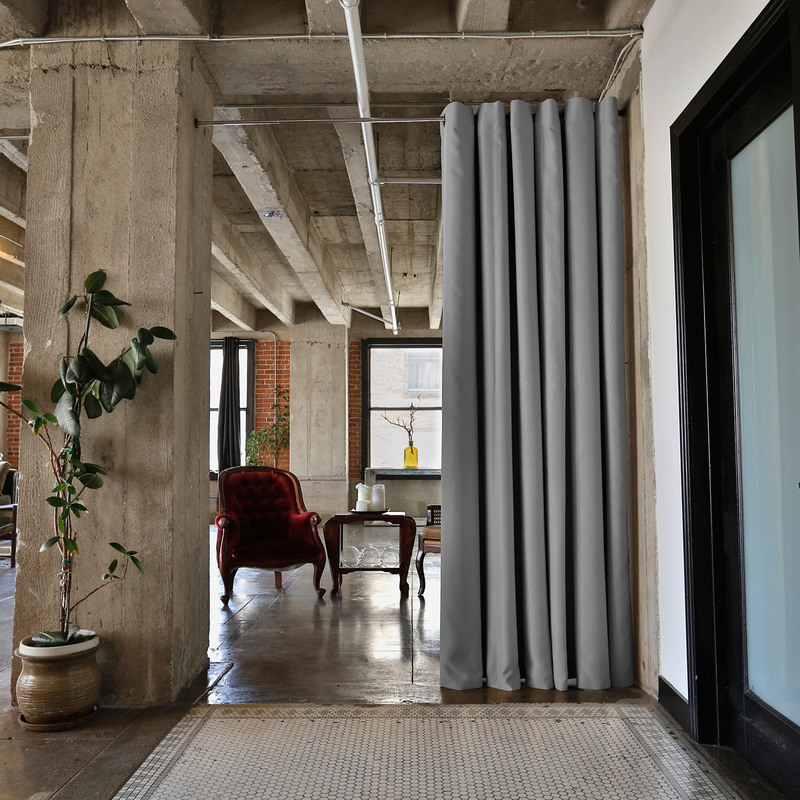 Add some top-to-bottom curtains and you'll have an instant room divider, no construction necessary. Not only will you have a divided room, but you'll also get a new, stylish look. You can close the curtains when you want privacy, and throw them open when you don't.
16. Mug Management
Ever wish you could hang all of your mugs on hooks? If so, you will love this. A tension rod and S-hooks are all you need to organize your cups and mugs. You can create a beautiful look in your kitchen by choosing an attractive curtain rod that fits the room's theme.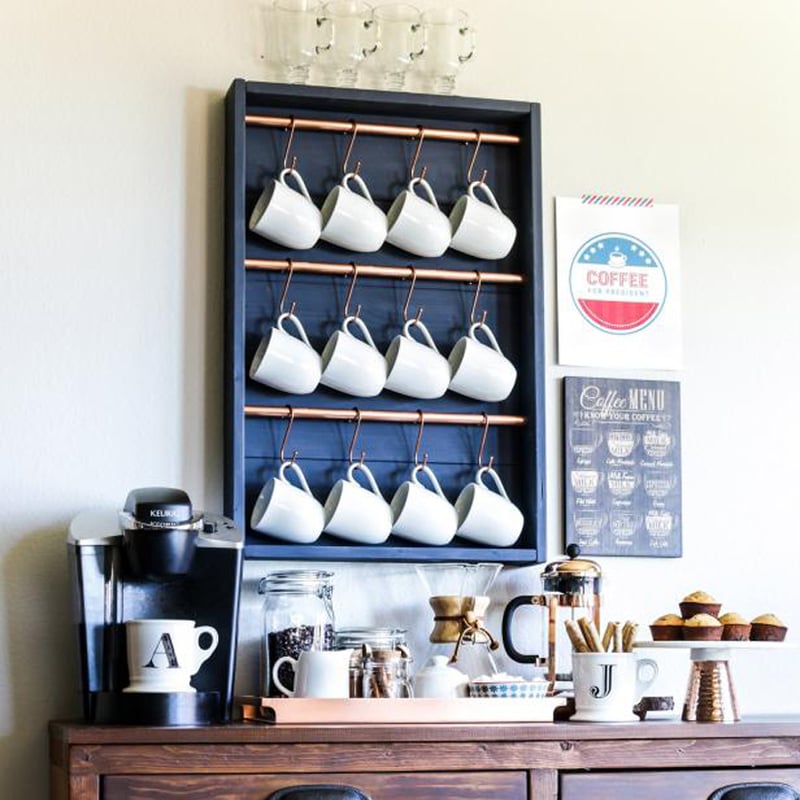 You can move them around to create a nice patterned effect that will look great in any kitchen. Tension rods are also very durable, being made from metal, so there's little risk of them bending or coming down if they are properly fitted.
17. Bag Space
It's easy to just drop your bags on the floor when you get home, especially if you don't have a place to put them. Get organized by installing a spare rod in your home—a practical solution that can help free up some space.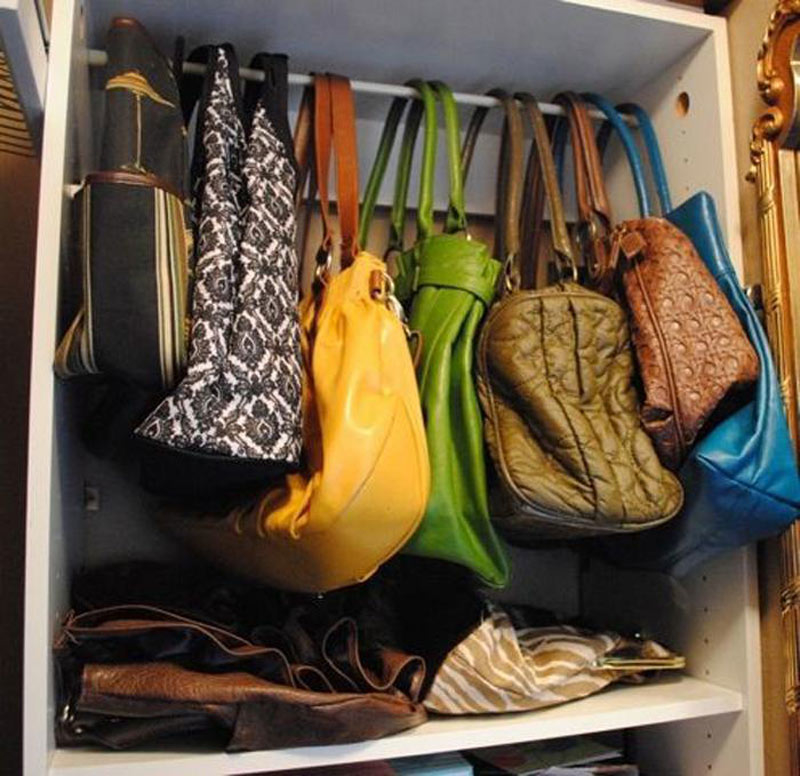 Place the rod inside your cabinet and hang your bags there. You'll be amazed at how nice it looks. Now you can have a bag for any mood, occasion, or day of the week. Say goodbye to cluttered bags in no time.
18. Spruce Up Your Shower
A shower curtain rod is a common sight in many shower rooms. But did you know that vertically placing it in your shower area can make a difference? If you stand it up and drill racks into the rod, you'll be able to put all your shower essentials on display with the help of a few baskets. From shaving cream and body wash to bottles of shampoo and conditioner, you'll have a lot of free space for your bathroom.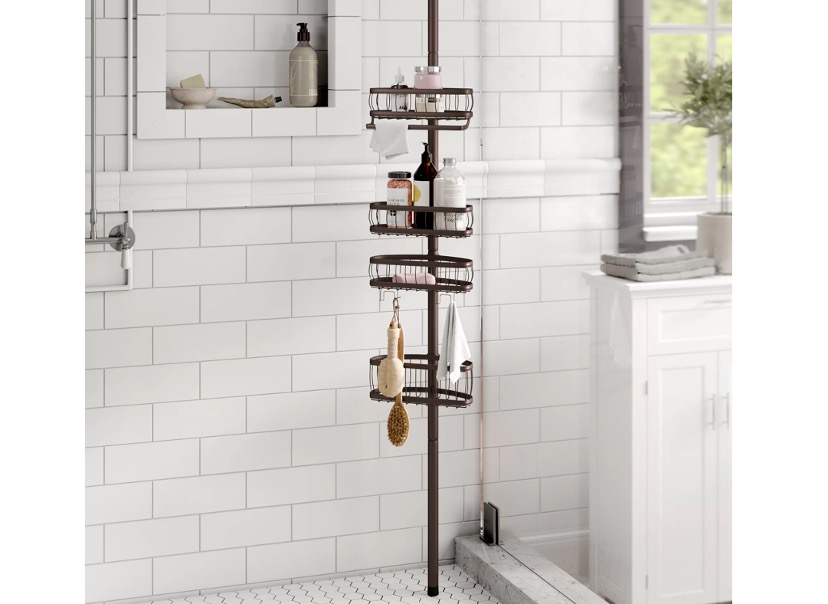 It's a quick and easy way to organize your shower items. If you place it up high, you can also use it as a place to hang a hook for a towel or other accessories. It's perfect for people who want to keep their shower essentials close at hand. Make your shower area look fancy on a budget.
19. Let The Curtains Fall
Okay, this one is a bit obvious. But if you want to set a different mood in your house, then make changes to your curtains. We think that the style a curtain brings to a room is often understated. Go for something that speaks to you.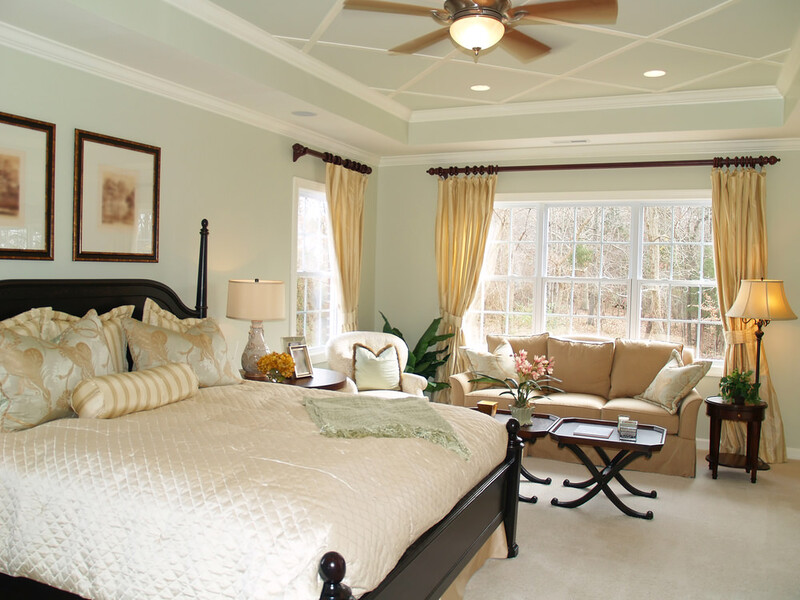 You can make your curtains look like they're coming out of your walls. You can even create a pattern to match. The curtains will give an illusion that it's an actual wall, and you'll feel very comfortable inside your home. You'll love how it looks if you're into that sort of thing.
20. Gallery Wall
If you want to get creative in your home, set up a gallery wall. It's an excellent way to display your favorite paintings or embroidery pieces around your house without having to use too many nails. If you don't have a lot of space, you can opt to hang a curtain rod on your wall and hang the art along the rod.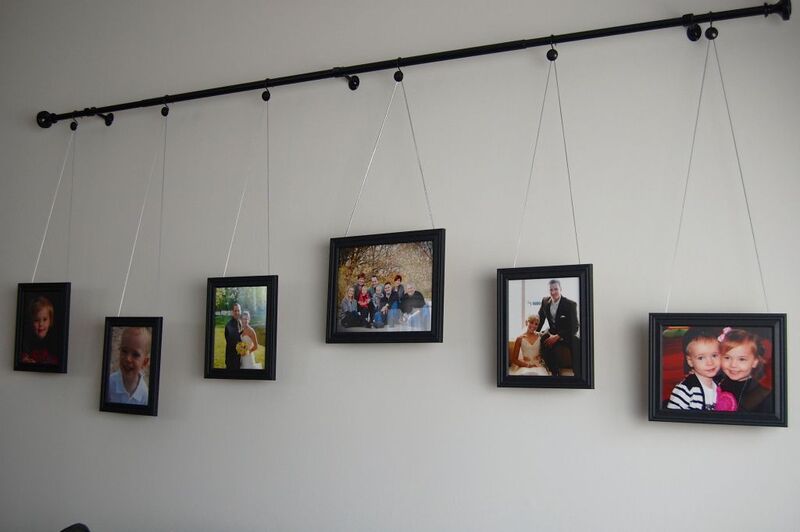 You can even hang photos. Alternating the string length gives it a cool effect, as seen above. It is an excellent idea for people who want to add art to their homes without breaking their budget.
21. Christmas Stockings
Ah, the classic Christmas scene: presents under the tree, decorations on the wall, warm cocoa, and of course, Christmas stockings. But what if you only have a stone mantelpiece for your chimney or no chimney at all? Well, do we have a solution for you. Can you guess what it is?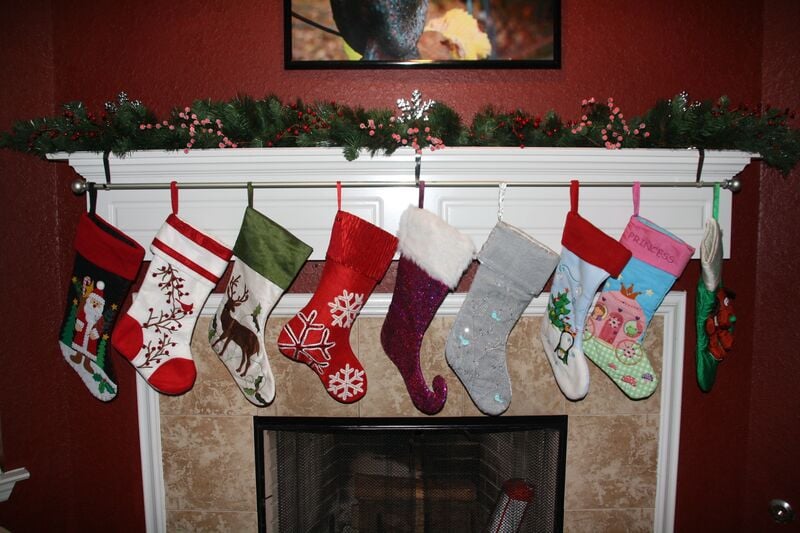 Curtain rods are not only valuable for shutting out light or dividing rooms. They can also be used to hang up your Christmas stockings so that Santa can fill them with gifts for the kids. No more cracked mantles. With a little handiwork, your fireplace will look more festive than you ever thought possible.
22. A Happy Space For Book Lovers
Are you a book lover? Do you enjoy reading titles from authors that care not for the fickle "good taste" of the public gaze? Or do you simply have a few too many "guilty pleasures" to admit? Tired of keeping those secret books hidden under your floorboards or under your bed? Read on.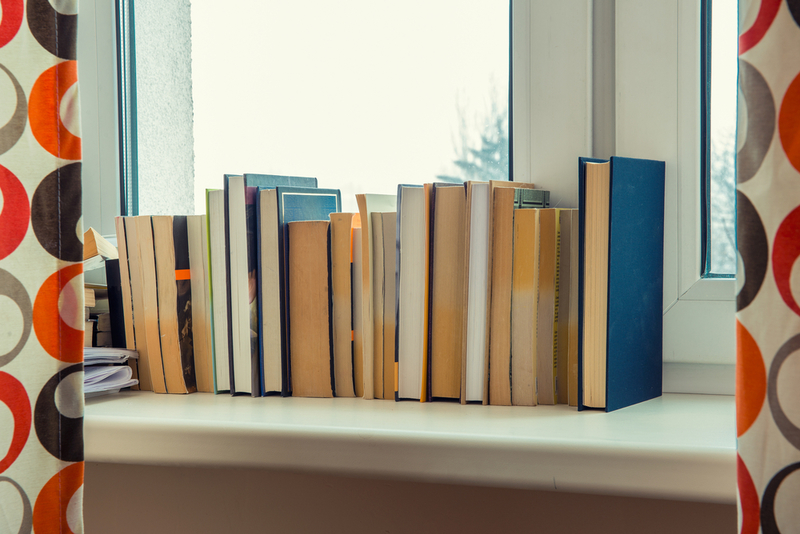 Mount a rod and hide those precious pages behind a cover, and your secrets will be safe. Perhaps you're just conscious that your precious books may be contaminated by dust and wish to protect them. Either way, your books will be cozy behind mounted cover.
23. Extra Storage
Spices are essential when cooking, but it can be challenging to keep them organized in your kitchen, and sometimes they can get lost amongst all the other ingredients. But not to worry. As usual, we have the solution. To create extra space for a spice holder, use a tension rod and hang it in your cabinet.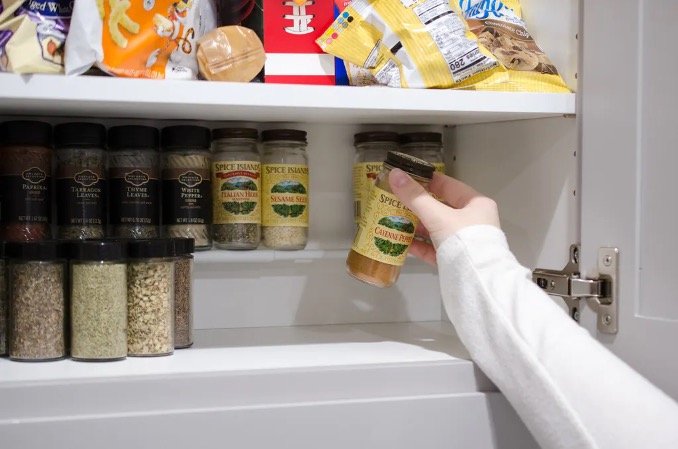 You will discover that organizing spices in your cabinet is easy when you use a tension rod. Place them on the uppermost corners. The shorter your spice containers, the better. It will look great on your cabinet, and your home will become more organized as a result.
24. Organize Your Hair Supplies
Are you tired of losing another hairpin or your favorite comb? If so, this might be the right time to get organized. Use a tension rod in your cabinet, then hang all of your hair accessories up.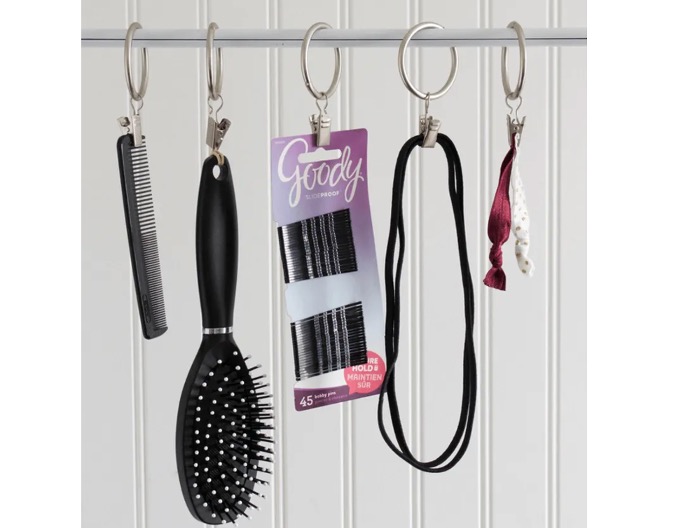 The accessories will not only look great hanging, but it will be easier for you to see and access them. You can also use the rod as a place to put your purse or bag.
25. Living The Fairytale Dream
Once, we dreamed of living a fairytale life. We too watched many movies about princes and princesses as kids. One image that we can't get out of our heads is the canopy bed, where most fairytale princesses slumber.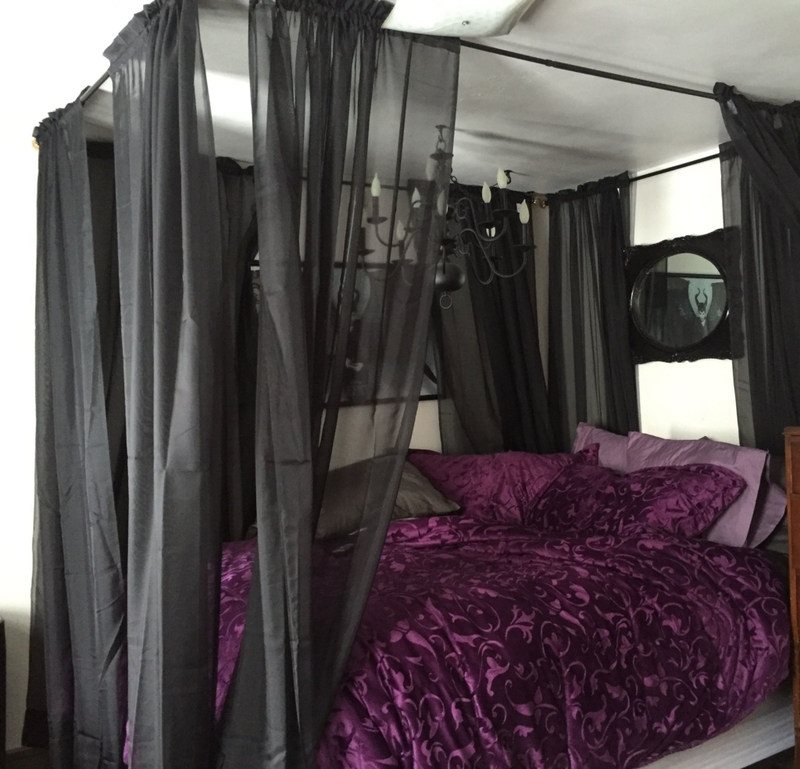 If you want to add a canopy in your bedroom but are on a tight budget, you can do it using a curtain rod. First, install a curtain rod on the ceiling, then feed it through your fabric or curtains.  Your room will look fit for royalty.
26. A Perfect Hideout
Bunk beds are popular nowadays. If you like to sleep on the top bunk, then you'll enjoy the idea of repurposing the bottom bunk into a private den. To complete this hidden compartment, you can make use of curtains and a tension rod.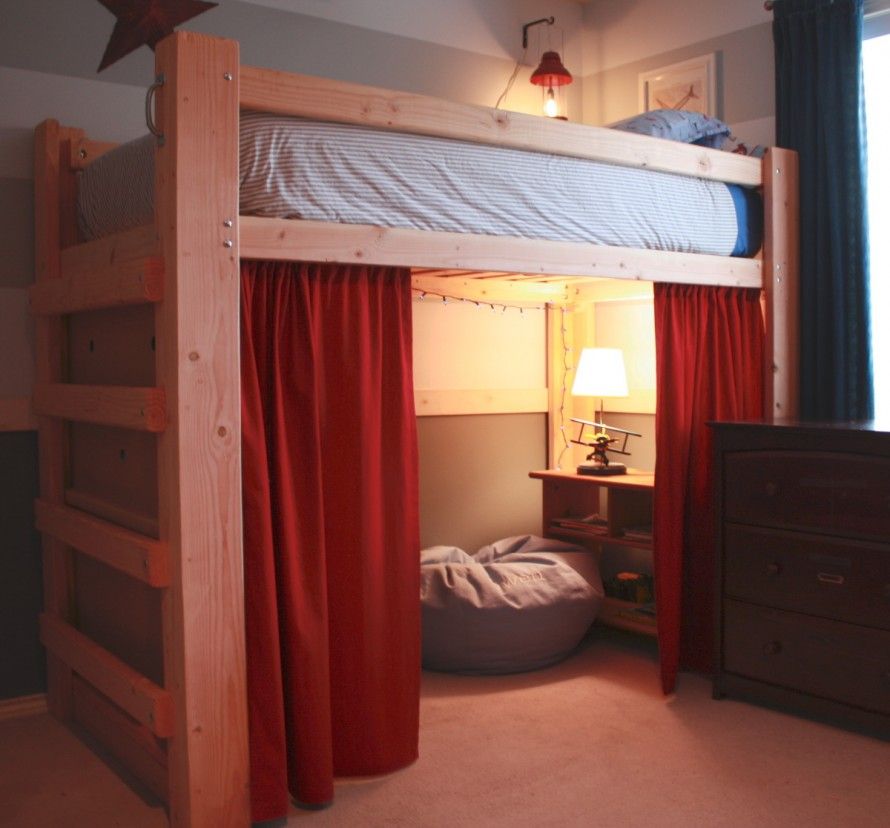 The rod will create a boundary between you and the outside world. You can set up some chairs and make it as cozy as you like. You could even have a sleepover with a friend on the top bunk while you have a fun reading space underneath.
27. Quick Doorway
If you're sick of having a cased opening or a doorless archway but don't have the funds to install hinges and a door, we have an idea for you. It's simple and affordable. Just use a curtain rod and fabric, curtains, or even bead strings.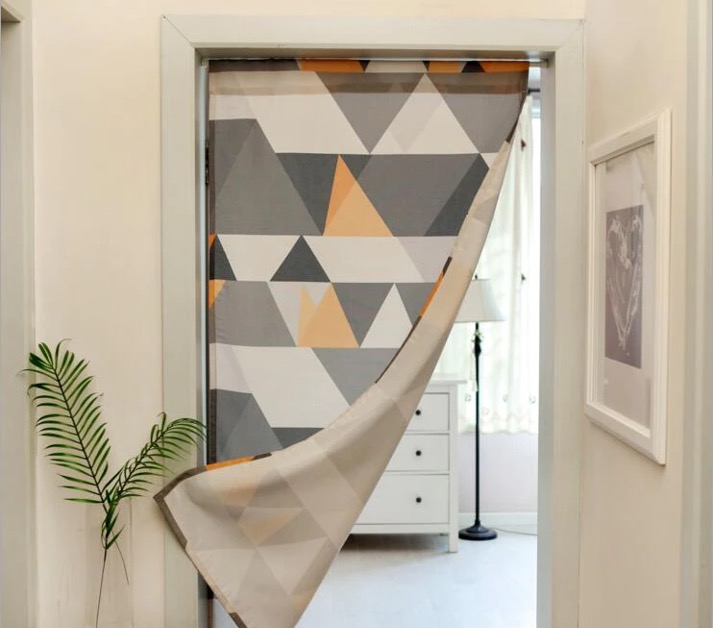 With some old curtains and a tension rod, you'll be able to pull off a DIY door. You'll have your privacy and you won't have to spend all that hard-earned money on new hardware.
28. No Headboards?
Let's be honest. Headboards are pretty expensive. They look great, but they can cost a fortune. If you are looking for the cheapest headboards available, then you might want to do it yourself instead.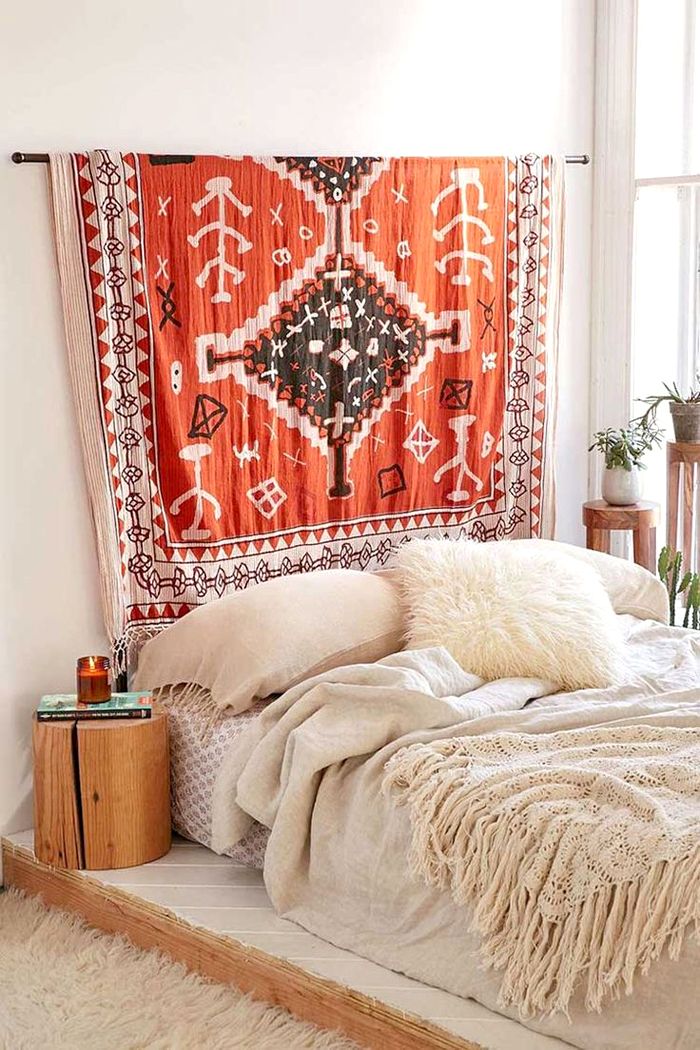 All you need is a curtain rod and a tapestry that matches your room. Isn't this incredible? Being imaginative and creative has its benefits now and then. You can have a great-looking room and be proud that you did it yourself.
29. Covering Leftovers
We all use aluminum foil to cover food. But sometimes we forget where we put it. This problem can be solved with curtain rods too. You can feed a curtain rail or tension rod through a roll of aluminum foil, and you'll have the evening's leftovers covered in seconds.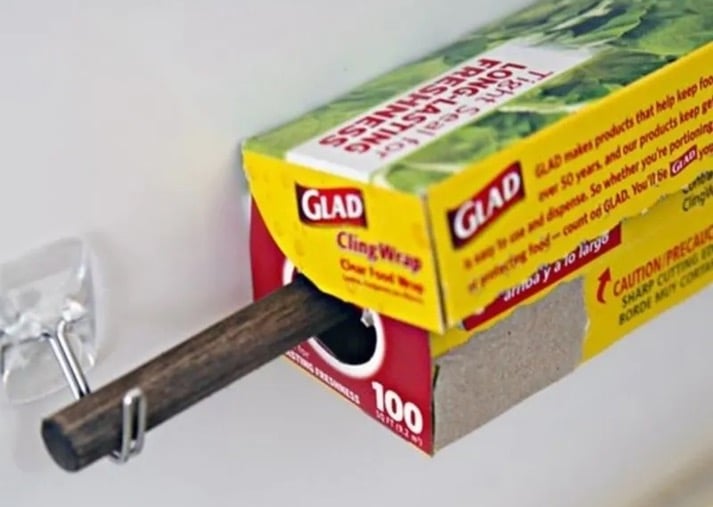 If installed at the correct height, it will be more convenient to use than wrestling with the roll from the table. It also dispenses the aluminum foil more evenly. It's a perfect way to get things more organized in your kitchen area.
30. Kitchen Towel Rack
Having a designated area for your towels in the kitchen is an excellent idea. Installing a curtain rod in your kitchen is the first step in building a new towel rack. The second step is hanging the towel! No more wet hands or towels on the backs of chairs for you!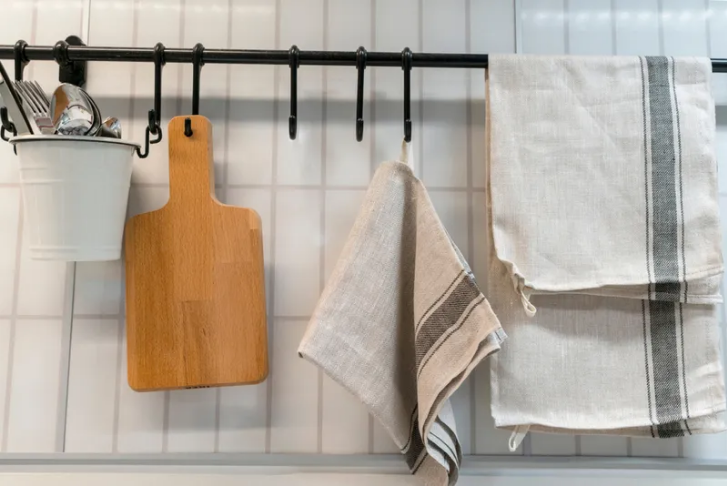 With a rod and S-shaped hooks, you'll be able to pull something like this off in no time. It's inexpensive and practical, and also gives your towels a place to dry after drying off one-too-many wet dishes.
31. Paper Workbench Dispenser
Being crafty and creative is a plus in life, but sometimes hard pencil work can lead to scratches on a desk. With a tension rod and a little craft paper, you'll be able to avoid damaging the surface of your work area. Not only that, it'll be easy for you to take care of any mess you make afterward.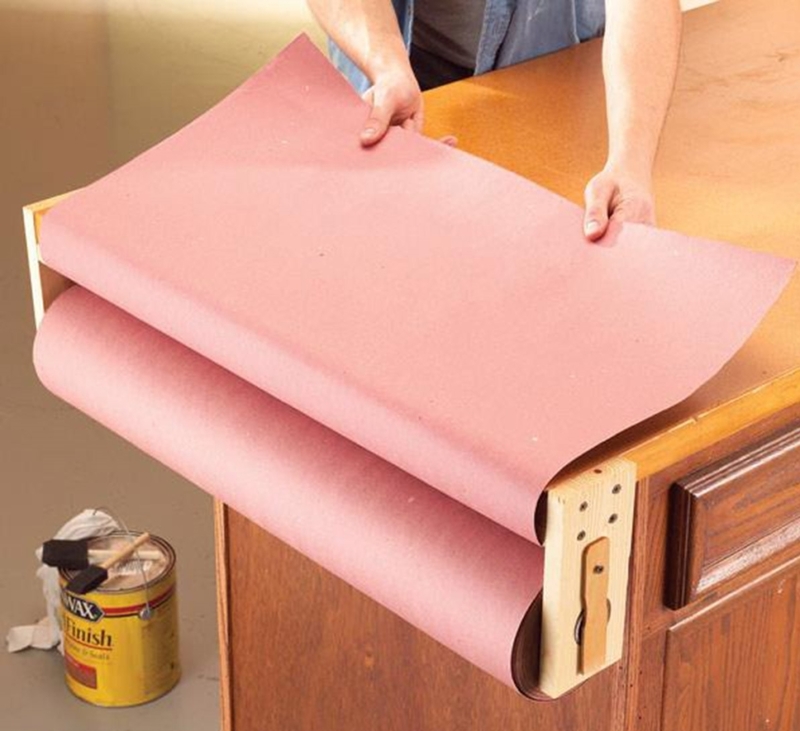 It might take a little handiwork to install, but it's a perfect idea for people who love to paint but hate cleaning up afterward. Using this, you'll be able to minimize the frequency of spilled paint on your precious desk. 
32. Party Decoration
Using a tension rod to hang your party decorations is a cheap but effective trick. The rod can be used to hang all sorts of decorations, great for all occasions; birthdays, weddings, parties, and so on.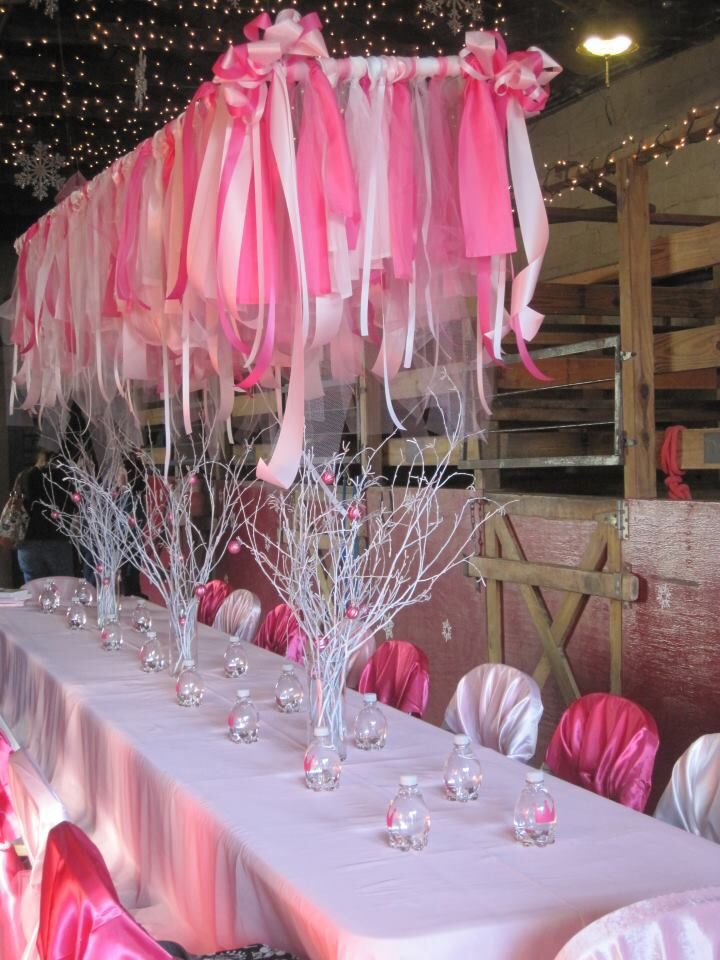 It's an inexpensive idea, and it doesn't require a lot of work to set up. It's great as a room-sized decoration, and you can make use of using old materials if you have any. Plus, it doesn't take up too much space in the house, so it's practical and efficient.
33. Closet Doors
Ever wanted a walk-in closet but you don't have the room for a sliding or pull-out door? Try using a curtain rod and hang up a tasteful curtain to separate your room from your wardrobe.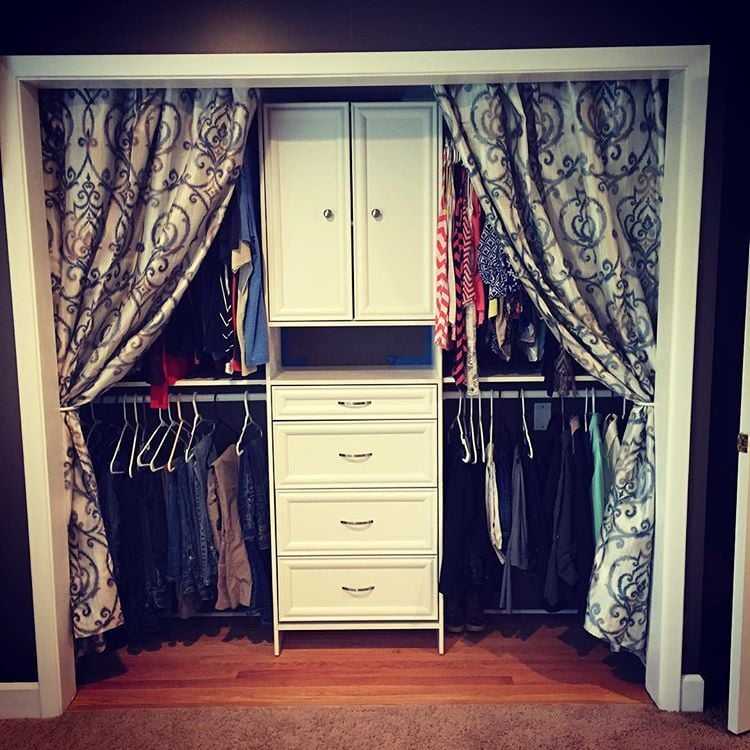 It's perfect for those who want to give their closet doors a brand new look without spending too much. Or if your closet doors are broken and won't swing anymore, then it's time for some DIY magic. A tension rod can fix almost any problem.
34. DIY Roman Shades
If you don't like the idea of a French coffee shop-inspired window, why not try Roman shades? You can use tension rods to make it happen, making your room more romantic and soothing. Mount them in levels on the inside of your window frame and drape a piece of cloth over in waves.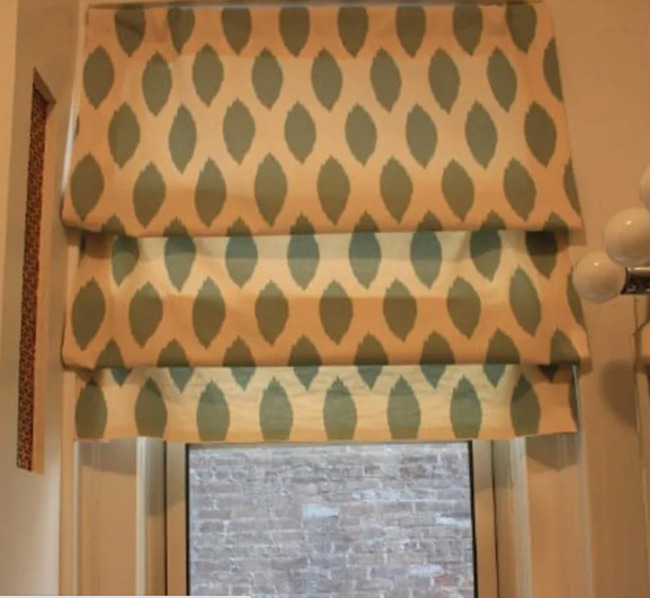 It's cheap, brilliant, and time-saving. You don't have to spend money on the Roman shade you want—instead, you can make it yourself. Rome may not have been built in a day, but a new look for your bedroom can be achieved in an afternoon or less.
35. Living Room Decorations
By now, you've probably gathered that curtain rods have many uses. They don't just hang up décor, but they can also make your living space more organized. Here's another example of just that, this time placed vertically.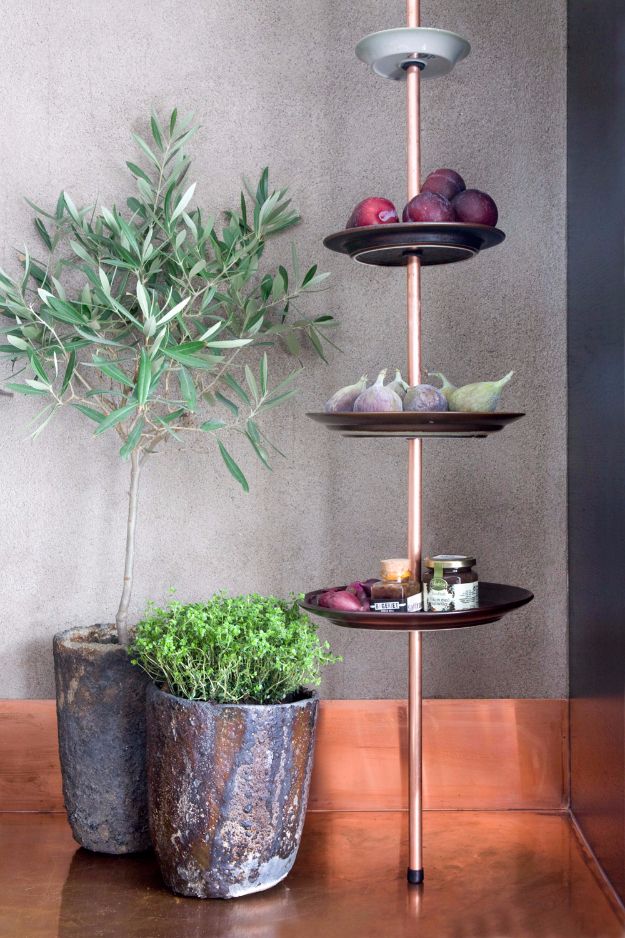 A tension rod will bring an old-fashioned charm to your living room if you can find one with a long enough reach. You can make use of the things that you already have, like a plate or piece of wood. Make a hole in the center and insert the tension rod through. Now you have a place to hold your jam jars, fruit, plants, or anything your heart desires.
36. Laundry Area
Having another place to hang towels or clothes in your laundry area will keep them straight and wrinkle-free. Once they're dry you can take them straight to your closet or wardrobe. Like most of the other ideas on this list, it can save you time, energy, and money.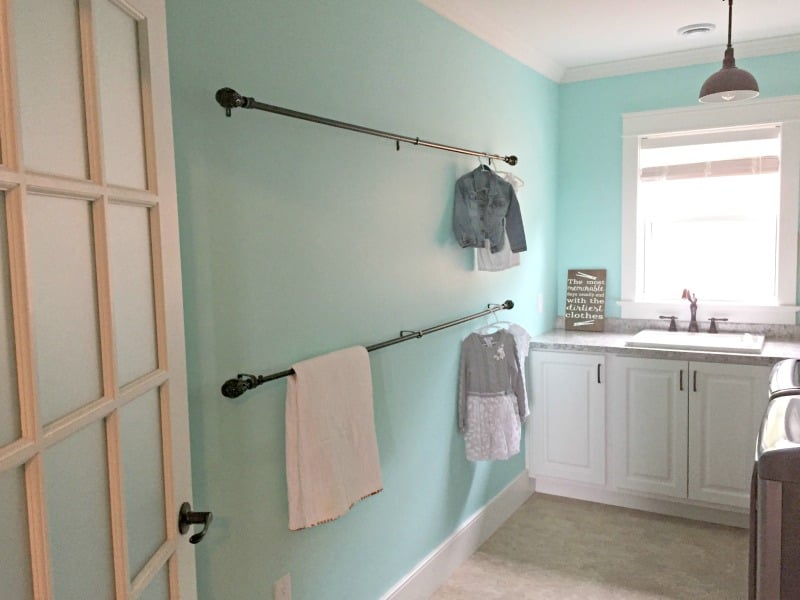 They can be used to hold towels in the bathroom too. You can use the rod to dry clothes after being caught in the rain, so you don't have to wash your outfit every time you come home from a downpour.
37. For The Perfect Gift
Ever wish you could find a better place to keep your wrapping paper? Do you find yourself dragging out crumpled sheets from long-forgotten places? Do you struggle to wrap your gifts for a lack of space? We might have found the answer, dear reader.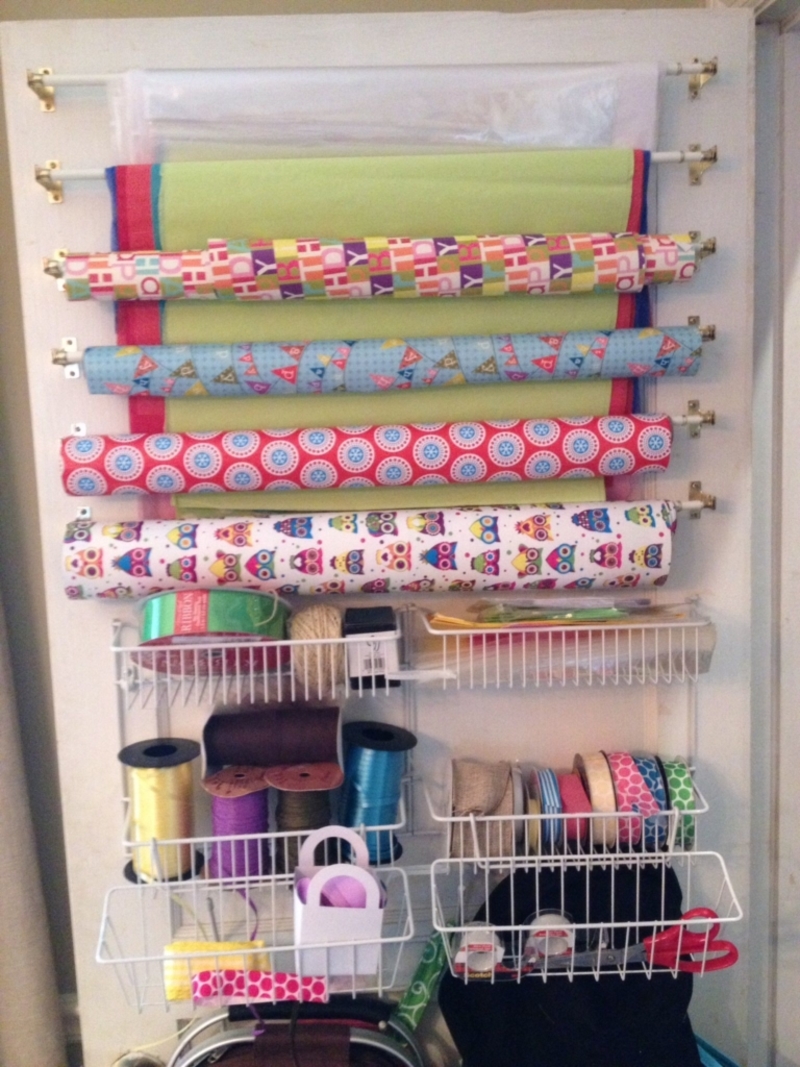 By using a curtain rod, you'll be able to create a fun and creative display for your gift wrappers. It's inexpensive, so it can save you a lot of money. It also doesn't take up much space, so it's perfect for small rooms. How about that? 
38. Tub Helpers
Do you remember your squeaky duck from when you were a kid? You might not have it anymore, but you can still pick up a few new tub toys for your own child. Keep them safe by fitting a tension rod to a basket so your little yellow friends can have a safe place to stay by the waterside.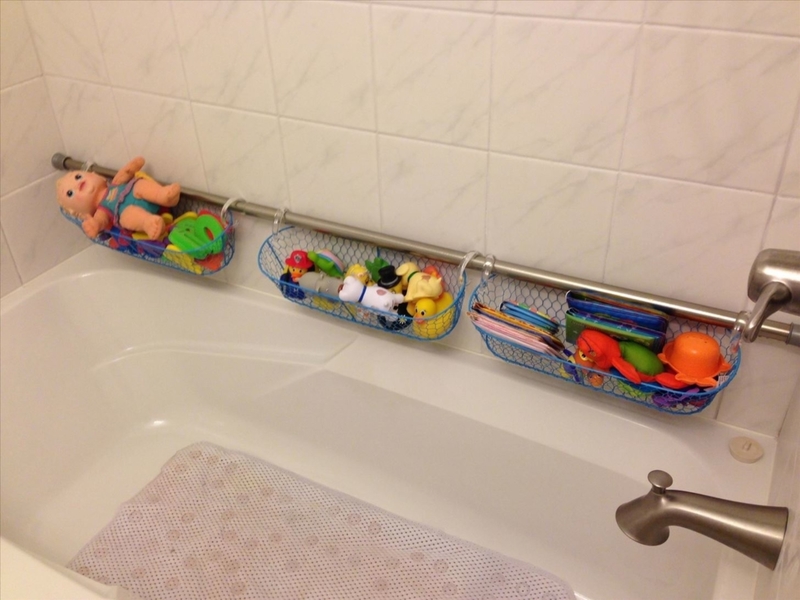 Old baskets and a few S-hooks will do the trick. You can keep bottles of bubble-bath and soap there too. It's a great idea for kids. Just don't leave your phone in one of them, or it might get wet.
39. Table Cover
Ever feel like wearing a skirt is a hassle at work, especially when your desk comes without a front side? Can't drop a text without your boss catching you? Good thing we've got you "covered". You can use a tension rod and curtain to protect your leg space from unwanted eyes.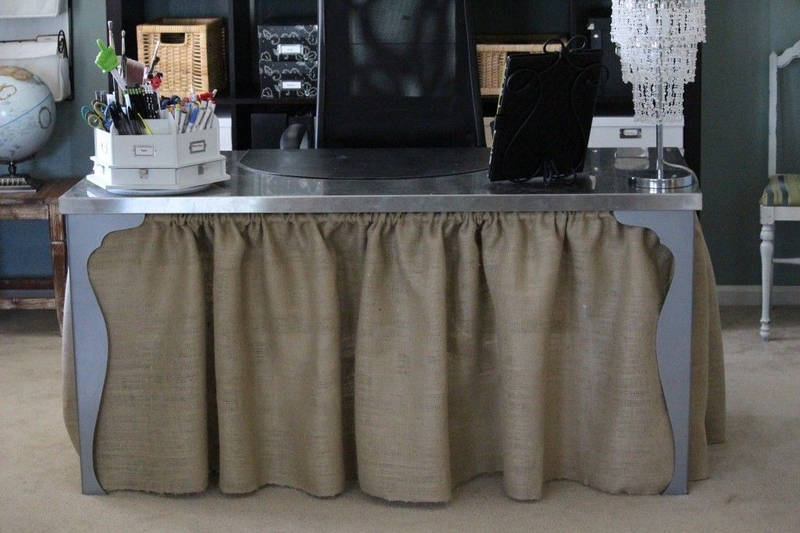 Just mount it below your table and feed it through some fabric. Make sure to choose a fabric that matches the room. It will look great, especially if you like to keep stuff beside your feet. It's a simple but creative idea, perfect for people who love DIY stuff.
40. Bathroom Organizer
We've already given you a few ideas for organizing your bathroom, but every inch of space counts, especially if you share it with a partner or roommate. But what other space could you possibly utilize? We're glad you asked.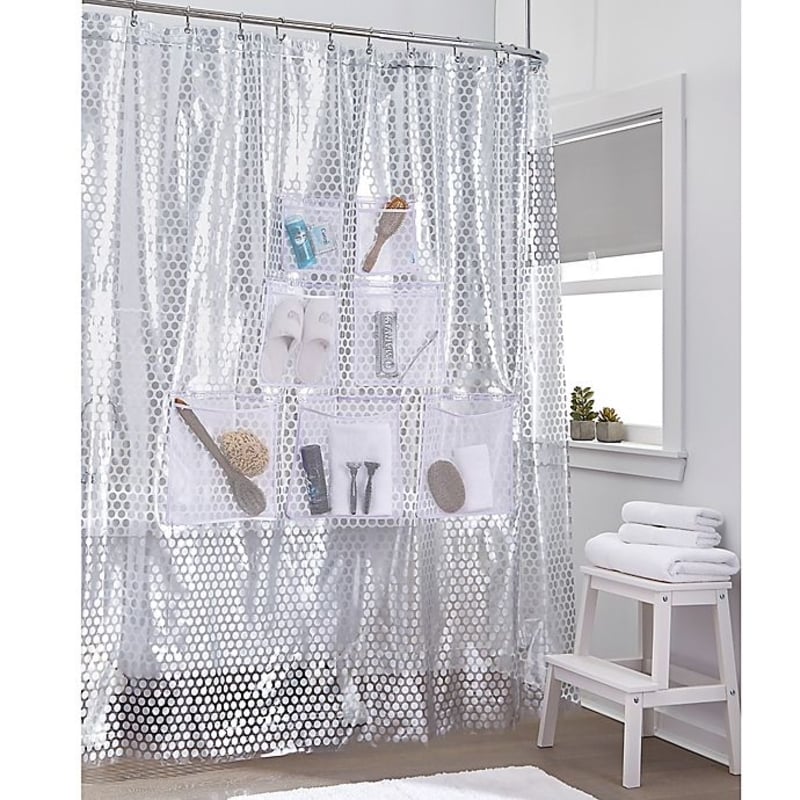 Consider stitching transparent pockets onto your shower curtain. If you have the know-how, this little trick can open up a ton of space around the sink. We think that this is the ultimate bathroom organization technology.