How The World's First Surviving Septuplets Are Doing Today
Birthing one child and raising them can be quite a challenging task. Think of all the times you may have lost sleep because of a wailing baby. Being a parent is the most difficult job there is! Fortunately, sleepless nights are also accompanied by the incredible joy and happiness that a baby brings. This is especially true if pregnancy did not come easy. Parents who have undergone fertility treatments all share a great appreciation for pregnancy and the blessing that is parenthood.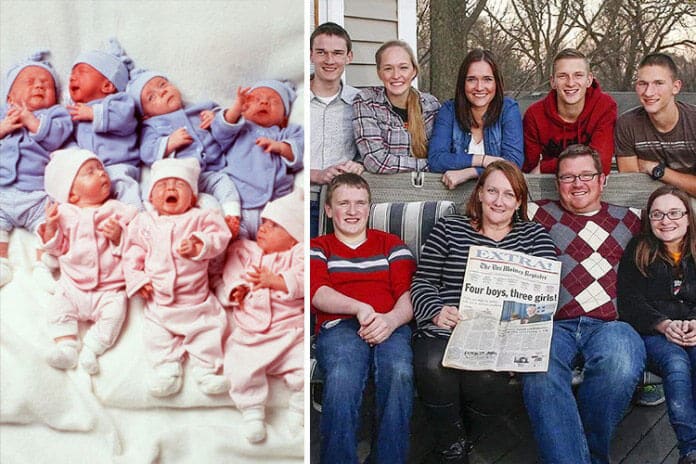 Now, if a single baby can bring about such challenges as well as happiness, think about seven of them. If you've raised one baby at a time, you know raising 7 at the same time seems absolutely impossible! And yet, these parents managed to make it work. Check out this unbelievable journey of the lives of the world's first surviving septuplets.
The Amazing Parents
The septuplets were not Bobbi and Kenny McCaughey's first pregnancy; they had a first-born child. They regarded their first born daughter as a miracle baby because of their struggles with infertility. They named her Mikayla Marie and after her birth in 1996, they quickly made plans to continue to grow their family. The McCaugheys loved being parents and were excited to bring a sibling into the world for their daughter.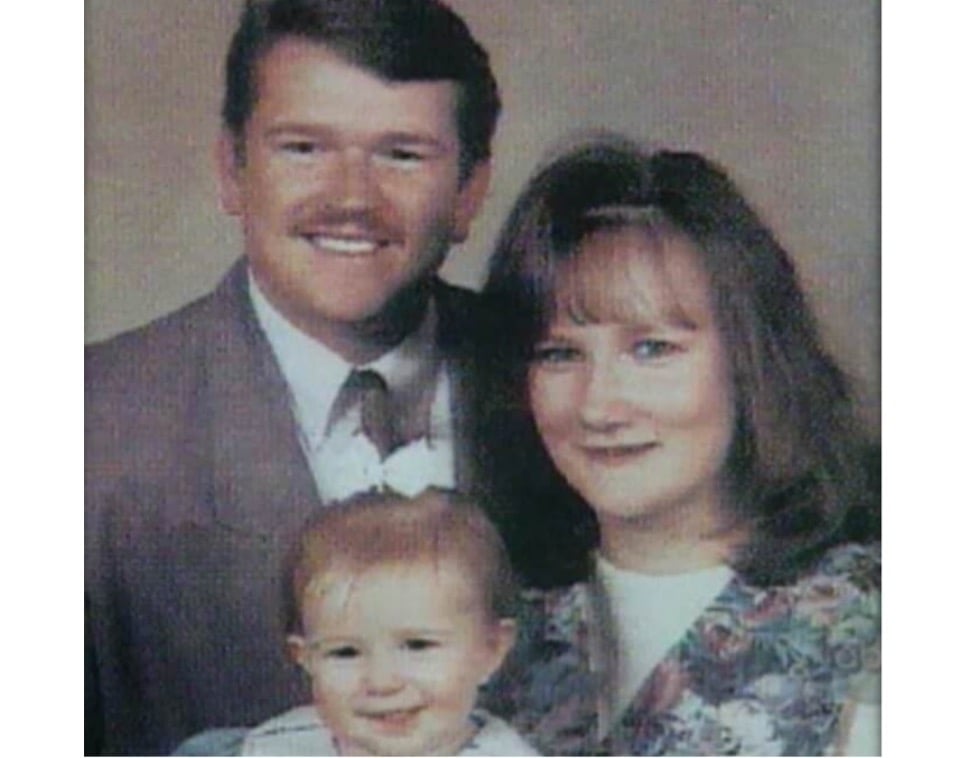 Bobbi had a pituitary gland problem that is known to significantly affect a person's fertility. It causes a disruption to the hormone system, which can make fertility difficult. But the McCaugheys loved being parents and were determined to continue to grow their family. They began their fertility journey right away.
Their Fertility Journey
Due to Bobbi's pituitary gland issue that seemed to cause fertility issues, they had to seek medication to enhance their fertility. They knew they would have problems conceiving their second child, so they considered getting medical advice. They were determined to bring a sibling into the world for Mikayla Marie and were willing to do whatever it took.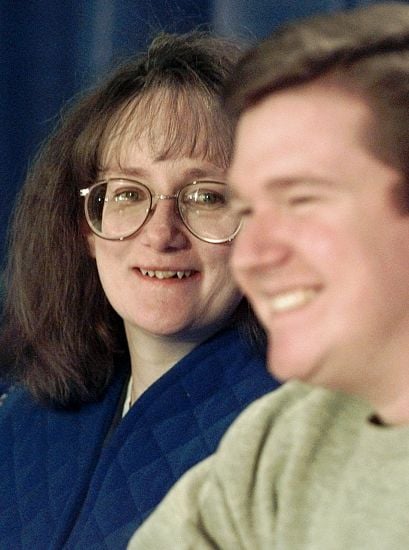 The doctor advised them to take Metro, which is a drug that enhances a woman's fertility. So with their fertility plans in place, Bobbi began taking the Metrodin medication. Little did they know they would be getting more than they bargained for from the fertility treatment.
The Surprise
Given that they had a successful single birth before, it was natural for the couple to expect another single baby. However, when they went for a scan, they found out that they were expecting not one, but seven babies all at once! Finding out you're having twins would be a shock, let alone 7 children. It was more than they ever would have imagined.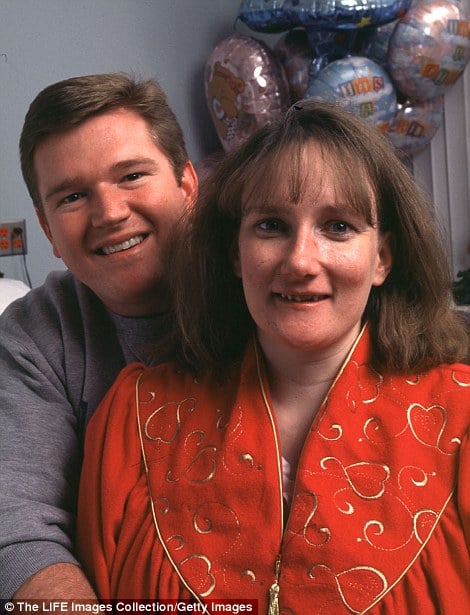 The news was surprising and exciting, but it was kind of stressful to them. The pregnancy posed great danger to both Bobbi and the babies. At this point, septuplets had never been delivered without complication. While the family was extremely shocked and excited, there were important things to consider with a pregnancy like this.
The Risky Decision
The pregnancy was slowly taking a toll on Bobbi as it was progressing. Imagine carrying seven developing children at once. Carrying one child is difficult on the body, so 7 proved to be extremely challenging. Would they all survive? Would Bobbie be able to deliver and keep herself healthy as well? What about their infancy stage? How can the couple take care of the seven infants to maturity?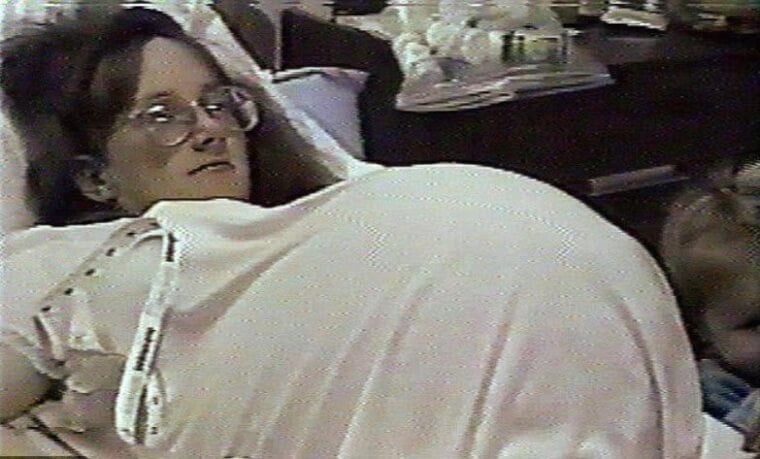 These were the questions running in the couple's minds and other people's minds as well. They had to make a tough decision. The doctors suggested that they consider having 'selective reduction.' Selective reduction is an option that doctors offer to most women who are pregnant with more than one child.
What Is Selective Reduction?
This meant that they would protect the healthy fetuses and do away with the weaker ones. In simple words, they would abort the more fragile fetuses and protect those who looked as if they would reach full term. In many pregnancies with more than one baby there are health risks involved for both the mom and the babies. In many cases, not all fetuses survive to delivery.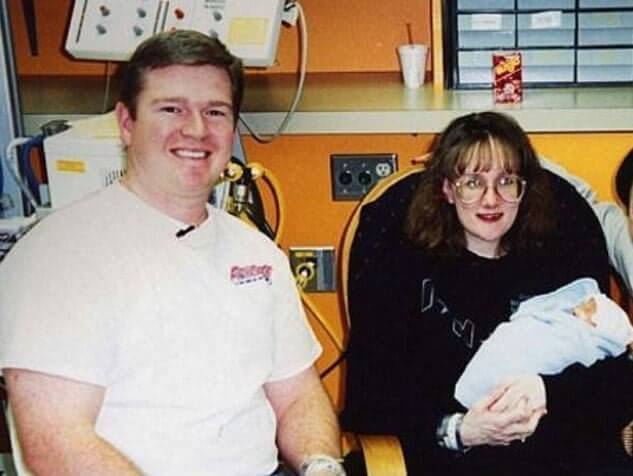 This would take away the risks caused by carrying seven babies all at once. But the couple would have none of it. They were not going to choose which ones to follow through with over others. Bobbi and Kenny decided that they would "put it in God's hands". So after much thought and discussion, they decided to proceed with the septuplet pregnancy.
Countrywide Attention
After their decision, they received attention from everyone in the country. Some thought it was amazing for them to keep the babies, but some thought it was dangerous. Some people accused the couple of exploiting the children. Others accused them of wasting the world's resources on such a big family. But some people thought it was admirable and a miracle!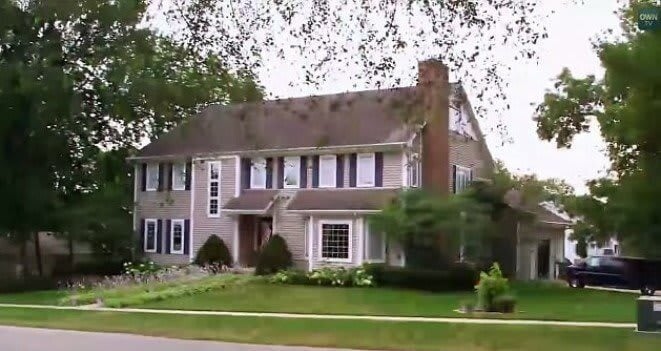 Everyone seemed to have an opinion on their decision about their family. However, Bobbi and Kenny had made up their mind that they were going to keep their seven babies no matter what. Their decision sparked up generosity from people countrywide. They received a 5,000 square ft house as a donation. People also donated a 2 years supply of diapers, clothes, and nanny services. The State of Iowa even offered full ride scholarships to the babies for any state university in Iowa. They hadn't even been born yet and they were set for college!
The Generous Gifts Kept Coming
They received a year's supply of 'Mac n Cheese' from Kraft. They also received a 2 year's supply of diapers. As any parent knows, diapers do not come cheap! Then, as if that wasn't enough, people began offering help as nannies. President Bill Clinton personally gave the parents a call to congratulate them on their growing family.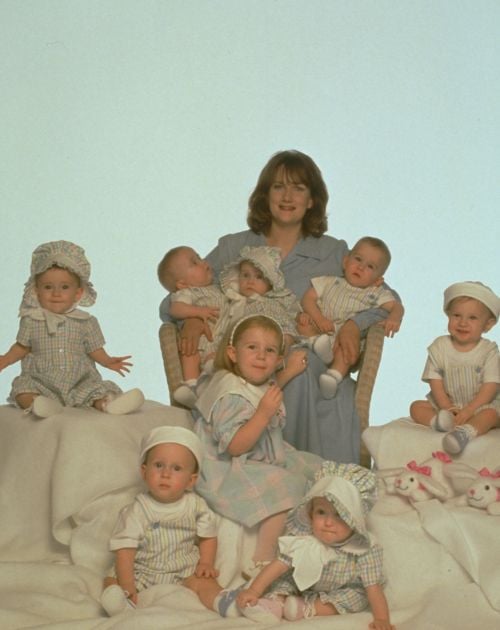 In addition, someone offered a brand new van to the family that would comfortably fit the seven babies, their first-born daughter, and the two parents. The family also offered a yearly supply of groceries for ten people. People were impressed and intrigued by the family because it was the first time septuplets had been born! People wanted to watch the scene unfold.
Exciting Times Ahead
As weeks passed leading up to the birth of the seven babies, the couple's experience was thrilling and stressful at the same time. Preparing for the arrival of one single baby is difficult, but preparing for 7 is a huge challenge! Even with all the help and gifts they received, there was much to be done in preparation of the septuplets arrival. However, they had decided to stay positive as it was the best thing they could do for safe delivery.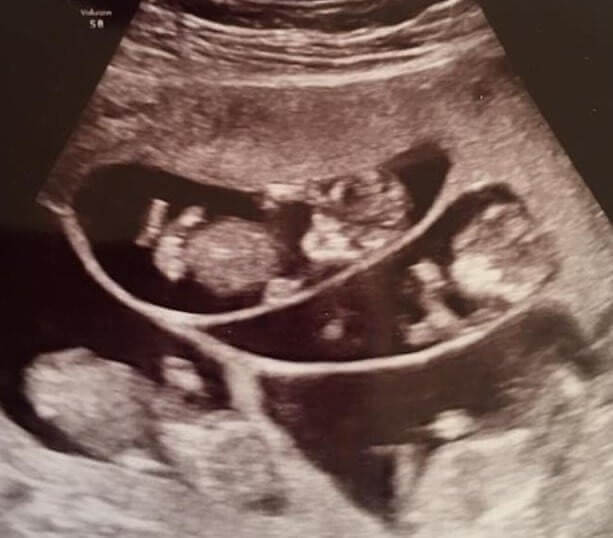 It became even more surprising as the couple received unbelievable news that they had to be in the hospital at 31 weeks. However, the doctors were convinced and concerned that labor would start early. It is not uncommon for pregnancies with multiple babies to be born prematurely, so the McCaugheys had to be extra prepared.
The Delivery of The Septuplets
Now comes the most awaited times of the lives of this couple. As the doctors had suggested, they were in the hospital at 31 weeks. They tried all their best to stay calm despite their worries. They were to deliver their babies through cesarean section. All eyes were on them and the doctors. They were well aware of the risks that came with the unprecedented delivery so they were naturally worried as well as excited for the arrival of their kids.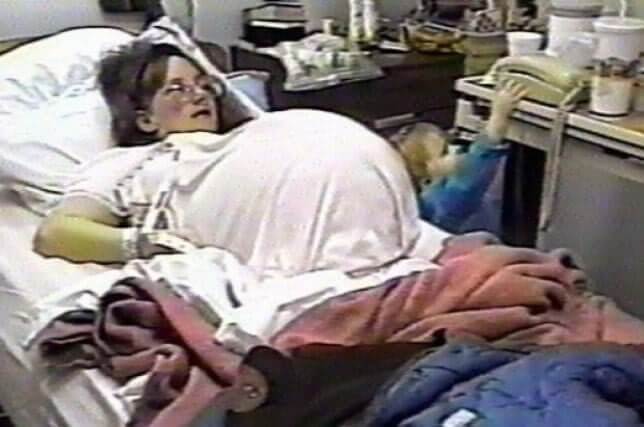 The couple was surprised, but they trusted the doctors and had faith that everything would work out just fine. Bobbi gave birth to the seven babies, all in six minutes! It took a team of 40 specialists, but they were able to deliver all 7 babies in a matter of minutes. Just like that, a medical miracle occurred! The McCaugheys were now parents to 8 children.
Naming
Naming a single baby can be such a task for some people; now, imagine seven babies all at once. Bobbi delivered seven children, four boys, and three girls. First, they named the heaviest weighing child Robert. The rest of the boys were named Kenneth, Nathan Roy, Joel Steven, and Brandon James. The girls were named Natalie Sue, Alexis Mary, and Kelsie Ann.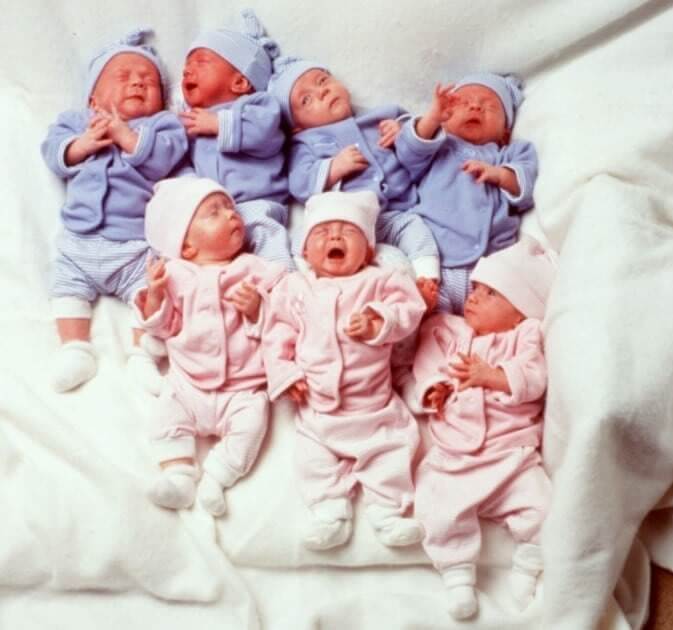 As mentioned, everyone, countrywide, had different opinions about the pregnancy, but all were happy that all the seven babies were alive and healthy. At this point, the world had been anxiously waiting their arrival, so the parents weren't the only ones celebrating the successful delivery.
Team Effort
Bobbi and Kenny had to do their part in getting through the pregnancy and delivering the babies, but they also needed medical assistance. The hospital staff kept a close watch on the couple as their pregnancy progressed. They ensured a successful pregnancy even as they waited for the due date.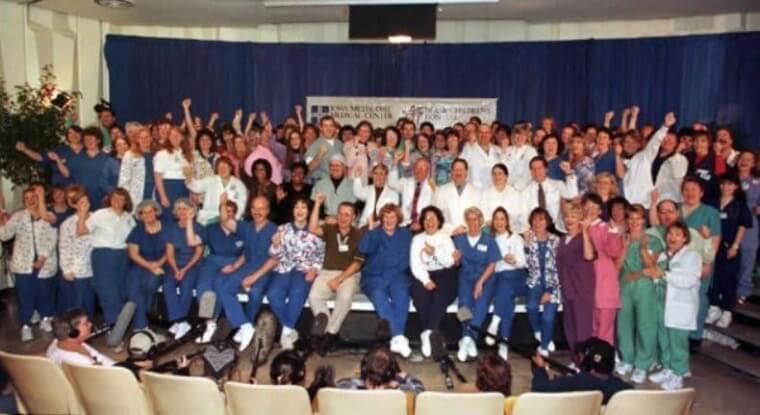 The whole hospital team was excited to make one of America's hottest and unique histories. After a few days since the delivery, the staff came together to take a photo of remembrance.
Not Discharged Quite Yet!
Bobbi and Kenny had to stay at the hospital for three months and ten days to allow the doctors and nurses to keep a close watch on them and the infants.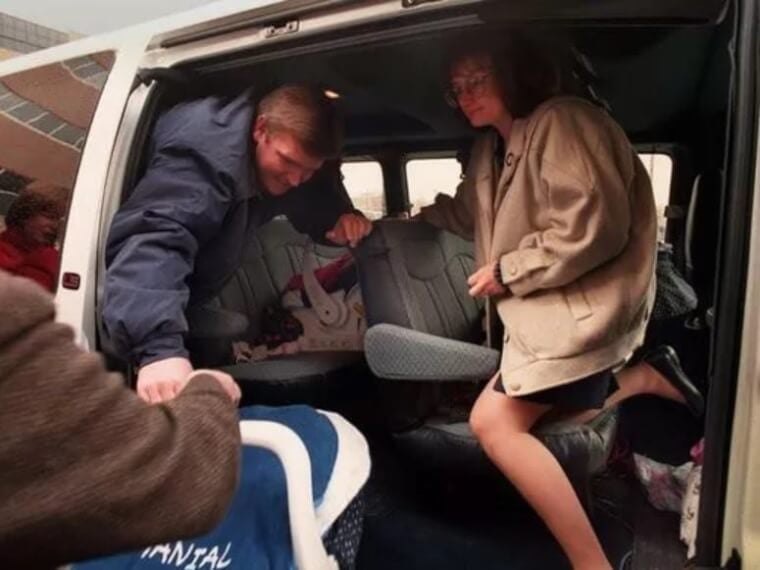 This duration was significant for both the babies and their mother. Fortunately, when it was time to leave the hospital, all babies were alive and healthy.
Camping For The First Photos
When the couple was told to go to the hospital nine weeks before the delivery date, the media was unaware of it.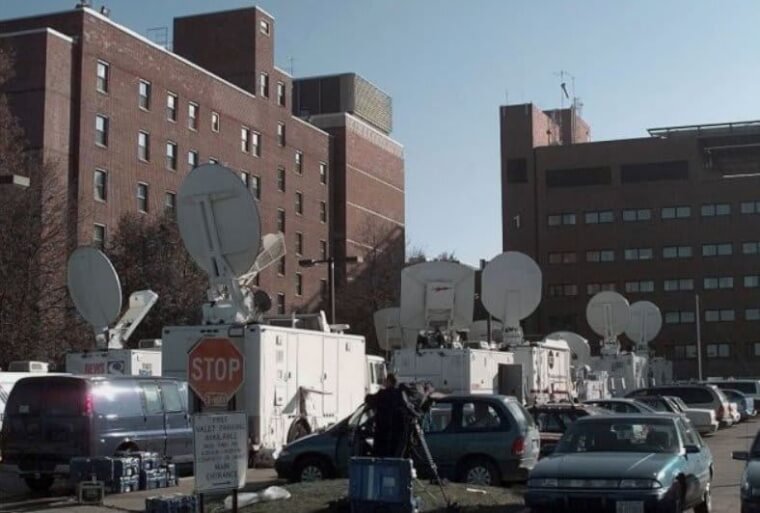 However, when they later realized that the births were taking place at the Iowa Methodist Hospital located in Des Moines, they camped outside to try and capture exclusive photos of the septuplets shortly after their birth.
Security
Remember the 5,000 foot house that was gifted to the family before the delivery of their babies? Unfortunately, the couple had to go to their old house first after leaving the hospital.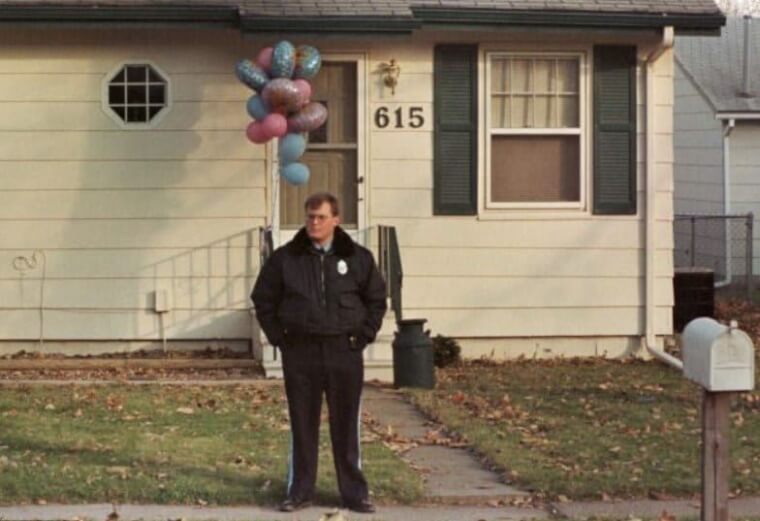 They also had a police post outside their home to ensure that their children were entirely safe at home from the media or any other curious strangers.
The New Home
As the family was back at home with their children, their new 5,000 square ft house was getting ready. Once it was properly prepared for the family, a ceremony took place to officially welcome the family into their new home. Loyd Clarke, the chairman of the Clark companies, was involved in the official opening of the house. As expected, the family was excited, and everyone involved was equally as excited for the McCaugheys to begin their new chapter.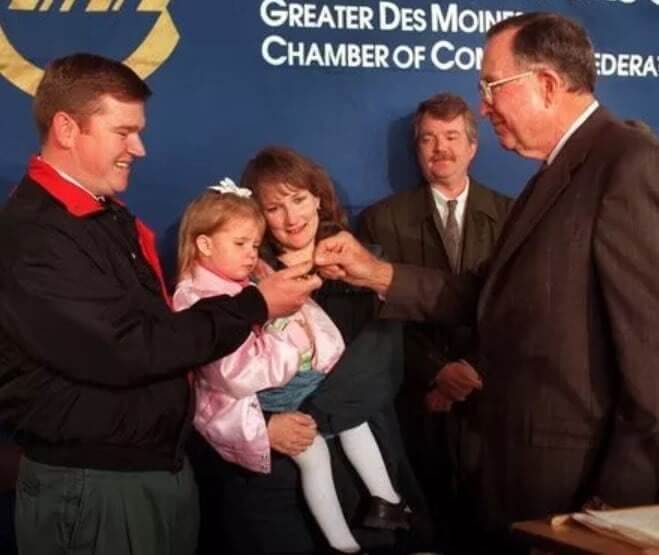 Talk about pure blessings; seven babies, a year's supply of diapers, groceries, a van, and a new house. The house would also have volunteer nannies as they helped the family take care of their children and the house as a whole.
More Exciting Times Ahead
The family thought that only the local reporters were interested in their story, but surprisingly, they got countrywide attention. Within a month in December 1997, after they had given birth to their seven babies, they were featured on the front cover of Times magazine.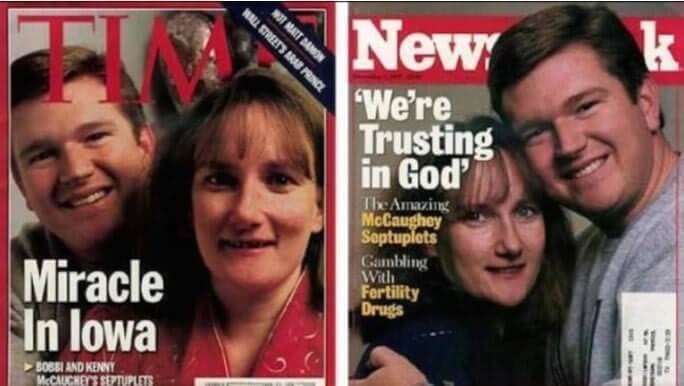 This put the couple and their children into the limelight, and more and more people got to know about their lives and their story.
A Full Interview
After their interview with the magazine, the couple also got another full interview with ABC News Primetime. ABC covered most of what the family already shared, so this segment consisted of a full interview with a few additional facts about the family that the public may not have known.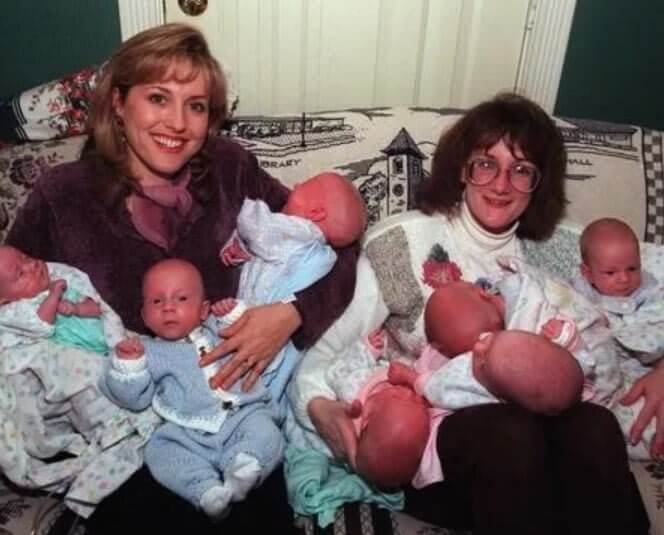 Since ABC News Primetime is a popular media house, the popularity of the McCaugheys and their septuplets spread even further.
Criticism
The more popular the family became, the more the people had different opinions about them. Unfortunately, some of these opinions were not all positive. This was, however, very much expected by the family and outsiders as well. Thankfully, most of the reporters and journalists were positive and kind. However, as a normal human being, the parents were deeply hurt by some of the comments from other people.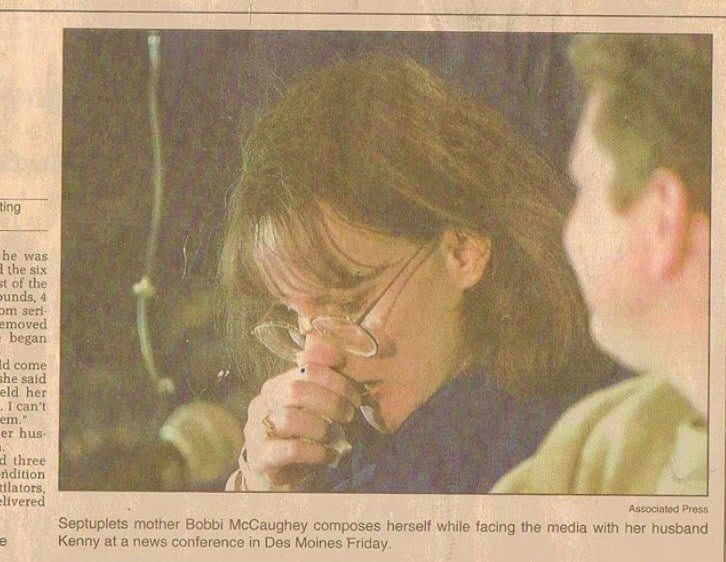 For example, some people think that the couple was simply irresponsible for having seven babies. Still, some stated that the children would cause an environmental issue because of the supposed waste they would produce. The parents, however, were over the moon about their family, and they would still love and keep their children despite what people said against them.
Avoiding the Criticism
As expected, the criticism continued. This caused emotional hurt to both parents, and they were searching for ways to avoid this issue. Luckily a family who delivered quintuplets had one piece of advice for them: keep their eight children private from the world.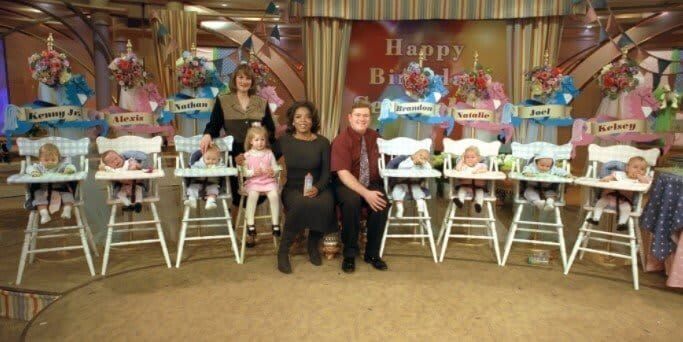 They saw the idea fit their family and decided to go with it. They only had one condition, though, that they would make a single appearance once a year on the day of the septuplet's birth. This was the best way to stay away from constant attention while still sharing their story, struggles, and success throughout the years in hopes of helping other parents with many children.
Advice from the Dionne Quintuplets
They say experience is the best teacher, and it certainly is, especially for the Dionne quintuplets. The quintuplets were born in Ontario, Canada, in 1934. Elzire Dionne, their mother, found herself under a lot of criticism about raising her five children.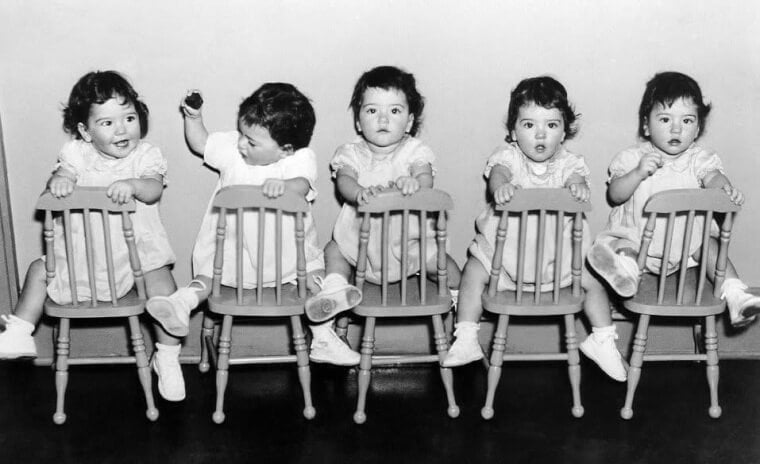 Some people were even referring to the Dionne quintuplets as a circus. Her best bet was to keep her children as private as possible to reduce all the criticism she got, and her decision helped the McCaugheys.
Dealing With the Workload
Although the couple had decided to keep their large family private from the rest of the world, it is said that they had to do 17 loads of laundry each week. A single baby automatically increases your workload. What about seven of them?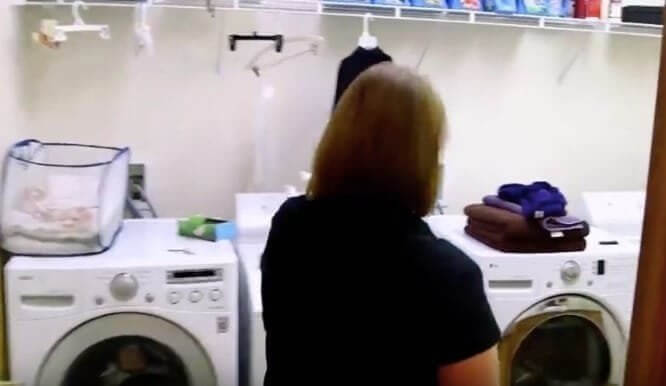 Fortunately, the McCaughey's had two washing machines and two dryers to help them with the laundry. What about the other housework? Although they had intended to keep the family life private, they still had to get nannies or house helps to aid them in dealing with raising seven babies at once.
A New Strategy
With seven more growing babies for a young couple, there needed to be a new strategy that would help them survive their new routine. Aside from the constant laundry, the babies also used an average of 52 diapers each day and an additional 42 bottles of milk each day. This meant that they had to use lots of cash each day.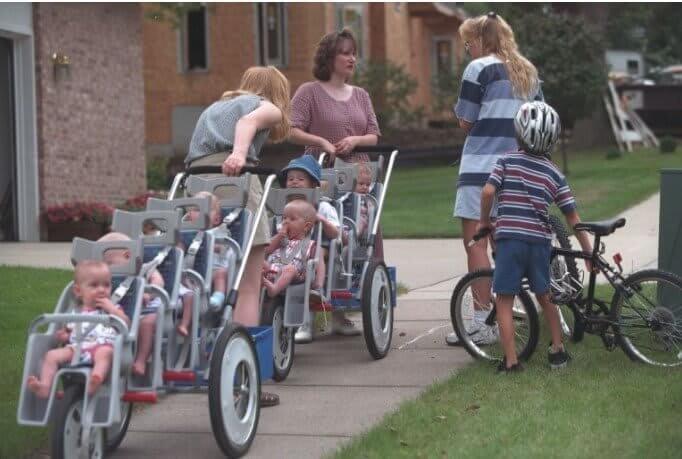 Bobbi and Kenny decided to look for a new strategy that would help manage their family's expenses. One strategy was not to ditch the breast milk. Instead, Bobbi decided that she would feed her babies with breastmilk until they were three months old. Formula for the seven babies would be a bit too expensive for the family.
Potty Training
Potty training is a complete nightmare for most people with toddlers. If it is a nightmare for a single baby, think about seven. It was therefore expected that everything that involved the septuplets would take time. The diaper change and feeding took a lot of time.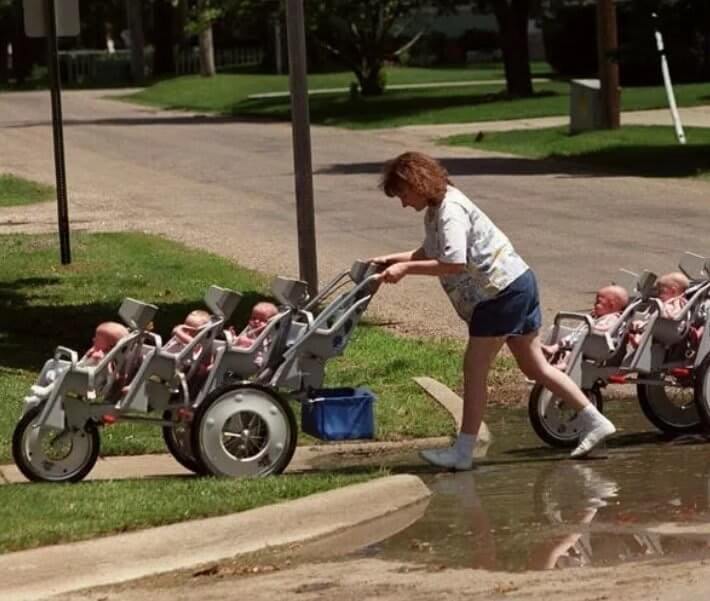 For example, with Mikayla their first child, it took only four days to completely potty train her, but with the septuplets, it took more time for the potty training and the diaper changes.
Volunteers Were Angels
Due to the added workload, the family needed all the help they could get. Fortunately, there were always some people working as volunteers. Seven to eight volunteers helped in diaper changes and bottle feeding.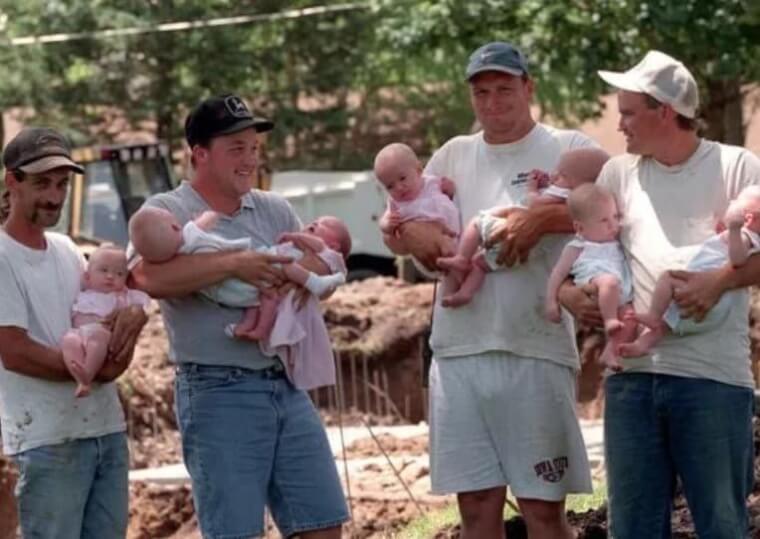 Volunteers were therefore seen as angels, for they offered the much-needed help the family was looking for. It was heartwarming to see so many people coming forward to help the family with what they could afford. There were so many helping hands. For example, the workers from their new house construction were there to help with the little they could afford.
Big Sister Mikayla
Among all the people that offered to help the septuplets and their parents were their big sister Mikayla. She knew very well that her parents and siblings would need all the help they could get.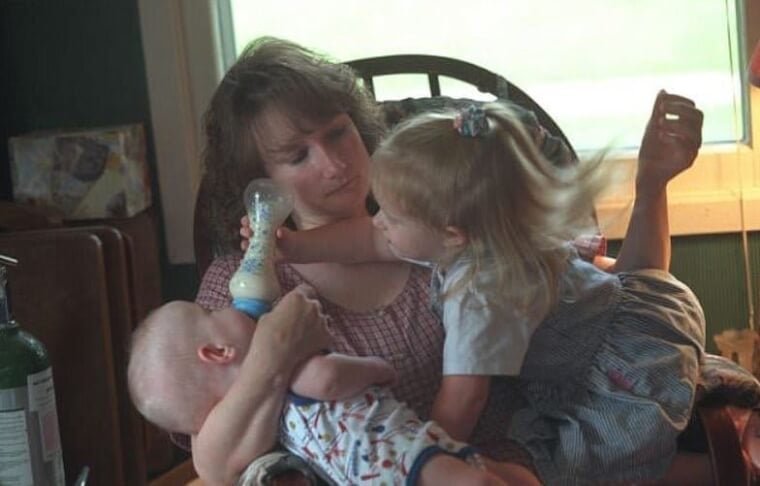 She helped feed her little siblings and sometimes changed their diapers with the help of a grown-up. What a wonderful big sister!
Saving More Money
As we have mentioned earlier, the family's expenses shot upwards, so the family needed to develop a strategy that would help minimize their expenses. One system involved buying everything in bulk.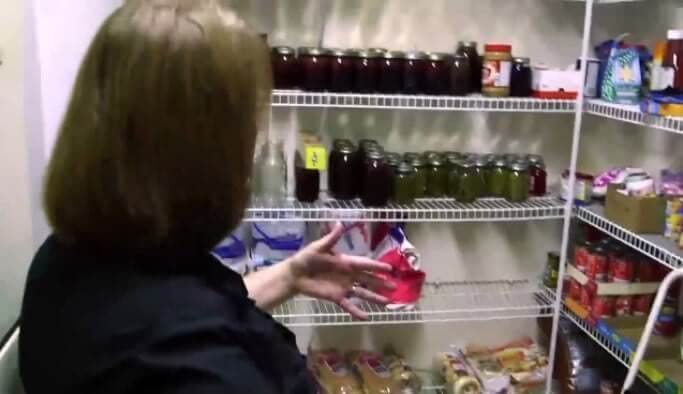 They also decided to buy their supplies from discounted sections. They could implement this strategy so well that they slashed their expenses efficiently. They were now able to spend only $300 monthly. They also decided to start growing green foods. This would help them avoid buying green groceries, enabling them to save even more cash.
Regular Checkups
Like any other baby, the septuplets also had many checkups with their doctors. Lucky for them, they had a van to take them around from their home to the hospital and back. Getting regular checkups ensured that they grew up healthy and well cared for.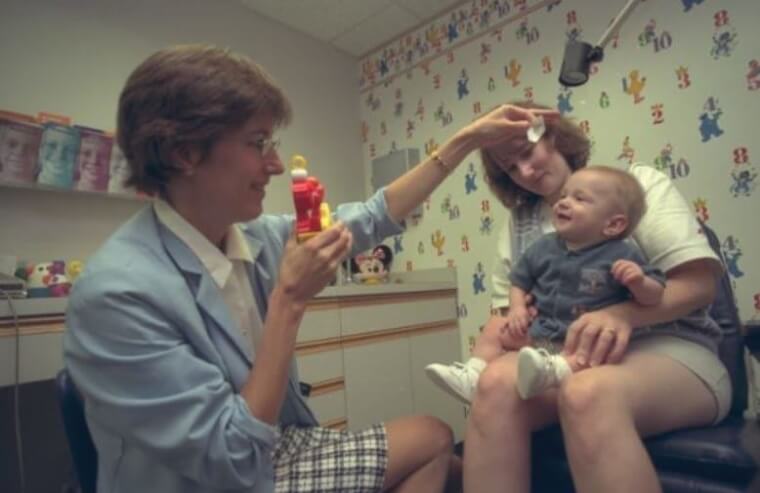 The checkups ensured that they were getting all the help they needed healthwise and that their overall health was good.
Going the Green Way
Going green by creating a garden in your own backyard is an excellent way to reduce grocery expenses. Having a vegetables and fruits garden in their backyard not only reduced the price of having to purchase the vegetables and fruits, but it was also very healthy for them.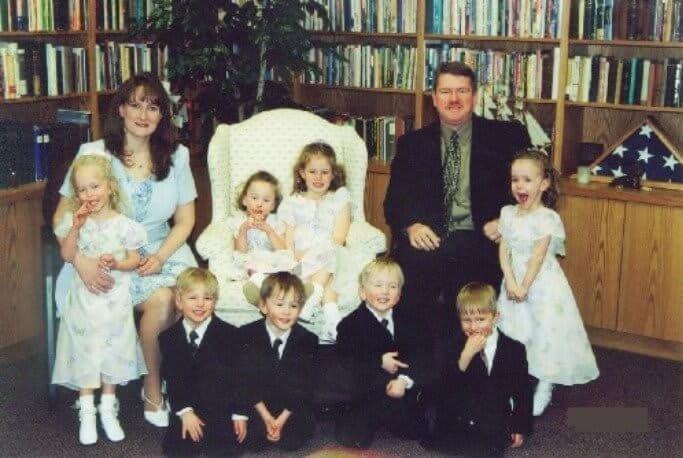 As a parent, you are constantly concerned about what your child eats. The McCaugheys were conscious of what they fed their eight children and thus thought a home garden would be an excellent idea.
In Love with Breakfast
Fortunately, these babies loved their breakfast, and it's a good thing because it would help them grow healthier and stronger. After all, breakfast is often considered the most important meal of the day.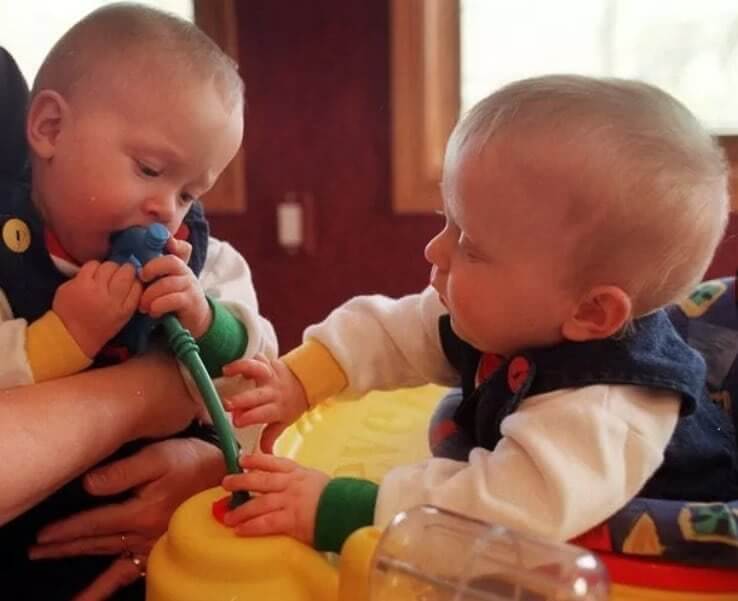 Unfortunately, their love for breakfast also required that their parents needed to make a massive meal for ten members first thing in the morning. Luckily, they had their homegrown fruits, which meant they could easily eat from their garden.
Cryptophasia
Whenever siblings develop a strong bond, they also develop their own language, mostly known as Cryptophasia. Cryptophasia is mainly seen in twins or siblings.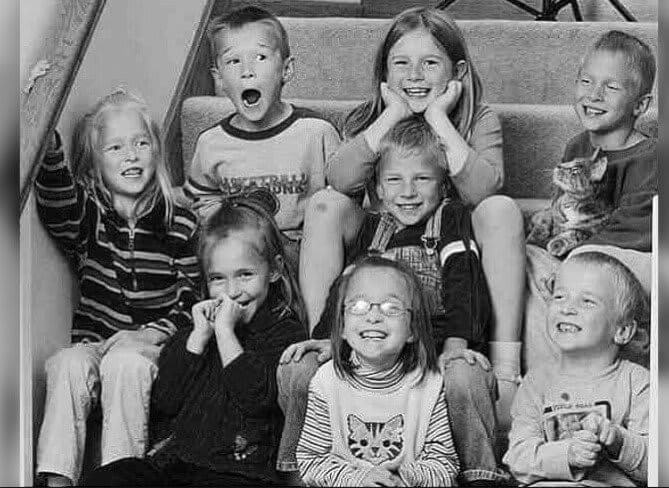 This phenomenon was without a doubt seen with the septuplets. When they became toddlers, they developed a language between themselves due to the bond they had developed as siblings.
Clothing and Shoe Sizes For the Septuplets
Oftentimes parents with twins find it difficult to buy correctly fitting clothing and shoes for their two kids as each child grows at different rates. Thus, having seven rapidly growing children made keeping track of growth and sizes that much more difficult.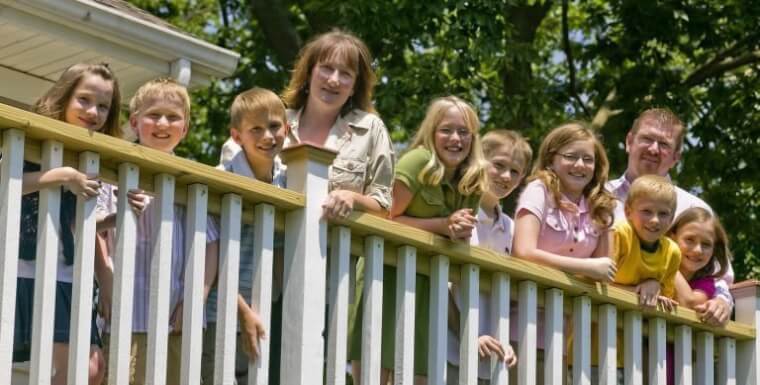 Bobbi and Kenny decided to dress the girls in a matching outfit, including their shoes, and the boys in their own matching outfits. All this clothing became expensive, but luckily an amazing offer came about. A popular children's clothing brand announced that they would supply them with their outfits until they were five years old. This was among the generous acts of well-wishers.
Learning About Sharing
The parents not only tried to be economical about their budget, but they also tried to teach their children about sharing. For instance, in this photo, the children are seen watching a birthday cake with only four candles, yet there are seven children.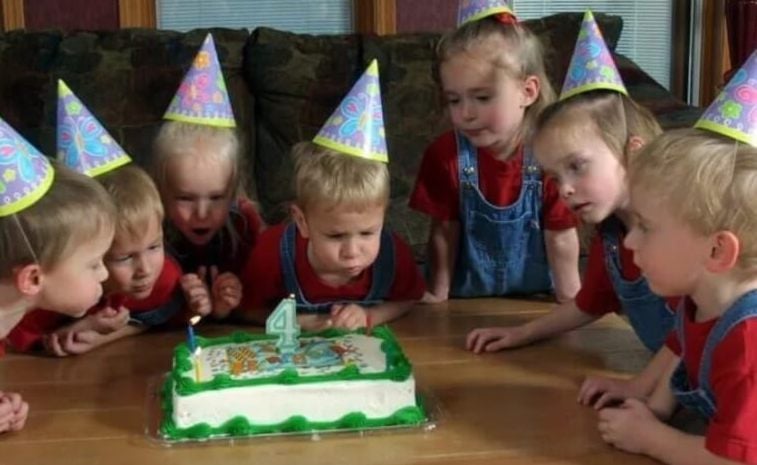 This is one sign that the parents were teaching their children about sharing, and evidently, the children were not so bothered that they were sharing the candles and the cake. An important life lesson for their future.
Their Personalities
If you have had a chance to see multiple-birth babies growing up, you would know that their personalities differ. Each child is different, and they can greatly distinguish between their characters and interests.. It is the same for the septuplets.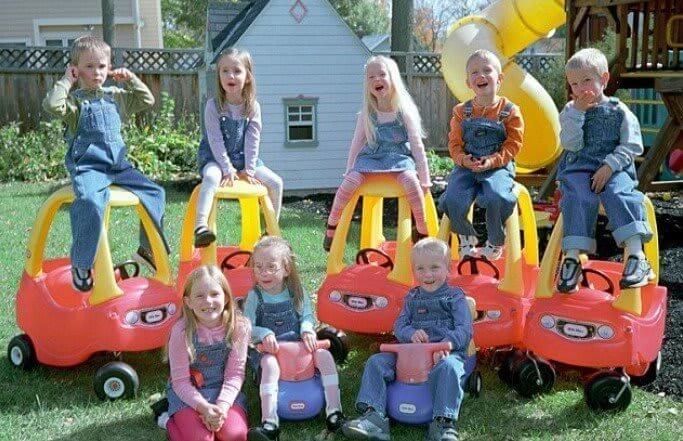 These seven children displayed different personalities while they were growing up. While others were calm and collected, some were totally mischievous. Yet, despite this, their parents still loved them and cherished them all. For example, Brandon is considered stubborn and brave, while Joel and Natalie are both book lovers.
The Pint-Sized Explorer
While Kenny was overall a good and well-mannered guy, his son Kenny Jr. did not take after him, and he was a little more of a naughty boy. Kenny Jr. was known to cause trouble from time to time, and that's probably why Kenny referred to him as a "pint-sized explorer."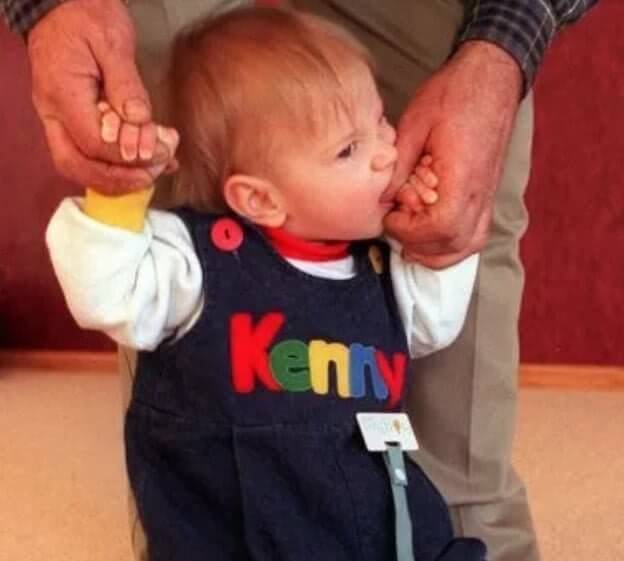 Having or lacking the same characteristics as your parents cannot be explained. The fact that the McCaughey couple experienced seven different personalities was beautiful indeed.
Having Fun Outdoors
If you have children, you probably know how difficult it is to ensure that your children are safe while you try to take them out and have fun. Some will decide to start a tantrum right in the middle of the pathway, forcing them to stop and take care of themselves.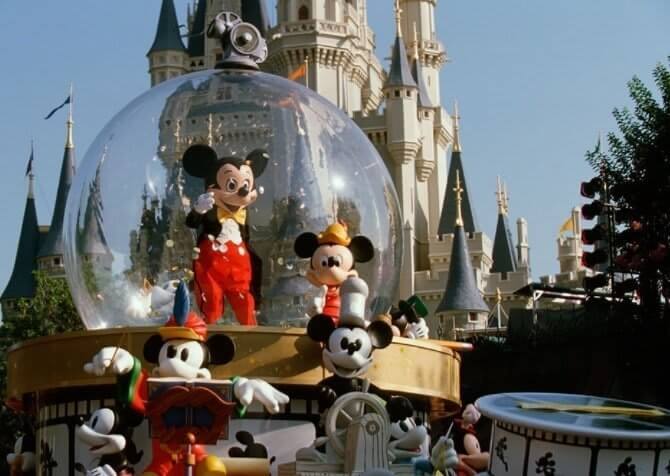 For the McCaughey couple, taking their children to catch up with the outdoors was difficult. First, they were always excited, and you know how difficult it gets to dress up an excited child. Imagine dressing all seven of them. Yet, the family did enjoy playing outdoors and going on family trips including one to Walt Disney World.
Presidential Attention
Remember when we stated that the couple was trying their best to keep their family life private? The family managed to keep their affairs private except when they were having a birthday. However, despite their private life, they continued to get attention from media streams and other prominent people. The septuplets were famous children even before they were born, which did not change while growing up.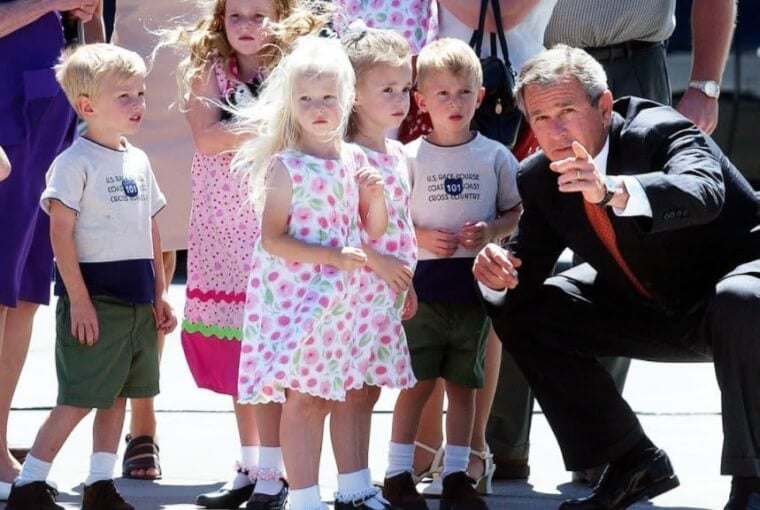 For example, the children had the attention of the then president, Bill Clinton, who later called the parents to congratulate them. He told Bobbi that once the children are in school, she could get a job running a major corporation due to the organization required to raise septuplets. About six years later, President Bush got to meet the septuplets too.
A Date Night
If raising a single child can slowly rob you of your alone time, think about eight children. Surely the parents could not have time on their own when the kids were still babies. However, when they were a bit older, Kenny and Bobbi decided to set apart Fridays to be their date nights.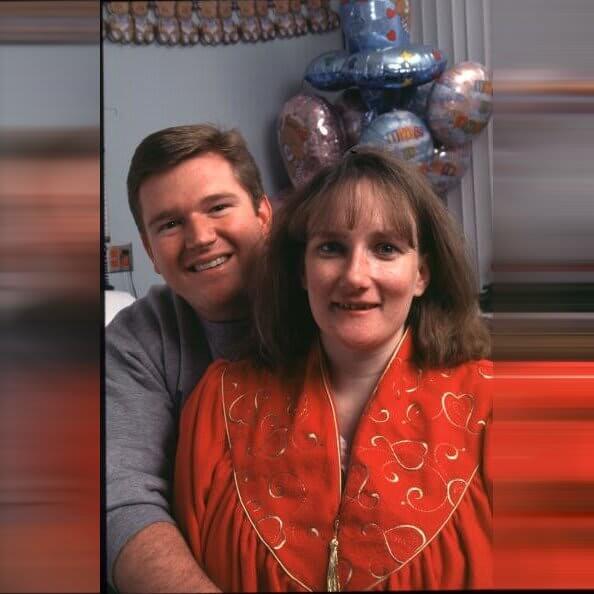 This would allow them to have a good time together by themselves. This was healthy for the whole family. The parents definitely deserved some relaxing time alone.
Eighth Birthday in Style
The children celebrated their eighth birthday in style as they reached this milestone. They were back on the front cover of a popular magazine known as the Ladies' Home Journal.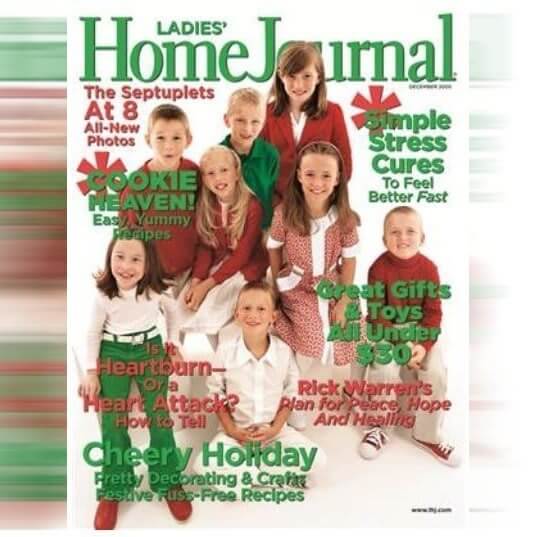 The magazine also had a page where Bobbi and Kenny answered different questions about their kids' lives. The public was definitely curious as to how a couple was able to manage raising eight children within two pregnancies.
Too Much Attention
The kids were now getting attention from people all over, including reporters. However, the family already struggled with being too much in the limelight shortly after their births. The parents were given the option to create a reality TV show based on their lives, but they ultimately turned it down to reduce the publicity their children would have to face.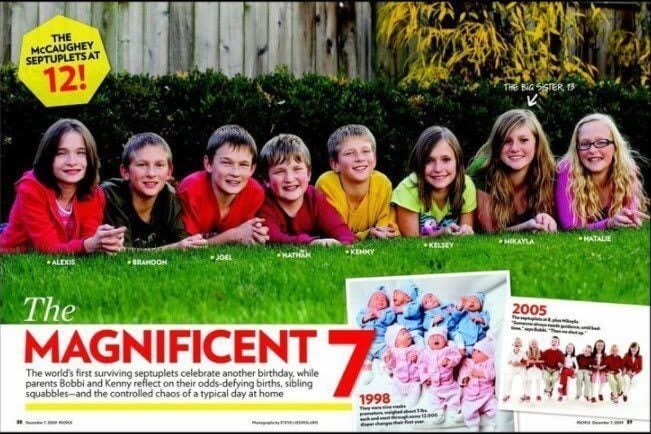 Although the parents never allowed a reality TV show to document their children's lives, there was an exception to the publicity; they allowed the cameras in only on their children's birthday to document milestones.
President George W. Bush
In 2001, the McCaughey family was invited to meet with President Bush. This was the second time the family got the opportunity to meet with a U.S. President, and they were very excited about the invitation.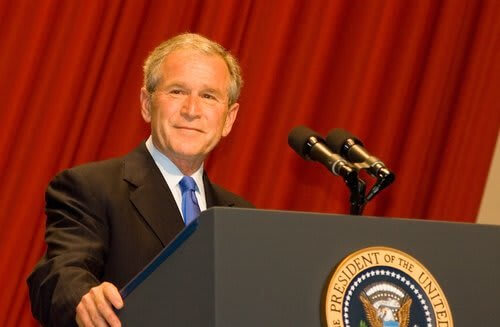 The parents dressed their children spectacularly so that they captured people's attention as soon as they arrived. Their outfits were the perfect fit. Afterall, they were meeting the leader of the country and were hoping to make a good impression.
High School
The septuplets joined Carlisle High School in Carlisle, Iowa in 2012. As usual, they got a lot of attention from other students in the school, but as expected, they handled this attention well, probably because they had been doing it all their lives. Soon enough, they joined the school's band and became even more popular for what they were doing as siblings. They even started participating in their school's sports matches, thus raising a bar higher.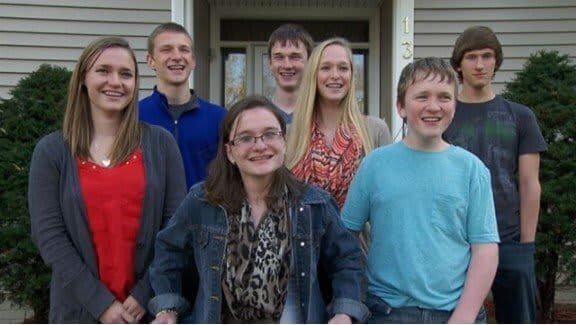 As mentioned, the septuplets also had different talents and interests. In school, the less sporty ones participated in the speech society and the choir. The athletic ones joined wrestling and the cross country team. Their different talents and interests also drew more attention to them.
At Home Buffet
It is not easy feeding eight growing kids with different tastes. You might find that what one likes, the others doesn't like. So their parents decided that they would always do buffet meals. The meals included a dish that each of the children loved so no child would be left out.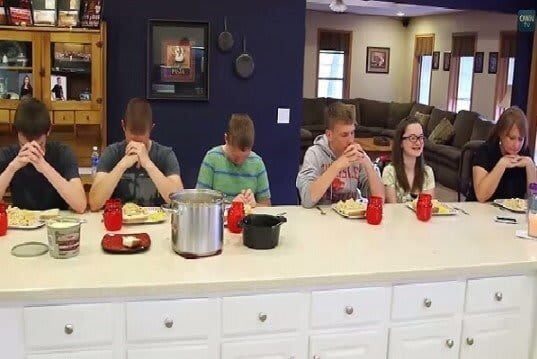 The buffet meals were also fun to make since the septuplets were also very eager to help prepare and make the food. It's always a great bonding experience to cook together as a family. Then as for the meals, all taste buds were pleased as each child got to choose their own food and make their own plates.
The Ups and Downs
For the septuplets, it wasn't all roses while growing up. As you know, premature births might also experience other developmental issues. In the case of septuplets, they had a few premature births, which resulted in two children having cerebral palsy.
The two children were Nathan and Alexis. Both of these children have problems with coordination and movement. Although the two children were having issues with their coordination and strong walking, Nathan taught himself to walk without aid. According to him, he wanted to walk, so he decided to train himself to do so.
Alexis Also Overcame Challenges
Like her brother, Alexis was also determined to pursue other good things in life. Although she still needs an aid to walk, Alexis has shown immense talents.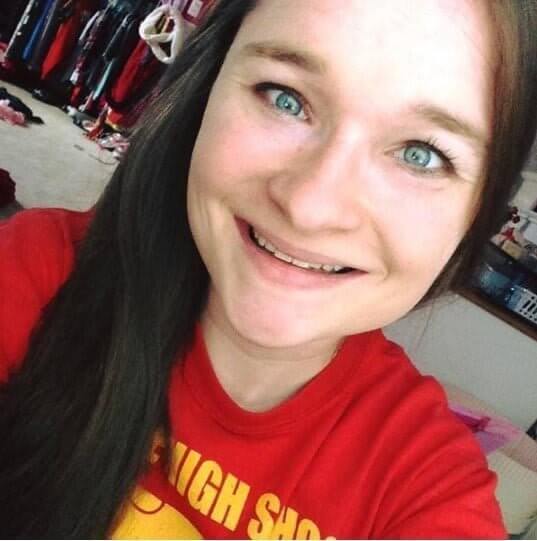 She is great in academics and ended up graduating high school in the top 15% of their class. In 2013, she also won the "Teens Miss Dreams Come True" award. Despite the challenges, It's great to see how successful and inspiring these children turned out to be!
Turning Sixteen
Turning sixteen is a huge milestone. Having seven siblings celebrate their sweet sixteen together is an even bigger milestone. Sixteen typically equates to learning how to drive, obtaining a driver's license, and eventually buying that first car. Just think of how chaotic it was teaching seven kids how to drive all at once.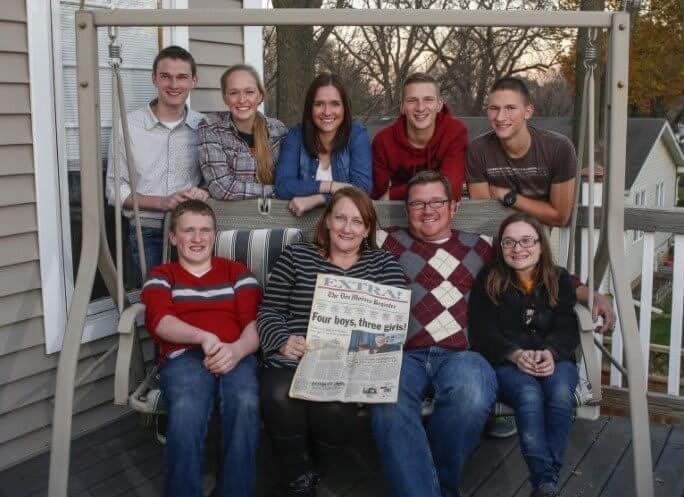 Unsurprisingly, the septuplets' sixteenth birthday attracted even more media attention.Everyone was interested in knowing how they were doing and learning more about their lives and personalities.
Work, Work, Work
Kenny senior believed that if you want something, you have to work hard for it, which he made sure to instill in his children. In an interview, Kenny insisted that his parents taught him that he should work hard to earn whatever it was he wanted in life.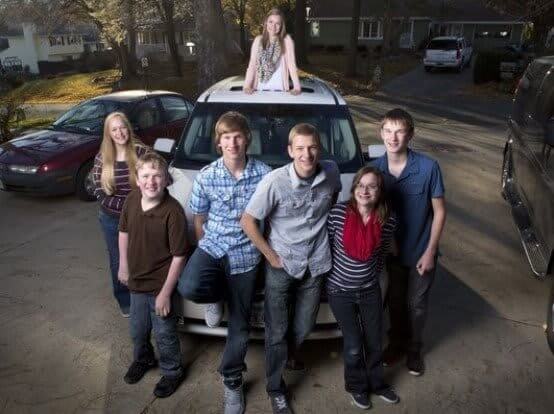 He and his wife are now teaching the same to their children that if they need something, they should put in some work to receive what they want in life. Sure this is one of the best ways to teach your children to be responsible, but having seven growing kids requires the parents to also share in the lesson of responsibility. They needed to ensure each child felt loved and valued every step of the way.
From High School to a New Phase in Life
Turning 18 was yet another great milestone for the septuplets, and the media was waiting for this amazing moment to document it. The septuplets, now young adults, were quite excited to reach 18 years and graduate from high school.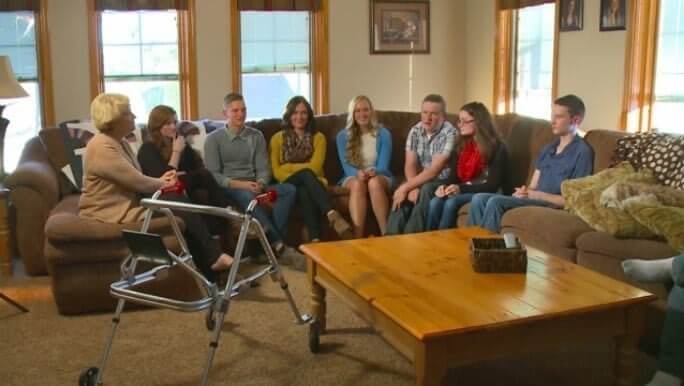 Despite being rare septuplets, they still did what most teenagers did, and therefore they were pretty excited to graduate and get to the other side of adult life. It was a relief in many people's eyes as the teenagers stepped into adult life.
An Emotional Bobbi
Like any other mother, Bobbi became emotional as she saw her babies graduating to become men and women and joining adult life. Of course, also like most mothers, she would choose to keep them by her side forever, but life would be different as they all went their separate ways.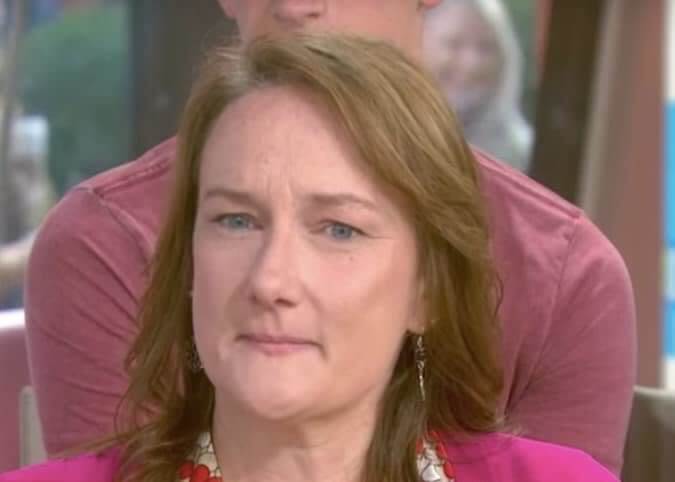 Bobbi was very proud and blessed that her children had survived the pregnancy, the infancy stage, and became healthy adults. The likelihood of that happening is quite rare when dealing with a large amount of births in one pregnancy. As a mother, she had been with them for many years through their cries and laughs, but now they would leave her and chase after their own dreams. A bittersweet moment indeed.
The Graduation
The septuplets graduated in 2016 from high school. The moment was both emotional and thrilling to both their parents and to them as well. Their success was a great message to everyone. They proved that they had what it takes to succeed and live out their dreams.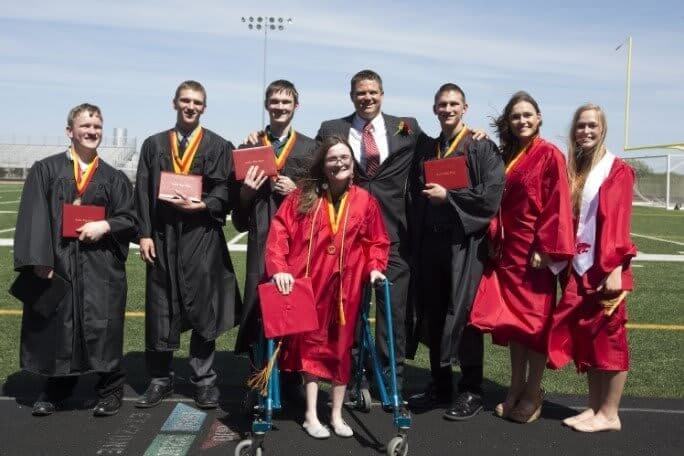 This was truly an incredible achievement as they proved all those who doubted them wrong. Their success is without a doubt also a contribution of the determination and support of both their parents, Bobbi and Kenny.
The Paths They Chose
It was a relief and joy when Alexis and Kenny decided to stay close to home and enroll in a local college so they could be close to their parents. Alexis wants to become a teacher when she graduates, and everyone is sure she will make it.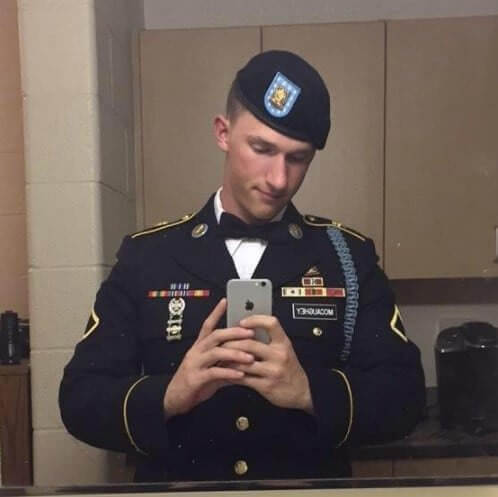 Alexis is known to be an academic student, at the top of her class. This gives her an upper hand in helping her dreams become a reality. As for Brandon, he enrolled in the US army. Brandon had always wanted to become a soldier, and finally, his dream was coming true. His parents were very proud of his decision. After some training, Brandon has become an expert in Carbon shooting and pistol.
Each Chased Their Own Dreams
Joel chose to study computer science, and is excited about exploring this new opportunity in a tech-centric field. Kelsey chose a completely different path, and we might be looking at the next big musician. Kenny Junior also took a completely different route by becoming a carpenter. It was a part of his bigger dreams as he grew up, and he is now doing a great job in the field of carpentry.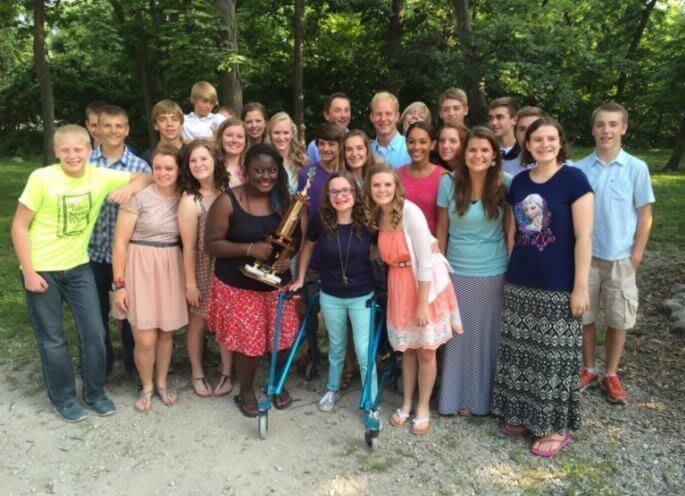 When the septuplets came into the world, they were promised a college education by the state of Iowa. They could choose any state university they wanted. Kelsey, Natalie, Joel, and Nathan took this opportunity to be admitted to Hannibal LaGrange University in Missouri. Studying in Missouri meant that they were going to be far away from their parents, but they still got the comfort that they were still together as siblings- talk about an inseparable family.
An Empty House
The once filled-up house is now empty, and Bobbi and Kenny are left missing their once noisy home. Their eldest daughter Mikayla has also left the nest, and therefore the parents are left alone. Bobbi and Kenny are excellent examples of enjoying every moment of your kids growing up because the moments that you share will one day become just a memory.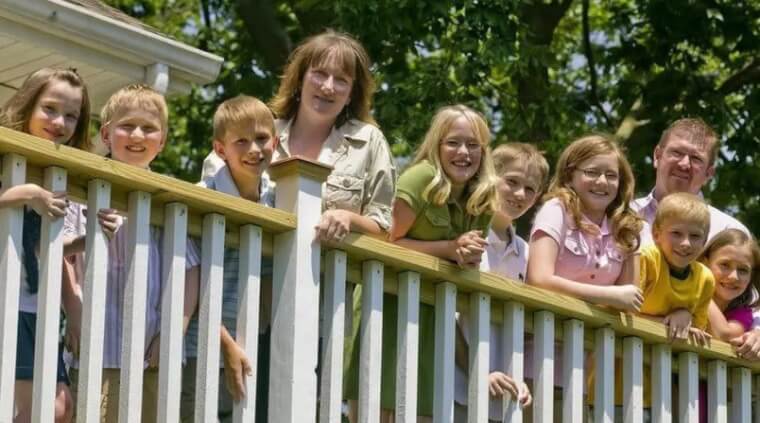 The parents later considered downsizing and donated the big house to Ruth Harbor, a nonprofit organization that seeks to help young women with unplanned pregnancies. They could have sold the house and earned good money, but they chose to give back to society and pay it forward in honor of all the help they received when their septuplets were born.
Beautiful Bridesmaids
As for the oldest child, Mikayla, she is also doing well as she begins a lovely family of her own. Her sisters made very beautiful bridesmaids on her wedding day. Mikayla's wedding was truly a family milestone as everyone came together to play active roles in Mikayla's big day by donning formal attire and acting as bridesmaids and groomsmen.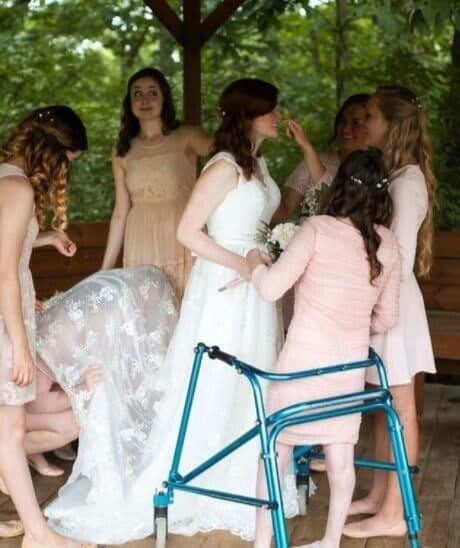 After her wedding, Mikayla was blessed with a baby. As a gift to his big sister, Kenny Junior the carpenter even built a kitchen table with shelves for his sister and brother-in-law as they begin their new life together. The McCaughey family truly is blessed to have each other as their family continues to grow in the years to come.
The Increase of Fertility Drugs
Assisted reproduction has become much more popular in recent days with the advancement of science. It has greatly increased the likelihood of these seemingly out of this world pregnancies.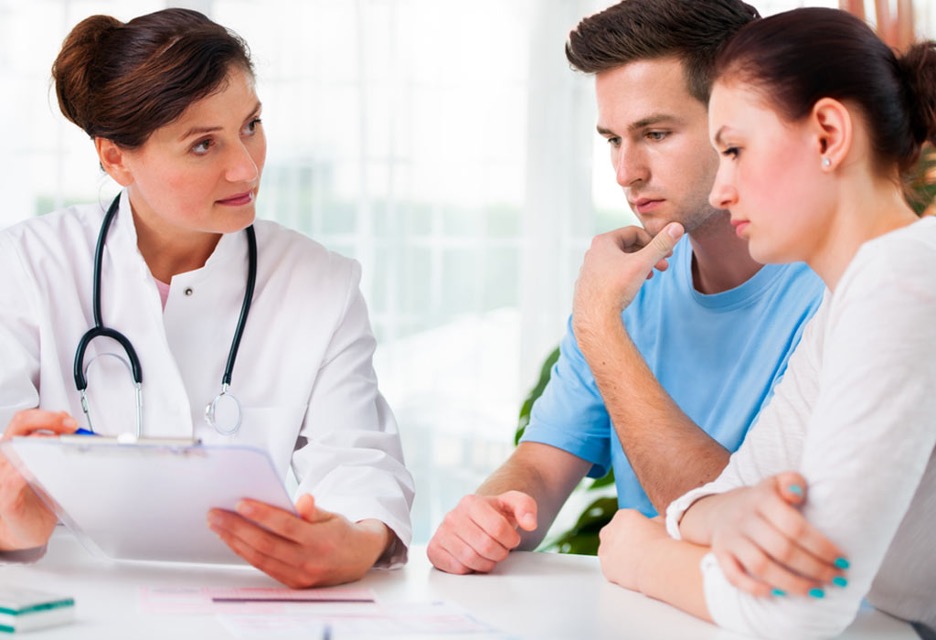 This is not to mention that the average gestation period of these types of pregnancies are significantly shorter than just a singular full-term baby.
Weight Gain
According to Verywellfamily.com, many people with multiples can expect to gain more than 50 pounds which. But this is not even close to the most severe part.
Many women carrying multiples have to undergo a cervical cerclage (a surgical procedure where the cervix has to be sewn shut to stop preterm labor).
What Happens During Delivery
For most multiple deliveries, a C-section delivery is the outcome. Due to a shorter gestation period, the average birth weight of one of the multiples born is around two pounds, 12 ounces for each baby.
Most multiples receive medical care in the neonatal intensive care unit until they are able to reach their full-term birth date.
Multiples Do Not Always Share a Birthday
While this concept is incredibly strange, it is true. Babies who are grown in one womb can have different birthdays.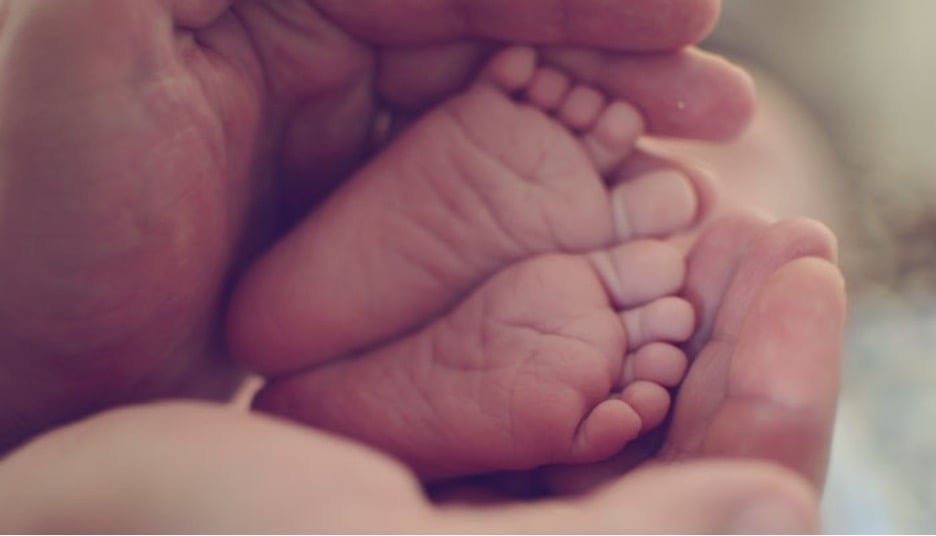 A delayed delivery can mean that individual babies are born days or sometimes even days apart from each other.
Another Famous Story of Multiples
Natalie Suleman was implanted with 12 embryos by a Beverly Hills fertility specialist who had implanted her with all of her previous in vitro pregnancies prior.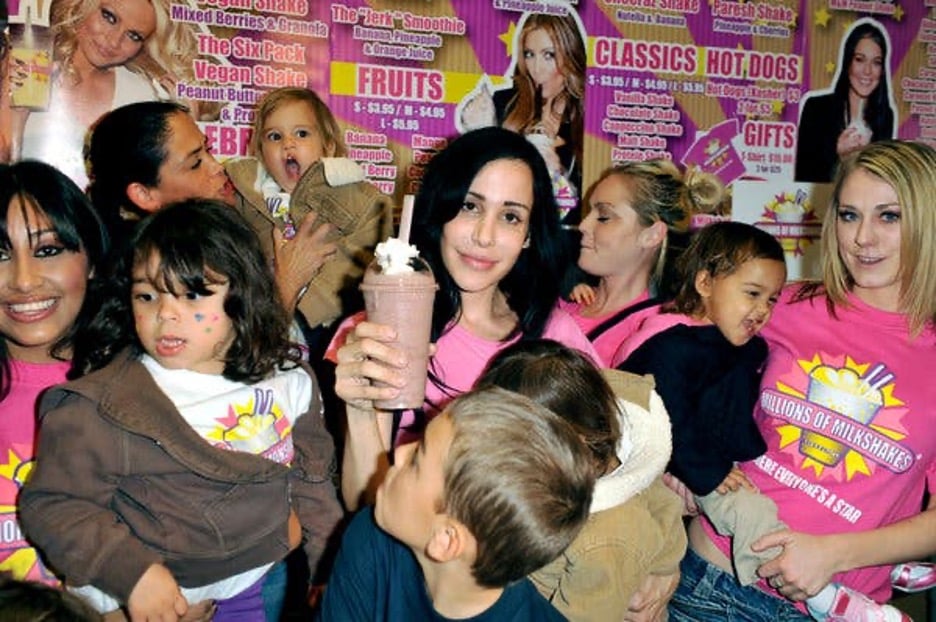 The octuplets that followed all allegedly came from the same father—an unidentified sperm donor, and also came as a surprise to the woman who birthed them.
All Hands-on Deck
It took a whopping 46 doctors and nurses to get the babies delivered safely. A C-section was performed while Natalie was at 31 weeks pregnant.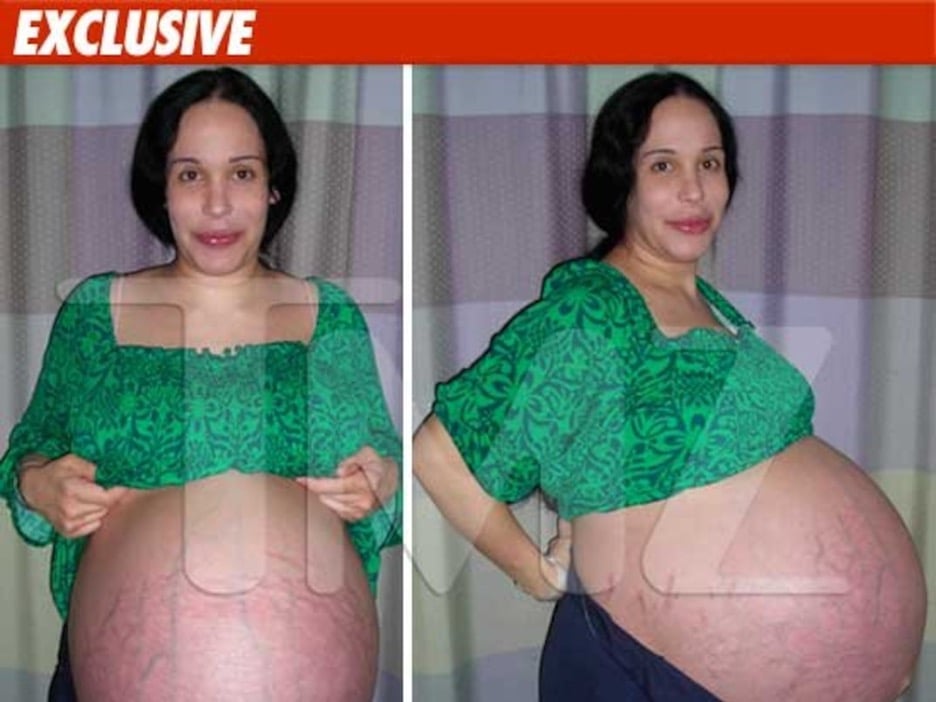 The babies weighed between ounce pound and eight ounces and three pounds and four ounces. There were six boys and two girls. It was a medical miracle.
A Media Frenzy
The media went wild when the news of the so-called "Octomom" emerged. Natalie, who according to the media, had spent thousands of dollars on (allegedly) plastic surgery to resemble her idol, Angelina Jolie, who was on food stamps, and who was crazed to build a family, was something to behold.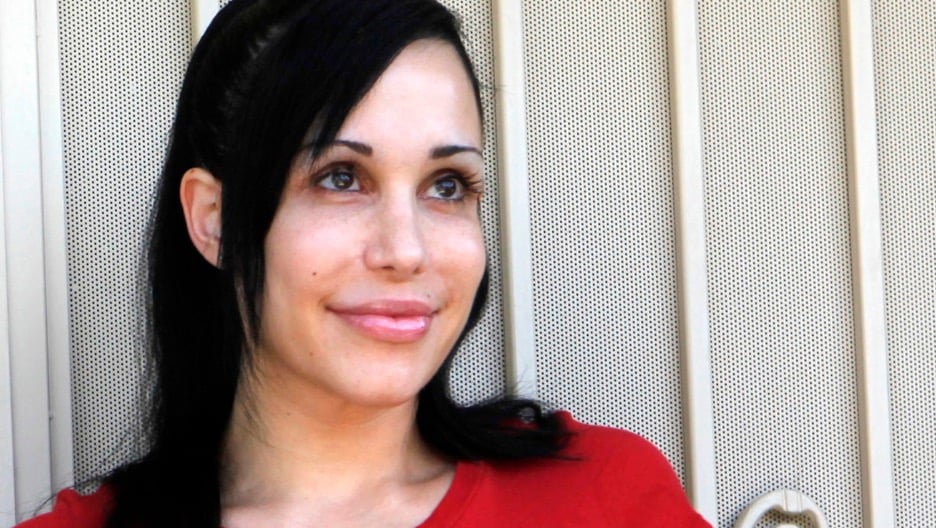 Natalie claims she felt at once attacked and desperate. She says this explains the way she chose to conduct herself.
Desperate for Money
Natalie did interviews to sustain, as a single mother with an entire wolf pack to look after all on her own. It was no surprise that she turned desperate as the cash began to dry up.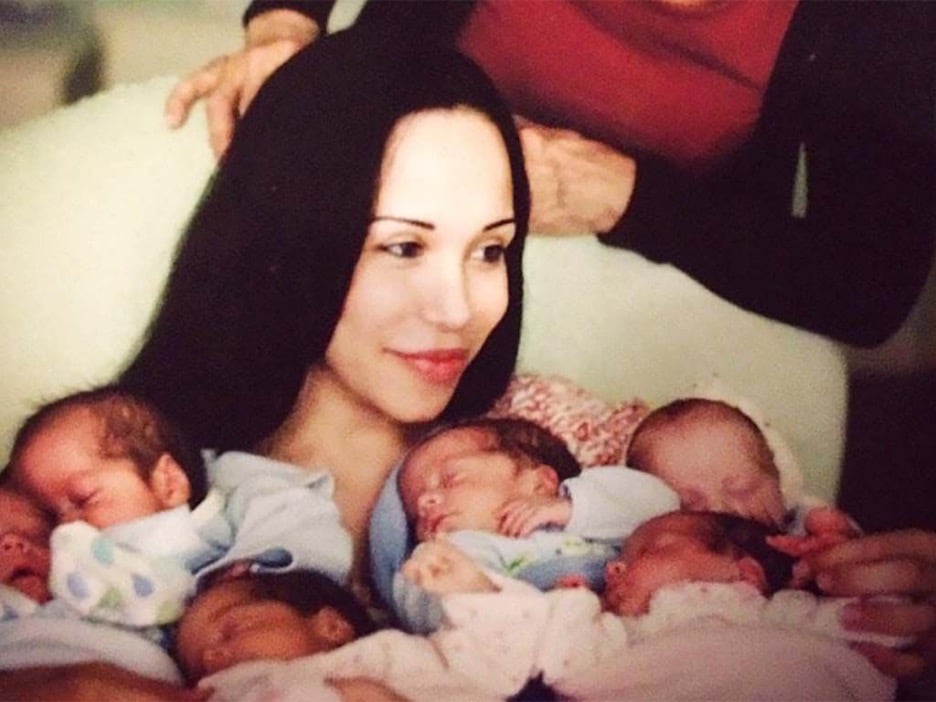 Natalie had a short-lived stint in a pornographic career. She then turned to stripping, and finally to boxing.
Public Interest Waned
As public interest waned, Natalie began dealing with the task of raising so many children all by herself. Consequently, the mother turned to anxiety medication and alcohol.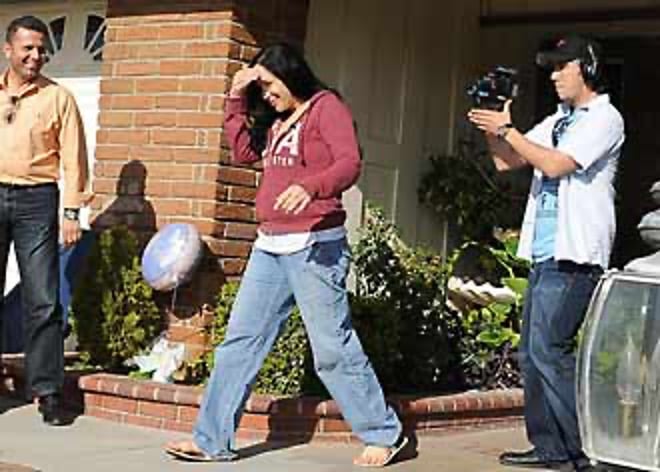 From 2011 to 2013, the mother had issues with sobriety until she checked herself into rehab. During this hard time, friends and family stepped in to help with the children.
He Said She Said
Natalie claims that the doctor led her stray while she was on drugs and not in her right mind, allegedly high on narcotics. The doctor claims the exact opposite, saying that Natalie twisted his arm against his advice.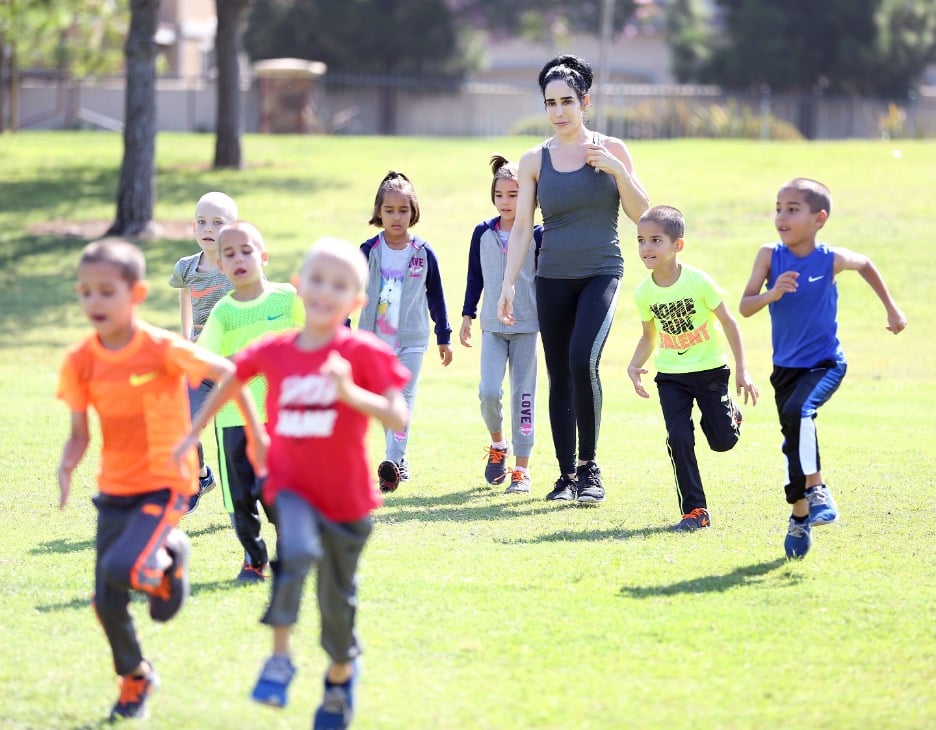 Most doctors will not do something just because a patient desires it so, but we will never know what played out behind closed doors.
Human Reproductive Tech Is Not Well Regulated
This may have never happened had fertility treatment been more regulated, however it very lightly regulated. And for good reason.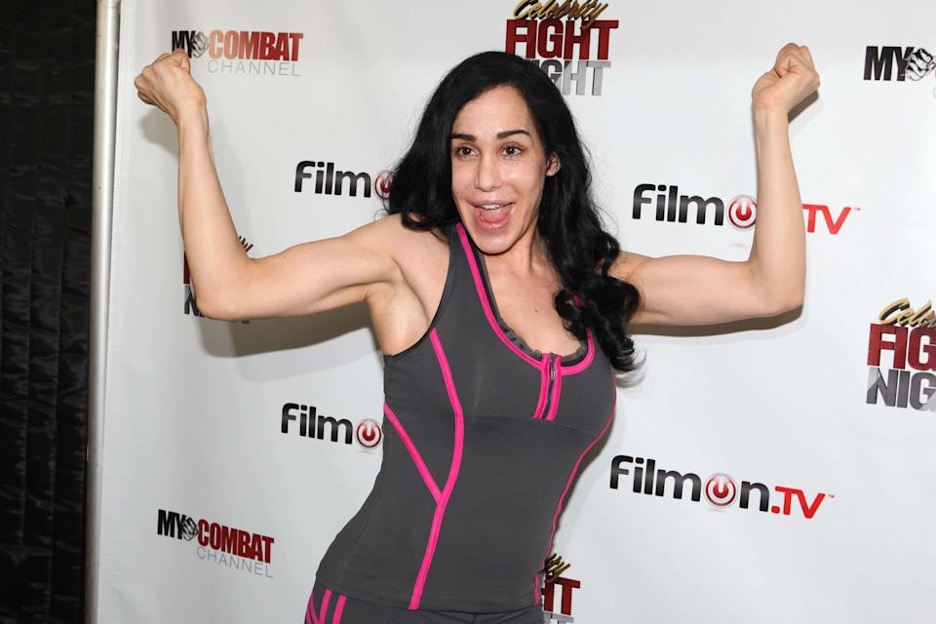 The guidelines suggest that a woman in her 30s should not be transferred any more than two embryos at once, though it is not law.
The Pregnancies Hurt Her Body
According to Natalie, apart from the mental strain of the media, she also suffered greatly due to birthing so many children.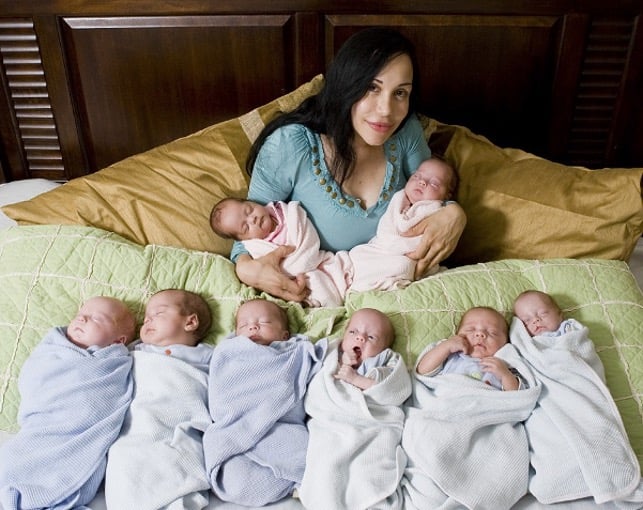 According to her, "Four out of the five discs in my lumbar spine are ruptured, herniated fully. Think of a jelly doughnut being squashed, and it hits nerves, causing bilateral sciatica. And I have irreparable sacral damage. And I have peripheral neuropathy. I haven't felt my toes on my foot on the right side for many years, and my fingers are numb all the time every day. The pregnancy caused it. The eight. My size, my abdomen was all the way out here."
Her Children are the Only Survivors
In the history of humanity, Natalie's children are the only octuplets to all survive. It is incredibly rare for not only that many children to be birthed at once, but to survive.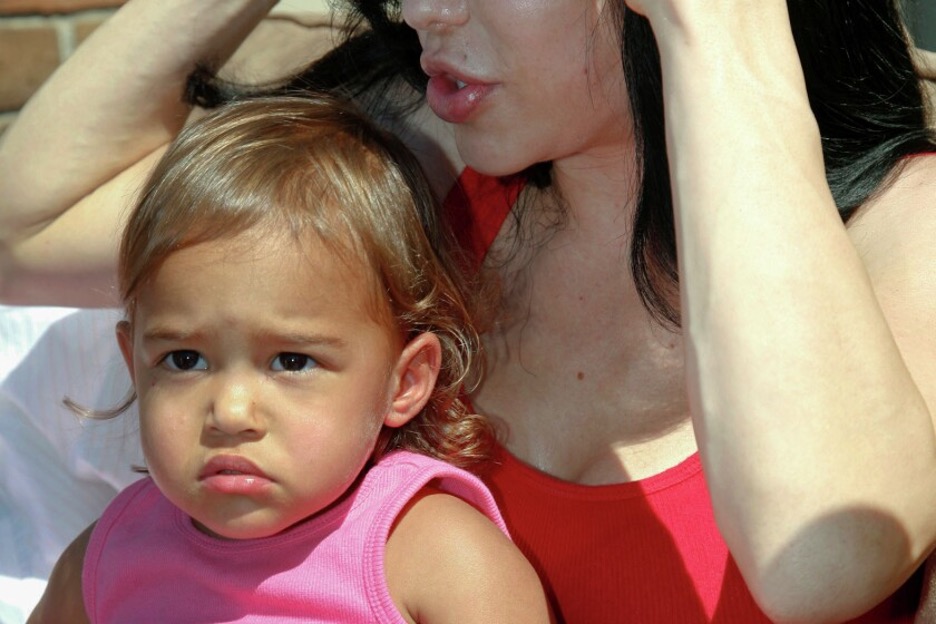 While one child has autism and another is on the spectrum, they are healthy and seemingly happy.