These Celebrity Children Are All Grown Up And Look Almost Unrecognizable
The children of celebrities often become well known faces simply because of their parents. Whether they enjoy the spotlight or dislike the attention, they are often thrust into the world of fans, paparazzi, glitz, and glamour.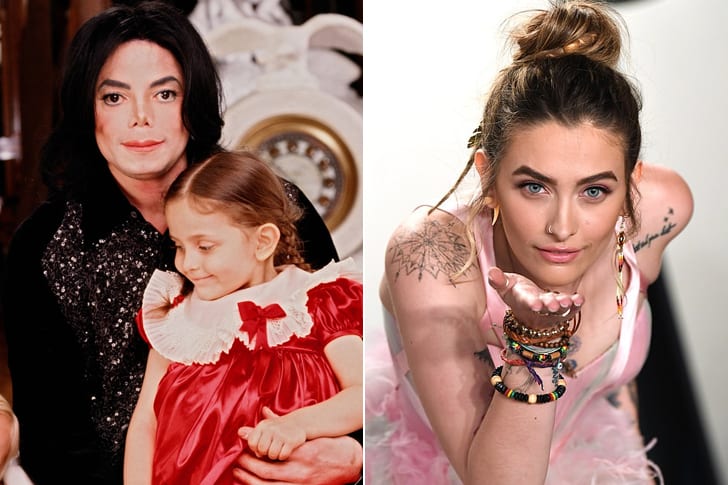 When all eyes are on them, celebrity children are forced to grow up and make a name for themselves. Some thrive in the spotlight while others buckle under the pressure. Take a look at these 45 celebrity children who are all grown up now and making a name for themselves.
Bindi Irwin
Parents: Steve and Terri Irwin
Bindi has carried on her late father's work and has inherited his love for animals. Steve was the one who started her on her path when she was young. After his death, Bindi created Bindi in the Jungle, a sweet children's documentary in memory of her father.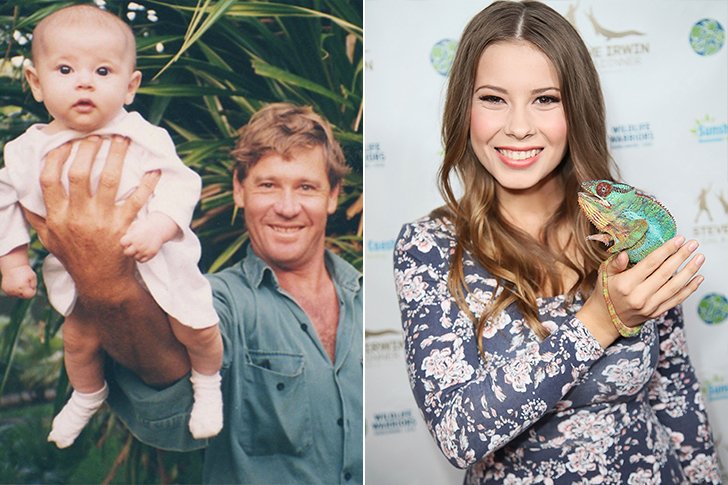 She had another show in 2018 with her mother, Terri, and her brother, Robert, called Crikey! It's the Irwins! The family still works with animals to this day.
Manolo Gonzalez-Ripoll Vergara
Parents: Sofía Vergara and Joe Gonzalez
You may recognize Manolo from those Head and Shoulders commercials that he stars in with his famous mama, Sofía Vergara. She had him when she was only nineteen years old.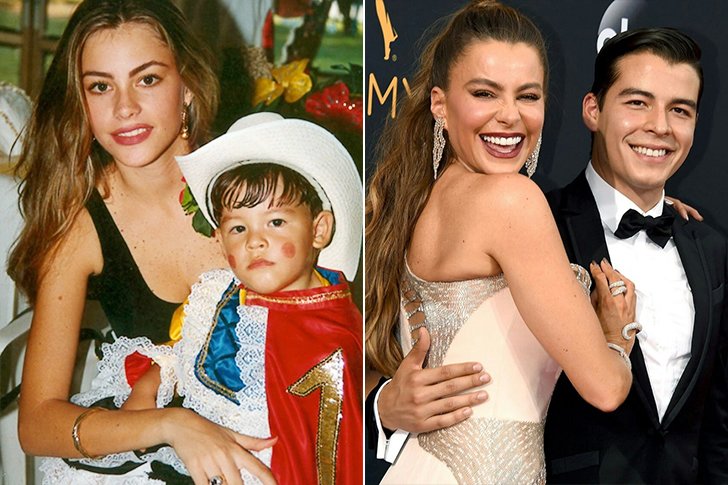 Other than that, Manolo is mostly seen in the modeling world. He does dabble in acting from time to time as well. Plus, he has a fancy liberal arts degree and is quite the gentleman. Manolo is also a huge fan of acting titans like Jessica Lange and Cher.
Lily-Rose Depp
Parents: Johnny Depp and Vanessa Paradis
With Johnny Depp as her father, Lily has some big shoes to fill. She's always wanted to act. She dropped out of high school in 2016 in order to do just that. You can see her in things like Yoga Hosers and Dreamland. In 2019, she starred in The King with Timothée Chalamet and Robert Pattinson which premiered at the Venice Film Festival then landed on Netflix.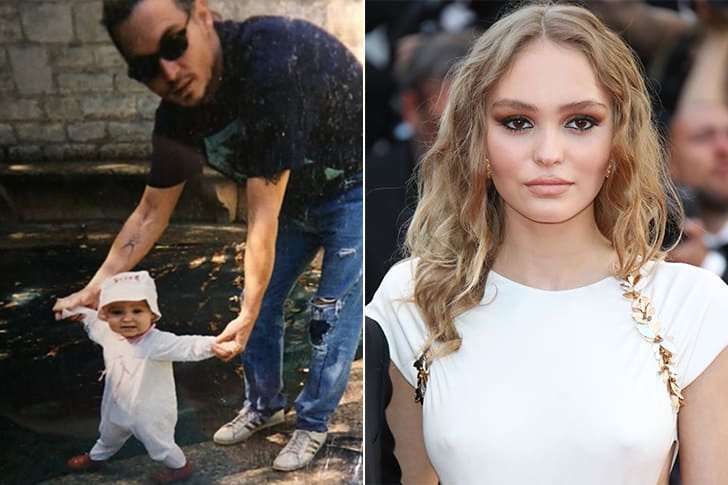 In between her acting roles, she has worked for the house of Chanel. In 2017, mother and daughter did a magazine photoshoot called Our City of Angels. The money went to Planned Parenthood.
Robert Downey Jr.
Parents: Robert Downey Sr. and Elsie Ann Ford
Despite having a hard time with his addiction in the 90's, RDJ has made quite the comeback in the 2000's and onwards. He starred as Sherlock Holmes in the Sherlock movies in 2009 and 2011 and played Iron Man in the Marvel Cinematic Universe, or the MCU for short.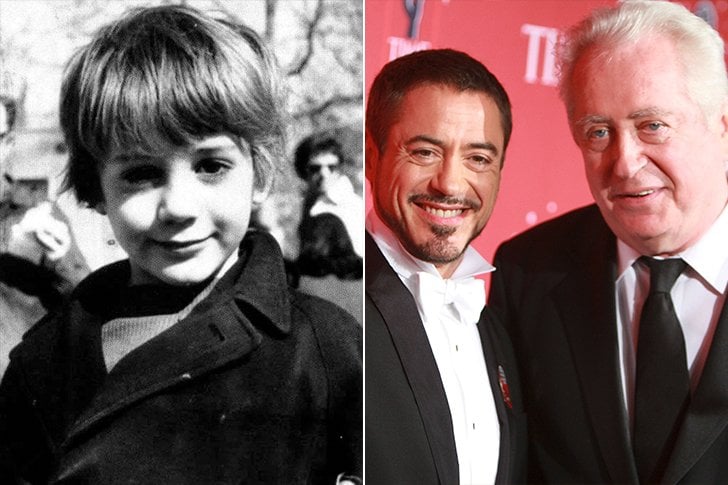 His father started both his addiction and his career in acting. These days, the two are on much better terms. RDJ is the poster child of fighting addiction and rising above.
Colin Hanks
Parents: Tom Hanks and Samantha Lewes
Are we seeing double? Colin looks just like his father, Tom. Just like Tom, Colin has pursued a career in acting as well. You might have seen him in things like Orange County, The House Bunny, and The Great Buck Howard.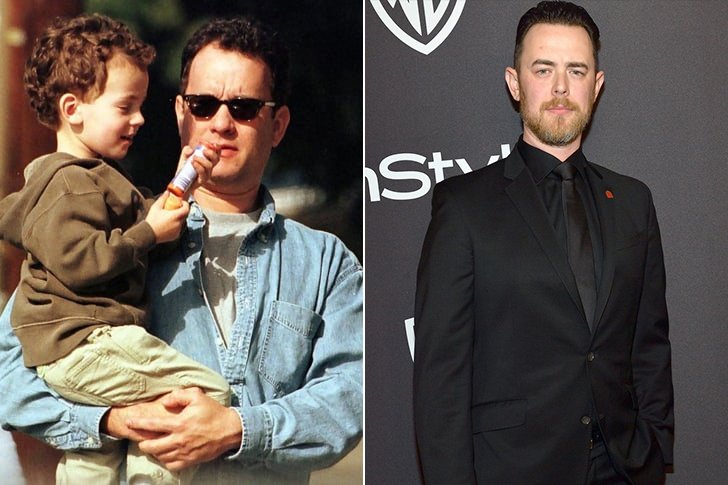 Colin has been happily married to a New York publicist named Samantha Byrant since 2010 and they have two children together. You can also see him on the 2015 CBS show, Life in Pieces.
Willow Smith
Parents: Will Smith and Jada Pinkett Smith
Willow's parents need no introduction. Neither do Willow and her brother, Jaden. Willow is pretty much Hollywood royalty. Both siblings seem to be free-spirited due to their upbringing.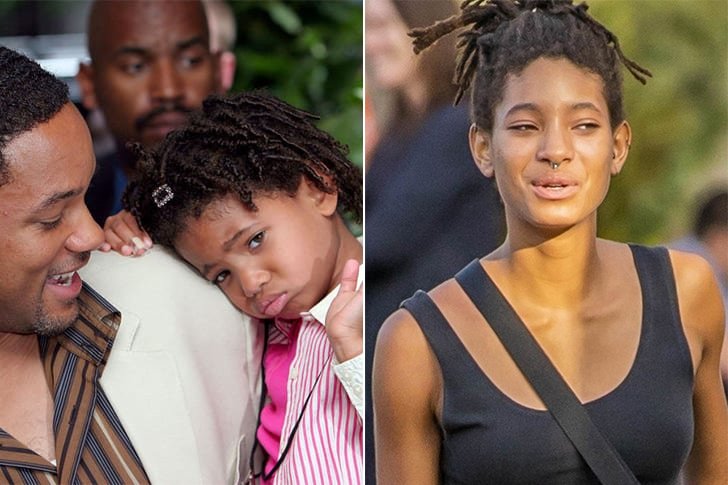 Despite her famous parents, she's managed to make a name for herself. Willow came out with the song, Whip My Hair, when she was ten years old and the track is on fire. She released her second full-length album, The 1st, in 2017.
Jaden Smith
Parents: Will Smith and Jada Pinkett Smith
Like his sister, Jaden doesn't need any introduction himself. You can hear his voice on the earlier tracks of Will Smith's music. And just like his sister, Willow, he has made a name for himself as well.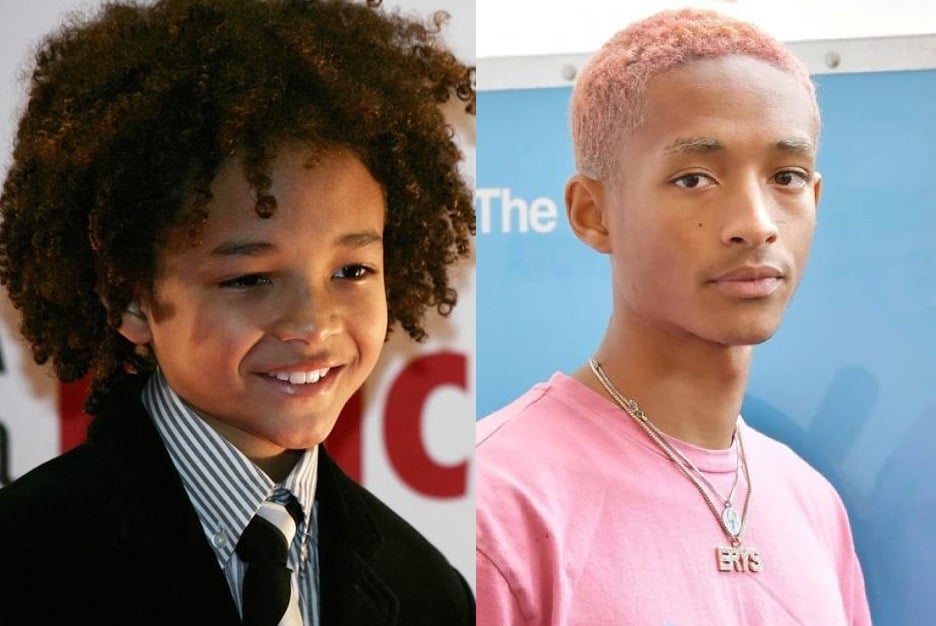 Instead of music, he's gone more of the acting route. You can see him in movies like After Earth, The Pursuit of Happyness, The Karate Kid, and The Day the Earth Stood Still. Jaden and Willow have bright futures ahead of them.
Paris Jackson
Parents: Michael Jackson and Debbie Rowe
We lost Michael Jackson in 2009. Since then, his only daughter, Paris, had to grow up without him. She was close to her father, but today she seems to be doing well.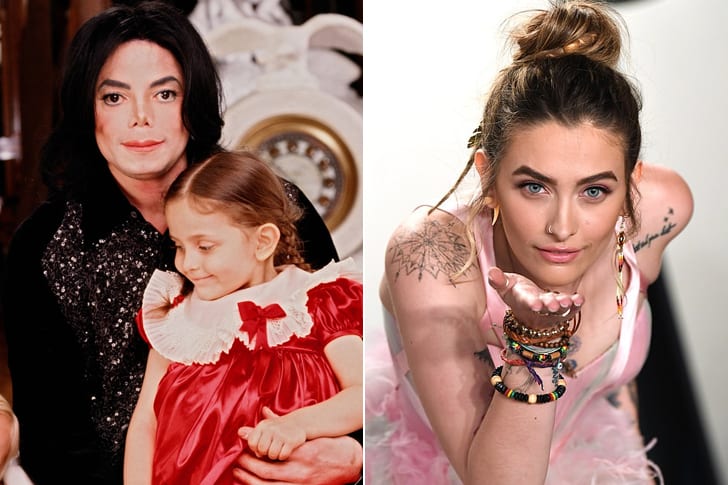 Paris is now an actress and a model. Right now, Paris is signed up with IMG Models. You can find her on the cover of the Rolling Stones magazine.
Maddox Jolie Pitt
Parents: Angelina Jolie and Brad Pitt (Adoptive)
Maddox is the oldest child in the family of six kids. He was adopted from Cambodia. He took the divorce of his parents hard. He didn't talk to Brad for a month and he even testified against his father during the ex-power couple's custody case. But the two eventually made up and started talking again.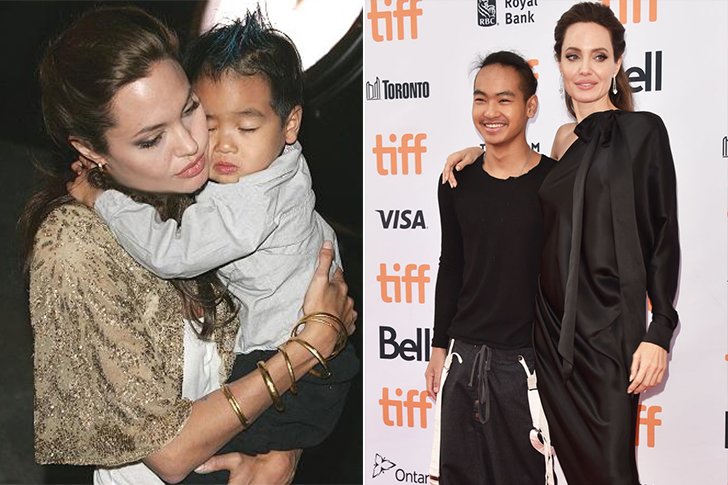 Maddox and his siblings stay mostly with their mother. He has begun his career as an actor and producer with executive producing credits on the 2017 film, First They Killed My Father which his mother directed. Maddox is also currently attending school at Yonsei University in South Korea.
Hailie Mathers
Parents: Eminem and Kim Scott
You probably have heard of Hallie through Eminem's many songs, but she's aiming to make a name for herself. Hallie graduated as valedictorian and summa cum laude from high school. Then she graduated from Michigan State University in 2018.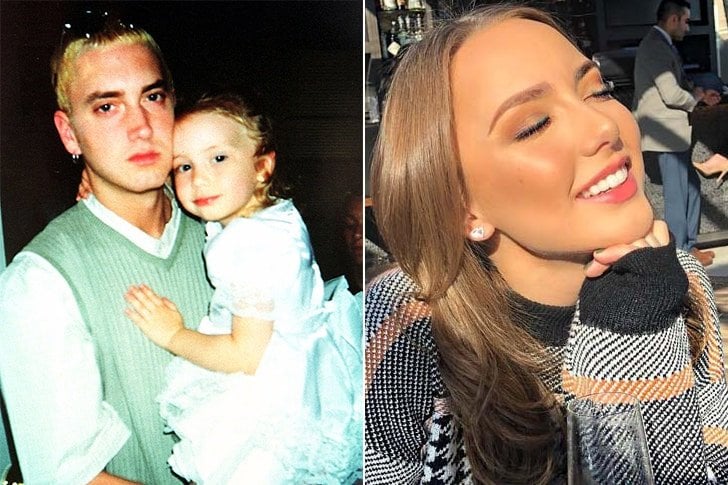 Where does she go from here? Hallie is now an influencer on social media with 2.1 million followers. She modeled swimwear in 2019 while on a beach vacation in Hawaii.
Zelda Williams
Parents: Robin and Marsha Garces Williams
We lost an iconic comedy legend, Robin Williams, in 2014. His daughter, Zelda, took it the worst. Despite her grief, she managed to rise above and write out twelve scripts while working through her grief.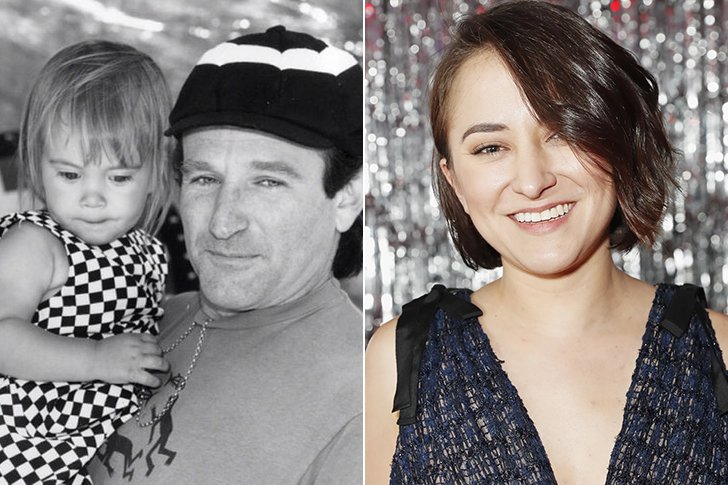 Robin was such a geek that he named Zelda after the princess in the Legend of Zelda video games. Speaking of video games, Zelda even has a voice acting credit in the game King's Quest.
Brooklyn Beckham
Parents: David and Victoria Beckham
Brooklyn first came onto our radar with his strange name. He is the son of a footballer and a Spice Girl. One would think that little Brooklyn would follow in his father's footsteps and get into sports.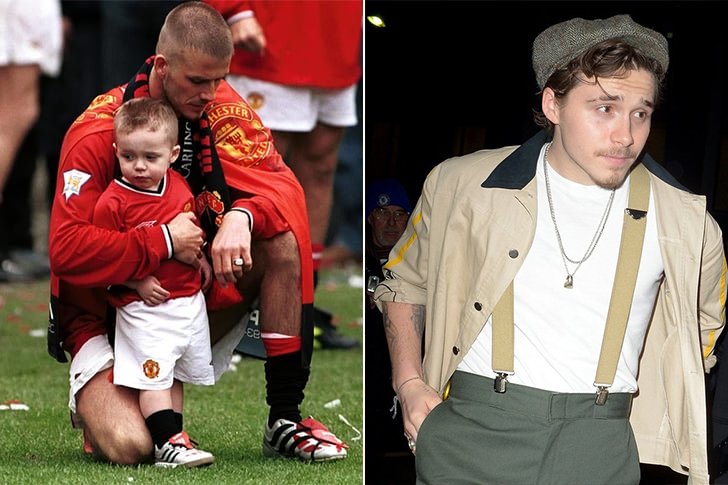 Actually, he's more like his mother in the fashion world by becoming a photographer and a model. You can see him in the Burberry campaign. In 2019, by the time he turned 20 years old, he was already worth one million dollars. It's safe to say he's onto big things.
Bryce Dallas Howard
Parents: Ron Howard and Cheryl Howard
This is another member of the Hollywood royalty club. Bryce has managed to make a name for herself. She's taken up a career in acting.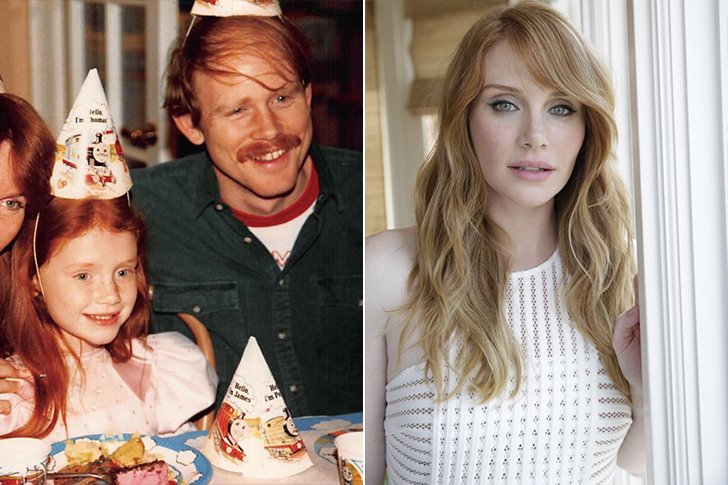 You can see her in things like the Twilight Saga: New Moon, the Jurassic World movies, and The Help which earned her a SAG Award. You can even see her in the episode, Nosedive, in the British sci-fi series, Black Mirror.
Simone Garcia Johnson
Parents: Dwayne "The Rock" Johnson and Dany Garica
This is The Rock's first daughter. Believe it or not, Simone has taken up the family business. She herself has entered into the world of wrestling.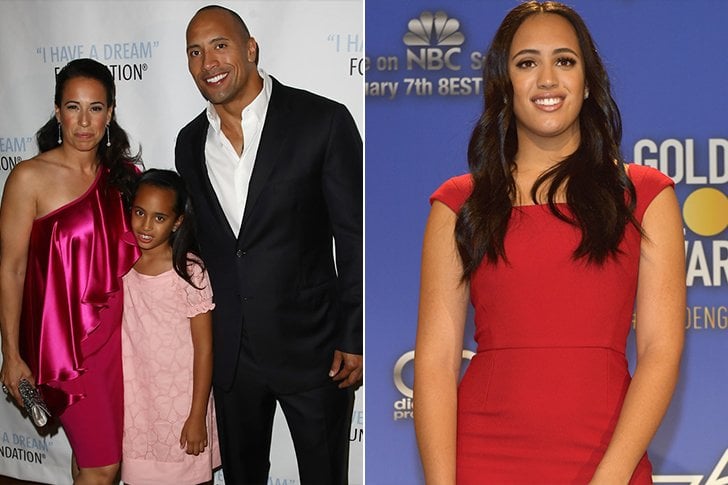 In 2018, she started training part time in the WWE Performance in Orlando, Florida. It's a good thing to see more women in the modern world. If things take off for Simone, she could give dear old dad a run for his money.
Ava Phillippe
Parents: Reese Witherspoon and Ryan Philippe
Ava really does look like her mother, Reese. She's taken to performing her craft in the arts. She sketches, sculpts, and takes pictures.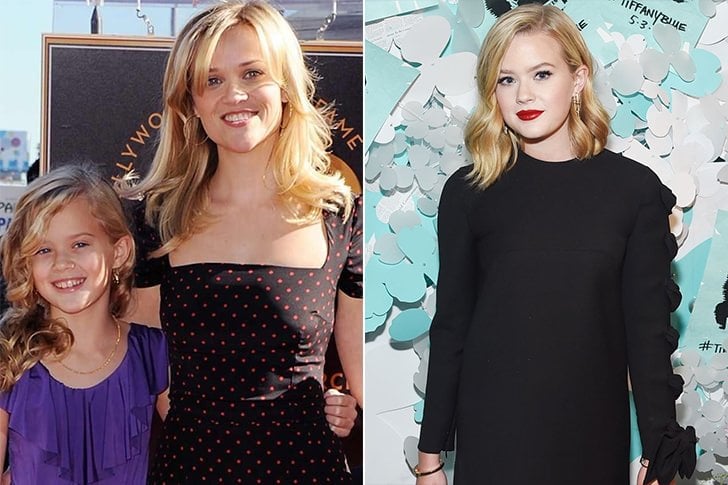 Ava might not be interested in acting like her famous parents, but she's dipped her toes into modeling. You can find her in the Fall 2018 collection of the Rodarte lookbook. Ava has a good relationship with both her mom and dad.
Sasha Spielberg
Parents: Steven Spielberg and Kate Capshaw
How do you make a name for yourself when your father is the famous director Steven Spielberg? By being a musician and an actress, of course. That is exactly what Sasha has done.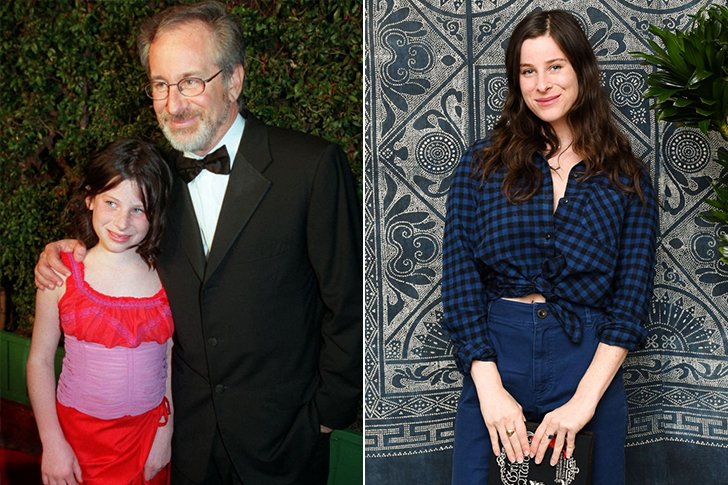 She doesn't need daddy's money to make it big for herself. In April 2018, Shasha released her EP, Facepaint. You can also see her in the movies The Terminal and Indiana Jones and The Kingdom of the Crystal Skull.
Nicole Riche
Parents: Lionel Richie and Brenda Harvey-Richie (Adoptive), Peter Michael Escovedo and Karen Moss (Biological)
Nicole has made quite the life and career for herself. She's the adopted daughter of Lionel Richie and has managed to make a name for herself as an actress and fashion designer.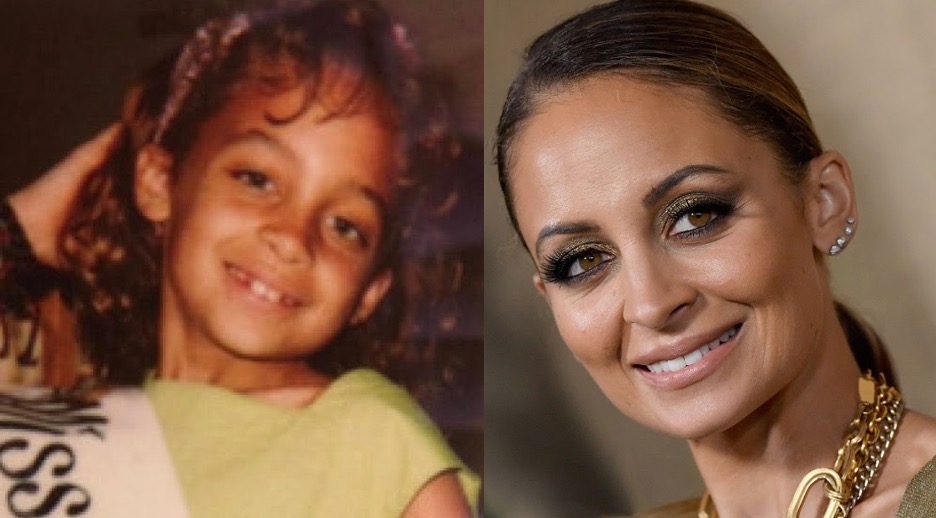 In her young adult days, she was on the reality show, The Simple Life, with her then best friend, Paris Hilton. Nowadays, she's matured and is happily married to Good Charlotte's Joel Madden. They have two children together. Nicole is still active within the entertainment industry.
Chaz Bono
Parents: Cher and Sonny Bono
Chaz Bono is the only child of iconic musicians Cher and Sonny Bono. He is a proud FTM. He was once born a girl named Chastity Sun Bono. In the '90s, Chastity came out as a lesbian. However, he became a transman in 2008. Since then, Chaz has been an LGBTQ+ activist. Cher fights alongside her son for LGBTQ+ rights as well.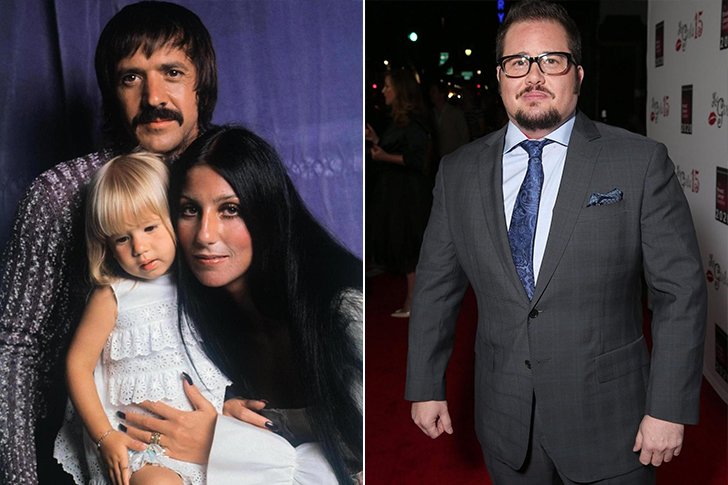 Chaz narrated a 2016 documentary about the Orlando Nightclub shootings. You can see him in seasons six and seven of American Horror Story. Chaz was also on the show Adi Shankar's Gods and Secrets in 2018.
Ireland Baldwin
Parents: Alec Baldwin and Kim Basinger
We first learned of Ireland's existence when we heard the tapes of Alec hurling abuse at her over the phone. However, she has since made a name for herself. Ireland is in the modeling world. She's with agencies like Monster Management in Mulan, Modelwerk in Hamburg, and DT Model Management in LA.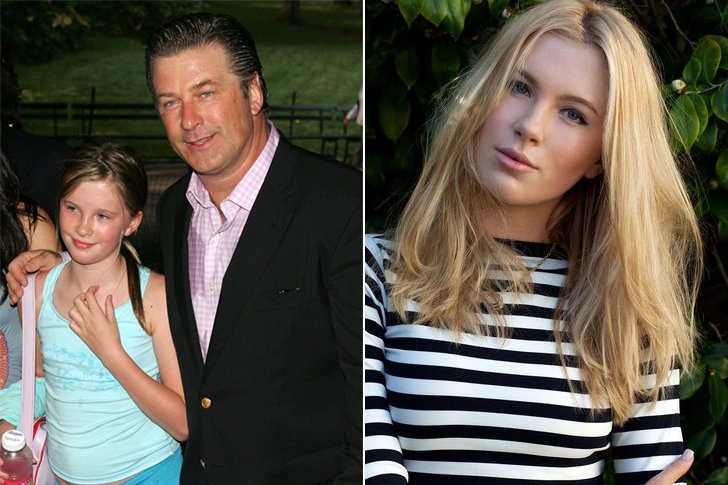 Does this girl have any time to rest? She produces credit cards on her own time. Ireland pays the bills on them herself. Through her father's second marriage she has 6 half-siblings and is the cousin of Hailey Baldwin Bieber.
Dakota Johnson
Parents: Melanie Griffth and Don Johnson
We have more Hollywood royalty here. Not only is Dakota the daughter of Melanie Griffth and Don Johnson, but she is also the granddaughter of famous actress, Tippi Hedren.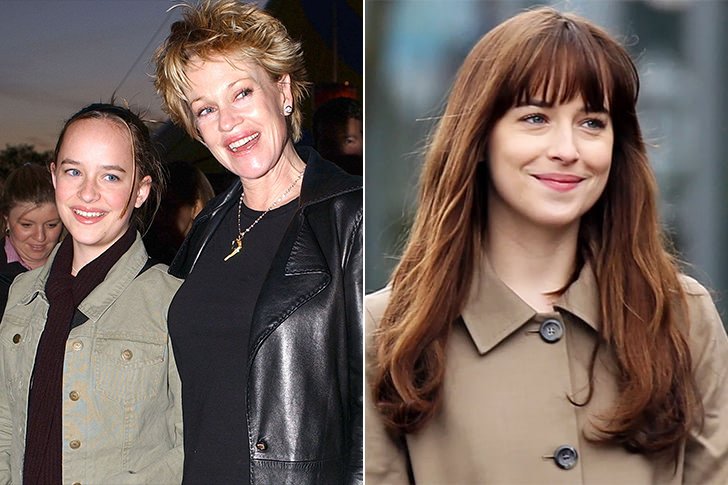 Just like her grandma and parents, Dakota has taken up a career in acting. Aside from the Fifty Shades of Grey trilogy, you can find her in movies like How to be Single, Bad Times at the El Royale, and Wounds.
Alana Thompson
Parents: Mama June Shannon and Sugar Bear (Mike Thompson)
You all know her better as Honey Boo Boo from shows Toddlers and Tiaras and Here Comes Honey Boo Boo. What is good old Honey Boo Boo up to these days? Well, she's cut ties with her mother due to her bad behavior.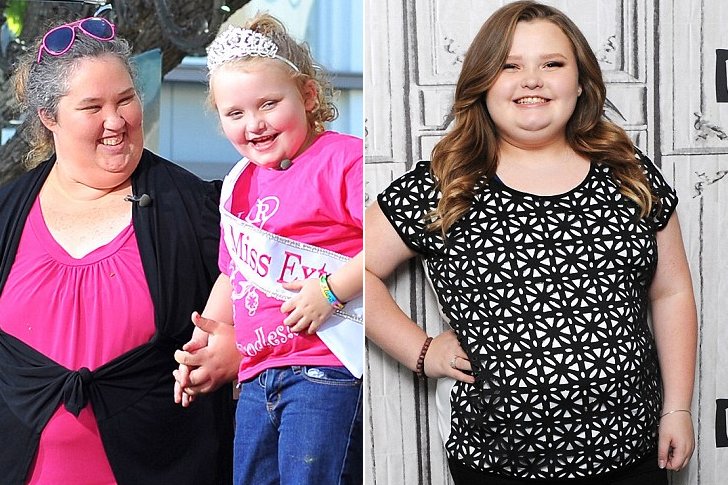 Honey Boo Boo has also been trying to lose weight. She's in a much healthier place with her sister. More recently you can find Honey Boo Boo on 2018's Dancing with the Stars.
EJ Johnson
Parents: Magic Johnson and Earlitha Kelly
EJ Johnson is the child of retired NBA Los Angeles Lakers player, Magic Johnson. Many believed that he would grow up to be quite the basketball player just like his famous father. However, sports were never his calling. He came out as gay at the age of seventeen. Then, Johnson developed his own clothing line worth millions of dollars today.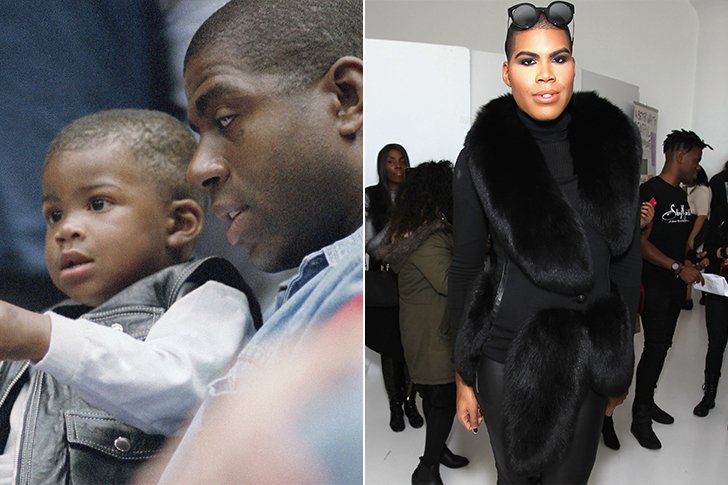 In 2019, he thought about transitioning but later changed his mind. EJ is just comfortable with being feminine and proud about it. No matter what EJ identifies as, Magic will love his child with the pride and joy of a father.
Frances Bean Cobain
Parents: Kurt Cobain and Courtney Love
It must be tough growing up after the tragic loss of your father to suicide. Now imagine your mom having a reoccurring drug problem with her antics always making the news. It's even harder when you are famous and get no privacy.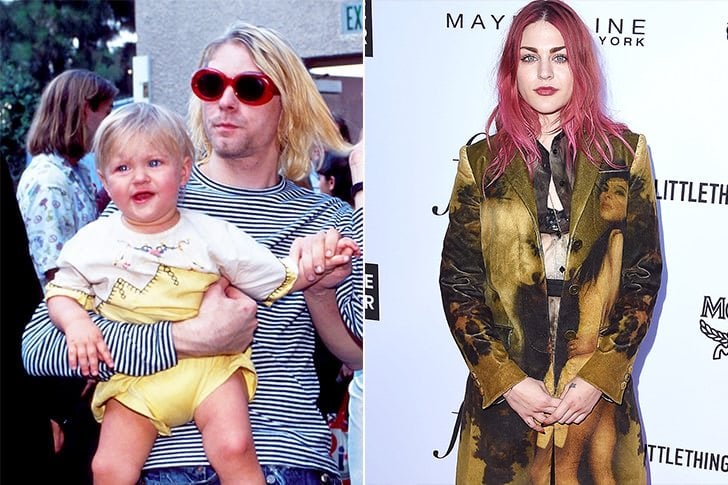 However, Frances Bean managed to turn out rather well. These days, she is now an artist and a model. Her style has changed over the years too. She was into girly fashion for a time before she followed in her father's footsteps with his style. Frances was married to a musician named Isaiah Silva in 2014, but they split up in 2016.
Brooke Hogan
Parents: Hulk and Linda Hogan
We first met Brooke on her family's reality show, Hogan Knows Best, in 2005. She was sixteen at the time. Since then, Brooke has managed to have a career of her own. She had a short stint on her own reality show called Brooke Knows Best, a spin-off of Hogan Knows Best.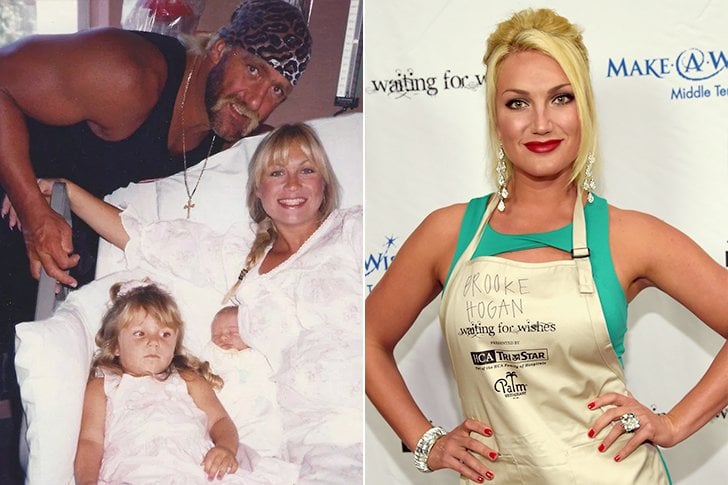 Brooke has her own music career as well. Between her younger brother in jail and her parents' marriage breaking up, she's managed to keep everything together. In 2018, she was seen on the show, The Challenge: Champs VS. Stars in season three.
Alexandria Zahra Jones
Parents: David Bowie and Iman
Having the late David Bowie as your father and a high-profile supermodel named Iman as your mother is quite the pedigree. Alexandria is following in her artistic father's footsteps. Lexi may be just 20 years old, but she's already planning to sell her artwork to the world.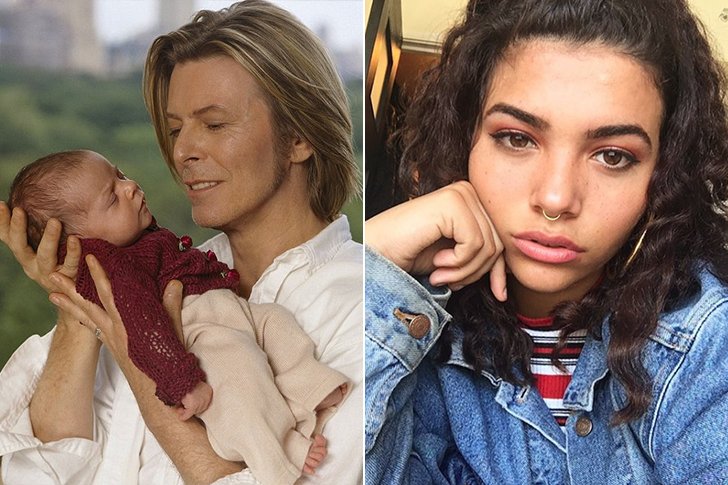 You can find her on her two Instagram accounts, one of which is just for her art alone and the other is just her personal account. She graduated high school in 2018 and is ready to take the world by storm.
Madelaine West Duchovny
Parents: David Duchovny and Tea Leoni
Madelaine's father, David, needs no introduction. He's had quite the career from The X-Files to The Red Shoe Diaries. He is also currently working on a detective book.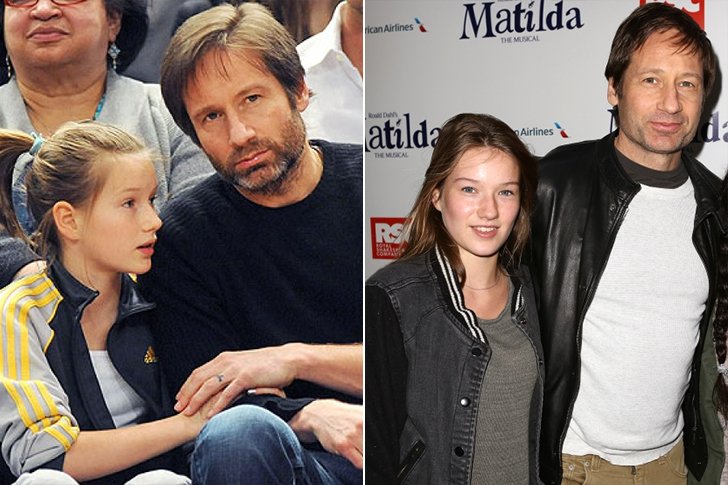 Even though Madelaine's parents split in 2008, she's managed to maintain a healthy relationship with her famous David. Father and daughter can be found at basketball games having a blast. You can also find Madelaine on Instagram with her 184,000 followers.
Lourdes Leon
Parents: Madonna and Carlos Leon
Lourdes is the daughter of pop icon, Madonna. She is the oldest of three children. Unlike her bold and wild mother, Lourdes is more private with her life.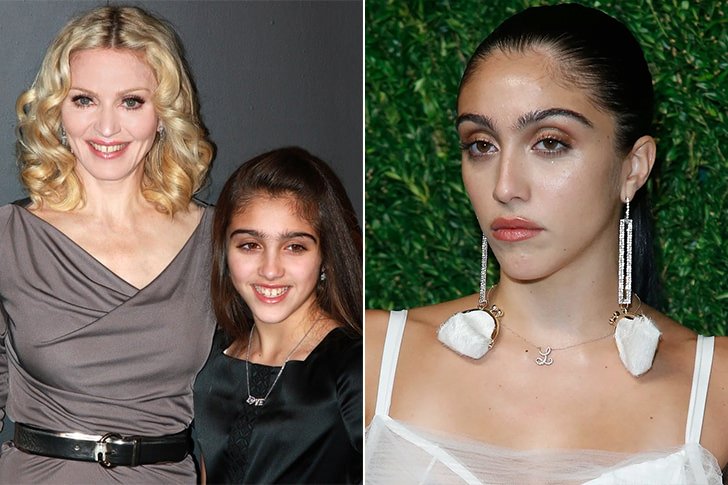 Not much is known about her aside from her modeling career. With the striking resemblance to Madonna with darker hair, she is making a name for herself. You can find Lourdes in the spring 2019 campaign for Miu Miu.
Ronan Farrow
Parents: Mia Farrow and Woody Allen
Ronan comes from acting and film-making royalty in the form of Mia Farrow and Woody Allen. One would think that he would do the same. Alas, it was not meant to be. Ronan took up a career as a lawyer and a journalist.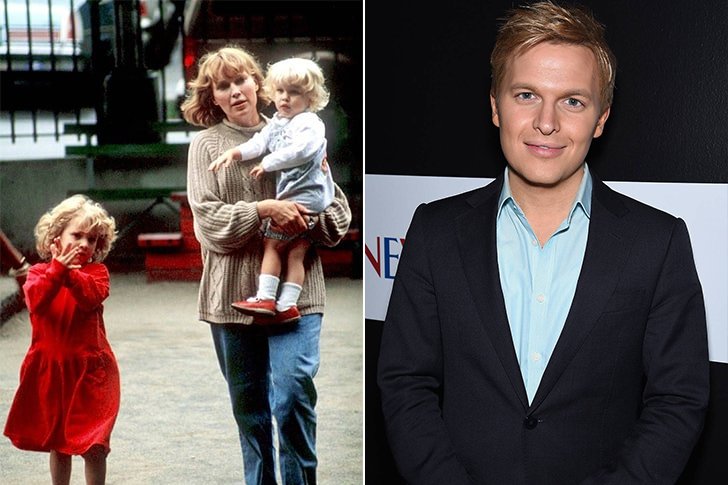 He is the one to expose the dirty secrets of sexual abuse in Hollywood from the big shots like Harvey Weinstein in a 2018 expose. You can spot Ronan in Unbreakable Kimmy Schmidt as he played himself in the show in 2019.
Coco Arquette
Parents: Courteney Cox and David Arqeutte
Coco first came on everyone's radar due to her strange name. She's part of the Arquette dynasty, which consists of her father, David, and her aunts Patricia, Rosanna, and the late Alexis.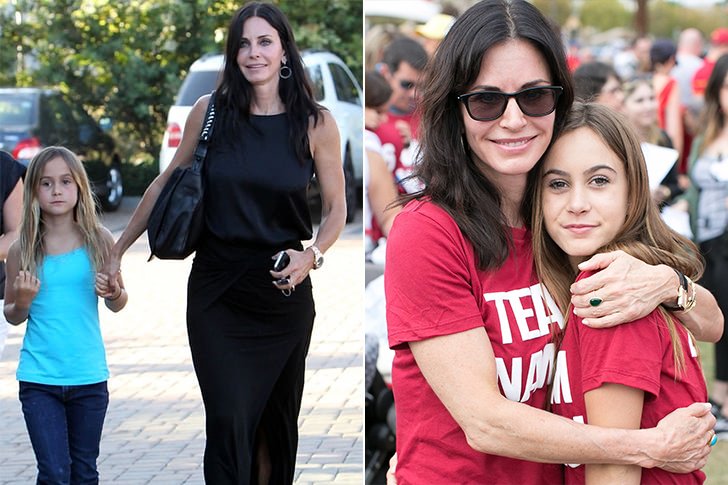 Coco is only seventeen and her future looks so bright. For now, she's focusing on school. From a young age, Coco has shown that she has taken a liking to make-up. Whatever she chooses to do, her mother will always be behind her.
Connor Cruise
Parents: Tom Cruise and Nicole Kidman (Adopted)
Tom Cruise and Nicole Kidman adopted Conner around 1995. Not much is known about him and his personal life.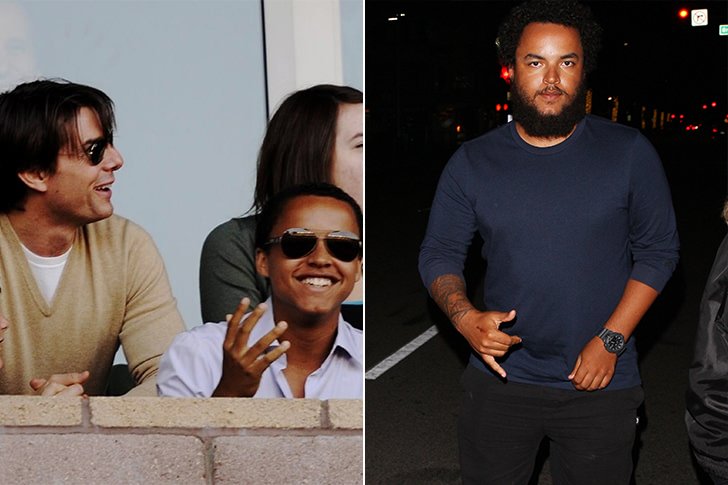 Conner used to be a DJ, but he traded in the disks for a fishing rod. That's right, he is into deep-sea fishing now. It is said that he also lives in a Scientology community along with his father.
Zoë Kravitz
Parents: Lenny Kravitz and Lisa Bonet
Zoë is another example of entertainment royalty, with her rock star father, Lenny Kravitz, and her actress mother, Lisa Bonet. She managed to rise up in her own name as an actress.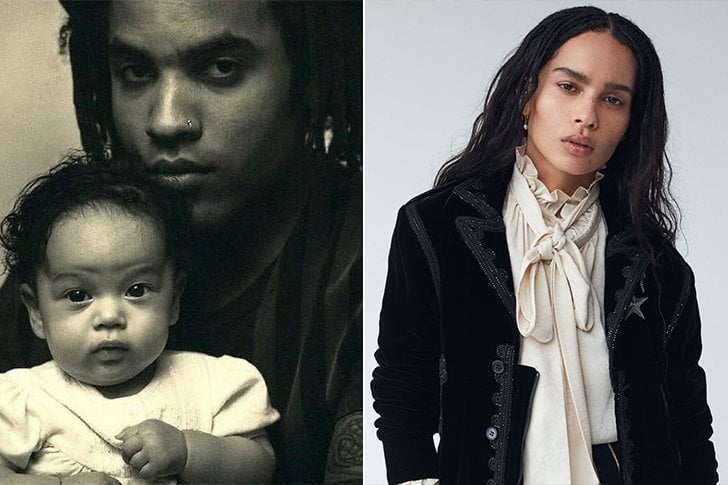 You can see her in movies like the Divergent series and X-Men First Class. In 2016, Zoë started to date an actor named Karl Glusman. Two years later, they got engaged in November, then married in 2019.
Royal Reign Jones Neil
Parents: Lil Kim and Mr. Papers
Lil Kim is one of the most influential female rappers in hip hop. In 2014, she add the job of "mom" to her list of achievements. The father of her child is a rapper known as Mr. Papers, thought he couple has had a public falling out since the birth of their daughter.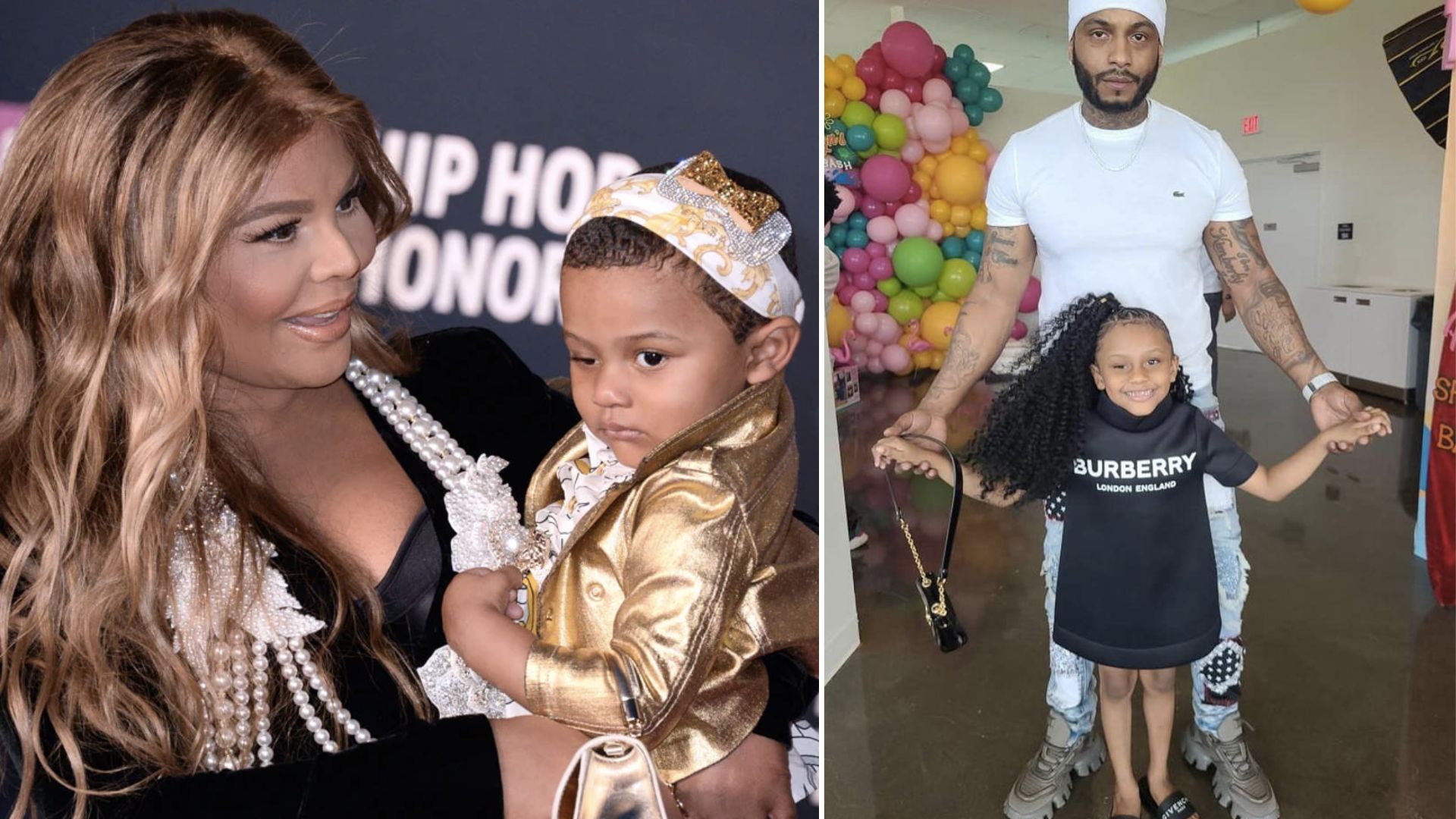 Royal Reign was born with an eye condition called Congenital Ptosis, which causes one fo her eyelids to be slightly lower than the other. However, the condition does not affect her eyesight! Lil Kim features her daughter on her Instagram regularly and the two appear to be very close.
Sean Preston Federline
Parents: Britney Spears and Kevin Federline
Despite his mother's mental struggles in public, Sean and his brother seem to be growing up well. There isn't much known about the boys in their private lives.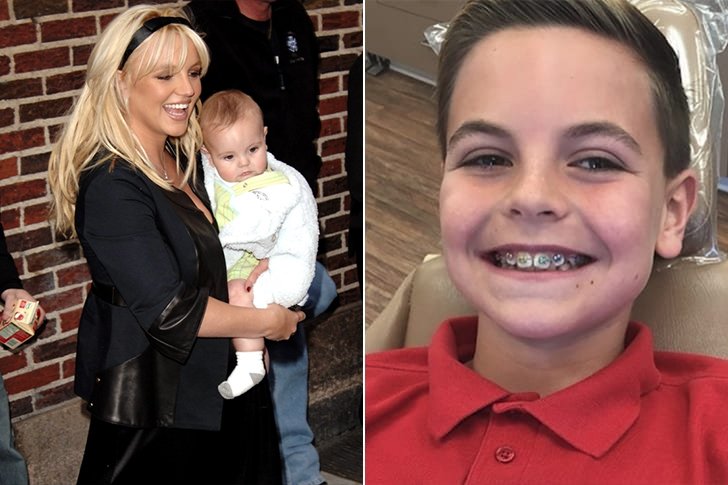 Their father is keeping them out of the spotlight as a way for them to grow up like normal kids. Britney has struggled with custody over her children as she lost that right in 2007 after her breakdown, but was granted 30% unsupervised visitation rights in 2019.
Rumer Willis
Parents: Demi Moore and Bruce Willis
Rumer is the oldest of Demi and Bruce's daughters. She managed to make her own name in Hollywood. In 2015, Rumer was on the show, Dancing with the Stars.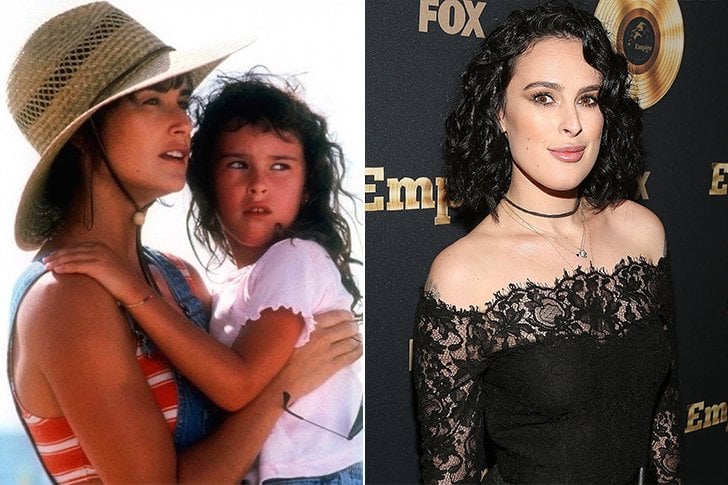 You could catch her in the role of Roxie Hart in the Broadway production of Chicago in the same year. Rumer is also in Empire, Once Upon a Time in Hollywood, and recently she appeared on The Masked Singer.
Harper Beckham
Parents: David and Victoria Beckham
We met Brooklyn on this list. Now, we meet his baby sister, Harper. This little darling has only been on the planet for nine years. She's got so much ahead of her.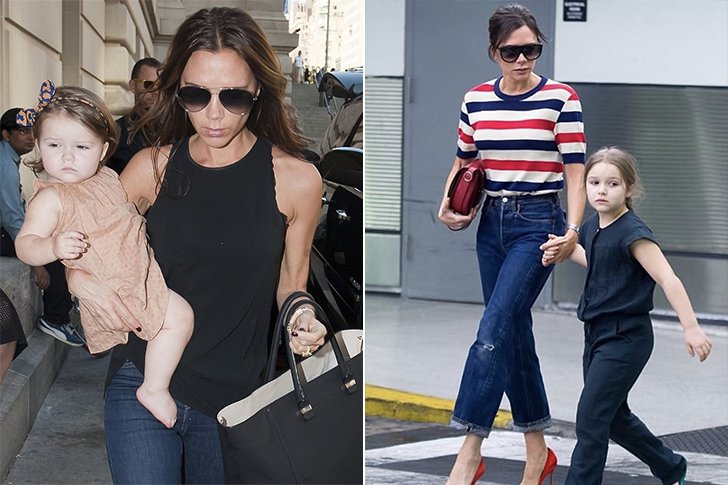 The world will be watching her next moves. With her cute looks, she's one step in the right direction. You can easily learn more about Harper and her family as they lead a rather public lifestyle through social media.
Kingston Rossdale
Parents: Gwen Stefani and Gavin Rossdale
Singer Gwen Stefani was so happy to achieve her dream of being a mom with her first son, Kingston. Only fifteen and he's already made twenty-second on GQ's list of "30 Most Stylish Young Men Under 30."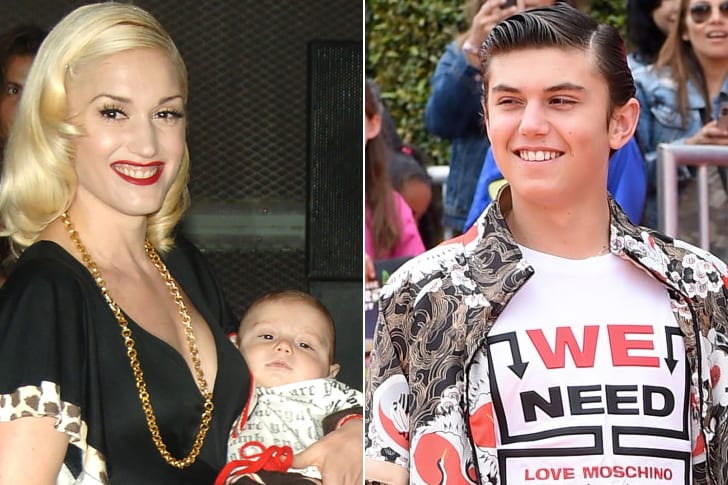 Despite this, Kingston stays out of the limelight and keeps his life rather private. Recently, he was catching up with his father on Instagram live and showing off his new piercing.
Matilda Rose Ledger
Parents: Heath Ledger and Michele Williams
It's hard when you lose a parent. It's harder when you are really young. Now, imagine your parent being super famous. That's what happened to Matilda when Heath Ledger died of an overdose.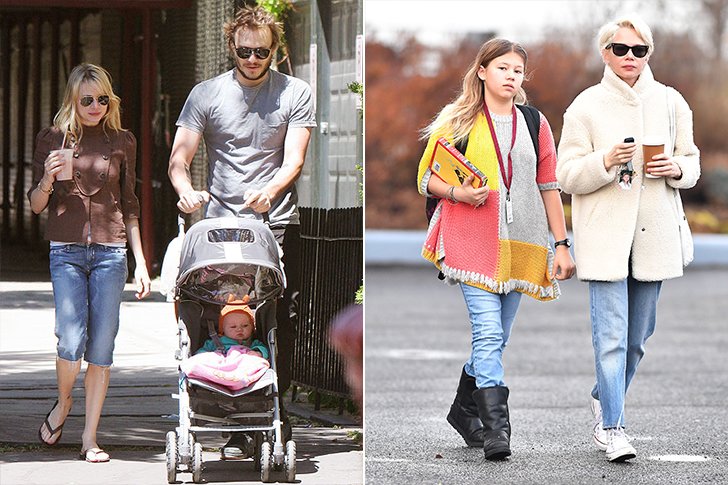 Since then, she has grown and thrived. So far, she is only fifteen years old with her own future ahead of her. She might have a career in Hollywood, but Michele has done a good job of keeping her out of the media.
Shannon Lee
Parents: Bruce Lee and Linda Emery
Bruce Lee was an iconic material artist and actor. He was taken from us too soon on the set of his last movie.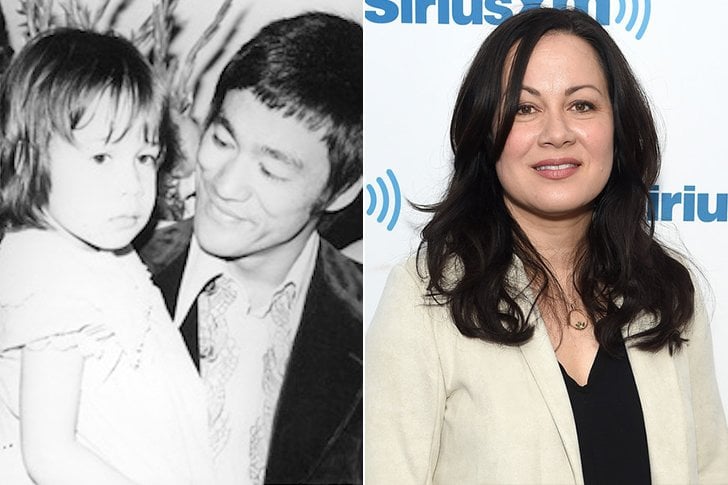 However, his legacy lives on in his surviving daughter, Shannon. She is an actress and material artist herself. You can find her in movies like High Voltage, Epoch, and many more.
Georgia May Jagger
Parents: Mick Jagger and Jerry Hall
Mick has many children. The latest one was born in 2016. However, here we get to talk about Georgia. She's got more than her family name and rich parents to show for herself.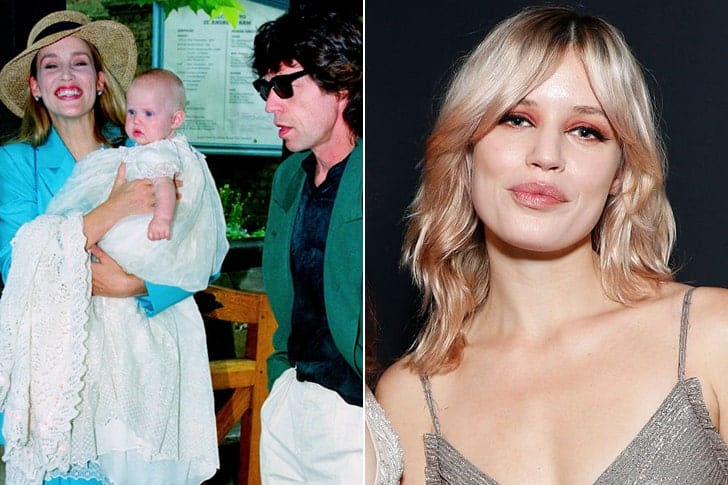 She's made quite the career in modeling. You can find her with such brands as Tommy Hilfiger, Miu Miu, and Versace. Georgia doesn't only model, but she designs clothes too. She's worked with Volcano and Mulberry.
Kate Hudson
Parents: Goldie Hawn and Bill Hudson
Here is another child of Hollywood royalty. You see Goldie in Kate's face. But she didn't have to rely on her parents' names to make it. She's been acting for quite some time now.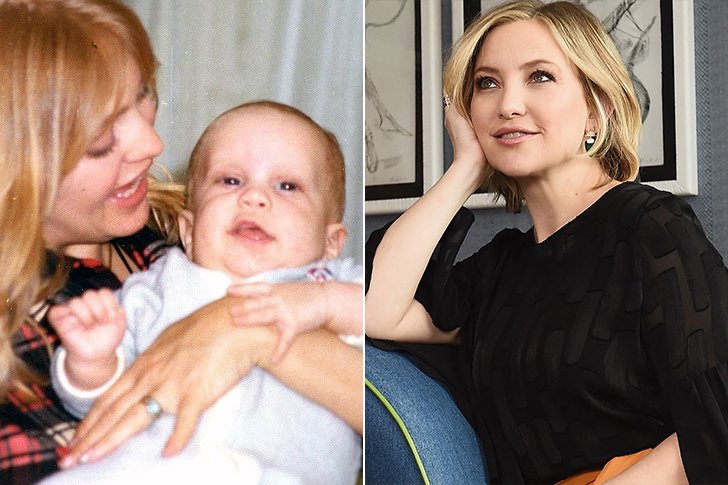 She has the award for Best Supporting Actress and a Golden Globe for her 2000 role in Almost Famous to prove it. You can see her in things like The Skeleton Key, Bride Wars, and How to Lose a Guy in Ten Days.
Apple Martin
Parents: Gwyneth Paltrow and Chris Martin
Apple first came into the spotlight because of her strange name. She is the oldest child of Gwyneth and Chris who named her after the fruit because they found the name to be sweet, wholesome, and biblical.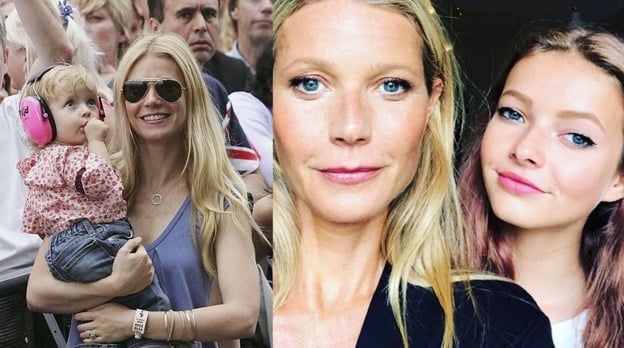 Not much is known about Apple. We don't have any details about her private life. But she is currently seventeen and looks like a miniature version of her mother.
Hazel Moder
Parents: Julia Roberts and Daniel Moder
Hazel and her twin brother, Phinnaeus, came into the public because of their strange, old-fashioned names. Hazel comes from Hollywood royalty with her mom Julia, her uncle Eric, and her cousin Emma.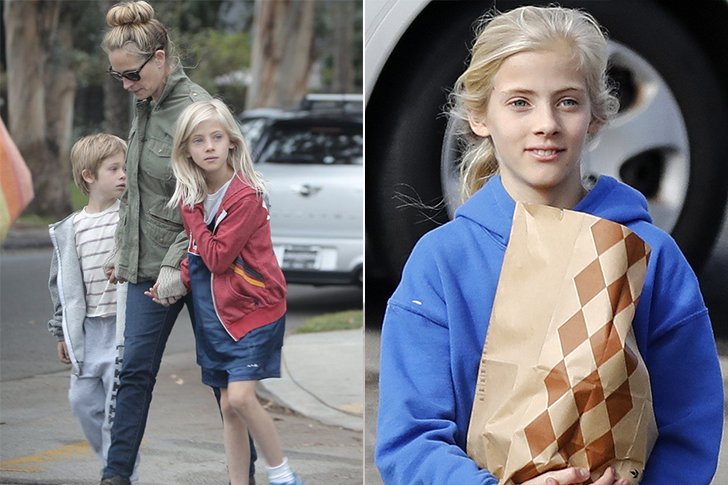 The twins and their younger brother, Henry, have been kept out of the public eye so far. Julia is saving her iconic black Valentino dress for Hazel to wear when she gets older.
Lily Collins
Parents: Phil Collins and Jill Tavelman
Lily has made a name for herself in the acting world. She's been in quite a few movies. You can see her in Les Misérables, To the Bone, Love, Rosie, and many more.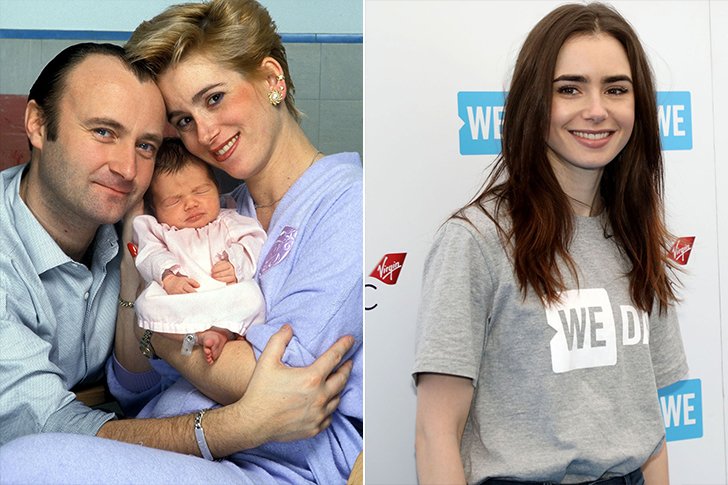 She's done it all without relying on her father's name. Lily has come out and admitted that she had suffered from an eating disorder for a time. Now, she's fighting to raise awareness on this serious subject.
Suri Cruise
Parents: Tom Cruise and Katie Holmes
Suri is the only daughter of Tom and Katie. Even though the marriage has crashed and burned, she's managed to live a healthy upbringing from her mother.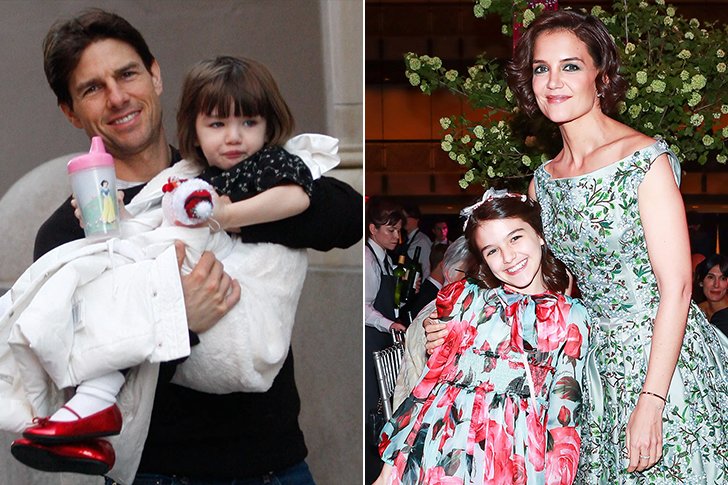 Tom on the other hand can only see her ten days a month, but chooses not to since she does not follow Scientology like the actor does. Suri is only fifteen and gets her style from her mother. Not much else is known about her private life though.
Dannielynn Birkhead
Parents: Anna Nicole Smith and Larry Birkhead
It's really hard to lose a parent when you are a baby. Dannielynn had to go through that when Anna Nicole died back in 2007. It didn't help that she got dragged into a paternity lawsuit that wound up going public as well.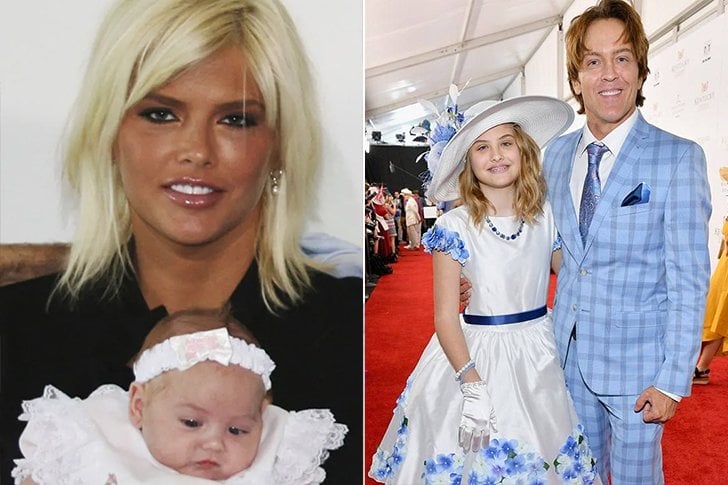 Since then, Dannielynn has managed to stay out of the public eye and live a relatively normal life. She is fourteen years old and lives with her father. They were spotted out at the Kentucky Derby in 2018. They looked so cute in their matching blue outfits on the red carpet.
Louis Bardo Bullock
Parent: Sandra Bullock (Adoptive)
Louis's mother, Sandra Bullock has taken Hollywood by storm over the last few decades, starring in films like The Net, Miss Congeniality, The Blind Side, and Bird Box. In 2010, the actress had been in the process of adopting a child with her now ex-husband, Jesse James for nearly four months.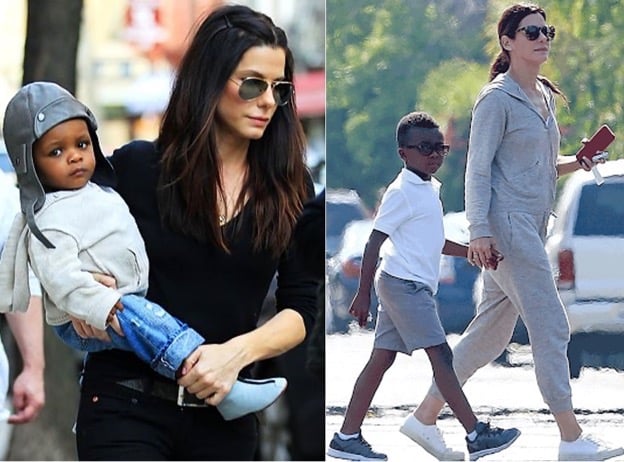 When the couple split, Bullock still decided to go through with the adoption and adopted Louis from New Orleans at three months old. She has done an excellent job raising Louis as a single-mother these past eleven years and even adopted a second child from Louisiana, named Laila.
Ava Sambora
Parent: Heather Locklear and Bon Jovi
Ava Sambora has been in the spotlight since she was a young child, walking red carpets alongside her very (very) famous parents.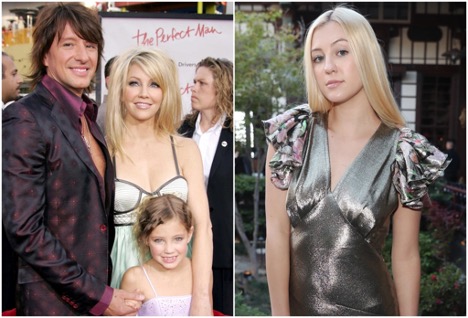 These days, she will show her face to the occasional celebrity events on her own. She has been in numerous modeling campaigns and acted in movies such as "This Is 40."
Brooklyn Beckham
Parent: Victoria and David Beckham 
Back in the day (and who are we kidding–they still are) British sweethearts that people love to gush over. They are hopelessly beautiful, talented, and rich.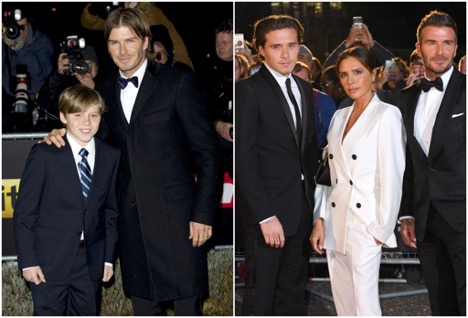 The duo had four kids, Brooklyn, Romeo, Cruz, and Harper. Brooklyn has grown into the spitting image of his father, is a model, photographer, and has made his own mark in Hollywood.
Brandon Thomas Lee
Parent: Pamela Anderson and Tommy Lee
Brandon Thomas Lee was born June 5th, 1996 is the eldest son of Baywatch star Pamela Anderson and Mötley Crüe drummer Tommy Lee. He has a younger brother, Dylan Jagger Lee.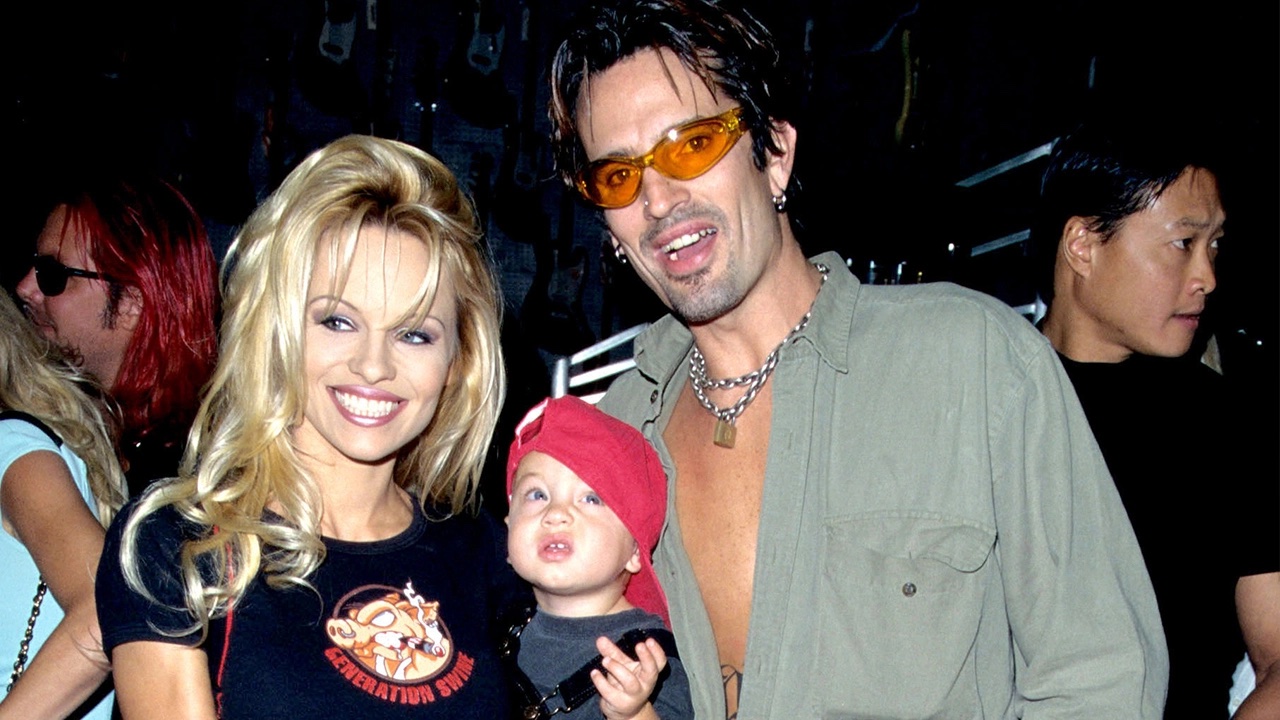 While Tommy Lee and Brandon Thomas Lee appear to have a better relationship these days, this wasn't always the case. In 2018, Tommy was reportedly punched by Brandon in an altercation. Brandon claimed to have punched Tommy in self-defense.
The two must have mended things, because they reportedly spent most of 2020 quarantining together amid the ongoing pandemic.
Emma Roberts
Parent: Eric Roberts and Kelly Cunningham
Emma Roberts was born on February 10th, 1991 and is the daughter of Academy Award-nominated actor Eric Roberts, and Kelly Cunningham.  She is also the niece of Academy Award winner Julia Roberts. was born on February 10, 1991.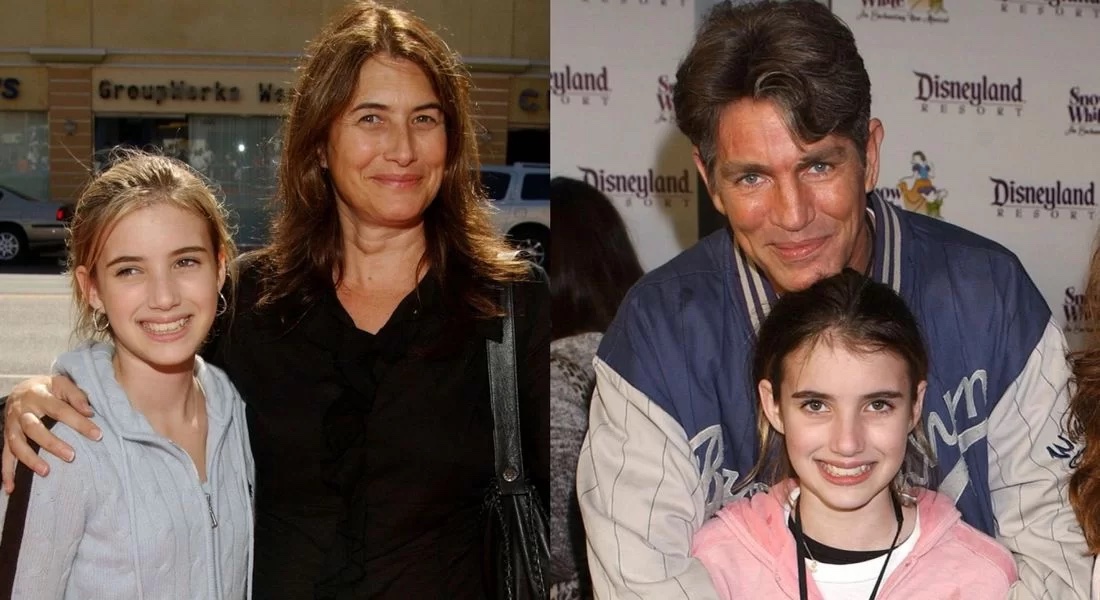 She made her acting debut at 10 years old in Blow and went on to lead Nickelodeon's Unfabulous. Now you can find Roberts taking some time from the big screen and raising her one year old son. She shares son, Rhodes with Garrett Hedlund.
Scarlet, Sophia, & Sistine Stallone
Parents: Sylvester Stallone and Jennifer Flavin
Stunning sisters Sophia Rose- 26, Sistine Rose- 24, and Scarlett Rose- 20 are the daughters to American film super-star Sylvester Stallone, and model Jennifer Flavin.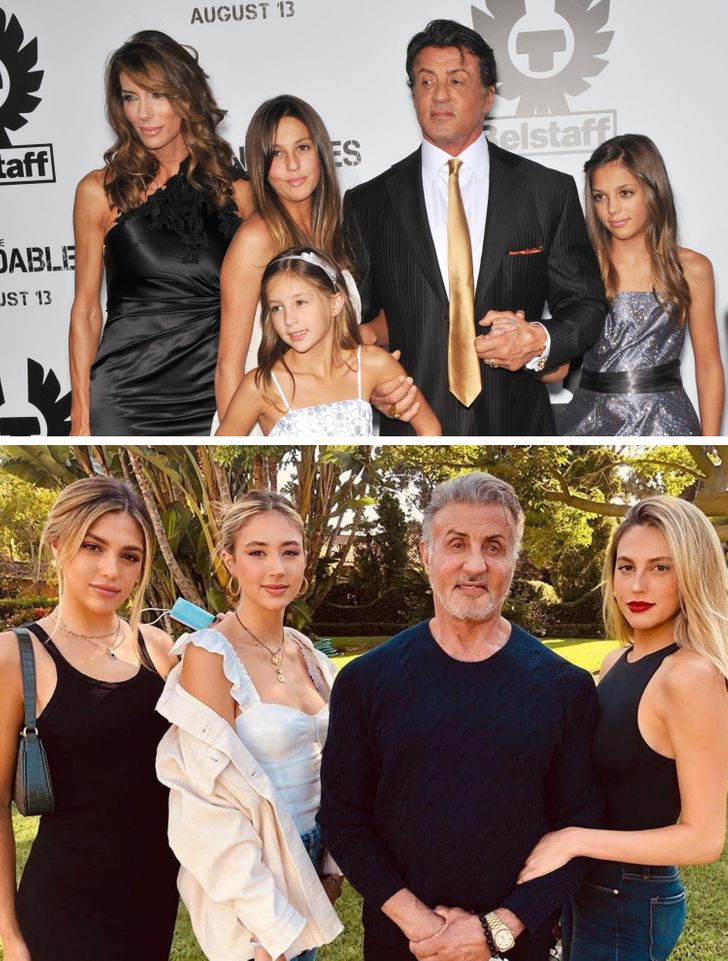 Sophia studied communications – with a minor in entrepreneurship and film – at the University of Southern California. Sistine Stallone has taken after her mother, Jennifer, and has embarked on a modeling career. The youngest of the sisters, Scarlet Stallone, is frequently involved on dad Sly's Instagram and spend a lot of her free time competing in sports.
Maya Hawke
Parents: Ethan Hawke and Uma Thurman
Born July 8, 1998, Maya Hawke is the daughter of actors Ethan Hawke and actress Uma Thurman.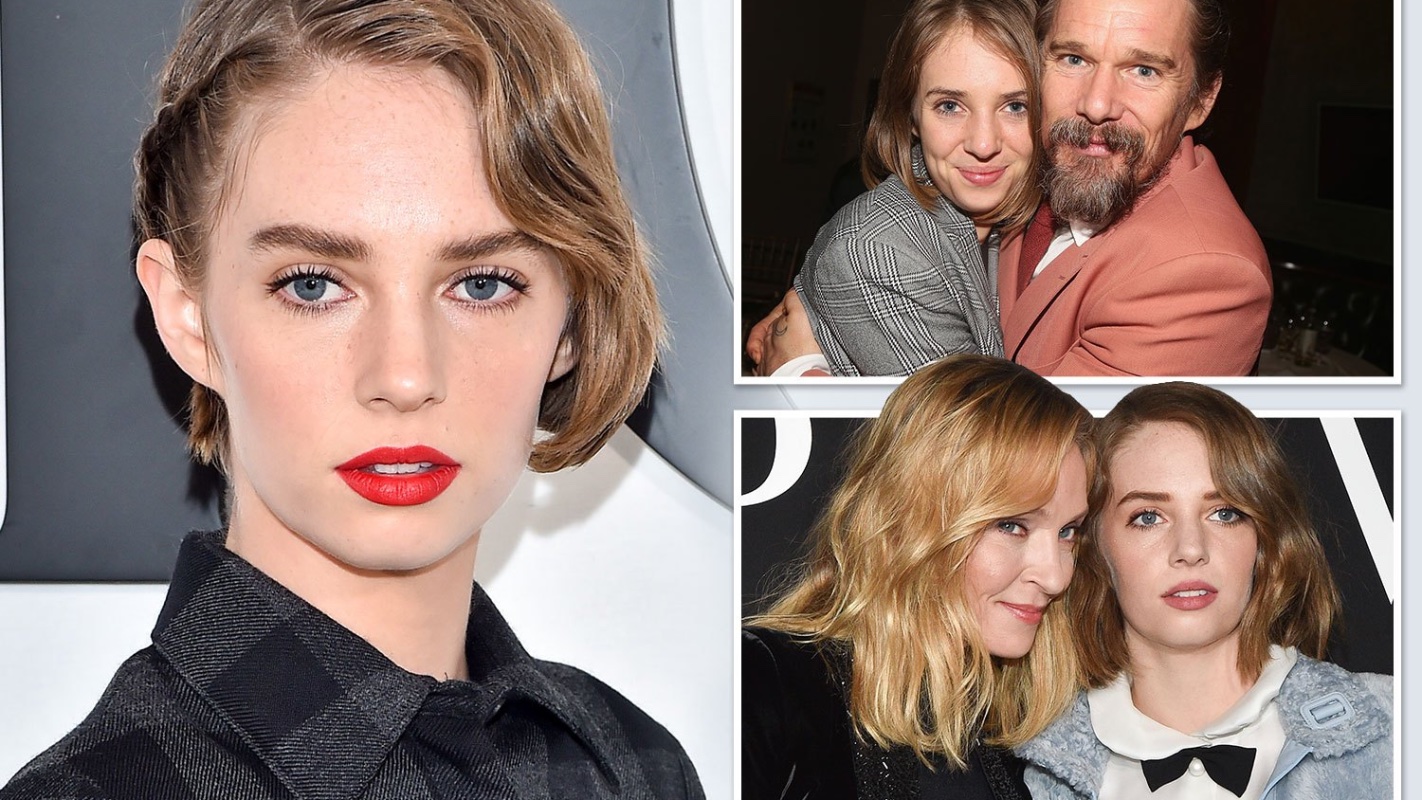 In the beginning of her career Maya modeled for Vogue, and was chosen as the face of the British fashion retailer AllSaints'. Maya's first big acting role came through her co-starring performance as Robin Buckley in the third season of Stranger Things. Hawke also dabbled in music and released two single's in 2019.
Michael Gandolfini
Parents: James Gandolfini and Marcy Wudarski
Born on May 10th 1999 to actor James Gandolfini and Marcy Wudarski. Michael enjoyed performing and wanted to follow in his fathers footsteps but his father preferred he pursue sports or directing.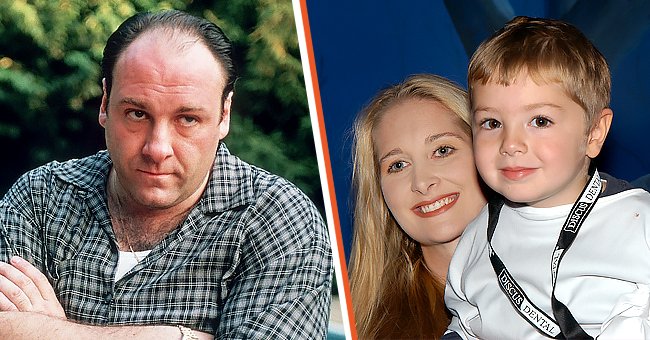 Sadly, James Gandolfini unexpectedly passed away in 2013. Following his fathers death Michael decided to pursue acting and hit it big in 2019 when he was cast in The Many Saint's Of New York as the young version of Tony Soprano, the role his father became well-known for.
Sailor Brinkley Cook
Parents: Christie Brinkley and Peter Cook
Daughter to supermodel Christie Brinkley and father Peter Cook, Sailor was born July 2nd, 1998.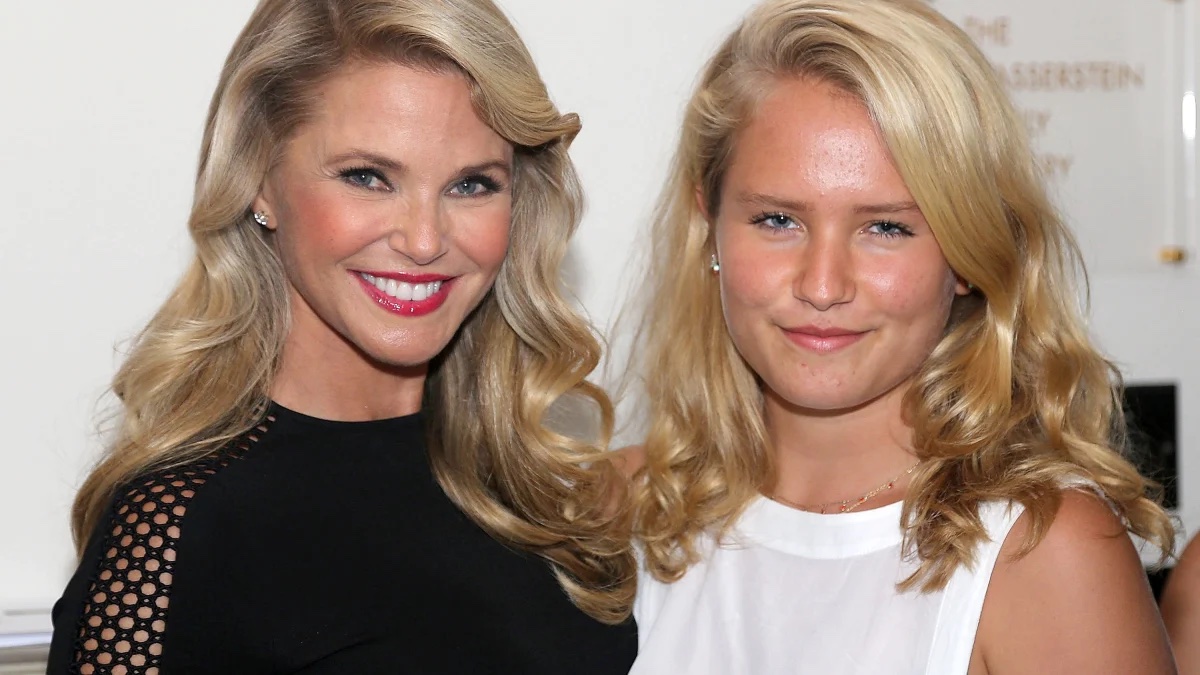 The 21-year-old began studying photography at Parsons School of Design in 2016. She's also a Sports Illustrated swimsuit model like her supermodel mom.
Dylan Brosnan
Parents: Pierce Brosnan and Keely Shave
Dylan Brosnan, born Jan. 13, 1997, is the son of actor and past 'James Bond, 007' Pierce Brosnan and journalist Keely Shaye Smith.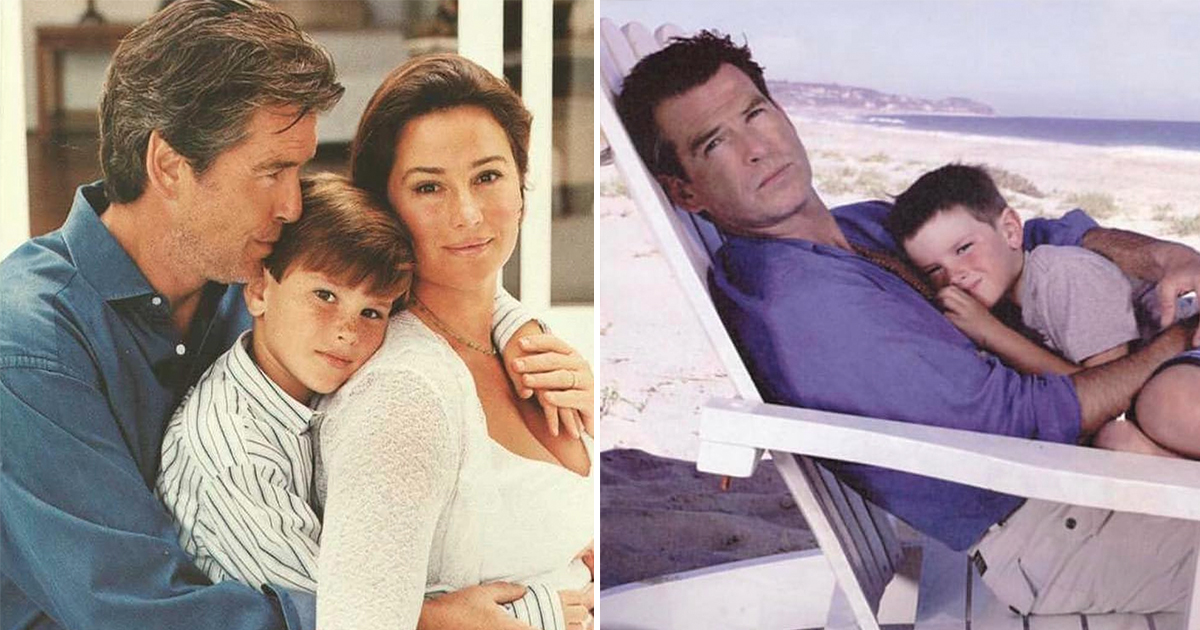 Dylan is a young man of many talents. Dylan an acts, sings and also models. Dylan began modeling in 2014 and quickly became a well known face for  Saint Laurent. In 2015 made his runway debut during Men's Fashion Week and continues to model to this day.
Amelia Gray and Delilah Belle Hamlin
Parents: Harry Hamlin and Lisa Rinna
Daughters of actor Harry Hamlin and actress Lisa Rinna, Delilah Belle- 23 and Amelia Gray- 20, shyed away from the spotlight until recent years.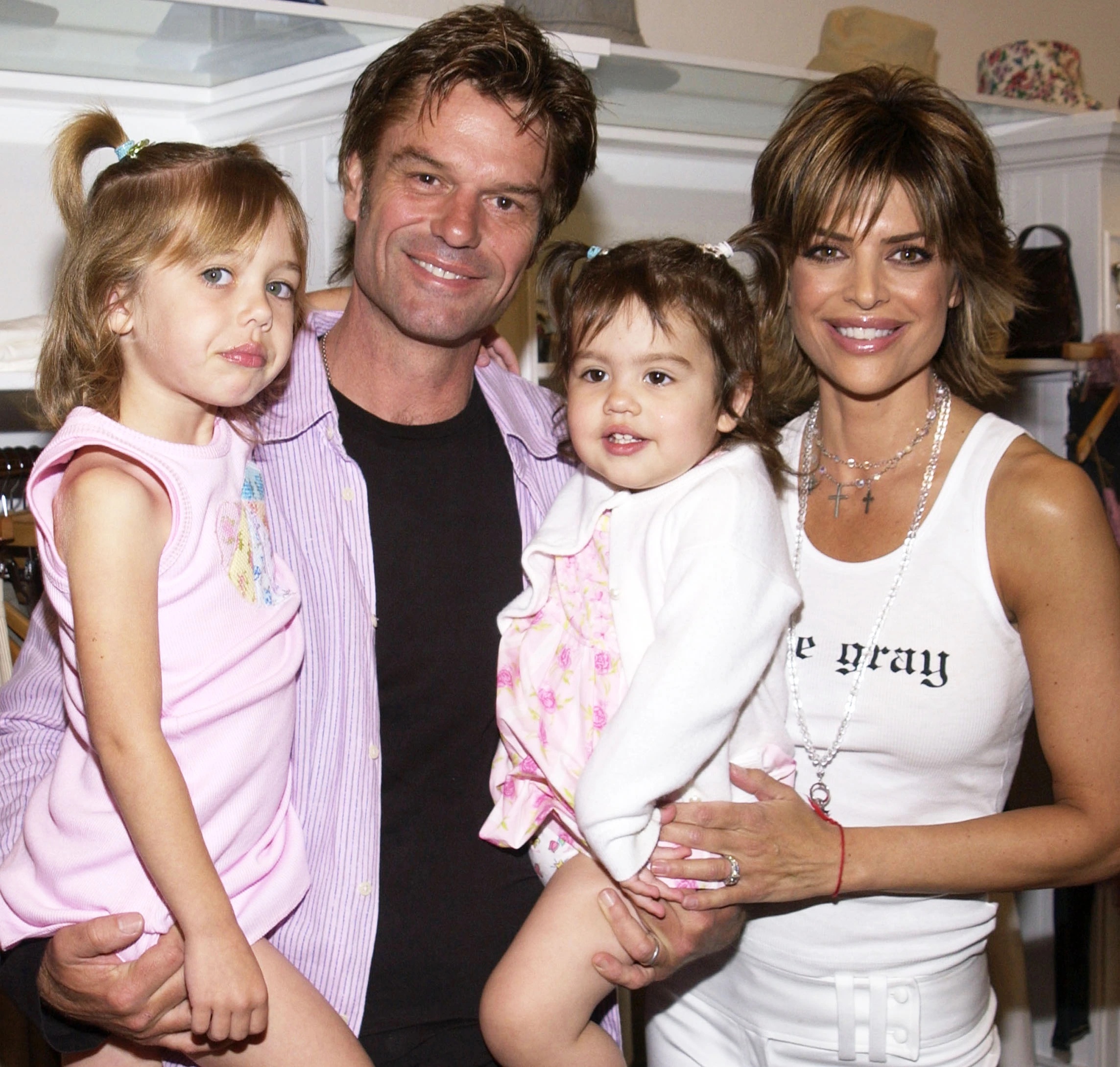 After introducing her girls to Real Housewives Of Beverly Hills fans, the girls' stars began to rise as they flourished with their own respective careers in show business, modeling, and complicated personal lives.