Celebrities Reveal What They Look Like Without Makeup
It was in 2016 when wearing #NoMakeup became a thing. The movement spurred celebrities to jump on the bandwagon and free their faces from parabens and artificial colors, going au naturel to win approval on social media. Some decided to make it about more than this, and these celebs transformed the movement into their permanent lifestyle.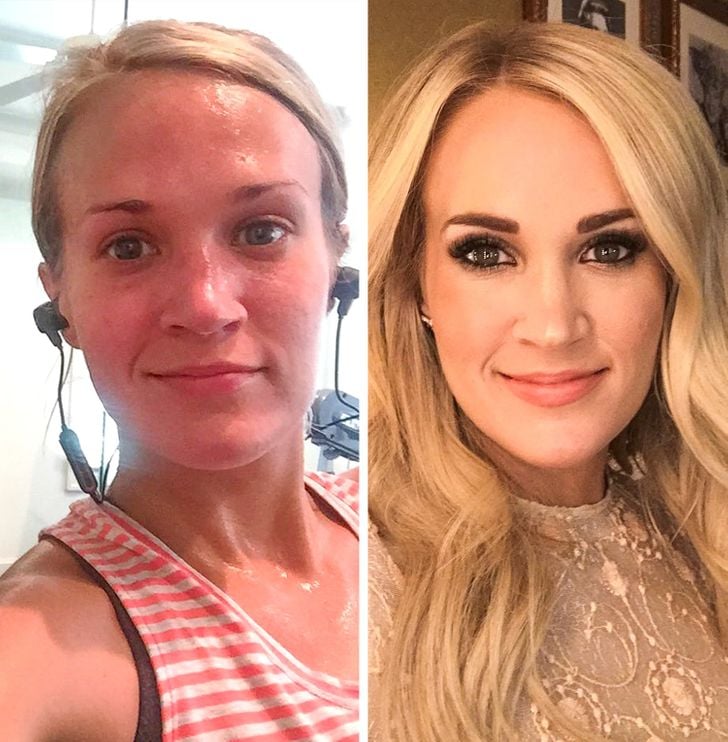 Whether in public or private, many actors, Hollywood personalities, and singers have ditched the cosmetics. Some garnered praise, a few received criticism. You decide what your opinion is about these thirty celebrities who removed their makeup and declared themselves free from its colorful embrace.  
Alicia Keys
Besides being a talented singer and songwriter, Alicia Keys is perfect as she is, with or without makeup. Still, her decision to go bare-faced was not easy. Early in her career, she felt the pressure to be anything but herself, and it took a toll on her.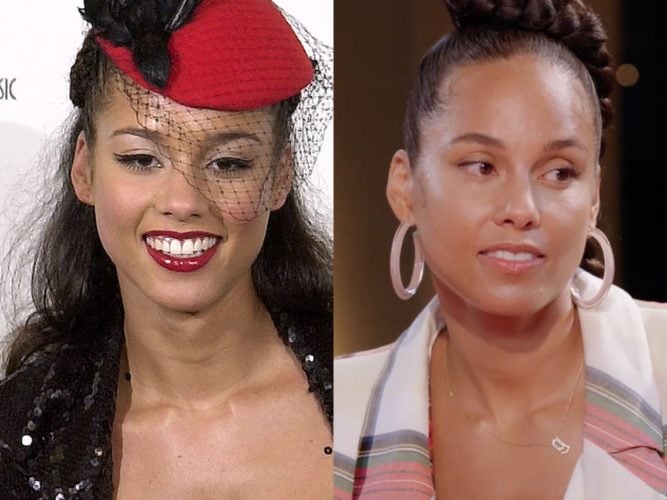 She even penned a song called "When a Girl Can't Be Herself," describing why she needed to conceal what was under all that makeup. Her worry seeped into different aspects of her life, and she found it so unhealthy that she now refuses makeup, even at award shows and events.
Tyra Banks
Even before the #NoMakeUp movement began, Tyra Banks was making the #RawAndReal movement popular by going makeup-free in public. She was posting her bare-faced selfies on Instagram as early as 2015.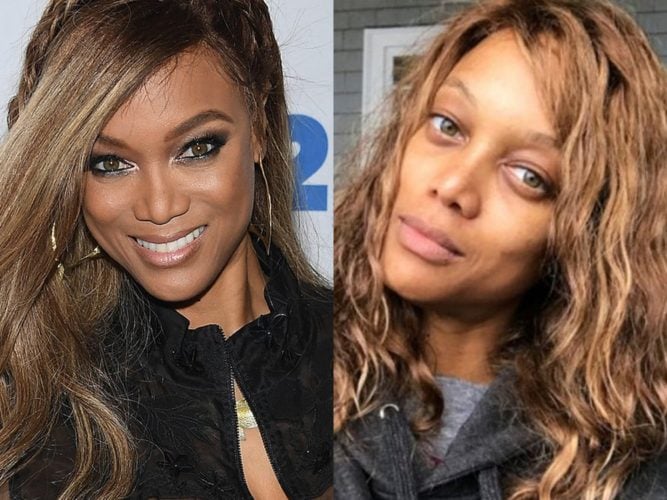 The model has since made going makeup-free a lifestyle choice she embraces fully. She's also not afraid to show her natural hair. Tyra Banks is as real as it gets nowadays, and she is mighty proud of it. We're all for this beautiful makeup-free look. What do you think?
Britney Spears
Who would have thought we'd be able to see Britney Spears in all her makeup-free glory? More to the point, who would have thought she would look as gorgeous as she is with no cosmetics on her face? Britney did the right thing when she posted a picture of her bare face on Instagram a few years ago.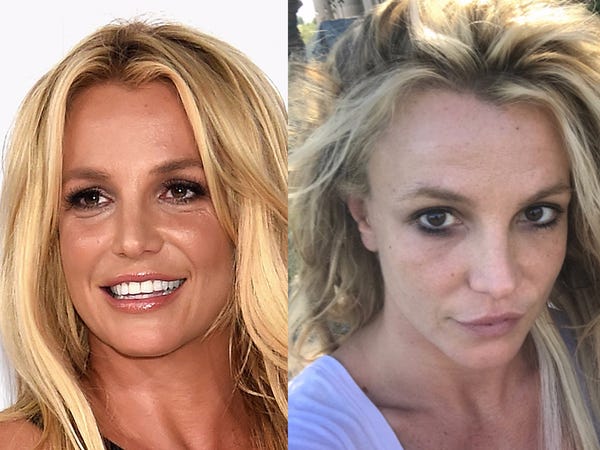 She proudly captioned it as "real unglammed me… so nice to meet all of you!!" Celebrities such as Britney are paving the way for a more realistic image of themselves instead of the one created by their publicity teams. Cheers for keeping it real!
Julianne Hough
Julianne Hough is mostly photographed wearing makeup. This Dancing With The Stars alumni is gorgeous whether she is dancing, acting, or singing. However, she has also been photographed wearing no makeup. She seems very comfortable in her own skin.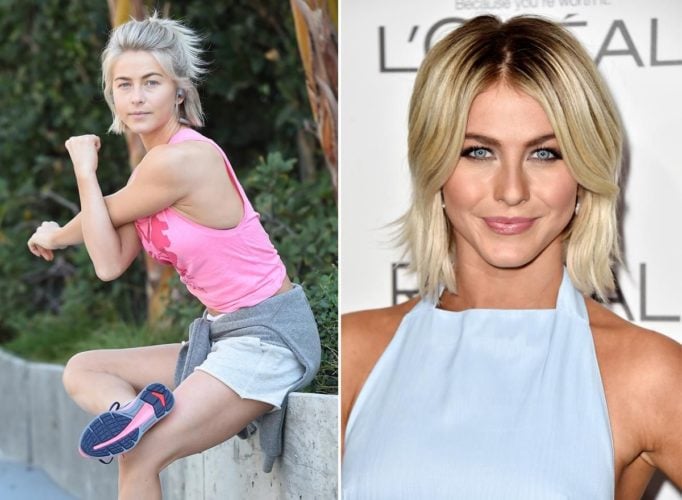 Her natural glow seems to stem from her ritual of practicing silence and stillness, as well as using natural facial cleansing products. She also does breathwork, journals regularly, and practices gratitude.
Carrie Underwood
American Idol winner Carrie Underwood posted a picture of herself right after a gym workout. She was makeup-free, and her hair was messy. She even described the image of herself as a "sweaty mess."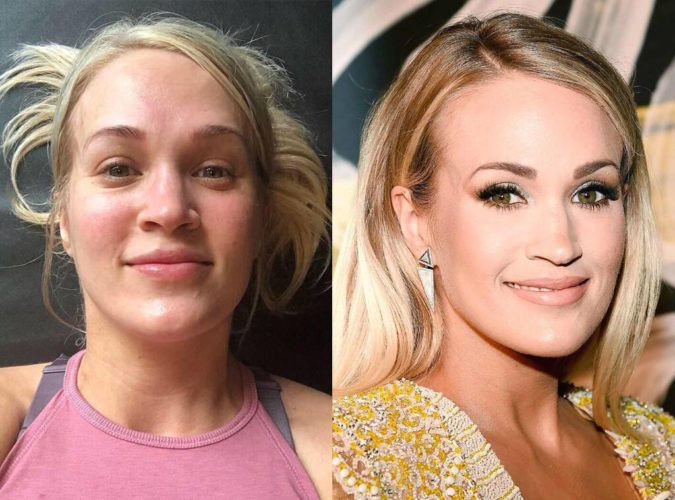 However, Underwood's un-made-up look seems a goal in itself. She still looks gorgeous sans cosmetics. She also loves not wearing makeup and strives to keep fit and healthy. She recently uploaded another bare-faced selfie showing her rock-hard abs.
Salma Hayek
Oscar-nominee Salma Hayek regularly posts pictures of her bare-faced self on her Instagram account. The flawless Latina declared that she is most comfortable having no makeup. In the caption that accompanied this image, she explained that she did not use any filters either. The only things she added were wet hair and some good lighting.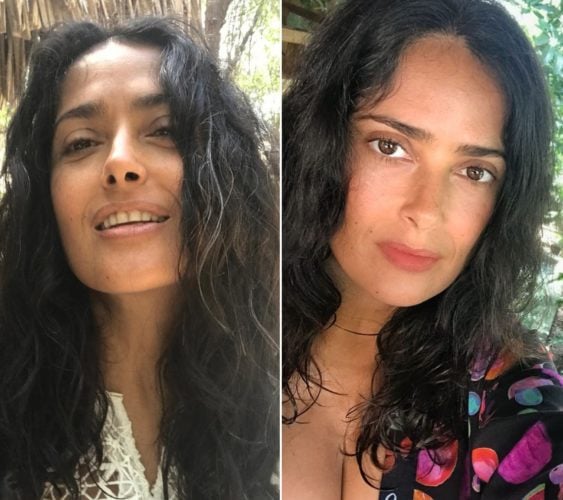 Hayek claims her glow is mainly due to rose water, sunscreen, and serum. She also takes the time to make her own facial mask using oatmeal, honey, and almond milk.
Adele
Singer-songwriter Adele has been showing off her bare-faced skin on Instagram since 2016. Her nude complexion has also been featured in Vogue, with the magazine commenting on how gorgeous the singer is, even with no cosmetics.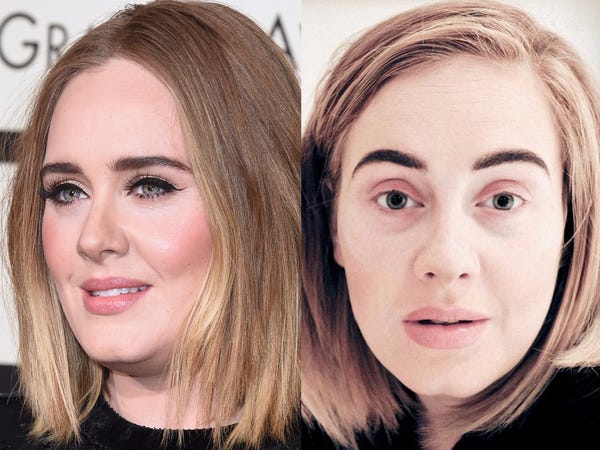 Though Adele does like to be makeup-free, she occasionally sports some eyeliner – her favorite cosmetic item. Still, she is not afraid to feature her face on social media with nothing but her glowing skin.
Gwyneth Paltrow
Gwyneth Paltrow is an Oscar-winner who is also winning in the no-makeup department, despite her age. The actress even declared that she feels her best and is always most comfortable when she is not wearing any cosmetics.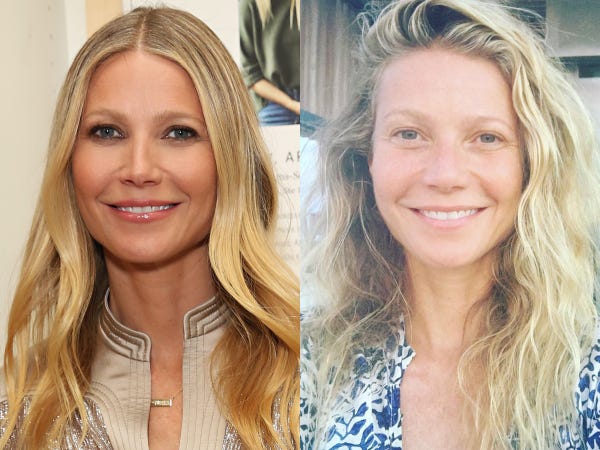 Growing up, she said she was always "a bit of a tomboy." Due to her profession, Paltrow has always associated wearing makeup with going to work. Not wearing makeup is something she loves as it is associated with time off and relaxation. We can relate!
Zoe Saldana
Celebrities are glowing and proud of their natural skin. Avatar actress Zoe Saldana is one of them, so she put away her cosmetics to reveal her bare face on her Instagram account. Not afraid to show her real skin, the Guardians of the Galaxy star loves flaunting her natural beauty.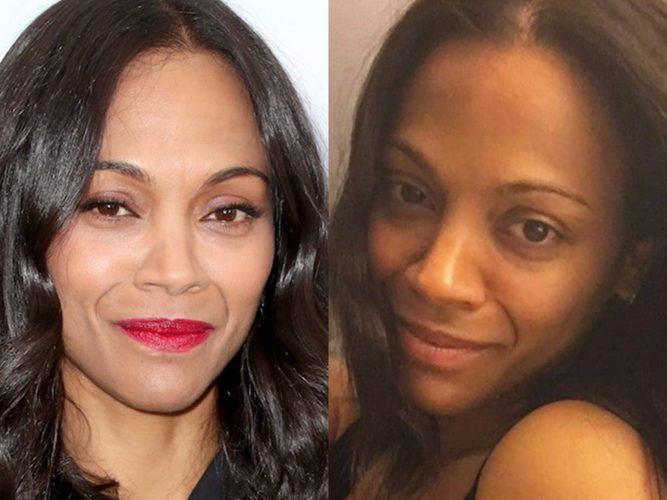 She captioned her post with "Mi manchi caro"– which translates to "I miss you, dear" – and then tagged her significant other. Her followers were fortunate witnesses to her sweet gesture as well as her natural beauty.
Christina Aguilera
Singer Christina Aguilera has always been seen with heavy makeup while performing her hits. Though she loves donning full cosmetics, including bold eyeliner and heavy lipstick, she does so for the love of theatrics. She always imagines herself playing a character when performing.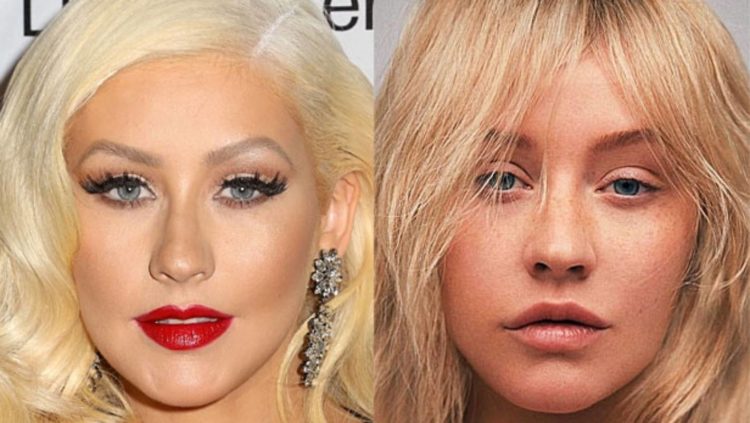 However, she also treasures her "raw beauty" and prefers to sometimes go back to the basics. Whenever she does, her natural beauty shines through. Beyond the glitter, glow, and colors, she's just a stunning woman who enjoys being makeup-free. 
Kelly Clarkson
First American Idol winner Kelly Clarkson loves wearing zero makeup so much that she posts a picture of herself not wearing any every Monday. Her "#NoMakeupMonday" look has everyone wishing they were as bold and self-accepting as Kelly.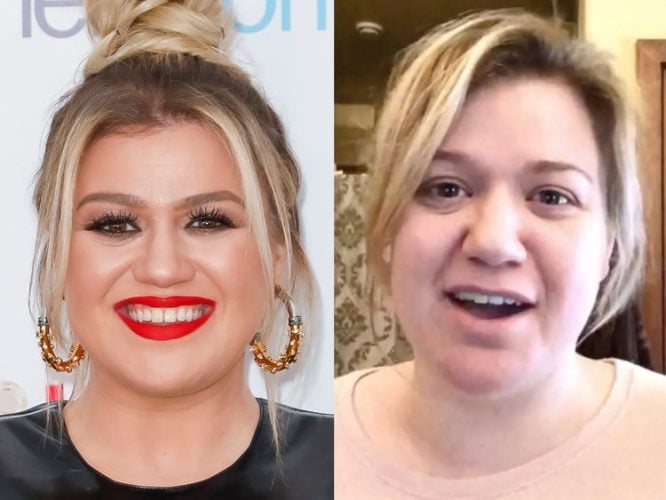 However, the singer did warn that she has "filtered the $&@!" out of the pictures she uploads. No one's judging, though. We can see that she's not trying to trick anyone like some other celebs do when they go #makeupfree. Also, she does look naturally pretty – definitely America's sweetheart. 
Drew Barrymore
Actress Drew Barrymore grew up in Hollywood. She has been in front of the cameras since she was literally a baby. Naturally beautiful, she has managed to maintain her gorgeous looks over the years. She also advocates for makeup-free days.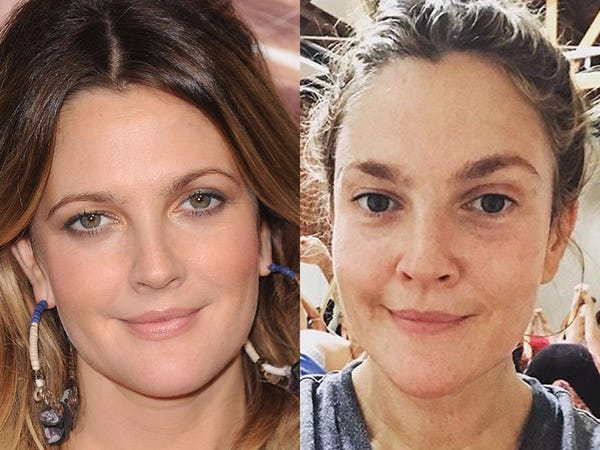 She even posted a selfie she took during a workout class. Celebrities should look sweaty and exhausted after a workout. So, here is Drew Barrymore revealing how unruly her eyebrows are and how gray her hair has become. Did anyone also notice how gorgeous she still is, despite being a sweaty mess?
Shakira
If Shakira's hips don't lie, then the images she uploaded on her Instagram account reveal that her selfies are also telling the truth. During the singer's 39th birthday, she happily went makeup-free and shared a few moments with her Instagram followers.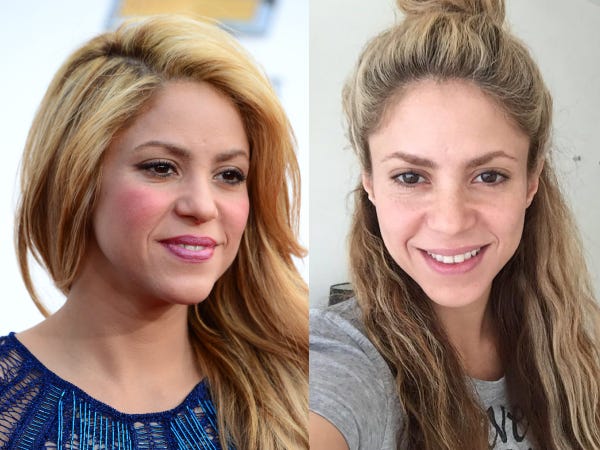 For authenticity, she also sported a "birthday bun" – a look everyone has rocked at least once in their lives. Shakira is looking gorgeous. She claims the secret to her flawless skin is vitamin E capsules that you can pick up from any drugstore. She breaks the capsules open and applies the oil onto her face.
Katie Holmes
Katie Holmes has gone a long way from being a teen star to a woman who can hold her own. Her motherly duties did not detract from her responsibilities to herself. She is also not afraid to show her true self via Instagram posts, where she sometimes wears no makeup.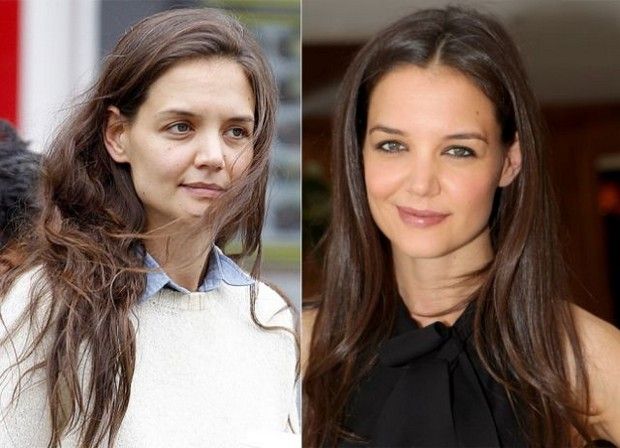 She credits her inner well-being as one of the main reasons for her beauty. She also prioritizes her physical health by eating a balanced diet. Katie maintains that drinking water keeps her skin hydrated, and vegetables add to her overall glow.
Eva Longoria
Desperate Housewives star Eva Longoria is not afraid to go makeup-free and post a selfie while she's at it. The actress captioned this #makeupfree image with the words, "A three-liter bottle of wine never hurt anyone." However, it's not the alcohol that is making her look young.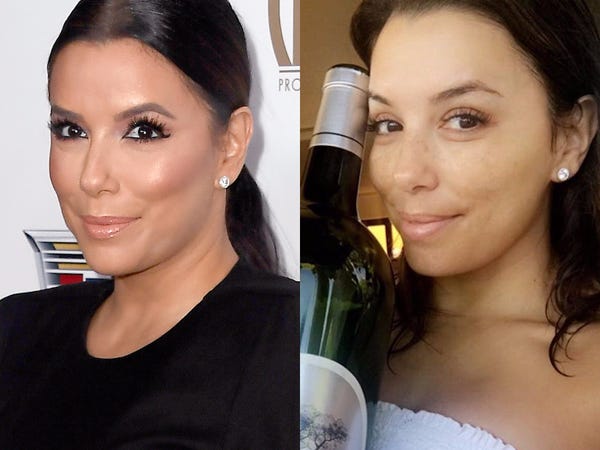 According to Eva, she always uses sunblock, has regular facials, and makes sure she does not wear makeup too often. The actress thinks that too much cosmetics can cause premature aging. Longoria believes the best way to look youthful is to practice good skincare.
Lady Gaga
Ra-ra oh la la! Lady Gaga is pretty even with no makeup on! Though she is more known for her over-the-top style and wild fashion sense, the singer and actress was not afraid to show her fans that she is very comfortable in her own skin.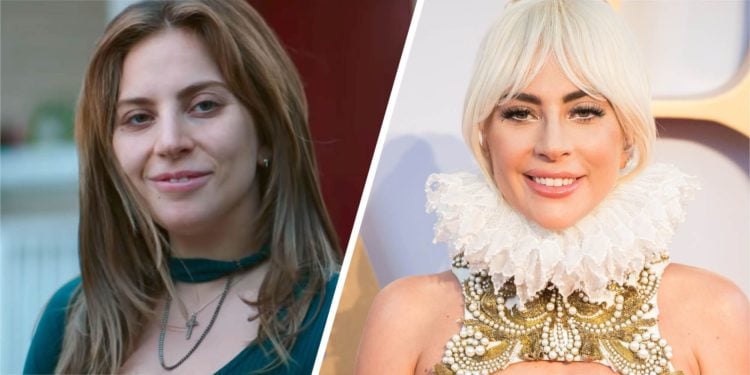 She posted on Instagram a no-makeup selfie and captioned it, "Long day, time for a fresh face and a bath!" Apparently, her skincare regimen consists of a vitamin C serum, a purifying face mask, and proper lips exfoliation.
Demi Lovato
Singer Demi Lovato has made it a habit to remind their fans and followers that they are beautiful. Lovato also frequently posts pictures of themself with zero makeup. They believes that women have been constantly told to be unsatisfied with how they look and that makeovers are a necessity.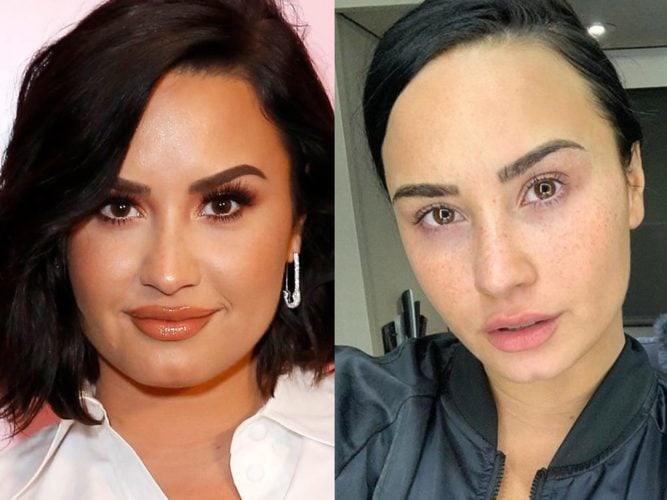 Lovato advocates for loving the skin we are in. Though they admit that they like to put on makeup and do their hair, Lovato believes that natural beauty must be celebrated. To be true to their words, Demi posted a photo to celebrate their gorgeously natural freckles.
Gal Gadot
Wonder Woman actress Gal Gadot is not afraid to rock her naked complexion. Despite being known as a superhero, she was grounded enough to reveal what a day of taking care of two kids looked like.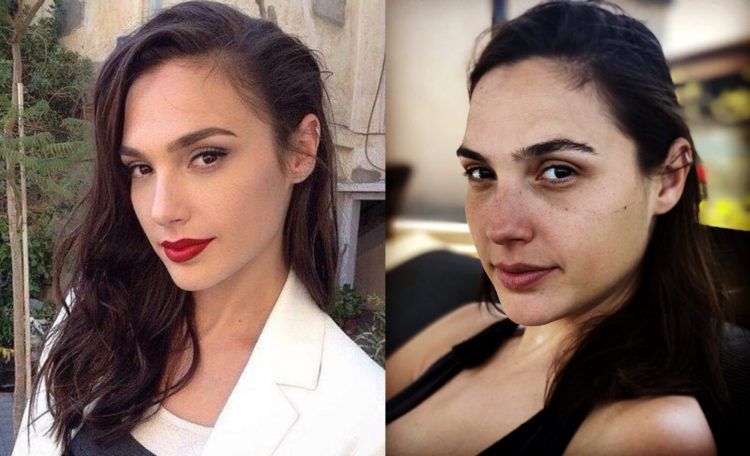 In 2017, Gadot posted the image on the right with the caption "sleepless night." She was in the midst of taking care of her young daughters. Besides her natural beauty, the star practices good skincare by drinking water regularly and eating a healthy Mediterranean diet.
Elizabeth Olsen
The secret to a beautiful makeup-free face is good skin. Elizabeth Olsen is definitely practicing good skincare. Despite her unruly hair, the Marvel Cinematic Universe actress is proud to flaunt her flawless face.
She regularly moisturizes her face and uses plant-based products. The results are obvious as her features look just as stunning with or without cosmetics. The actress is also a stickler for cleanliness. She ensures that her surroundings are as blemish-free as her skin. We're feeling inspired to do the same!
Chrissy Teigen
Model Chrissy Teigen has little care for what she posts on social media. She herself admitted that, "There's not too much thought that goes into anything I post." Consequently, she has no qualms about posting her gloriously natural makeup-free face. We're here for it!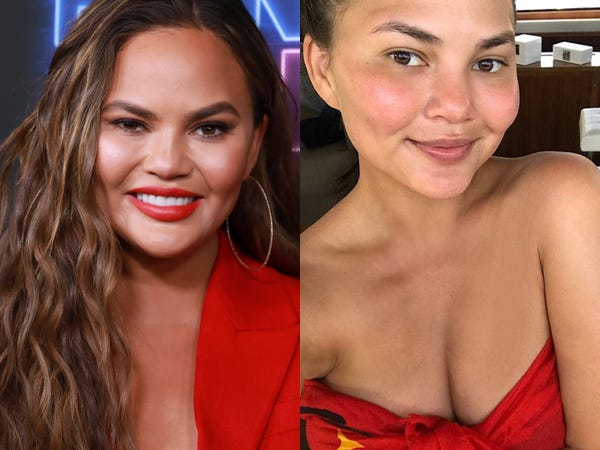 Her authenticity, and her glowing skin, literally shine through. Her regimen includes removing her makeup each night, using facial moisturizer, and applying aloe vera on any breakouts. She also uses pore strips and peeling pads when necessary.
Cindy Crawford
Cindy Crawford is as beautiful with makeup as she is without. She has also managed to retain her supermodel good looks and is mighty proud of it – as she should be. The selfie she posted after a day at the spa proves that her skin is flawless under any lighting.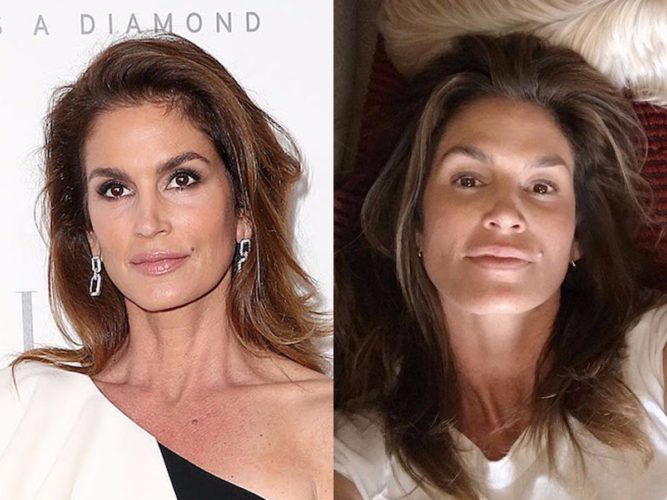 She keeps her skincare regimen simple. She eats right, sleeps well, and drinks a lot of water. Cindy also works out regularly and enjoys hiking and biking. When putting on makeup, she prefers inexpensive mascara and lip gloss. After all, beauty is best nurtured from within.
Gabrielle Union
Gabrielle Union was not afraid to show her freckles in the selfie she posted on her social media account. Though she does hide her freckles through makeup during public events, she is not afraid to bare her cosmetics-free face.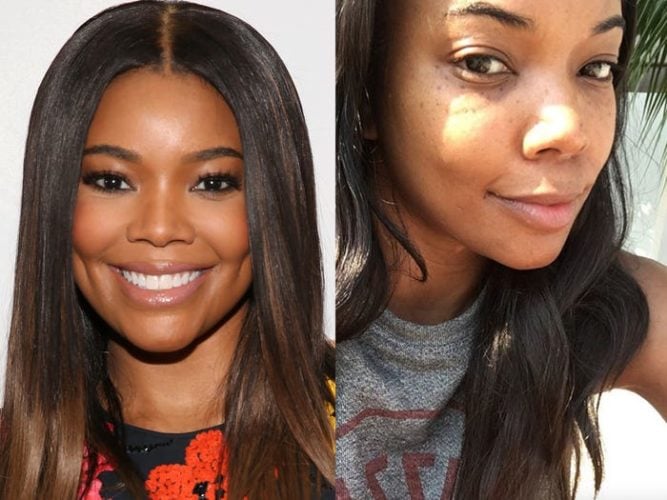 She feels makeup is a mask, so she makes it a point to care for her hormones to prevent acne. She also gives her skin plenty of makeup-free days. Indeed, she says her best look is when she is makeup-free as this is the time she feels most herself.
Gigi Hadid
Is Gigi Hadid the only person in the world who could look this good upon waking up? Though she has her family's genes to thank, she also makes it a point to practice a good skincare regimen. This runway model always carries facial serums and oil whenever she is traveling.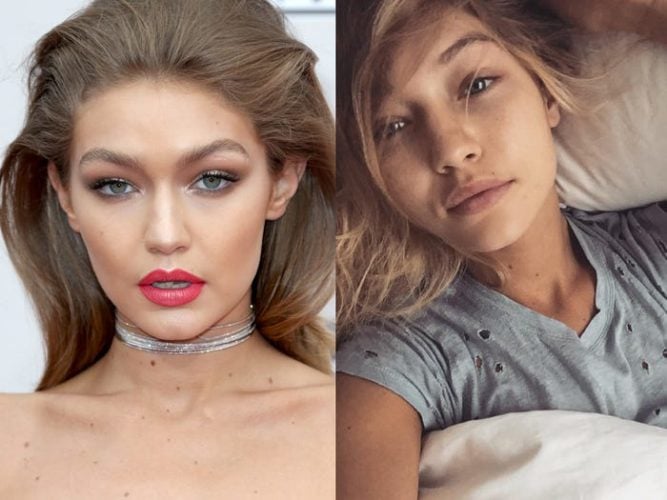 She also uses masks and essential oils prior to putting on makeup. When going without cosmetics, she always moisturizes her skin to keep it from feeling dry and tight. To achieve naturally hydrated skin, she also drinks a lot of water.
Gina Rodriguez
Similar to other celebrities, Gina Rodriguez, known for her main role in the series Jane The Virgin, has a team ready at her beck and call whenever she has to be glammed up for public appearances. But her fans were pleasantly surprised when she posted a selfie with zero makeup while vacationing in New Orleans.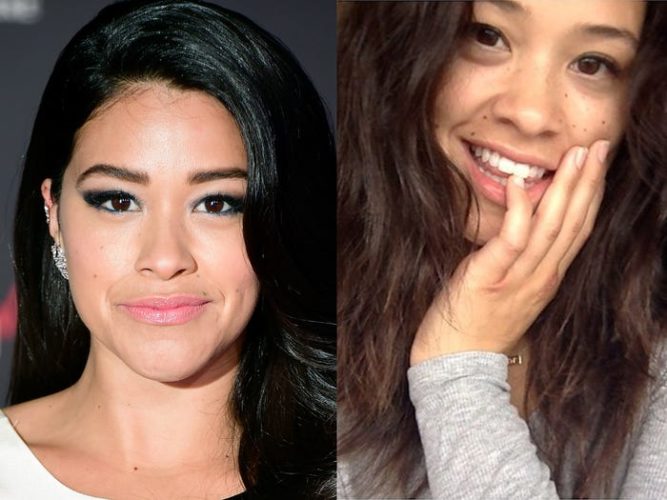 She also showed her natural beauty in a ten-second video clip with no makeup. Though she felt vulnerable and was filled with anxiety during the clip, she managed to accept it and love being in her own skin. 
Kesha
Singer Kesha was once known for wearing tons of over-the-top makeup and glitter. But as time went on, she began cutting back and changing her excessive ways. She now feels freer to express her natural self.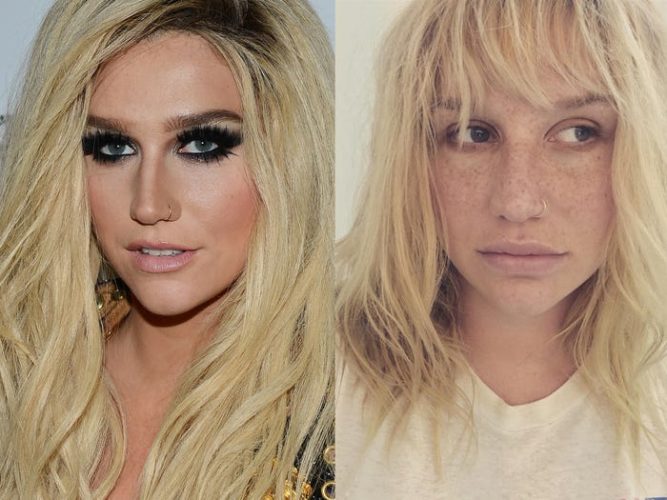 As a result, she regularly posts pictures of her bare face – freckles and all – for all the world to see. She accepts all her imperfections and advocates for women to do the same. She also stopped using foundation and has dialed down the use of makeup around her eyes.
Kylie Jenner
Despite creating a makeup empire that made her the richest Kardashian, Kylie Jenner actually feels just as comfortable not wearing any cosmetics. She even went out in public, flaunting her beautiful bare face.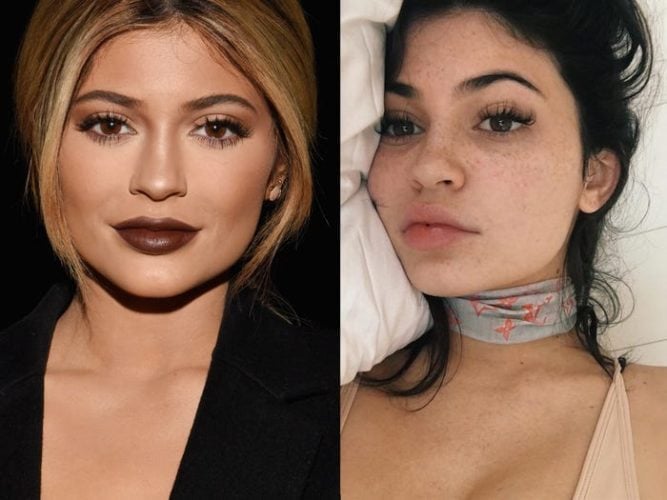 Kylie regularly uses a cleanser to wash away any makeup from her skin. After giving her face a thorough wash, she applies hydrating serums. She says she avoids using concealer as much as she possibly can to allow her skin to naturally breathe. The result is a naturally flawless Kylie.
Lily Collins
Though fans of Lily Collins are used to seeing her with heavy brows and bright lips, she has also been seen rocking a more bare-faced look. Her cleansing ritual includes a face scrub and a toner that contains witch hazel.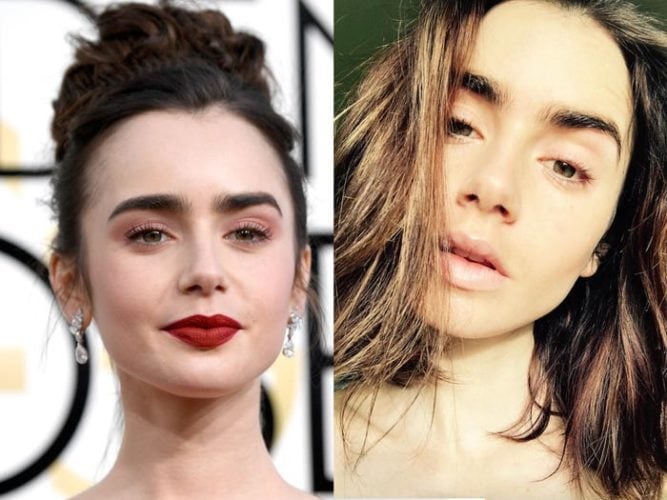 Collins makes sure to use the most natural cleansers to look as natural as she can be. For moisturizing her skin, Lily applies a hibiscus rose spray that also contains coconut water. Her inspiration for her skincare regimen is her mother.
Lupita Nyong'o
Lupita Nyong'o's skin glows, whether she's wearing makeup or not. This is one of the reasons why she has been named as one of People magazine's most beautiful stars. How is it possible for her to maintain her natural beauty?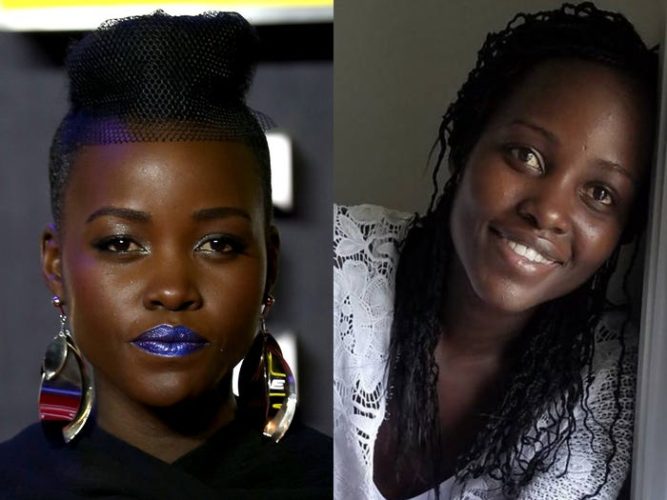 According to Lupita, she keeps her skincare routine simple. She makes it a point to do a facial massage to keep her blood circulating. She also avoids using soap and prefers a foaming cleanser. Makeup-wise, she likes to use cosmetics sparingly whenever possible. Evidently, the results speak for themselves.
Sofia Vergara
Actress Sofia Vergara is rarely seen without makeup. So, when she posted a selfie of her cosmetics-free face, many were surprised. She had a fever when she took the picture, but it was also evident that her skin was smooth and blemish-free.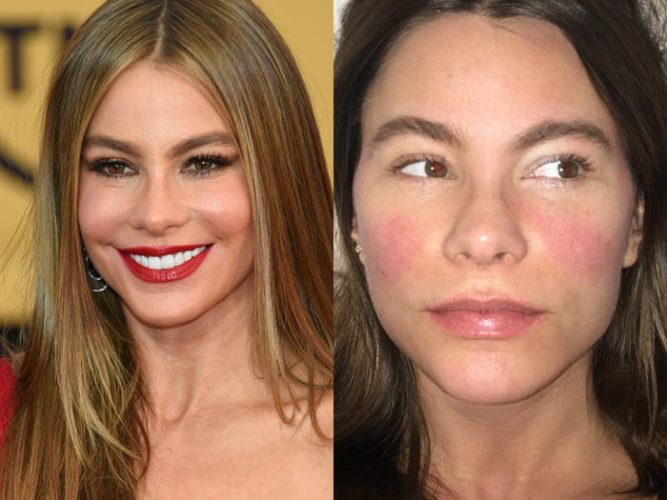 When she does wear makeup, Sofia Vergara prefers a minimalist approach. Her go-to routine is basic blush, lipstick, and mascara. She uses these whenever she is not working. As much as possible, Vergara also avoids sun exposure.
Zendaya's Natural Beauty
Zendaya likes to keep it real, even in her approach to skincare. She has no issues wearing zero makeup but is just as comfortable putting on cosmetics. In general, she believes that less is more, and she practices this philosophy when managing her skin.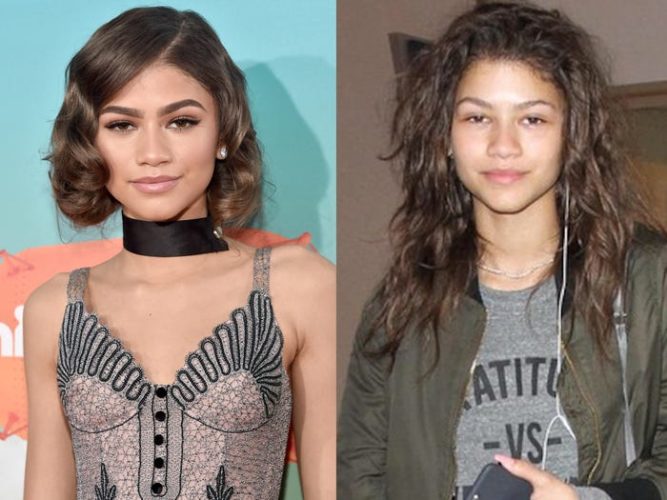 Zendaya does have her share of blemishes. Sometimes, she gets acne or hormonal breakouts. When she wears makeup, she considers it a fun and artistic expression rather than a trick to hide her flaws. According to the actress, makeup is just like painting, but the canvas is her skin.
Amanda Seyfried
Is it shocking that Amanda Seyfried looks gorgeous without makeup? No, of course not. She is Amanda Seyfried. She looks like a beautiful nymph wherever she is, whenever she is.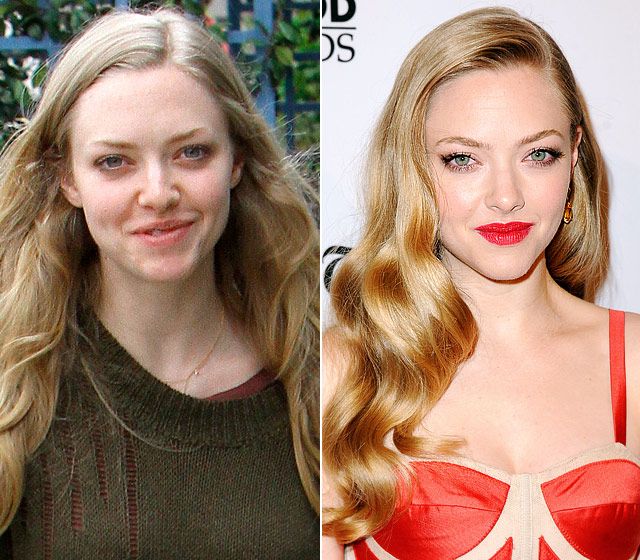 The kicker is that she is literally just walking on the street like nothing. She didn't take this picture, she didn't edit it. This is a candid shot! She truly is the most fair of them all. 
Anne Hathaway
Yet another beauty in a candid shot. She's running around, presumably in the morning as she is grabbing her morning coffee, and she still looks completely lovely.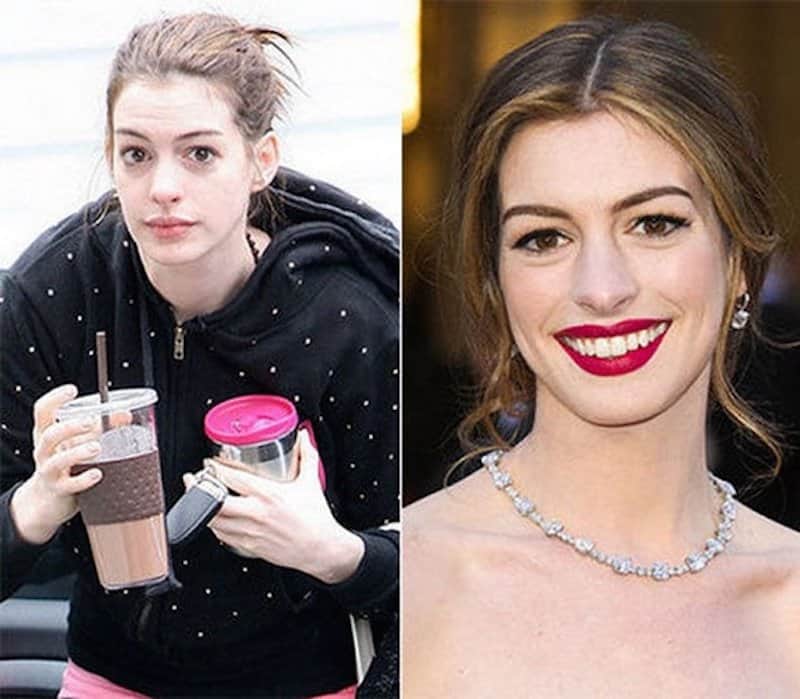 She looks like she just casually walked out the door and the paparazzi caught her in the act. What was the act? Being beautiful Anne Hathaway.
Ariana Grande
Ariana Grande is probably the most famous pop star on the globe. She also was an actress before that, and she dances. SHe is truly a triple threat.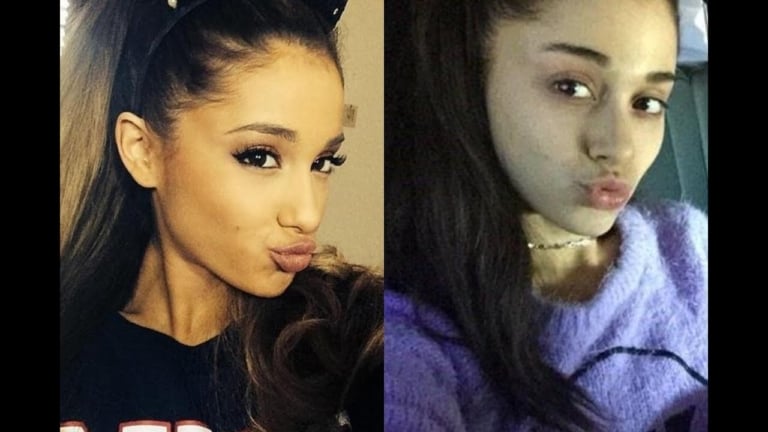 But that isn't all. She is also a beauty who looks good in and out of her makeup. Not a shocker.It's nice to compare the same poses next to each other.
Emilia Clarke
Emilia Clarke, Queen of the Dragons in the hit Game of Thrones, is also queen of our hearts when it comes to her outer beauty (inner too but that is not the point of this article).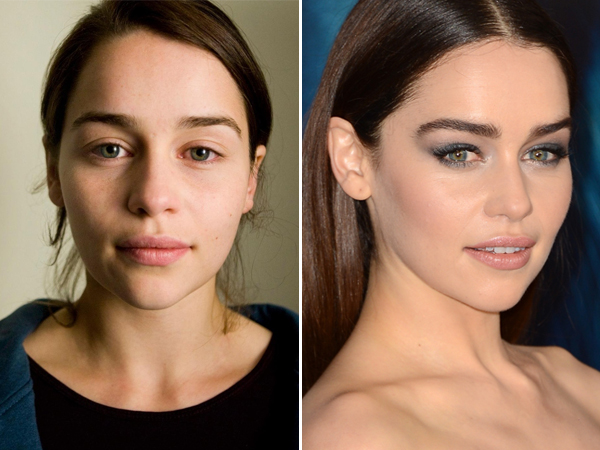 One could even say she looks just as beautiful with or without makeup. The lighting is very flattering on her face and she is glowing.
Fergie
Fergalicious-Definitely is one of the fairer beauties on the Hollywood sphere. This photo looks like it was taken while she was on the beach in what looks like a wetsuit.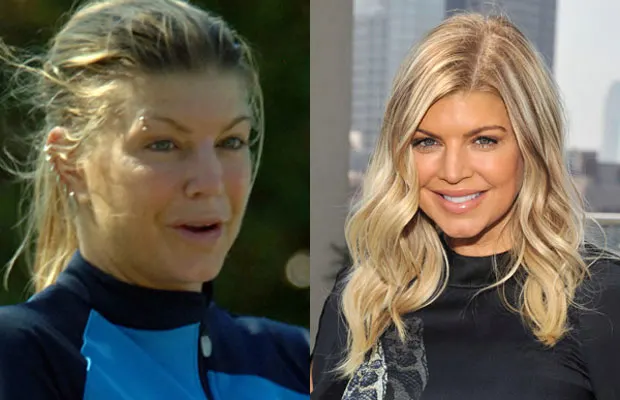 So not only can she dance on stage looking like a complete baddy, she can also stand on a surfboard (boogie board?) and in a wetsuit without makeup.
Jessica Biel
Jessica Biel has the jawline to end all jawlines. She could enter every red carpet event with not a drop of makeup on her face and look stunning.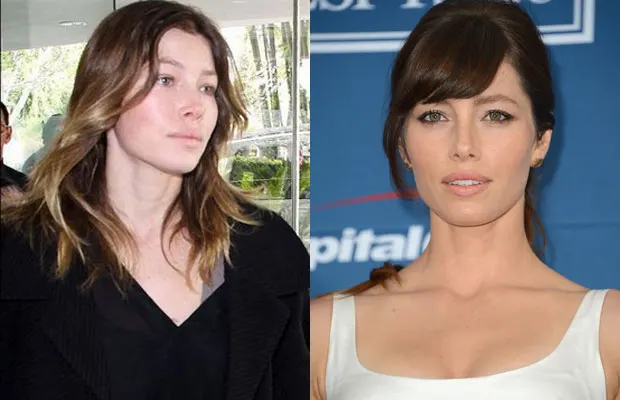 We're sure she gets the random pimple, maybe some bags under her eyes–sure. But she's got the chiseled face of a woman who will be beautiful forever.
Kate Hudson
The legend, Kate Hudson. Essentially Hollywood royalty (if you know who her parents are) and golden (heh…see what we did there?) girl of Tinseltown.
Her bright smile and stunning skin tone looks great with no extra glam. It must be tough to be so beautiful…not.
Katherine Heigl
Katherine Heigl once ruled the silver screen once upon a time. She was a star character on the hit show Grey's Anatomy before leaving the show and Hollywood altogether.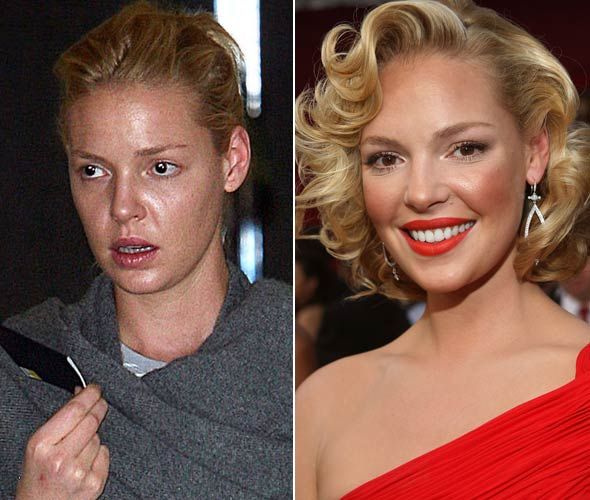 One thing she didn't leave behind was her gorgeous good looks. This photo captures her with her face shiny, her mouth slack-jawed, and her bustling in a hurry and she STILL looks gorgeous.
Kirsten Dunst
Kirsten Dunst has been in the spotlight for a long time and is no stranger to having the attention turned towards her. She has been photographed on the red carpet for most of her life.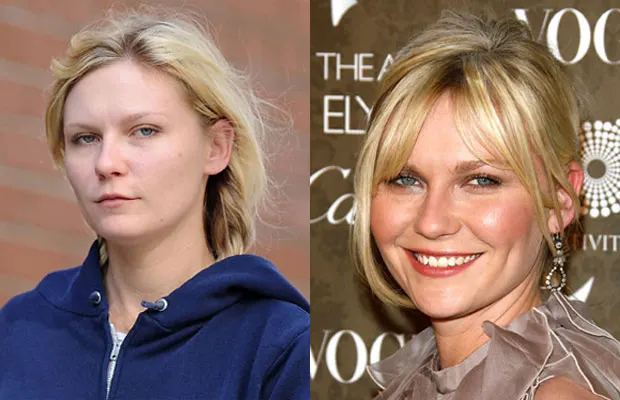 And she looks calm also while walking down the street in her hoodie, her face clear of any makeup. And yet she is still glowing, a knowing look on her face. A true pro.
Kristen Stewart
Kristen Stewart has been nailing the beautiful gothic woman for quite some time. Be it on the red carpet or walking with a hoodie, the facial features are intense and strong, the face closed off from the world.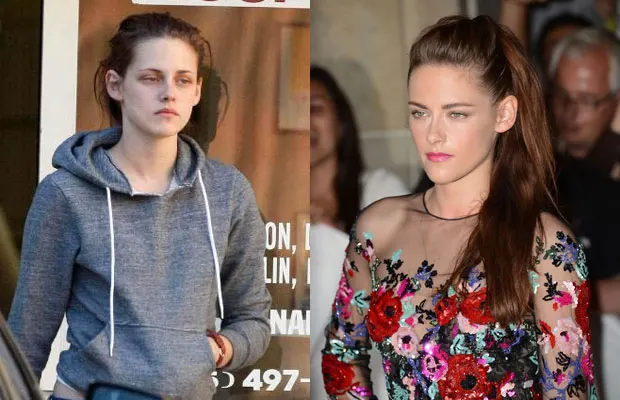 Effortless beauty comes well…effortlessly. She's got a gorgeous darkness around her beauty that is totally enchanting.
Margot Robbie
Breaking news, Hollywood's "It Girl" is a total stunner. You would be hard pressed to find someone who disagrees with this statement. We wouldn't go so far to call it a fact, but it's pretty close.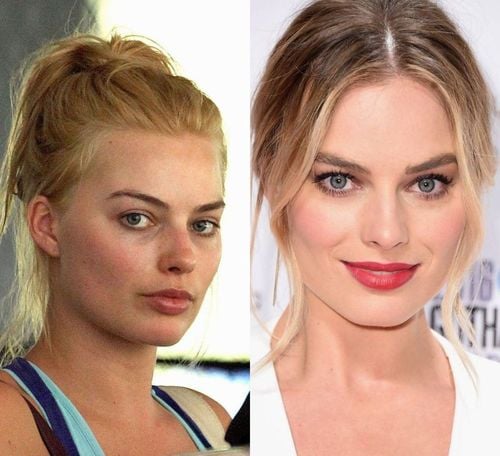 So another news story breaks, she's a total queen out of makeup. Spread the word. Spread the obvious.
Pamela Anderson
Pamela Anderson, the bombshell to end all bombshells in her heyday. Name one dude who hasn't drooled over her that was born before the 2000's.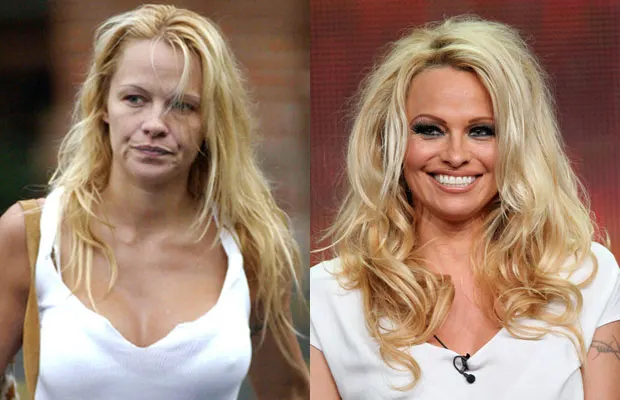 Here we have the gorgeous icon looking amazing without makeup. Color us shocked…