41 Of The Most Expensive Celebrity Yachts
Despite all the constant tabloid outcries that celebrities are "just like us" for persuing the grocery store in sweatpants or walking their pups in the park, they are absolutely not.
All it takes to know that for a fact is to look at how they spend their leisurely time — on a yacht.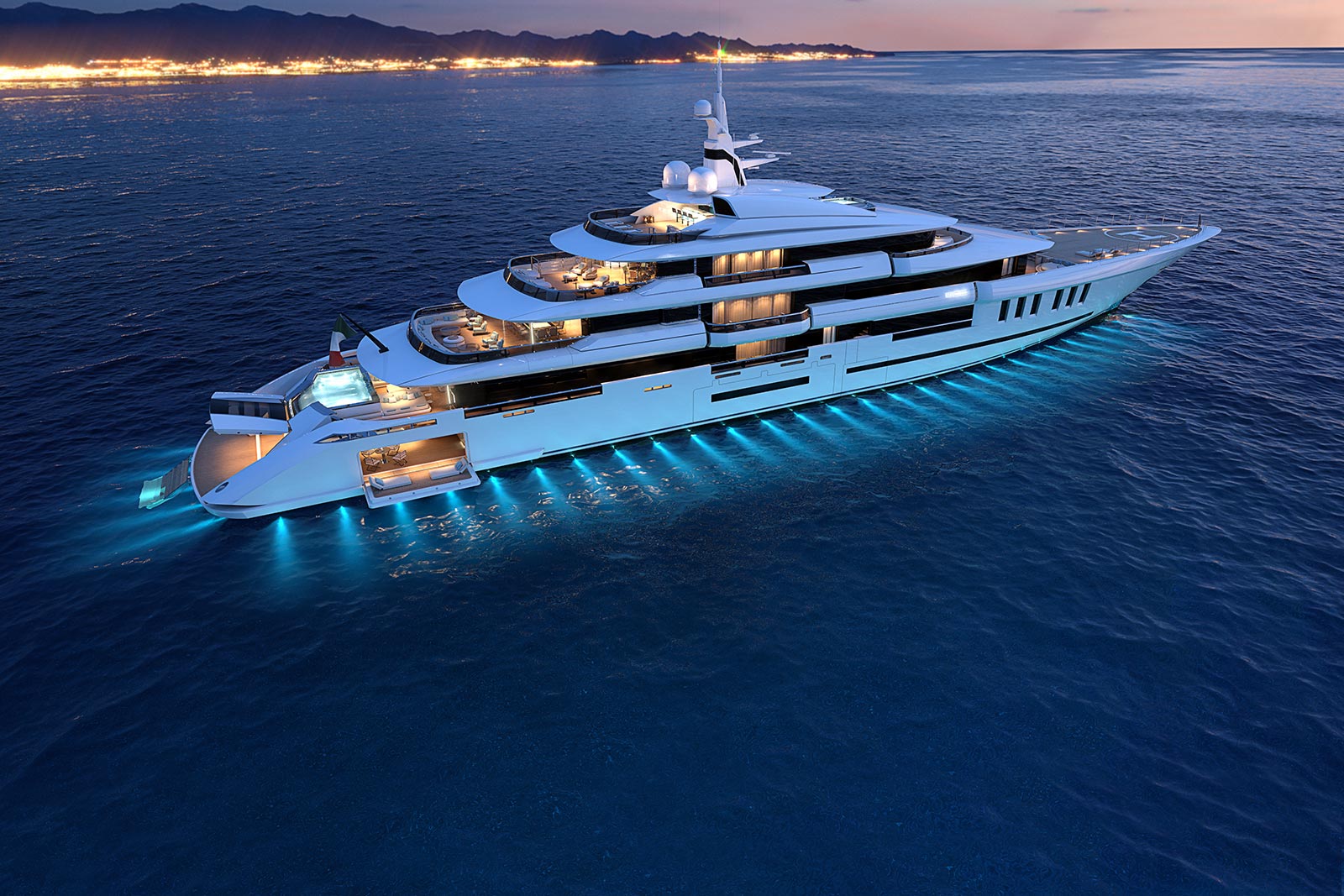 Much like the massive mansions they live in, celebrity yachts are not your average boat. These vessels are dorn with decadent decor and come with luxury accommodations like hot tubs, California king beds, and private chefs.
If you're not swimming in jealously yet, you will be after you take a look at the 41 most expensive celebrity yachts.
Tiger Woods
Golf legend and scandal sensation Tiger Woods appropriately named his 155-foot yacht "Privacy," which is something you don't have when your infidelity almost takes down your entire career.
As embarrassing as it was, it wasn't enough cause to lose his riches.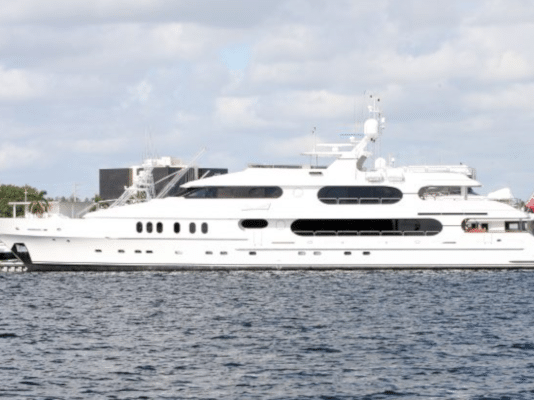 Tiger's boat cost a nice $20 million and includes everything from a sky-lounge bar, a walk-in fridge, a Jacuzzi, a private gym, and not one, but two built-in wall safes.
There are also five guest rooms to sleep in and a two-thousand gallon tank for who knows what.
J.K. Rowling
The mastermind and creator of the wildly successful Harry Potter franchise bought this massive boat for over $20 million from none other than Johnny Depp.
The actor later appeared in her movie, "Fantastic Beasts And Where To Find Them," which makes you wonder a role was a part of the trade.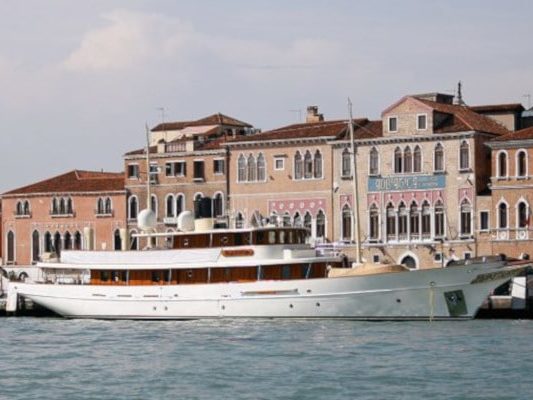 Named Amphitrite (by Johnny, after he married actress Amber Heard who later accused him of abuse), the 156-foot long boat used to be named Vajoliroja.
It has five cabins that guests can use, five cabins for the crew, entertainment areas, on-board kayaks, and waterskis, and a bohemian-style saloon. Each room also has a wine bar and a skylight.
Giorgio Armani
It's no surprise that a billionaire Italian fashion designer has not one, but multiple yachts.
While we're sure they're all very nice, the Main might be the most luxurious one in his fleet. Why? Because Giorgio Armani himself designed it.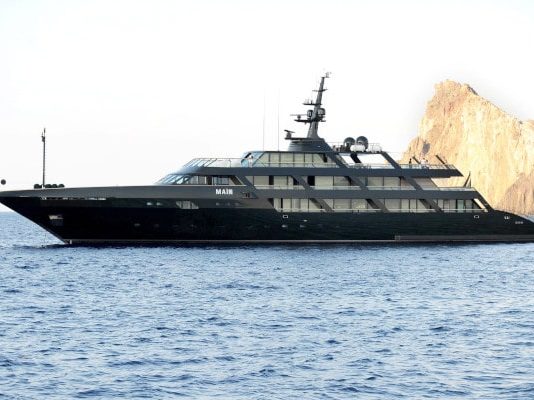 Built in 2008, this gray and black, 150-foot yacht includes both shaded and sunbathing areas, a master stateroom, an indoor gym, six cabins for guests, eight cabins for crew members, a hot tub, and a full-on cinema.
That adds a whole new meaning to movie night.
Giorgio Armani
We weren't about to leave out some of Giorgio's other yachts. The Mariu was built in 2003 and was named after the designer's mother.
While only 50-feet long, this yacht was not imagined by Giorgio, but by one of the oldest yacht-building families in Italy, the Codecasas.
It still comes with top amenities like multiple cabins, sunbathing decks, a large crew, and luxurious decor, but it also has a lot of innovative tech features such as a Kaleidescape AMX audio-visual system, a VSAT broadband, and Quantum zero speed stabilizers.
No idea what that means? Don't worry, neither do we.
Roberto Cavalli
Unlike Giorgio's dark and sleek ship, Italian fashion designer Roberto Cavalli's yacht contains all the colors of the rainbow.
He named the 150-foot long ship Baglietto after having it custom-built for somewhere around $50 million.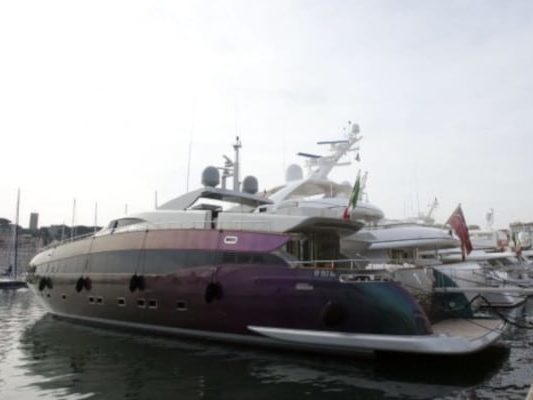 It can fit up to eight guests—some of which are bound to be his celebrity pals like Posh and David Beckham—and four crew member.
While no specifics have been revealed, some photos of the interior of the ship show a gold zebra printed door, matching walls, and cheetah print chairs. Needless to say, there is nothing subtle about this vibrant yacht.
Diane von Furstenberg
Fashion design seems to be the career path to take if you want to own a yacht someday.
Belgian fashion designer Diane von Furstenberg certainly seems to be enjoying the fruits of her labor on the $115-million yacht named Eos she shares with billionaire husband Barry Diller.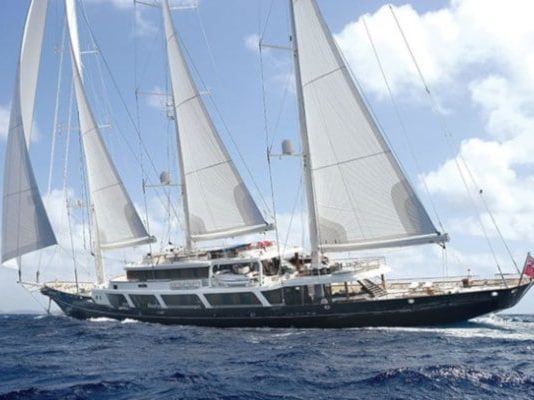 This vessel can hold up to 16 guests and 21 crewmembers. It also comes with an upper-deck Jacuzzi, a glass staircase, and speedboats for known guests such as Bradley Cooper, Karlie Kloos, and Harry Styles to use at their leisure.
Unsurprisingly, Eos is considered to be the most expensive sailing yacht in the world.
Rafael Nadal
The tennis star and sixteen-time Grand Slam singles winner spared no expense when purchasing his superyacht he named Beethoven.
Rafael bought the vessel in 2016 and used it to sail around the Balearic Islands—and he did the exact opposite of "roughing it" during this voyage.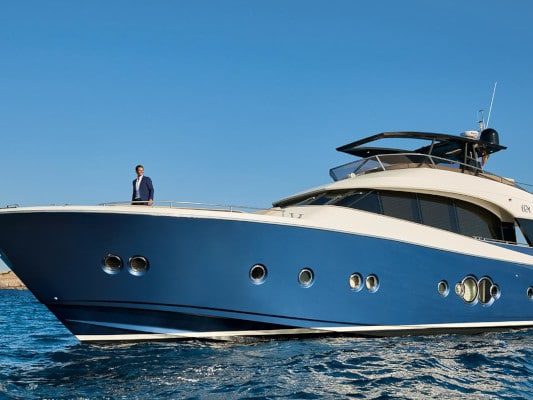 The Beethoven can accommodate two crew members and eight guests, which means there was plenty of room to spare.
Plus, speed wasn't an issue on this $2.5-million boat as it can reach a top speed of thirty-one knots. We don't know much about superyacht speed, but apparently, that's pretty rare.
Steve Jobs (And Family)
The genius behind Apple known as Steve Jobs purchased this massive, sleek yacht named The Venus for his family to use and enjoy.
Unfortunately, he never got to see her set sail as he died before the custom-made boat was finished.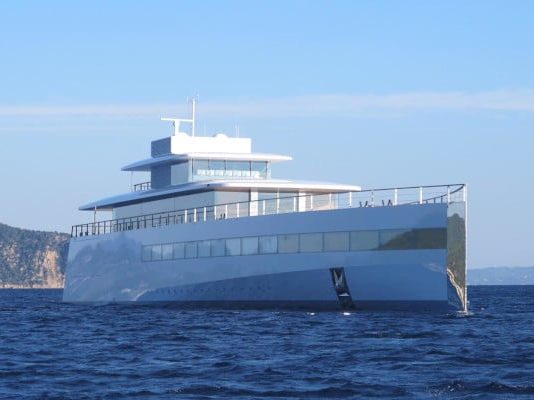 As you may have guessed, Steve had Mac computers built into the bridge—but other than that, not much is known about it.
Like its creator, this superyacht is extremely private and no interior photos have ever been released. However, The Venus is still owned and used by Steve Jobs' family today.
Steven Spielberg
The acclaimed director is known for a lot of things in the film industry, but among his super-rich pals, he's known for having the yacht with the best pool.
This is not surprising, considering he purchased it for $200 million.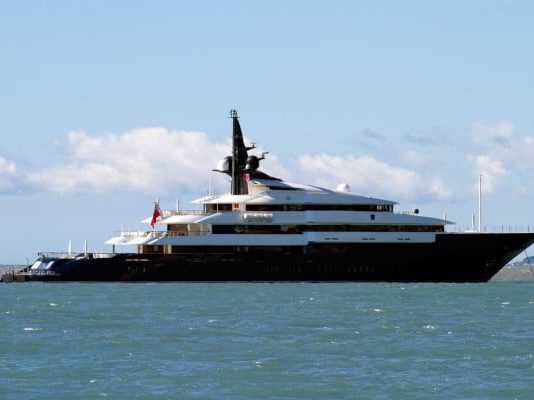 Named The Seven Seas, this yacht has a Jacuzzi, a full gym, floor-to-ceiling windows that can turn the dining room into open-air seating, a movie theatre, and onboard jet skis.
There are also six guest cabins and enough room to hold up to 23 crew members. Spielberg, apparently, isn't done as he's currently constructing a second yacht (which might even have a better pool).
Billy Joel
The iconic singer is known for more than his infamous songs—he's also a yacht aficionado, boasting a fleet of five.
While he's sported some gorgeous boats over the years, nothing quite compares to the 57-foot Vendetta, which has a gorgeous decorated interior and ample speed.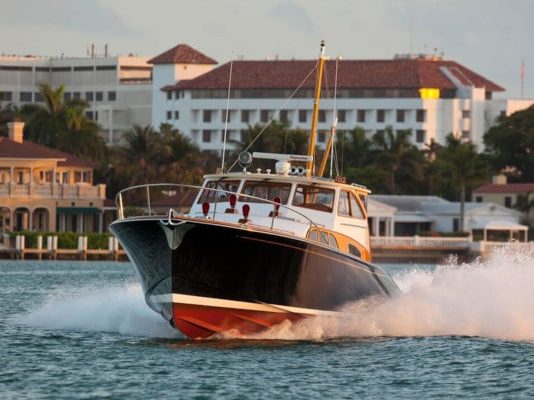 Designed to be a replica of the 1920s gentlemen's commuter yachts popular in the Long Island Sound, Joel himself helped design this vessel.
His other boats include Audacious, a 29-meter boat that he eventually renamed to Miss Sarah J and now uses to store his other expensive collection: motorcycles
U2
Bandmates and celebrity pals Bono and The Edge of U2 co-own this luxury $14-million yacht known as the Cyan.
This superyacht has tons of luxury amenities, of course, including a Jacuzzi, a fully-equipped gym, a state-of-the-art stereo system, a fully stocked bar, and a baby grand piano.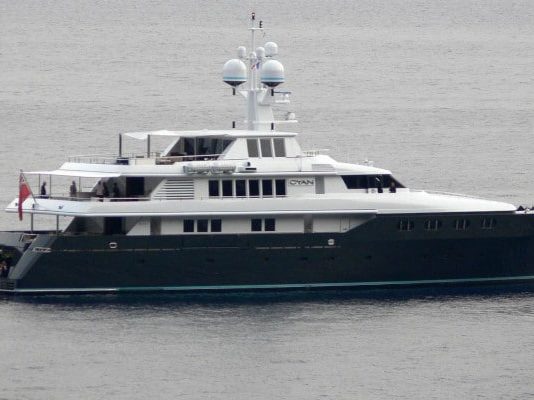 There's also Seabobs and Waverunners for guests to use and a swimming platform to enjoy.
The Edge himself refers to the vessel as a "really hip ship," and it's possible that it's sailed it to the luxury, French Riviera villa that he and Bono also co-own. Man, it pays to have rich friends.
Eric Clapton
This rock-and-roll superstar has quite the taste in yachts. For a while, he sailed around in Va Bene, a massive ship that can hold up to 12 guests and 12 crew members.
It also has a barbeque, a Jacuzzi, a casual dining room, a formal dining room, and, of course, a karaoke machine.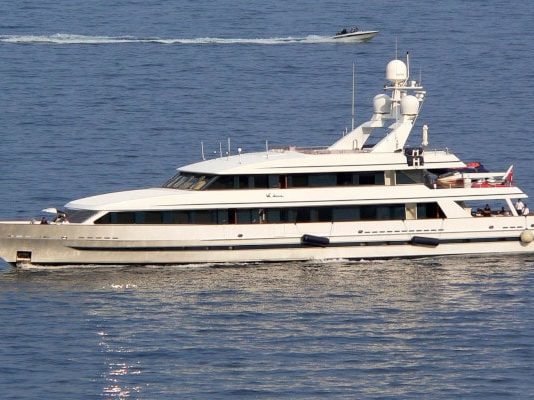 While he put up Va Bene in 2018, Clapton is never without a sweet ride.
He also owns the Blue Guitar, which can fit seven guests and five crew members, and has some of the same awesome amenities as the great Va Bene.
Nicole Kidman And Keith Urban
This gorgeous boat is co-owned by famed celebrity couple actress Nicole Kidman and her country star husband Keith Urban.
This yacht is named Hokulani, which is Nicole's "Hawaiian name" given to her by her parents that Keith uses as a pet name. As cute as that backstory is, this yacht is anything but.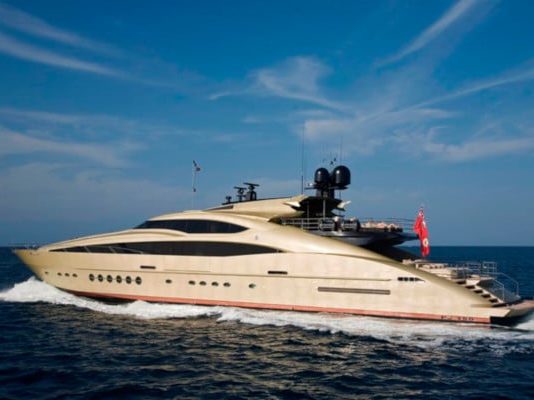 Onboard Hokulani (which means heavenly star) you'll find three stories, five guest cabins, a Jacuzzi, waterskis, wakeboards, personal watercrafts, and an integrated entertainment system.
There's also a glass atrium roof panel that's located on the flybridge to give this superyacht an extra bit of wow-factor.
Dolce & Gabbana
There is no great party pad than a superyacht owned by not one, but two Italian fashion designers.
Dubbed the Regina D'Italia, this 167-foot vessel features a gym, a pool, a jacuzzi, and a massive inflatable waterslide that takes you straight into the ocean.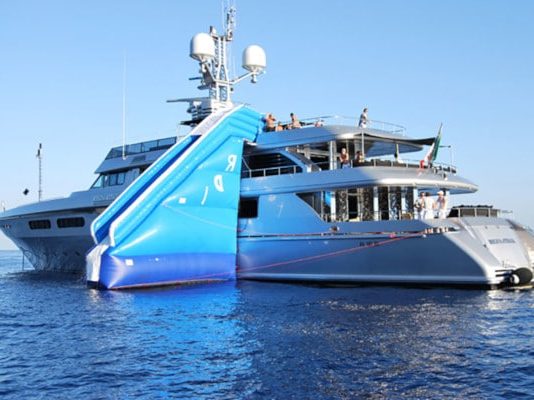 The inside of this yacht is just as fun. Each of the guest rooms has a theme based on an exotic animal, such as the elephant, crocodile, rhino, and giraffe.
You'll find rubies and sapphires studding the bathroom and golden doorknobs shaped like hands. Needless to say, this is a popular spot for celebrities and A-listers.
Sean "Diddy" Combs
Formerly known as the great P. Diddy, Sean Combs is the proud owner of this 177-foot yacht named The Maraya that he purchased for a cool $65 million.
As expected, it comes complete with a full-on nightclub that's set on the top floor of the boat. There's a bar, a projection booth, and a stage for him to perform.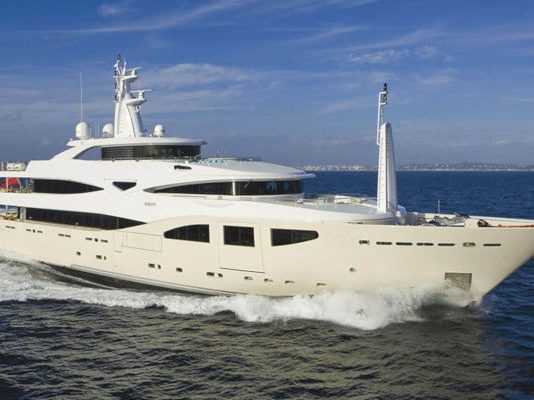 This vessel also comes with smaller, radio-controlled mini-yachts and ski boats as well as five different decks.
The Maraya can hold 12 guests and 10 crew members, one of which is in charge of making sure there are always freshly baked chocolate chip cookies on hand.
Calvin Klein
Another win for the fashion designers! Sir Calvin Klein is sailing around in his superyacht known as Vantage.
This 150-foot long vessel is decked out to the max with marble bathrooms, upholstered cabins, and tons of amenities.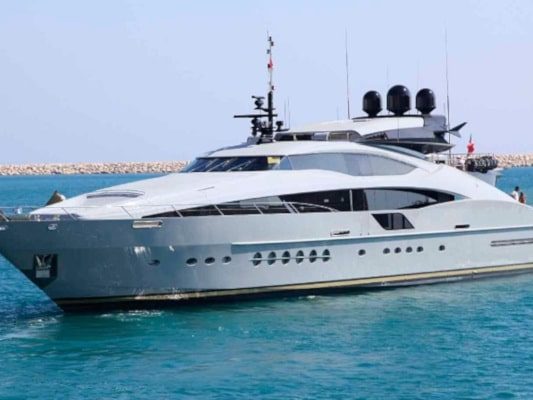 All around Vantage, you'll find "relaxation pads" that include multiple Jacuzzis, a bar, and a barbeque.
There are five rooms that can host up to 12 guests and nine crew members. It's no wonder this yacht is a known hotspot for after-parties at the infamous Cannes Film Festival.
Leonardo Dicaprio
When Leo's Rising Sun was first built, it was the largest yacht in the world. While newer models may have passed it in capacity, this vessel is still deserving of recognition.
It can hold a whopping 14 guests, and crew members. Plus, it cost a cool $200 million o build.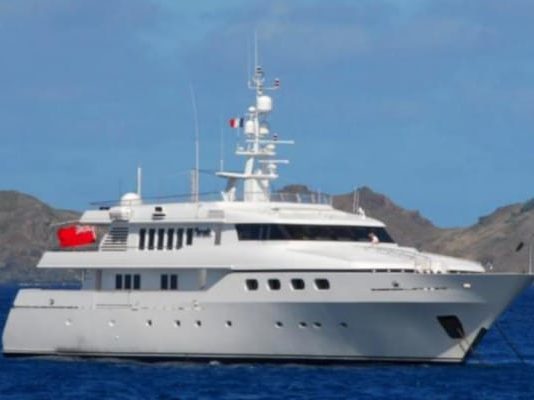 The basketball court onboard doubles as a helicopter pad, ad there's also a wine cellar and a cinema.
Now, this boat isn't technically Leo's. The prime minister of the United Arab Emirates rents it out to him, which is a luxury in and of itself.
Nicolas Cage
He's not the millionaire movie star he once was, so there's a good chance the $20-million Sarita is no longer in Nicolas Cage's possession.
In fact, it's likely none of the four yachts he owned are his anymore.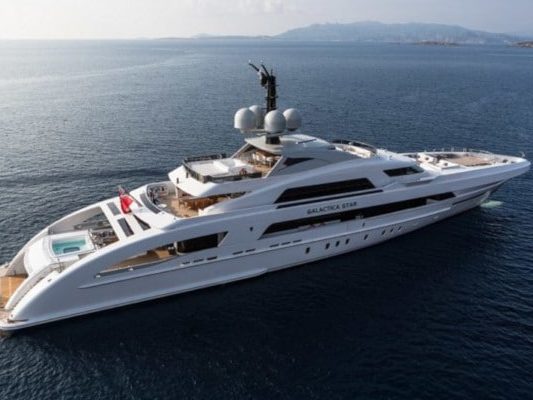 When he was declaring bankruptcy, he tried to sell his other vessels to keep Sarita, and it's easy to see why.
She can hold a solid 12 guests and comes with a full wet bar, water sports equipment, and other necessities. Nicolas did blow his money on fancy rich people things like Rolls Royes and dinosaur skulls, so it's no surprise he's broke now.
Beyoncé
It makes sense that superstar singer and performer Queen Bee has a yacht fit for a queen.
The 213-foot Galactica Star can house up to 12 guests and comes with everything from a helipad to a Jacuzzi to a swimming pool, along with some sleek decor.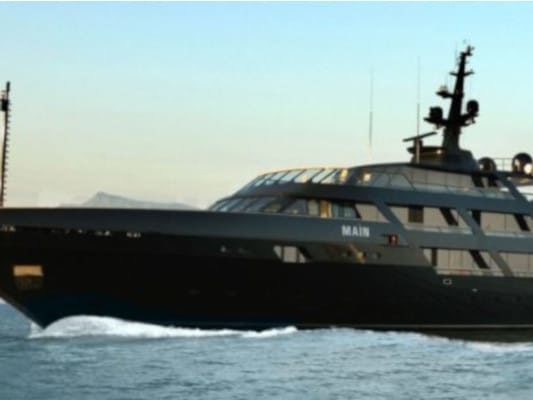 But as we've learned, just because a celeb "has" a yacht doesn't mean they actually own it. In fact, Beyoncé is renting the Galactica Star for $900,000 a week from Kola Aluko, a well-known playboy from Nigeria.
Kola is used to high rolling, as he once dropped $1.5 million just one champagne alone.
Beckhams
The iconic couple David and Victora Beckham (formerly known as Posh Spice) are doing just fine cruising on their superyacht called the Seafair.
The 94-foot vessel cost about $4 million and can accommodate eight guests in its four bedrooms and two rooms for the crew.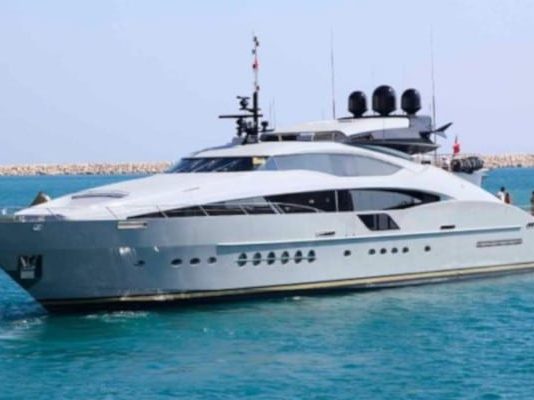 The Seafair—which has also earned the sweet nickname "The Sophisticated Lady"—comes complete with a fully equipped gym, sundeck, and other luxurious amenities.
While there are many celebrities and A-list people who have graced this vessel, the Beckham family has taken many vacations with Uncle Elton, who they call "Uncle Elton." How cool is that?
Kendall Jenner
Like some of the other celebs on this list, this former reality TV star and supermodel has a specific yacht to lease whenever she wishes. So when Kendall Jenner wants to chart a yacht, she rents out the Axioma.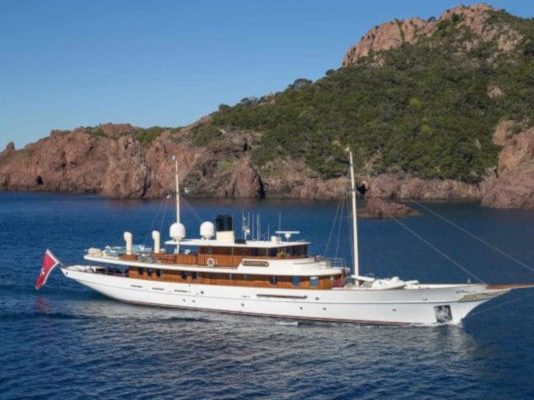 The Axioma yacht has a fully-equipped gym, a zen massage room, a steam room, a hot tub, and an atrium-style main saloon. It also has a cinema, but not just any cinema; a 3-D cinema. It also had a pool, but not just any pool; an infinity pool. With next-level amenities like that, it's no wonder it's a popular place for Hollywood's young stars.
David Geffen
As the co-creator of DreamWorks Pictures, it's no surprise that David Geffen has worked his way up to yacht-status. Well, superyacht status that is.
His vessel, Rising Sun, comes with a whopping 82 rooms, nine bathrooms, and other amenities you'd expect on a $200-million yacht.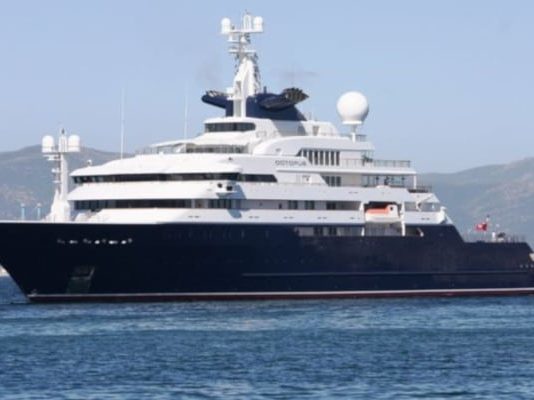 There's a wine cellar, a movie theatre, a basketball court, and a helipad. Because of its status as one of the largest superyachts in the world, no wonder big names like President Barak Obama and actress Julia Roberts have taken it out for a spin.
Geffen also owns another massive yacht named Pelorus.
Richard Branson
Turns out, Richard Branson isn't just a fan of the sky. The British multi-billionaire owns the Necker Belle, which is one of the fastest superyachts-catamaran hybrids in the world.
This $5-million boat can get up to 20 knots and comes with its own submarine called the Necker Nymph.
The Necker Belle also can host up to 10 guests and has an open-air cinema on board.
Other than owning 400 companies under Virgin Group and literally being knighted for his entrepreneurship, having a superyacht with a submarine is the coolest thing Richard has done.
Brad Pitt
Ah, A-listers and their yachts. Back when actor Brad Pitt and actress Angelina Jolie were married, they went in on a $320-million yacht.
And then they spent another $200,000 decorating and updating it to make the vessel even cooler—but not cool enough to give it a name.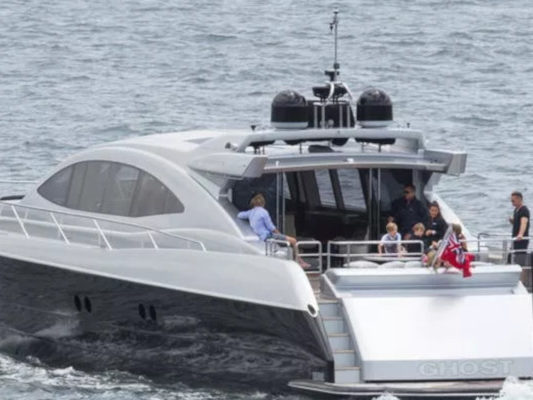 Their yacht includes all the typical fancy-yacht amenities in addition to technology that can actually disrupt paparazzi cameras.
Despite spending all that cash on this boat, the former couple was more likely to be seen on the Ghost I, another yacht they rented. There were also rumors that Brat bought another yacht for $7.5 million in 2013.
Roman Abramovich
Israeli-Russian billionaire and politician Roman Abramovich is the proud owner of seven yachts—which is enough to own an official fleet.
His prized vessel, however, is the $500-million Eclipse, once believed to be the largest yacht in the world.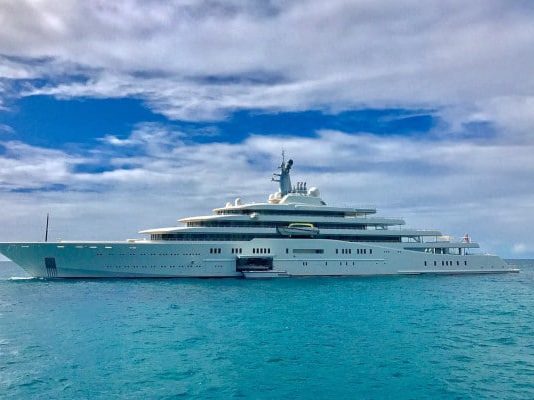 It looks like an actual cruise ship, and it has all the amenities of one too. It features nine decks, multiple helicopters, two pools, an atrium, a beach club, a beauty salon, multiple Jacuzzis, a disco and anti-paparazzi systems.
As the 12th richest man in Russia, it's no surprise that he has this massive ship in possession.
Cristiano Ronaldo
The infamous soccer player has a yacht that's been in the news almost as much as he has.
The $8-million vessel known as Aya London was raided by armed customs in 2017.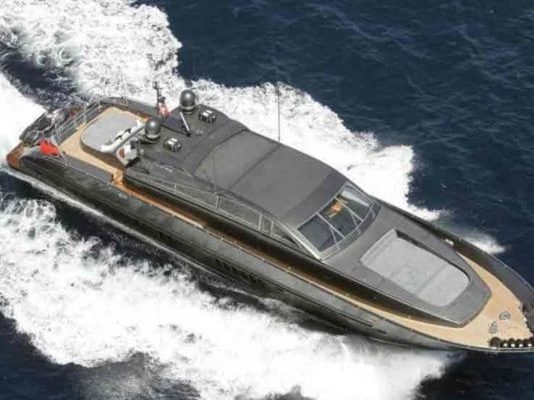 But despite it's bad reputation, this boat is still an envy-worthy spot. It can accommodate up to nine guests—including Cristiano himself, who stays in the VIP room—and has tons of places to tan and sunbathe.
While there's a diving board and jet skis to enjoy, there's something this boat doesn't have that almost every single other yacht on the list: a Jacuzzi.
Gwyneth Paltrow
Much like the actress herself, the Silolona ship is not your typical yacht. Located in Indonesia, Gwyneth often charters this yacht on her family excursions.
It has a barbecue, waterskis, kayaks, snorkeling gear, a swimming platform with a shower, private diving instructions and more.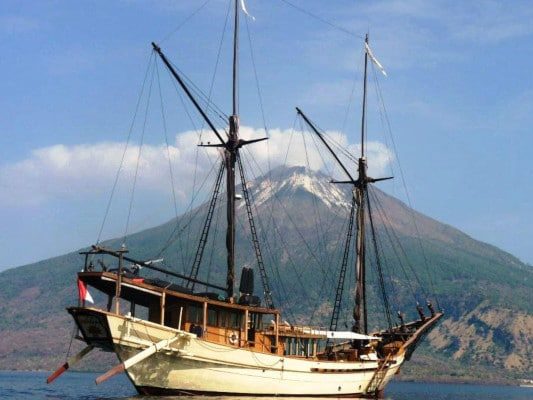 The actress has written about her love for Silolona on her popular lifestyle blog Goop, and it's easy to see why. There's also a personal chef who makes in Asian-inspired food such as Tempe Manis, Pepes Ikan and Sambal Colo Colo salsa—all of which, Gwyneth has shared the recipes for on her blog.
If you want to live like her and charter the boat yourself, you can. It's just going to cost you $82,000 a week.
Michael Jordan
Basketball sensation Michael Jordan has the best name for a yacht so far. His 154-foot mega-yacht is known as none other than Mr. Terrible.
But there's nothing terrible at all about this vessel.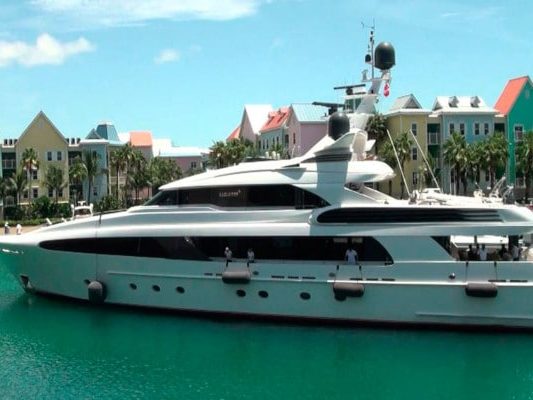 It has a Jacuzzi, four staterooms (each designed with their own color schemes and decor), an indoor and outdoor dining area, a Bubinga wood staircase, a bar and special fishing gear like a live bait and an underwater camera.
Mr. Terrible can be rented whenever Michael isn't using it. You just need a cool $179,500 a week to do so.
Mariah Carey
Sure, his-and-her mugs or pajamas are cute, but nothing beats his-and-her yachts. Singer Mariah Carey and her ex-fiance James Packard had matching yachts when they were together.
Mariah still has her 192-foot ship, named Capri, and it's easy to see why she kept it.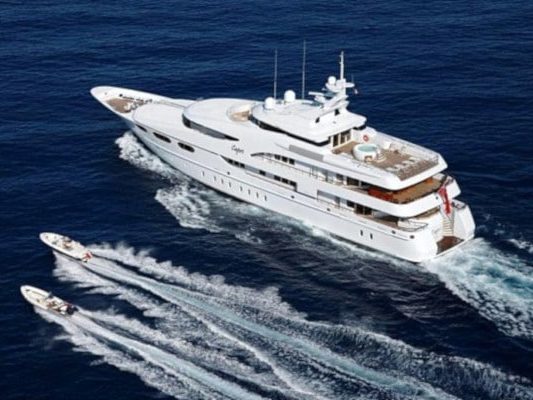 Capri can hold up to 12 guests in it six cabins as well as a 15-person crew. There's also a formal dining room, a gym, an on-deck Jacuzzi, a sky lounge with a movie theatre, a bar, and a helipad.
Guests can also use the trampoline, scuba gear, fishing equipment, kayaks, waterskis and dive compressor if they choose. You can charter Capri from Mariah herself for $340,000 a week.
James Packer
American businessman James Packer owns the 297-foot vessel known as Arctic P. This funky looking ship can house 12 people and a 25-person crew onboard.
It comes complete with an amphitheater, a swimming pool, a library, a gym, a Jacuzzi, and an observation tower.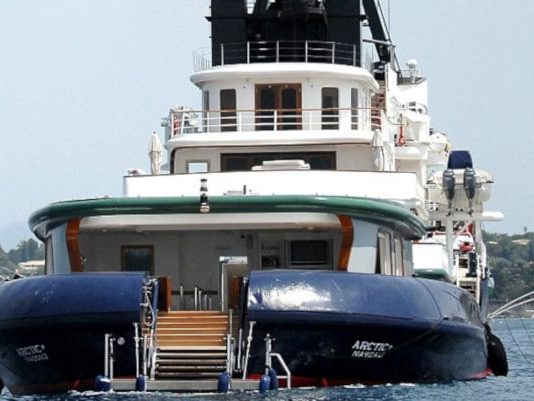 And that's not all. Guests will also find a water slide on the side of Arctic P as well as a hidden swimming pool located in the peach club.
The master suite comes with a floor-to-ceiling window-door and a spa bathtub.
Simon Cowell
The iconically mean judge of American Island is the proud owner of this sleek yacht known as Slipstream.
The $73-million vessel is 197 feet long and can accommodate 12 guests in its six cabins. For only $405,000 a week, you can charter Slipstream and enjoy all of its luxurious amenities.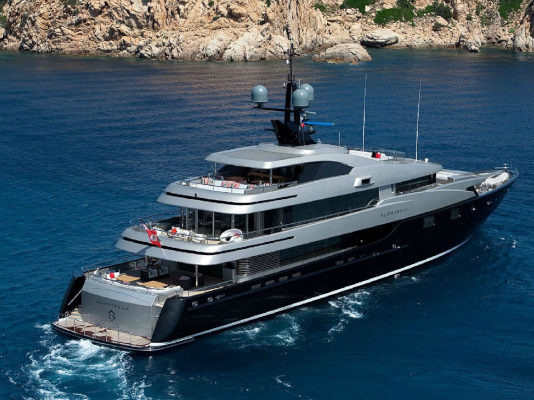 There's an outdoor movie theatre, a smoke machine, a bubble machine, a gym, a Jacuzzi, a glass-topped bar, a waterslide a Nintendo Wii, and an X-Box.
There's also an on-board karaoke machine, in case you ever wanted to experience getting berated by Simon Cowell himself for your singing.
Justin Bieber
Get ready to grown. Singer and longtime teen heartthrob Justin Bieber owns a 282-foot superyacht named Ecstasea.
Other than that terrible name choice, Bieber's $120-million yacht comes with a lot of cool features.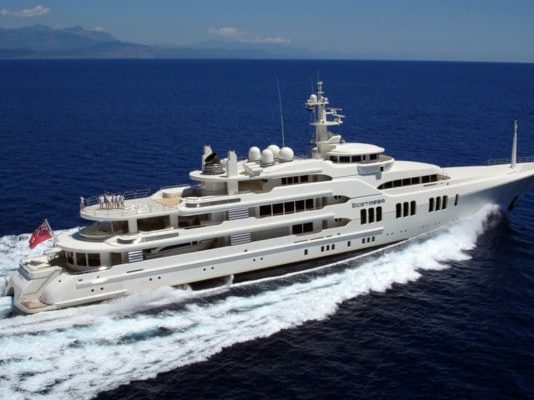 There's a helipad big enough for two helicopters, a Jacuzzi, several bars, massage rooms, steam rooms, a sauna, and tons of watersport toys like water skis, kayaks, paddleboards, and wakeboards.
It can hold up to 15 guests inside its eight cabins, and celebrities like Sophia Richie and Selena Gomez have been seen enjoying themselves on board.
Rihanna
RiRi is known for her love of luxe and luxury—and her $23-million superyacht is no exception. Known as Latitude, this 170-foot ship has six rooms that can hold 12 guests and 13 crew members.
It also comes with a Jacuzzi, a helipad, watersport toys, a gym, a full wet bar, multiple outdoor decks, and an 18,000-liter swimming pool filled with freshwater.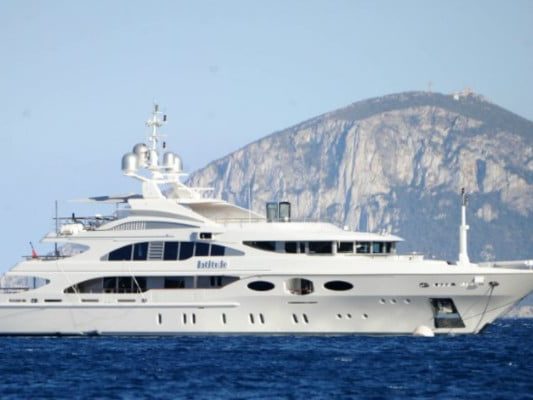 You can live like Rihanna and lease out her yacht for $284,000—but not right now.
The Latitude was actually designed for longer, around-the-world trips and it's currently being used for a three-year exploration/fishing expedition.
Bill Gates
Nobody is surprised that Bill Gates owns a superyacht.
Even less surprising is that his 439-foot ship—called The Serene—is worth $330 million and can be chartered from Mr. Gates for a small fee of $5 million a week.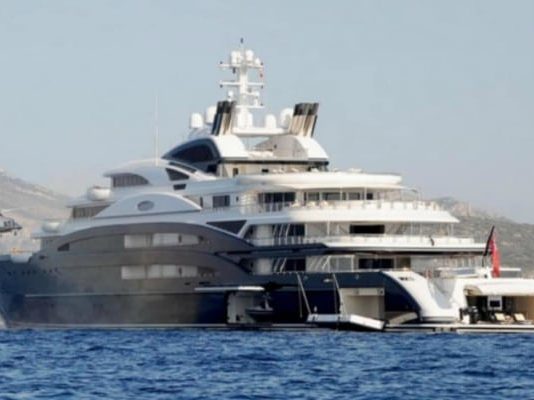 The Serene can fit up to 24 guests in its 15 cabins and comes with a 52-person crew.
Onboard, you'll find a gym, an elevator, a fully-staffed kitchen, a private chef, a stone fireplace, a helicopter hangar, two helipads, a submarine garage, a cinema, a grand piano, an indoor saltwater swimming pool, and an outdoor jet stream swimming pool.
Elton John
Sir Elton John's 154-foot yacht is called Wabi Sabi, and it's easy to see why it's worth a solid $26 million.
The ship can house 18 guests in its eight rooms as well as a crew of 12.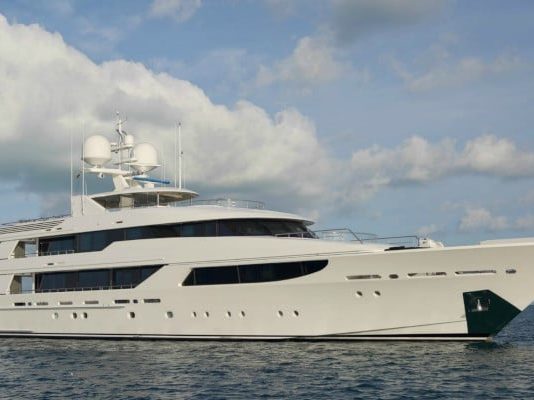 On the ship, you'll find a massage room, a gym, a barbeque, a swimming platform, a library, a Jacuzzi, a bar, and an entertainment center with a 50-inch plasma television.
While Wabi Sabi cruises at 15 knots, she can reach a maximum speed of 24 knots. Unfortunately, Elton John loves his yacht too much to share as it's not available to charter.
Oprah Winfrey
Apparently Oprah is used to going viral because her superyacht is literally named Trending.
The $60 million ship can house 12 guests in its six rooms—which have been graced by the likes of Princess Beatrice and the Obamas—as well as multiple crew members.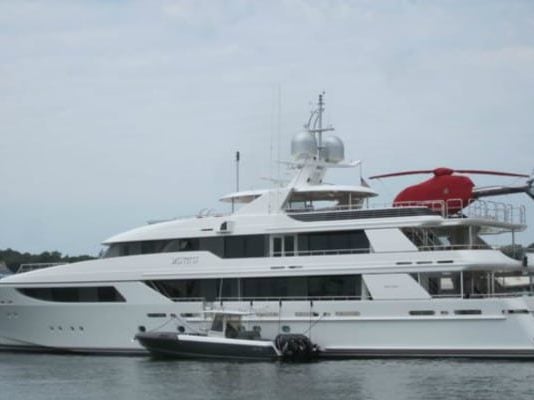 Guests can enjoy a 10-person Jacuzzi, an elevator, multiple dining rooms, an extended sky lounge, a massive collection of water toys, bars, and more.
You can live like Oprah and charter her yacht, so long as you can afford the $238,500 weekly fee plus expenses.
Tony Parker
Basketball sensation Tony Parker commissioned his own yacht back in 2018 for over $7 million.
The 114-foot superyacht named Kando 110 was completed in 2020 and can house 12 guests in its six cabins as well as six crew members. There's also a separate double cabin designed for the captain himself.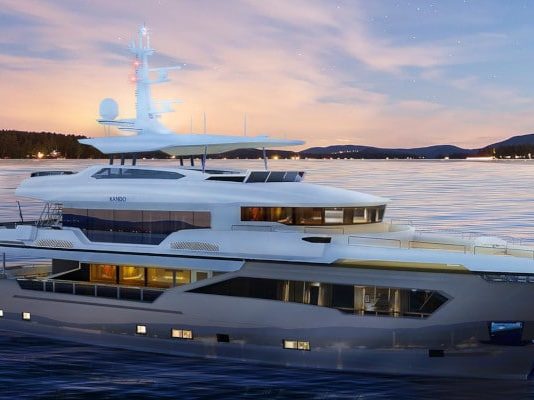 Not much is known about Kando 110's amenities, other than that it has a swimming platform, beach club, and that the interior was designed by Tony and his wife. Chances are that it also has a jacuzzi.
This particular yacht was only the second one created in that series, so it's pretty rare.
David Gilmour
Famed musician of the infamous band Pink Floyd David Gilmour owns one of the most unique and historic boats on this list.
The 88-foot Astoria was built way back in 1911 to house a 90-piece orchestra on its deck.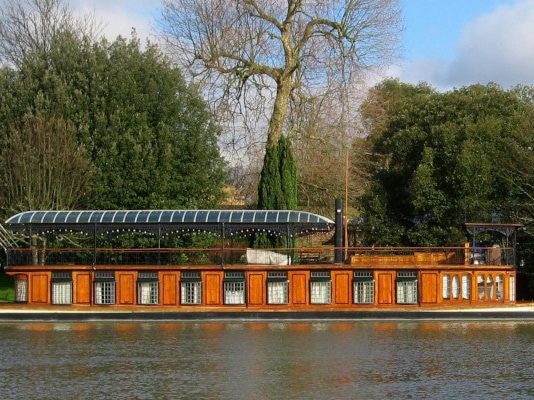 Today, it's permanently anchored on the River Thames in London and has a recording studio along with three cabins.
Since it's more of a houseboat than a yacht, David has actually used it as a residence in addition to a studio. Some of Pink Floyd's records and a lot of David's solo work have been recorded there.
Andrey Melnichenko
Another Russian billionaire, and another massively exquisite yacht. Andrey Melnichenko owns the 400-foot vessel known as A.
While the name is simple, this yacht is anything but.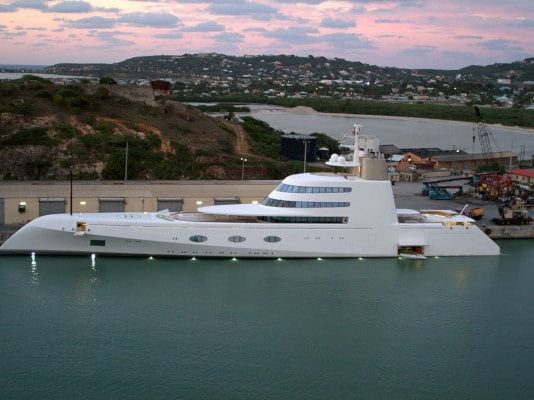 It can accommodate up to 14 guests in six cabins (which can easily be converted into staterooms when the situation requires) with mechanical king beds that can be moved to face any direction desired.
There's also a disco, Baccarat crystal tables, a helipad, bombproof glass windows, an escape pod, over 40 security cameras, and three swimming pools, one of which has a glass bottom.
Sir Philip Green
We finish our list with Sir Philip Green and his $41-million superyacht aptly named Lionheart.
This massive vessel can house up to 12 guests and 16 crew members on board.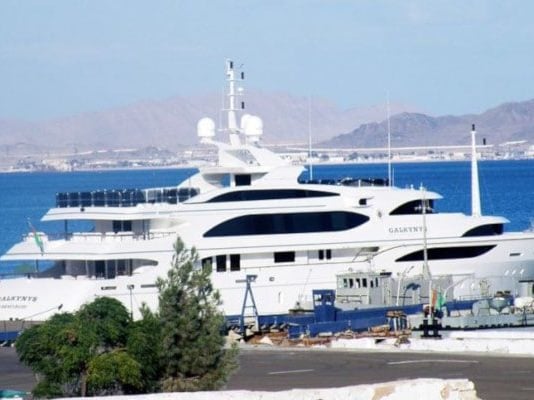 It comes with the superyacht standard amenities of a bar, a sound system, multiple Jacuzzis and pools, a helipad and six staterooms.
Sir Philip Green is no stranger to fancy yachts as the Lionheart is his third.