Man Spent Years Trying to Reach This Isolated Tribe and Was Eventually Rewarded With Their Trust
Imagine being so isolated that you reject all contact with the outside world.  There is no news, no electronics, no electricity, no books, and from all accounts, your tribe doesn't even know how to make fire.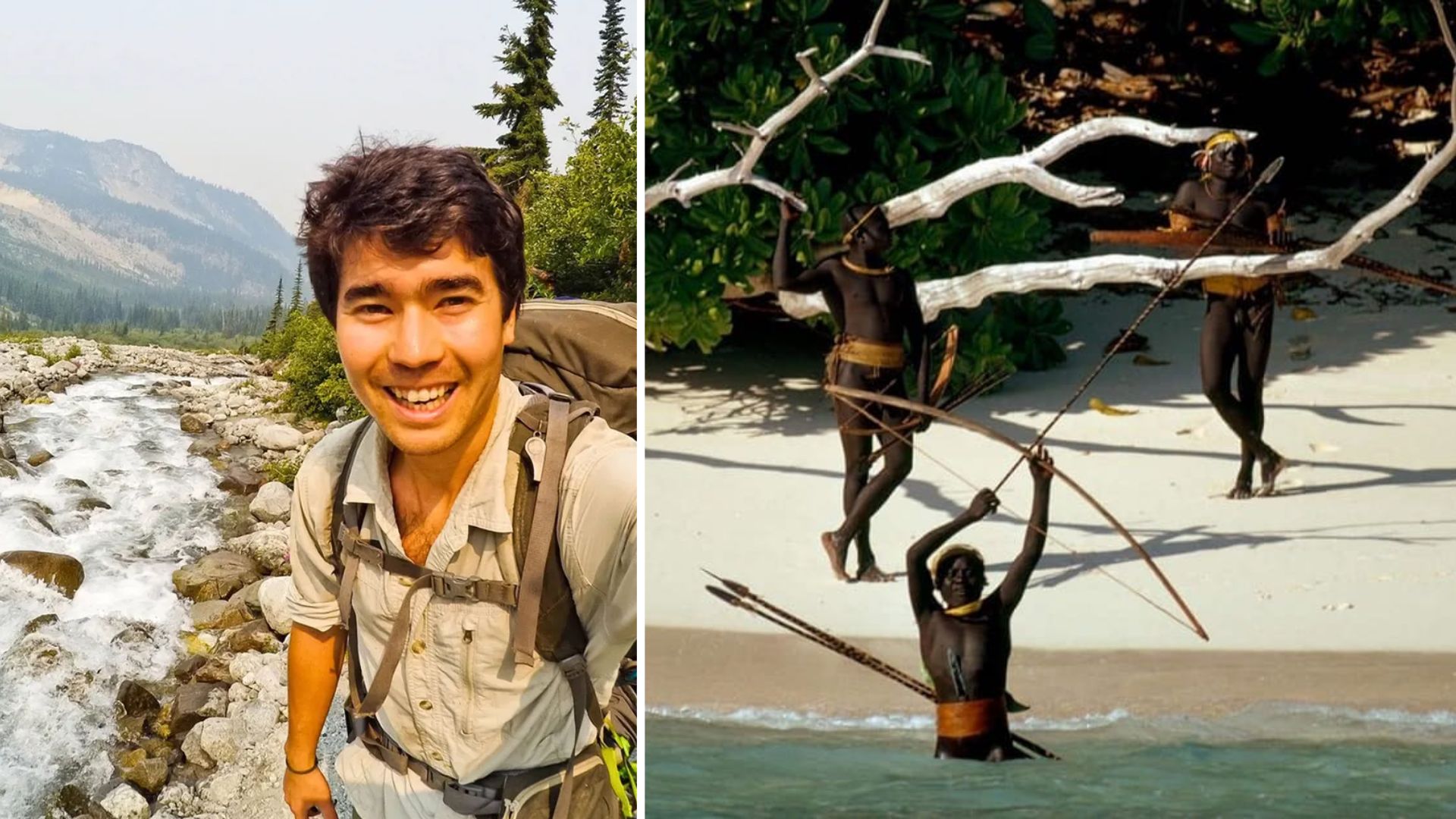 Knowing what you know now, that might be a harsh reality – kind of like being trapped on a deserted island. If that's all you know, the outside world might seem a very harsh and unwelcoming place.
Who are the Sentinelese?
The Sentinelese are a curious people living on North Sentinel Island and they have rejected outsiders with violence.  This remote island is part of the Andaman Island archipelago in the Bay of Bengal.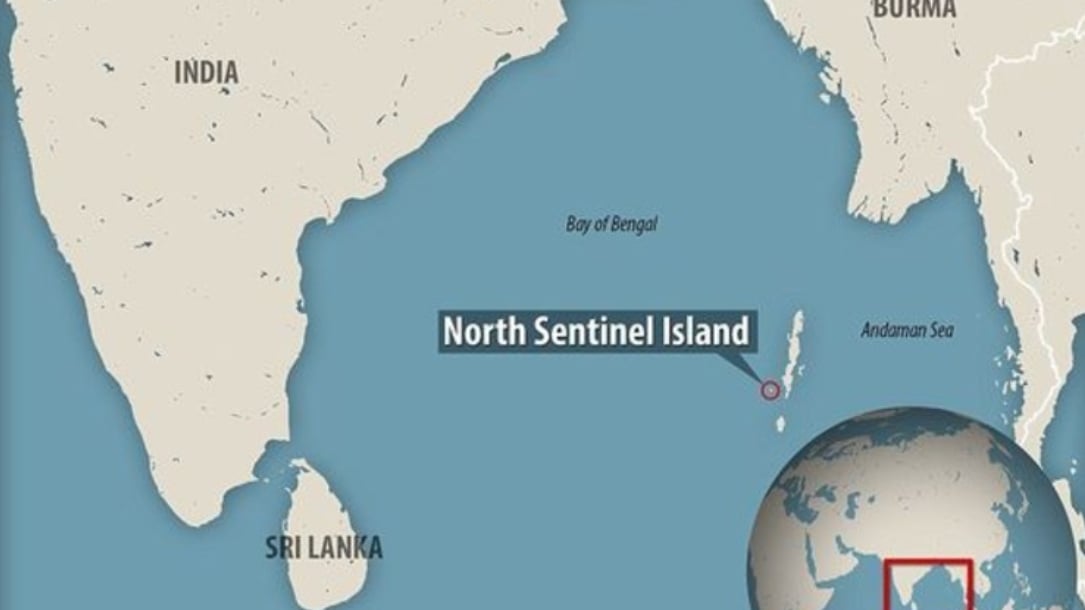 Myanmar is to the east and India is across the bay to the west. They are the most isolated tribe known to man and they do not seem eager to see what's beyond their shores.
The Orginal Hunter-Gatherers
According to anthropologists, the Sentinelese are probably the last pre-Neolithic culture on Earth, which means their tribe's ancestors may date back at least a few thousand years.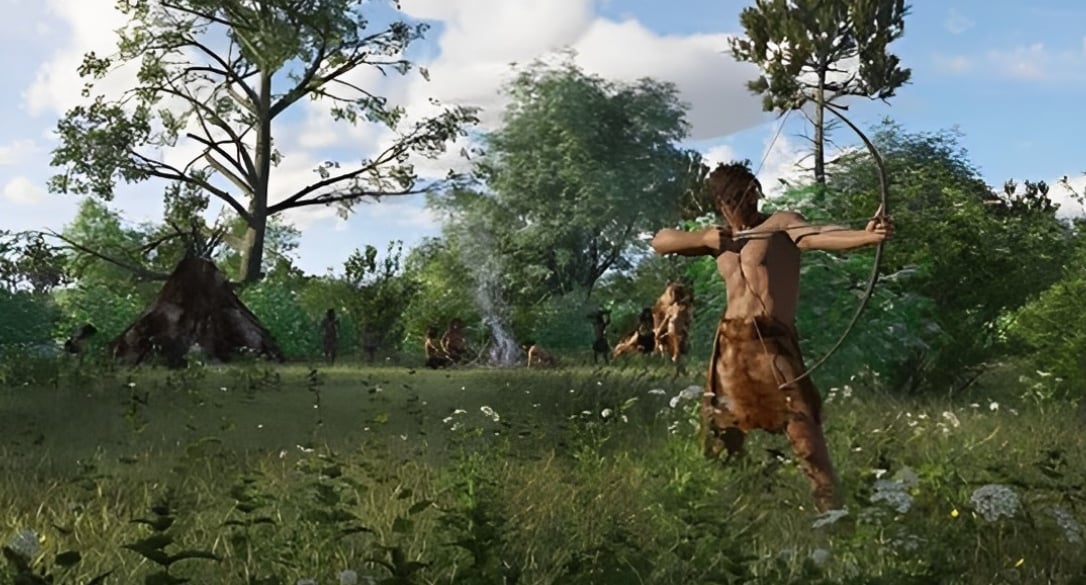 The Sentinelese live like you'd imagine cavemen living – as hunter-gatherers, fishermen, wanderers on a 23 square mile island.  They don't grow any crops, but they have honed sharp weapons.
A Jungle Paradise
North Sentinel Island is filled with forest and surrounded by white sand beaches and coral reefs.  There is no natural harbor to land vessels.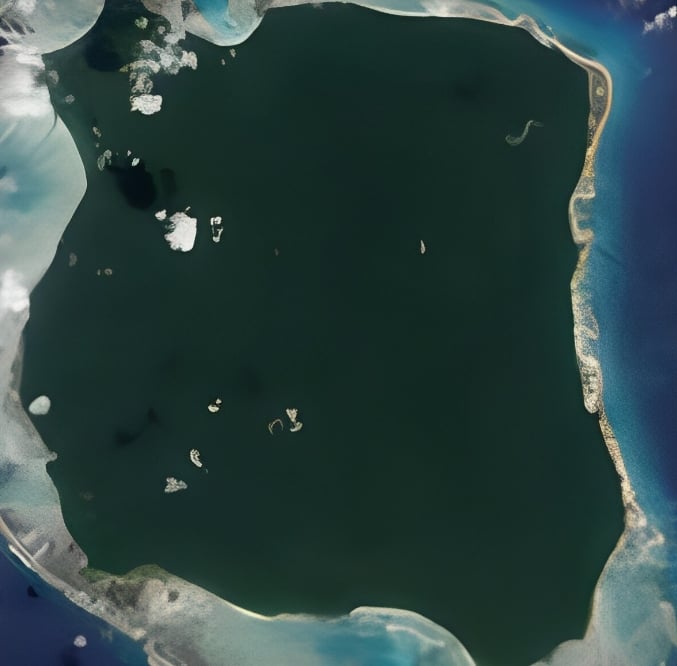 As it's only been studied from above, little is known about the plants and trees other than a description from an explorer in the late 1900s who described a "park-like" jungle filled with trees and boars.  Coconut crabs wander the beaches. Sea turtles, dolphins, and sharks swim in the ocean.
A Tribe of Few or Many
There are only guesses as to how many Sentinelese live on the island.  Estimates are between 15 and 500 in the tribe.  They live naked under the protection of the jungle, wearing leaves, strings or other plant decorations. 
There are children and adults, male and female, young and old.  They have rudimentary-built canoes, but they never wander too far into the sea.
A Curious People
They are relatively short, with the average height being five feet five inches tall.  They have very dark, shiny skin and appear to be very strong–this could stem from the high protein seafood diet.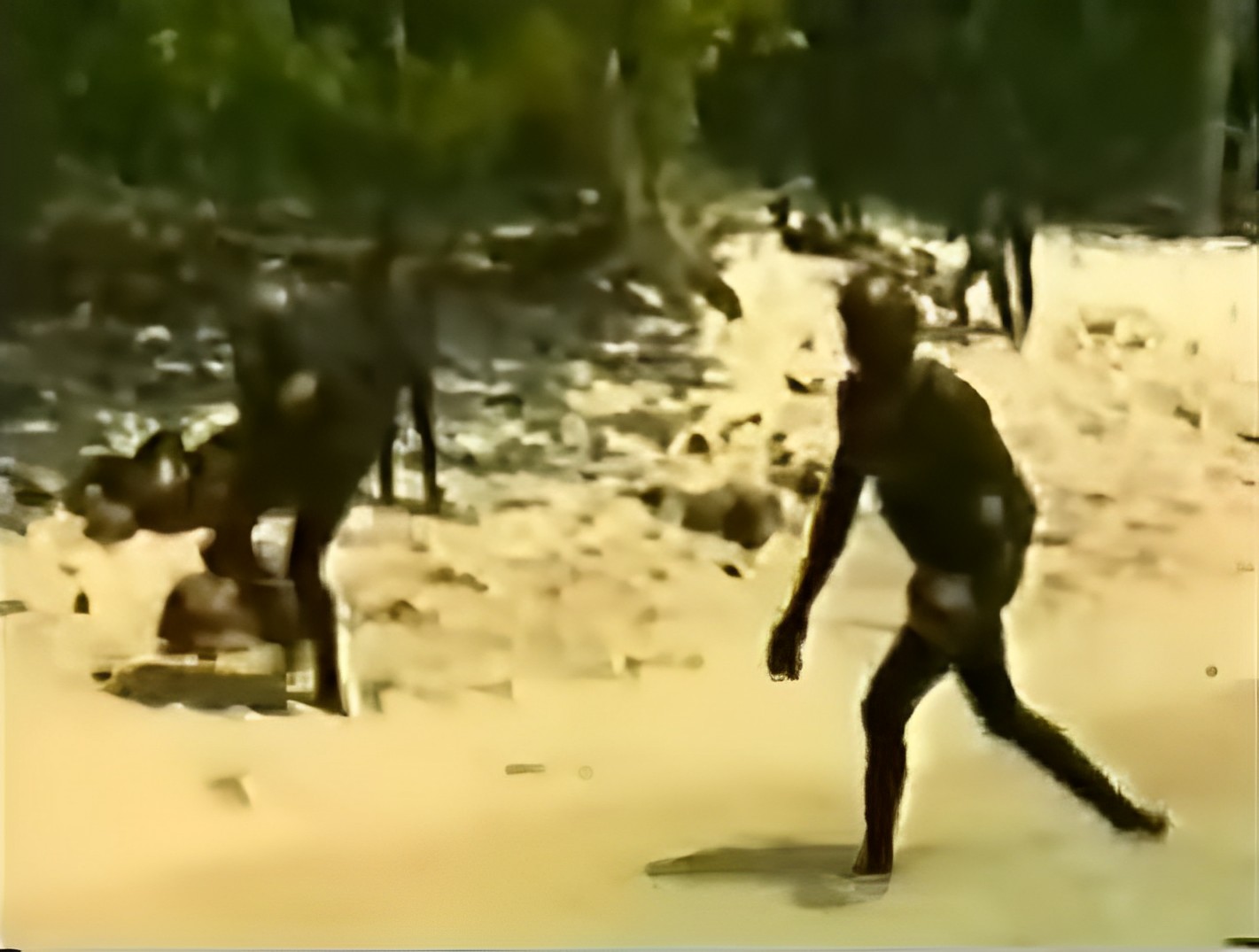 The consensus is that they do not engage in agriculture, so any food is found in their environment.
How Do They Survive?
Little is known about their diet.  Some believe they practice cannibalism, but there is no evidence to support this fact.  They've been observed fishing using bow-like harpoons and collecting shellfish with nets.  They clearly know how to kill wild animals using flatbows and javelins.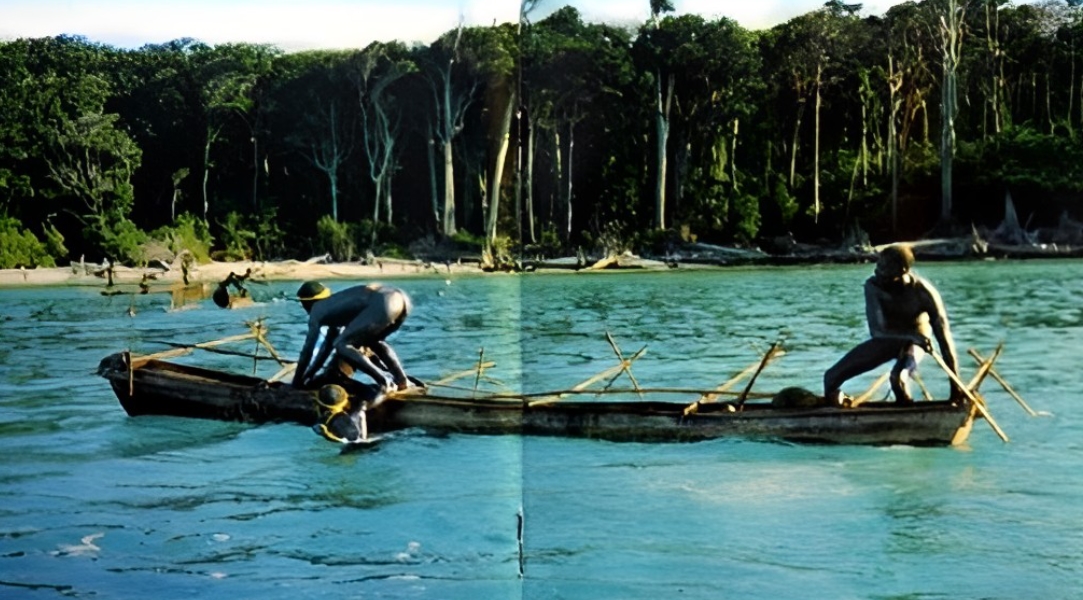 They are quite accurate with arrows and spears, hitting targets in the air and offshore.  Once they kill their prey, we can only guess how they prepare it.
Living off the Land
Wild honey and other plants are prevalent on other islands, so it's likely they use some of these sources for sustenance.  And, they clearly like the coconuts provided as gifts from visitors.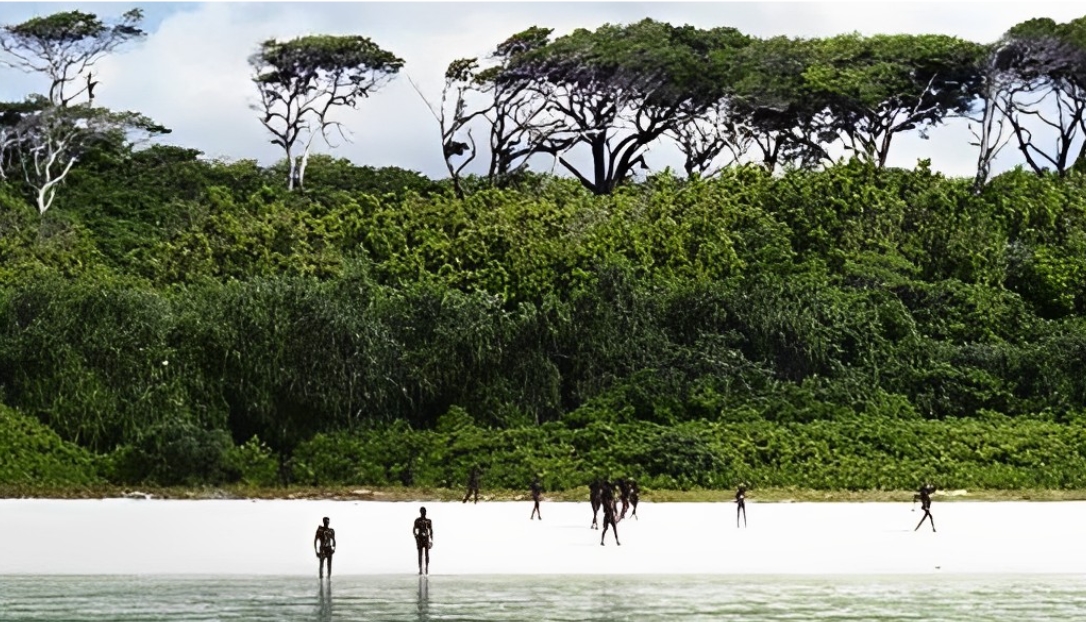 It's believed that they are unfamiliar with how to start fire, but if a fire occurs naturally (say from a lighting strike or spontaneous combustion), they use the embers inside their shelters.
How Do They Live?
Glimpses into the heavy forest uncover what appear to be shelter-type huts with a top, but no side walls.  Palm leaves line the floor.  A large communal building has been spotted, but there is no indication as to its purpose.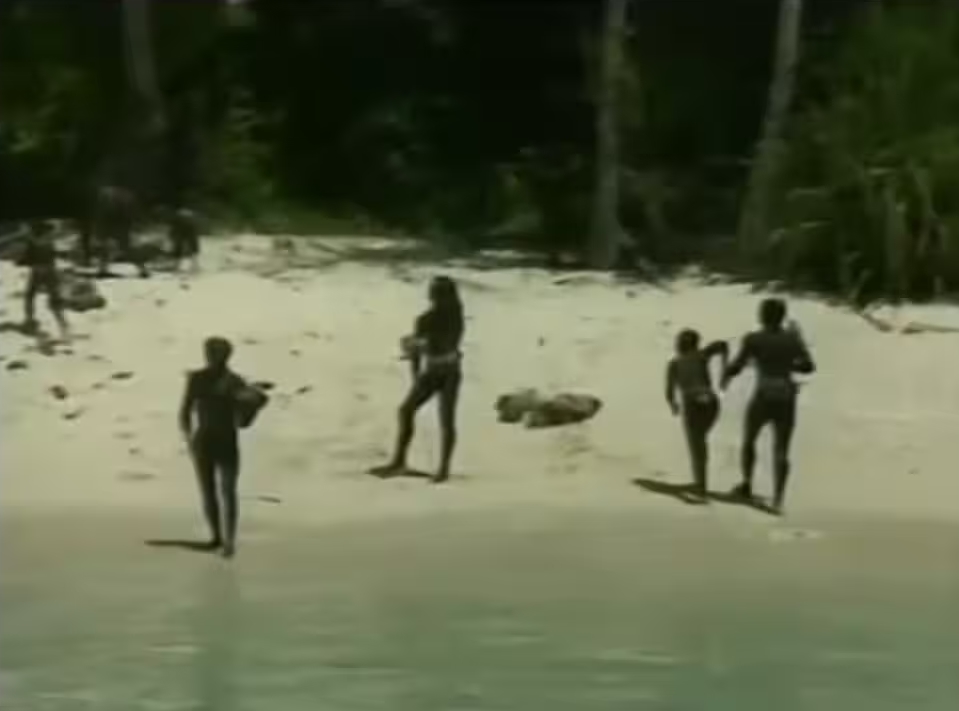 That's the extent of what we know about their life.  We aren't aware of how they interact with each other or what they do to occupy their time.  When onshore, they clearly dance, celebrate, and interact with each other.
How Did They Get Here?
There is only speculation as to how they arrived on the island.  One theory is that they arrived during the Great Coastal Migration, which occurred 60,000 years ago. At that time, sea levels were lower, and it is believed that modern day Myanmar was connected to the island via a land bridge.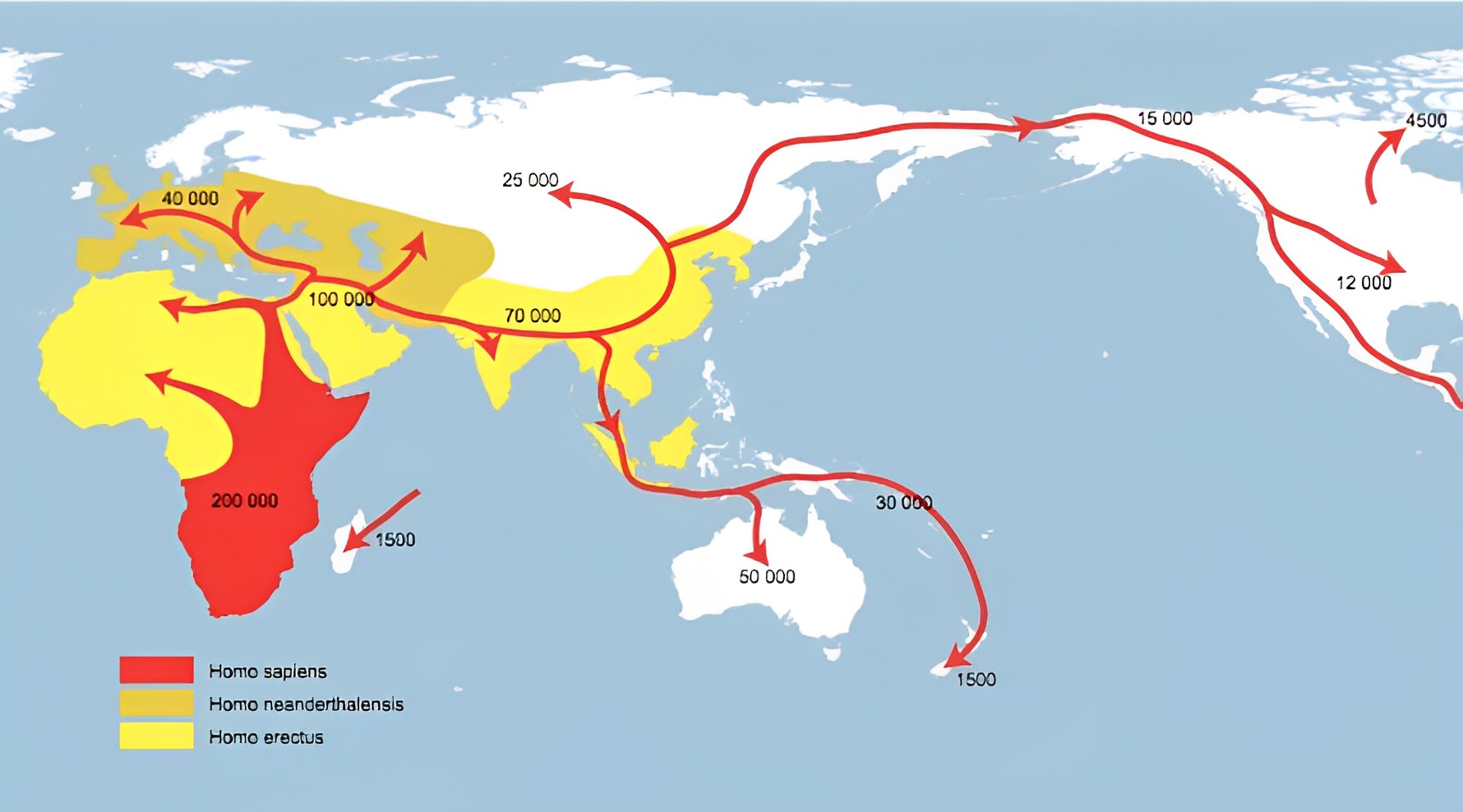 Travelers could walk or take small craft to get to remote destinations.  The route started in Africa and followed coastal regions eventually ending up in Southeast Asia and Oceania.
Origins in Africa
Beyond that, there is little known about their origins.  Some scientists have likened them to indigenous tribes of Africa, which supports the migration theory.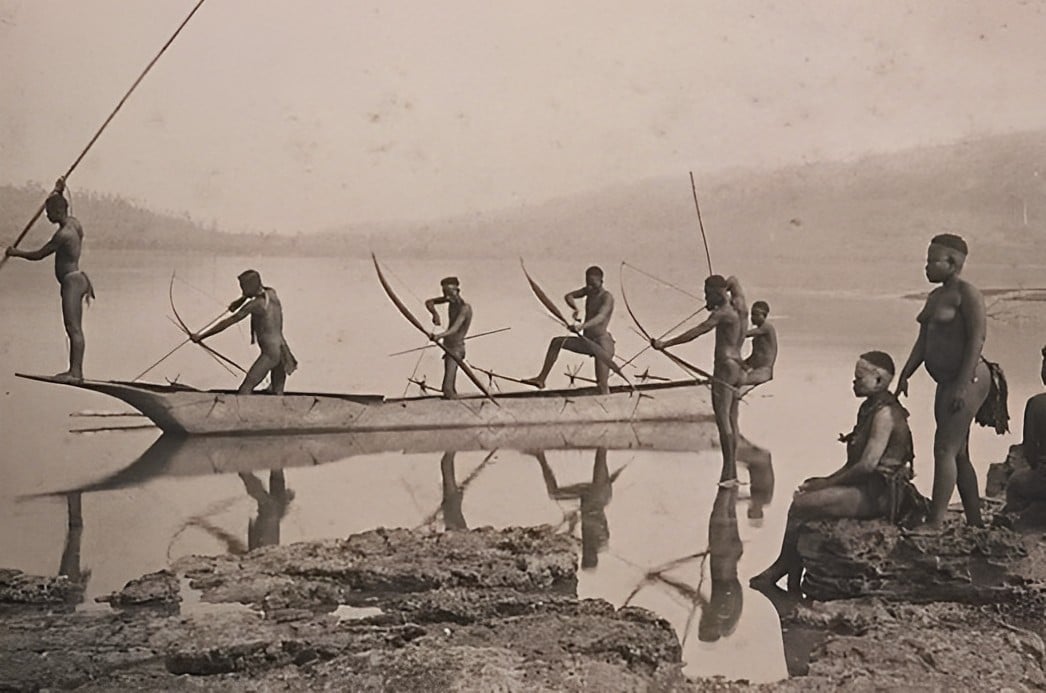 One can also imagine them fleeing another island and setting up a new colony.  Whenever that was, it was before recorded history, and without getting closer to study their origins, bone structure, and language, we can only guess.
History of the Islands
Whenever they landed on North Sentinel Island, it was long before explorers have documented.  Between 800 and 1200, ancient Indian Dynasties were aware of the island chain.
The Danish East India Company settled a nearby island in 1755, and the British set up colonies on nearby islands in the late 1700s.  They didn't pay attention to any natives living nearby, as they were more concerned with staying alive due to rampant diseases.
First Contact
Around the mid-1820s, the British were fighting the Burmese people for control of Northeastern India when their ships happened upon the Andaman Island chain.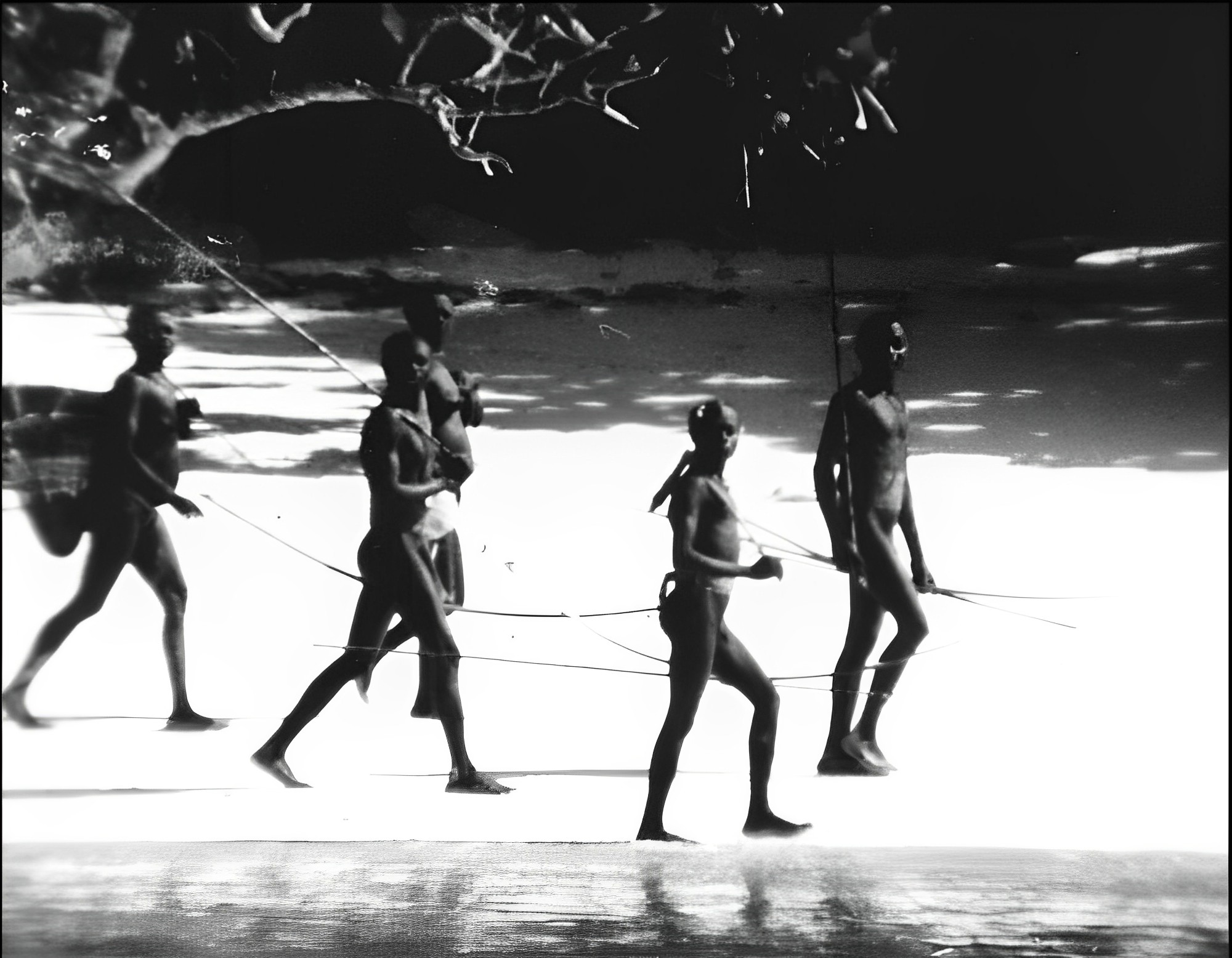 On a nearby island, some sailors got shipwrecked on one of the islands and were not met with open arms.  These islanders practiced cannibalism and,thus, the entire chain of islands developed this reputation.
Ship-Wrecked
1867 is when the stories of the Sentinelese and their nature began to come to light.  A shipwrecked on the reef and the sailors headed to shore for refuge.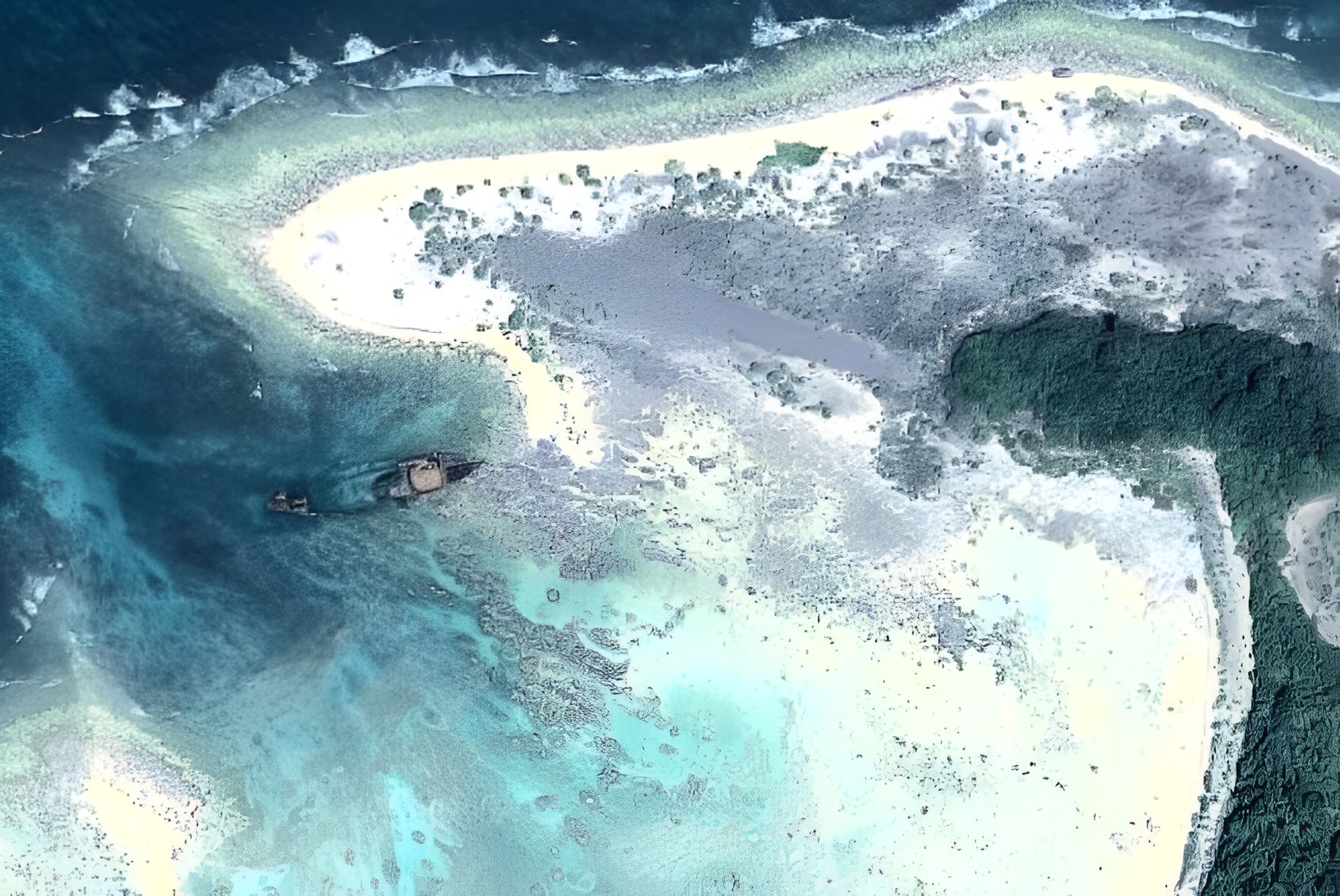 After a few days, the Sentinelese came out of the forest and drove them off with spears.  They escaped with their lives, but they had a scary story to tell.
Into the Iron Age
The ship can still be seen off the north shore and it is thought that the Sentinelese got the iron for their spear tips from the wreckage.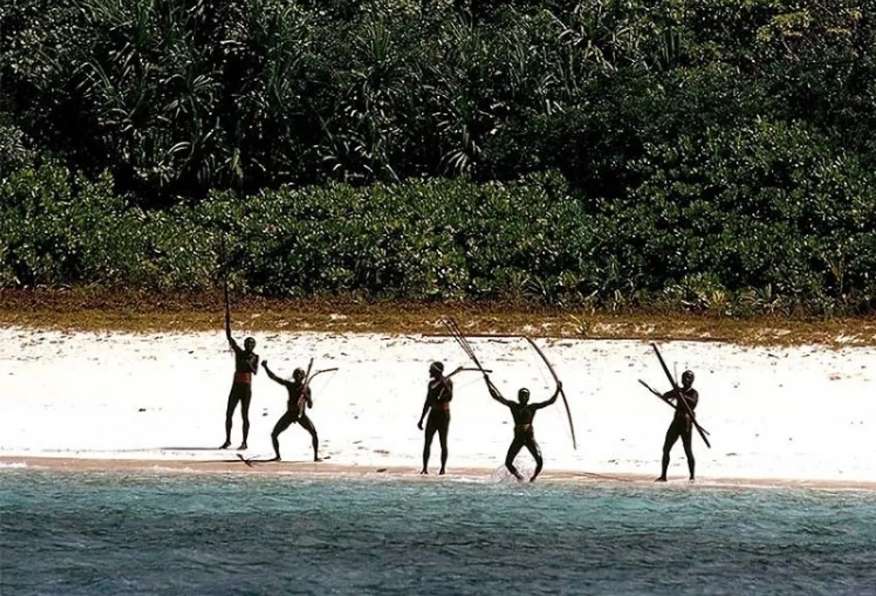 No doubt they found other treasures, but since no one has seen or documented the center of their settlement, we don't know the extent of their creativity.
The British are Coming
A dozen years later, the British came to survey the island that was under their control.  The expedition landed on the island with armed soldiers.  The people hid.  After several days, they managed to kidnap an elderly couple and four children.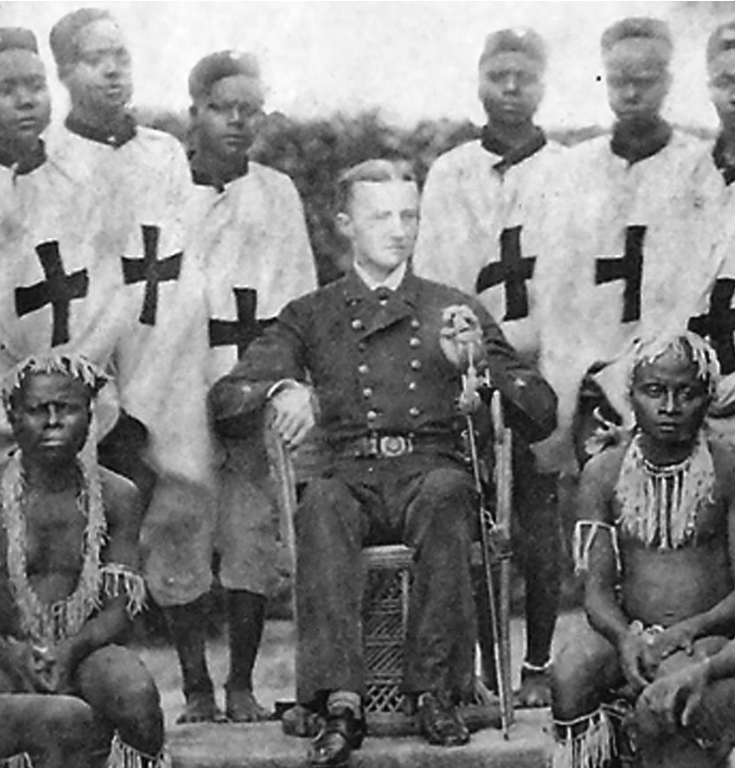 As was the custom in those days, they took the people offshore and gave them gifts in hopes of winning their trust.  Their hope was that they could return the people to shore and build a relationship with the tribe.
Failed Attempts
Their plan failed miserably as the adults died from disease that they had no immunity to overcome.  The children, who were also sick, were given gifts and deposited back on the island.  They ran into the jungle and were never seen again.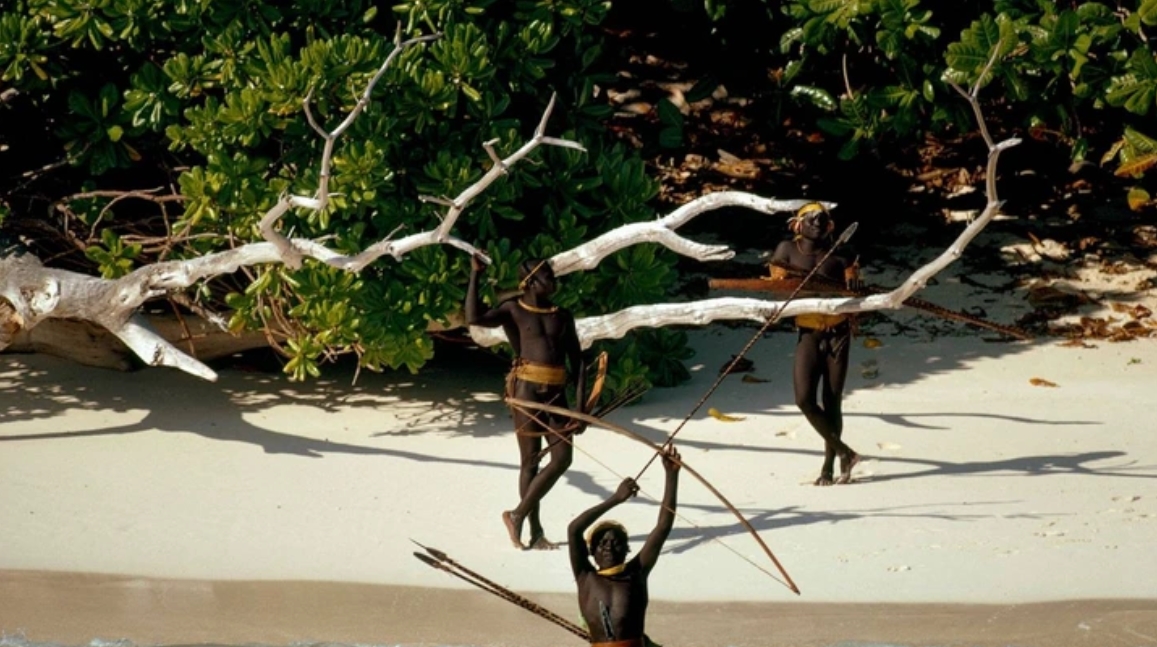 The British decided their mission was futile and moved on to the next island.  No documented contact was made for another hundred years.  The earth is a big place, and the island was left alone.
Let's Try Again
Fast forward to the 1960s.  By this time, India was in control of the islands, and they tried again to establish contact with tribes in the Andaman Island region.  When they approached North Sentinel, the Sentinelese ran into the shelter of their jungle landscape.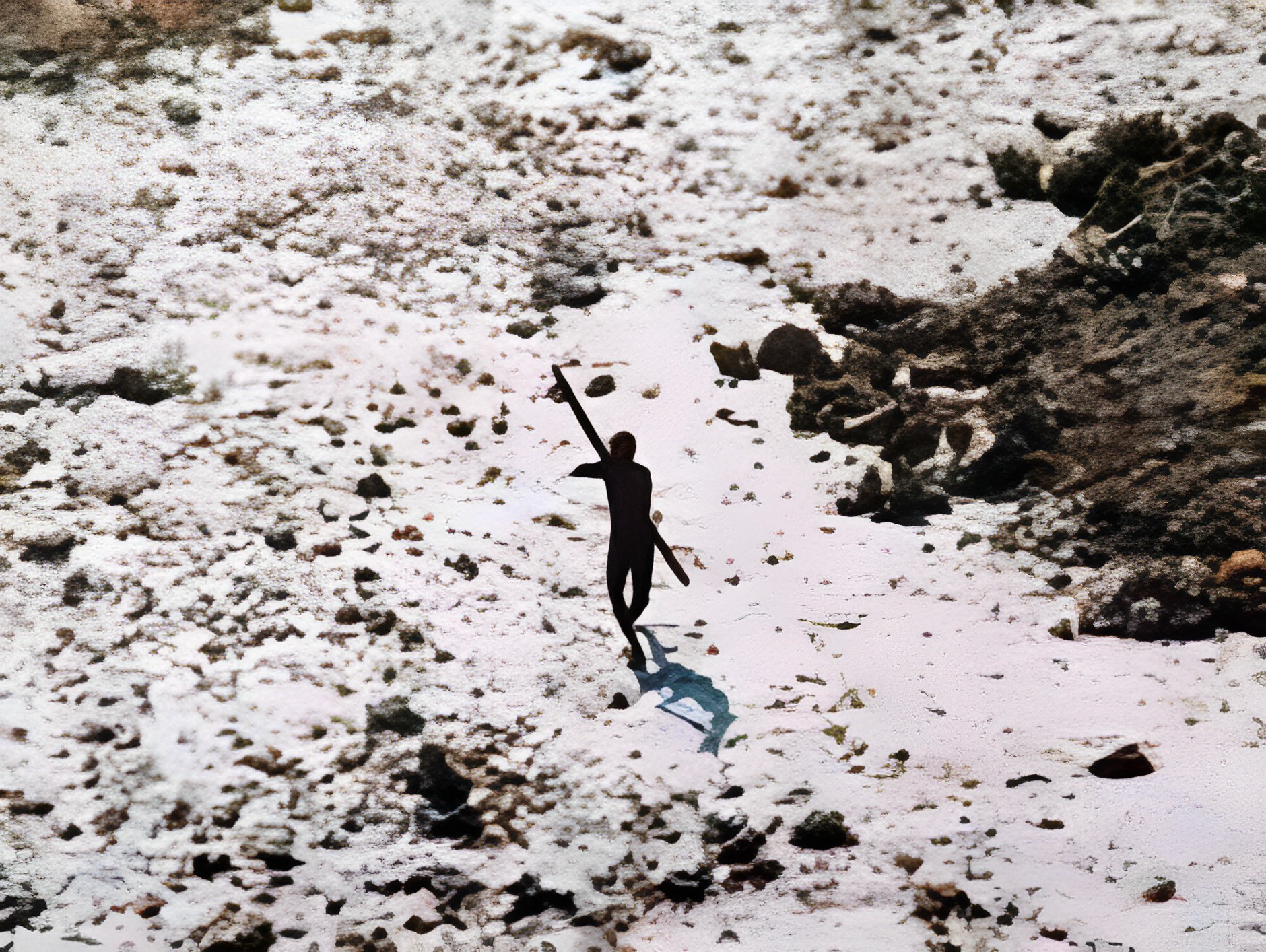 They tried to send gifts but were unsuccessful in making contact.  Their expedition was deemed a failure just like many before and after.
Unwelcome Gifts
National Geographic expeditions tried again in 1974.  As they passed by the island, they were attacked with flying arrows.  They managed to leave some gifts on the shore and then waited to see what would happen.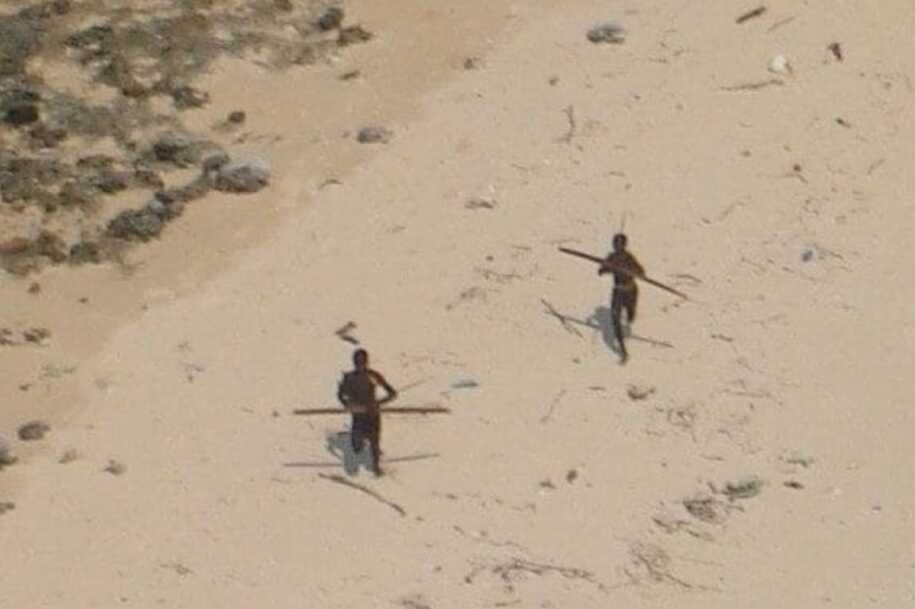 Men came out of the woods and killed the live pig, burying it along with some of the other gifts.  Coconuts were kept as well as an aluminum pan.  The Sentinelese thanked the expedition by shooting arrows and ensuring a hasty retreat into safer waters.
They Like Coconuts
In the 1990s, boats got closer to shore.  Attempts to communicate in languages native to the other islands were met with blank stares and no comprehension.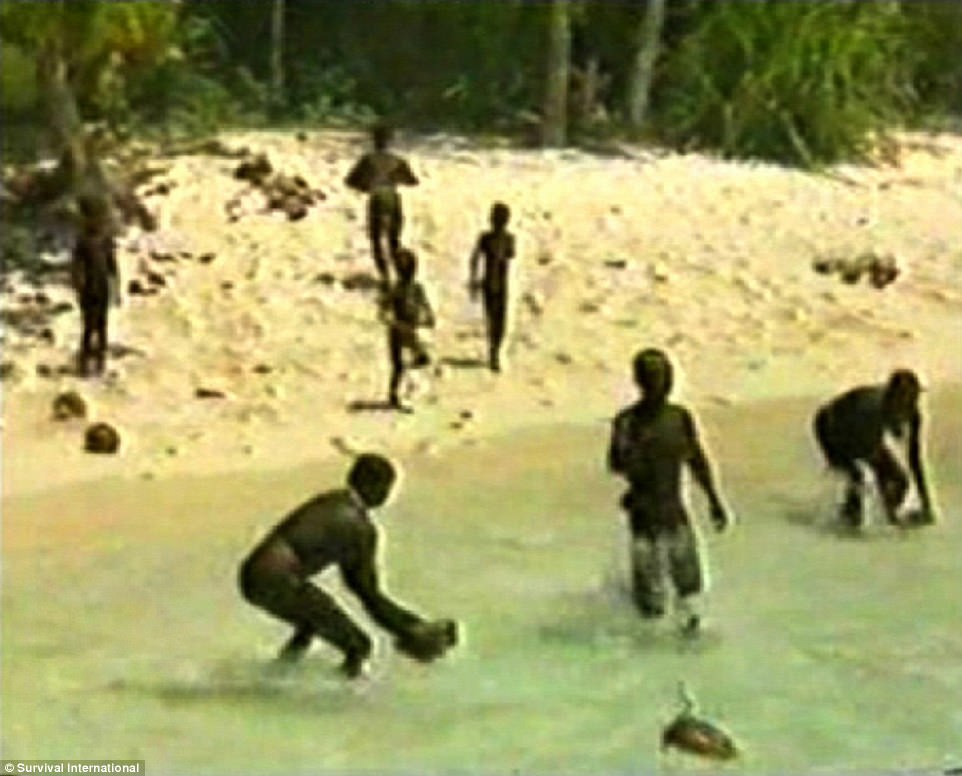 The Sentinelese spent a few minutes staring at the boat and accepting coconuts given as a goodwill gesture, but soon went back to menacing gestures and retreating to fetch their arrows.  It is clear that they don't trust the outside world nor want to make friends.
A Man on a Mission
Undeterred, an Indian anthropologist continued to sail around the island leaving gifts and attempting to make contact and build trust.  TN Pandit has come the closest to breaking the barrier between the Sentinelese and the outside world.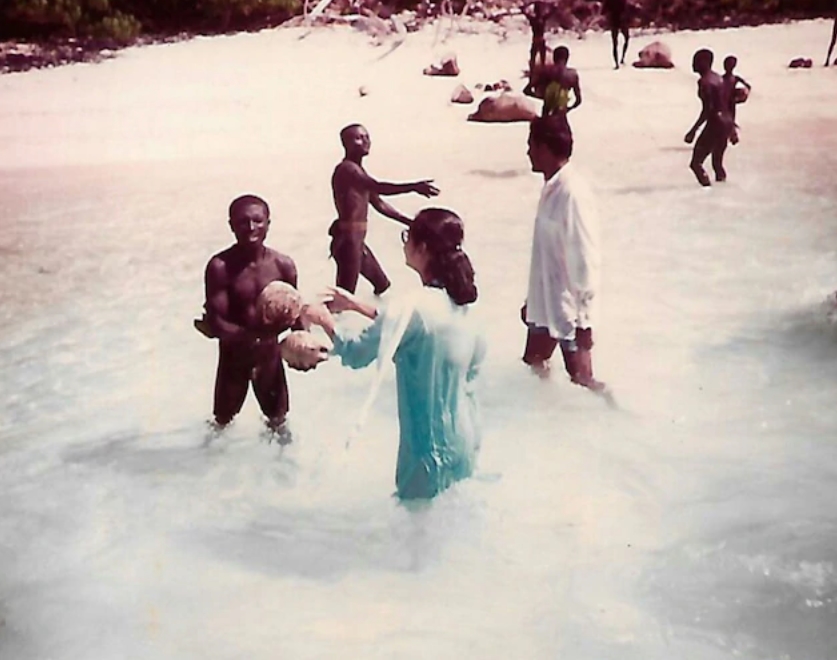 Interestingly enough, his best efforts came when he took a woman colleague with him.  Evidently, she posed less of a threat that the usual male expeditions.
Just When He Was Making Progress
Mr. Pandit called the Sentinelese "peace-loving."  He got so far as to jump in the water to hand islanders coconuts, but that's all.  Mr. Pandit was on the expedition in 1967 and was determined to spread goodwill.  His relentless effort was the closest that the world has come to breaking the barriers between the outside world and the island.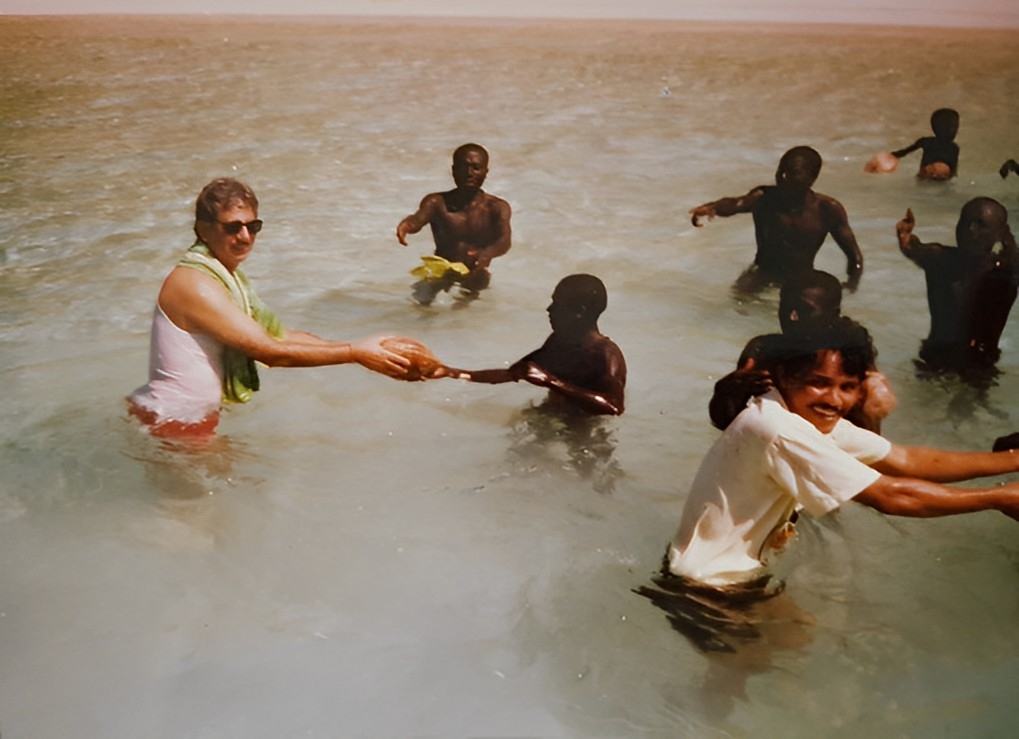 Unfortunately, Mr. Pandit had been working on behalf of the Indian government and when he reached mandatory retirement age, his excursions to the island ceased.  He did write a book on his experiences.
Protection from the Government
Today, the Indian government seems to have given the Sentinelese the privacy they seek.  Three miles around the perimeter of the island is a forbidden zone.  Cross this threshold and you'll need to contend with the Indian Navy.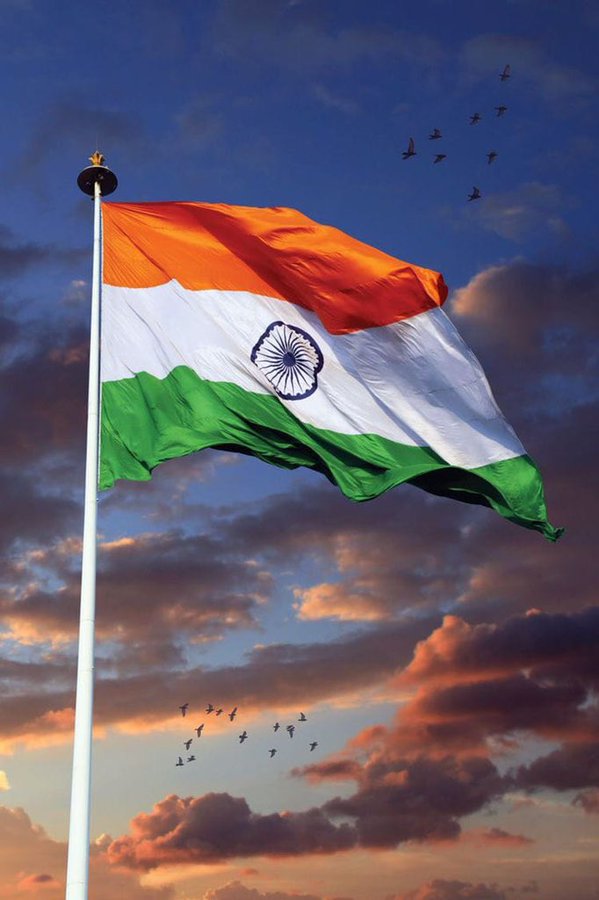 The goal is to protect the Sentinelese from outside diseases and protect those who visit from irreparable harm.  Not even photographs of the island are allowed.
Fishermen Off Course
Unfortunately, that didn't stop a few other chance encounters.  One was in 2006 when a couple of fishermen illegally approached the island and ended up crashing on its shore.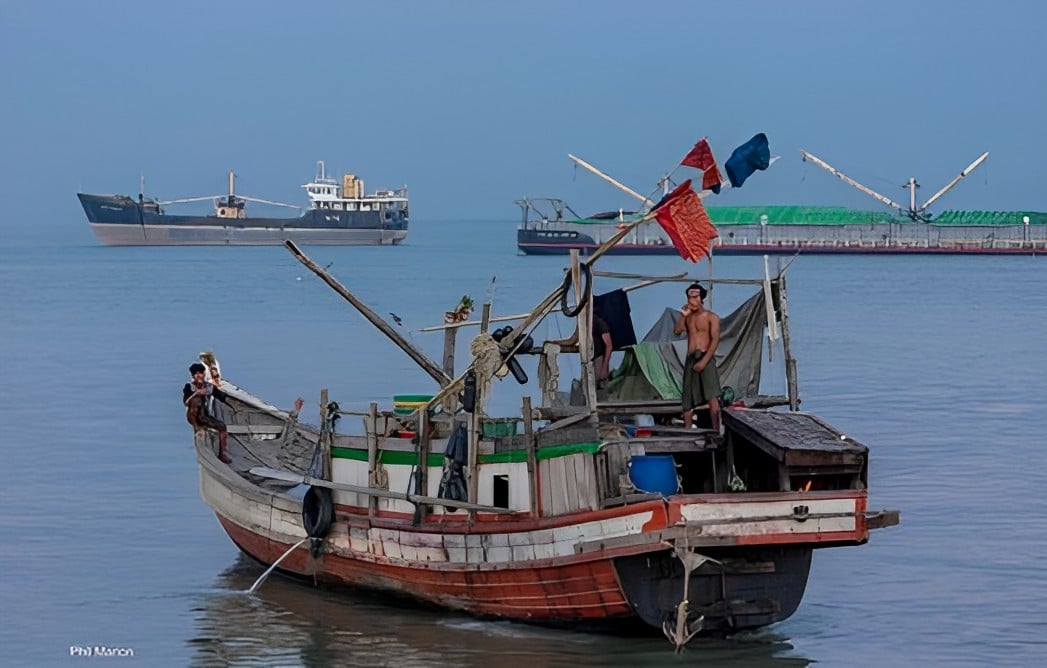 Others witnessed the Sentinelese coming out of the woods, killing them brutally, and displaying their bodies onshore as a warning to others.
A Missionary's Dream
The other encounter brought the island into the world spotlight even more.  In 2018, a young missionary from the United States named John Allen Chau decided that he was going to get to the island and convince the Sentinelese to follow Christ.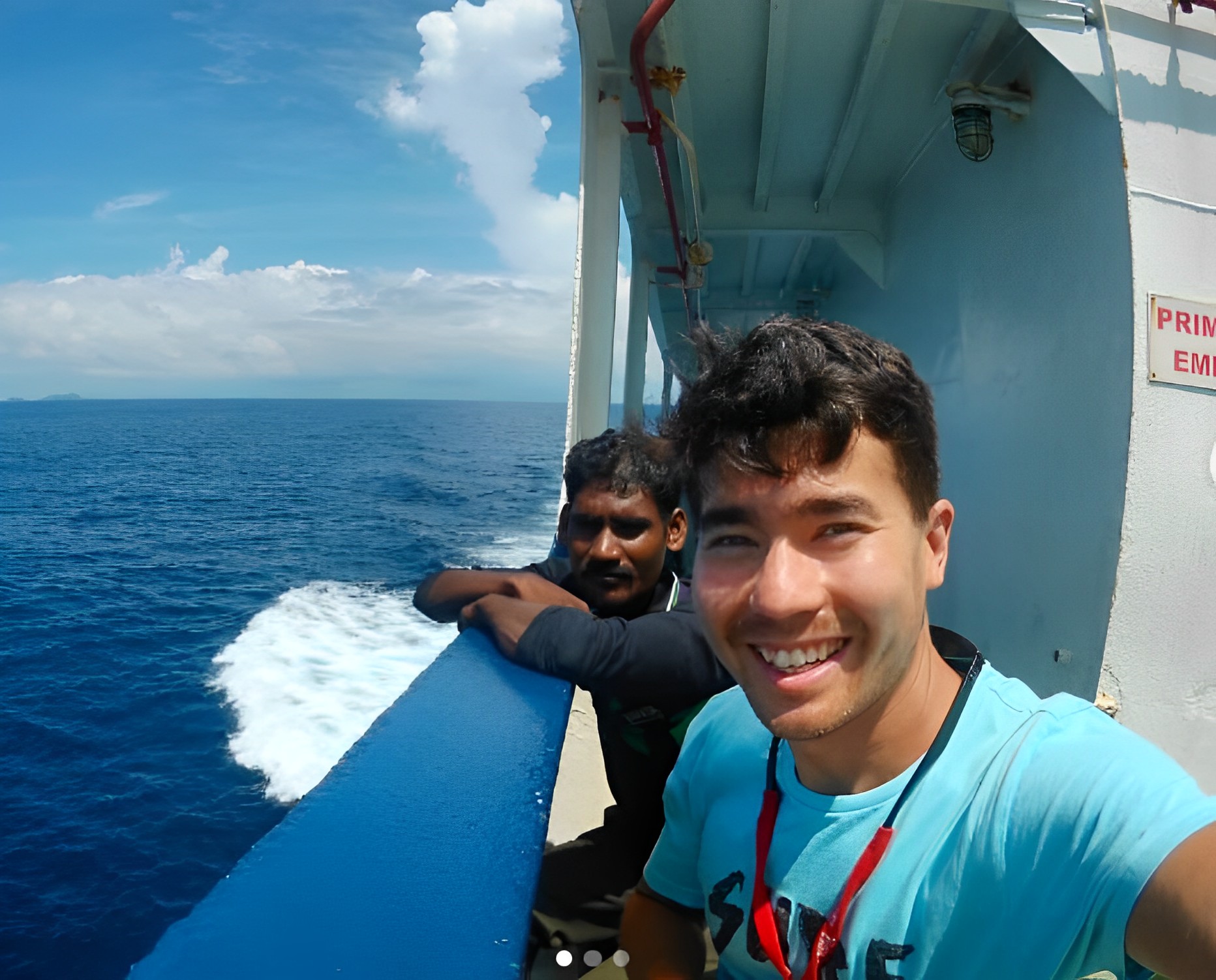 He hired a boat and visited the island several times before he met the same fate as those fishermen.  All attempts to retrieve his body have been unsuccessful.
He Left Behind a Journal
 John did leave a journal which outlined his three days of journeying between the shore and his transport.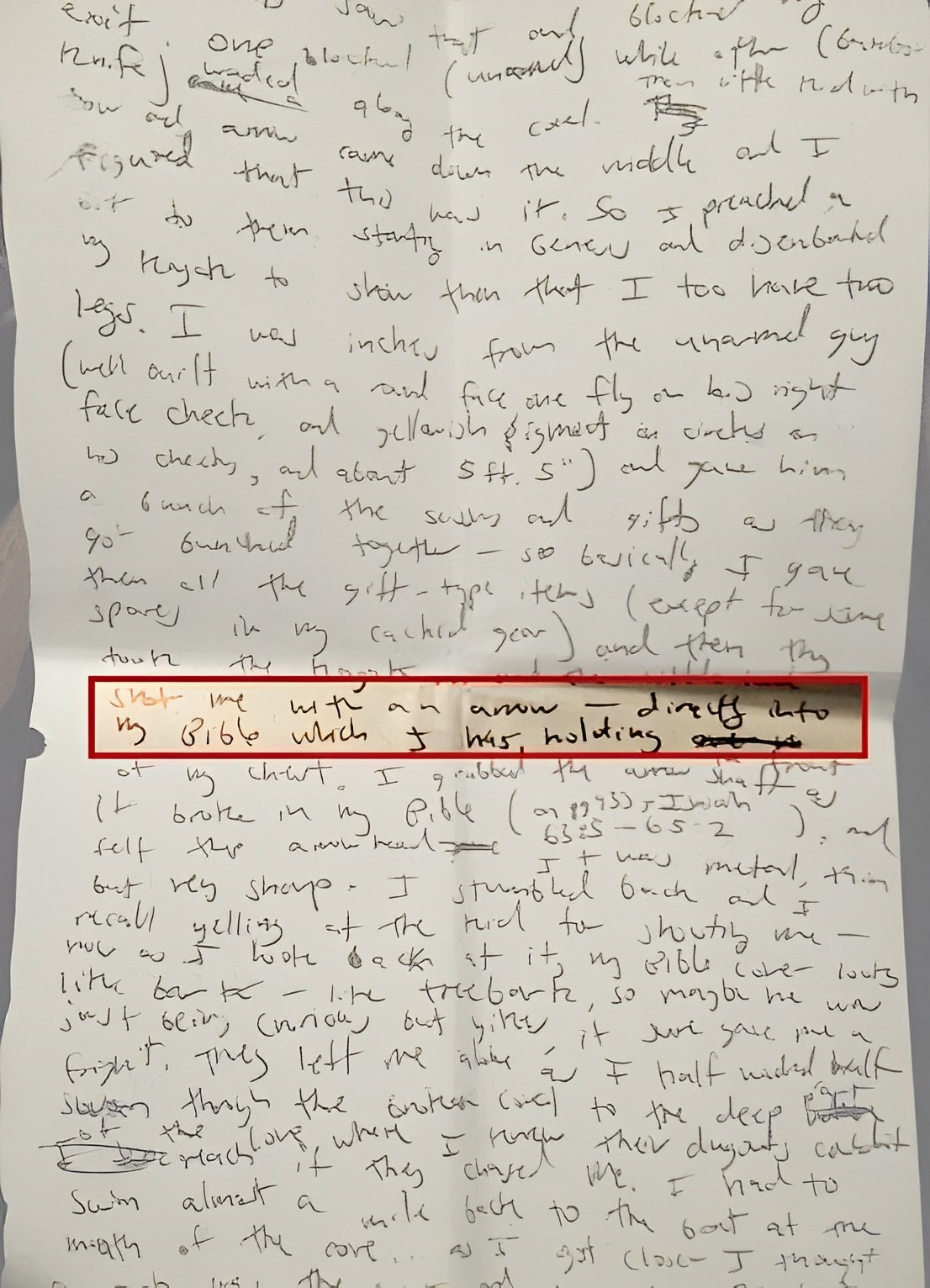 These journals have given scientists clues as to the Sentinelese way of communication, as well as their way of life.  While John's actions were considered dangerous and unwise by many, his journals show that he was not naïve and accepted his fate.
Why Do They Not Trust Others?
It is unclear whether the Sentinelese mistrust people because they are unknown or for other reasons.  Their reactions have been likened to a human's encounter with an alien species.  Perhaps they are a little curious, but their instinct might lean toward self-preservation.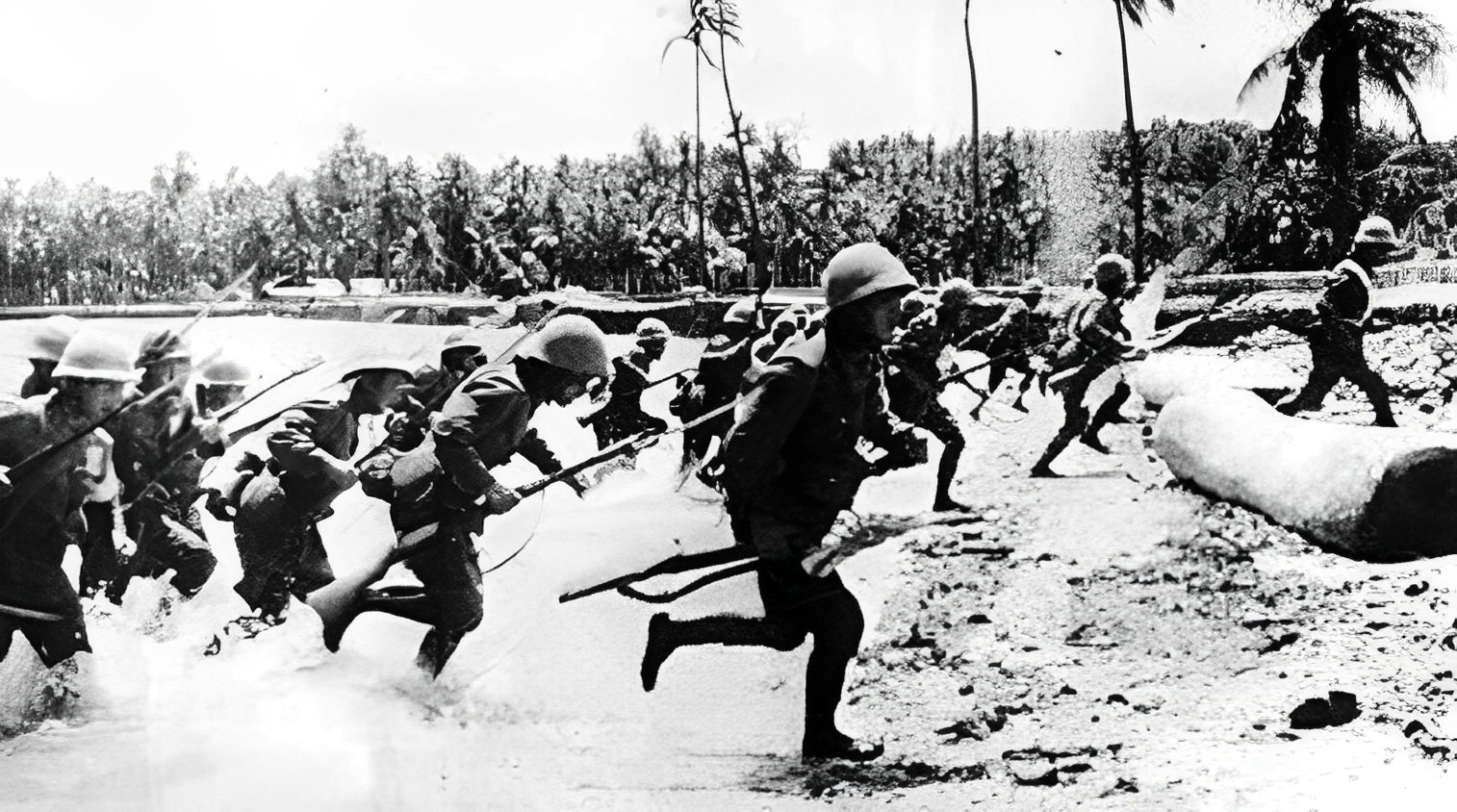 The other theory is mistrust due to encounters with earlier explorers who may have treated them with disrespect.  When the Japanese occupied the area during World War II, it is unclear if they went to the island as they destroyed all records of their time in the area.  Either explanation is understandable.
Leave Them Alone
North Sentinel Island is under Indian authority, but it's clear that they do not want to get involved.  Every time one of these encounters happens where the Sentinelese kill a visitor, they are content to let it go, preserving the civilization.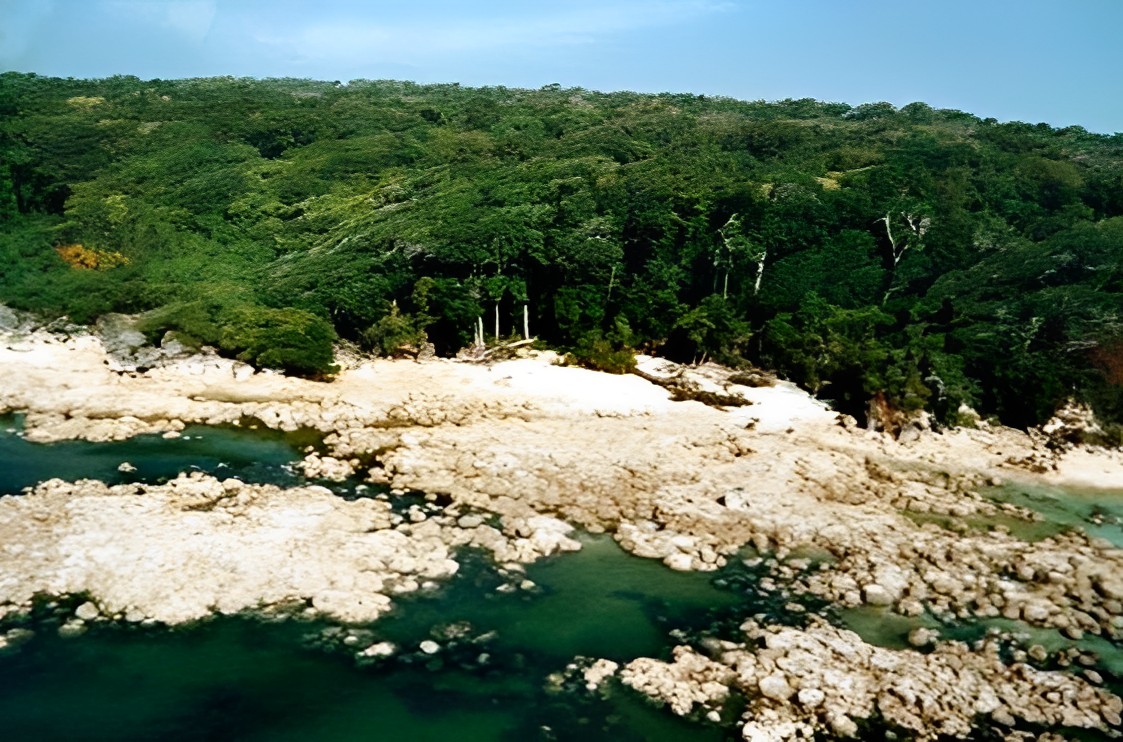 During the 2004 tsunami, which did incredible damage to areas all across Oceania and the island chain, the Indian government tried to drop humanitarian supplies and were met with threatening arrows.
Uncontacted People
Today, it is believed there are less than a hundred groups of people that remain isolated from the outside world.  These "uncontacted" people are a curiosity that must be protected from the modern world.  We carry diseases that could wipe out entire populations very quickly. 

Plus, who says that our way of living is better?  For those who might wonder if we can use modern technology to "spy" on them, the answer is no because of the dense forest covering all but the slivers of sandy shore. (The dark spots indicate where the uncontacted people reside.)
The Escape Dream
It still peaks our interest to imagine a primitive society just 50 km away from bustling cities.  Some in our society choose to escape to the country or remote areas off the grid in search of peace and tranquility, so we kind of understand the "leave me alone" attitude.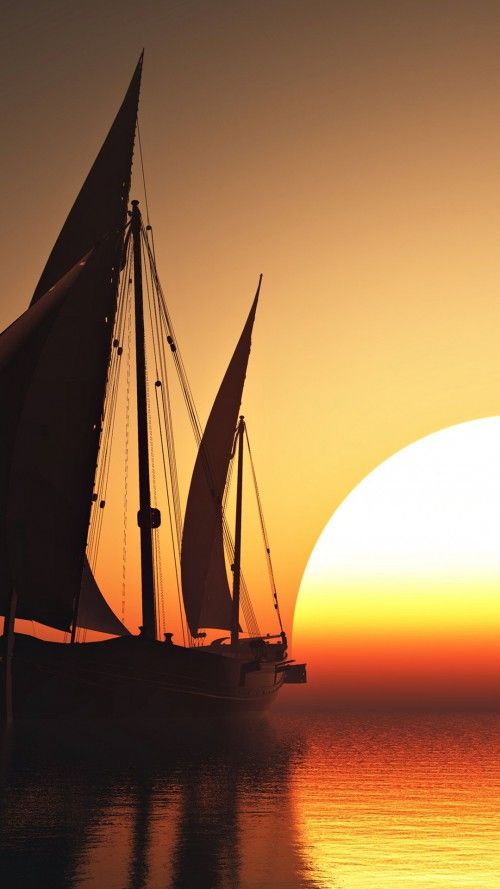 Knowing what we know, we truly cannot fathom life as a caveman.  The nicest thing we can do is respect their culture and leave them alone.