Pregnant Actresses Hiding Their Baby Bumps for Roles
As it turns out, actresses have real lives outside of their TV and movie roles (we were surprised too). When actresses get pregnant, show-runners are faced with a choice: Either write the pregnancy into the show or hide it from the audience. Studios have come up with many creative solutions to disguise the off-screen pregnancies of their actresses.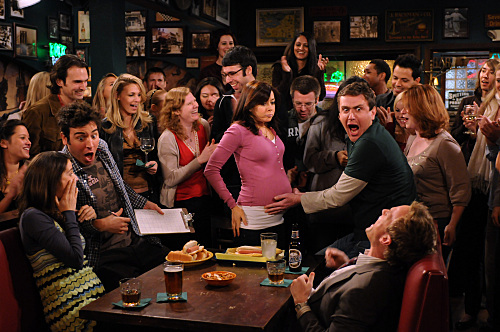 Show creatives use camera angles, large props, stunt doubles, and wardrobe trickery to conceal the bellies of mothers-to-be. Sometimes, writers and producers will find a way to work a pregnancy into the script of the show. We've collected some examples of the most creative ways pregnant actresses and their producers have worked together to hide their baby bumps.
Zooey Deschanel in New Girl
Zooey Deschanel is a producer as well as the star of New Girl, so when she became pregnant during season 5 of filming, she and the other show creatives had to come up with a plan to conceal the baby bump. The producers crafted the perfect solution: send her away on jury duty.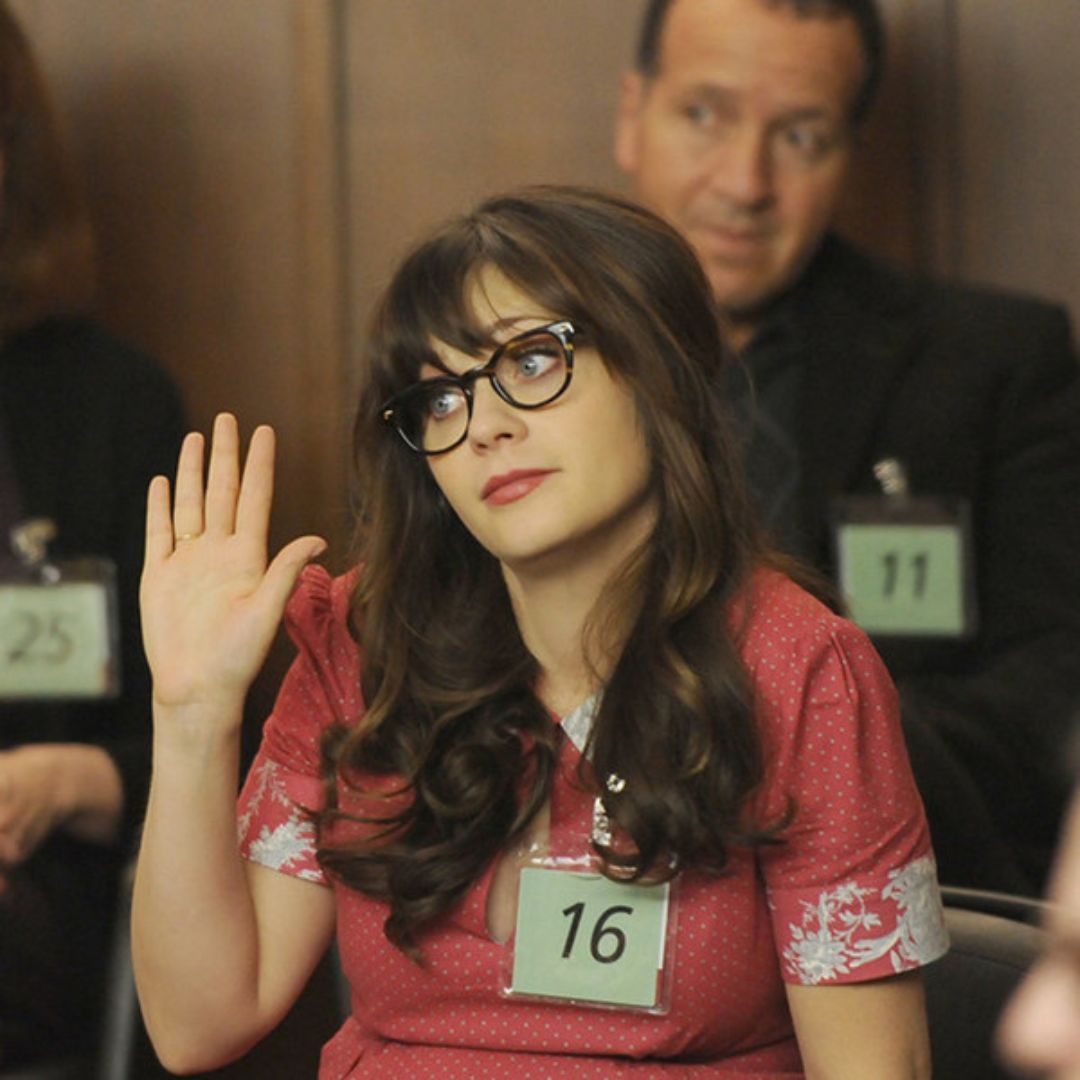 Zooey can be seen covering her bump in the first few episodes of season 5 with baggy clothes and big bags, but she isn't present for much of the season because her character is sequestered as a juror. The producers added a new character played by Megan Fox as a brief replacement in her absence. After her maternity leave, Zooey returned to the show in season 6.
Lisa Kudrow in Friends
The writers of Friends wrote Lisa Kudrow's pregnancy into the script of the show, rather than hide the baby bump. But, of course, Phoebe's pregnancy storyline in the show is as wacky as she is. Phoebe becomes a surrogate for her brother and his wife, who cannot have kids on their own.
Phoebe gave birth to triplets in season 5 and Lisa gave birth to her son, Julian, in real life as well. She was not the only Friends cast member to become pregnant, as Courtney Cox was expecting her first daughter during the final season of the show.
Alyson Hannigan in How I Met Your Mother
The How I Met Your Mother writers elected to hide Alyson Hannigan's baby bump rather than write it into the script because they felt Lily (Alyson's character) wasn't ready for a baby yet. They used the usual strategies of baggy clothes and big props to hide her belly.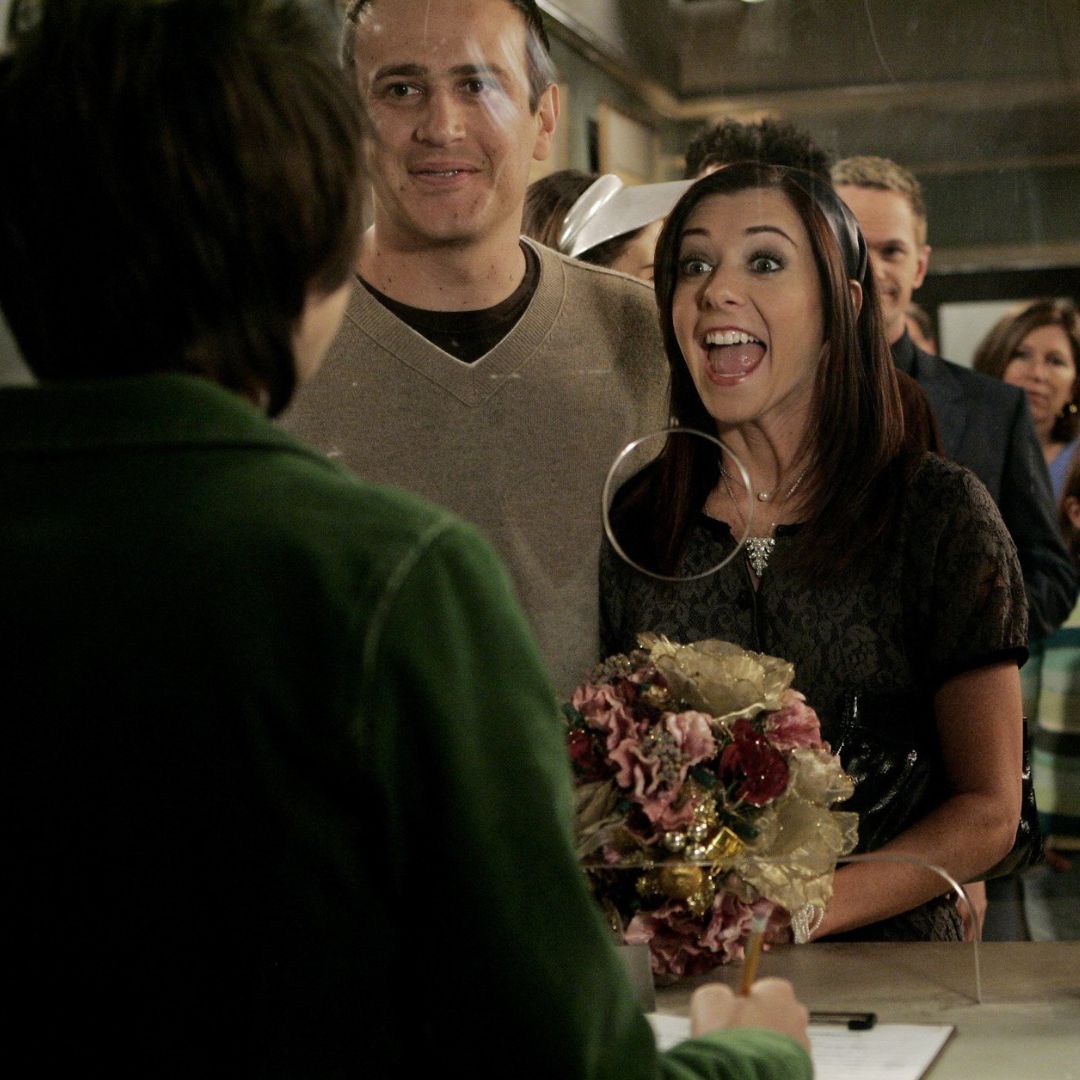 In one scene; however, Lily sports the baby bump masqueraded as a "food baby" from winning a hot dog eating contest. Props to the writers for creativity. Later in the series, Lily and Marshall (played by Jason Segel) do have three children. Interestingly, Alyson's cast mate, Cobie Smudlers was pregnant at the same time and the showrunners hid her belly as well.
January Jones in Mad Men
The Mad Men showrunners worked around January Jones's pregnancy in a uniquely creative way. They didn't hide her or write the pregnancy into the show for her character, Betty Draper. When January became pregnant during season 5 of filming, they decided to put her in a fat suit to conceal her belly and included a subplot about Betty Draper gaining weight due to a benign tumor on her thyroid.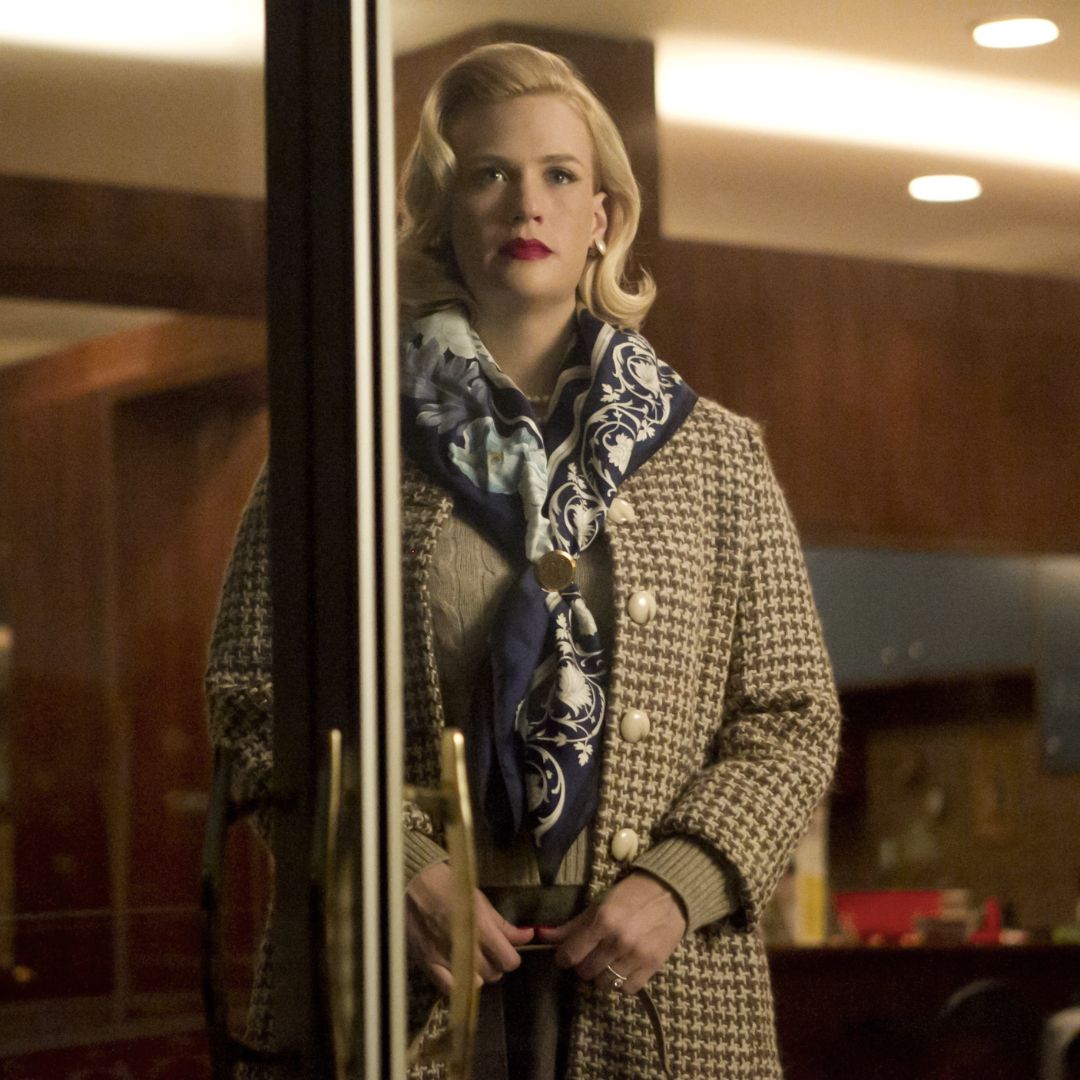 The strategy was pretty ingenious considering January's character was obsessed with her image and staying thin to satisfy the impossible beauty standards for women in the 60s. Major props to January who had to wear the heavy suit and prosthetics while pregnant and filming. Mom power!
Scarlett Johanssan in Avengers: Age of Ultron
In the second Avengers film, producers had to hide Scarlett Johanssan's baby bump while protecting the mother-to-be from the dangerous stunts the Black Widow is known for. Scarlett credited her team for stepping up to the plate: "I have a really amazing, amazing stunt team around me". The writer-director, Joss Whedon made sure to hide the bump strategically without cutting any of Scar Jo's scenes so the Black Widow was able to capture audiences like she did in the first film.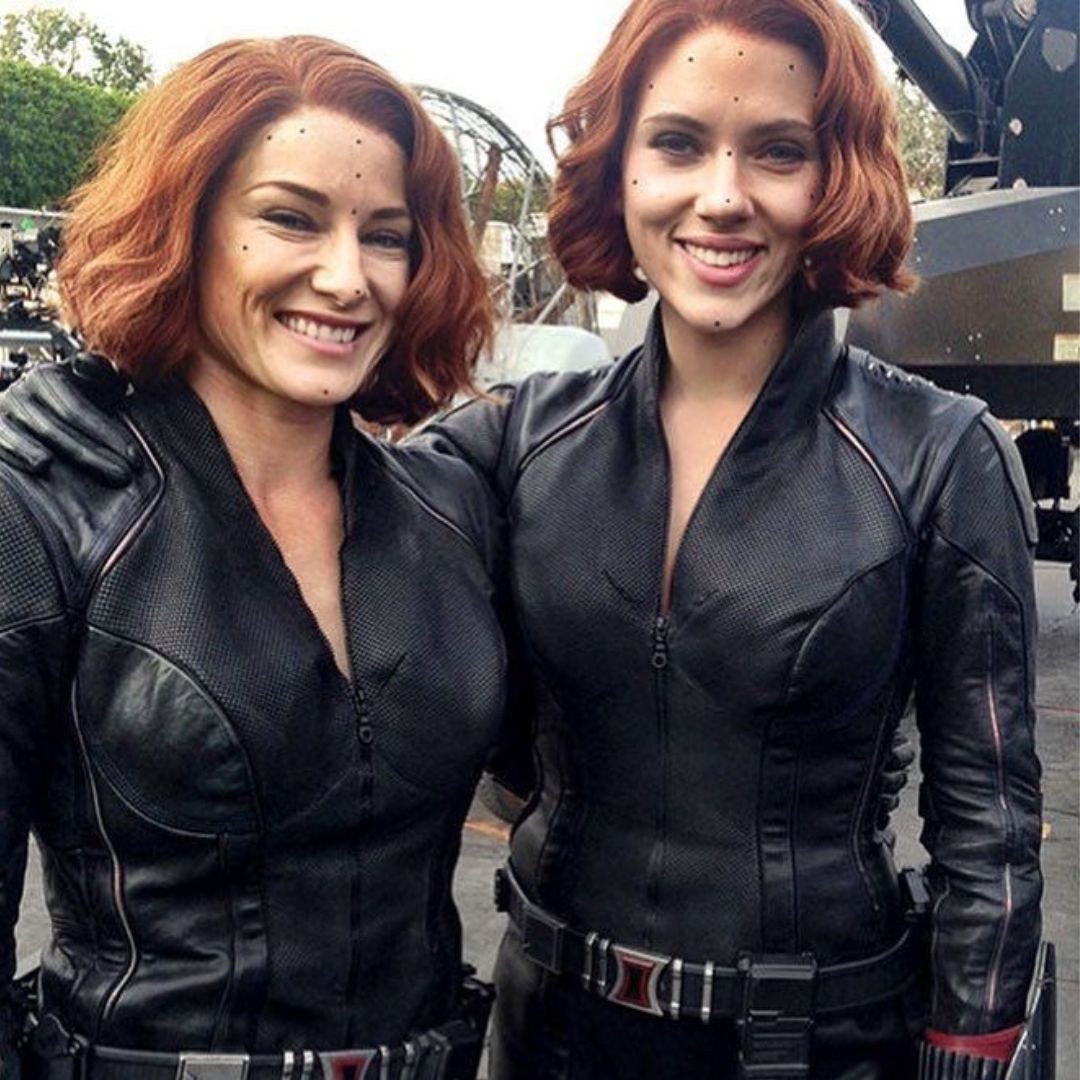 Between CGI and stunt doubles, the producers were able to bring the action to life while disguising the bump. Mark Ruffalo, who plays the Hulk and Robert Downey Junior, who plays Ironman alongside Scarlett both commented that the entire cast and crew looked after the future mama during filming.
Julie Bowen in Modern Family
Julie Bowen wasn't just pregnant in the pilot episode of the popular sitcom, Modern Family. She was 8 ½ months pregnant… with twins! The actress was pregnant in her audition and apparently pleaded with production to make it work around her belly.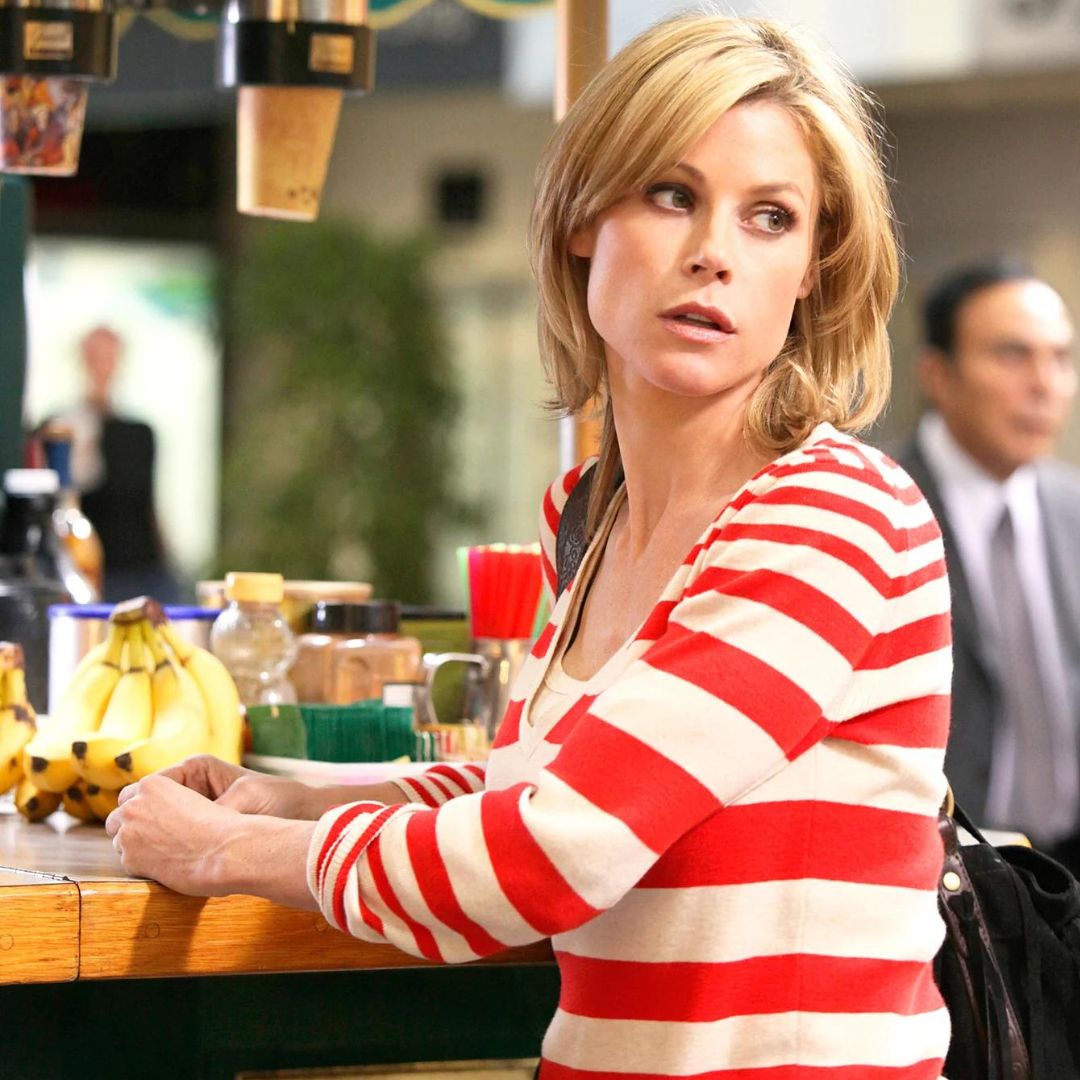 She was so nervous during the audition process that they wouldn't give her the role due to the pregnancy. She states, "They kept bringing me in over and over and sort of staring at my humongous belly, and I thought, 'I'm never getting this job'". The show creators were unconcerned, using cereal boxes, high counters, laundry baskets, and pillows to cover Julie's bump.
Jenna Fischer in The Office
Jenna Fischer's most well known character, Pam Beasley, was pregnant twice throughout her relationship with Jim Halpert. Pam was pregnant with her second child in season 8 of The Office and Jenna Fischer was pregnant with her first child in real life.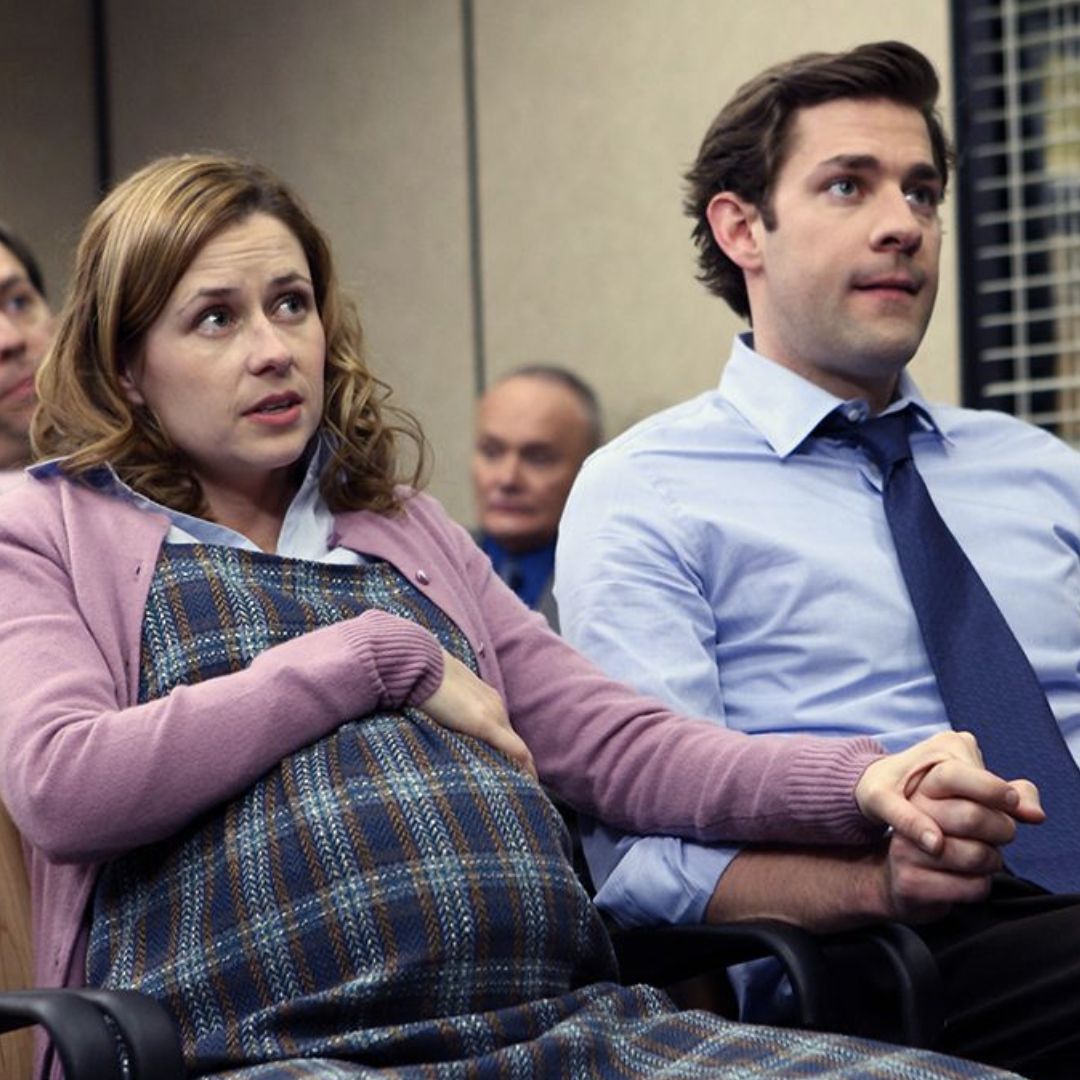 The writers felt it made sense to write in a second pregnancy for Pam's character so there was no need to hide behind big props, baggy clothes, and high counters. Writing the pregnancy into the script was apparently fairly easy because the passionate fans of Jim and Pam's relationship were not against seeing the on-screen family grow.
Ellen Pompeo in Grey's Anatomy
When Ellen Pompeo told showrunners she was pregnant during season 6 of Grey's Anatomy, they chose a rather simple approach: only film her upper half. You'd think scrubs would be the ideal baggy wardrobe to conceal a bulging belly, but the show relied heavily on camera angles to hide the star's pregnancy.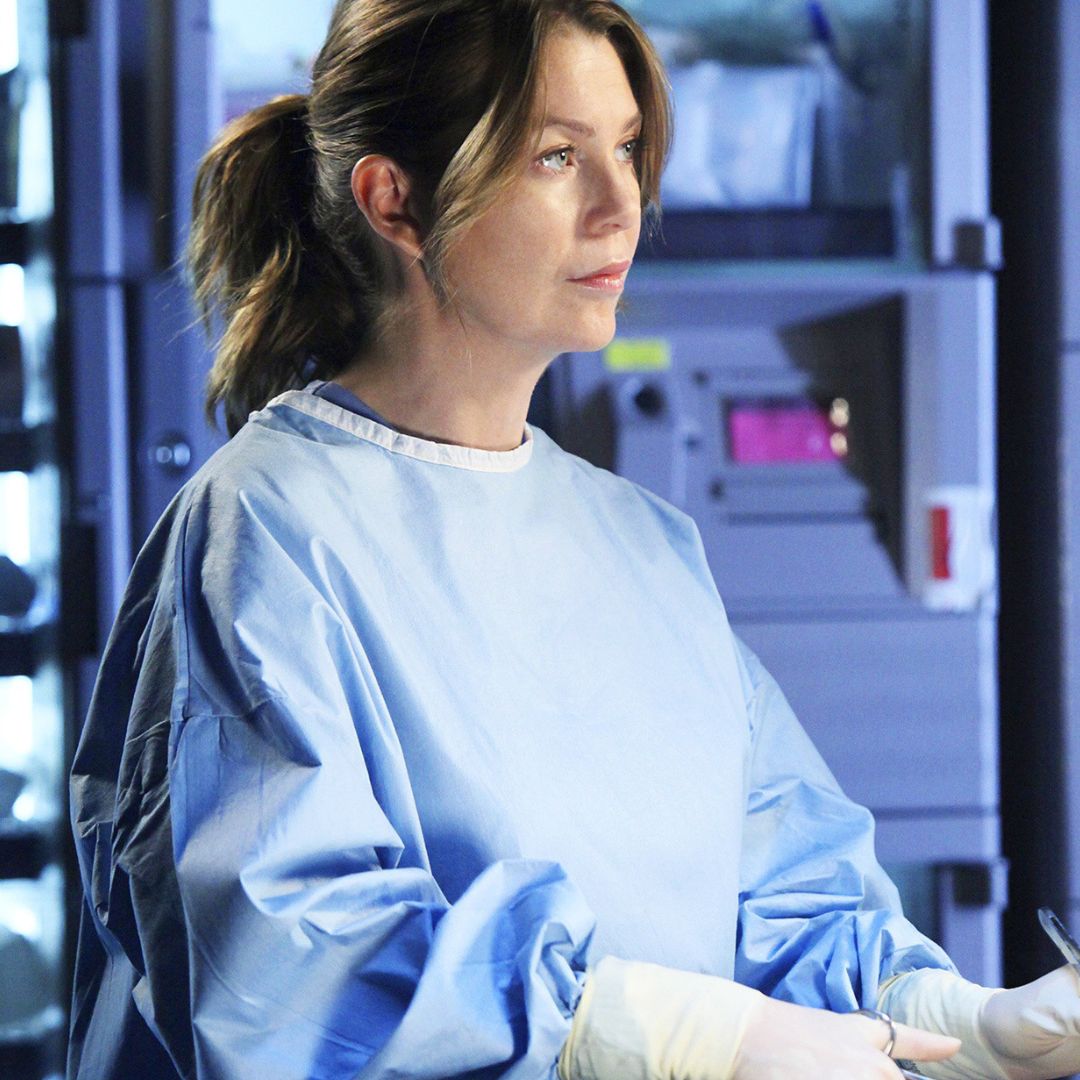 To allow for Ellen to rest in the final weeks of her pregnancy, the show did write a plotline into the script in which Meredith (Ellen's character) donates a part of her liver to her father and is absent from most of the show. After 18 seasons of Grey's, many of their actresses have become pregnant during filming, so the show has become experts at accommodating working parents.
Gal Gadot in Wonder Woman
Most of us would be shocked to hear Gal Gadot was 5 months pregnant during the filming of 2017's action movie Wonder Woman. The show had the actress wear a green cloth around her stomach to help CGI the baby bump in post-production. Gal jokes that she looked like "Wonder Woman pregnant with Kermit the Frog" when she was in costume with her green belly.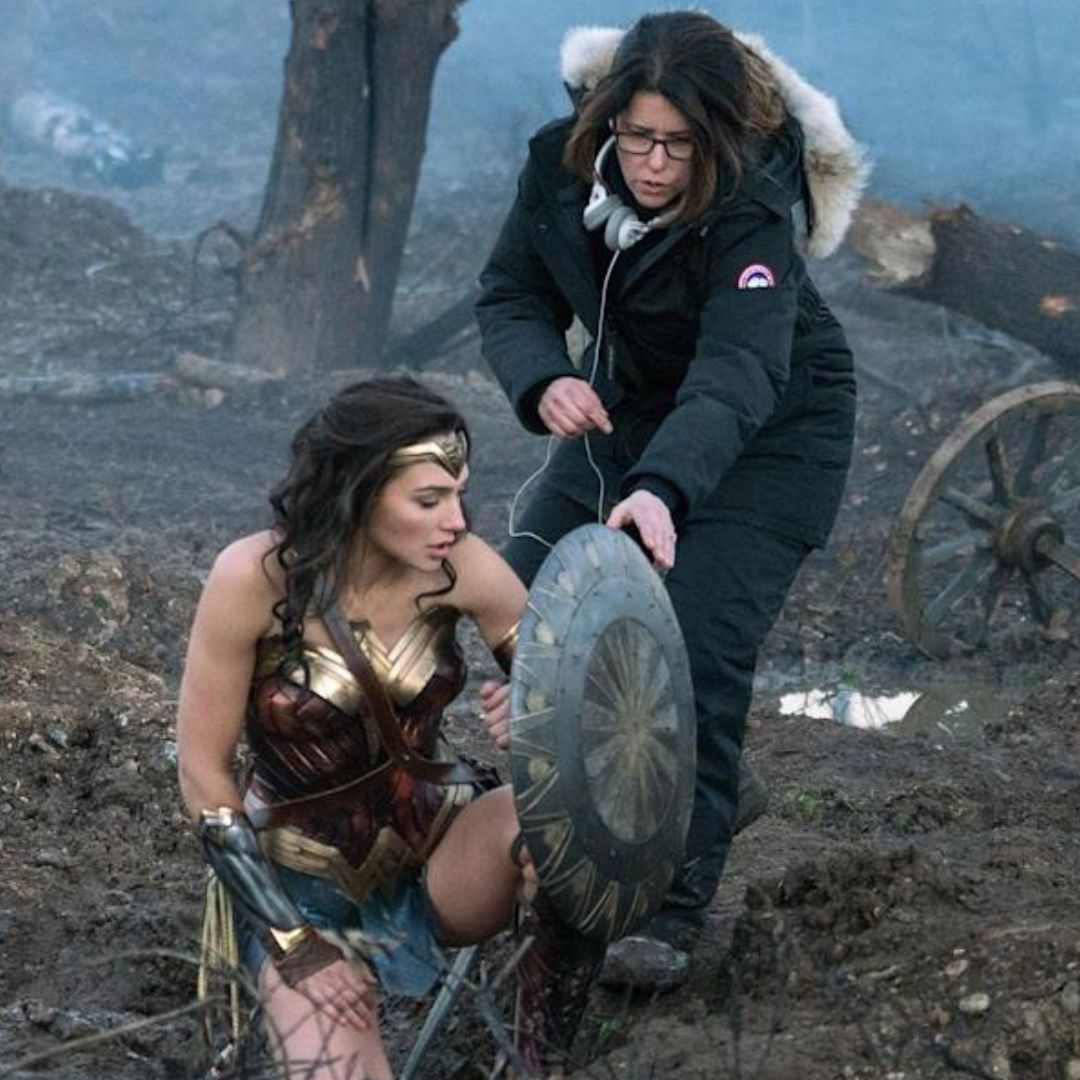 Director Patty Jenkins applauded the actress for being a superhero on and off screen, noting that Gal's future daughter, Maya, would be proud to watch her mom in a battle scene one day. Gal was able to perform intense stunts during the production of the action film, despite being 5 months along. Wonder woman indeed!
Kaitlin Olson in It's Always Sunny in Philadelphia
Kaitlin Olson's pregnancy was written into the sitcom It's Always Sunny in Philadelphia. Rob McElhenney, who plays Mac on the show, is also a producer of the show and is married to Kaitlin off-screen. He and the other show creatives found a fascinating way to work the actress's pregnancy into the show.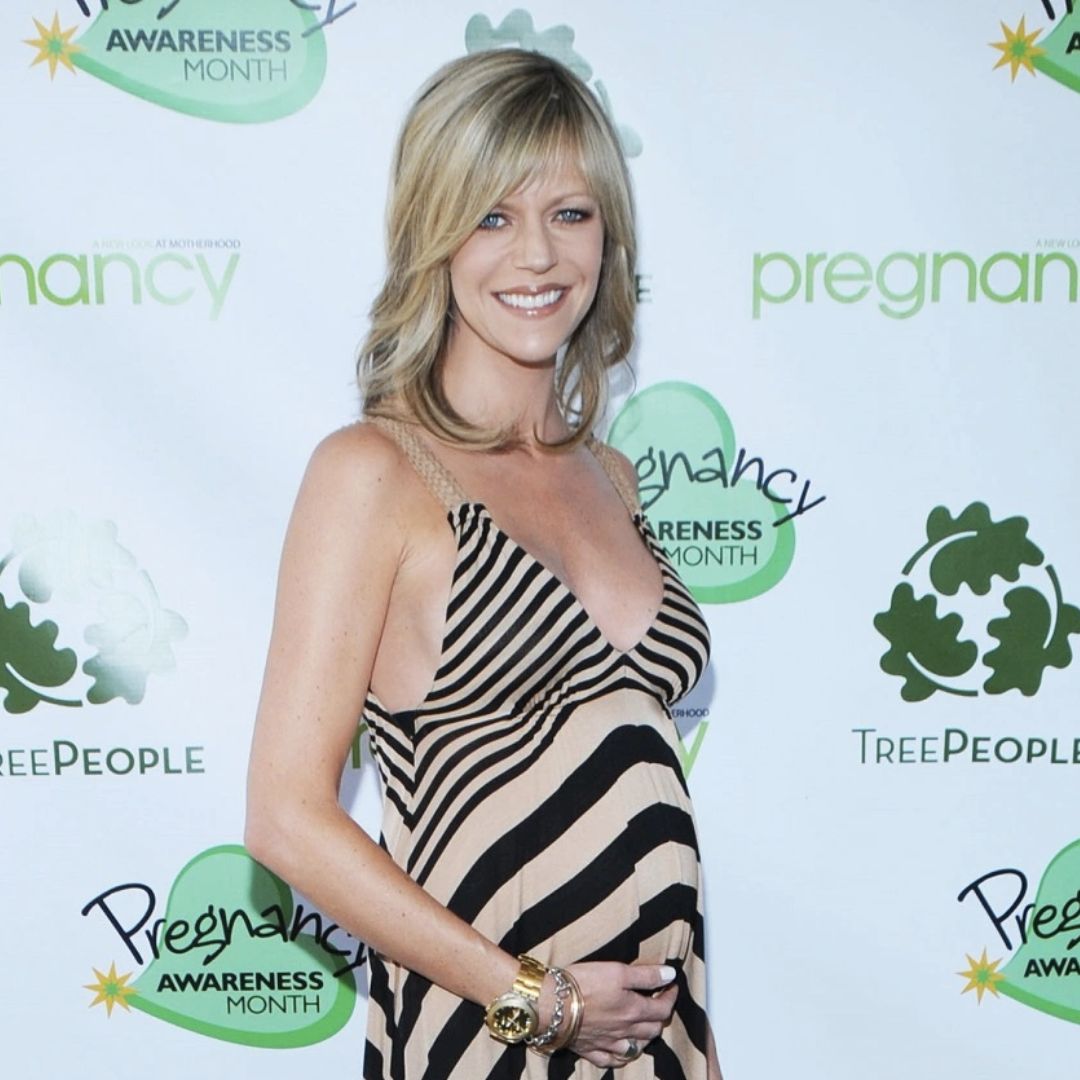 Dee (Caitlin's character) shows up pregnant at the beginning of season 6 and at the end of the season the audience discovers Dee was a surrogate for a couple all along. This way, when Kaitlin Olson became a mom off-screen, her on-screen character, Dee, returned to her usual and slightly unhinged ways.
Penelope Cruz in Pirates of the Caribbean: On Stranger Tides
Pirate ships are no place for a pregnant mother-to-be. Fortunately, when Penelope Cruz was pregnant during the filming of Pirates of the Caribbean: On Stranger Tides, she had a perfect body double to rely on for sword fighting and swashbuckling scenes— her sister, Monica!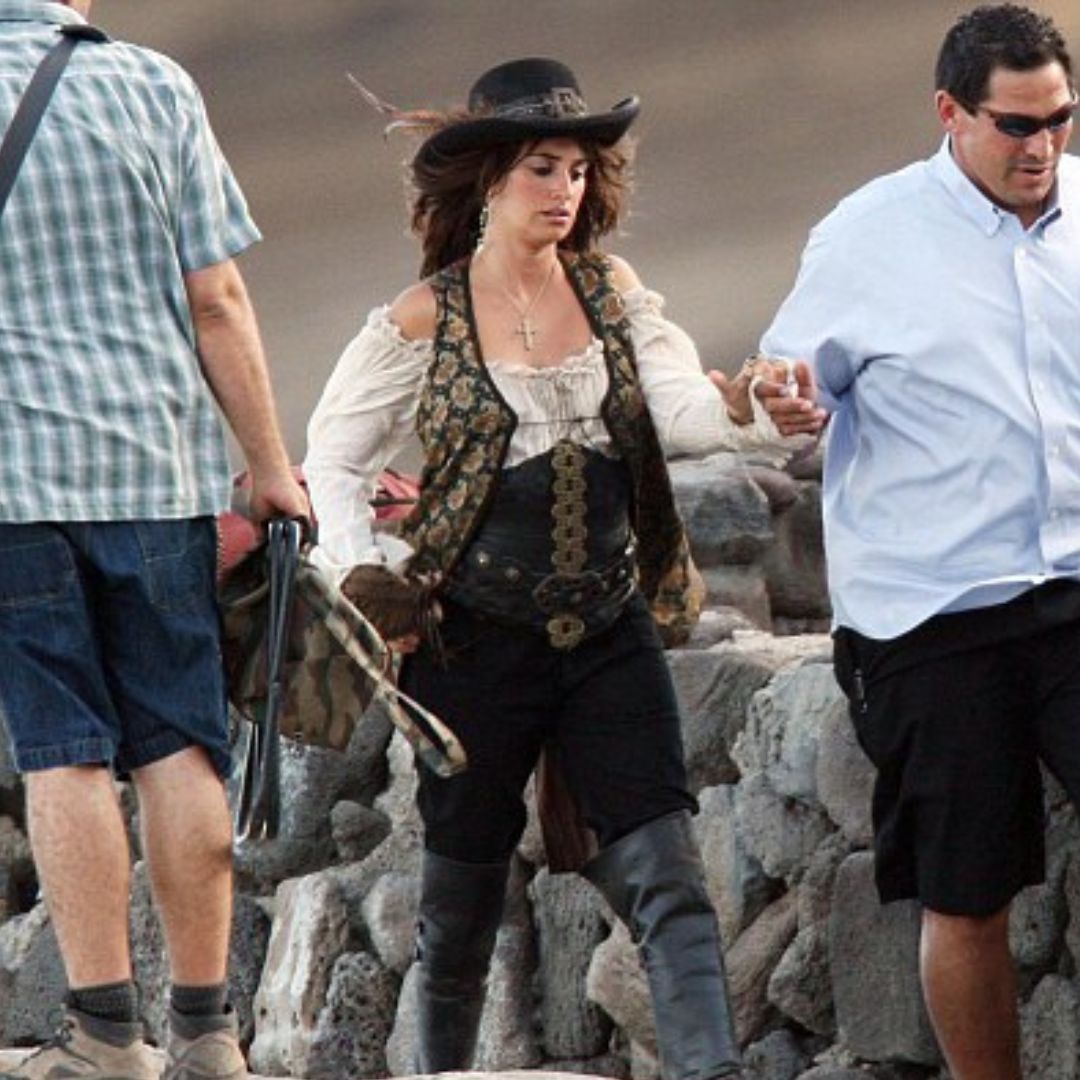 Monica Cruz is an actress as well and happens to look just like Penelope, so she was able to stand in for the more active scenes in the Pirates movie as a very accurate double. After all, what is family for?
Emily Blunt in The Girl on the Train and Into the Woods
Emily Blunt played an unreliable alcoholic in her role as Rachel Watson in the film The Girl on the Train. Emily explains that it was her most exhausting role, not only because the character was unhinged but also because she was in her first trimester and hiding it. Emily explained, "I was really tired all the time, which is not my normal self, and people thought I'd begun drinking heavily, just to get into character".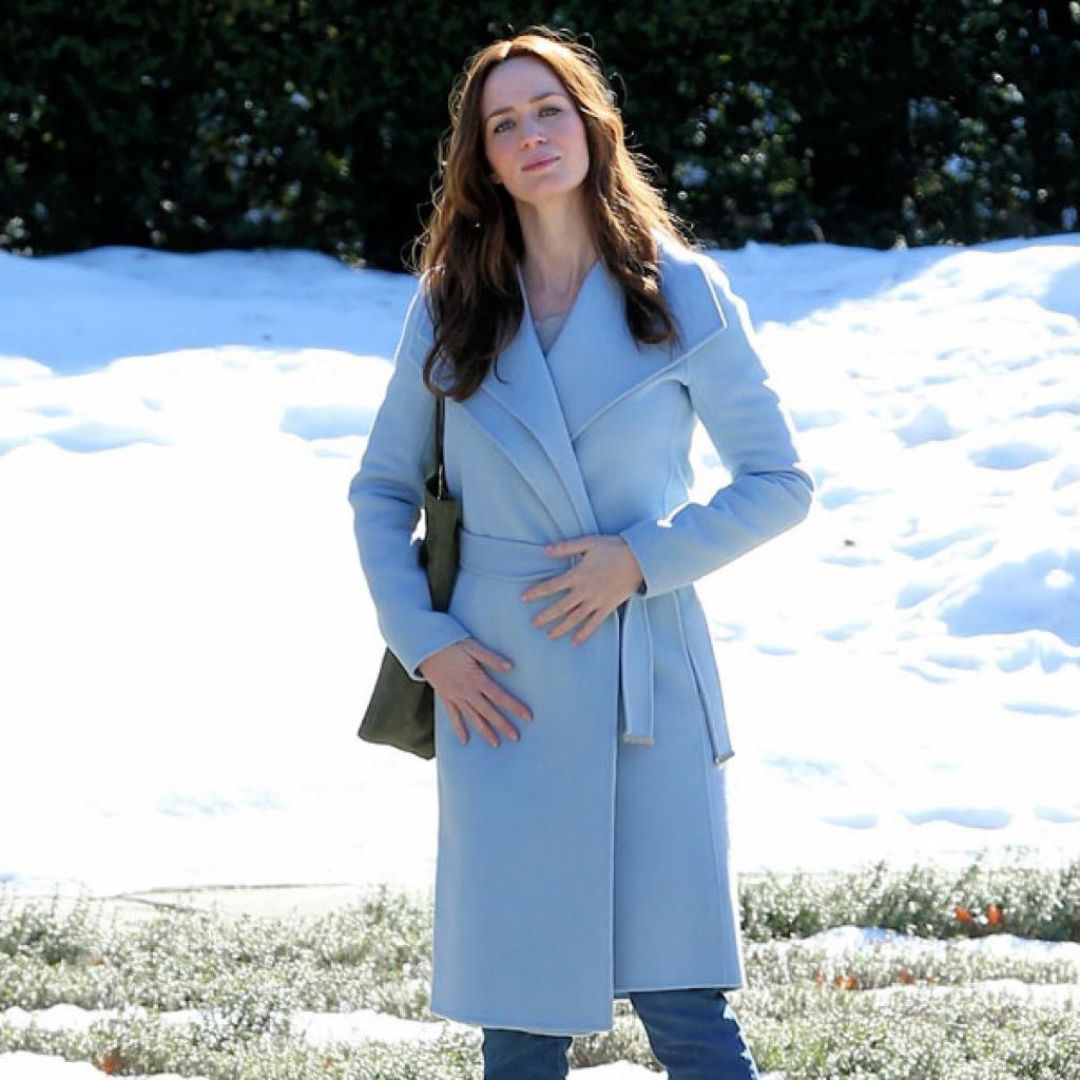 She and husband, John Krasinski of The Office, had not yet announced the early pregnancy. However, her co-star and friend Justin Theroux accidentally discovered the good news during filming, when Emily was hesitant to do a simple stunt. This was actually not Emily's first time being pregnant on set. She was pregnant with her first daughter during production of the 2014 film Into the Woods.
Amy Poehler in Parks and Recreation
Amy Poehler was pregnant with her second child during the filming of Parks and Recreation, but writers didn't think it was the right time for her character, Leslie Knope, to have a baby. Producers had a unique challenge in hiding the actress's pregnancy because the show features more outdoor scenes and full body shots than other sitcoms.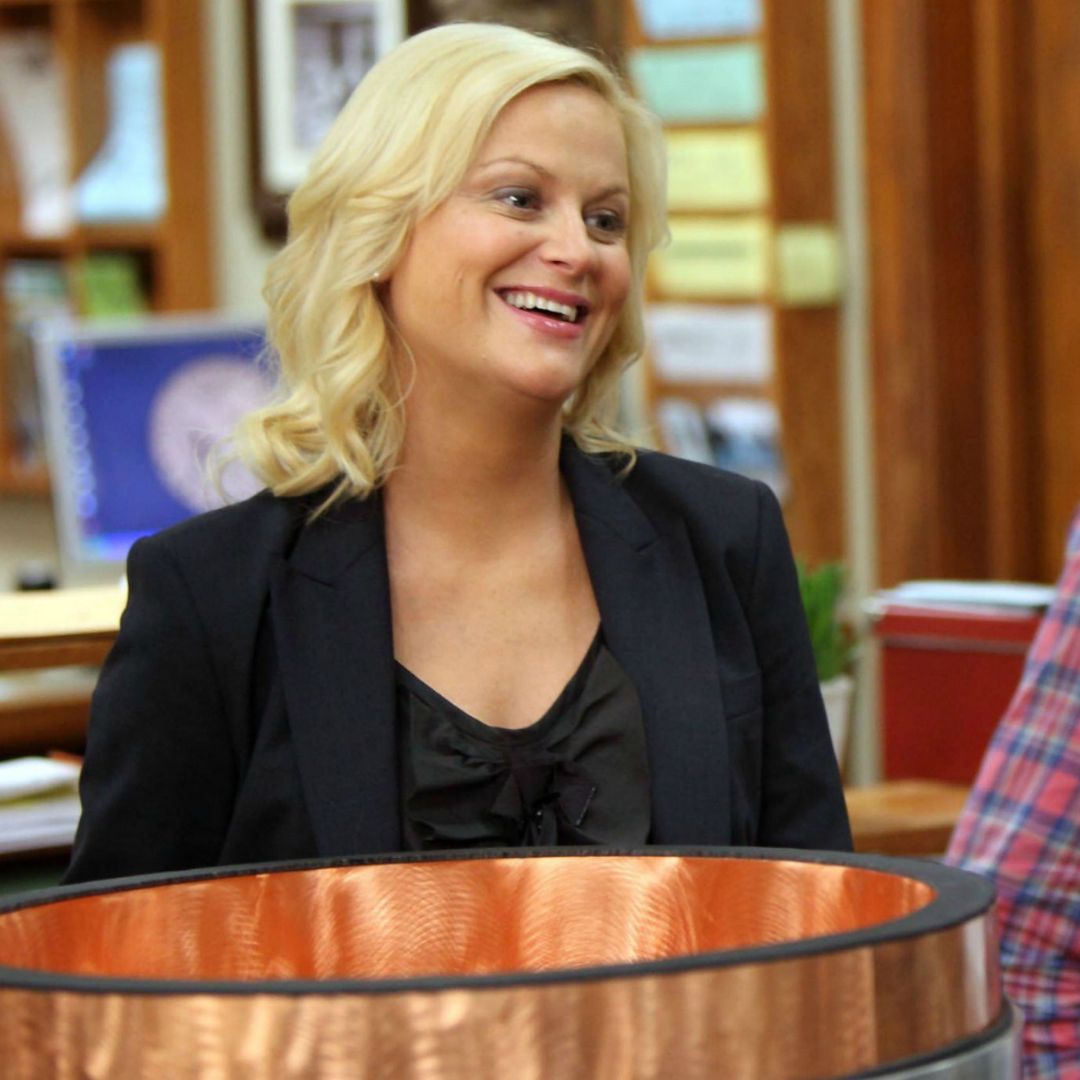 The team scheduled production around Amy's pregnancy and maternity leave. She credits the camera crew and wardrobe department for making it possible to film the final episodes of season 3 while she was showing. An executive producer joked about other strategies they considered using to distract from the baby bump, "As we get closer [to her due date], Aziz will be constantly standing in front of her". Aziz Ansari plays Tom, Leslie's coworker and professional sidekick.
Sarah Jessica Parker in Sex and the City
Sarah Jessica Parker was expecting during season 5 of the popular show Sex and the City but showrunners felt a pregnancy would be inauthentic to her character, Carrie Bradshaw. In typical Carrie Bradshaw fashion, the show hid Sarah's belly with stylish designer clothes and oversized Birkin bags.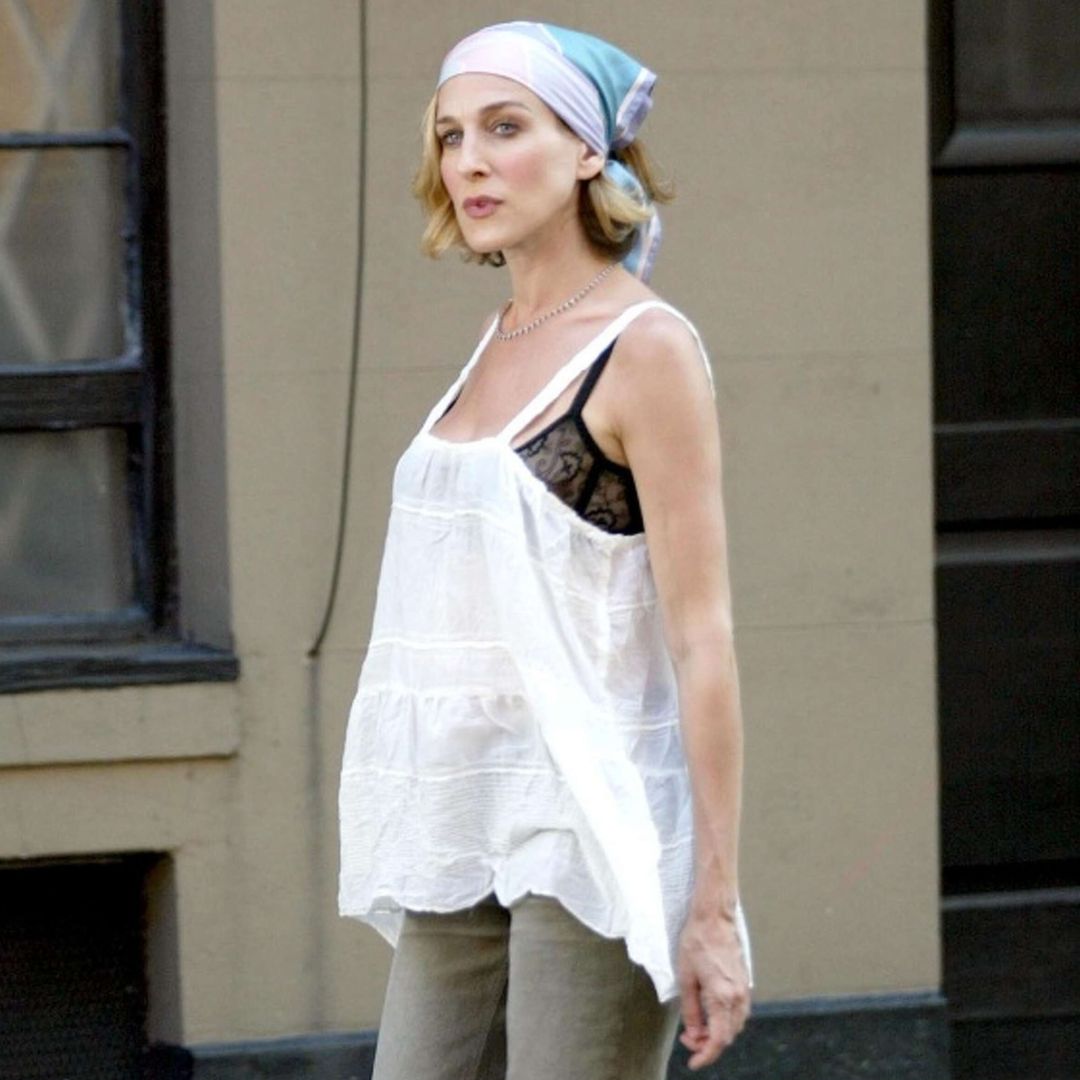 Fans might remember season 5 being cut short, which was to accommodate for the actress's off-screen pregnancy. Interestingly, Sarah's co-star, Cynthia Nixon, was pregnant during season 5 as well. However, the writers felt it made sense to write Nixon's pregnancy into the narrative for her character, Miranda. So, while both Sarah and Cynthia were pregnant off-screen, only Miranda welcomes a baby on the show.